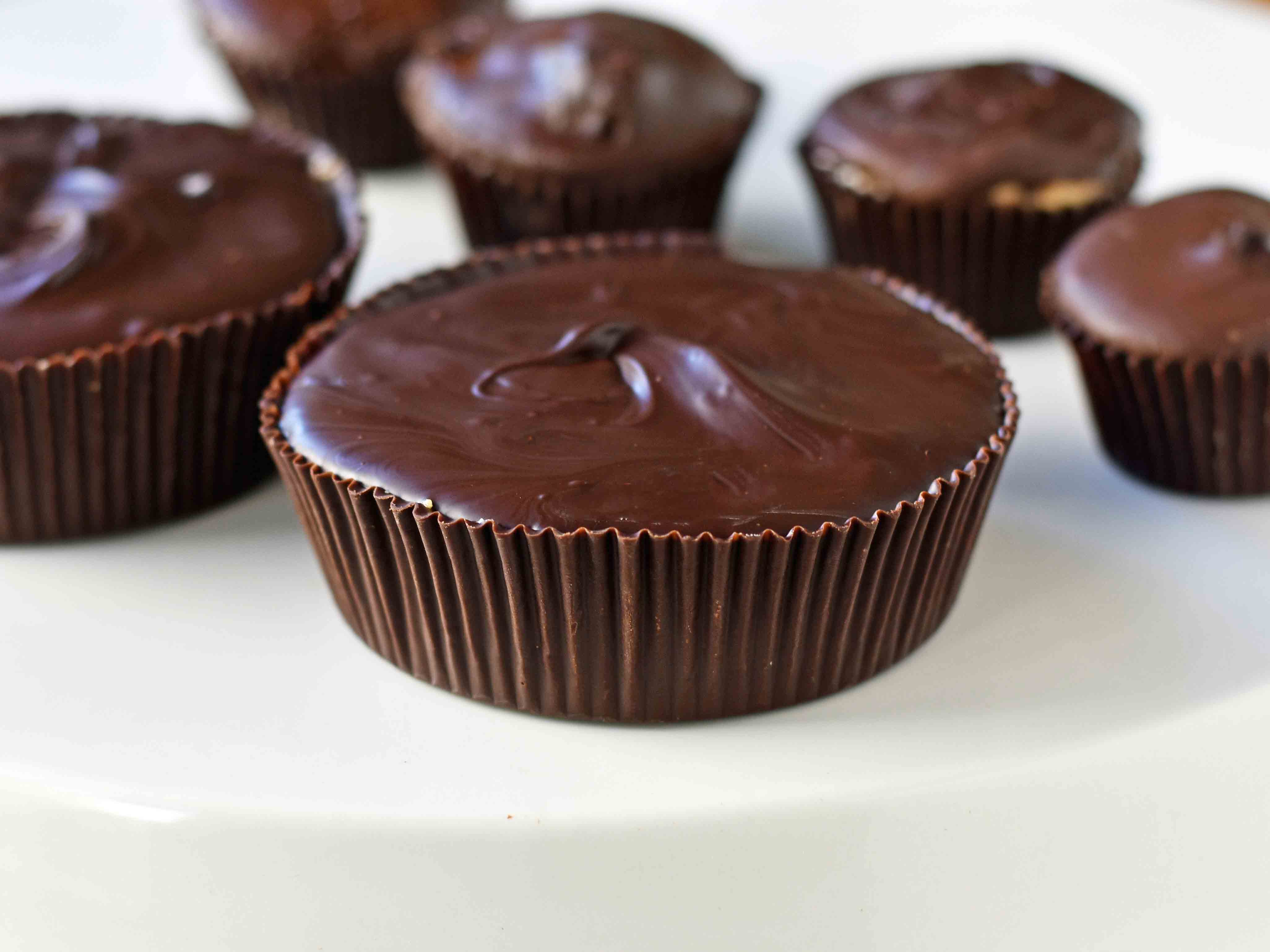 Homemade Chocolate Peanut Butter Cups
Homemade Chocolate Peanut Butter Cups are made with high-quality chocolate and creamy peanut butter filling with a secret ingredient. Tastes even better than what you find in the store. How to make out-of-this-world chocolate peanut butter cups at home.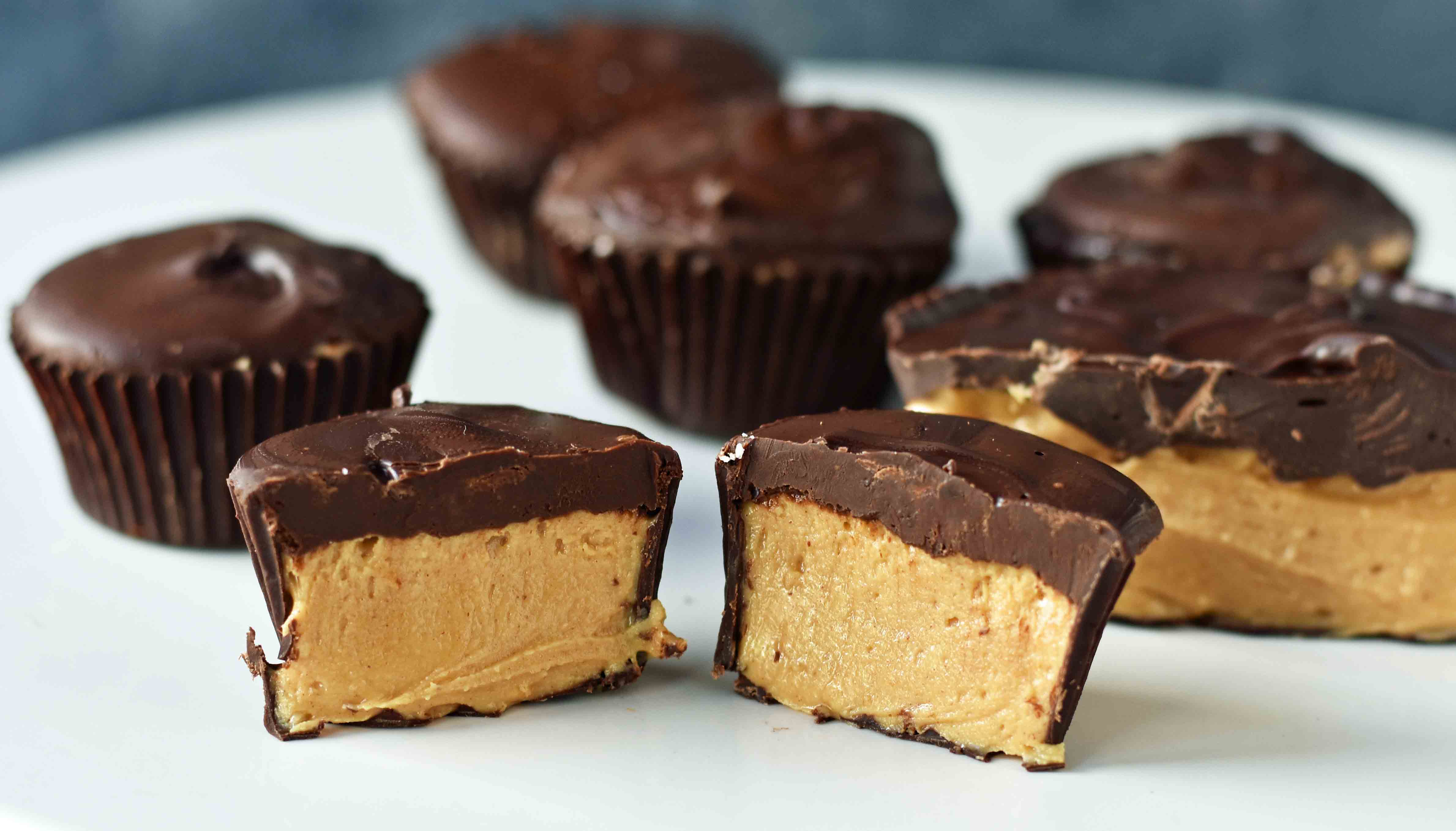 My love for peanut butter cups is REAL.
I can't go to Trader Joe's without picking up a bag or box (depending on how weak I am at the moment) of their famous chocolate peanut butter cups. They are made of rich, high-quality chocolate and creamy peanut butter. I can't stop at 1...or 2....or 3...or whatever. Who is counting? I wanted to discover a recipe that tasted like the peanut butter cups you can buy at Trader Joe's. Mission accomplished.
How many of you have tried homemade chocolate peanut butter cups, only to be left disappointed? Me! There are some secrets to making them taste more like what we know and love. I am so excited to share this recipe with you!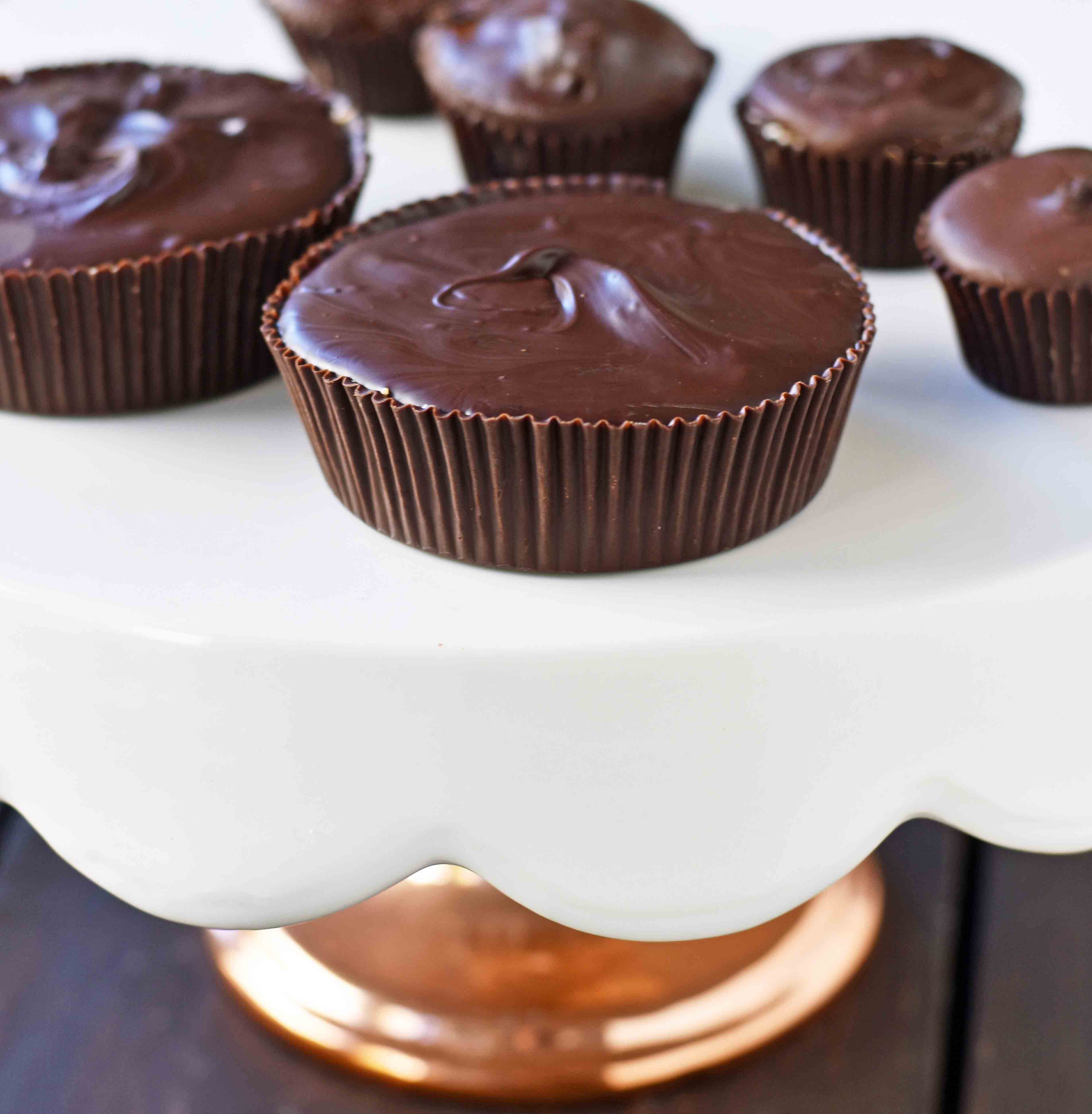 These Chocolate Peanut Butter Cups are super simple to put together. This recipe only calls for 6 ingredients and you may have everything in your pantry ready to go!
I shared that I recently took a few candy classes online through Craftsy. I LOVE to learn and am constantly wanting to become more knowledgeable about all things baking and cooking. Elizabeth LaBau (from Sugar Hero) sure knows her stuff and I thoroughly enjoyed learning from her. Now I get to share everything I learned with you, my friends!
She was teaching how to make homemade chocolate peanut butter cups. Since I have been disappointed in the past with many recipes, I was anxious to find out how she made them. She shared her secret to making copycat chocolate peanut butter cups like the ones you get in the store. Are you ready for it? Graham Cracker Crumbs! I kid you not. It creates a texture to complement to the creaminess of the peanut butter. What a genius!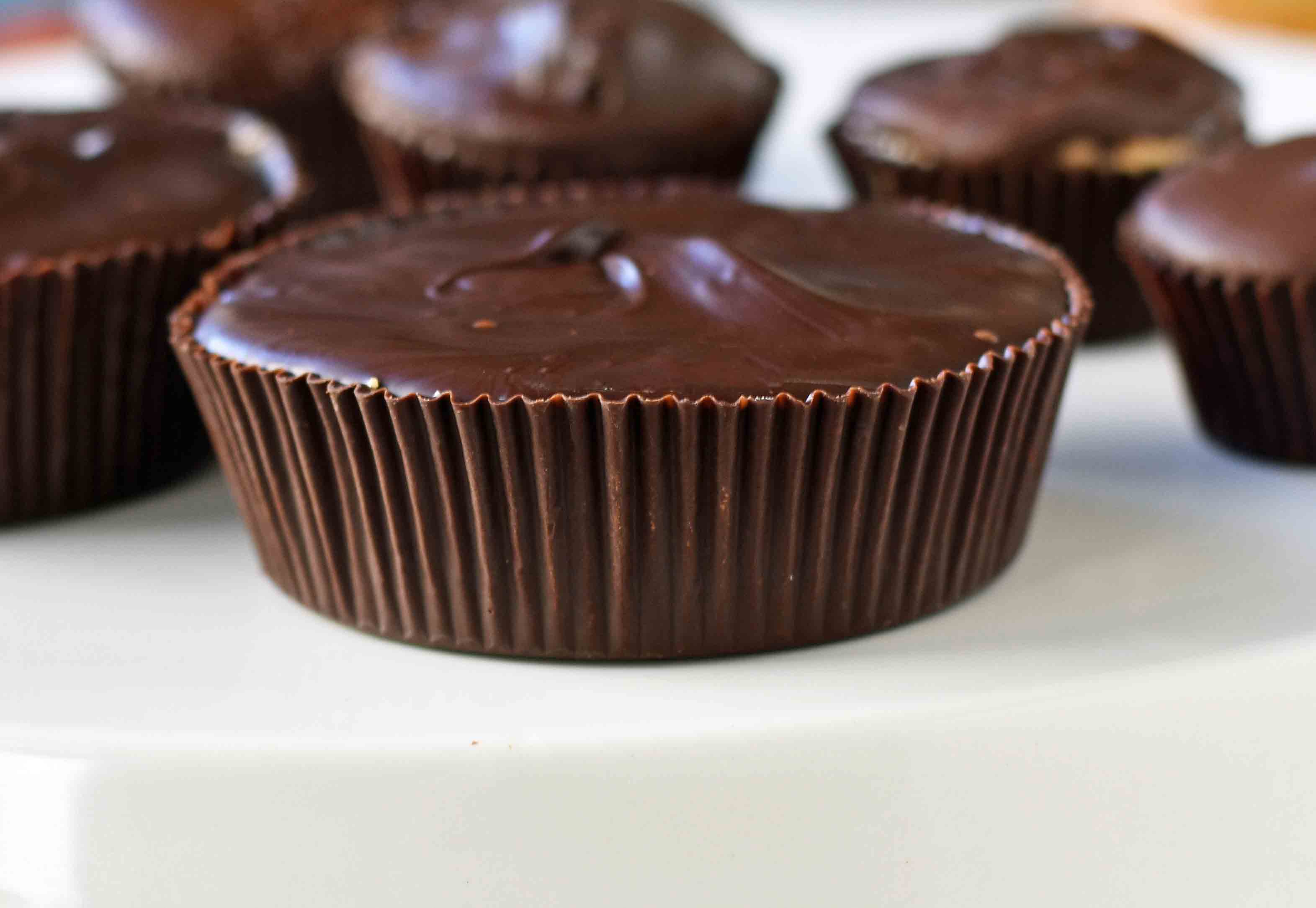 I made a batch of the Chocolate Peanut Butter Cups and was blown away by how easy they were and how they tasted exactly like the Trader Joe's peanut butter cups. YES! The true test was when my daughter came home. She is my partner in crime and we share a bag of peanut butter cups everytime we go to TJ's. I didn't want to say anything about them but wanted her to discover the peanut butter cups on her own and see what she had to say about them.
I was in the office and I heard a loud, "MOM!" I ran in, wondering what could be wrong, and Sierra was holding a large chocolate peanut butter cup in her hand. "Mom, these taste exactly like Trader Joe's. Did you make them?" It validated everything I believed too and was so excited to finally be able to make them at home.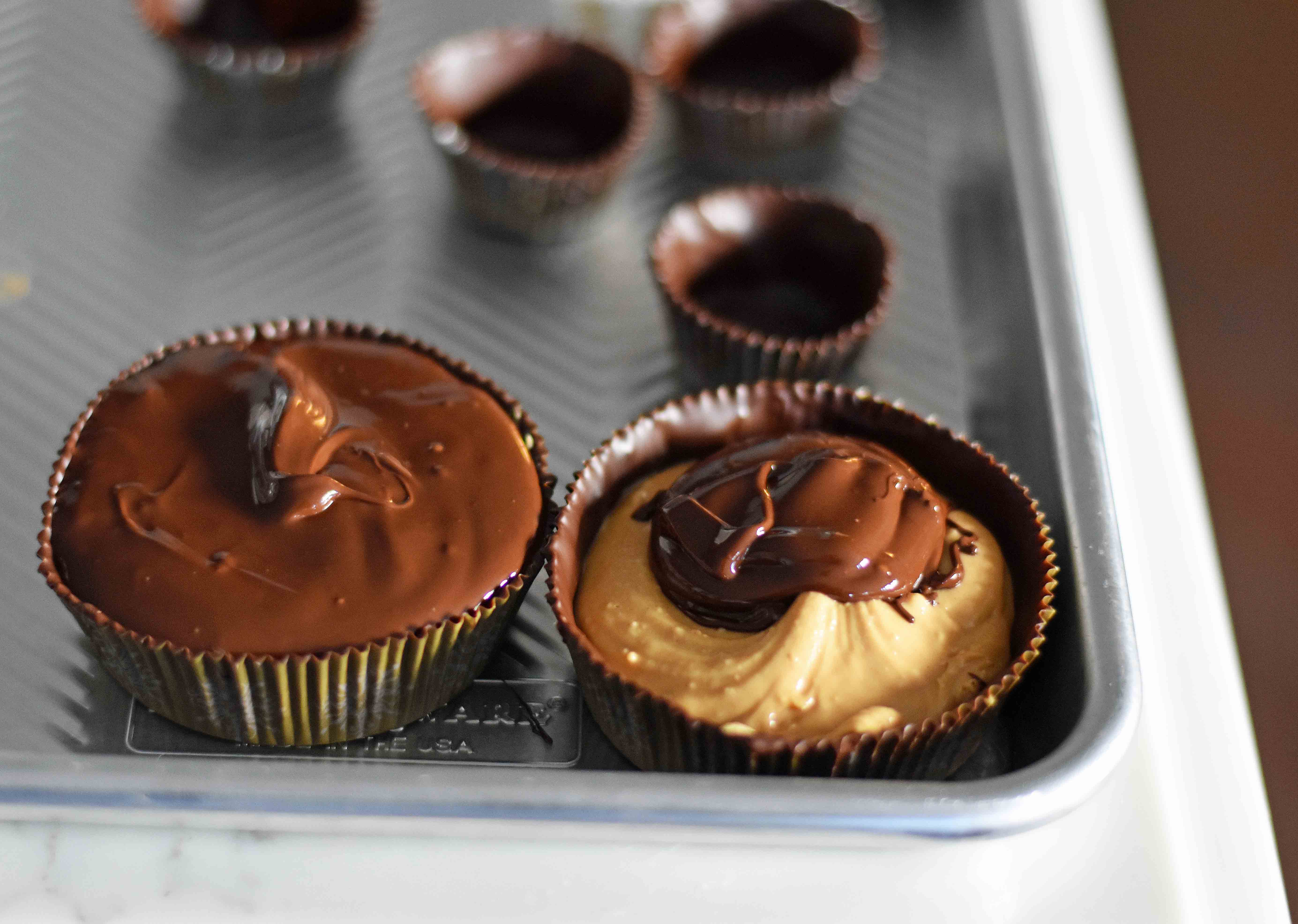 How to make Homemade Chocolate Peanut Butter Cups:
Start with high-quality chocolate. Since the star is the chocolate, you want it to be smooth and melt beautifully. If you have access to a Trader Joe's, I would suggest using their Pound Plus Bar in Milk Chocolate or Dark Chocolate, depending on preference. You can use other types of chocolate bars as well. Guittard and Ghirardelli are also high-quality chocolate. If you want to really simplify the melting process, you can use Ghirardelli chocolate melting wafers or disks. You can use semi-sweet chocolate or milk chocolate, if you are looking for Reese's copycat peanut butter cup recipe.
Temper your chocolate. Tempering chocolate is an essential step to create a smooth, glossy chocolate that has a snap to it. The beauty of tempering chocolate is you don't need a fancy double-boiler but it can be done in your microwave. So simple! It is just a technique to help create a chocolate conducive to making homemade peanut butter cups.
Brush sides and bottom of mini-cupcake liners with melted tempered chocolate. This is the base of your peanut butter cup. You start off with painting on your chocolate all along the edges and bottom of liners. Set aside to chill and set before adding filling.
Make your peanut butter filling. The creamy peanut butter filling is made by whipping together smooth peanut butter, butter, vanilla, powdered sugar, and finely crushed graham crackers.
Place peanut butter filling inside liners layered with chocolate. Press down and then cover with more tempered chocolate to completely cover cup.
Let chill and set up at room temperature or in the refrigerator. May keep covered in the refrigerator for up to 1 month. Bring to room temperature before serving or serve slightly cold, depending on preference.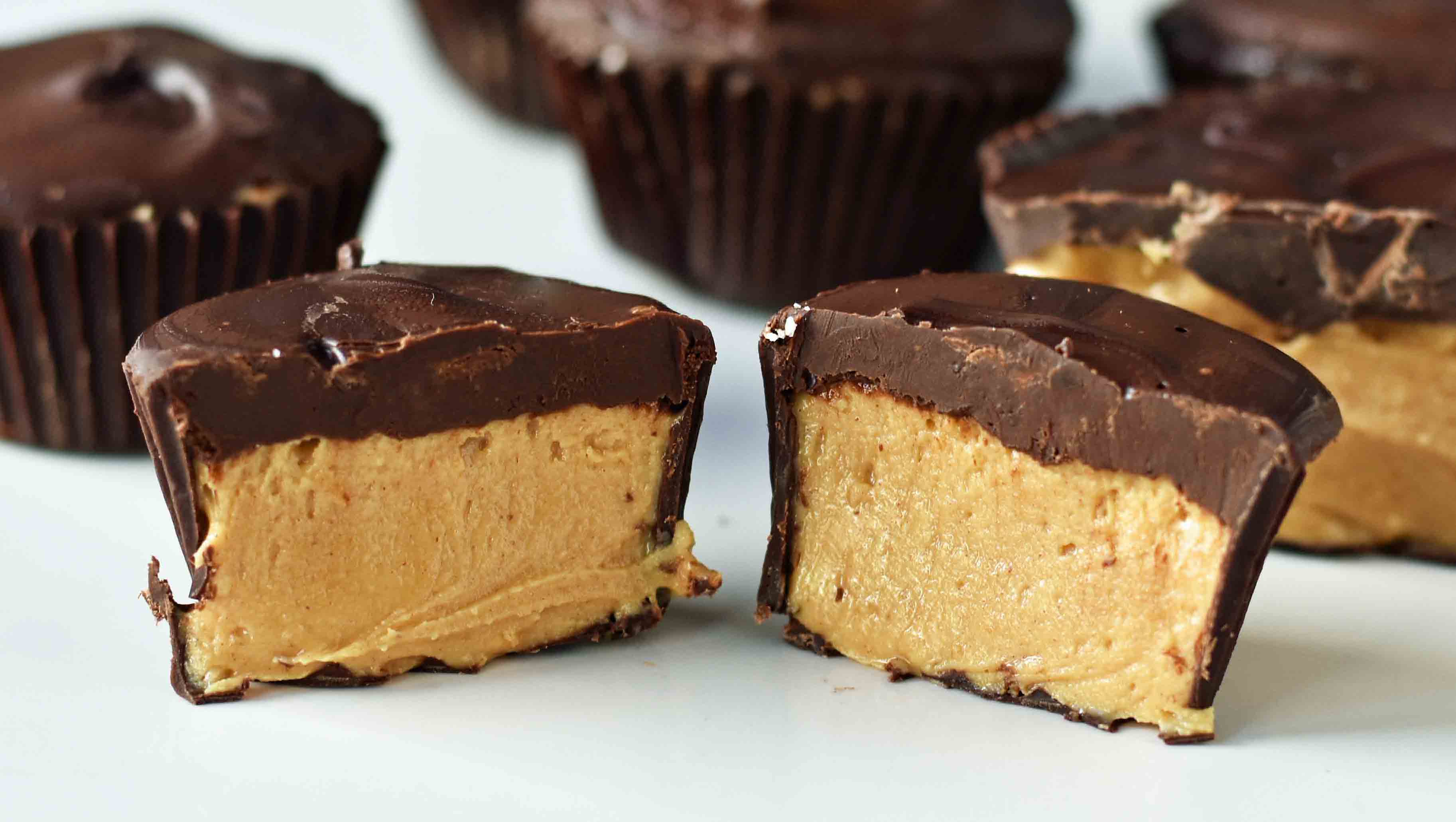 If you love peanut butter chocolate recipes, check out some of these Modern Honey favorites:
Levain Bakery Dark Chocolate Peanut Butter Chip Cookies
PIN on PINTEREST: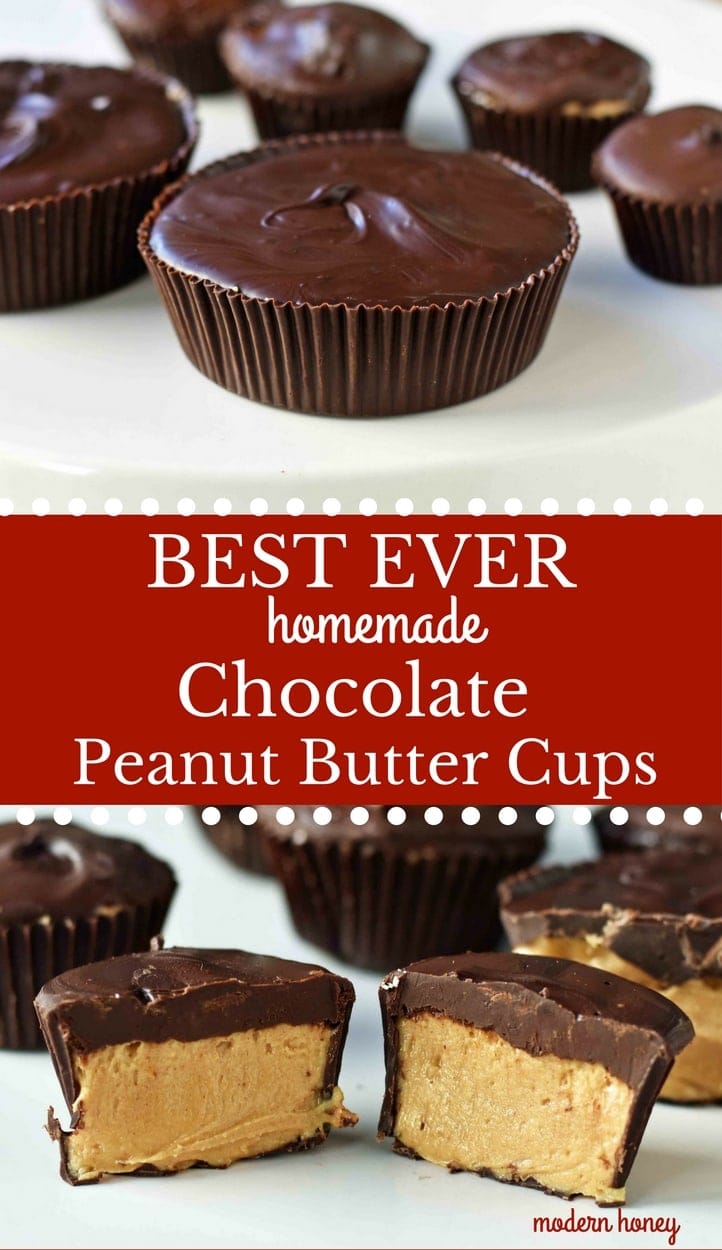 Happy Baking, my friends! We are 4 days away from Christmas and I literally can't believe it. Time is flying by and my to-do list isn't getting any shorter! I am looking forward to spending good quality time with my husband and kids over the break so I will be posting less on Modern Honey over the next week. Thanks for all of your amazing support!