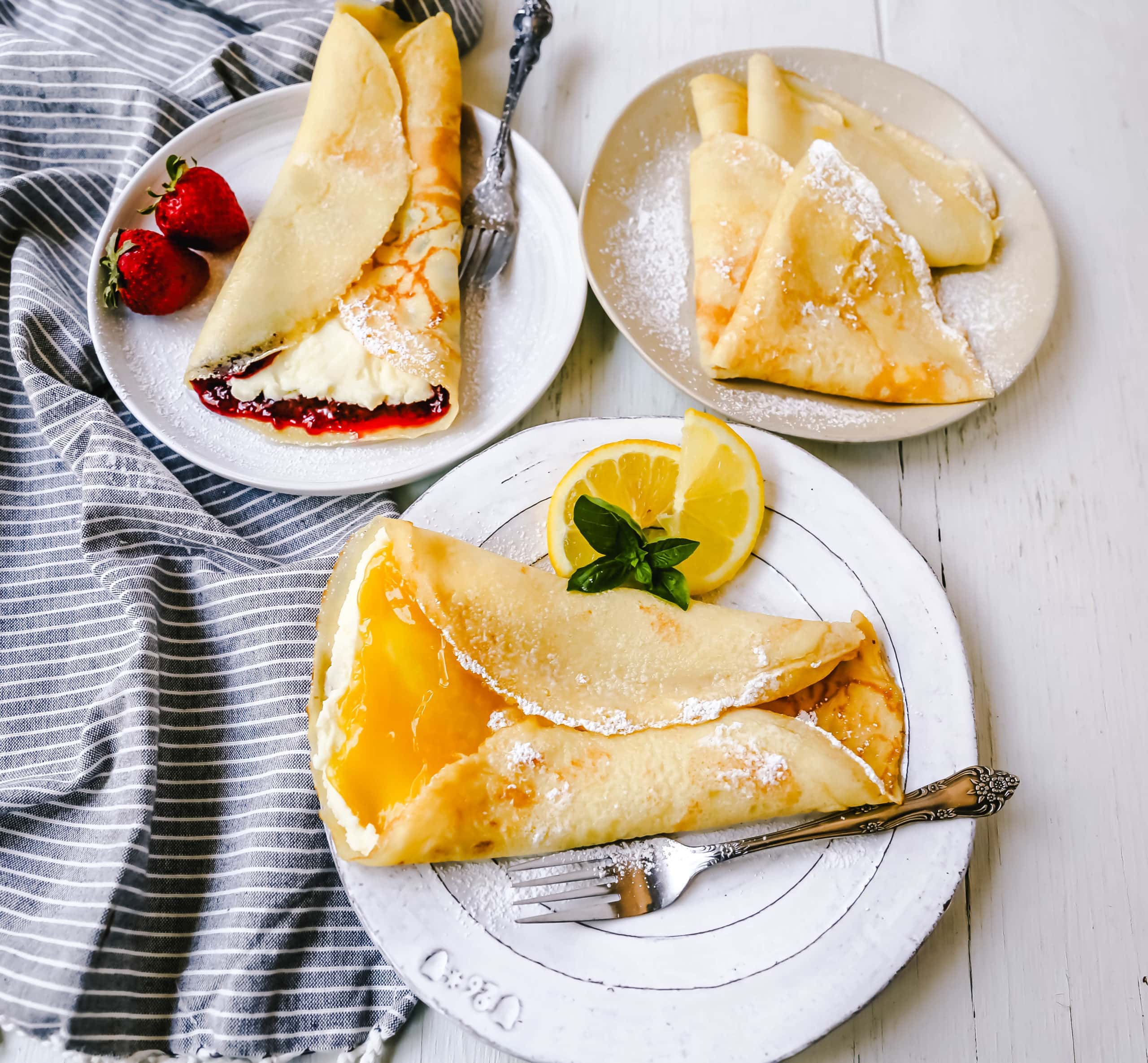 The Best Crepes Recipe
An easy homemade crepe recipe made with simple ingredients -- milk, flour, eggs, sugar, water, and butter. Simple 6-ingredient crepe recipe!
I was about 8 years old when my Mom came home with a crepe pan. It was one of those old school crepe pans that you plug into an outlet and dip into the crepe batter. One of my brother's best friends, Byron Garn's Mom, gave us her ultimate crepe recipe and we began making crepes every single Saturday morning. They became my favorite breakfast staple!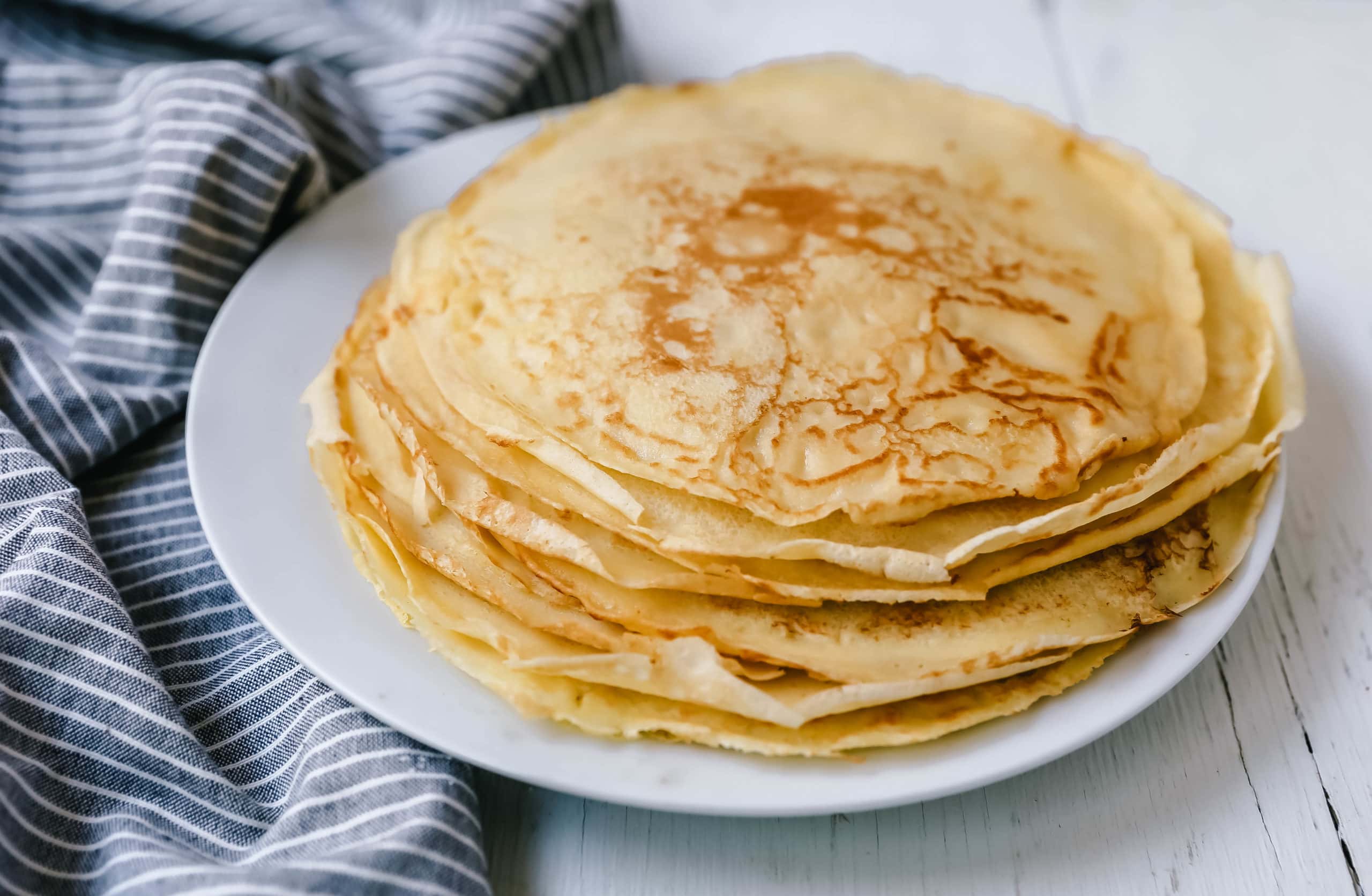 I started off real simple with just butter and powdered sugar. Actually, to this day, it is my favorite way to eat a crepe. It is so simple but the creamy butter really comes through with a touch of sweetness.
A simple French crepe recipe is made with ingredients you most likely have in your refrigerator and pantry. These homemade crepes are made with milk, eggs, sugar, flour, water, and butter. That's it! My youngest daughter, Sadie, makes these all of the time all by herself. She just throws all of the ingredients into our blender and mix for 20 seconds and the crepe batter is done!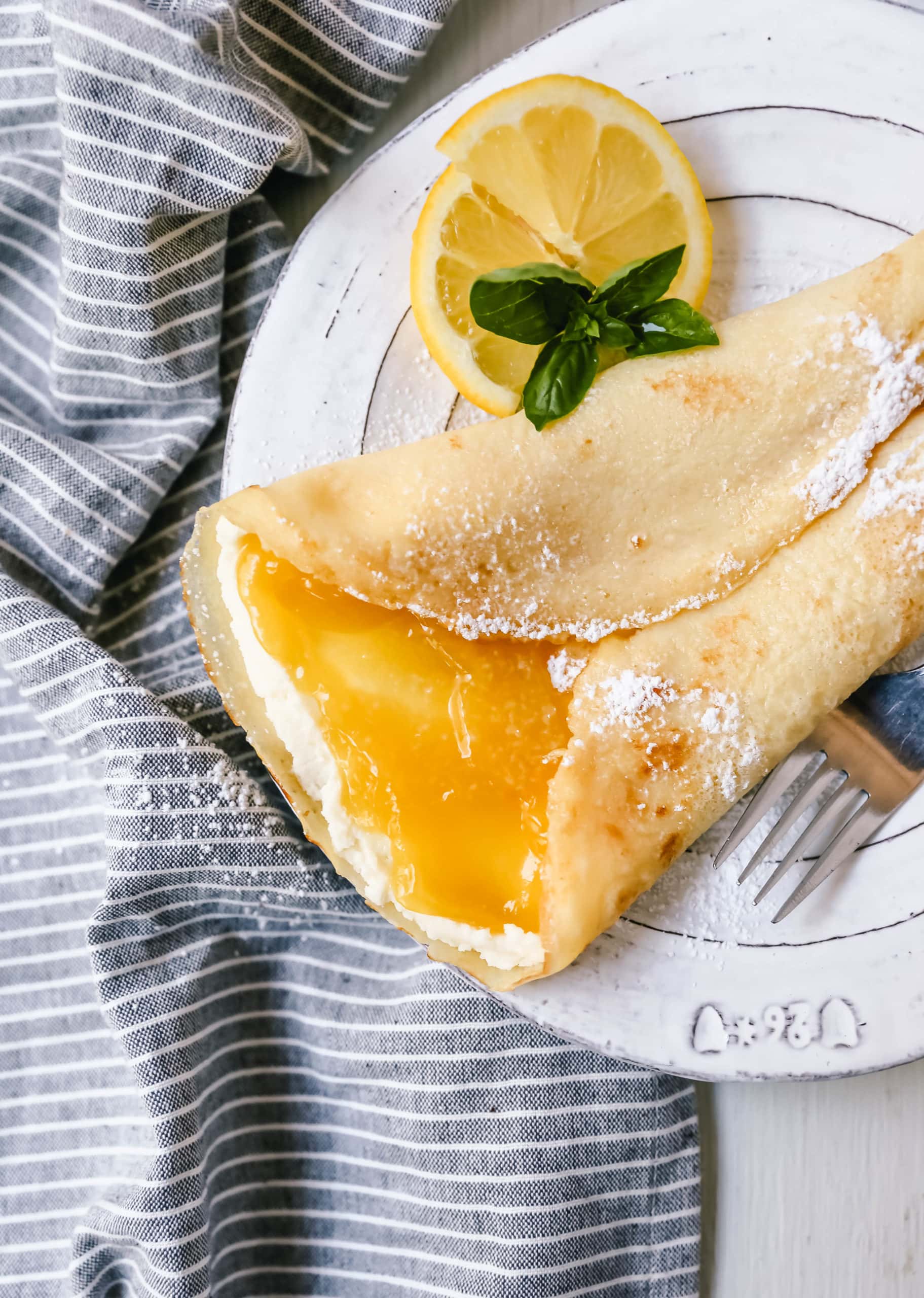 These crepes can be cooked in a crepe pan or a traditional non-stick skillet. If you want thin crepes, focus on using less batter and making sure to swirl it in the pan to reach all of the edges. If you want a thicker crepe, use a little bit more batter so it ends up thicker all around. My kids prefer a thicker crepe but some people love a paper thin crepe.
If you want extra-thin crepes, I suggest adding a little more water to the recipe to make it even easier to spread to the edges of the skillet.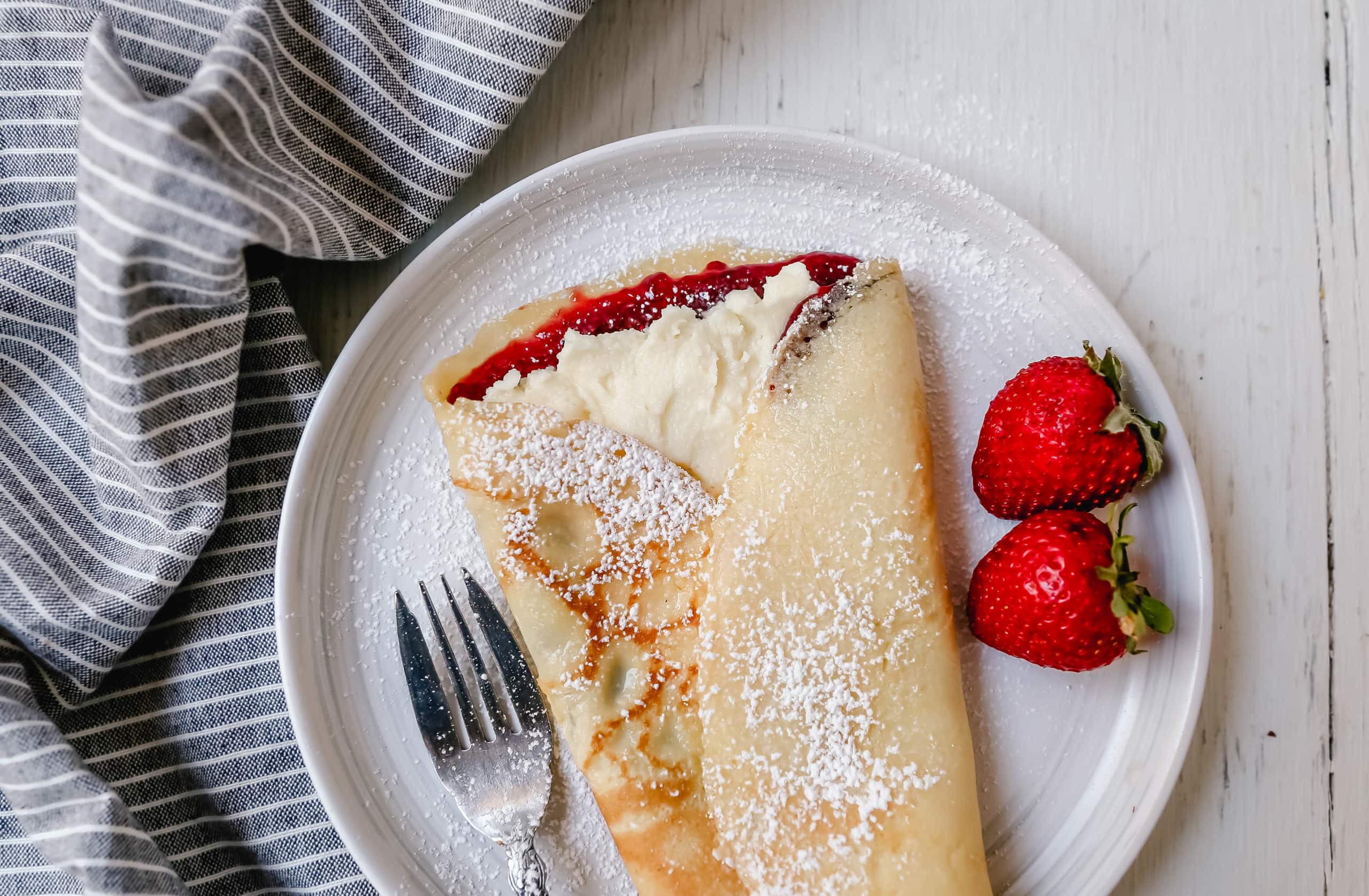 How to make the BEST CREPES RECIPE:
In a blender, mix together eggs, milk, sugar, water, melted butter, flour, and a pinch of salt. Make sure to take a spatula to the sides of the blender to ensure all of the ingredients are blended together.
Heat a non-stick skillet or crepe pan over medium to medium-low heat. Once it has warmed, add a pat of butter or spray non-stick cooking spray all over the pan.
Pour batter into the center and then lift up the skillet and quickly move it around until the batter has reached the edges of the pan. You want to watch for the batter to start to become opaque. Take a spatula and run it along the edges of the pan. Once the crepe looks set, carefully flip to the other side. The other side only needs about 30 seconds to cook.
Remove from the pan and place on a plate. Serve warm and top with your favorite toppings
What toppings should I put on my crepes?
Butter
Powdered Sugar
Lemon Curd
Raspberries
Strawberries
Nutella
Bananas
Fresh Whipped Cream
Jam
Mascarpone Cheese or Cream Cheese
Dulce de Leche or Salted Caramel
Dark Chocolate Chunks
White Chocolate
Maple Syrup
Some of our favorite crepe combinations:
Butter + Powdered Sugar
Lemon Curd + Raspberries + Whipped Cream
Nutella + Strawberries + Whipped Cream
Banana + Whipped Cream + Dulce de Leche or Salted Caramel
Strawberries + Banana + Nutella
Fruit Jam + Sweetened Mascarpone or Cream Cheese
Fresh Whipped Cream + Strawberries
Raspberries + Fresh Whipped Cream + Dark Chocolate
White Chocolate + Raspberries + Fresh Whipped Cream
Butter + Maple Syrup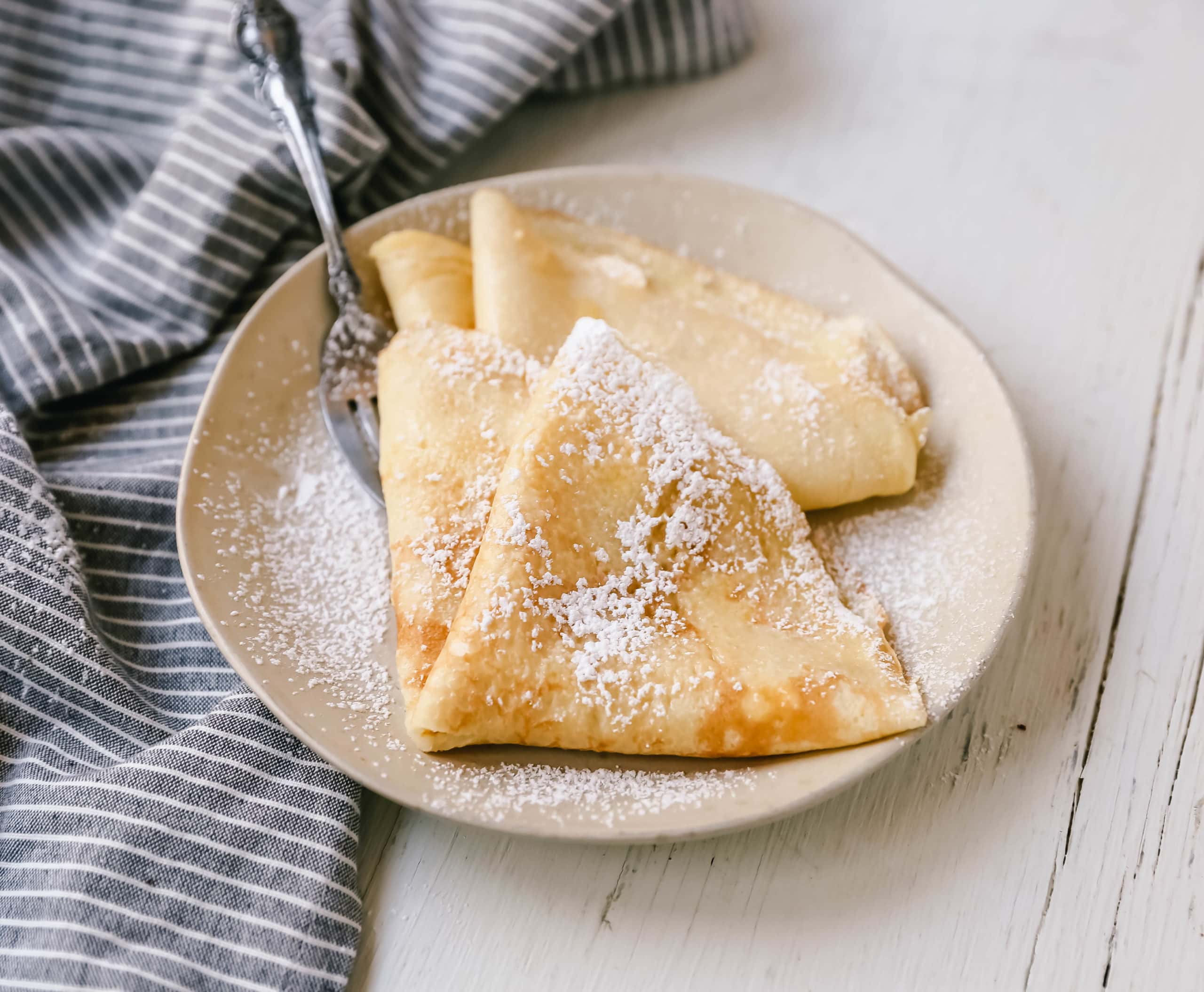 Here are some of my favorite pancake recipes:
I love to hear from you! If you make this recipe, please be sure to leave a comment and give this recipe a rating. Sign up for my newsletter below so you never miss a recipe. Thank you for following along! I truly do have the greatest readers. FOLLOW ME ON: INSTAGRAM — FACEBOOK— PINTEREST