The Best Pancake Recipe
Light and fluffy buttermilk pancakes with a secret ingredient to make it extra tender. This is the only pancake recipe you will ever need!
We are serious about our homemade pancakes in our home. My husband whips up a batch of buttermilk pancakes almost every single weekend. I am picky about my pancakes and we always have to have buttermilk stocked in our refrigerator at all times. It is definitely a difference maker in pancakes!
I have been hearing about a light and fluffy pancake recipe with a secret ingredient that makes the texture just melt in your mouth. I had to try it out and after making a few tweaks to the recipe, I am sharing it with you. This is truly the best pancakes recipe!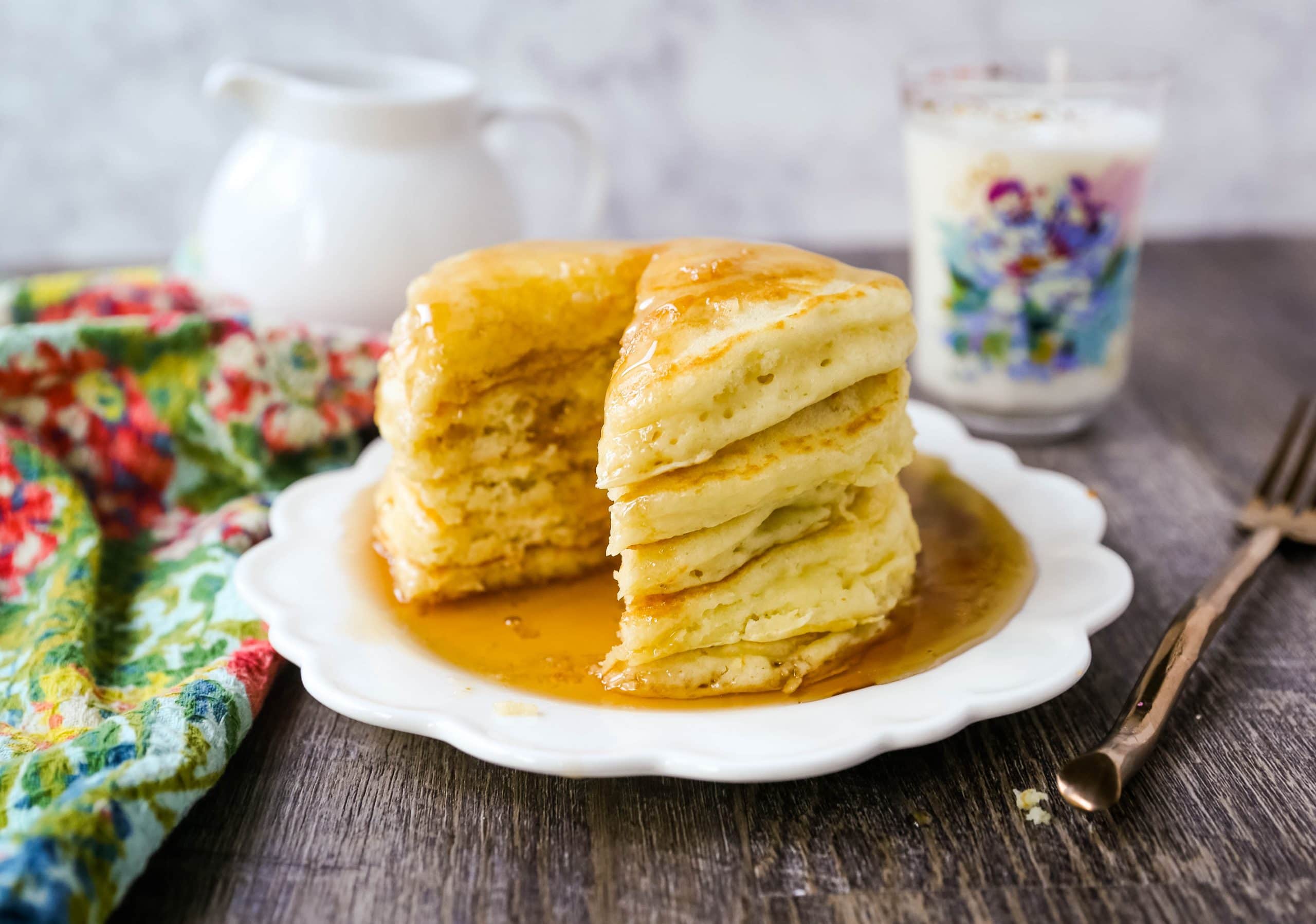 So what makes a perfect pancake? In my humble opinion, it needs to have a proper balance of dry ingredients to wet ingredients. A dry pancake has too much flour or dry ingredients and not enough buttermilk, eggs, or butter. A tender pancake comes from the buttermilk or drumroll please....SOUR CREAM. Yep there's your secret ingredient.
The beauty of sour cream is that it does similar things as buttermilk; however, it is more of a creamy solid than buttermilk. This means you can add both buttermilk AND sour cream without the pancake batter becoming too runny and not holding its shape. This is genius! You end up with the most perfect pancake texture. These are the best sour cream pancakes!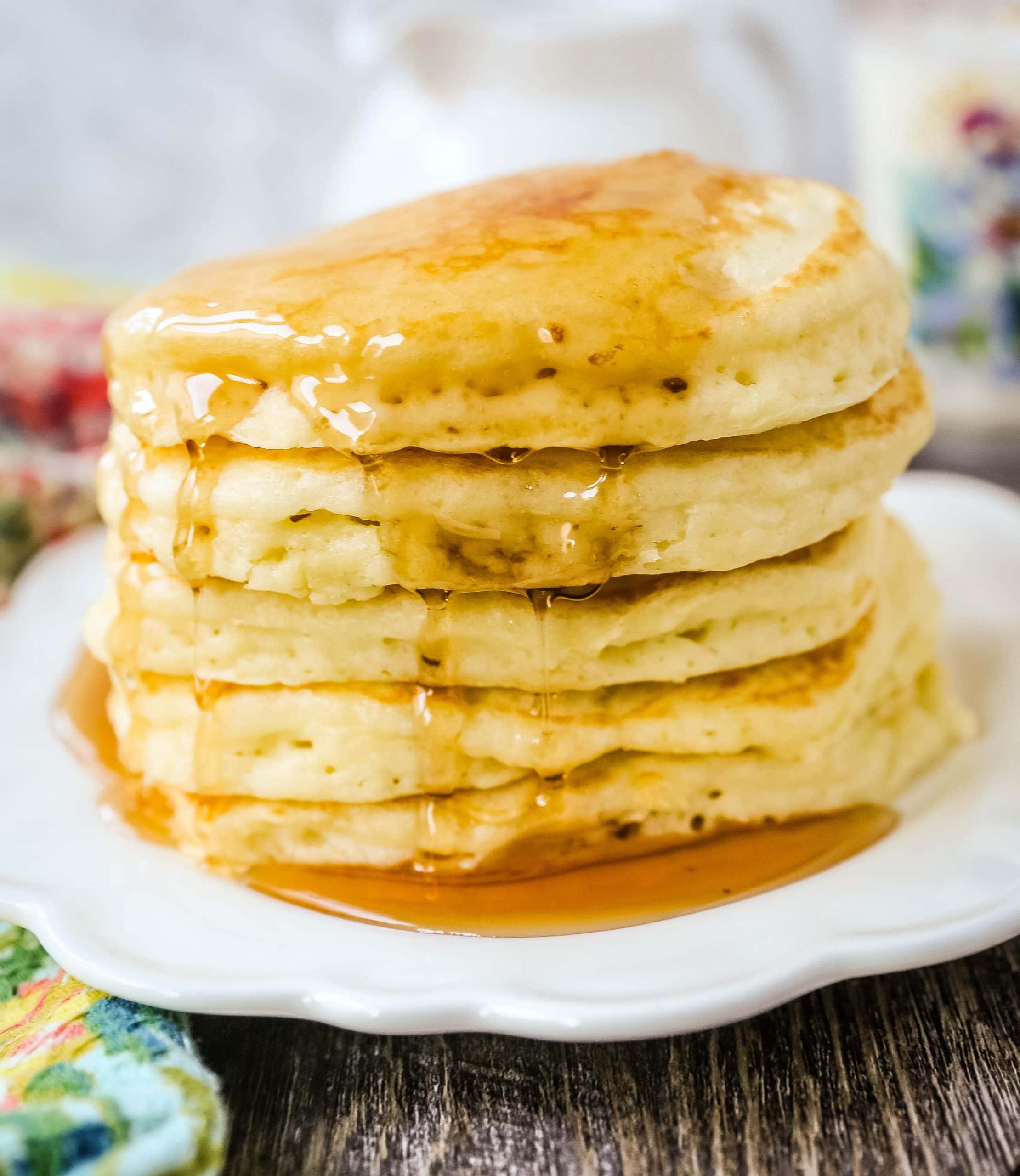 Another ingredient that is a must when making homemade pancakes is melted butter. You know I am a huge butter fan because it adds so much creamy flavor to any recipe. Also, remember to butter your skillet or griddle to give your pancakes the nice light golden color on the outside.
Since we want our buttermilk pancakes to be light and fluffy, whipping the egg whites and folding them into the batter creates loft. Loft is good with pancakes since we don't want them to be completely flat. Taking the time to separate the eggs and whip the egg whites is another difference maker.
How to make the Best Pancakes Recipe:
Start by separating the egg yolks and egg whites. Place the egg whites in a mixing bowl and beat until stiff peaks form. This is important to get that trademark fluffy pancake. Set aside.
In another mixing bowl, whisk together the egg yolks, buttermilk, and sour cream. When I am making homemade pancakes, I reach for full-fat sour cream for extra rich thickness.
Slowly add in melted butter. You don't want to go crazy and dump the entire bowl of melted butter into cold buttermilk as it may curdle. Just slowly drizzle in the melted butter so it warms up slowly but surely.
Add the dry ingredients -- flour, sugar, salt, baking soda, and baking powder. I like to use two different leavening agents to ensure the pancakes are extra fluffy.
Carefully fold in the egg whites. Be careful not to over-stir because it may deflate the stiff egg whites.
Heat up a griddle or skillet over medium heat. You don't want it to be too hot where the outsides of the pancake become too browned before the inside is fully cooked through. Add a pat of butter to the skillet and then scoop about ⅓ cup of pancake batter onto the skillet. You can use ¼ cup, ⅓ cup, or ½ cup measuring cups depending on how large you want your pancakes to be.
Serve with butter, maple syrup, fresh berries, and whipped cream.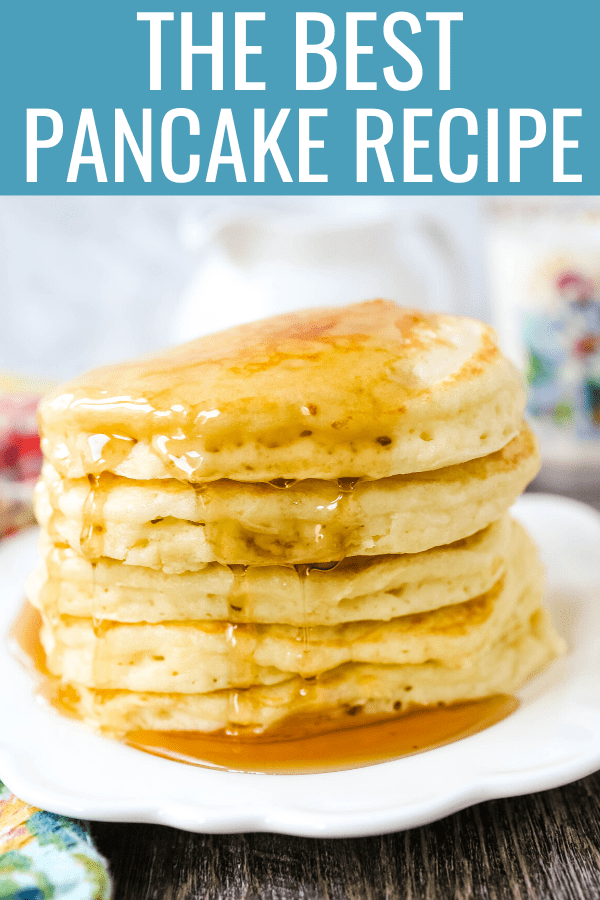 If you love pancakes, here are some other favorite pancake recipes:
GOLDIE'S BUTTERMILK PANCAKES
HEALTHY BANANA OATMEAL PANCAKES
SWEET CREAM RICOTTA PANCAKES
COTTAGE CHEESE PANCAKES
I love to hear from you! If you make this recipe, please be sure to leave a comment and give this recipe a rating. Sign up for my newsletter below so you never miss a recipe. Thank you for following along! I truly do have the greatest readers. FOLLOW ME ON: INSTAGRAM — FACEBOOK— PINTEREST