This Marinara Sauce is the best tomato sauce recipe! This San Marzano Tomato Sauce is made with extra-virgin olive oil, garlic, San Marzano canned tomatoes, tomato paste, fresh herbs, and spices. This homemade marinara sauce simmers for hours to create the most robust and flavorful easy marinara sauce.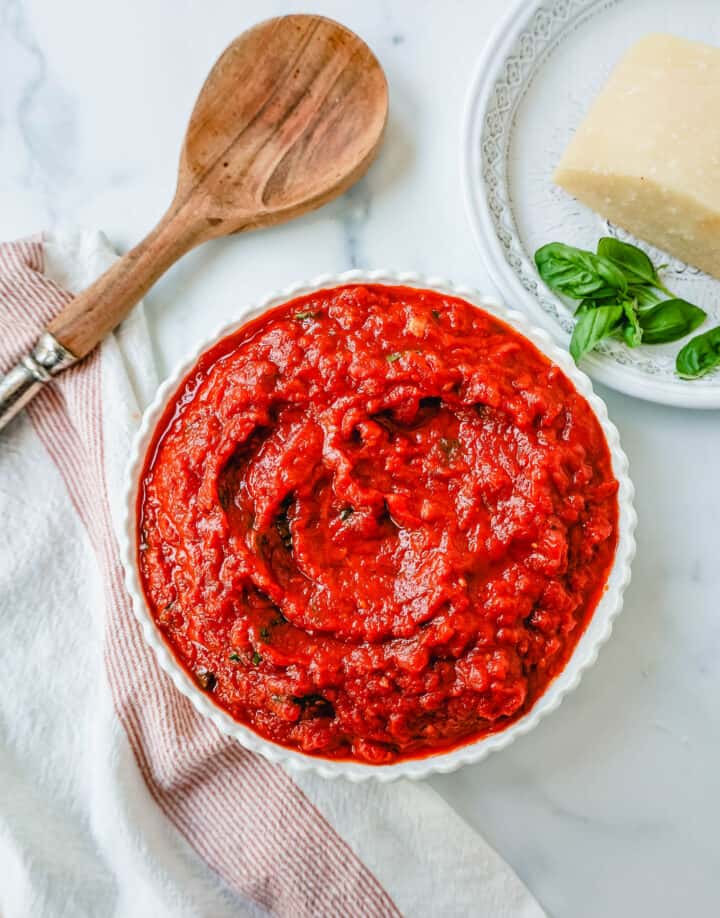 I am so excited to share our family's famous marinara sauce recipe! This is seriously the best San Marzano pasta sauce recipe and it is so easy. I use this whenever I am making spaghetti, spaghetti and meatballs, lasagna, chicken parmesan, or any of my Italian recipes.
You are going to love this easy marinara recipe and I hope it will become a staple in your home.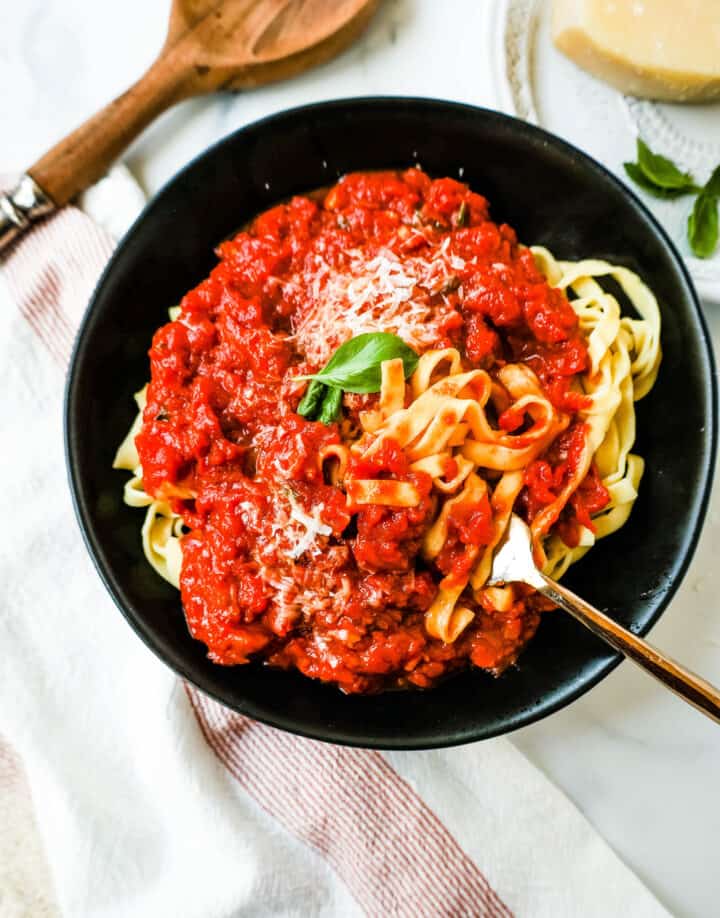 Ingredients in Homemade Marinara Sauce:
Extra-Virgin Olive Oil
Garlic Cloves
San Marzano Whole Peeled Canned Tomatoes
Tomato Paste
Salt and Pepper
Sugar
Basil
Oregano
Red Chili Flakes
What are San Marzano Tomatoes?
For extra rich tomato flavor, I suggest using San Marzano tomatoes. Compared to the popular roma tomato, San Marzano tomatoes are thinner and more pointed. The flesh is thicker with fewer seeds, and the taste is more robust, sweeter, and less acidic. San Marzano tomatoes originate from the small town of San Marzano sul Sarno, near Naples, Italy.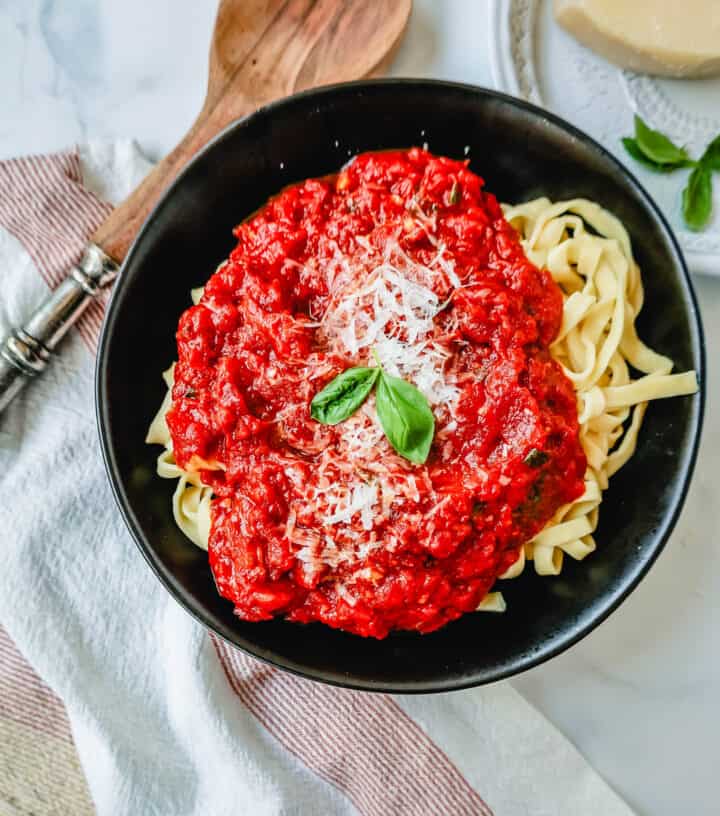 How to make San Marzano Tomato Marinara Sauce:
Start by sauteeing garlic with extra-virgin olive oil. This will only take 1-2 minutes, maximum, since garlic can easily burn. If garlic burns, it can turn bitter, so you always want to water garlic carefully.
Add San Marzano canned tomatoes with juices into the sauteed garlic. Add tomato paste, salt, pepper, and sugar.
Reduce heat to LOW and let it simmer. You don't want to completely cover the pot with a lid or too much condensation will form. I suggest just partially covering the pot with a lid.
Simmer on low heat for 2-4 hours, stirring often, to keep the sauce from burning on the bottom of the pan.
After the sauce has simmered, add in the fresh herbs, basil and oregano, and red chili flakes.
Taste for seasonings and add more salt and pepper, if needed.
Substitutions in Homemade Marinara Sauce Recipe:
Even though I suggest using San Marzano canned tomatoes, you can use any type of canned whole, peeled tomatoes.
If you don't have fresh basil and oregano, you can use dried basil and dried oregano.
The sugar is used to offset the acidity of the tomatoes.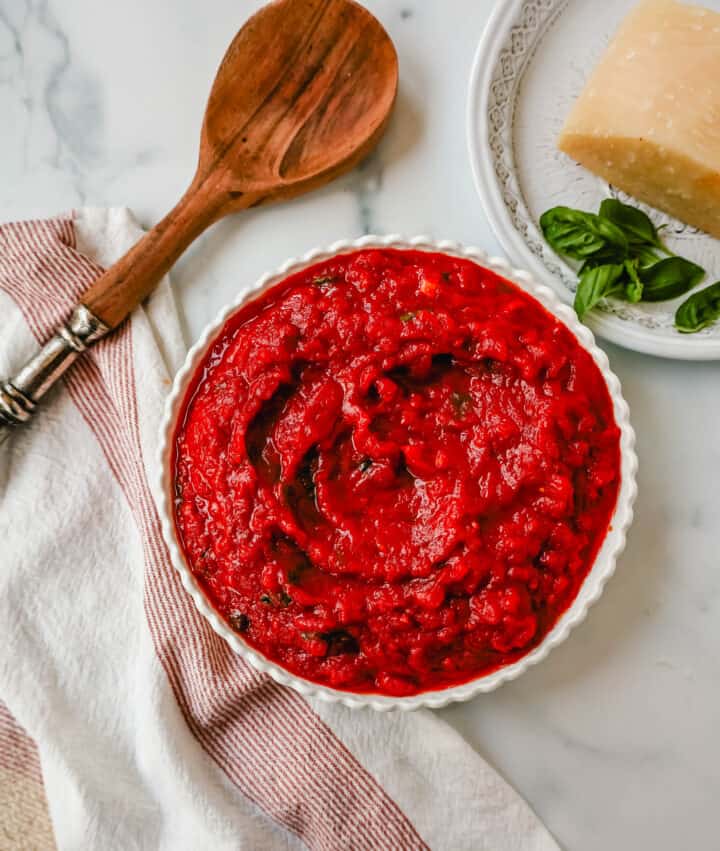 Why is it important to let the homemade marinara sauce simmer for hours?
By simmering the marinara sauce on low heat, the ingredients are able to integrate together and develop richer and deeper flavors. The tomatoes become less acidic as they meld together with garlic, herbs, and spices.
The marinara sauce also reduces and develops even stronger flavors.
What additions can I add to marinara sauce?
You can add browned ground beef, Italian sausage, or your favorite type of meat.
You can also add more fresh herbs for more freshness or more red chili flakes for more spice.