Hunka Hunka Triple Chocolate Cookies are the perfect rich, soft, and chewy chocolate cookie filled with chocolate chips and white chocolate chunks. The ultimate White Chip Chocolate Cookies. The Best Black and White Chippers!

Triple Chocolate Chip Cookies
Since I have been baking cookies since I could climb on top of a stool, I take my cookie recipes pretty seriously! I am sharing all of my tips and tricks for making soft chewy chocolate cookies. This is one of my favorite recipes of all time!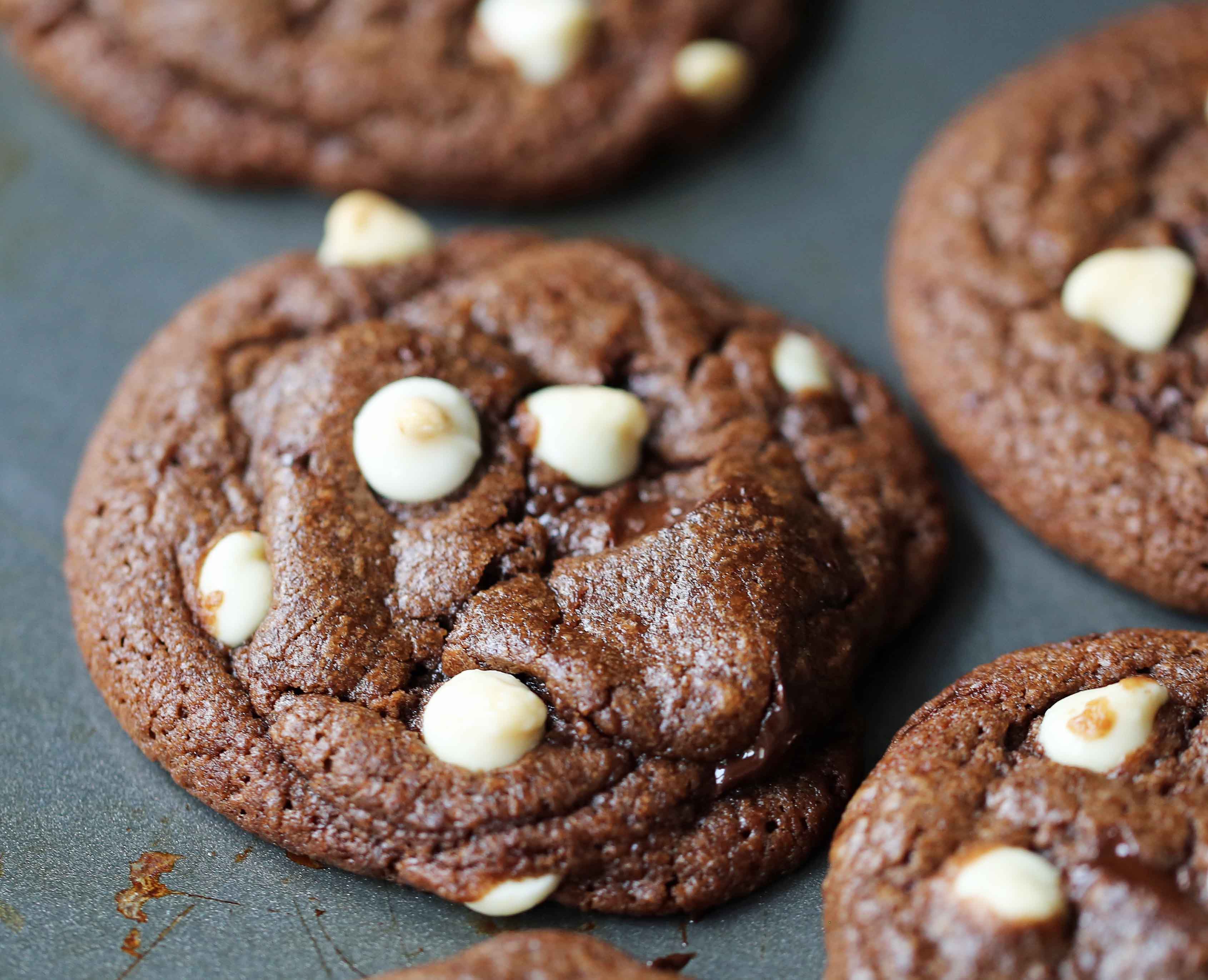 I have A LOT of cookies on Modern Honey but I have to say that this recipe is one of my very favorites. I am obsessed with these white chip chocolate cookies. These Black and White Chippers are a rich chocolate cookie with a combination of white chocolate chips and semi-sweet chocolate chips. Every time I used to go shopping with my Mom at the mall, we would visit Paradise Bakery and pick up their famous black and white chippers. I wanted to create a soft and chewy chocolate cookie just like Paradise Bakery!

Growing up, my Dad sang Elvis Presley songs non-stop. It was usually accompanied by some over-the-top dance moves that made us laugh until we cried. He would sing at the top of his lungs and we learned all of the lyrics through his crazy singing.
The famous song, "Burning Love" has stuck with me all through the years. Come on…who else has heard of this song?
I'm just a hunk, a hunk of burning love
A hunk, a hunk of burning love
But here's the thing….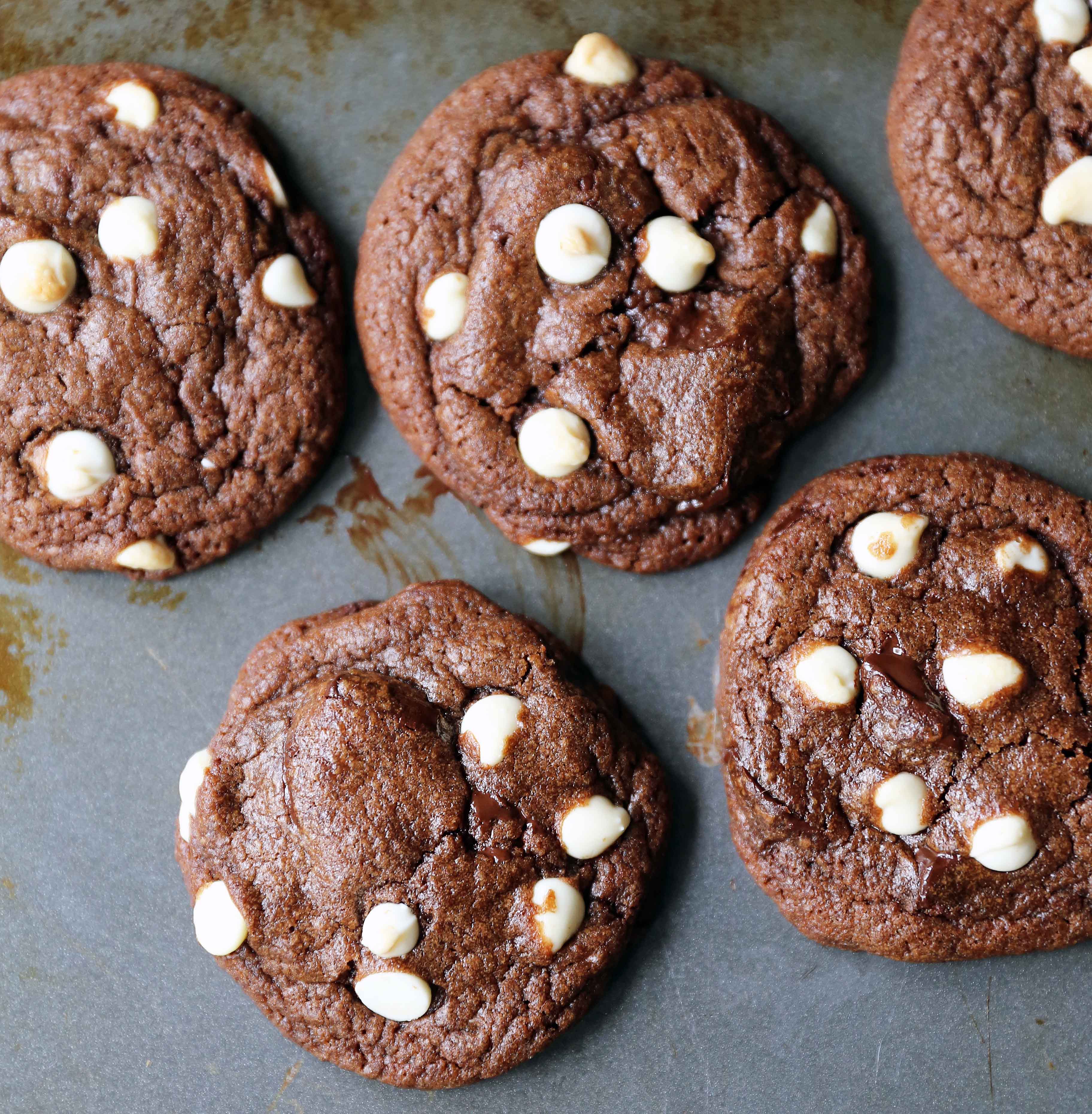 I am a terrible singer.
No really, I am horrible.
Just ask Ms. Sherzinger, the music teacher at Nathan Hale Elementary school.
Flashback to 6th grade when we all had to sing a quick solo so our music teacher could decipher if we were an alto or soprano. Out of the entire 6th grade, there were 3 of us who were called up and told that they just couldn't quite figure out where we belonged.
Basically, we were horrendous.
I don't think I've sung in public since that day. Now it's a completely different story in the comforts of my own home, car, or shower because I still belt out those songs. I without a doubt sing out of tune and off-key but it's all good. I accepted and came to term with the fact that I was not blessed with the musically talented gene. 🙂
Is this a good time to tell you that my sister-in-law played Glinda from Wicked on Broadway?
I digress.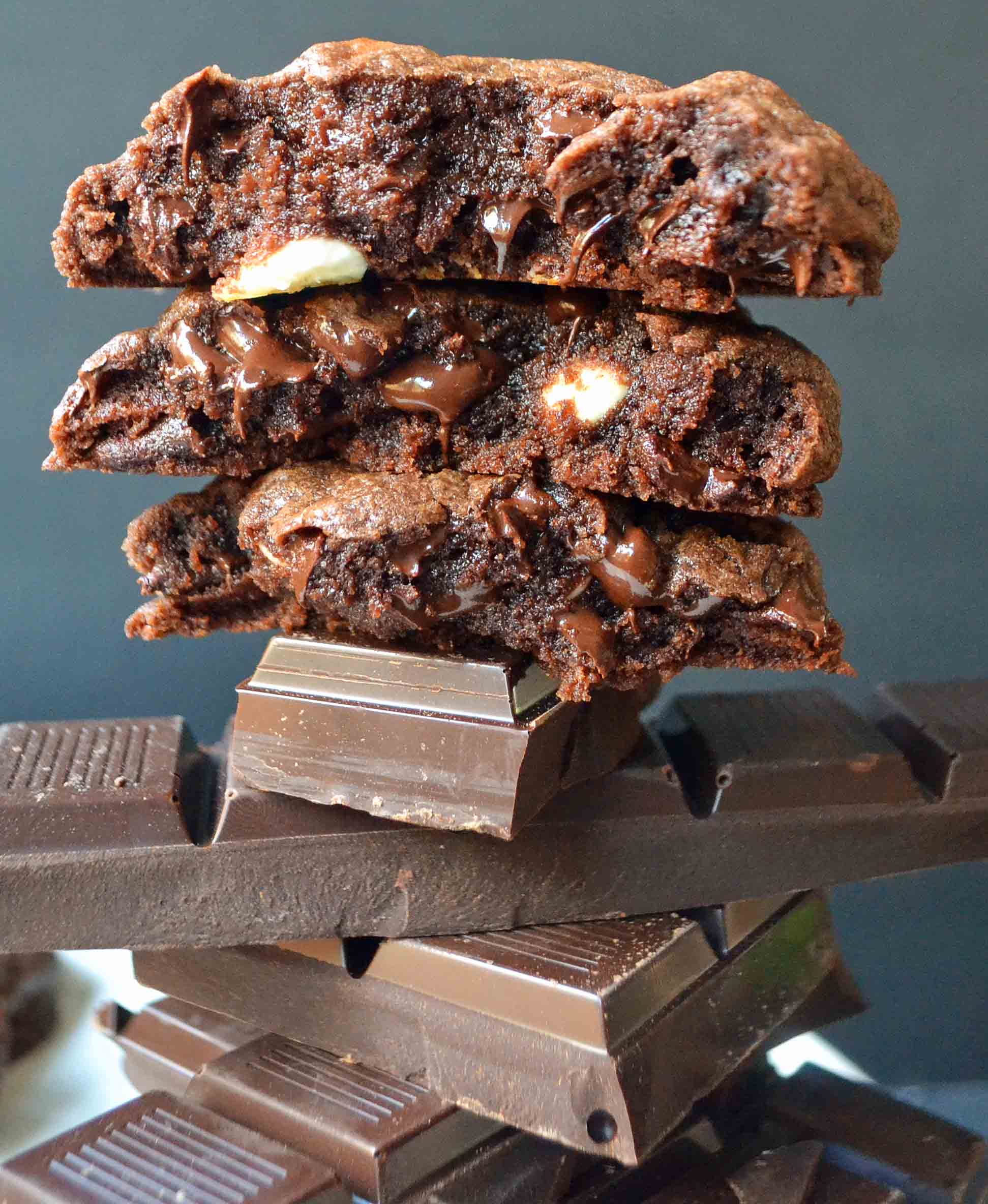 These Hunka Hunka Triple Chocolate Cookies are the King of all chocolate cookies. I named them Hunka Hunka after that famous Elvis song and because they are a big, thick, hunk of a cookie. Even though it's thick, it is still the perfect mix of a gooey, rich chocolate brownie and a soft, warm cookie. I can't even.
These triple chocolate cookies are chock full of both chocolate chunks AND white chocolate chunks. If you have been to Paradise Bakery or Panera Bread and devoured their black and white chippers like there's no tomorrow, then you will appreciate these cookies. White and Dark Chocolate Chip Cookies are insanely amazing! If you love chocolate, you will go crazy for these chocolate chunk cookies.
Did I tell you they are easy to make? Beyond easy.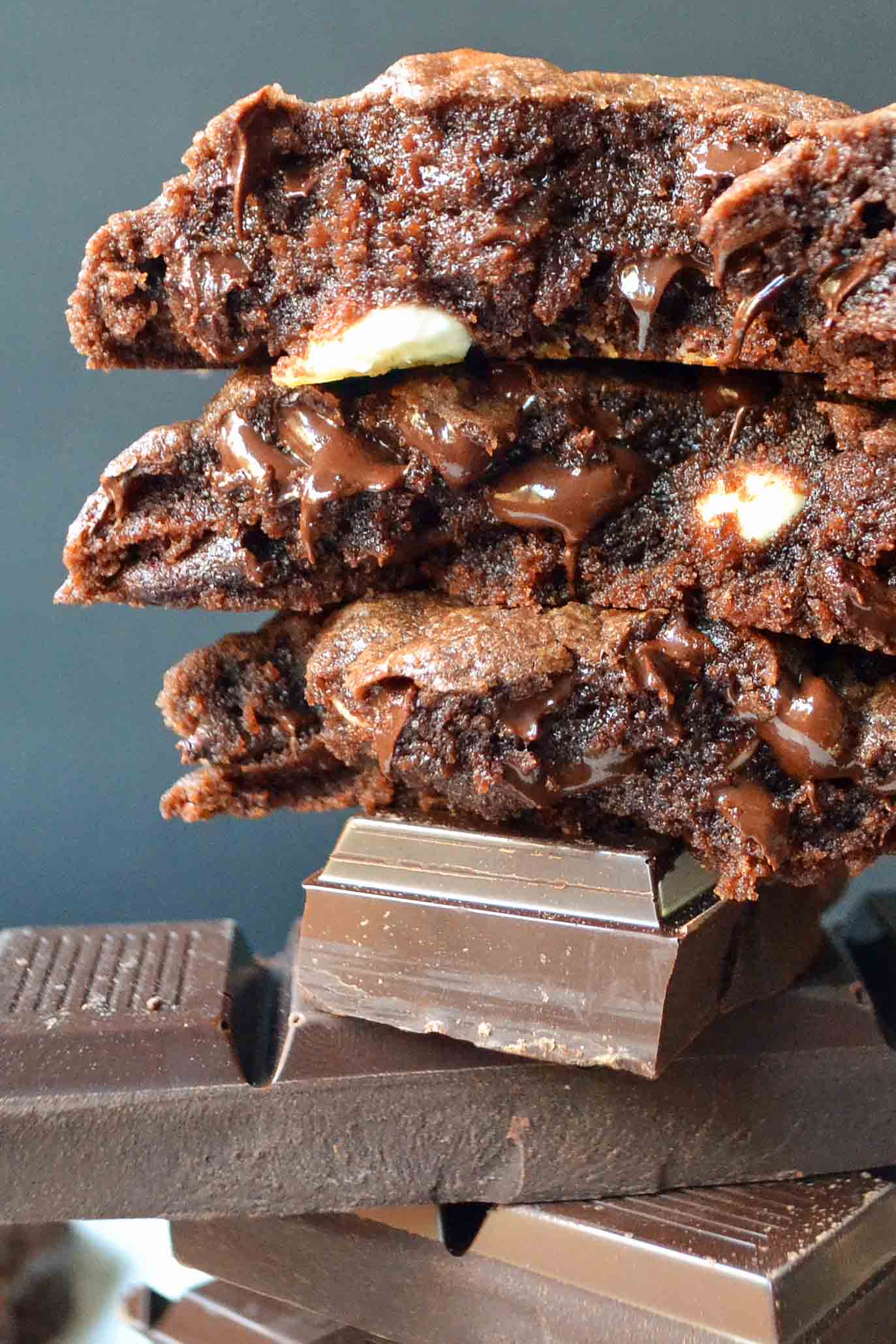 5 tips for making Perfect Triple Chocolate Cookies:
1.  Cream the butter and sugar for 4 minutes. This is what makes the cookie dough extra creamy and gives time for the butter to wrap around the sugars. It also creates air pockets in the dough which gives the cookies some rise.
2.  Add eggs one at a time, mixing well after each addition.
3.  Use high-quality cocoa. Get the good stuff because it's the star ingredient.
4.  Chilling the dough makes the cookies even better. It's hard to be patient but it is worth the wait. 24-48 hours is best but even an hour will make a difference. It also helps to keep the cookies from spreading too much.
5.  Bake just until cookies has crisp edges and chewy centers. Keep an eye on the cookies as they reach the allotted baking time. Don't burn the cookies. No hockey pucks!
SHARE on PINTEREST: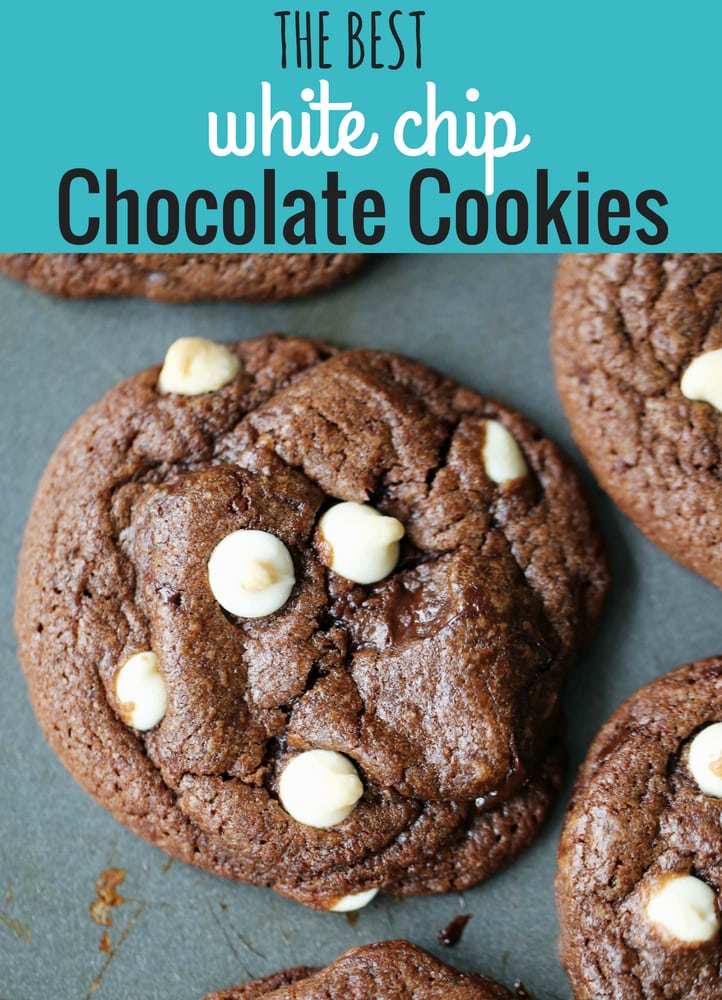 Pin this now to find it later
Pin It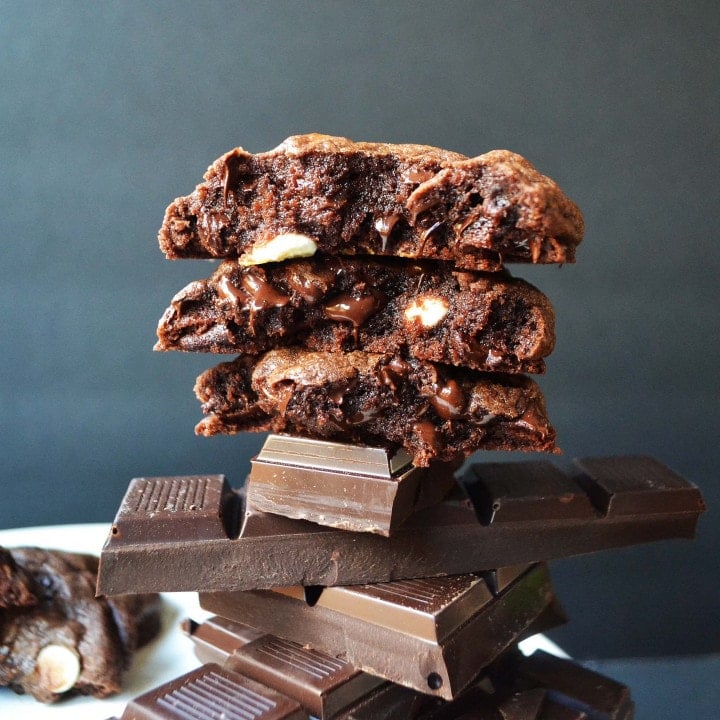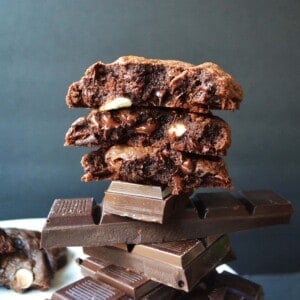 Hunka Hunka Triple Chocolate Cookies
A rich, gooey, chocolate brownie meets a warm, soft white chocolate chunk cookie.
Ingredients
1

cup

Butter, cold cut into small cubes

1 3/4

cup

Sugar

2

Eggs

2

teaspoon

Vanilla

1/2

cup

Cocoa

high quality **

2 1/4

cup

Flour

1

teaspoon

Baking Powder

1/4

teaspoon

Salt

1

cup

Chocolate Chunks

1

cup

White Chocolate Chunks

**Notes: I use Callebaut cocoa powder. It is high quality but it can be found for an incredibly low price at a Winco grocery store in their bulk bins. It's 4 times as much on Amazon. Trader Joe's has a nice cocoa powder as well.
Instructions
Preheat oven to 360 degrees.

In a large mixing bowl, cream cold butter cubes and sugar for at least 4 minutes, scraping the bowl halfway through mixing.

Add eggs one at a time, mixing well after each addition. Add in vanilla.

Stir in flour, cocoa, baking powder, and salt. Stir in chocolate.

Drop large spoonfuls onto cookie sheet lined with a Silpat or parchment paper.

Cook for 10-14 minutes.

*adapted from Food for a Year
Nutrition information is automatically calculated, so should only be used as an approximation.
My darling friend, Emily Schuermann has a blog called Food for a Year and this is an adaption of her recipe because, after all of the triple chocolate cookies I have ever made in my life, these are by far, hands down, my favorite.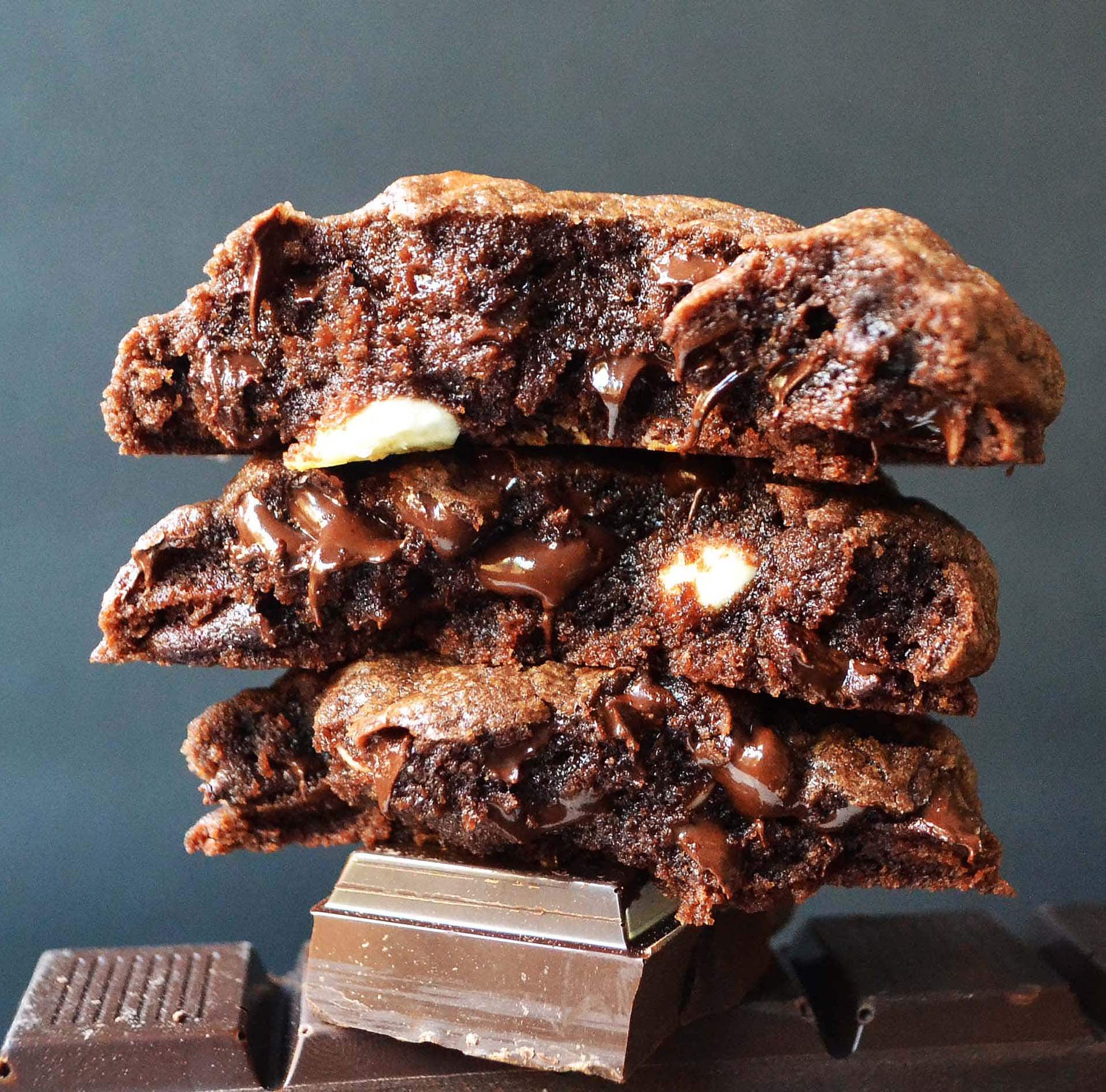 This for all of my chocolate lovers out there. We are united in LOVE for these
Hunka Hunka Triple Chocolate Cookies.
Happy Baking! xo
Thanks for sharing the LOVE on Pinterest: