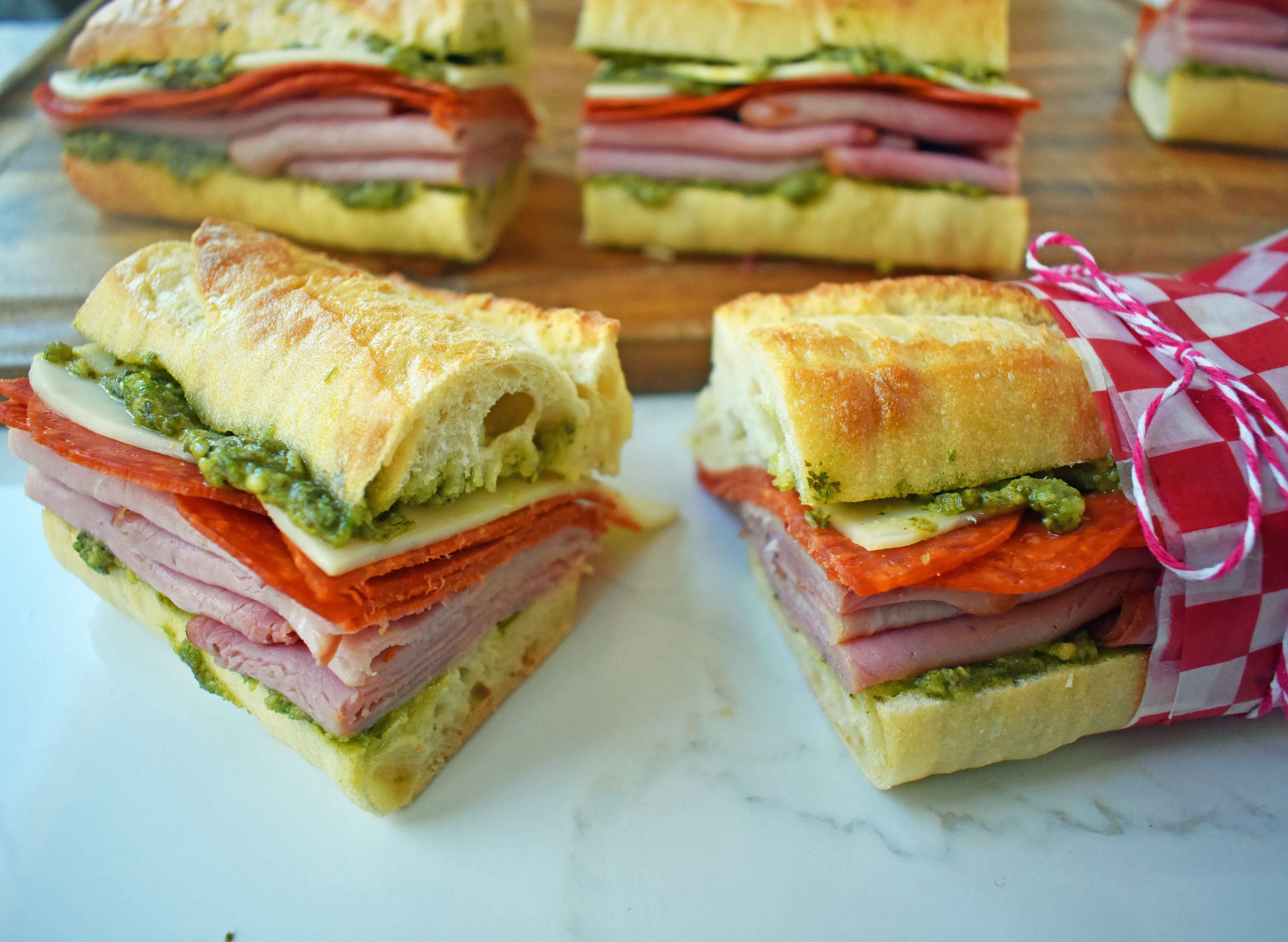 Italian Pressed Sandwiches are my go-to sandwich because they are always a surefire hit. There's just something about Italian meats and cheeses that make a sandwich so delectable and flavorful.
The beauty of an Italian Pressed Sandwich is that it can be made ahead of time. Since this Italian sub sandwich is made on a hearty french bread loaf, it can stand up to the moisture of the spread. It can also feed so many people! I make this anytime I am throwing a casual lunch or serving a lot of hungry kids.
Here's how you make your very own Italian Pressed Sandwiches:
Start with a really good loaf of french bread. I go straight to my bakery at my local grocery store and get their finest bread. It is never more than $2-$3 and feeds the masses. I always ask if they have any coming straight out of the oven because that's when you hit the jackpot. I have used the traditional size french bread, french baguettes, italian round bread, and so many others. It depends on if you want it to be soft and chewy or hearty.  If I am making it ahead of time and I want it to stand up to the pesto or vinaigrette, I go for a hearty baguette. If I am making it that day, I tend to choose a softer bread.
Spread it with pesto sauce, an olive oil vinaigrette, mayonnaise, or an Italian dressing. You can spread your pesto sauce or mayonnaise over both sides of the bread. If I am using an Italian vinaigrette, I will usually drizzle it over the top of the meats, lettuce, or tomato.  The pesto gives the sandwich a lot of depth because it is made from fresh basil leaves, olive oil, parmesan cheese, and pine nuts. It can be quite strong so you want to ensure that your peeps are pesto lovers. A surefire winner is to go with a light spread of mayo or a drizzle of Italian dressing.
Top it with your favorite Italian meats and cheese. Our go-to favorites are ham, salami, and pepperoni. Super simple but always good. You can choose only 2 or do all 3. Whatever floats your boat. Top with provolone cheese because cheese is ridiculously good and makes the sandwich creamy.
Top it with tomatoes marinated in olive oil, vinegar, and spices and finely shredded lettuce.  These marinated tomatoes are super flavorful and add such a nice freshness to the sandwich but can be a tad messy. I warned you. 🙂 Now if you want a mess-free sandwich, don't even attempt these marinated tomatoes. It's my husband's favorite part of the sandwich so I sometimes put them on the side for my tomato lovers in the family. I will dice my tomatoes, place them in a bowl, season with salt, pepper, and oregano and drizzle with olive oil and vinegar and let them chill for a few minutes. The flavors penetrate inside the tomatoes and make them oh so good. You can always slice tomatoes and place them on top and drizzle with oil, vinegar, salt, pepper, and oregano. So many choices!
My Mama always taught me to finely shred your lettuce and it makes a big difference. Slice your iceberg or romaine lettuce into long, thin strips.
If making ahead of time, tightly wrap in Sarah Wrap and place in the refrigerator. If you want a true pressed sandwich, place something heavy on top of the sandwich to allow the flavors to meld together overnight. If you make them ahead of time, you can wait to dress the sandwich with the Italian dressing to make sure the bread doesn't get soggy overnight.
Another option is to toast your sandwich. We sometimes put the meat and cheeses on top of the bread and place under a broiler for 2-3 minutes, until the cheese is melted. Oh my heavens it is to die for good! Watch it carefully because it can go from perfectly golden to perfectly burned in 2.5 seconds. After you remove it from the oven, you can top it with your tomatoes and lettuce.
This Italian Pressed Sandwich is perfect for a picnic or can even be packed in your child's lunchbox ahead of time.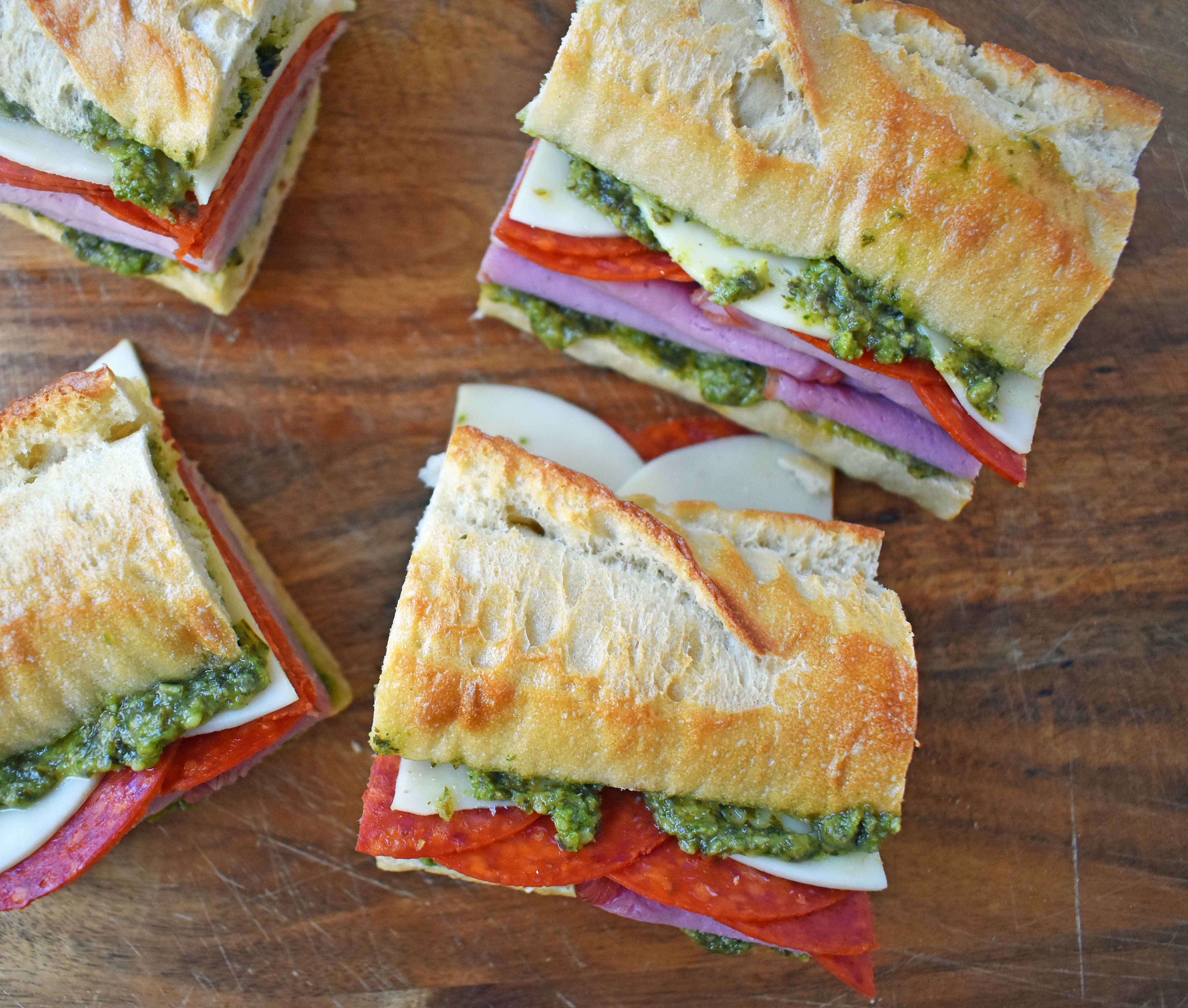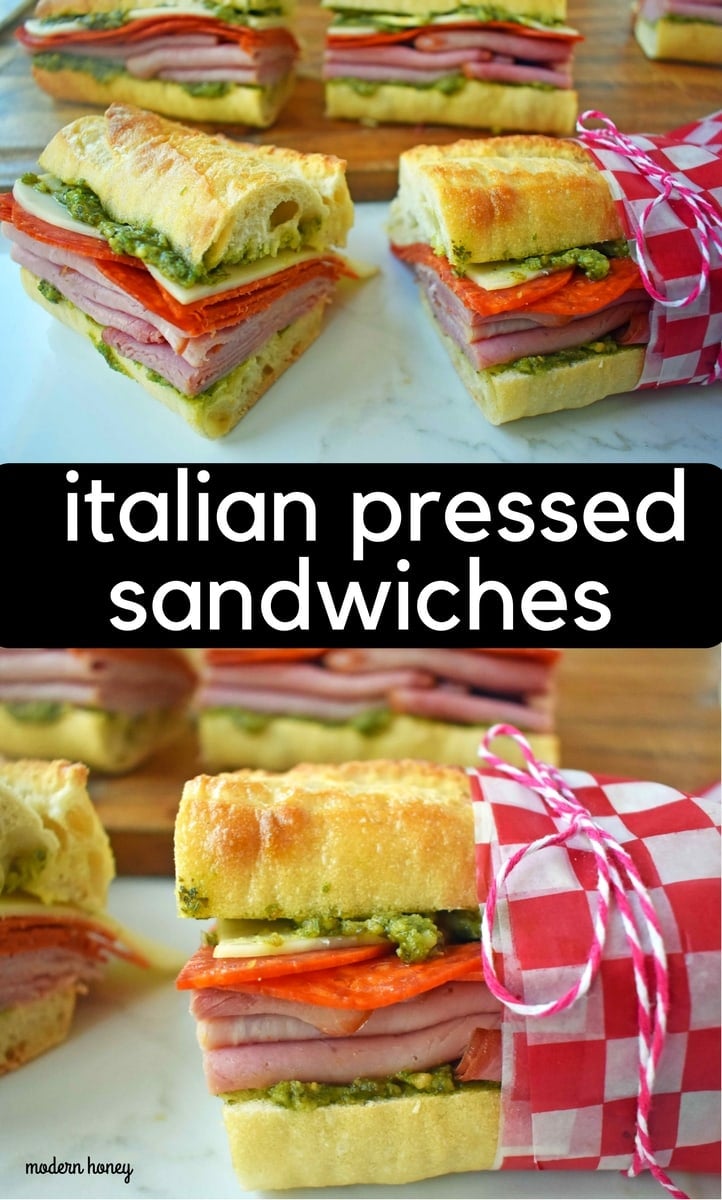 I hope that a picnic with this Italian pressed sandwich is in your near future. I would love to hear from you if you make this Italian sub sandwich. Have a great day, my friends!