How to make the perfect homemade chocolate chip cookies. Tips and tricks from an expert cookie baker for making the best chocolate chip cookies!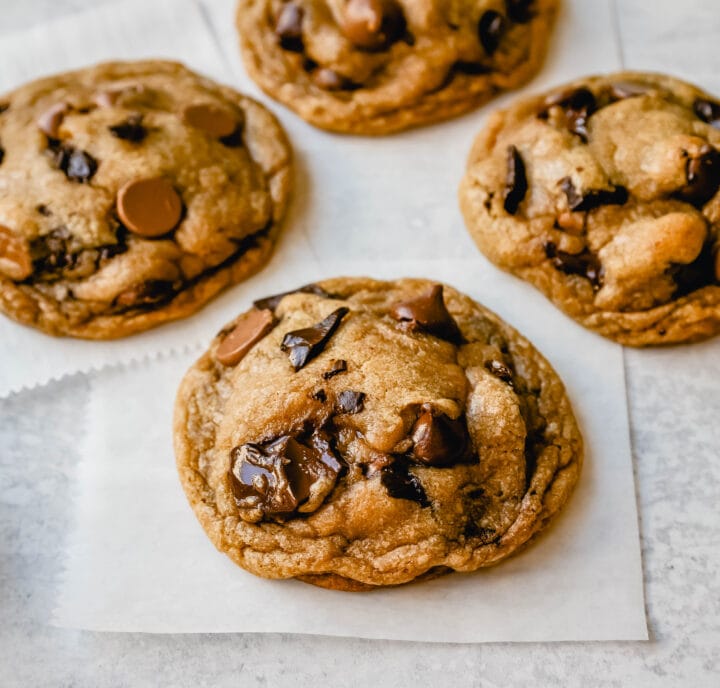 I am a baking nerd.
I love to study the science of baking and creating the best chocolate chip cookie recipes.
Fun fact: I actually won the Cooking Channel's Perfect Cookie Contest in 2011 and flew to New York City to film in the Food Network Studios.
People ask me all of the time what my go-to chocolate chip cookie recipe is. I have narrowed it down to 3 signature chocolate chip cookie recipes and this is one of them.
If you want to know what the other two popular chocolate chip cookie recipes are, here are my other two favorites -- my FAMOUS LEVAIN BAKERY CHOCOLATE CHIP COOKIES and my CLASSIC BEST CHOCOLATE CHIP COOKIE RECIPE.
This homemade chocolate chip cookie recipe is all made in a saucepan! You don't need to use a stand mixer or pull out your hand-held beaters. This is such an easy chocolate chip cookie recipe!
It all starts with melted butter, which helps to dissolve the sugars so it creates a smooth cookie texture. The melted butter has some browned butter notes which creates a caramel, toffee type flavor.
This recipe calls for dark brown sugar, which is going to create a chewy texture and a rich flavor. This has a high amount of butter as well which creates those perfect buttery, crisp edges and chewy centers in a chocolate chip cookie we all know and love!
Here are my tips and tricks for making the perfect homemade chocolate chip cookies.
HOW TO MAKE PERFECT CHOCOLATE CHIP COOKIES:
1. DON'T OVERBAKE COOKIES.
This is one of the most common issues in baking. The rule of thumb in baking is that it is better to underbake and cookie rather than overbake a cookie. An ooey-gooey chocolate chip cookie is better than a burnt, hard-as-a-rock cookie! The cookies will continue to bake on the hot cookie sheet once you remove the cookies from the oven.
Once you remove the cookies from the oven, let them firm up on the cookie sheet for at least five minutes. As soon as the cookies are firm enough to transfer, move them to a grid wire cooling rack. A cooling rack is important when baking cookies as it allows air to circulate and allows the cookies to keep a perfectly crisp exterior and chewy center.
2. Use LIGHT-COLORED, THICK BAKING SHEETS.
I suggest using a light-colored, heavy-gauge aluminum cookie sheet. If you use a dark-colored baking sheet, the heat from the oven is attracted to the dark color and the bottoms of the cookies will cook faster and may become too brown and burn before the center of the cookie is baked through.
A heavy, thick baking sheet will conduct heat differently than a thin baking sheet.
Space the cookies apart. The cookie dough should be placed at least 2 inches apart on the baking sheet. There are two main reasons for spreading out the cookie dough. The number one reason to space the cookies is to avoid spreading. The second reason is to allow the heat to circulate around the cookies to ensure those golden, crispy edges.
2. CHECK OVEN TEMPERATURE.
Oven temperatures can vary so use an oven thermometer to check to see if the actual temperature inside the oven matches the reading on the outside.
Become familiar with potential hot spots in your oven. For example, if the back of the oven runs hotter than the front of the oven, the cookies in the back may become browner faster than the ones in the front. Oven temperatures may vary up to ten degrees in different parts of the oven. I suggest rotating the baking sheet halfway through baking time to ensure even baking.
Make sure to preheat the oven before baking cookies. It usually takes about 7-10 minutes to preheat an oven so plan accordingly.
4. MEASURE INGREDIENTS CORRECTLY.
Use the Dip and Sweep method for measuring the flour in a recipe. Do not tap the measuring cup filled with flour on the counter or press the flour into the cup as it settles the flour and you risk adding too much to the recipe.
The dip and sweep method is done by dipping your measuring cup into the flour and lightly taking a knife and running it along the measuring cup to make it even. The most important tip is to NOT press down or compress the flour. This will result in too much flour. If you have a kitchen scale, it is the most accurate way to measure flour. Scroll down below to find a conversion table of cups to grams.
6. MAKE YOUR COOKIES LOOK GOURMET.
To make your cookies look extra gourmet, roll the cookie dough into smooth and uniform balls. Make sure the dough balls are completely smooth.
Press several chocolate chips or chunks on the outside of the round cookie dough balls. This ensures the cookies have perfectly placed chocolate on the top of the cookies when they bake.
Form and shape your cookies after baking. After removing from the oven, take a spatula and press the edges toward the center to form a perfect circle, or take a glass slightly larger than the cookie and place it on the top of each cookie and just move it around the cookie until a perfectly round circle is formed.
8. CHILL YOUR COOKIE DOUGH.
Why is chilling your chocolate chip cookie dough so important? The flavors meld together, the dry ingredients absorb the butter and sugar, and the cookies become richer and more decadent. So if time is on your side, chill the dough for at least 24 hours! This chocolate chip cookie recipe is the best because it only requires 30 minutes of chilling time but you can always chill the cookie dough for 24-48 hours.
Chilling the dough for at least 24 hours helps the ingredients to incorporate. The gluten which is developed by mixing the dough, is relaxed while the dough rests, which creates a more tender cookie. The moisture in the dough is absorbed by the dry ingredients, which helps to dissolve the sugar, and causes extra caramelization. The chocolate chip cookies become richer and more decadent. You end up with a chocolate chip cookie with rich toffee notes, a chewier texture in the center, and buttery, crispy edges.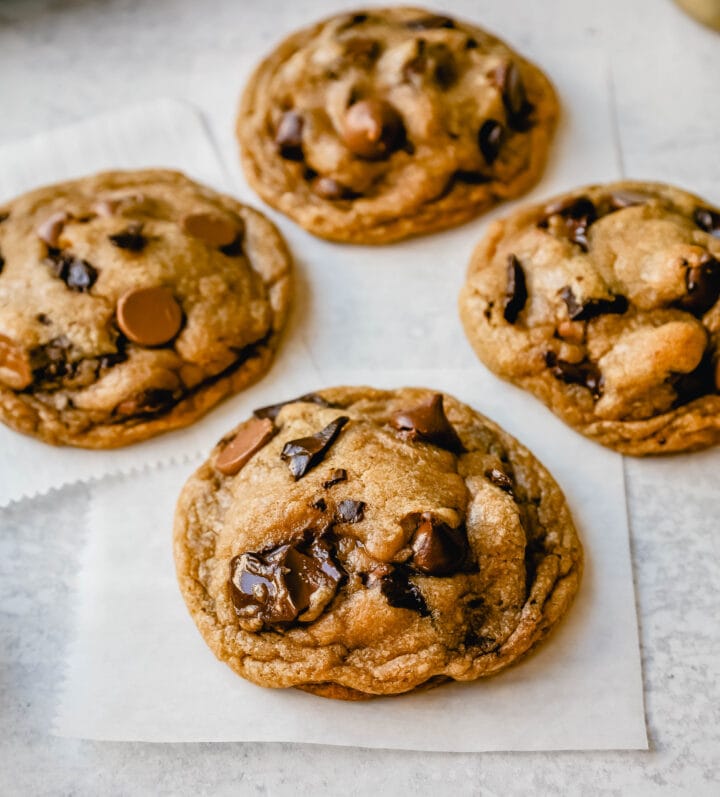 How do I know when my cookies are done baking?
My biggest tip in making homemade chocolate chip cookies is to make sure NOT to overbake your cookies. I suggest pulling the cookies out of the oven when they looked slightly underbaked as they will continue to cook once you remove the cookies from the oven. The surefire way to ruin a perfect batch of chocolate chip cookies is to overbake or burn them!
When the cookies start to turn a light golden color and you start to see them slightly flatten and form ridges on the edges, then you will know they are done. They may look slightly wet in the center but that is okay because we love a chewy center!
PERFECT CHOCOLATE CHIP COOKIE INGREDIENTS:
Butter — most bakers will tell you to use unsalted butter only. It is preferable to use unsalted butter in baking because the butter is usually fresher, since salt is used as a preservative, and you can control the amount of salt in the cookies.
However, many bakers have salted butter on hand. If you use salted butter, I suggest reducing the salt to ¼ teaspoon.
Brown Sugar — I generally use light brown sugar, unless I specify in the recipe to use dark. This perfect chocolate chip cookie recipe calls for dark brown sugar, which creates a chewier, richer cookie. You can always use half golden light brown sugar and half dark brown sugar. Make sure to pack down the brown sugar in the measuring cup for accurate measurement.
Granulated White Sugar — most recipes will just call for your regular granulated sugar. If you want a creamier, silky smooth butter-sugar mixture, I suggest using superfine sugar. You can buy it online or you can make your own by pulsing regular granulated sugar in a food processor for 10 seconds.
Eggs — most cookie recipes call for large eggs only. If possible, bring the eggs to room temperature. This can be done by holding the eggs under a stream or warm/hot water for about 30 seconds.
Vanilla Extract — I suggest using pure vanilla extract and not imitation vanilla flavoring. A good, high-quality vanilla can make a difference in the flavor of baked goods. My go-to vanilla is Nielsen-Massey pure vanilla extract, Mexican Vanilla, or Vanilla Bean Paste.
Flour — all of the recipes on Modern Honey use all-purpose flour, unless specified. In some recipes such as, my Levain Bakery Chocolate Chip Cookies, I use a mixture of all-purpose and cake flours.
Baking Soda — a leavener that provides lift to baked goods. When baking soda is mixed with an acidic ingredient (such as brown sugar, buttermilk, sour cream, etc), oxygen and carbon combine to form carbon dioxide, These tiny bubbles are what lift the dough and gives baked goods the loft we are looking for. It also promotes browning.
Salt -- this is an integral ingredient in baking, even in sweet desserts, as it is a flavor enhancer.
Chocolate -- most chocolate chip cookie recipes call for semi-sweet chocolate chips but you can use a mix of milk chocolate chips and semi-sweet chocolate chips in this recipe. I love to use chopped chocolate bars as well, because of how beautifully they melt in chocolate chip cookies.
What Chocolate should you choose for your Chocolate Chip Cookies?
Choosing the type of chocolate for your chocolate chip cookies will come down to personal preference.
The most popular type of chocolate used in chocolate chip cookies is semi-sweet chocolate. The second most popular type of chocolate would be milk chocolate.
My personal favorite brands of chocolate to use in my chocolate chip cookies are Guittard, Ghirardelli, and Trader Joe's.
I prefer the Guittard Milk Chocolate Chips for their rich, creamy flavor and the Ghirardelli Semi-Sweet Chocolate Chips. Trader Joe's chocolate chips are slightly larger in size and have a decadent chocolate flavor. You can use their Pound Plus Chocolate Bars to cut into chocolate chunks for the cookies.
How many cups are in a 12-ounce bag of chocolate chips?
One 12-ounce bag of chocolate chips equals two cups of chocolate chips.
6 ounces of chocolate chips equals 1 cup of chocolate chips.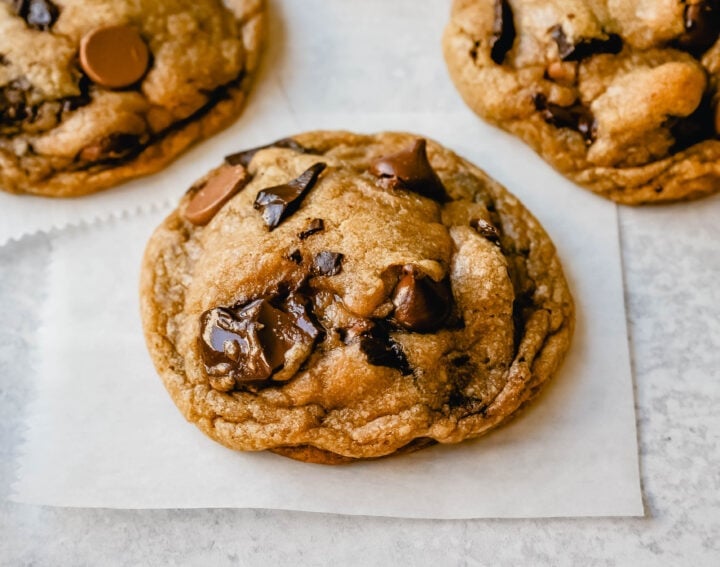 How to make homemade chocolate chip cookies:
Start by melting butter in a saucepan over medium heat. Make sure the saucepan is large enough to fit all of the ingredients. Let the butter completely melt.
Once the butter is completely melted, add brown sugar and sugar and whisk together until completely smooth and no longer grainy at all. Set aside for 15-20 minutes to allow to come to room temperature before adding the eggs.
Stir in vanilla extract and eggs and mix until it is completely combined.
Fold in flour, baking soda, and salt. Stir until combined.
Check to make sure the cookie dough isn't too warm before adding the chocolate. If the cookie dough is too warm, it will melt the chocolate. If it warm at all, I suggest covering the pan and placing it in the refrigerator for 5-10 minutes.
Remove from the refrigerator and fold in the chocolate chips or chocolate chunks.
Cover and place in the refrigerator to chill for 30 minutes.
Place 3-ounce chocolate chip cookie balls on light-colored baking sheets. Roll into balls and press several chocolate chips on the top of each cookie.
Bake for 8-9 minutes or just until a light golden color. DO NOT OVERBAKE! The cookies will continue to bake on the hot cookie sheet once removed from the oven.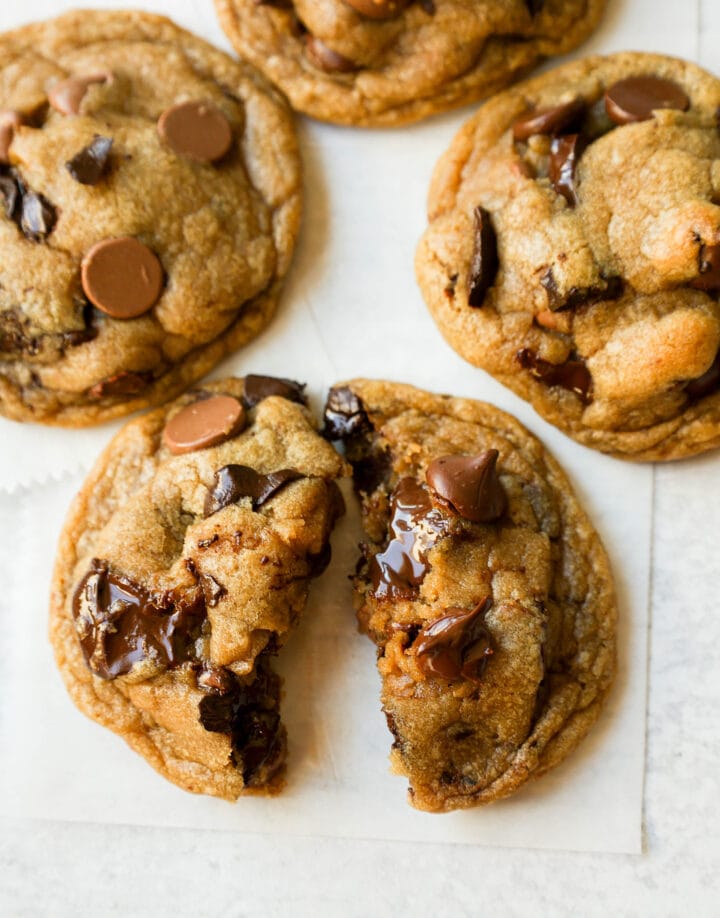 What Baking Tools do you need for cookies?
COOKIE Q & A:
Should I bake cookies on parchment paper?
Yes! Lining a baking sheet with parchment paper when making cookies will help cookies bake more evenly, the non-stick quality also helps prevent them from cracking or breaking when lifting them off the sheet.
If you love chocolate chip cookies made in a saucepan, check out my BROWNED BUTTER CHOCOLATE CHIP COOKIE RECIPE and my MJ's TOP SECRET CHOCOLATE CHIP COOKIE RECIPE.
How long to cool the cookies?
Cool the chocolate chip cookies on the baking sheet for at least 5 minutes to allow the cookies to set-up. After the initial 5 minutes, the cookies can be transferred to a wire rack.
How to store chocolate chip cookies:
Chocolate Chip Cookies need to be stored in an air-tight container to maintain freshness. These chocolate chip cookies can be frozen in gallon-sized freezer bags and can be in the freezer for weeks.