Light and fluffy Healthy Protein Pancakes are gluten-free and dairy-free and completely delicious!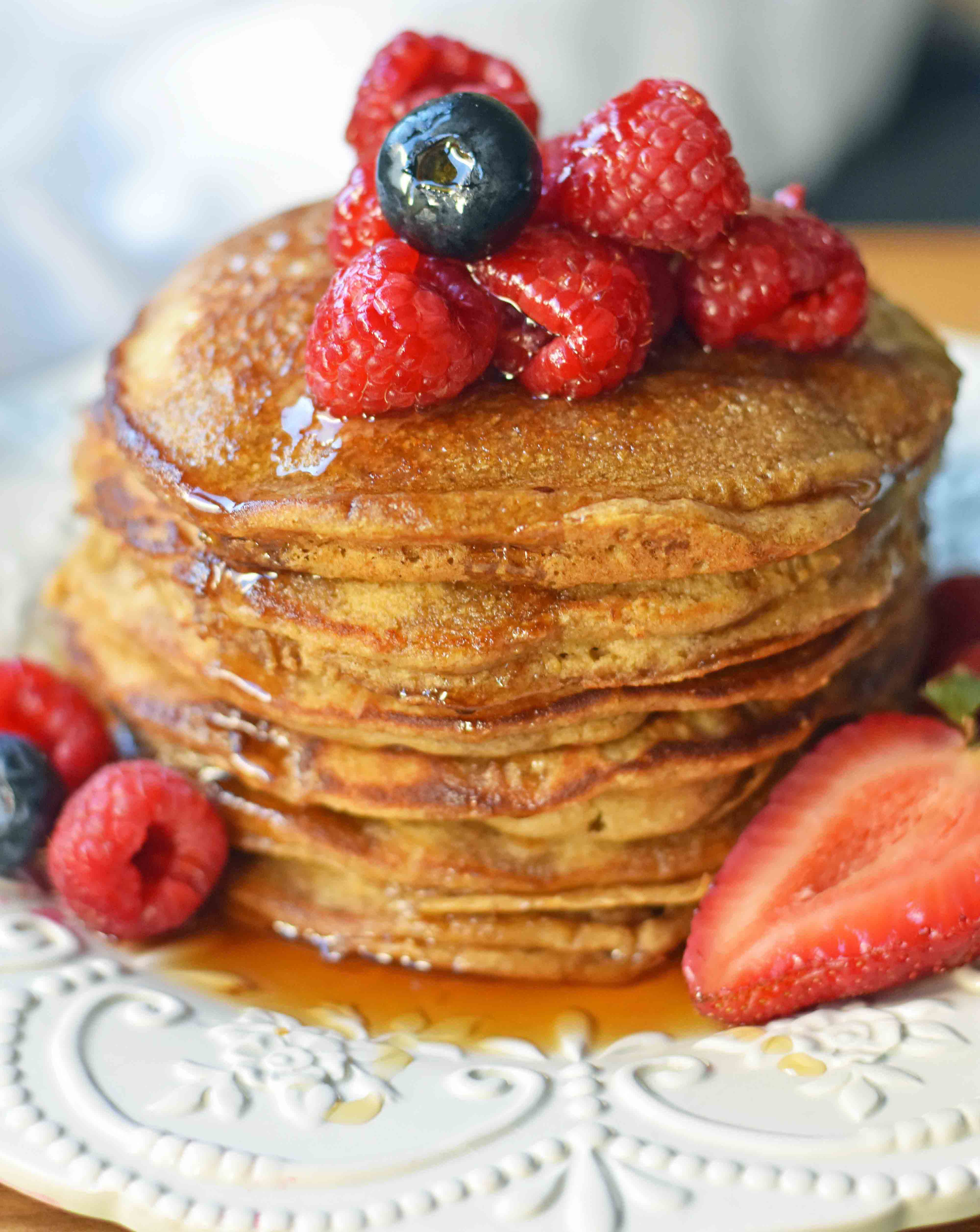 The most important meal of the day.
We have been hearing it since we are little. Breakfast is a BIG deal.
Since we are huge pancake fans in our home, I wanted to figure out how to eat our favorite breakfast while I was on a gluten-free and dairy-free diet. This is quite the feat since most pancake recipes call for flour and milk. However, I was on the quest to make healthy gluten-free pancakes. The Banana Oatmeal Pancakes were born and they have skyrocketed to be one of my most popular recipes in 2018.
Since I have been trying to get more protein in my diet, I decided to experiment to see if I could add protein to these healthy pancakes. The result was a tender, melt-in-your-mouth type of pancake. I was so ecstatic!
These Protein Pancakes are made with simple ingredients -- rolled oats, almond milk, collagen protein, vanilla, banana, egg + egg whites, baking soda + powder, and a touch of maple syrup. This Protein Pancake recipe can be whipped up in a blender in less than 30 seconds.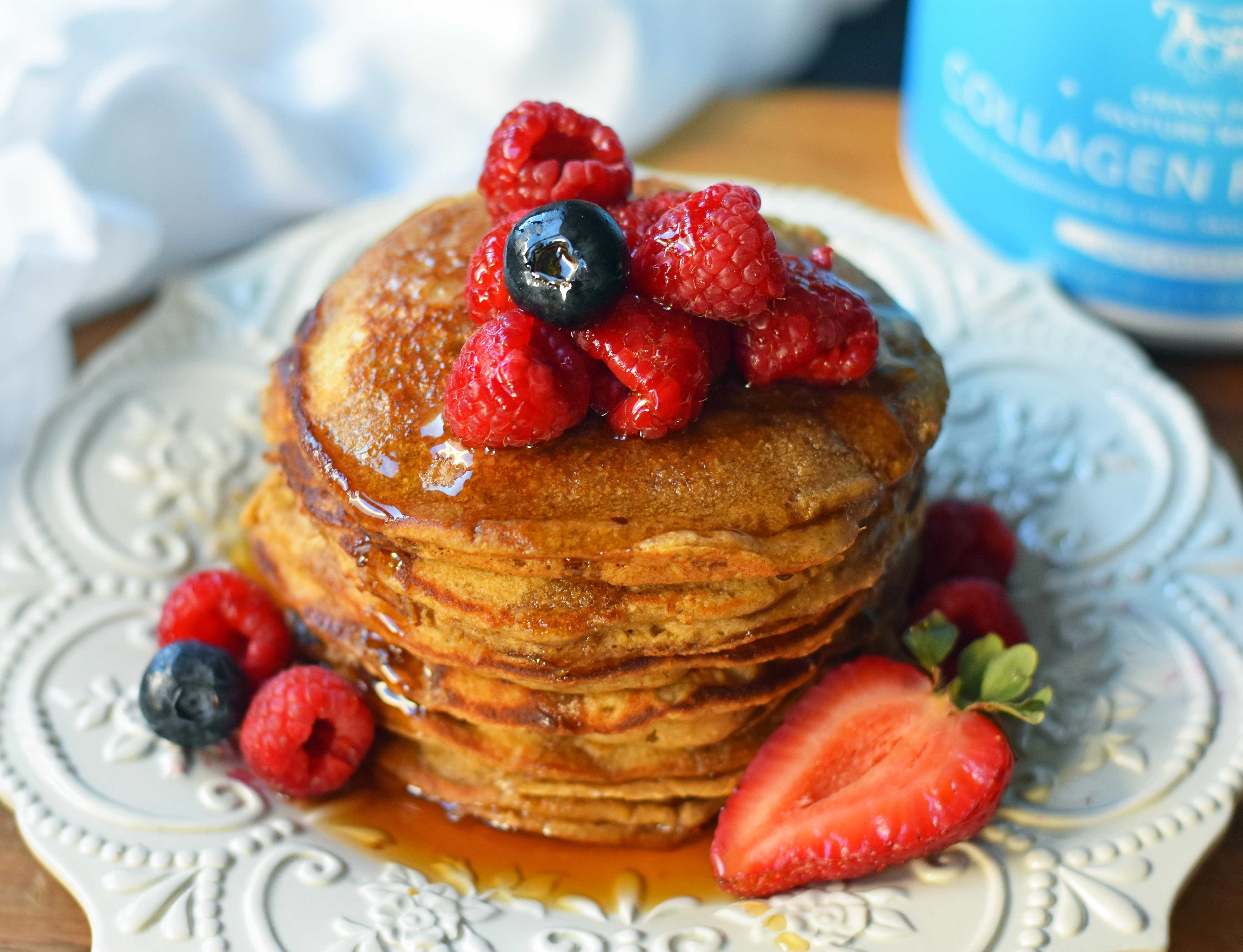 About two years ago, I started taking collagen.  We have been hearing about collagen all over and its insane amount of benefits. Since I deal with arthritis and joint issues, it is imperative to take collagen. Another important benefit of the Vital Proteins Collagen is that it helps improve hair, skin, nails, joints, ligaments, and tendons. I feel so much better mobility when I take collagen.
The beauty of this Vital Proteins Collagen Protein Powder is that it is tasteless, dissolves and absorbs quickly, and has over 20 grams of collagen and 18 grams of protein per serving. It has only 70 calories per serving too. You are getting your protein and collagen all-in-one! These protein powder pancakes are full of healthy carbs and protein.  You can buy Vital Proteins Collagen Peptides HERE.
How to make Protein Pancakes?
 Start with a blender. Everything is whipped up in a blender in less than 30 seconds. Start with liquid first (almond milk, eggs, vanilla, maple syrup) and then add the solids (oats, collagen protein, banana, baking soda + powder).  Blend until the oats are smooth.
Cook over medium-low heat. Spread butter on a skillet or spray with non-stick cooking spray.  Flip pancakes once bubbles start to form on the surface. Cook until cooked through.
Top with 100% real maple syrup, butter, and fresh berries. Top with almond butter or peanut butter for extra protein.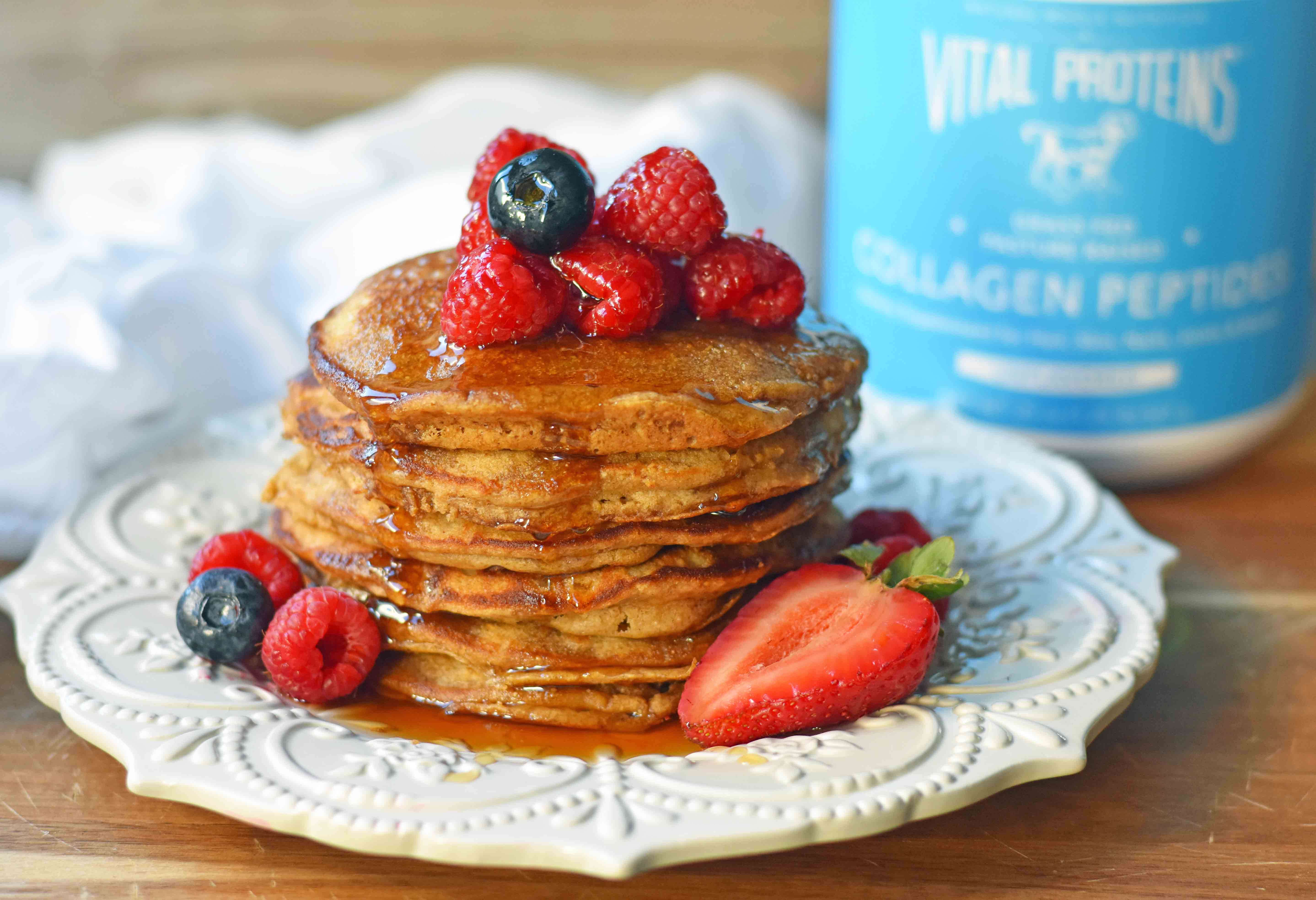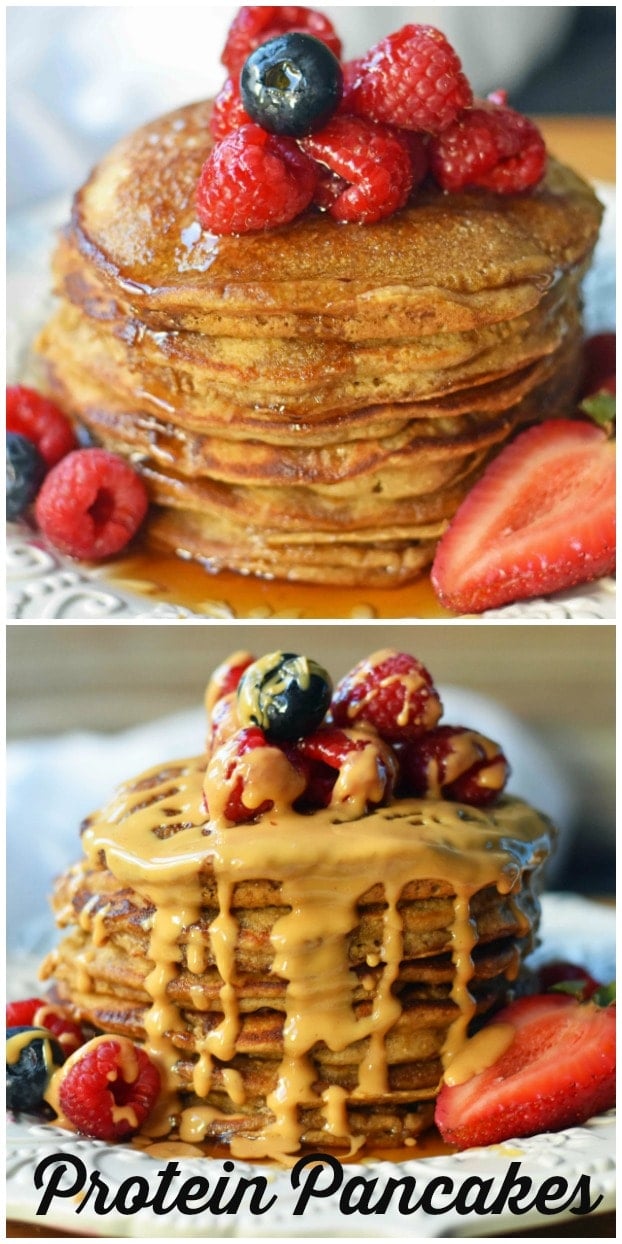 I hope you love these protein pancakes as much as my family does. This is such a perfect start to our day! Happy Cooking, my friends!