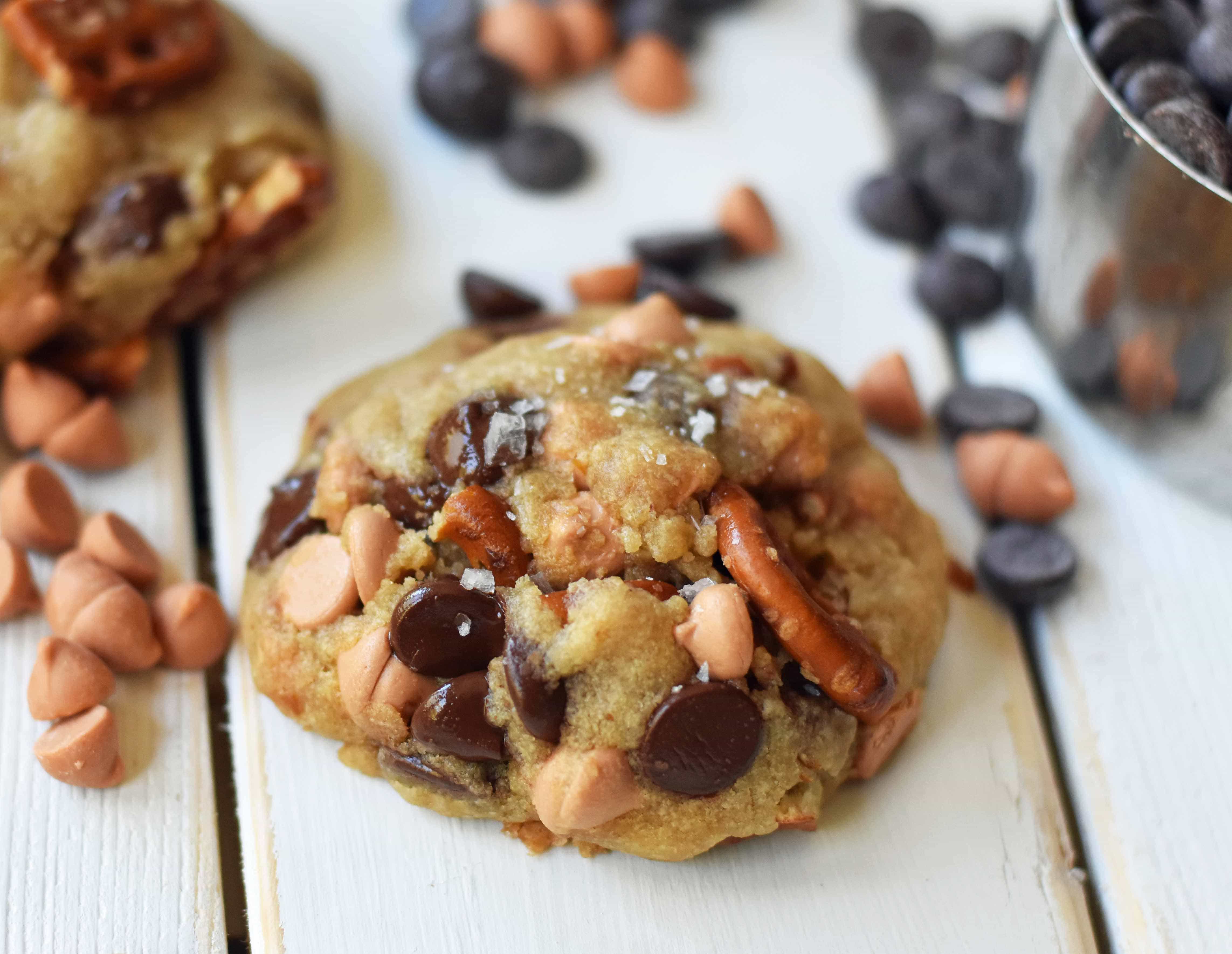 Sea Salt Pretzel Butterscotch Cookies
Sea Salt Butterscotch Pretzel Cookies made with brown butter, sweet butterscotch chips, semi-sweet chocolate chips, and salty pretzel pieces. It is the epitome of a sweet and salty cookie. I mean....the crunchy pretzels put these over the top.
I remember the very first time I tried to make cookies with brown butter. We were living in the very first home we built and had two young kids. I made cookies all of the time but didn't own a Kitchenaid at the time. Cookie dough made in one saucepan sounded like the most genius idea.
What I wasn't prepared for was the toffee and caramel notes in the cookie that came with just one simple step -- browning the butter. It tasted like such a richer and more decadent cookie without adding a ridiculous amount of brown sugar and butter. The method completely changed the flavor of the cookie. I was hooked!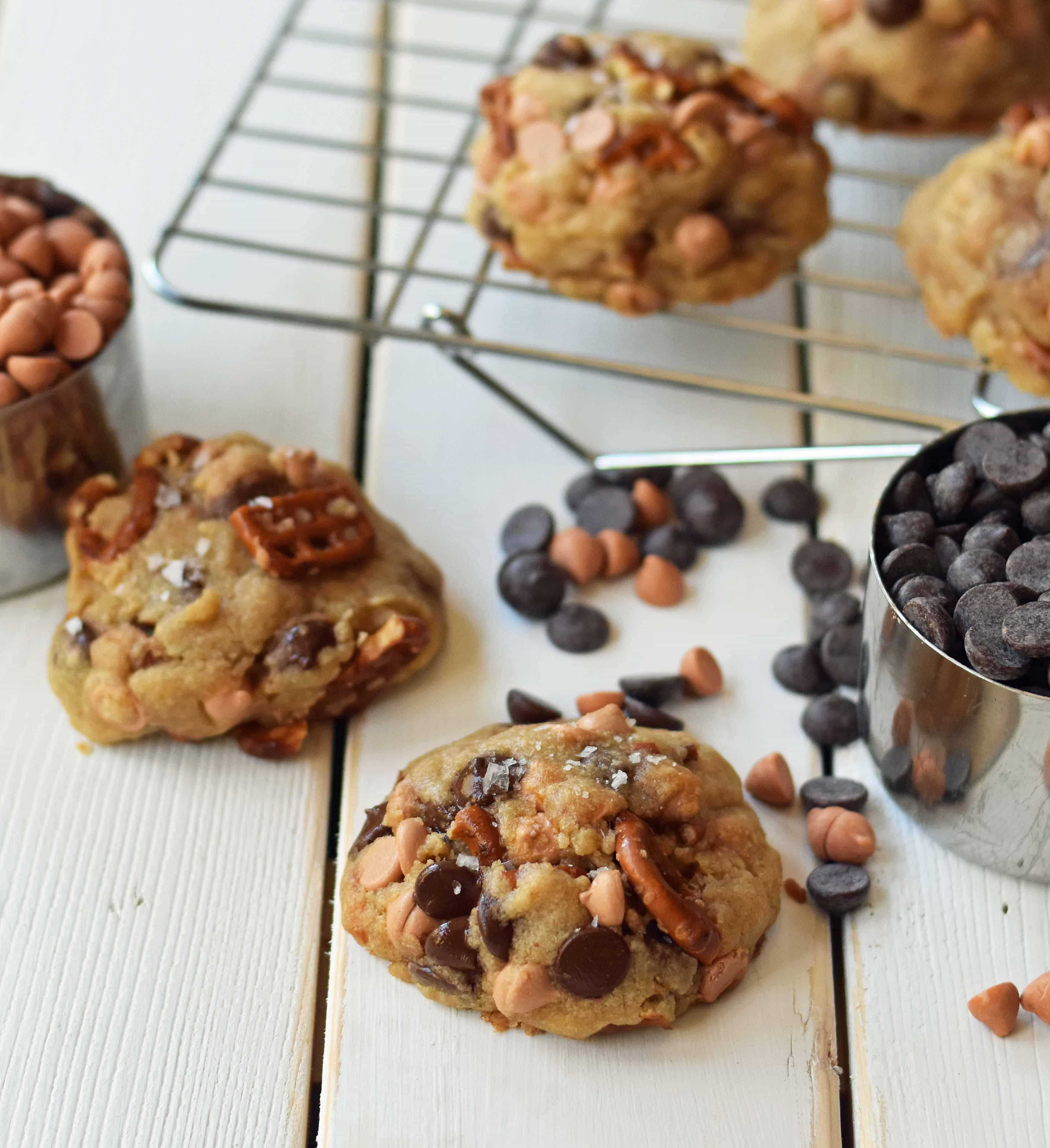 Now, here's the thing. Brown Butter can be a tad finicky. You want it to have time to develop those deep caramel flavors; yet, you don't want to let too much moisture evaporate from the butter. Tricky. I have found that I don't cook it long enough to get to that super deep color because by then you have lost a lot of the moisture. Instead, I cook it long enough for the butter to melt and to develop some richness.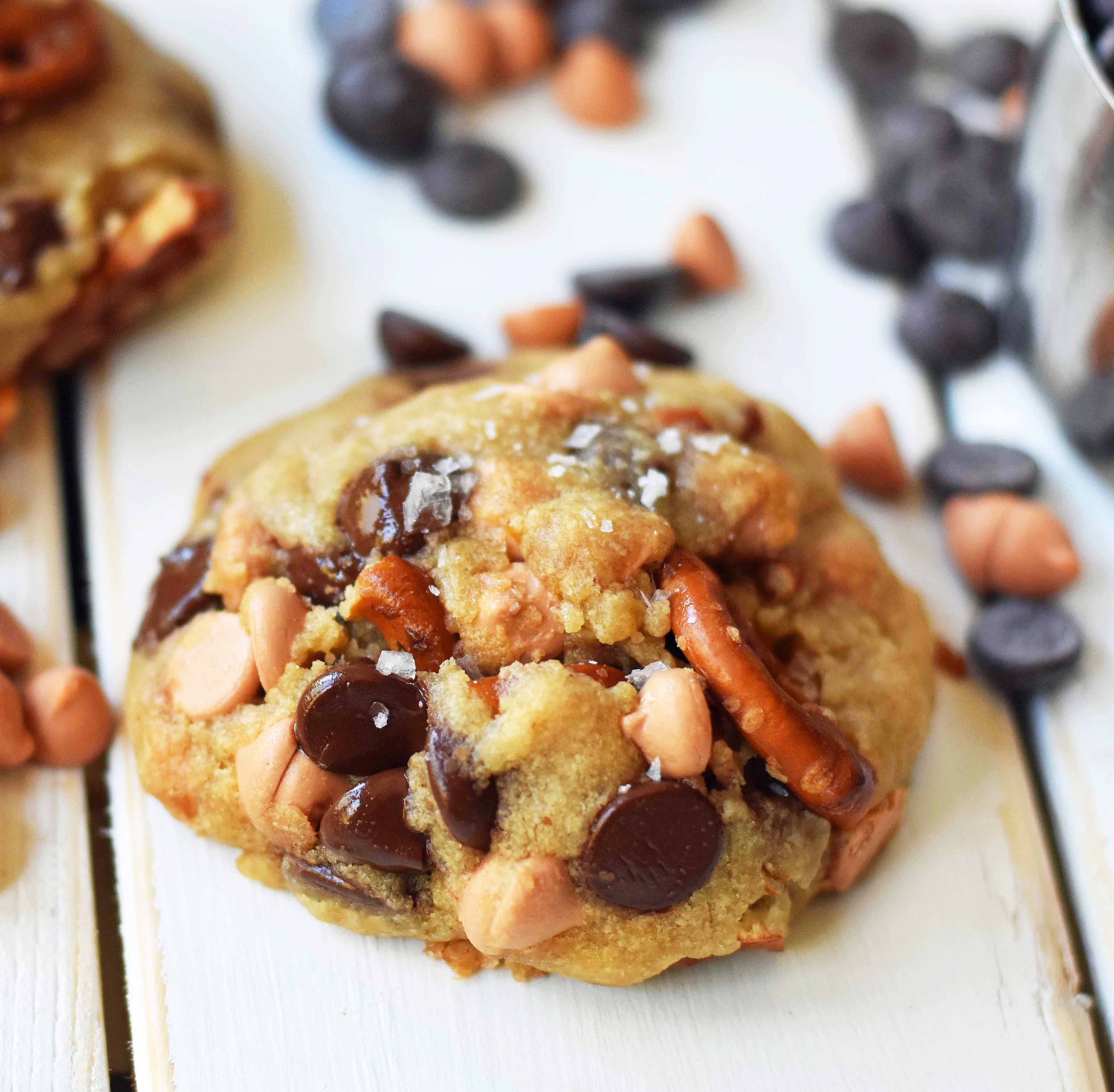 This Sea Salt Butterscotch Pretzel Cookie uses melted brown butter that is cooled for about 20-25 minutes before adding the rest of the ingredients.  This is to ensure that you don't end up with scrambled eggs! Adding eggs to hot butter is rarely ever a good idea when making cookie dough.  The brown sugar and sugar is added to the melted butter.
This is when your muscles come in!  Stir vigorously with a wooden spoon until the mixture becomes velvety smooth.  If it isn't smooth like butter, add the egg, egg yolk, and vanilla and keep on stirring. Let the magic happen!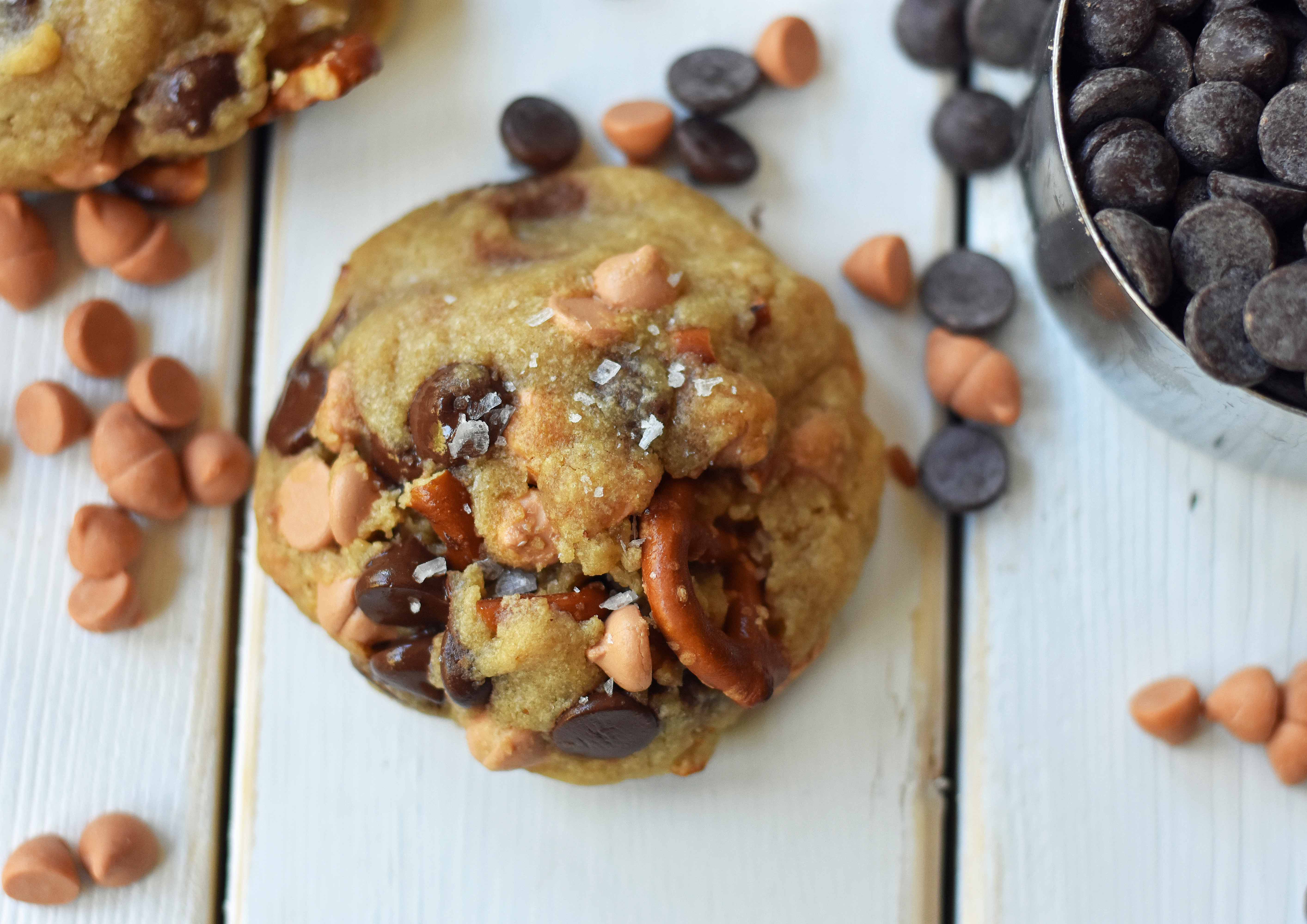 The dry ingredients are next and then the GOOD stuff -- the butterscotch chips, chocolate chips, and chopped salty pretzels.  This is when you want to ensure that your dough is at room temp. If it's crazy hot, you are going to end up with melted swirls of butterscotch and chocolate throughout your cookie. It may taste heavenly but not the look we are going for.
After the Sea Salt Butterscotch Pretzel Cookie dough has been made and you have stopped sneaking tastes from the pan  (I see you) then wrap it in saran wrap and place the dough in the refrigerator to chill. Is chilling ever a bad thing? The answer is always no.
If you want to go the lazy route (I am not judging), tightly cover the pan and place in the refrigerator to chill. Patience is a virtue. Wait for 15 - 20 minutes at the very least.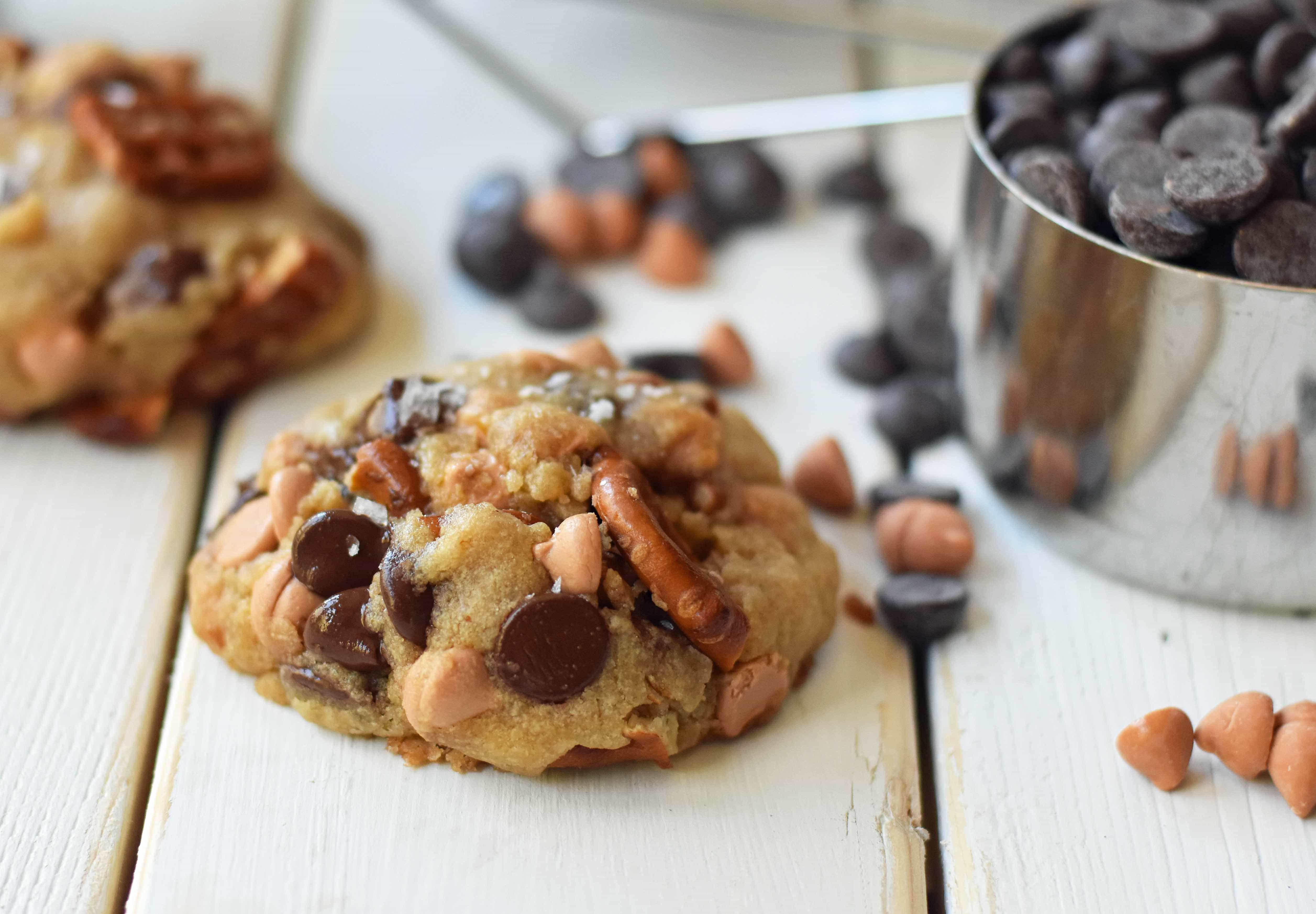 After the dough is nice and chilled, drop the dough onto parchment or silpat lined baking sheets. Here are a few of my favorite tools in the kitchen -- Medium Cookie Scoop and silicone baking sheets are a must. 
Bake until the cookies start to become slightly golden brown on the edges, so you get those crisp edges but still look a little underdone in the center. Remove from oven and let sit for a few minutes before devouring them. That is what you will want to do with these Sea Salt Butterscotch Pretzel Cookies. I promise you that.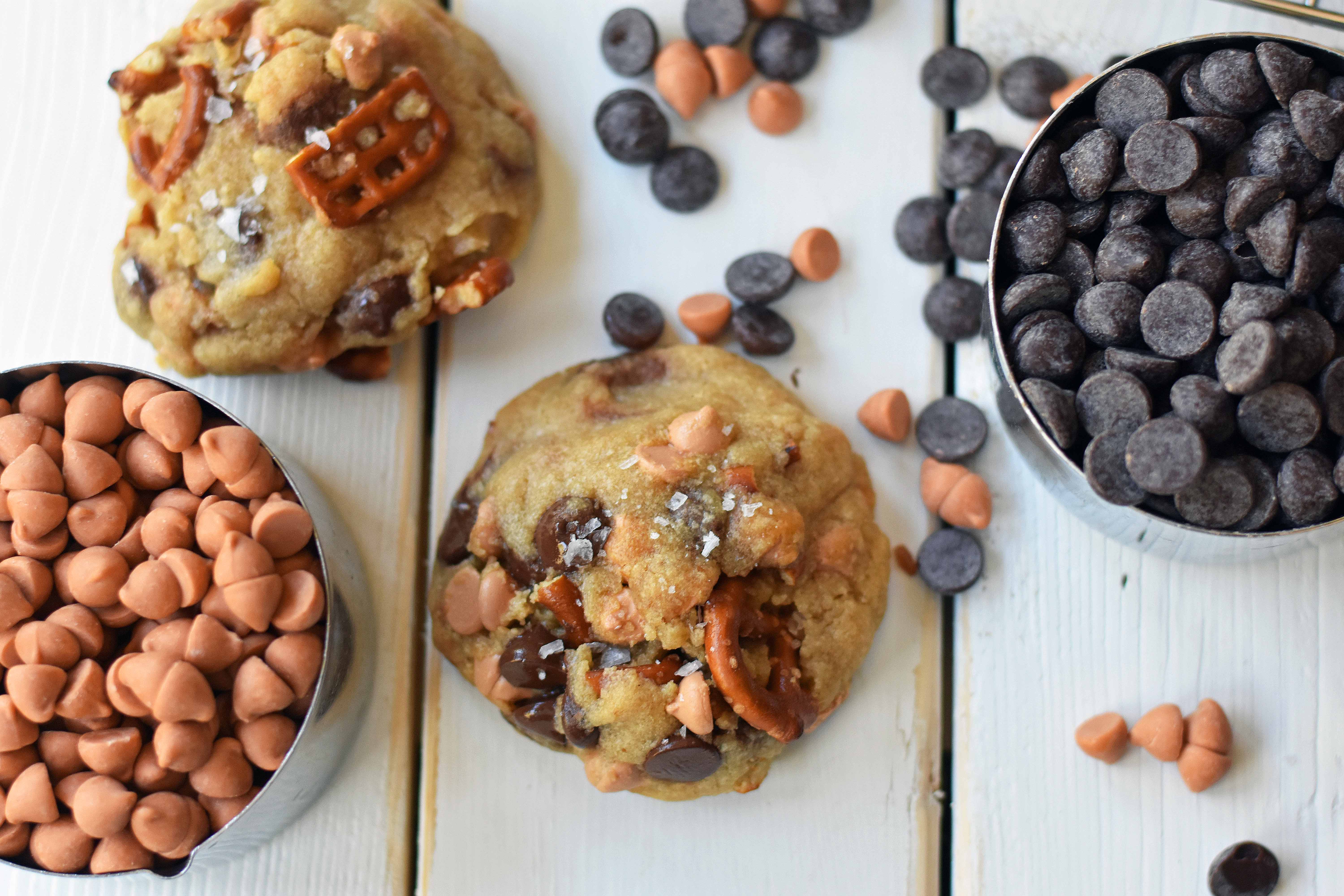 Pin on PINTEREST: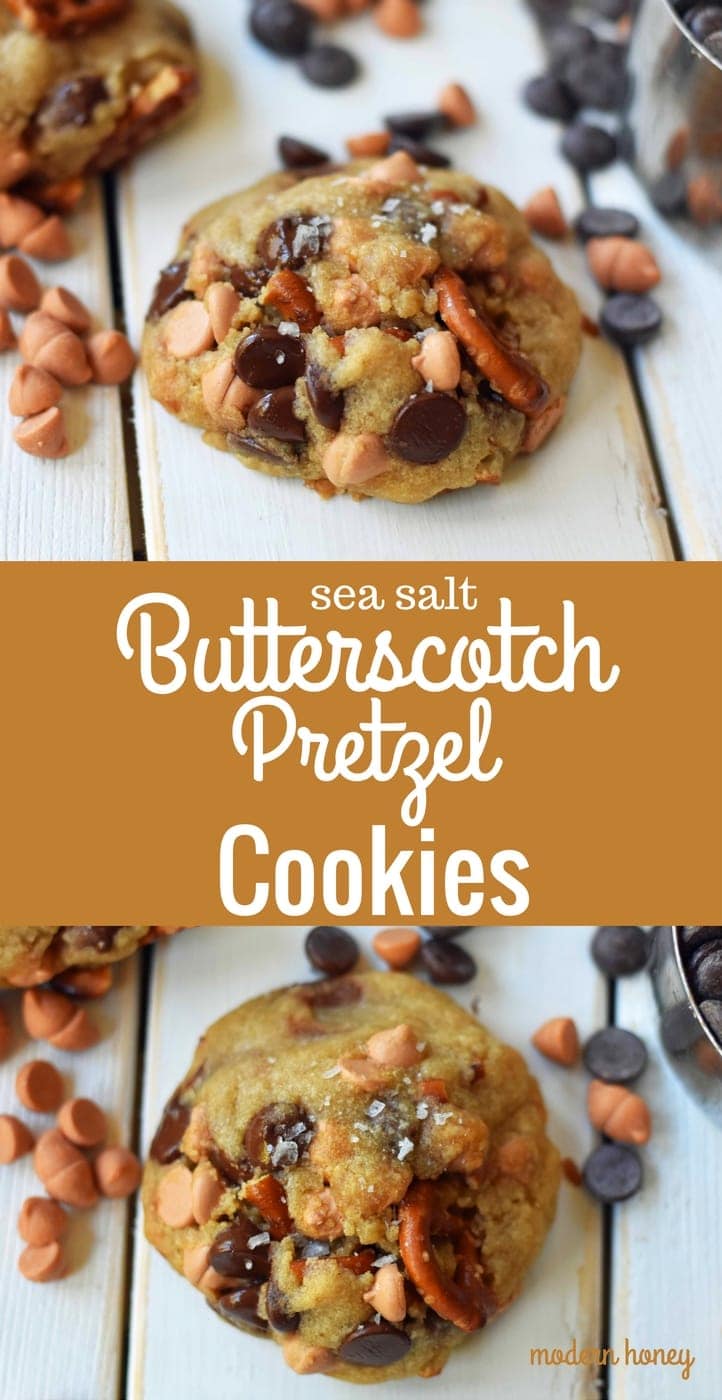 These Sea Salt Butterscotch Pretzel Cookies are the perfect balance of sweet and salty and will be one of your favorites in no time at all! Happy Baking, my friends! xo