This Strawberry Cream Crunch Cake is a strawberry cake soaked with sweetened condensed milk after baking and topped with fresh sweet whipped cream, fresh strawberries, and crushed golden Oreos for crunch. This strawberry poke cake has it all!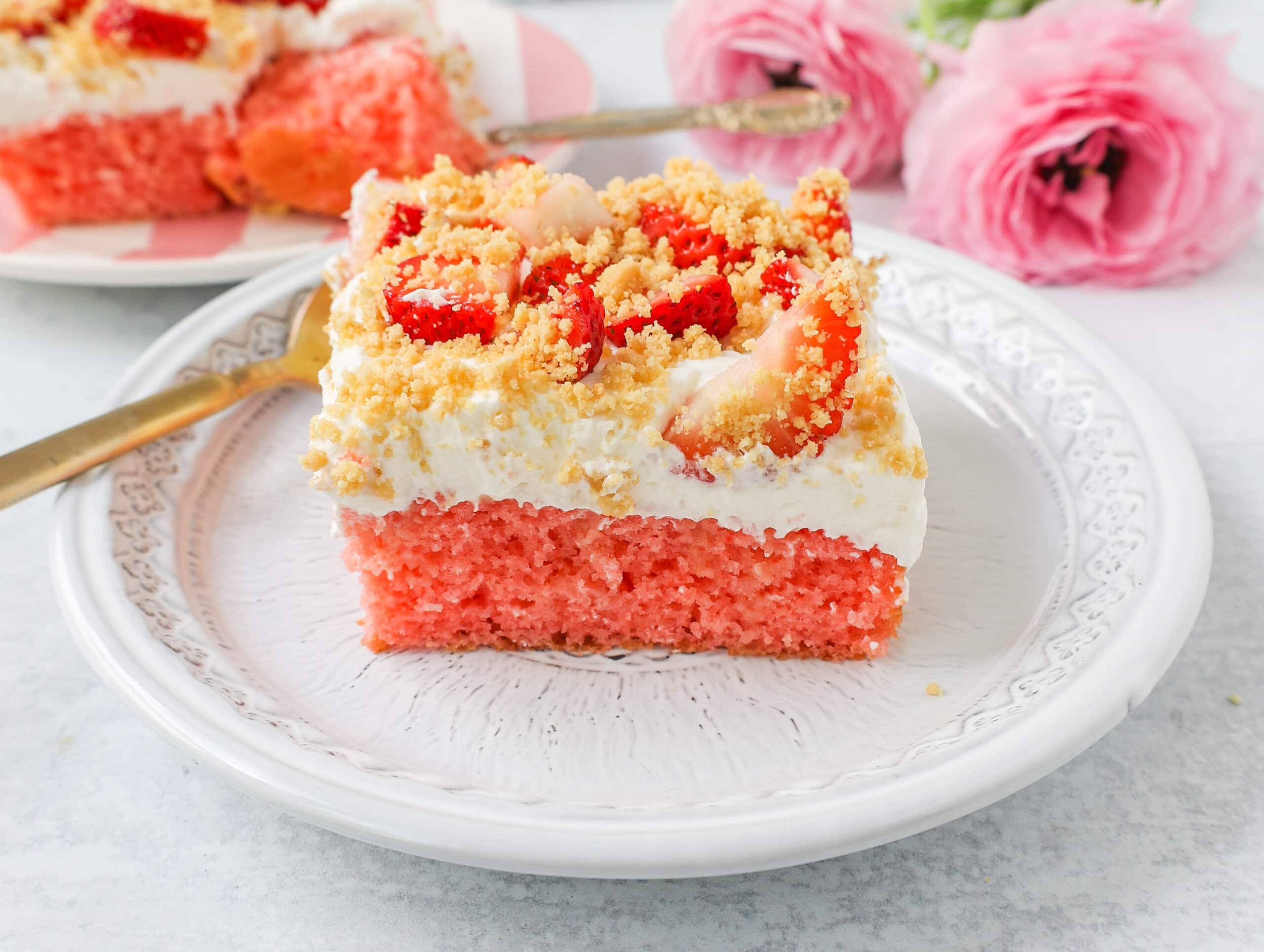 I have seen poke cakes for years in recipe cookbooks and all over the internet. In full transparency, I am not a huge Jello fan and since most of them call for jello, I usually pass on them.
But what if we can make a strawberry cream poke cake without jello? We sure can and it is heavenly!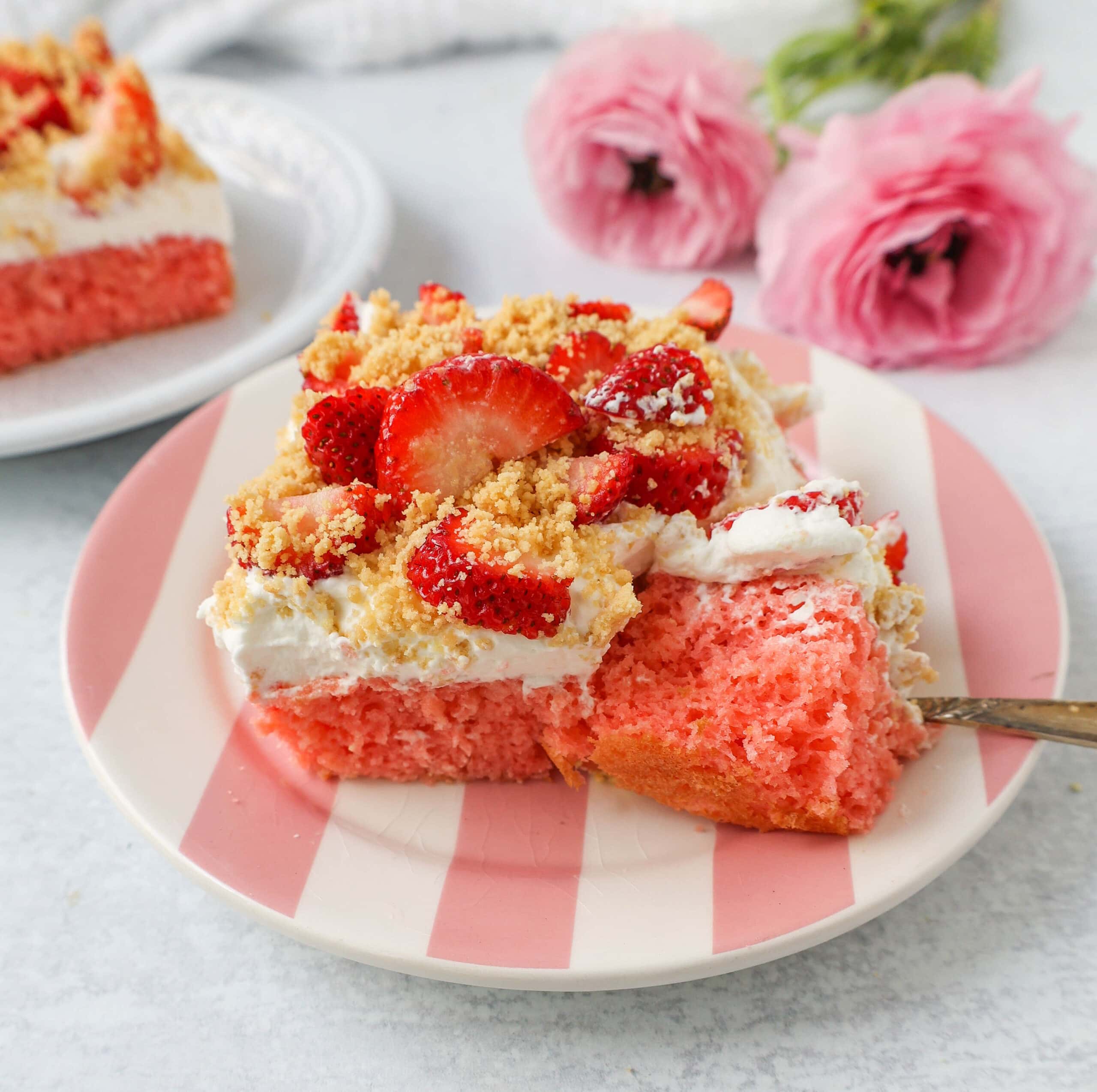 The strawberry cake is baked until perfectly tender and moist. Then you poke holes all over the cake and pour a generous amount of sweetened condensed milk to fill in every crevice of the cake. That's downright heavenly.
Then you top it all off with fresh handcrafted sweet whipped cream, fresh sliced strawberries, and a golden vanilla oreo crunch.
It is such a fun and easy Spring, Summer, or Easter dessert.
I have so many delicious cake recipes highlighting fruit from key lime cake, moist lemon cake, sweet orange cake, and a citrus sheet cake.
Ingredients
This is such an easy strawberry cream poke cake to make because it starts with a strawberry cake mix.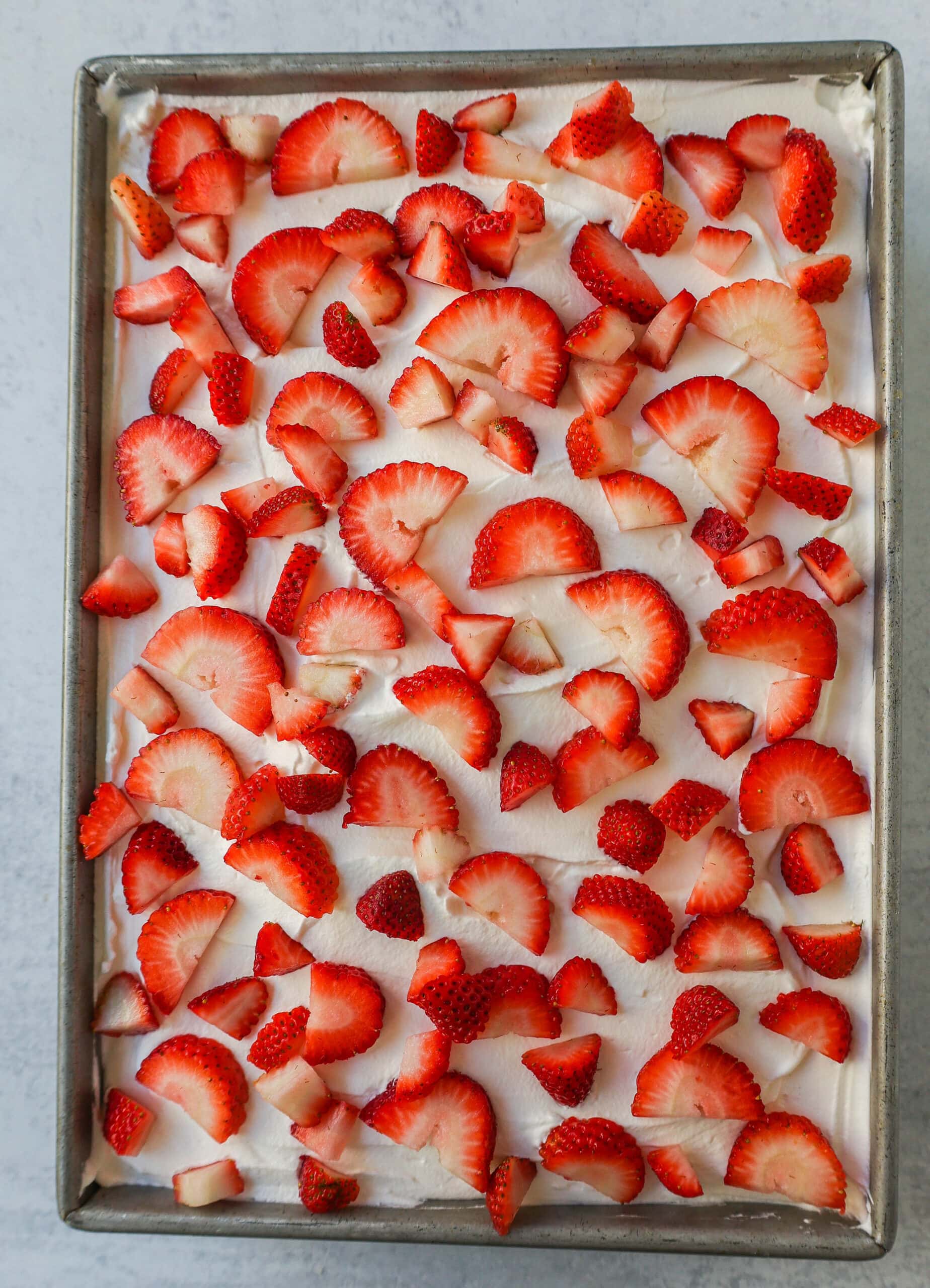 Strawberry Cake Mix plus ingredients -- choose your favorite strawberry cake mix from the store. Follow the directions on the back of the box which usually contains oil, water, and eggs.
Sweetened Condensed Milk -- poke holes into the cooked cake and pour this sweetened condensed milk all over the cake until it soaks it all in.
Heavy Cream -- whip heavy whipping cream until soft peaks form to spread all over the strawberry cake.
Powdered Sugar -- add sweetness to the whipped cream. If you like a sweeter whipped cream, I suggest adding more powdered sugar.
Fresh Strawberries -- this adds the perfect amount of freshness and natural sweetness.
Golden Oreos -- this is what provides the perfect crunch on the top of the cake.
Butter -- toss the golden oreo crumbs with melted butter for salty-sweet combination.
See recipe card for quantities.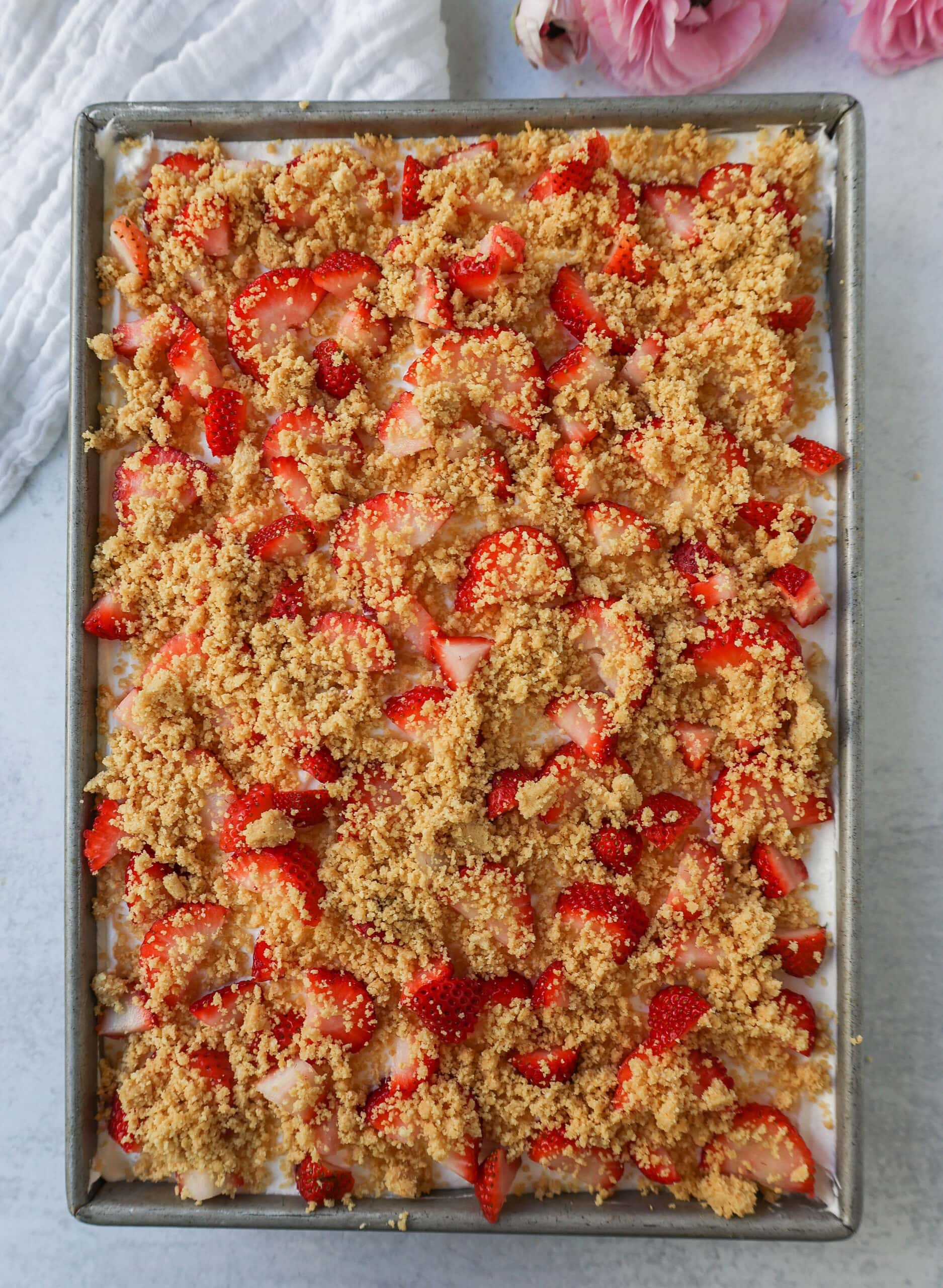 Instructions
Start by mixing in a bowl the strawberry boxed cake mix with the ingredients listed on the back of the cake mix. Whisk it until smooth.
Grease or lightly spray a 9 x 13 pan baking pan. Pour cake batter into the pan and bake. Watch carefully as oven temperatures can vary.
Remove the cake from the oven and let cool for about 10-15 minutes. After it has slightly cooled, poke holes all over the cake with a fork or cake tester.
Pour sweetened condensed milk all over the cake and spread into the holes. You may need to make a few more holes or make larger holes, to ensure the sweetened condensed milk seeps into the cake.
Cover and place in the refrigerator for 1 to 2 hours.
Once the cake has cooled in the refrigerator, make the whipped cream topping by whipping heavy cream and powdered sugar together with a hand mixer or stand mixer, until soft peaks form.
Spread all over the cake. Slice fresh strawberries and sprinkle on top of the whipped cream.
Make the crunch topping by adding the Golden Oreos and melted butter to a food processor and pulse until it turns into fine crumbs. You can also place them in a Ziploc bag and crush the cookies using a rolling pin and then placing in a bowl and then stir in the butter.
Sprinkle the top of the cake with the crushed golden Oreo topping.
Place in the refrigerator until ready to serve and cut into slices.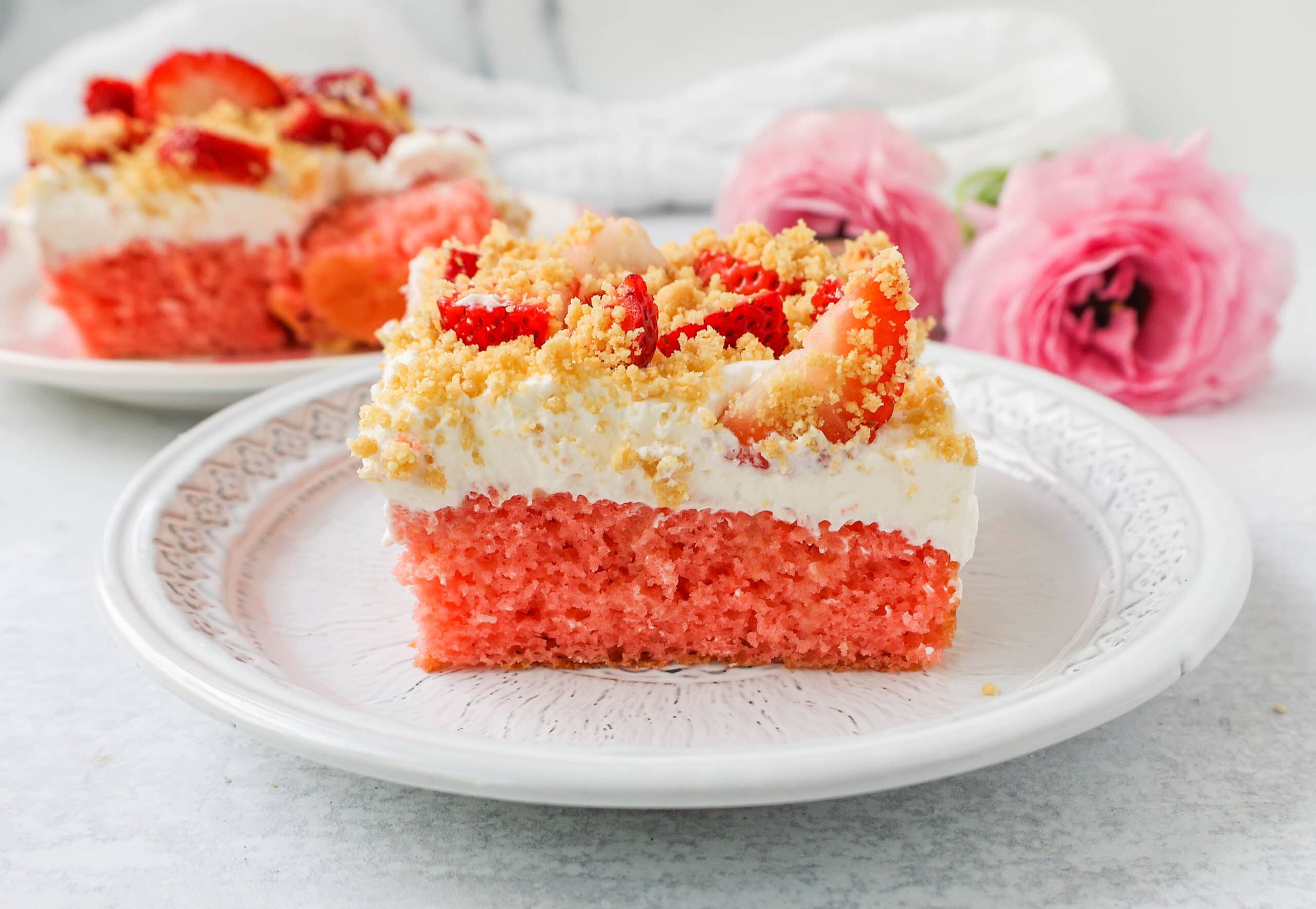 Substitutions
If you don't want to use Golden Oreos, you can substitute them with graham crackers. I would add 2 Tablespoons of sugar to the crushed graham crackers and butter mixture.
Variations
You can make this strawberry cream crunch cake with different flavors of cake mix.
Here's an example...you can make a lemon crunch cake by substituting lemon cake mix for the strawberry cake mix and using lemon Oreos instead of golden Oreos.
Equipment
USA 9 x 13 pan">USA 9 x 13 Baking Pan -- I love the USA Brand because of its durability and even baking. I have been using this brand for most of my baking career.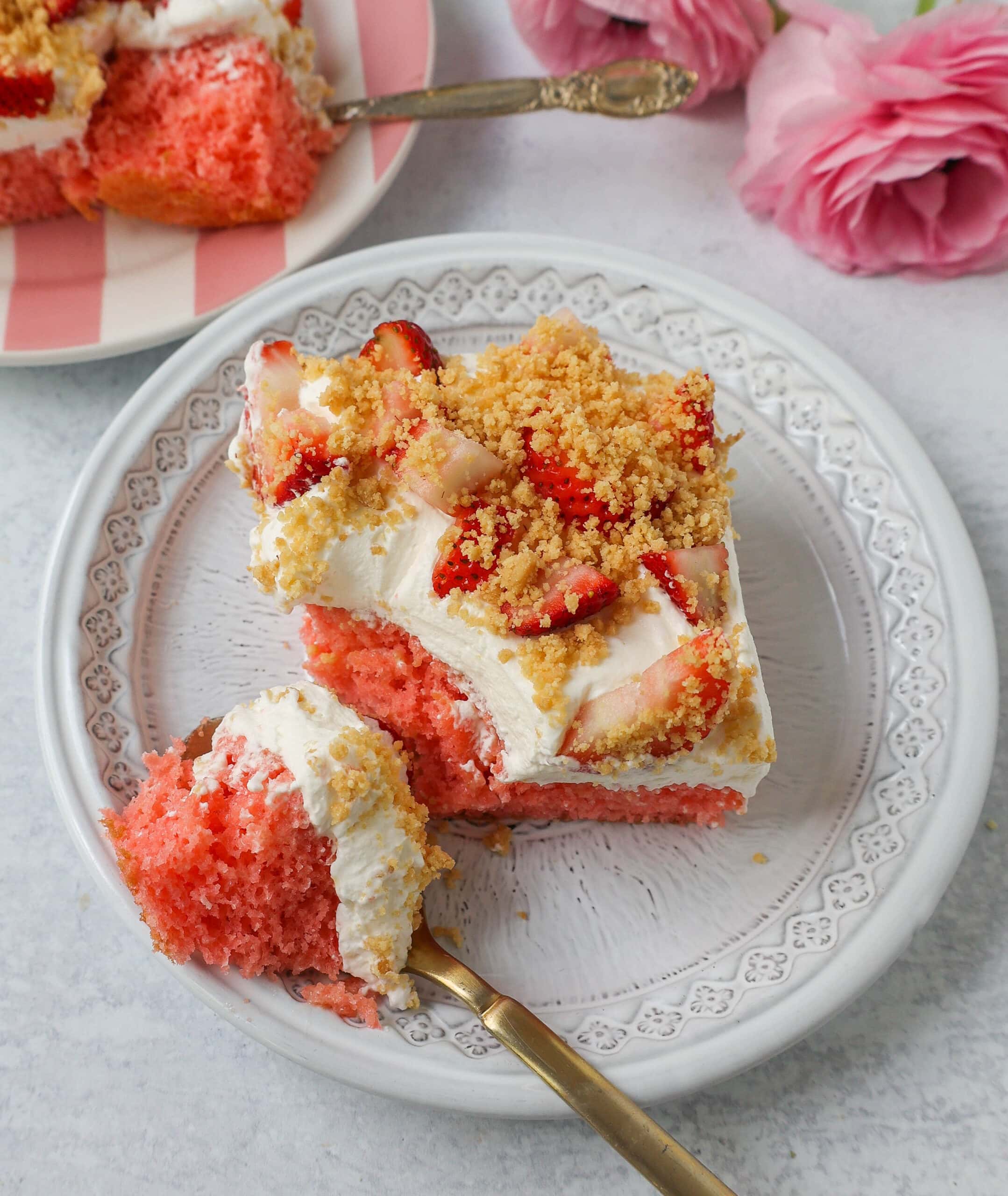 Storage
This strawberry cream cake can be kept in the refrigerator, completely covered for up to 7-10 days. The strawberries may start to break down after a few days and will soften.
Top tip
Make sure not to overbake your cake! I always find that the instructions on the back of the boxed cake mix have a broad baking time and it is generally too long. Since oven temperatures can vary, I suggest setting the timer for a few minutes less than the minimum time and checking it with a cake tester.