Citrus Sheet Cake made with fresh-squeezed orange, lemon, and lime juices in a moist, fluffy cake and topped with a creamy and silky homemade cream cheese frosting and topped with citrus slices. A beautiful Spring and Summer celebration cake!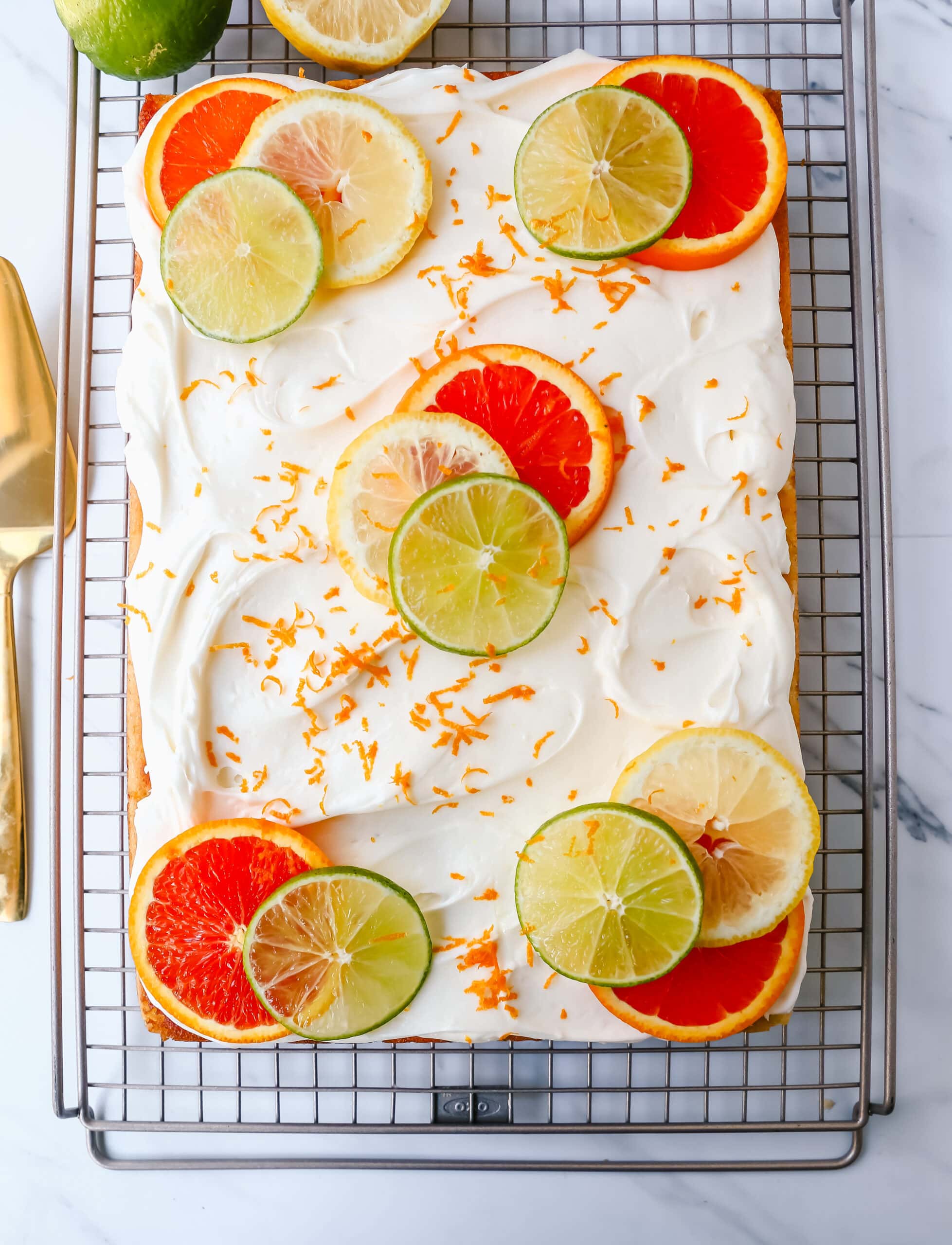 If you have been following Modern Honey, you know how much I love baking cakes! Sometimes you just don't want to go through the work of decorating and frosting a layered cake. A simple sheet is the answer! You can throw all of the ingredients into one pan, bake it, frost it, and cut it into squares. It is so easy!
The one downside of sheet cakes is that they don't look as aesthetically pleasing as a layered cake because they are usually served straight from the pan. So what if we flipped the sheet cake right onto a serving platter? Then all you have to do is frost the cake and you have a simple and easy gourmet sheet cake to serve to your friends and family.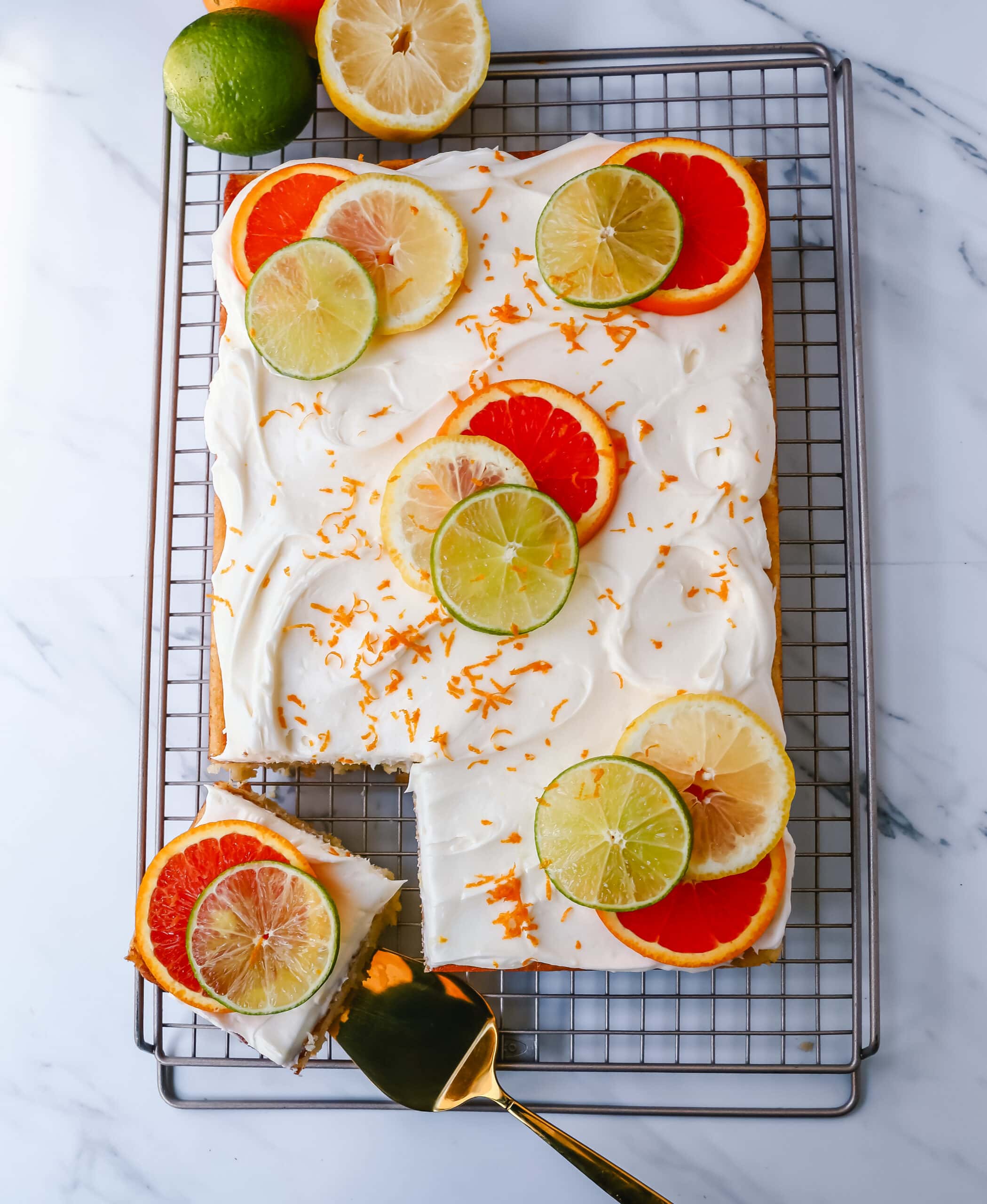 This Citrus Sheet Cake combines all of the fresh citrus flavors -- orange, lemon, and lime -- all together in one cake. It is sweet and tangy with a silky cream cheese frosting and topped with freshly sliced citrus.
This sheet cake recipe is adaptable and you can make it into an orange sheet cake recipe or a lemon sheet cake recipe if you want to simplify it. The frosting is made with sweet cream butter, cream cheese, powdered sugar, and citrus zest. You will want to eat the entire bowl of citrus cream cheese frosting!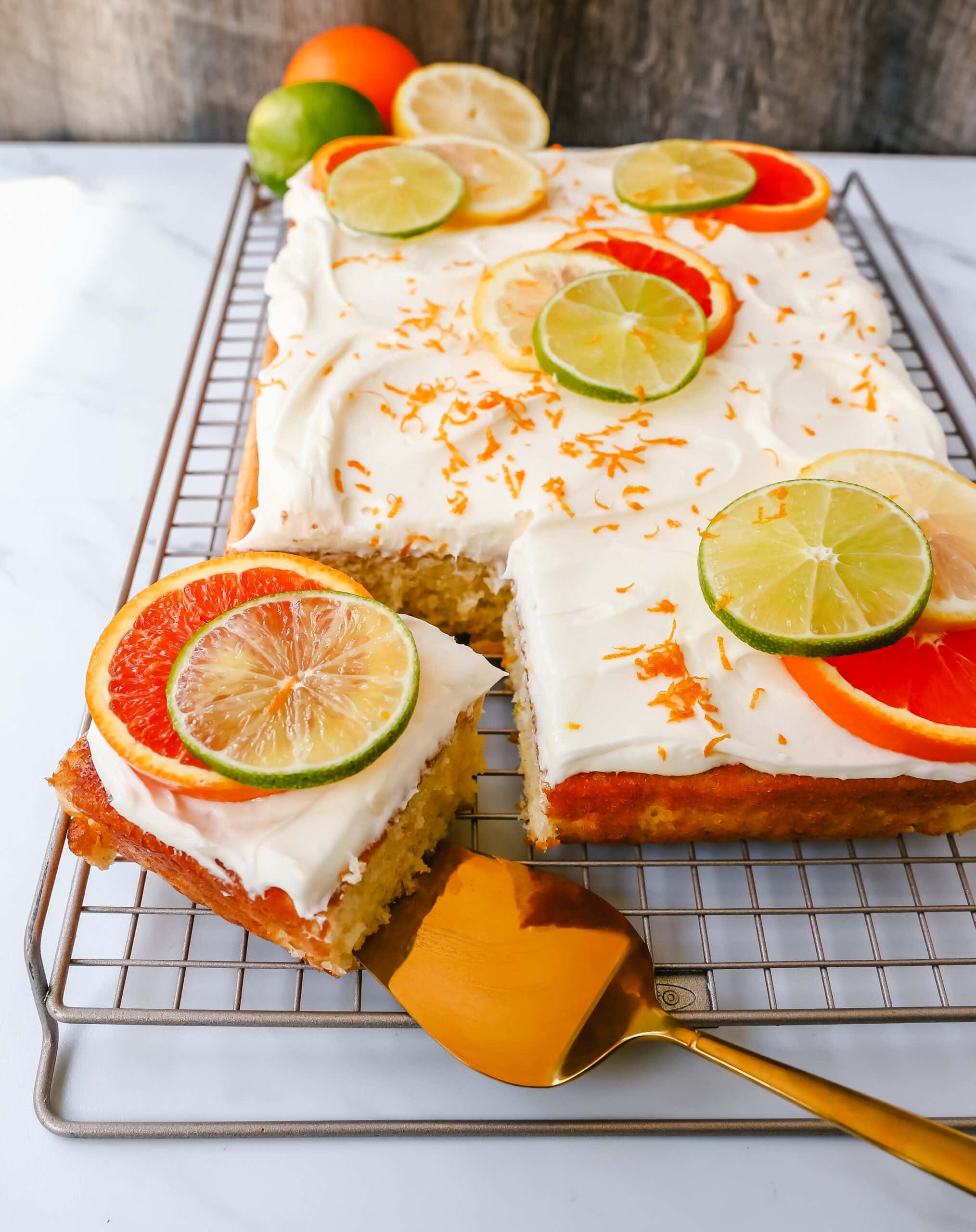 What ingredients are in Citrus Cake?
Oil
Sugar
Eggs
Buttermilk
Flour + Baking Powder + Baking Soda + Salt
Fresh Lemon Juice
Orange Zest + Lemon Zest + Lime Zest
CITRUS CREAM CHEESE FROSTING INGREDIENTS:
Butter
Cream Cheese
Powdered Sugar
Lemon Zest, Orange Zest, Lime Zest
How to flip a Sheet Cake?
If you want to flip a sheet cake out of the pan, I would suggest lining the baking pan with parchment paper. Lightly spray the parchment paper with a non-stick baking spray which makes the cake come out much easier.
When the cake is finished baking, let it cool to room temperature. Once the cake has cooled, place a board or rack on the top of the pan and flip it over onto the board, dish, or rack. Carefully remove the parchment paper from the cake. Frost the cake with frosting and garnish it. Cut into squares to serve.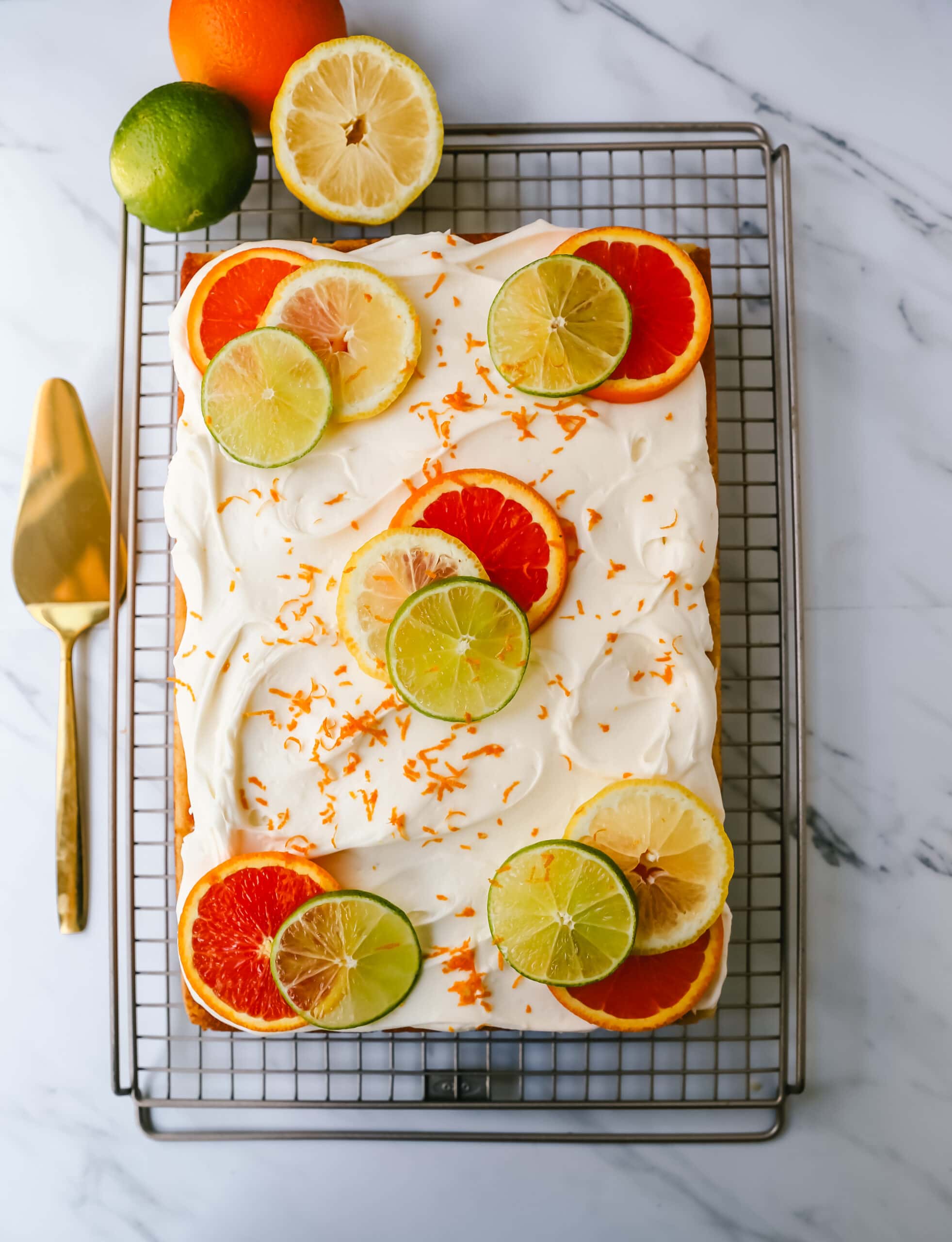 What baking pans do I suggest using for Sheet Cakes?
I usually baked with good-quality aluminum pans. I find that glass pans can be finicky and don't bake evenly. I have been using the USA Brand Baking Pans for over 12 years and love the quality and durability. Click here for a 9 x 13 baking pan.
Click here for a 17 x 12 half sheet baking pan.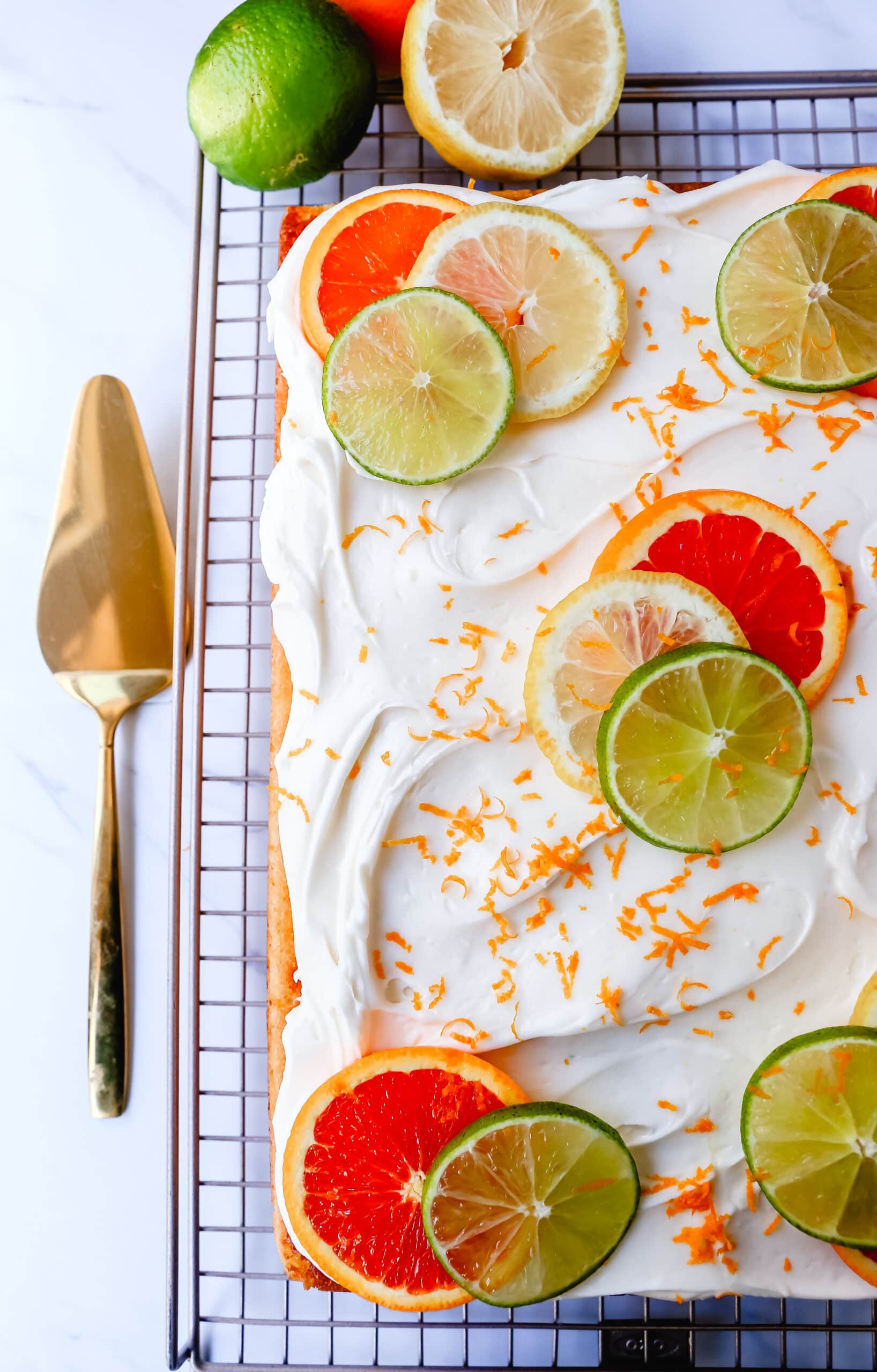 If you LOVE Cake, check out these popular CAKE RECIPES:
I love to hear from you! If you make this recipe, please be sure to leave a comment and give this recipe a rating. Sign up for my newsletter below so you never miss a recipe. Thank you for following along! I truly do have the greatest readers. FOLLOW ME ON: INSTAGRAM — FACEBOOK— PINTEREST