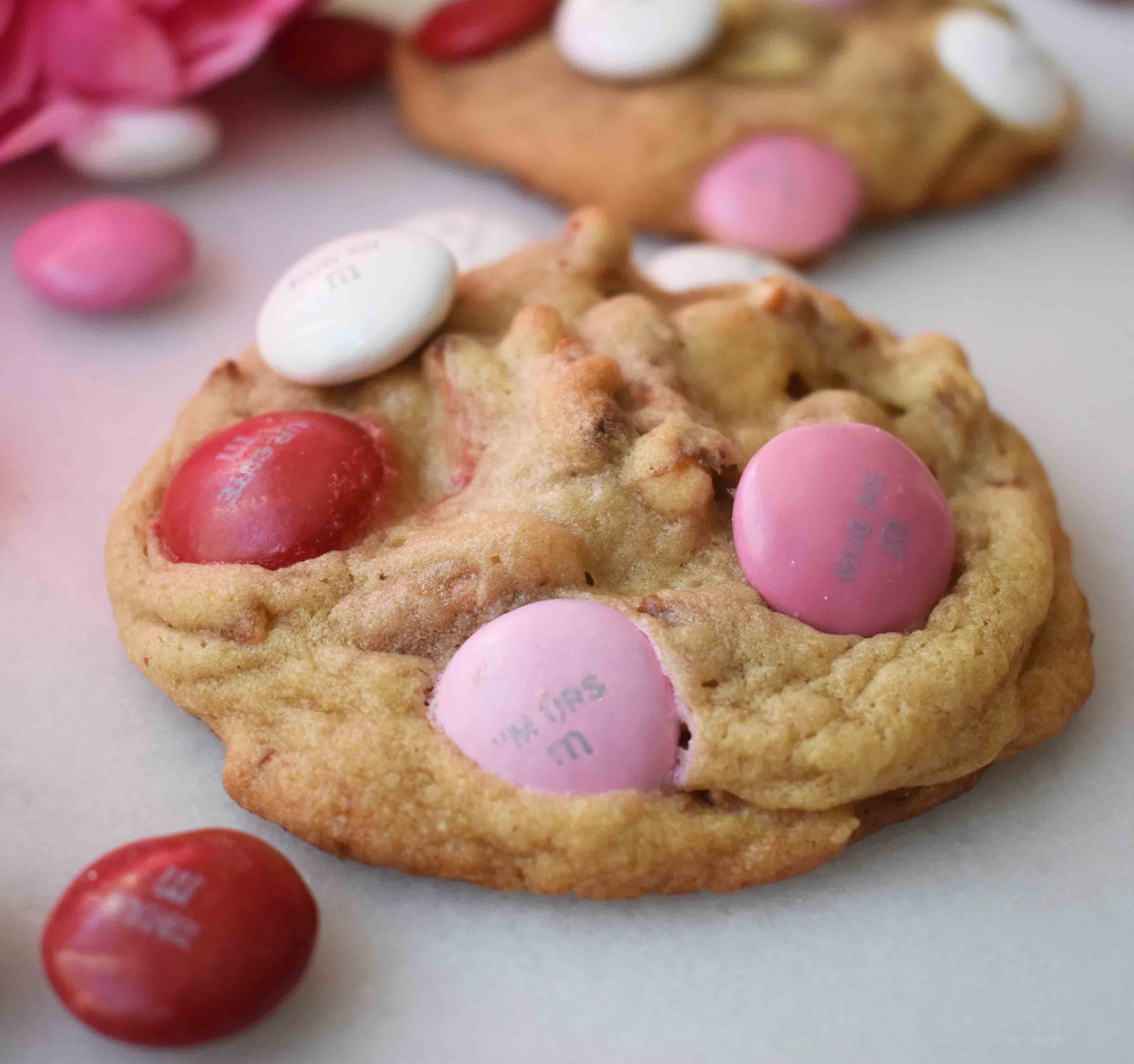 M & M Pretzel Cookies made with sweet cookie dough with crunchy salty pretzels and chocolate M & M's for a sweet and salty cookie. 
Valentine's Day is right around the corner! This holiday is not all about overpriced roses and trying to manage expectations. 🙂 My Mom was the greatest at making us feel incredibly special every single Valentine's Day. The funny thing is that I called her a few hours ago as she was getting ready to board a plane to see her grandchildren in Utah.  Even though she was rushing to leave town, she told me that she had made a Valentine's Day box filled with frosted sugar cookies for my kids. Always thinking of others!
Since this holiday is all about chocolate and roses, I wanted to create a cookie that was salty and sweet. The Heartbreaker Cookie made with crunchy pretzels and chocolate M & M's is everything a good cookie should be.  It has the buttery crispy edges with the melt-in-your-mouth center and a little crunch to keep things interesting.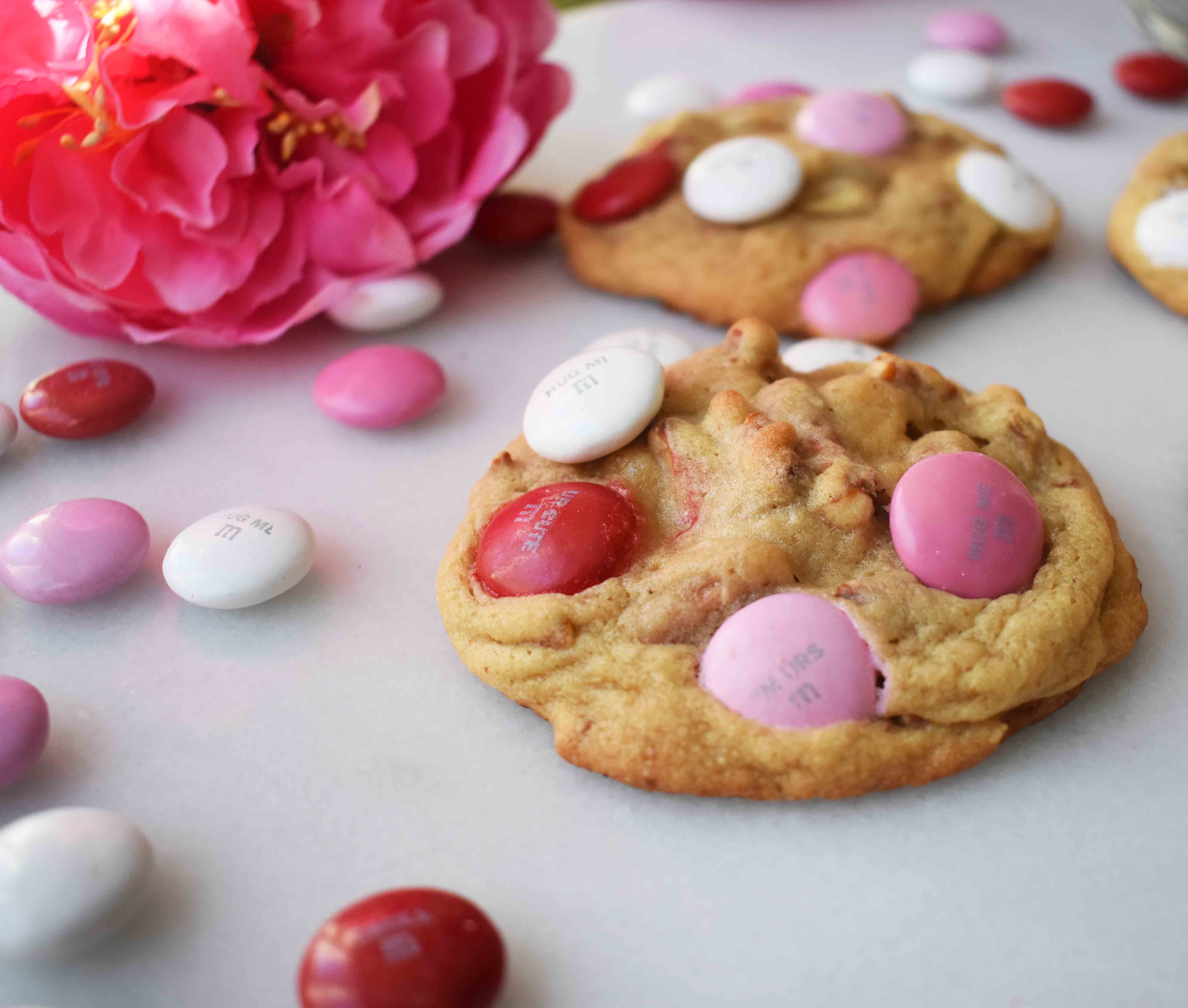 I use COLD butter, cut into cubes in this recipe to give it some volume.  If you use cold butter, it is important to cut it into small pieces so it will incorporate into the sugars. Cream it for at least 4 minutes until it is nice and fluffy.  I use half baking soda and half cornstarch as I love what both of them do to create an incredible texture.
The pretzels still have a slight crunch to them even though they are mixed into the dough.  I usually get the sticks but you can use any type of shaped hard pretzel. I keep them large enough that you can see them in the cookies.  I add the M & M's after I drop the Heartbreaker M &M Pretzel Cookies onto the baking sheet. It helps to make sure that the M & M's are evenly distributed throughout the cookie. I used the XL Valentine's M & M's but you can use whatever you please. You can even substitute chocolate chips for the M & M's.
What are your plans for the big day? My Mom always told us that we didn't need a boyfriend to celebrate the day.  It's the day of LOVE to spread some love by making these Heartbreaker M & M Pretzel cookies for someone who may need a little boost.
The Heartbreaker M & M Pretzel Cookies
A salty and sweet cookie is made with a sweet dough studded with pretzels and M & M's.
Ingredients
1

cup

Cold Butter

cut into cubes

1

cup

Brown Sugar

1/2

cup

Sugar

2

Eggs

1

teaspoon

Vanilla

2 3/4

cups

Flour

3/4

teaspoon

Cornstarch

3/4

teaspoon

Baking Soda

1/2

teaspoon

Salt

1 1/2

cups

Pretzel Sticks

snapped in half

1 1/2

cups

M & M's or Chocolate Chips
Instructions
Preheat oven to 385 degrees.

In large bowl, cream butter and sugars until light and fluffy, about 4 minutes.

Add eggs and vanilla.

Stir in flour, cornstarch, baking soda, and salt.

Stir in pretzel sticks and M & M's. The pretzel sticks break up a little when using a stand mixer. You can snap the pretzels in half beforehand or let the mixer break them up.

Chill (if time allows)

Drop onto baking sheet. Bake for 10-13 minutes or until edges are slightly golden brown.
In case you missed some of the latest Valentine's Day recipes -- Valentine's White Chocolate M & M Popcorn + Strawberry Cheesecake Truffle Ball Cake Pops + 5 Ways to Make Valentine's Day Special for Kids
Follow me on Instagram at @modern_honey