Growing up I lived on a steady diet of nachos. My Mom would buy a massive 25 pound horn of cheese and we would grate it every single day. We would get out our largest baking sheet, fill it with tortilla chips, smother it in cheese and bake it in the oven until the cheese was nice and melted. Heavenly!
That was then....and this is now. It's time to up the nacho game with the Ultimate Spicy Beef Nachos with all of the toppings!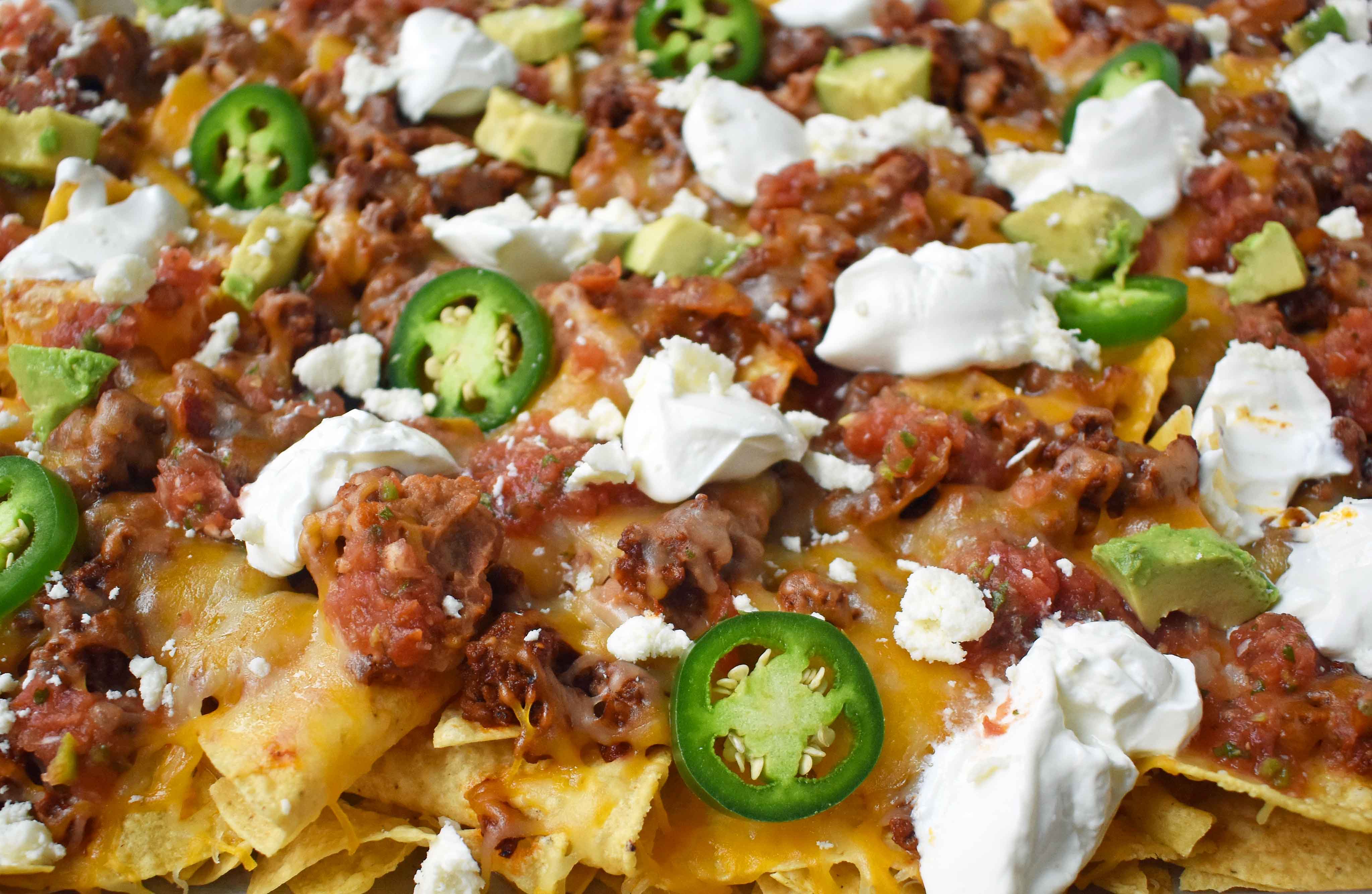 There's a HUGE game coming up and the Super Bowl is a big deal in our home. For a good half of my life, I was convinced I wanted to be just like the ESPN commentator, Hannah Storm. I get into these games big time! My husband grew up a diehard Pittsburgh Steelers fan so when the Arizona Cardinals played them in the Superbowl, the rivalry in our home got pretty darn intense. Thank heavens the food brings people together!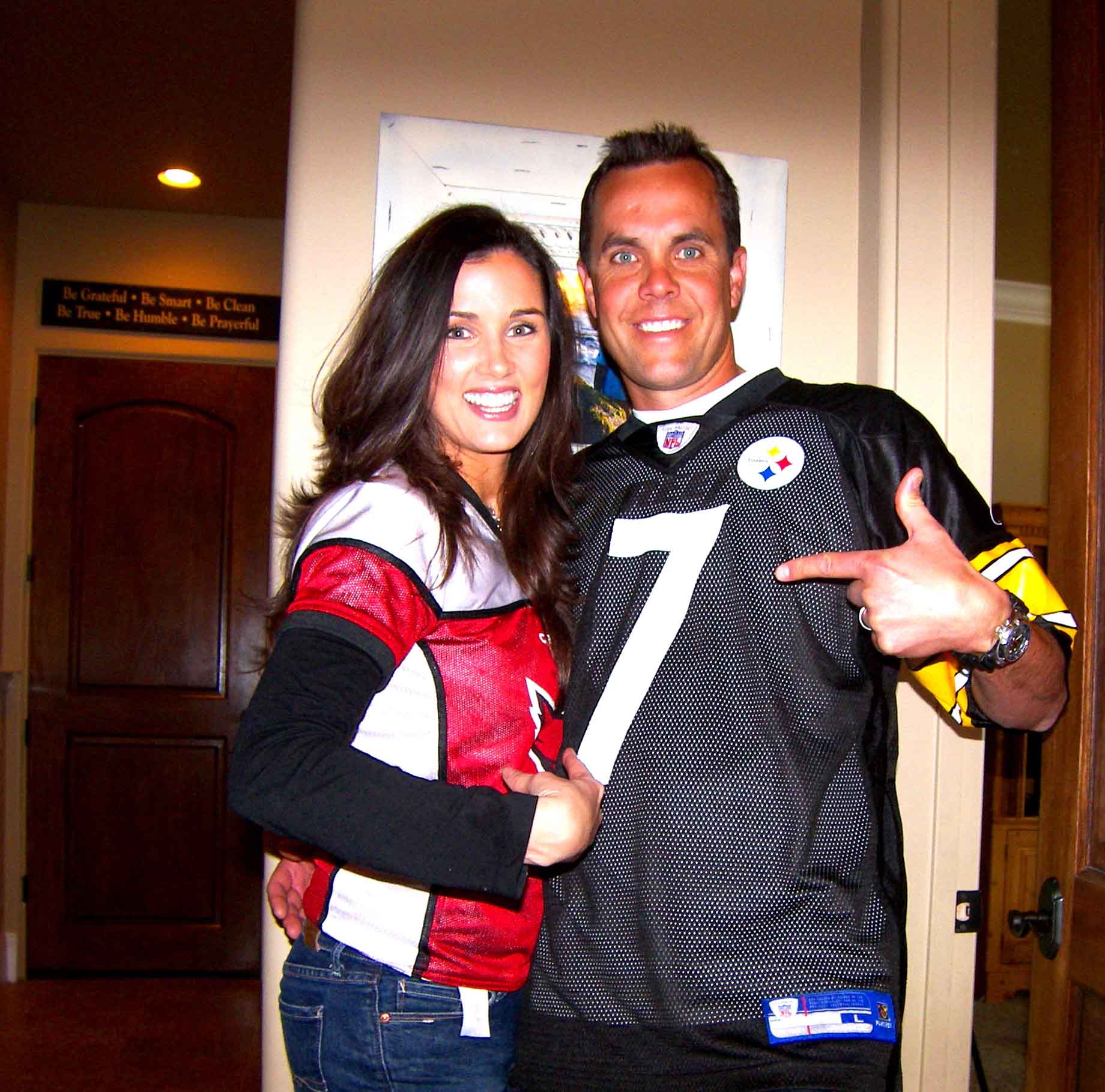 For the next week, I will be sharing some incredibly good Super Bowl recipes to serve at your get together or the next time you need a rock star appetizer. Let's get this party started with some NACHOS!
The key to ultimate nachos is the layering of flavors. We don't just use ordinary refried beans but instead use spicy jalapeno refried beans. For those of you who are afraid of spice, they aren't overly spicy at all. The jalapeno refried beans just give more flavor than the traditional ones.
The star ingredient is the Spicy Beef. It starts off with lean ground beef and spices, tomato paste, and even a touch of brown sugar is added to put it over the top. You can eat it by the spoonful on its own or use it to fill tacos. It's amazing!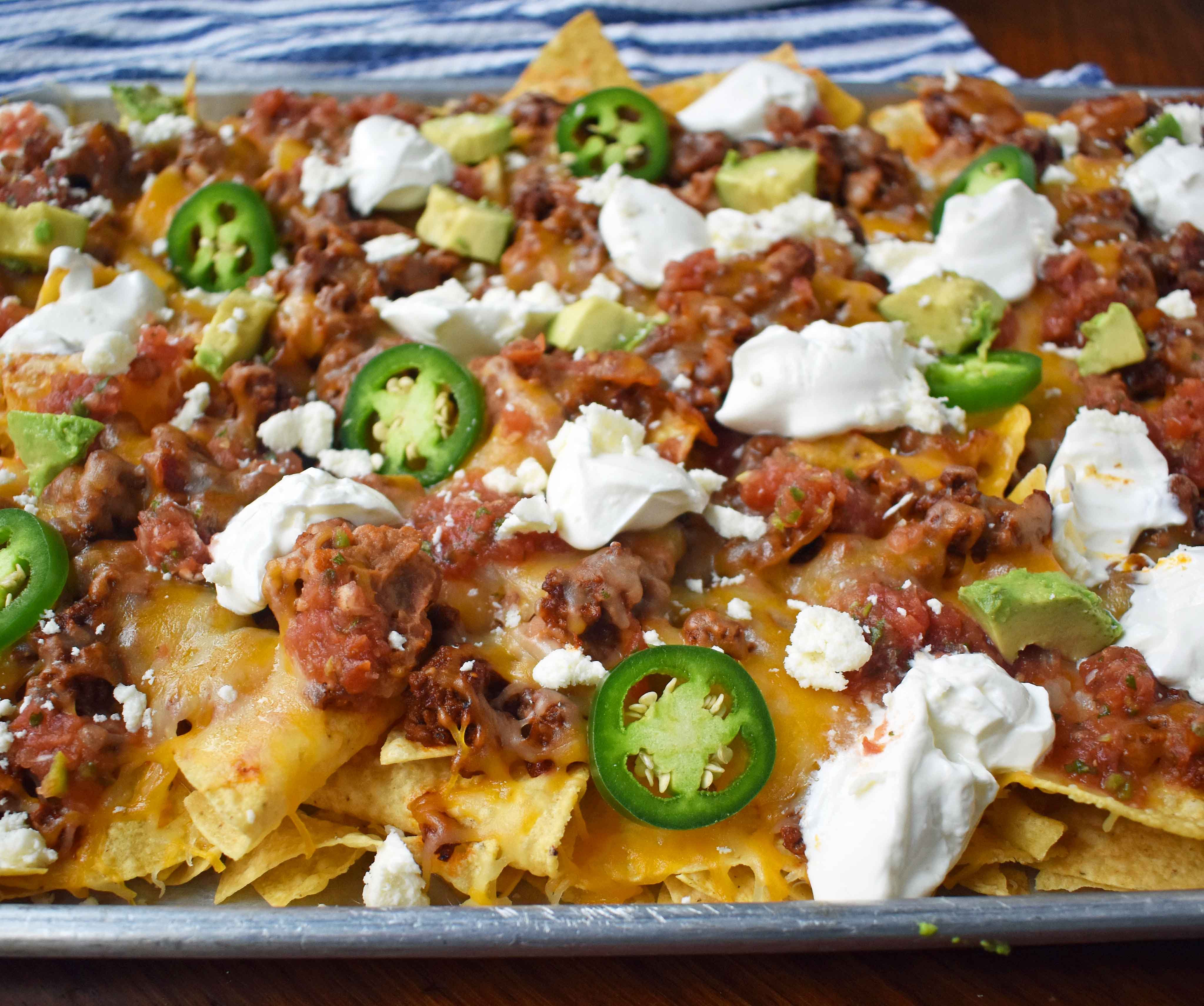 Don't be scrimping on the cheese now. These are the Ultimate Spicy Beef Nachos and cheese is a pretty darn important component of nachos. You can use a Mexican blend of cheeses or Pepper Jack for creamy, spicy flavor.
Oh how I love the toppings. We always top our Ultimate Nachos off with our homemade salsa that my husband makes every single week of his life -- Homemade Restaurant Style Salsa. It has the secret ingredient that sets it apart!
Sour cream or mexican crema and fresh avocado slices or guacamole are are a must on nachos. You can top it with sliced fresh jalapenos or the jarred jalapenos. The jarred ones are definitely milder than fresh jalapenos.
Ultimate Spicy Beef Nachos
Beef Tacos with all of the toppings. How to make the best nachos!
Ingredients
Spicy Beef:
2

Tablespoons

Oil

1

Onion

finely chopped

1

lb.

Lean Ground Beef

80-90%

1 1/2

Tablespoons

Chili Powder

1/2

teaspoon

Garlic Powder

1

teaspoon

Cumin

1

teaspoon

Salt

1

teaspoon

Pepper

2

Tablespoons

Tomato Paste

2

teaspoons

Brown Sugar

1/2

cup

Water
Toppings:
1 - 16

ounce

can Spicy Jalapeno Refried Beans

if you can't find spicy jalapeno, add diced jalapenos to traditional refried beans

4-5

cups

Mexican Cheese

shredded

1

cup

Sour Cream or Mexican Crema

1-2

Avocados

sliced

1

Jalapeno

sliced (or jarred jalapeno slices)

1

Large Bag Tortilla Chips
Instructions
Heat oil in large skillet over medium heat. Cook until until softened, about 4-5 minutes. Add ground beef and cook, breaking meat into small pieces until no longer pink -- about 5 minutes. Add chili powder, garlic powder, cumin, salt, and pepper and stir to coat. Add tomato paste, brown sugar, and water and cook for 6-8 minutes longer.

Transfer to plate lined with paper towels to soak up grease.

Heat oven to low broil.

Place refried beans in a microwave-safe bowl. Heat in microwave for 1 minute or until nice and warm and easy to stir. If desired, stir in chopped jarred jalapenos.

Line large baking sheet with tortilla chips.

Top chips with warmed refried beans and spicy beef. Top with cheese. Broil for 2-4 minutes, or until cheese is melted, keeping a close eye on it.

Top with sour cream, avocados, jalapenos, and salsa.

Serve immediately.
Who is watching the game? Who cares more about the food than the football game? These Ultimate Spicy Beef Nachos will get people back to your couch year after year. Always a winner!
Happy Eating! xo