Watermelon Fruit Pizza Cake
A healthy, guilt-free watermelon "cake" made with fresh watermelon, topped with honey greek yogurt, coconut whipped cream, or homemade sweetened whipped cream, and fresh fruit. A no-guilt summer dessert!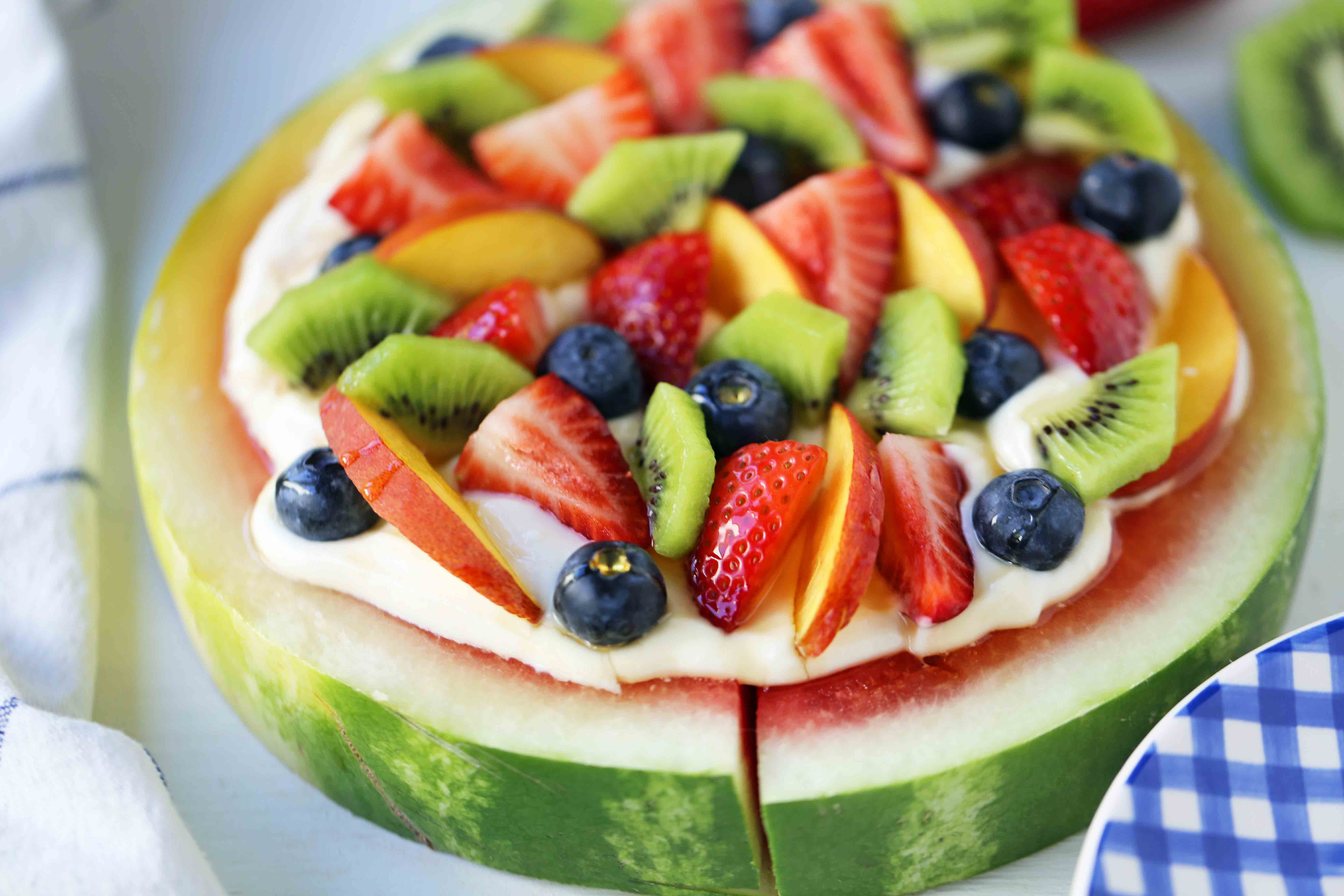 Hello, my friends! It is officially summer around here and we just returned home from a much-needed vacation to Hawaii and California. We have been busy non-stop around our house preparing for graduation and the end of the school year (May is crazy, y'all). We were craving some serious playtime in nature!  I even took a little break from social media to really focus on my family and it was perfect. My 15-year old even deleted all of his social media apps during the week! Hiking, chasing waterfalls, eating, relaxing on the beach, surfing, and more eating was just what our family needed.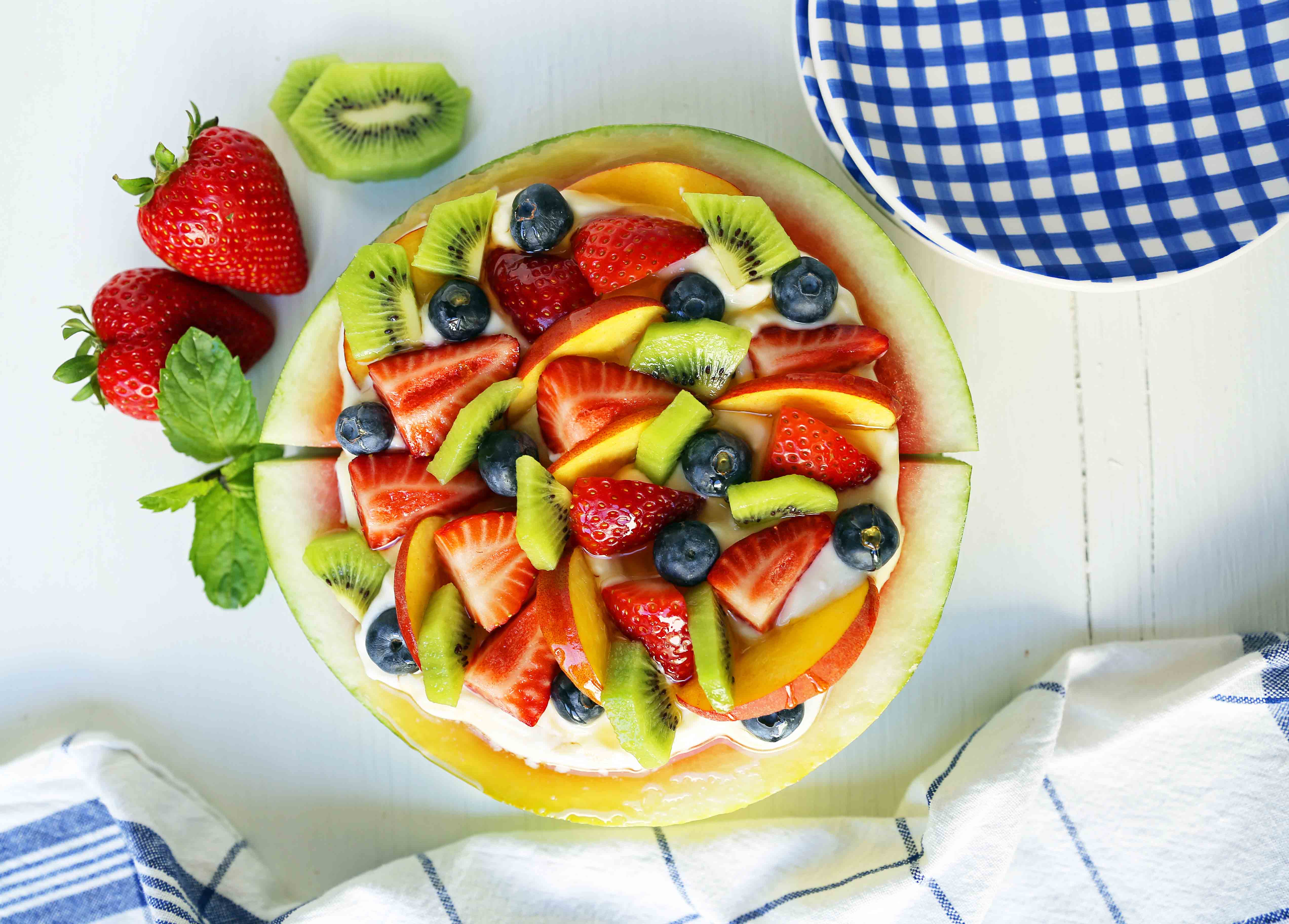 I have shared many times about my daughter's love affair with fruits and vegetables. It started as a baby and it hasn't slowed down. She isn't a big cake person so I have to get creative when making her a birthday dessert. This Watermelon Fruit Pizza Cake is the perfect dessert for her and for anyone else who is staying away from gluten or heavy desserts.  This is a no-guilt dessert!
I strongly believe everyone should have a birthday cake on their birthday but sometimes people are on diets or just plain don't like cake. This is a healthy fruit-based, gluten-free birthday cake that is absolutely beautiful!
A fruit pizza is typically made with a sugar cookie crust. We are ditching the cookie and using a thick round piece of fresh watermelon. The vibrant watermelon is the base for our fruit dessert.  Next, this watermelon cake is topped with a choice of spreads. If you are looking to be extra healthy, you can spread it with a honey vanilla greek yogurt. This adds a nice amount of tartness and creaminess while adding some healthy protein. If you want a dairy-free alternative, you can make your own coconut whipped cream (more details below). One of my favorite spreads for this Watermelon Cake, is to spread it with a sweetened homemade whipped cream. Bring on the whipped cream!
Next, it is time to top it with some fresh fruit! The sky is the limit as to what types of fresh fruits to add.  The beauty of this summer dessert is that you get to pick from all of the summer fruits in season.  You can change it up depending on what you can find in your grocery store or farmer's market. Some of my favorite toppings are strawberries, blueberries, peaches, cherries, kiwis, plums, blackberries, oranges, and raspberries. A drizzle of raw honey gives the fruit shine and a touch of sweetness.  Mint goes perfectly with watermelon so you can always add some fresh mint ribbons as a garnish.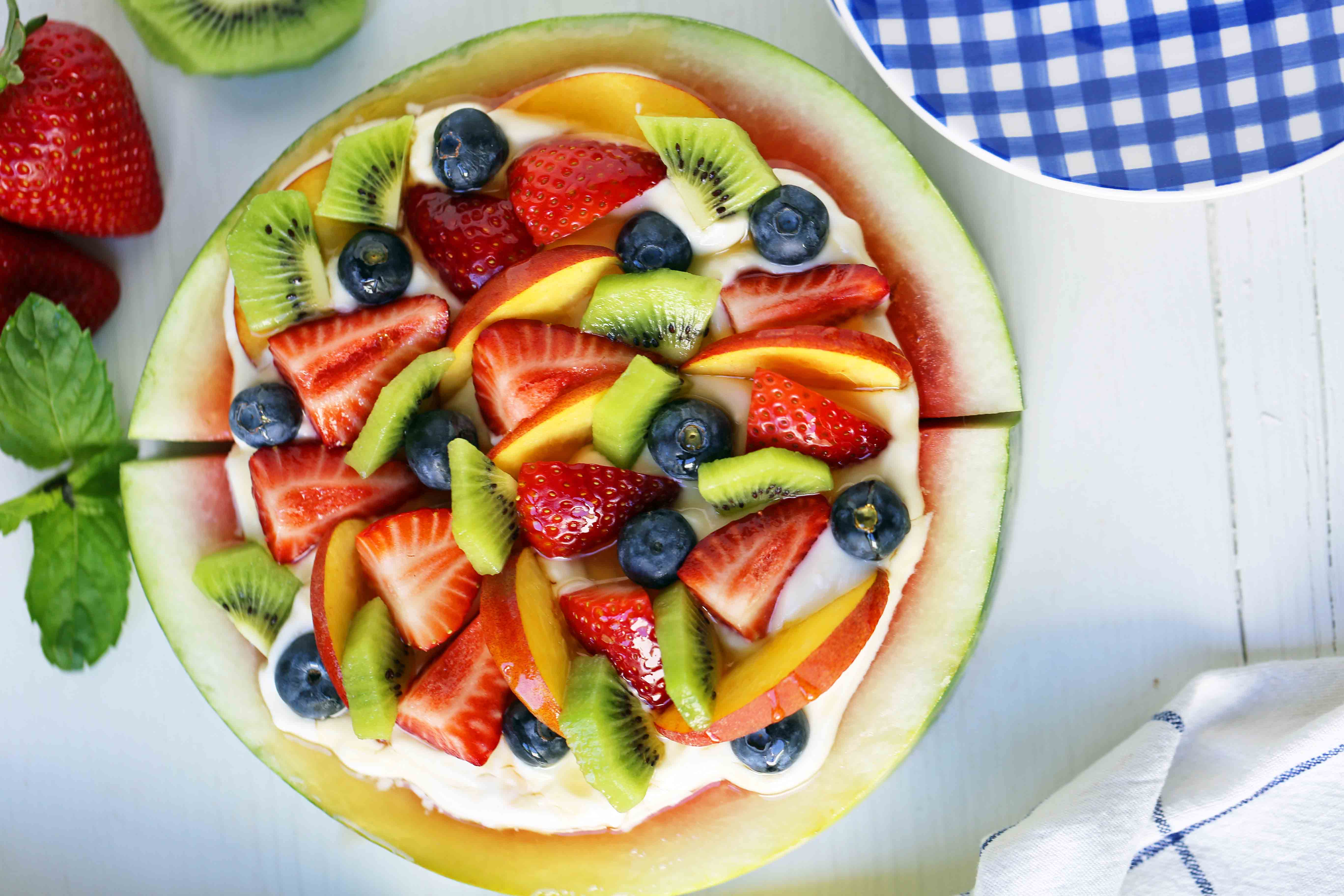 How to make Coconut Whipped Cream:
Start with a can of FULL-FAT coconut milk.  I prefer the Trader Joe's Full-Fat Coconut Milk or Sprouts Canned Coconut Milk. Place can in the refrigerator overnight to allow the fat from the coconut milk to rise to the top and solidify.  Once it is hard and solid, place the mixing bowl in refrigerator for 5-10 minutes. Skim the hardened coconut milk from the top and place in a chilled mixing bowl. Whip until soft peaks form. Fold in sweetener of choice -- coconut sugar, maple syrup, granulated sugar, etc.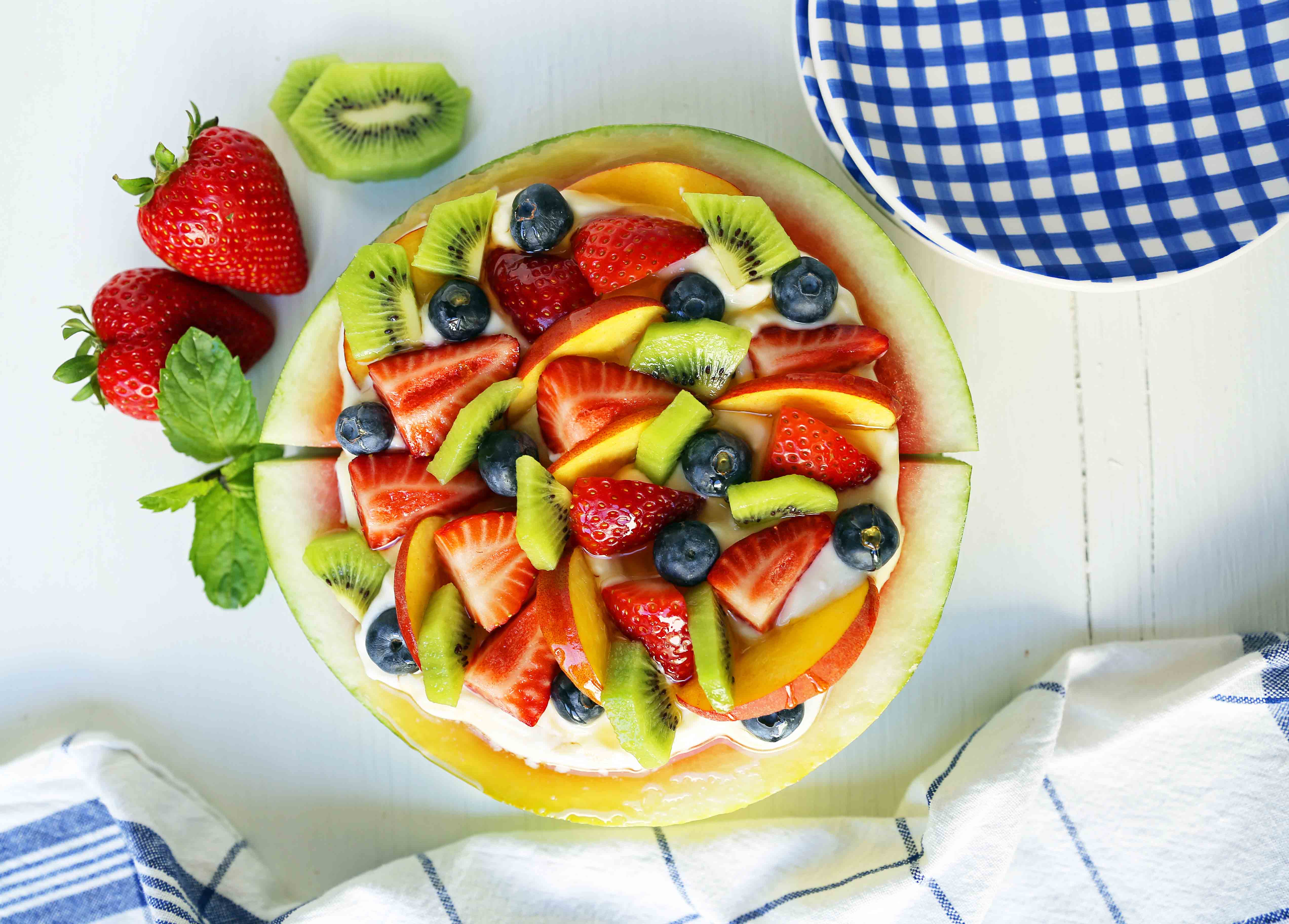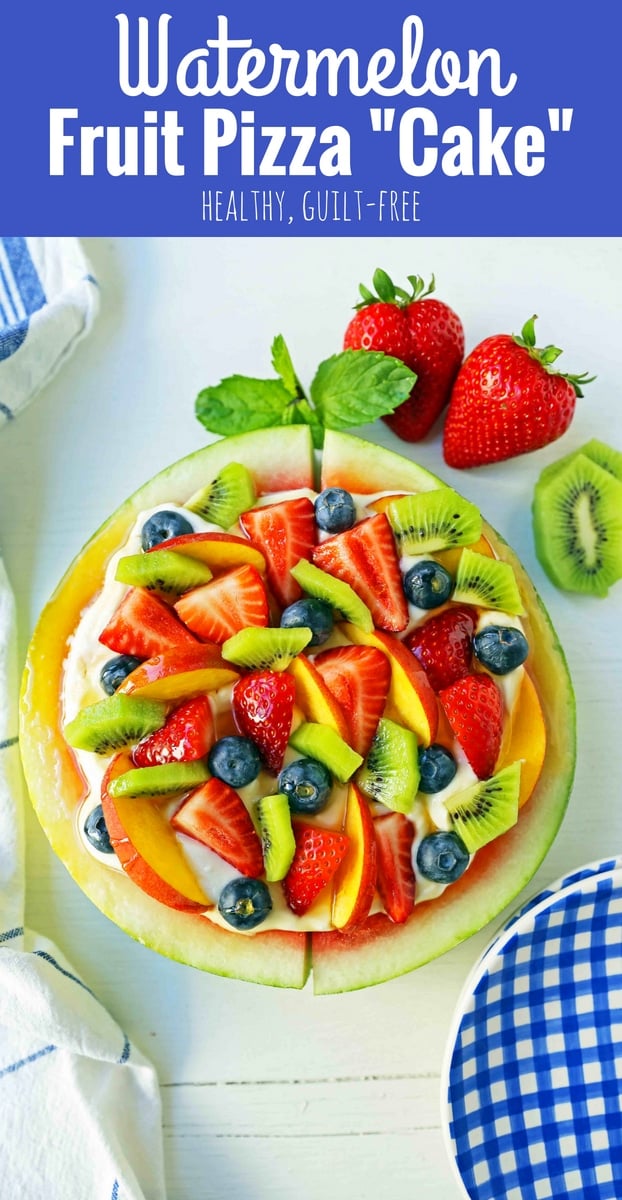 I hope you love this healthy fresh fruit summer dessert! Show me your food creations by using #modernhoney and come say "hi" on instagram @modern_honey. Have a great day, my friends!