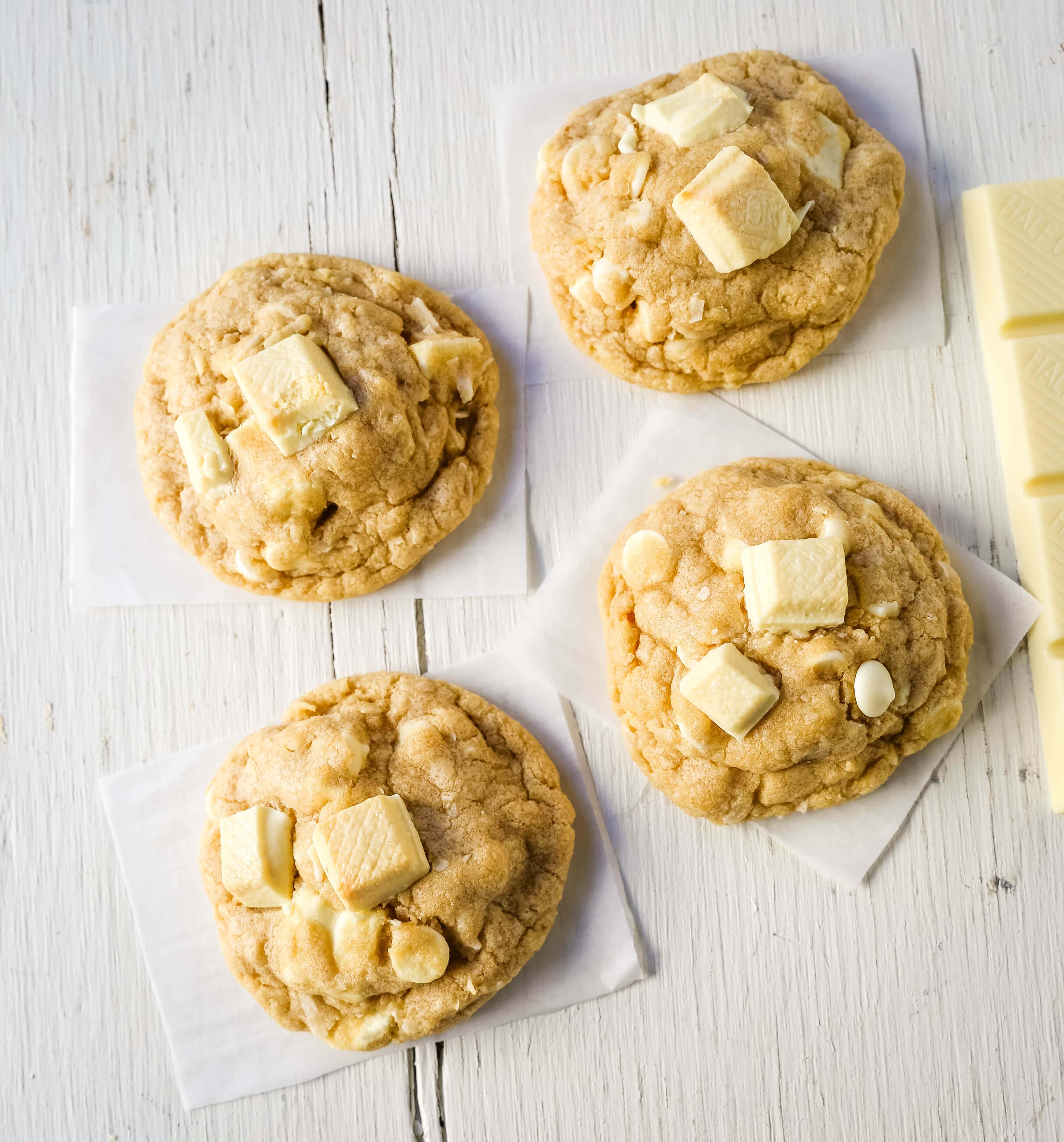 White Chocolate Coconut Cookies
Soft chewy white chocolate coconut cookies are the perfect sweet, buttery tropical cookie!
When I was a kid, I was obsessed with coconuts. I have talked about my love affair with coconuts on Modern Honey before but it may be worth repeating because it was literally my favorite food. What 6-year old would do extra chores around the house and in the yard just to be able to take a drive to Smitty's and pick out a big ol coconut just for myself.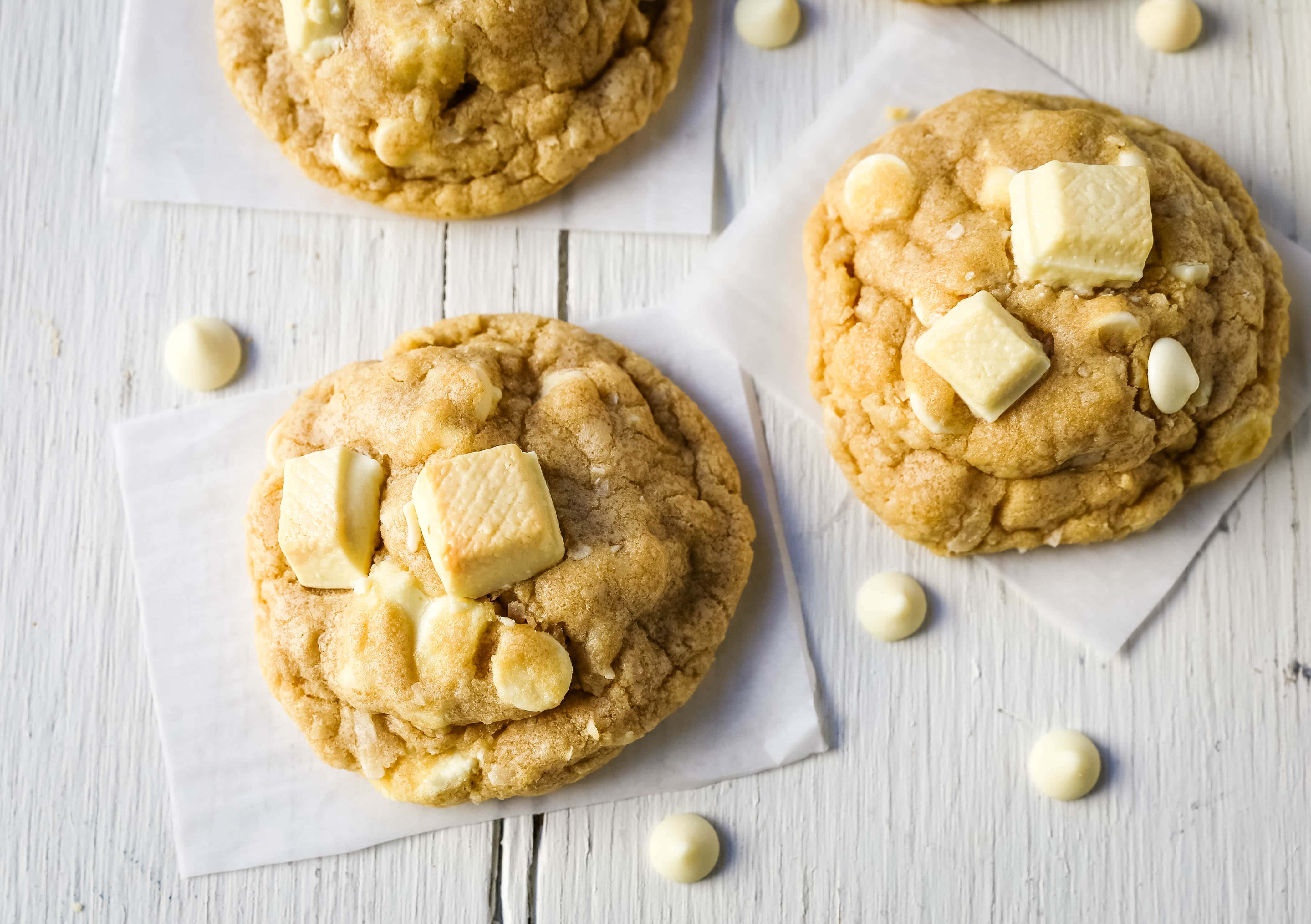 I would spend so much time in the backyard with just me, a hammer, and a coconut trying to open it. I think my brothers found so much entertainment in watching me from the kitchen window take whacks out of a coconut to no avail. But when I finally got it opened, I would drain out the juice and eat the entire coconut by myself. It may not have been sweet but I love the crunchy tropical treat.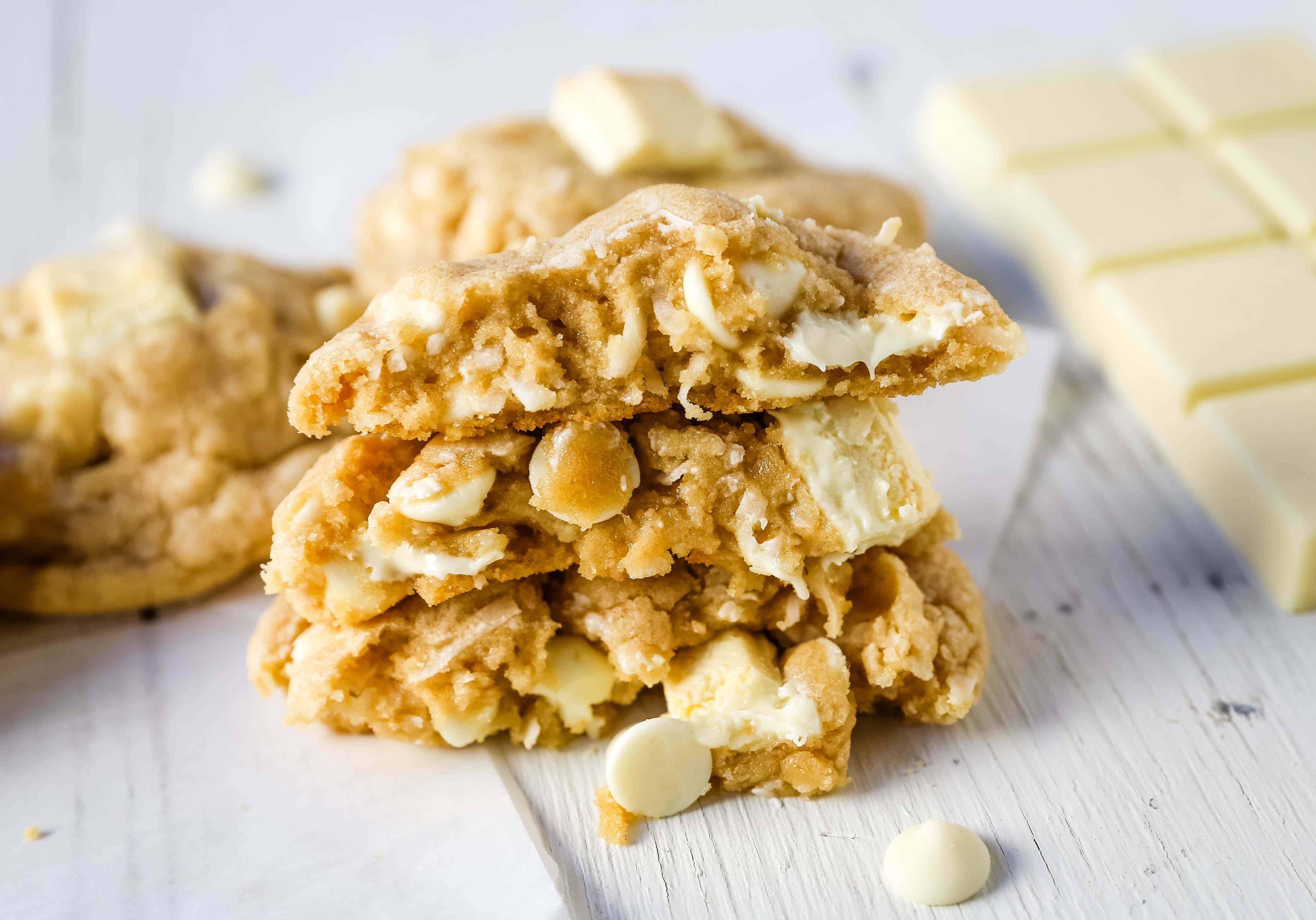 So it would only be fitting to combine two of my favorite things -- COOKIES and COCONUT. How can you go wrong? These cookies start off with a sweet buttery cookie dough and then sweet flaked coconut and white chocolate chunks or chips are added. They remind me of being in Hawaii and I am all about that kind of daydreaming!
You can use a mix of white chocolate chunks or chips depending on preference. I picked up a high-quality white chocolate bar from the grocery store and cut it into chunks and also use white chocolate chips. I prefer using sweetened flaked coconut because of the soft texture and sweetness but you can also use unsweetened flakes.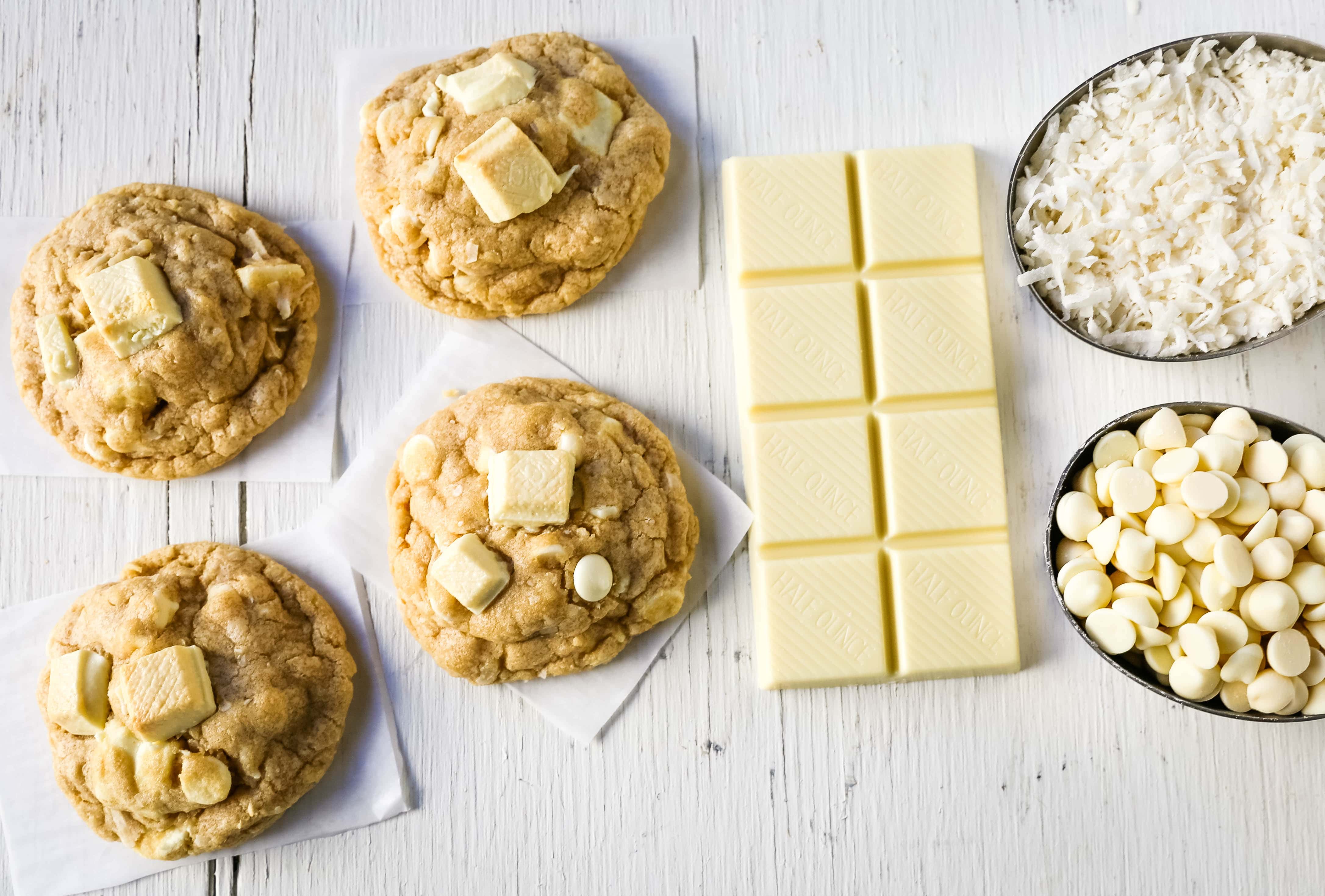 HOW TO MAKE THE BEST COCONUT WHITE CHOCOLATE CHIP COOKIES:
 Cream Butter, Brown Sugar, and Sugar with a mixer for at least 4 minutes, until light and fluffy.  This process is an important step as it creates a smooth texture and adds air into the dough which will help give the cookies volume and loft once they hit the oven.
Add eggs one at a time, mixing well after each addition, and then add the vanilla.
Use good-quality white chocolate chips. All white chocolate is not created equal. Guittard and Ghirardelli are the winners hands-down in my book. Add sweetened flaked coconut.
Bake just until the edges begin to turn a light golden brown color. These cookies are meant to be soft and chewy in the center so don't overbake.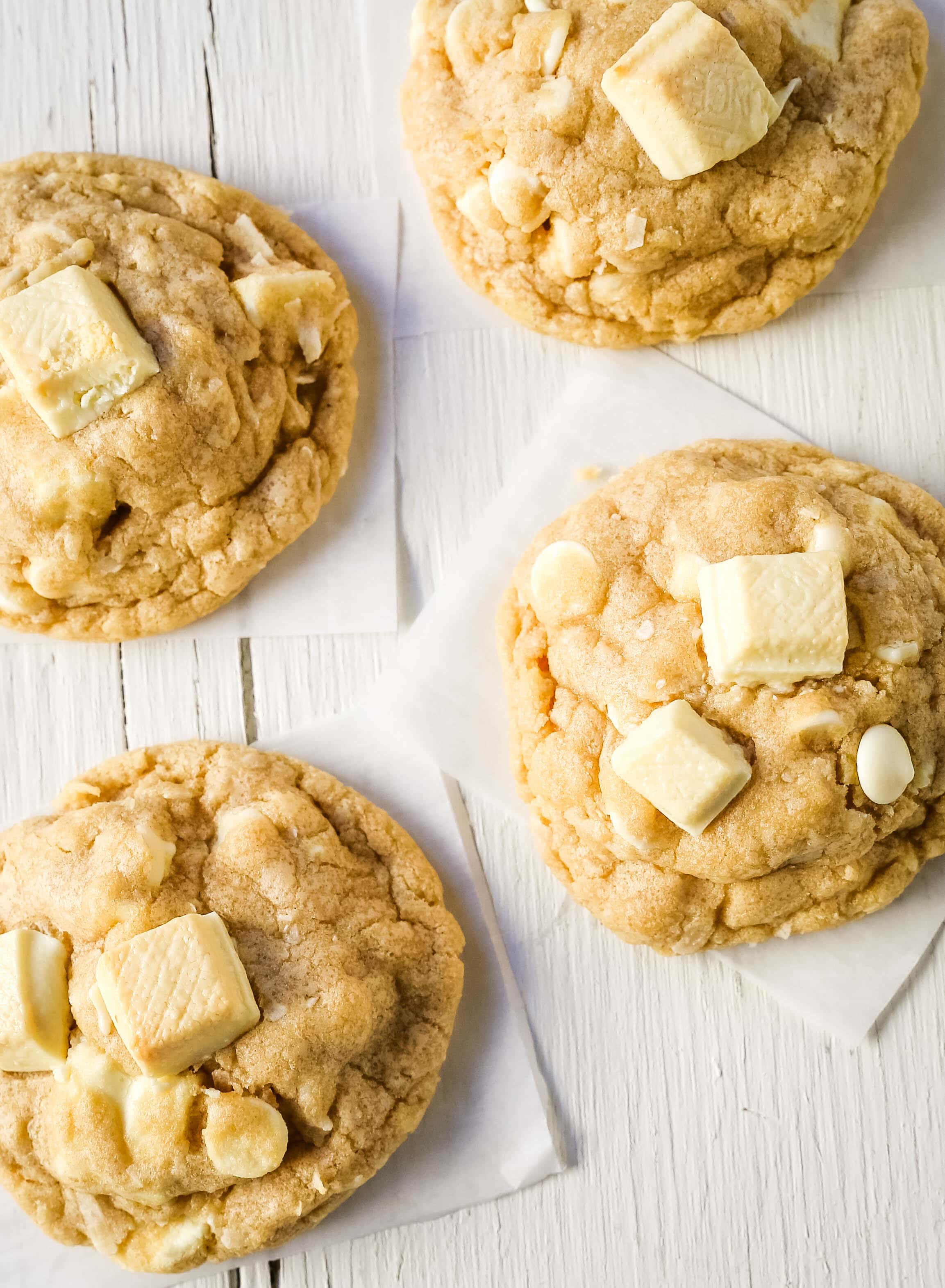 IF YOU LOVE COOKIES, CHECK OUT THESE FAVORITE COOKIE RECIPES:
Levain Bakery Copycat Chocolate Chip Cookies Recipe
The Best Classic Chocolate Chip Cookies
Cinnamon Sugar Snickerdoodle Cookies
Lemon Sugar Cookies 
I love to hear from you! If you make this recipe, please be sure to leave a comment and give this recipe a rating. Sign up for my newsletter below so you never miss a recipe. Thank you for following along! I truly do have the greatest readers. FOLLOW ME ON:   INSTAGRAM — FACEBOOK— PINTEREST