The BEST FOOD to EAT at Disneyland
There is something so magical and enchanting about Disneyland. It envokes a whimsical feeling and makes everyone feel like a kid again.  I love the feeling of walking on Main Street with the smells of vanilla and homemade caramel filling the air. You can't walk very far without seeing food everywhere.
It may be overwhelming to figure out where the best places are to eat at Disneyland. I am here to help! I have spent a ridiculous amount of time at Disneyland and have done a fair share of research.  I am sharing the Best Things to Eat at Disneyland.
The BEST FOOD at DISNEYLAND:
Monte Cristo Sandwich — located at Cafe Orleans or Blue Bayou. This is one of the most popular items at Disneyland for good reason. Sliced Turkey, Ham, and Swiss Cheese battered and fried, served with a Berry Purée.  It is much more expensive at the Blue Bayou Restaurant so if you want a better value, order it Cafe Orleans. It feeds at least two people, without a doubt.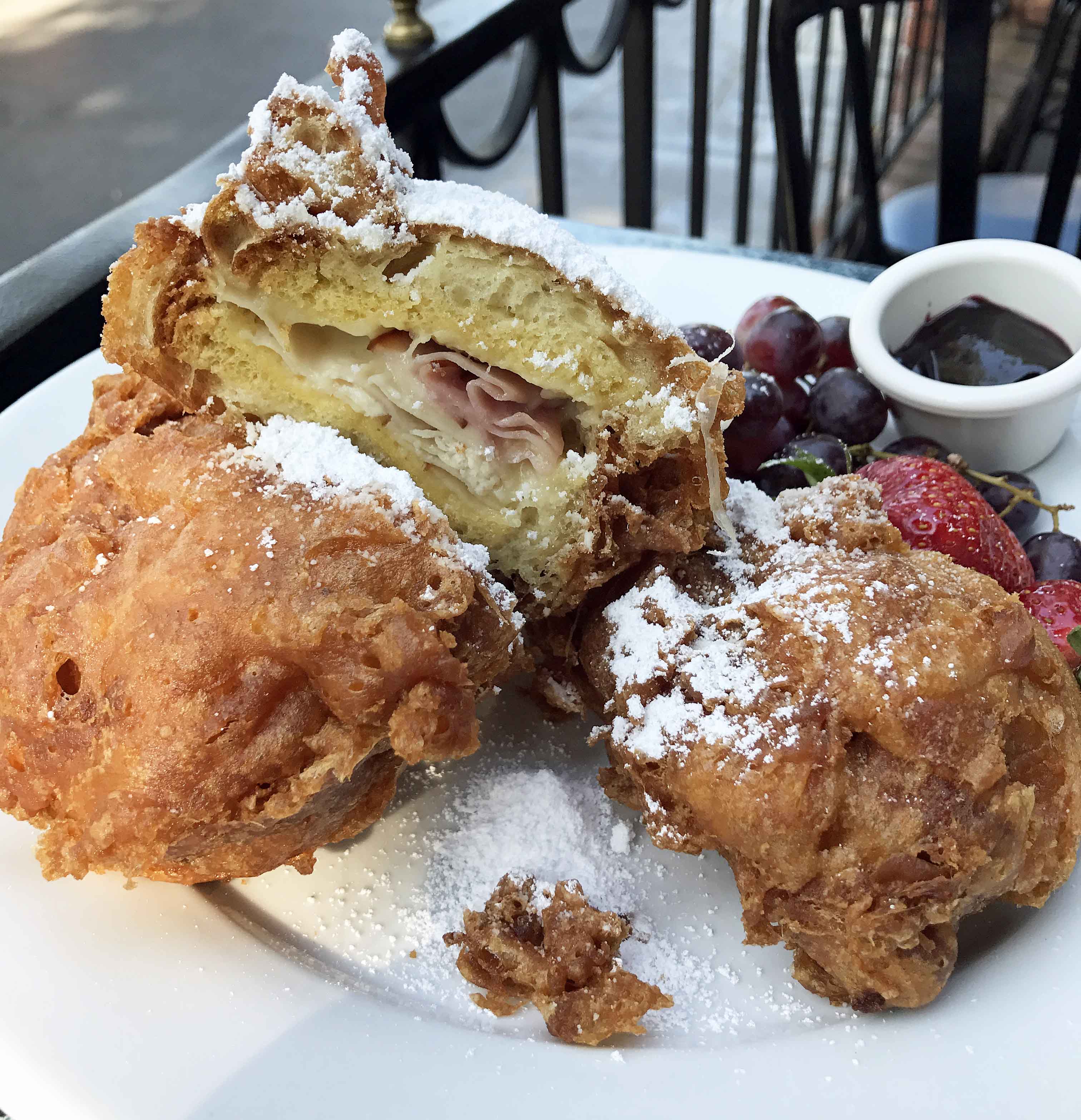 Hand-Battered Corn Dog — located at Little Red Wagon. If you have never tried a real, hand-dipped corn dog at Disneyland, you are missing out. This corn dog is unlike any corn dog I have ever tried. They sell the corn dog with sides at the Little Red Wagon but you can order it a la carte and save some money, even if it isn't on the menu. This is one of the best things to eat Disneyland!
Dole Whip Float and Dole Whip Soft-Serve — located at Tiki Juice Bar. Sweet pineapple soft-serve ice cream with fresh squeezed pineapple juice makes this the top refreshing choice at Disneyland. There is always a long line for this tropical treat but a huge tip is that there is a shorter line just inside the Enchanted Tiki Room entrance on the back side of the Tiki Juice Bar. It is a huge time saver!
Pommes Frites — located at Cafe Orleans.  These french fries are worth every single calorie. Traditional French fried potatoes tossed with parmesan, garlic, and parsley served with cajun spice rémoulade. Order alongside the Monte Cristo sandwich.
Funnel Cakes — located at Hungry Bear Restaurant and Stage Door Cafe. Churro Funnel Cake is housemade funnel cake topped with cinnamon sugar, caramel and whipped cream. The Campfire S'mores Funnel Cake with Chocolate-Chile Ganache, Toasted Marshmallow Sauce garnished with Graham Cracker Crumbs and Crushed Peanut Butter Candy is at Stage Door.
Fried Pickles with Dipping Sauce — located at the Carnation Cafe. Dill Pickle Spears dipped in parmesan and panko and fried until golden brown and served with a house sauce.
Tigger Tail Marshmallow Wand or Chocolate & Caramel Dipped Marshmallow Wand — located in Pooh Corner. This is one of my favorite places to get a treat.  Disneyland makes their own decadent and buttery homemade caramel so it's a must try.
Cinnamon-Sugar Churro — located all over the park. Pastry wands of fried dough coated in cinnamon, sugary goodness. There are those diehard fans who can't leave the park without eating one of these popular treats.
Ice Cream Nachos — located at Stagecoach Door Cafe. This is an off-menu item, which means you have to ask for it by name, at the Golden Horseshoe. Waffle cone bits topped with vanilla, strawberry, and chocolate ice cream scoops, hot fudge, whipped cream, and mini chocolate chips.
Seasonal Macaron — located at Jolly Holly Bakery.  Melt-in-your-mouth French macaron with different fillings. Try the Mickey raspberry macaron if they have it.
Cheddar Garlic Bagel Twist — located in Maurice's Treats in Fantasyland. This is a large cheesy twist with a pronounced garlic flavor. Get there early when they open for soft and fresh bagel twists.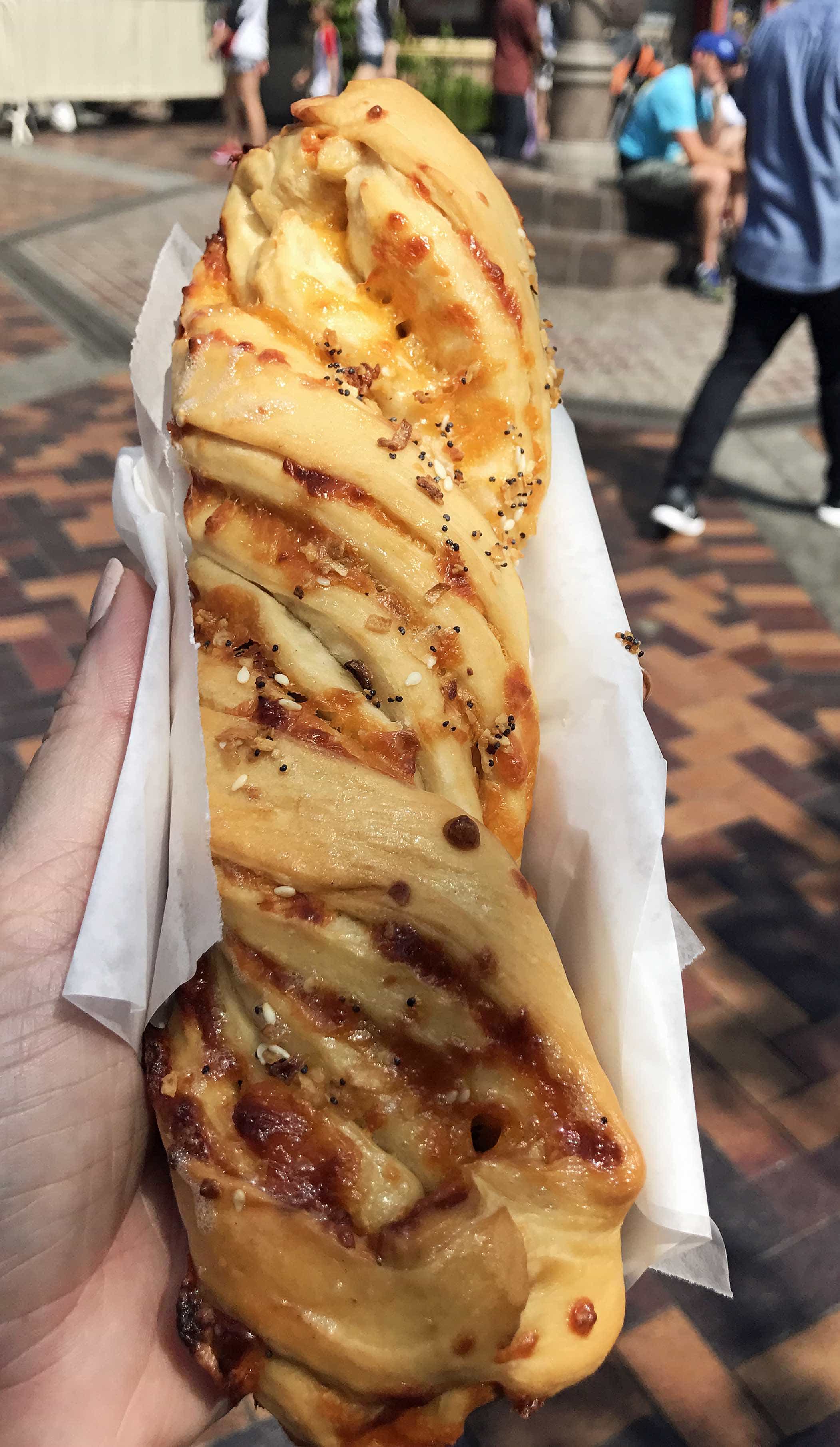 Mickey-shaped Beignets with powdered sugar — located at Mint Julep Bar.  Fried pillows sprinkled with powdered sugar.
Mint Julep — located at Mint Julep Bar. A refreshing, non-alcoholic drink with fresh mint and lime. It's perfect for a hot summer day.
Matterhorn Macaron — located near the Matterhorn ride. Soft and sweet coconut macaroon dipped in white chocolate.  Coconut lovers will go crazy over this treat.
Fried Chicken Meal — located at Plaza Inn.  Three pieces of fried chicken and seasoned with distinctive herbs and spices and served with mashed potatoes, vegetables, and a buttermilk biscuit.
Gibson Hot Fudge Sundae or Chocolate Dipped Waffle Cone — located at Gibson Ice Cream Parlor.  The waffle cones are made right in front of you plus the homemade hot fudge is downright heavenly.
Grey Stuff Gateau — located at Red Rose Taverne.  Since the movie, "Beauty and the Beast" came out, Disneyland added a new venue called the Red Rose Taverne. This Grey Stuff Gateau is a white chocolate mousse and red velvet cake with a raspberry center.
New Orleans Fritters — located at Royal Street Veranda. Cinnamon-sugar coated egg fritters with a sweet dipping sauce.
Clam Chowder in Sourdough Bread Bowl — located at Royal Street Veranda. Comforting and creamy clam chowder in a warm sourdough bread bowl is one filling meal.
Caramel Apple — located in Pooh Corner. Disneyland makes their own homemade caramel in large kettle pots. It is so heavenly! These use crisp apples, covered in decadent caramel. Try the apple dipped in white chocolate and cinnamon sugar or the famous Minnie Mouse apple.
Chocolate Covered Peanut Butter Sandwich — located in Pooh Corner.  Homemade graham crackers and peanut butter covered in chocolate. A chocolate peanut butter lover's dream.
Chocolate Dipped Rice Krispies Treats — located in Pooh Corner and other bakeries.  Soft, buttery rice krispies treat dipped in milk chocolate and covered in M& M's.
Matterhorn Macaroon Doughnut or Peanut Butter Cup Doughnut — located near Fantasyland.  Chewy coconut cookie on top of soft doughnut or chocolate bar topped with peanut butter cups.
Honorable Mention: Turkey Leg, Baked Potato Soup, Cotton Candy (because kids love this sugary treat), Buttery Corn on the Cob.

What to Eat at Disneyland?
 Monte Cristo Sandwich
Corn Dog
Dole Whip
Pommes Frites
Tigger Tail
Mickey's Beignets
Churro
Fried Pickles
Cheddar Garlic Bagel Twist
Fritters
Matterhorn Macaron
Caramel Apple
Grey Stuff Gateau
Mint Julep
Mickey Macaron
Clam Chowder in Sourdough Soup Bowl
Fried Chicken
Chocolate Covered Peanut Butter Sandwich
M & M Dipped Mickey Rice Krispies Treat
Baked Potato Soup
Salted Caramel Chocolate Caramel Stick
Funnell Cakes
Ice Cream Nachos
Hot Fudge Sundae or Chocolate Dipped Waffle Cone
We take food at Disneyland very seriously. To say that she loved the buttered corn is an understatement. I hope you love this list of Best Places to Eat at Disneyland.  Did you find some of your favorites? Let me know what you LOVE to eat at Disneyland.
If you use this Best food at Disneyland list during your next trip, let me know which foods were your favorite.