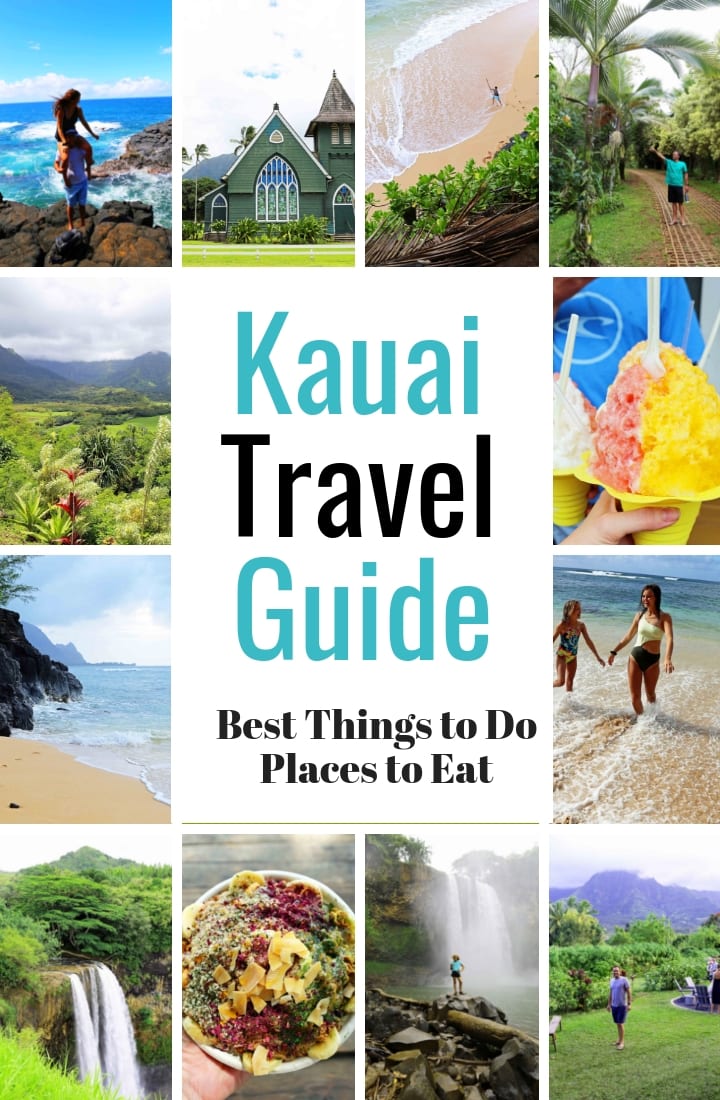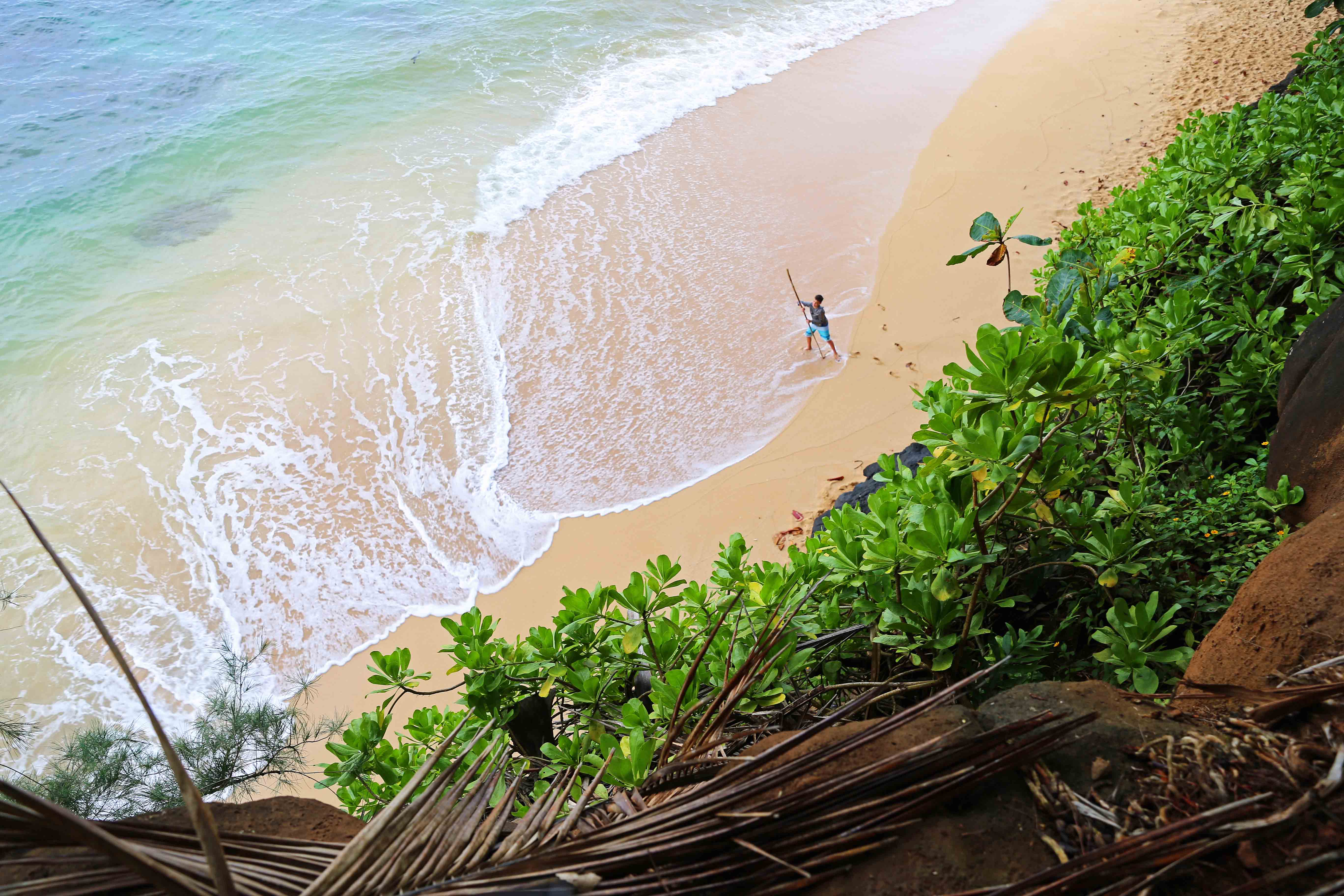 Kauai Travel Guide
The Best Things to Do, Places to Eat and See in Kauai Hawaii. The ultimate Kauai Hawaii Travel Guide.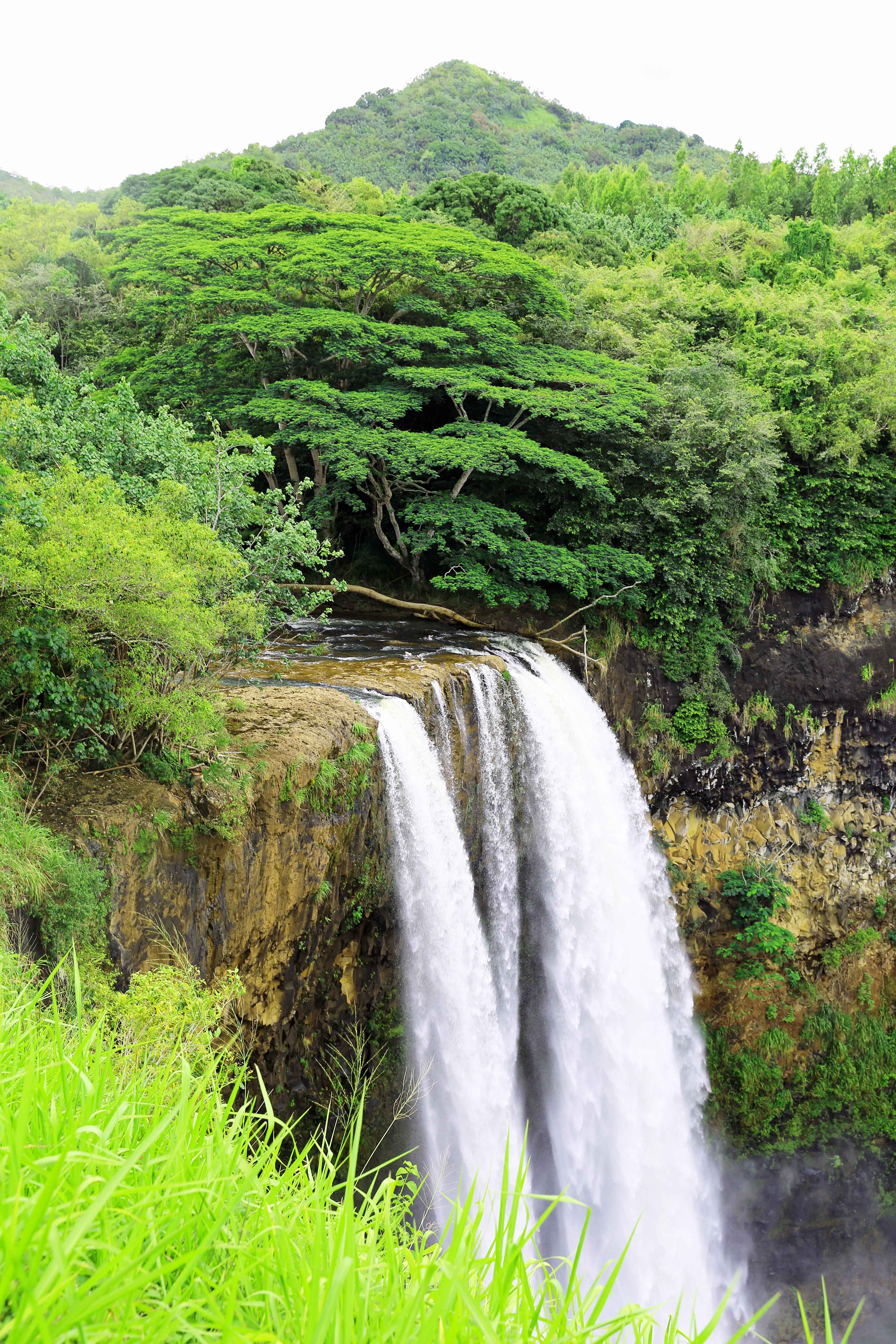 This has been at the top of our bucket list for years. When I plan a trip of this magnitude, it is years in the making. It all starts with saving the money, booking the airline flights and hotels, deciding on itineraries, and finding the best places to eat. I am pretty sure that I spent 6 months researching Kauai before we even set foot on the airplane!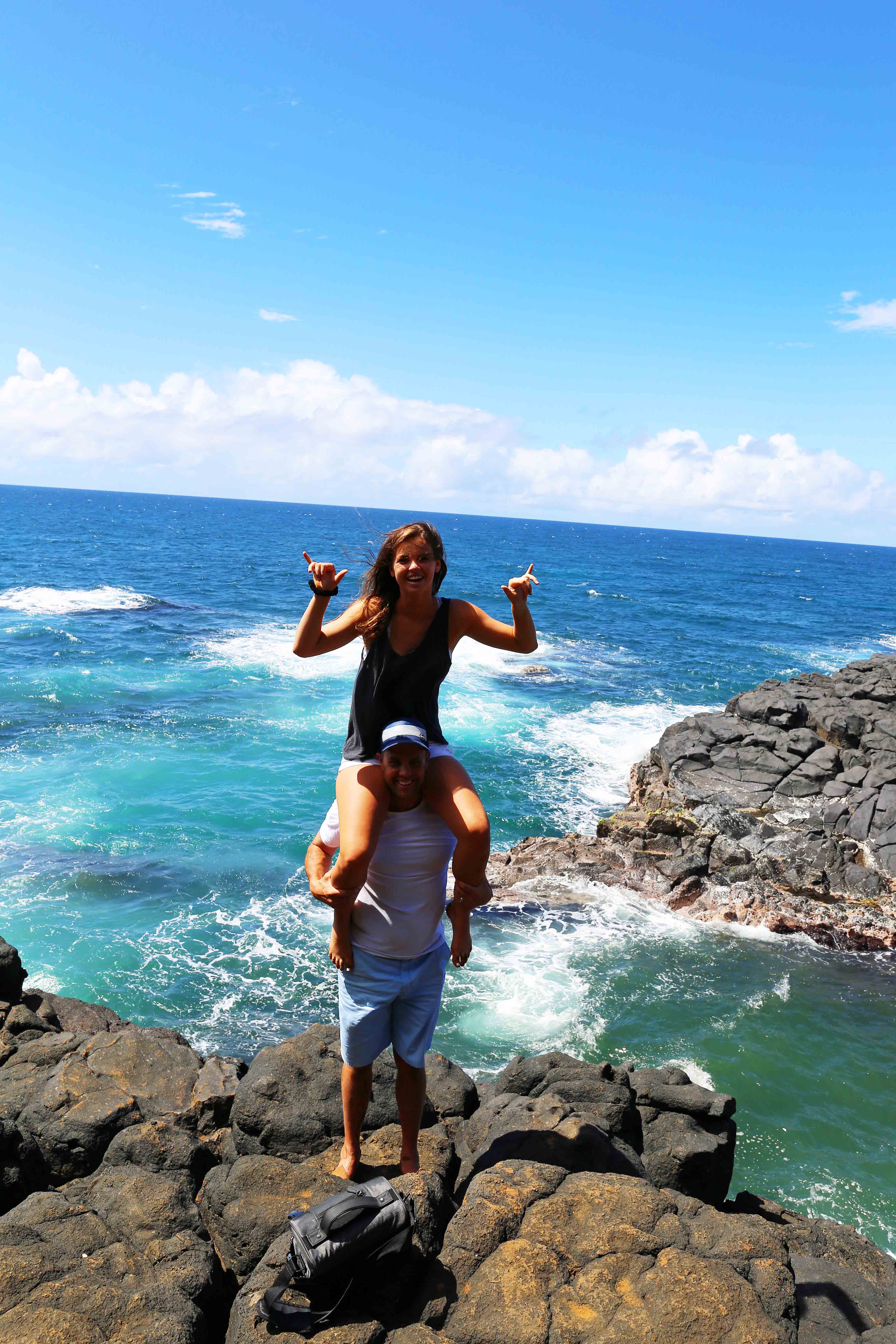 I am sharing all of our favorite things to do, places to eat and see in Kauai, Hawaii. It has quickly become one of my favorite places in the world and I am ready to go back tomorrow. The beauty was astounding and almost didn't seem real. It was as if I was looking at a movie screen and I kept asking Dean, "is this real life?" I had never seen such natural beauty before and it blew my expectations out of the water.
We arrived in Kauai soon after their horrible flooding so some of the areas, namely the Na Pali Coast, were closed. However, since there had been so much rain, it was unbelievably green and beautiful. Even with all of the closures, we couldn't come close to fitting in all we wanted to do in 7 days!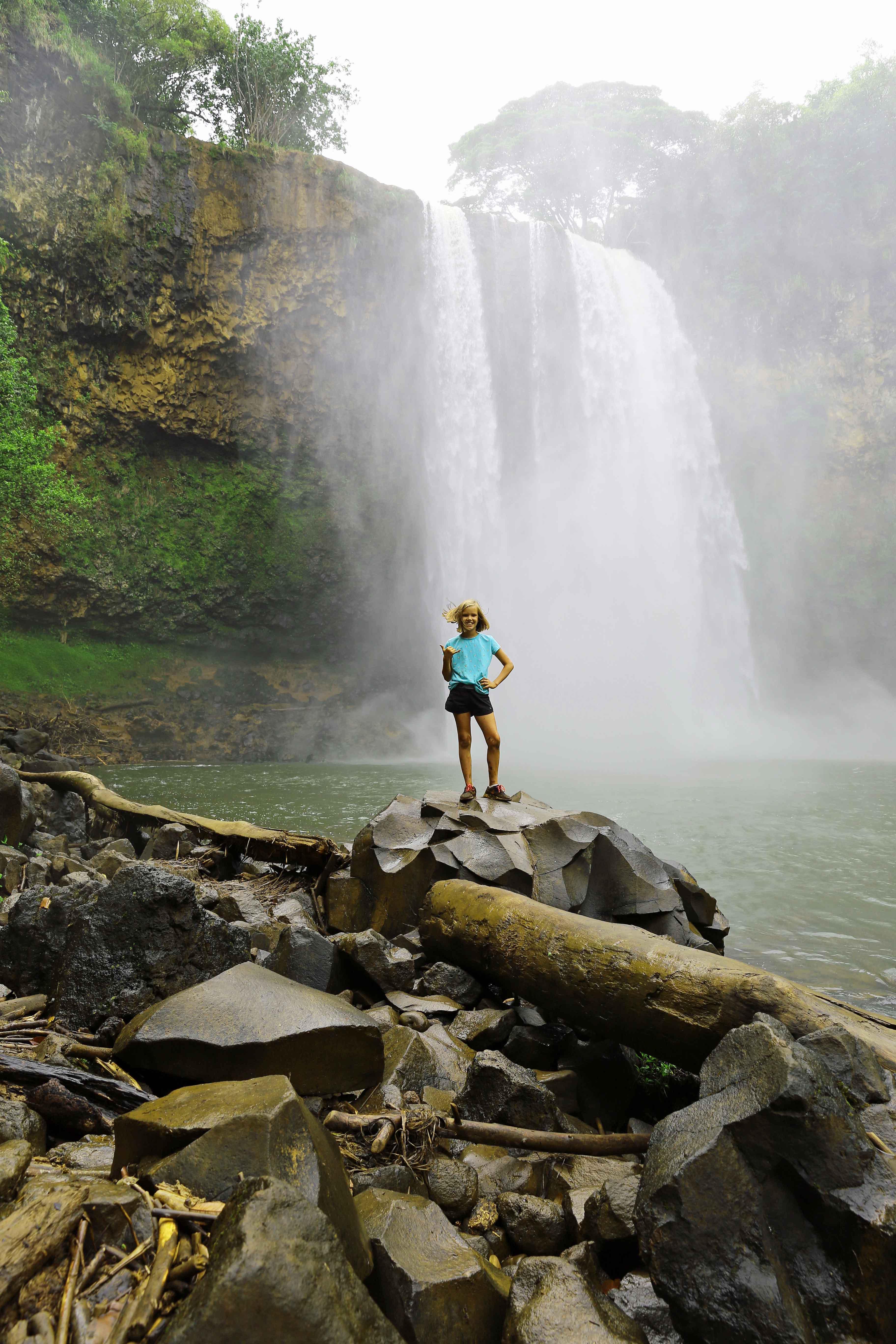 Things to Do in Kauai Hawaii:
Hiking
Surfing
Snorkeling
Helicopter Tours
Zip Lining
Kayaking
Chasing Waterfalls
Swimming
Relaxing at the Beach
Attending a Luau
Boogie Boarding
Riding ATV's
Boat Tours to Na Pali Coast
Horseback Riding
Chocolate Farm Tour
Whale Watching
Yoga
Farmer's Markets
Eating
Paddleboarding
Things to do on the North Shore of Kauai:
Hike the Na Pali Coast. This is where you get to see the true beauty of Kauai — the crystal blue shorelines, greenery, and waterfalls. You see it all! The full 11-mile Kalalau Trail hike is legit and can be difficult in parts of the trail. An easier hike is the 4-mile hike to Hanakapi'ai Falls, which is a 100-foot waterfall. A popular hike is the Ke'e Beach to Hanakai'ai Beach which is usually highly trafficked but well worth it.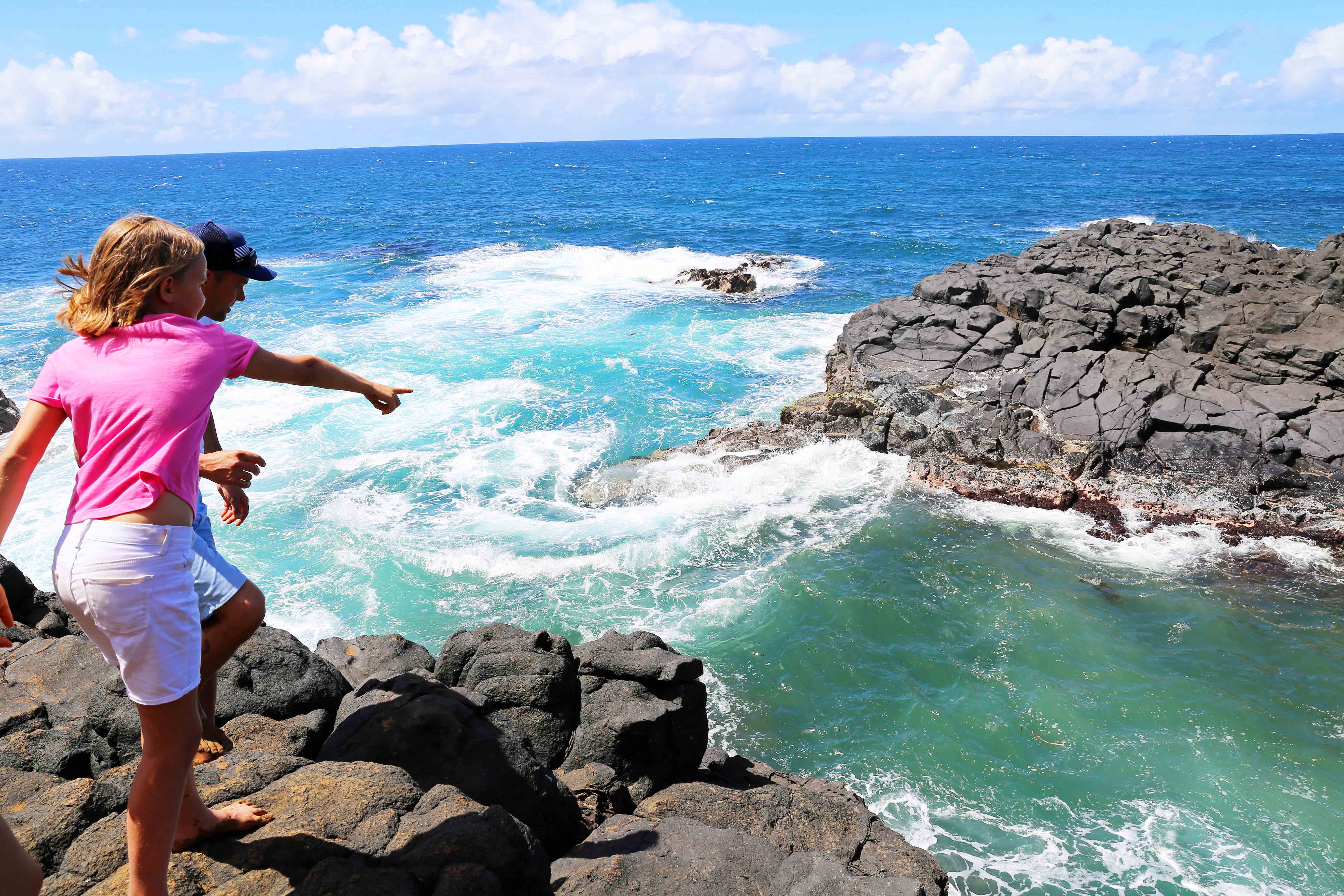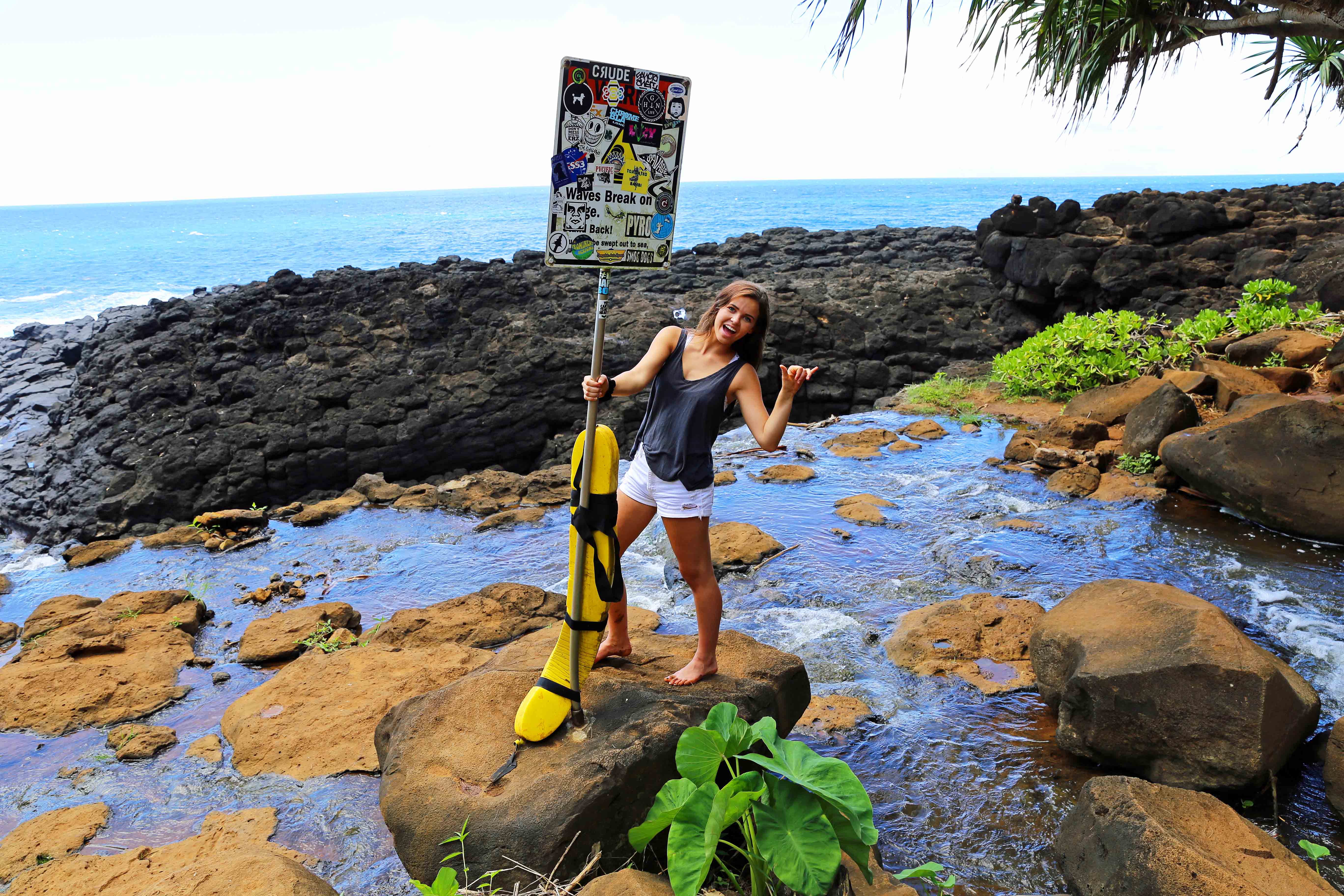 Take a short hike to Queen's Bath. This is a must-see as it is a natural swimming hole surrounded by lava rock. They don't suggest swimming in it as the waves can be deadly but it is gorgeous to look at. If I wasn't there, my kids and husband probably would have jumped in!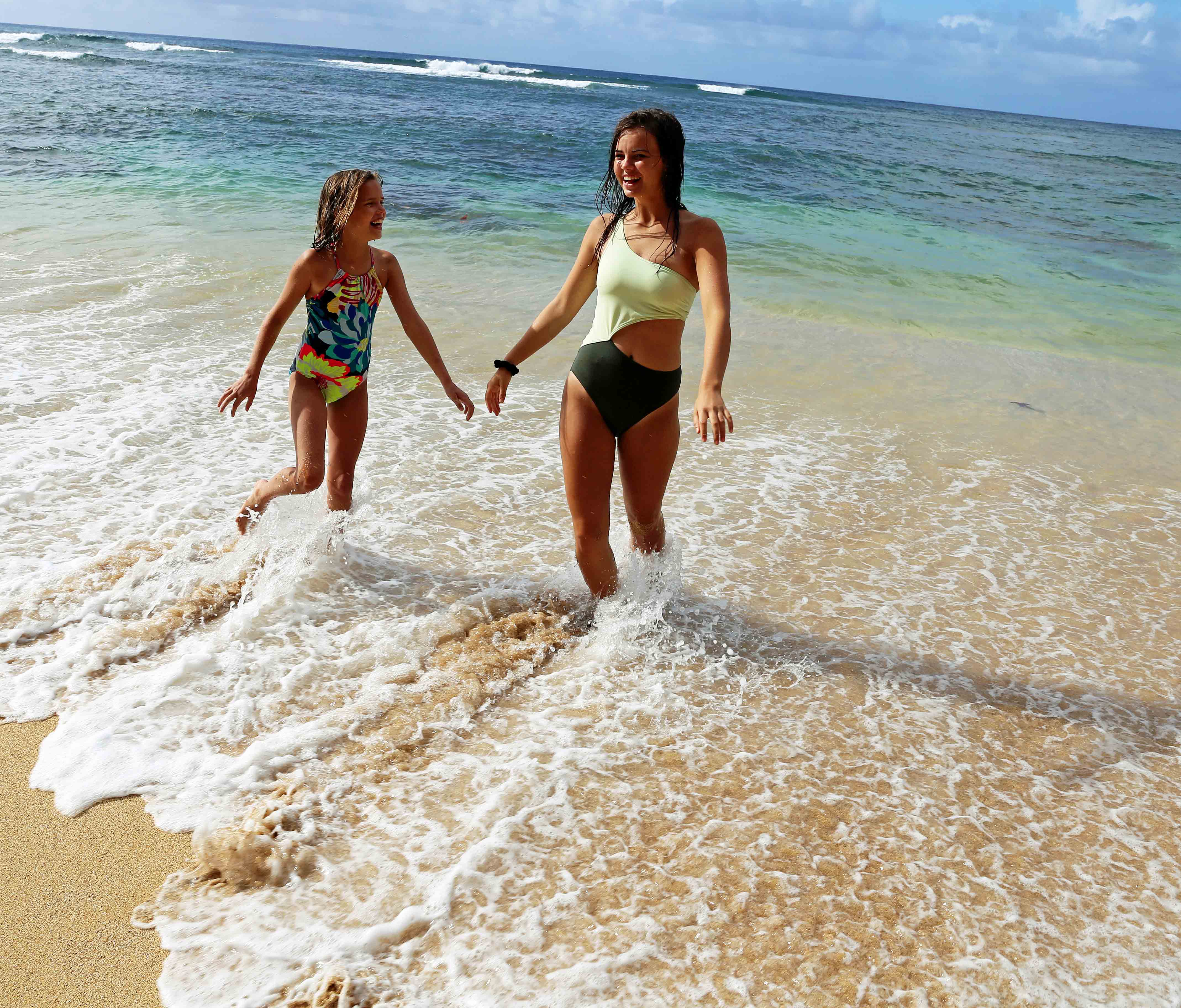 Hike down to Hideaway Beach. This is the beach between the St. Regis and Puu Poa condos in Princeville and it is a well-known secret. It is a steep hike with rope and railings to help you down. It is best to go down when it is not muddy or slipping and sliding may happen. We hiked it every single day and loved it. It is a quick hike and straight-down, but well worth it! We laid on the beach, relaxed, snorkeled and saw huge sea turtles, and just swam in the ocean. We were surprised to see bigger turtles at Hideaway Beach than in Turtle Cove.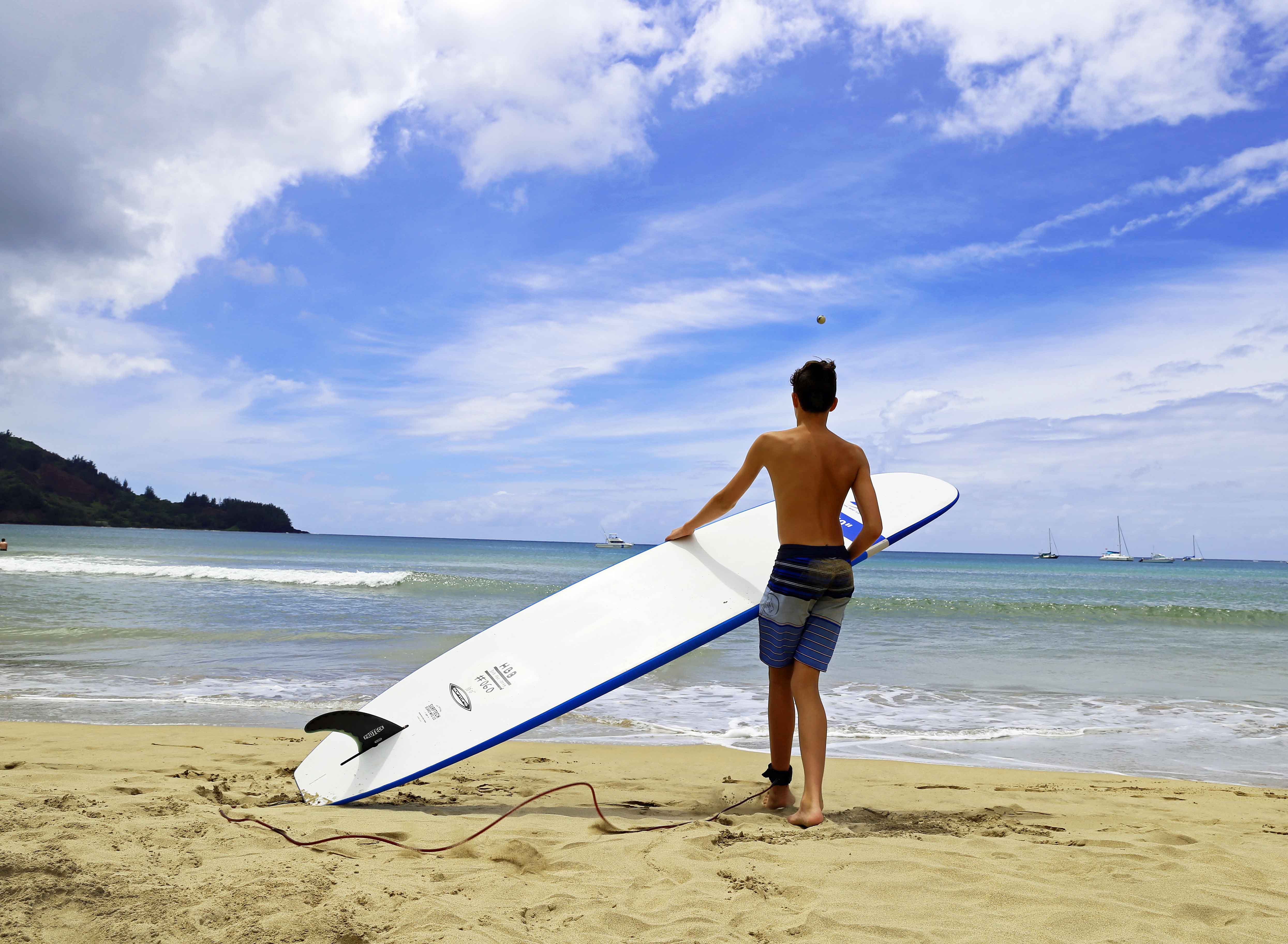 Surf and Boogie Board at Hanalei Bay Beach Park. This has it all…the ocean and mountain views in a cozy bay. We rented a surfboard from the local Hanalei Surf Company for such a reasonable price. During the summer, the waves are tame and all of my kids got up on a surfboard. They loved to boogie board as well.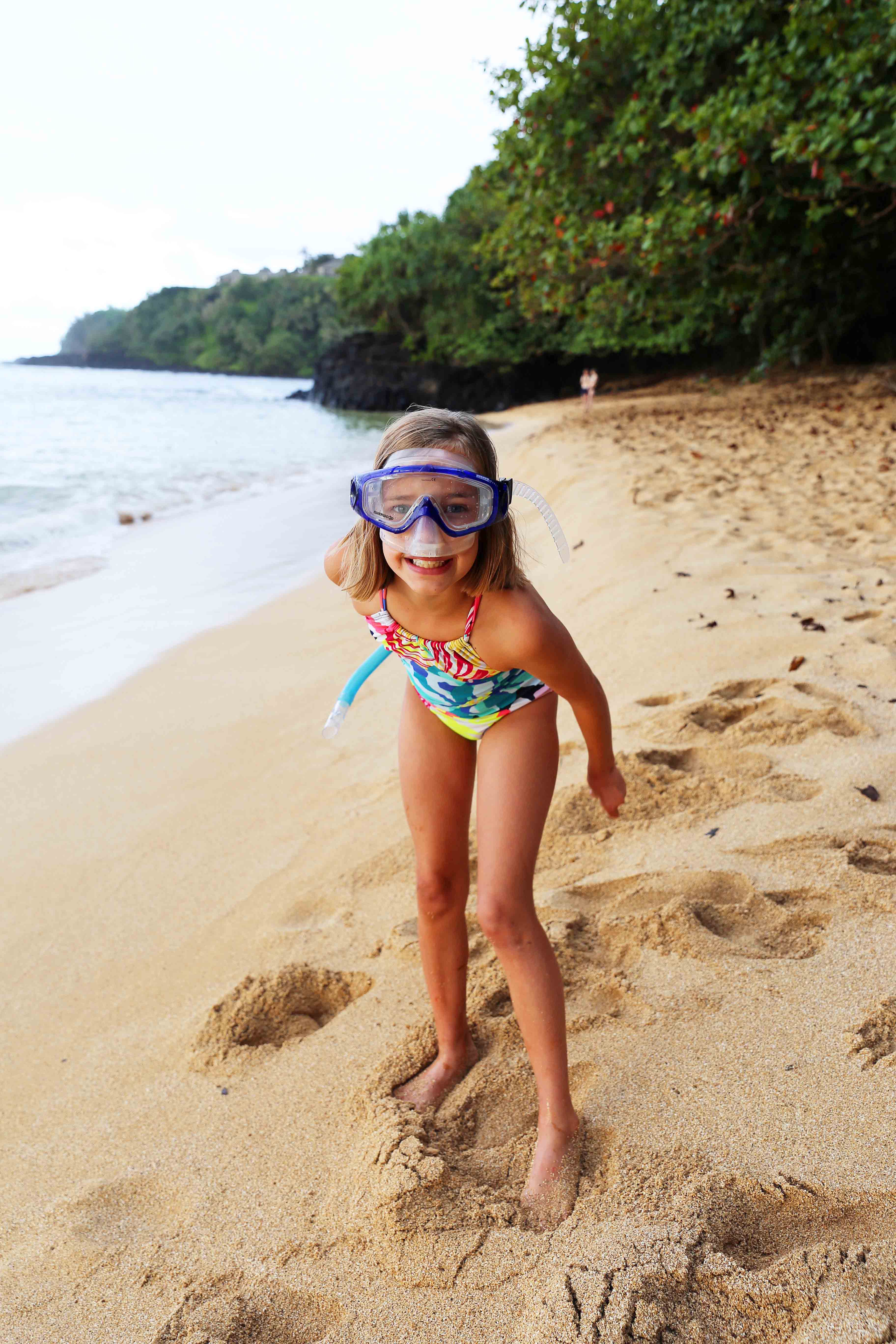 Snorkeling and Surfing at Tunnels (Makua) Beach. During the summer, this is a popular spot for surfing, or just laying out on the beach.
Visit the Kilauea Lighthouse for ocean views. This has such gorgeous views of the North Shore of Kauai and is a great place to spend a sunset evening.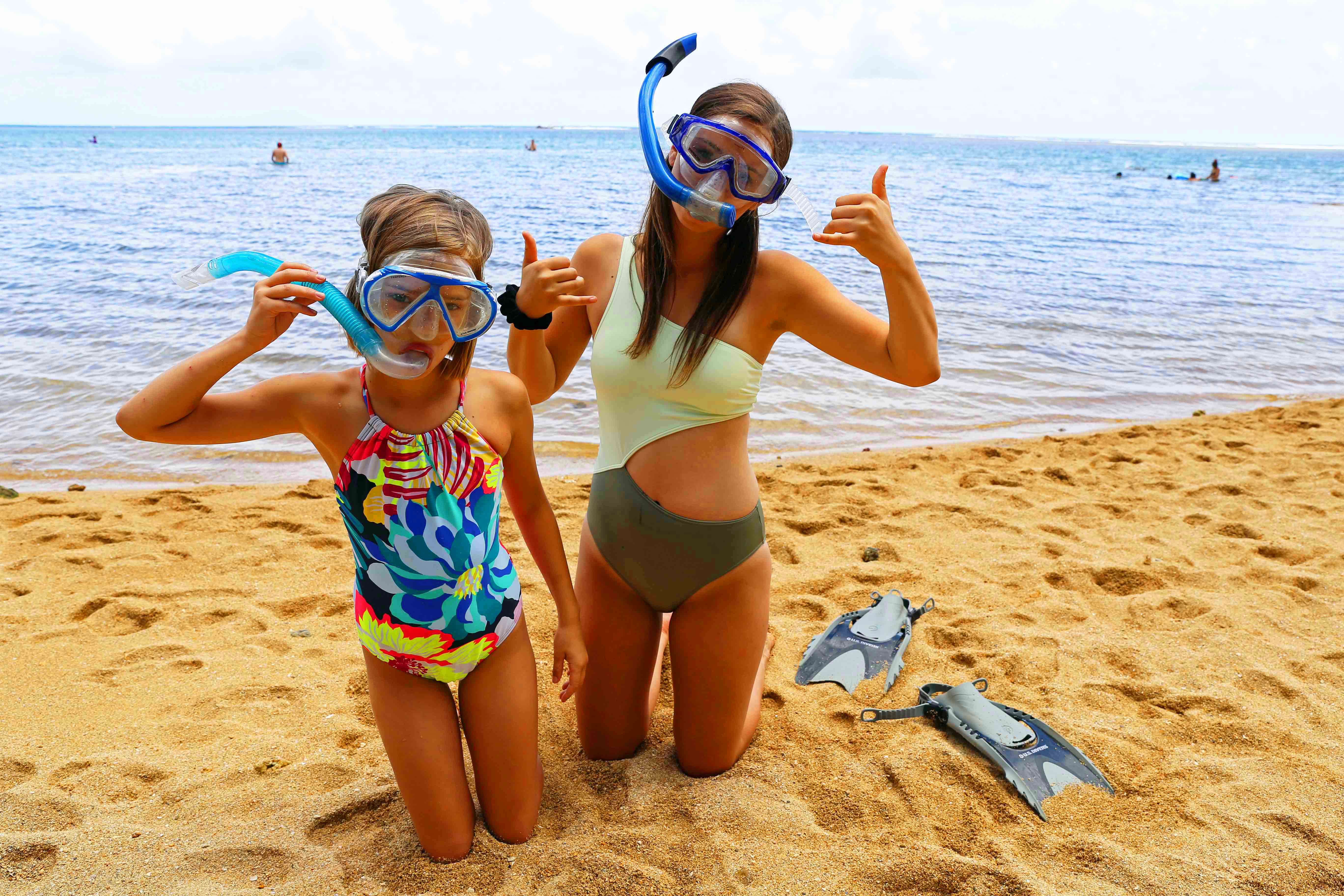 Snorkle at Anini BeachTurtle Cove. There are so many reefs to explore in this area. There are also other amenities such as bbq pits, bathrooms, and sandy beaches.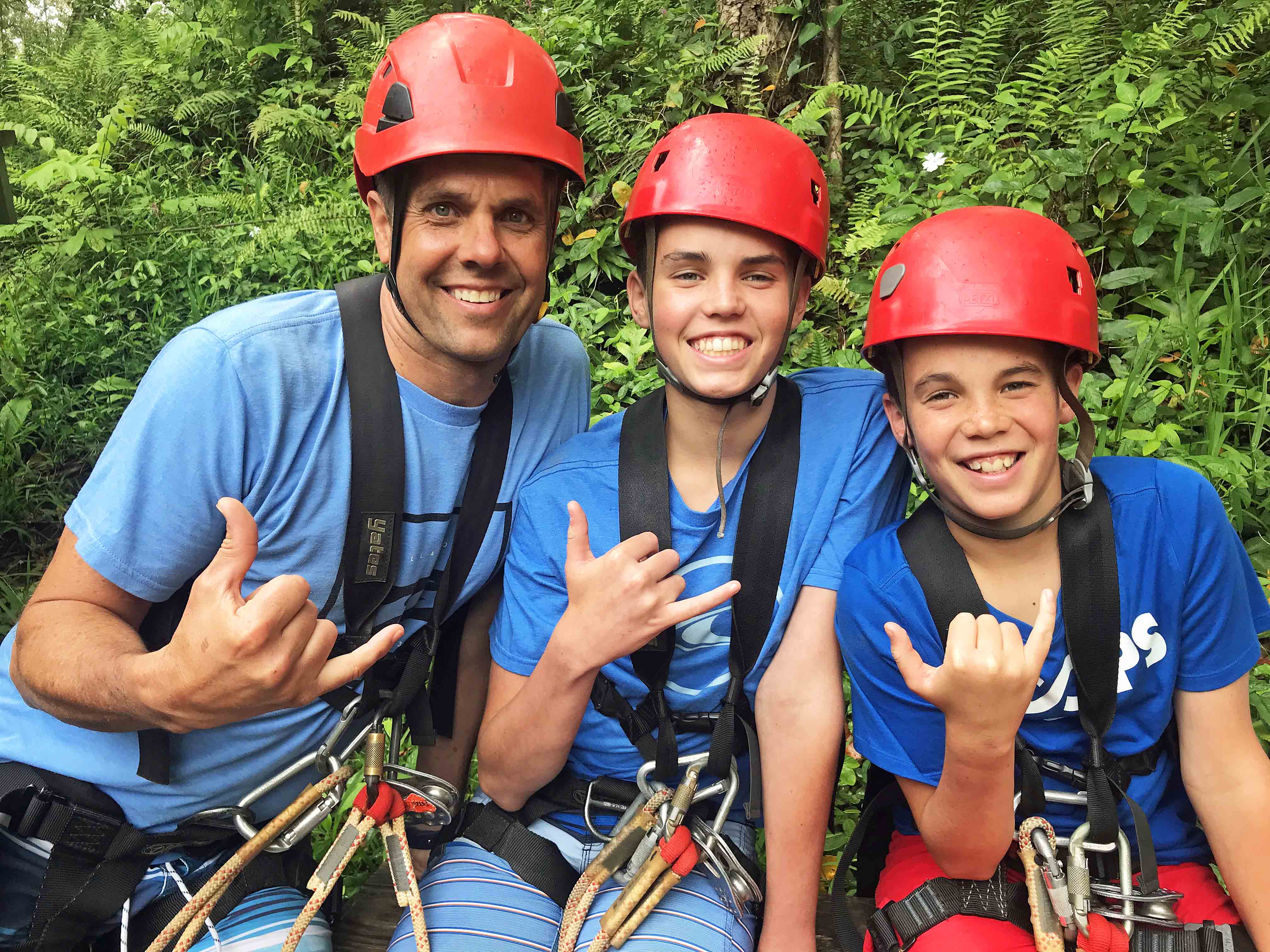 Go on an Excursion. There are so many excursion options on the North Shore — zip lining, ATV riding, helicopter rides, Na Pali Coast Boat Tours, Whale Watching, and so much more.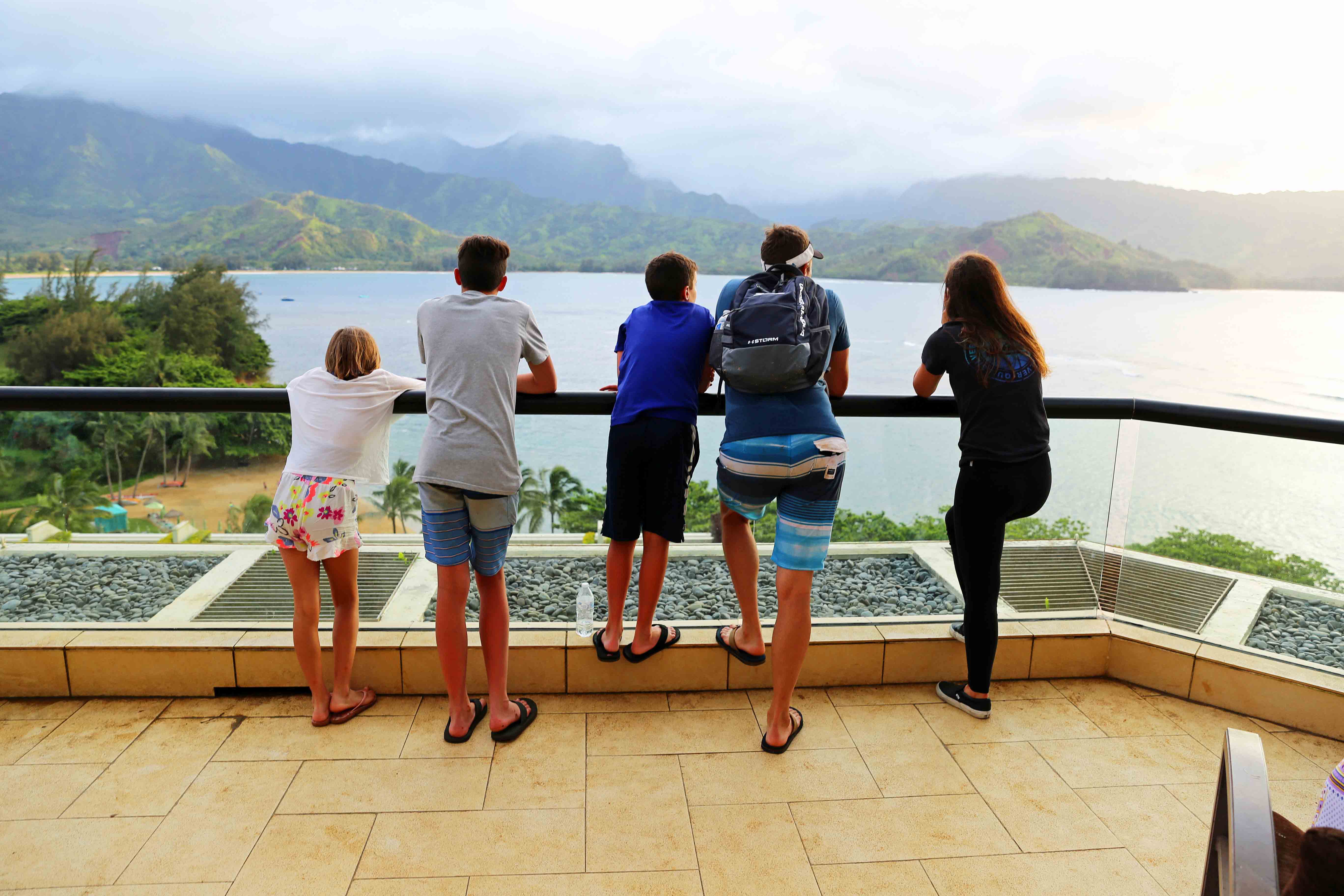 Watch the Sunset at the St. Regis Resort. You don't even have to stay at the hotel to take in the sunsets. Every night they play relaxing live music and the most picturesque setting. Go straight out to their patio right outside of their bar to watch the sun go down. It is magical.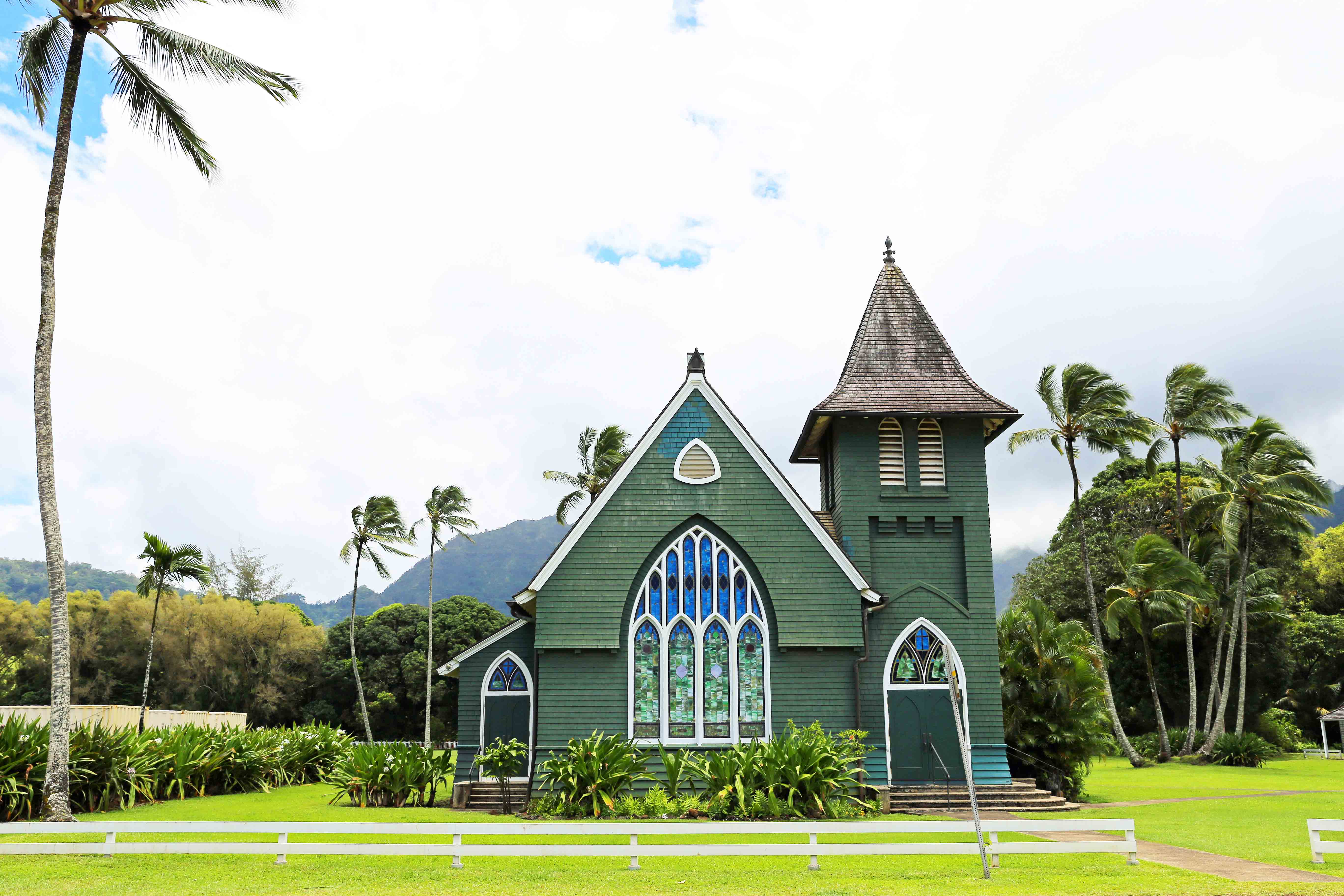 Take a picture in front of or visit the Wai'oli Hui'ia church. This famous island green church is set in the beautiful town of Hanalei and has the most stunning mountain and green fields backdrop.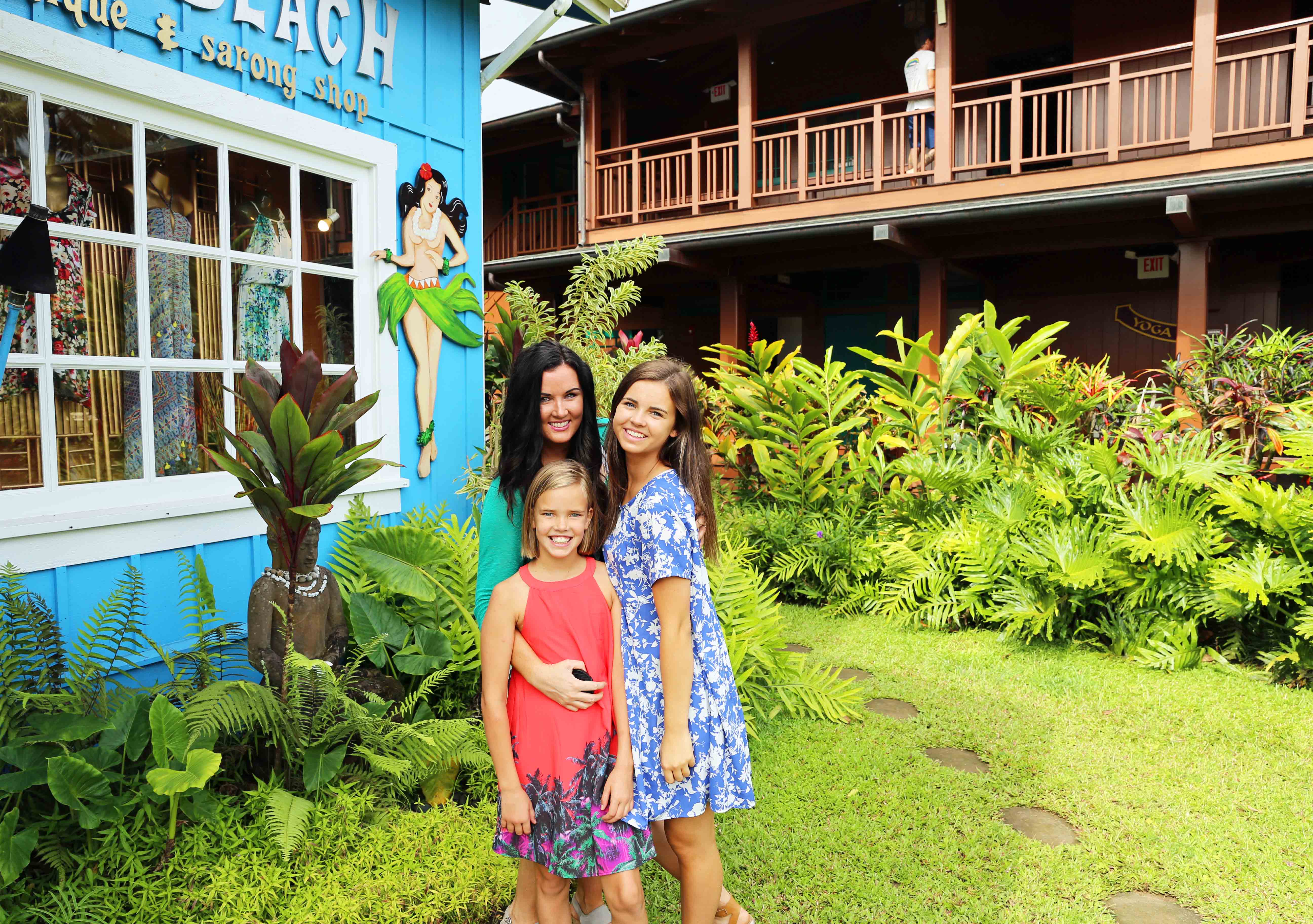 Spend time in Hanalei shopping, eating, and walking around. This is one of my favorite towns because of its laid-back, relaxing vibe and sheer beautiful scenery.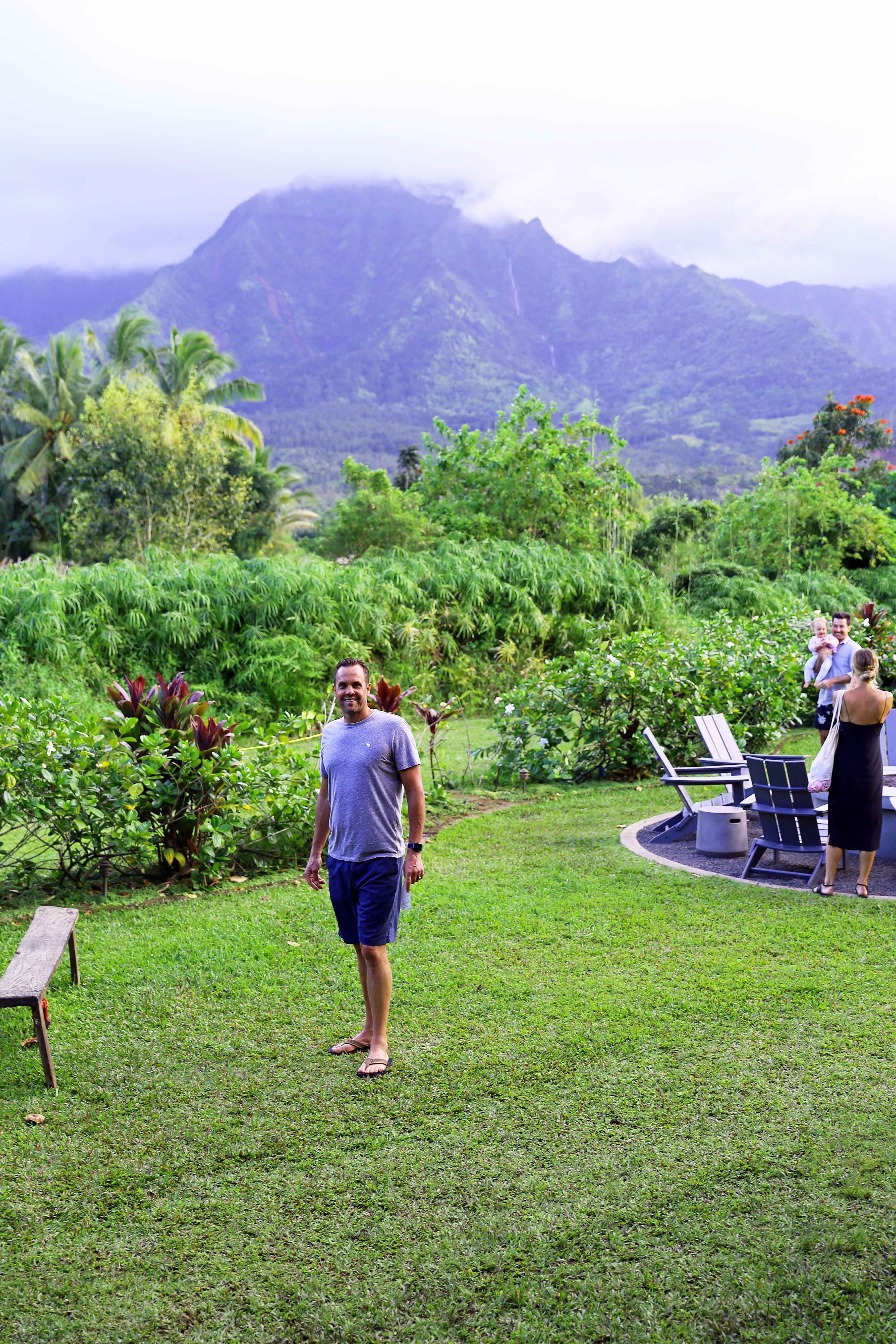 Active Things to Do in Kauai Hawaii: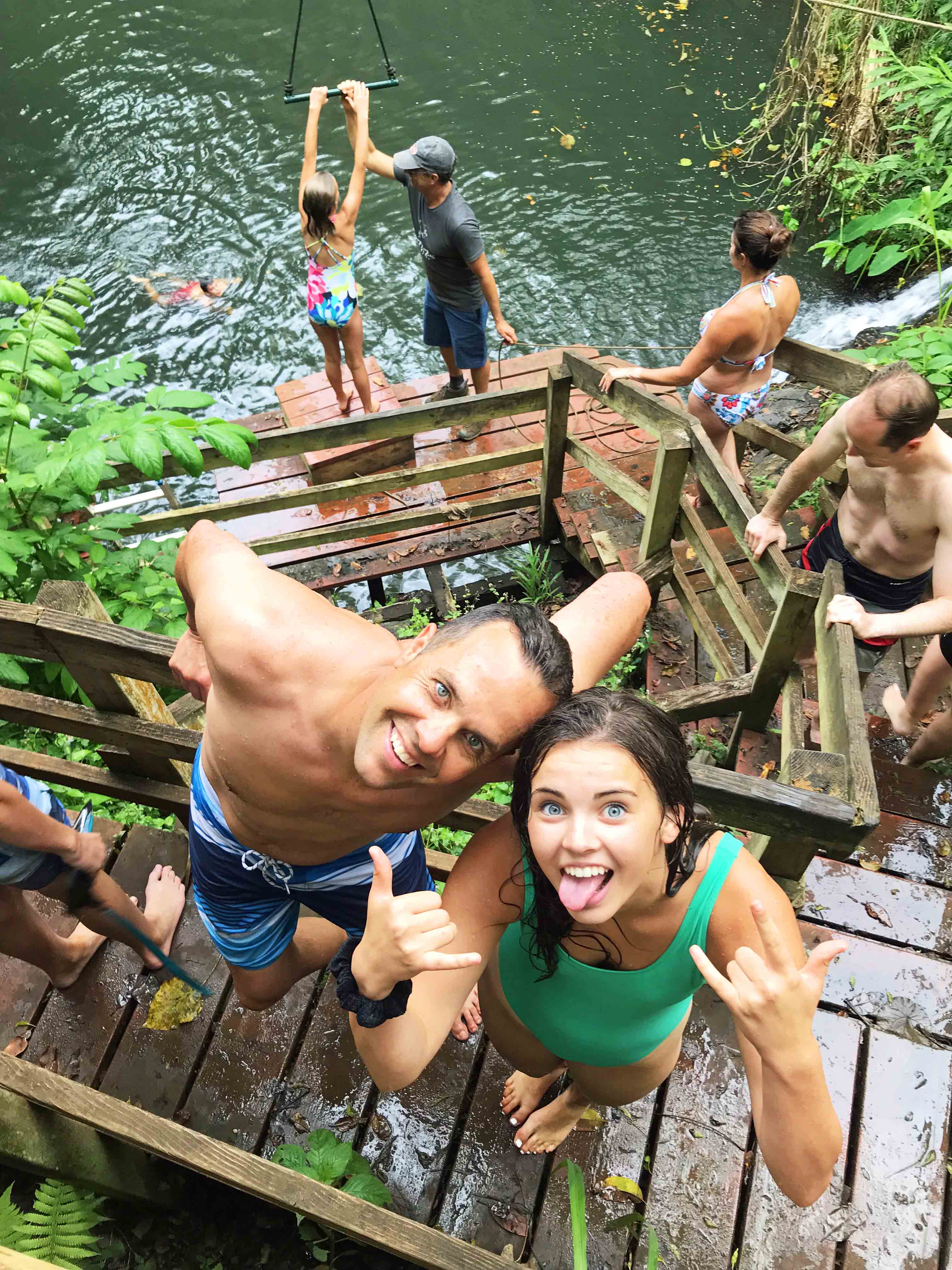 Book an Excursion. Our favorite excursion was through Kauai Outfitters. We kayaked, jumped off rope swings in swimming holes seen in movies such as Pirates of the Caribbean and others, took a ride to see where Jurassic Park was filmed and ziplined through the trees in Kauai. It was worth every single penny!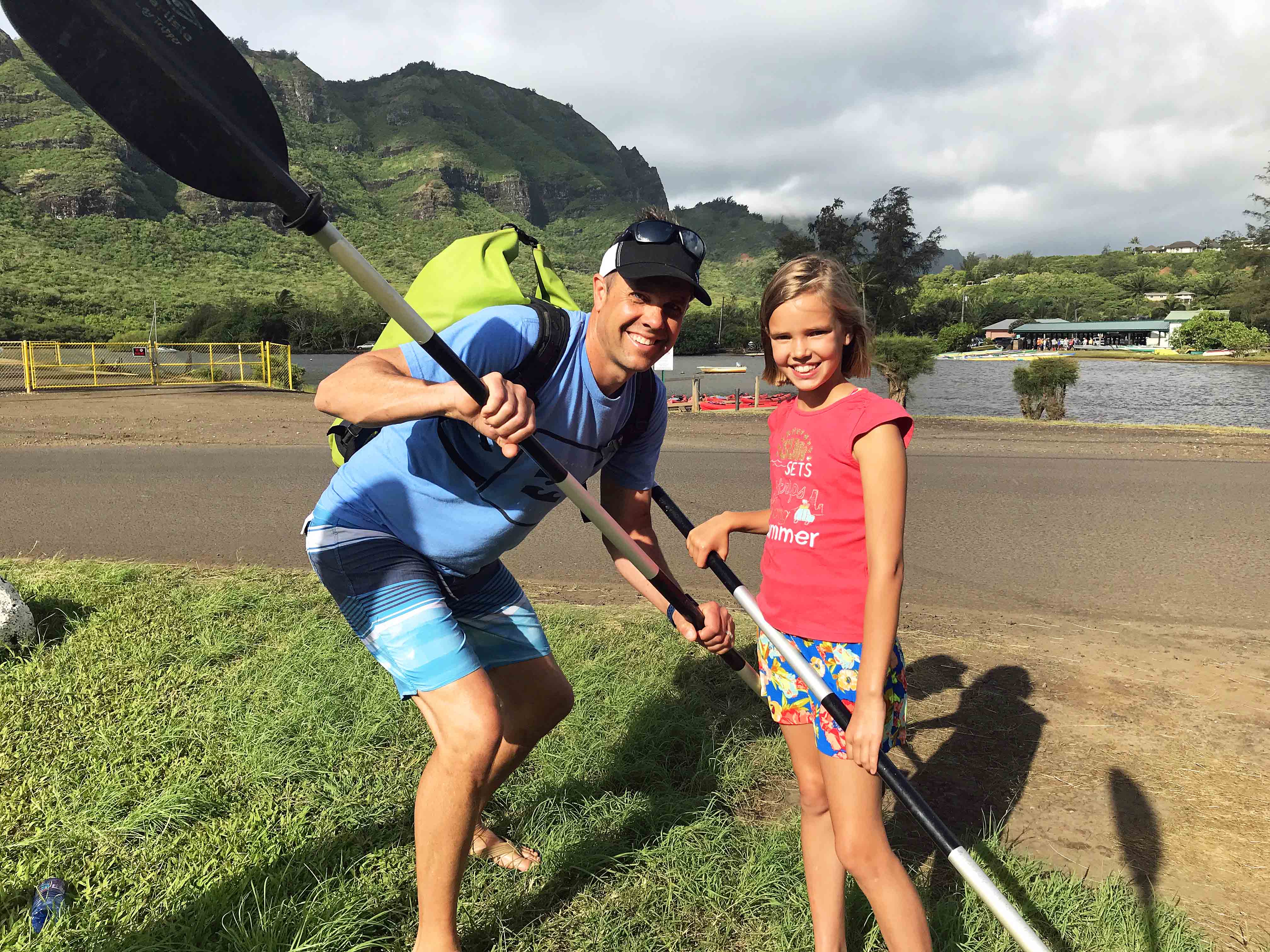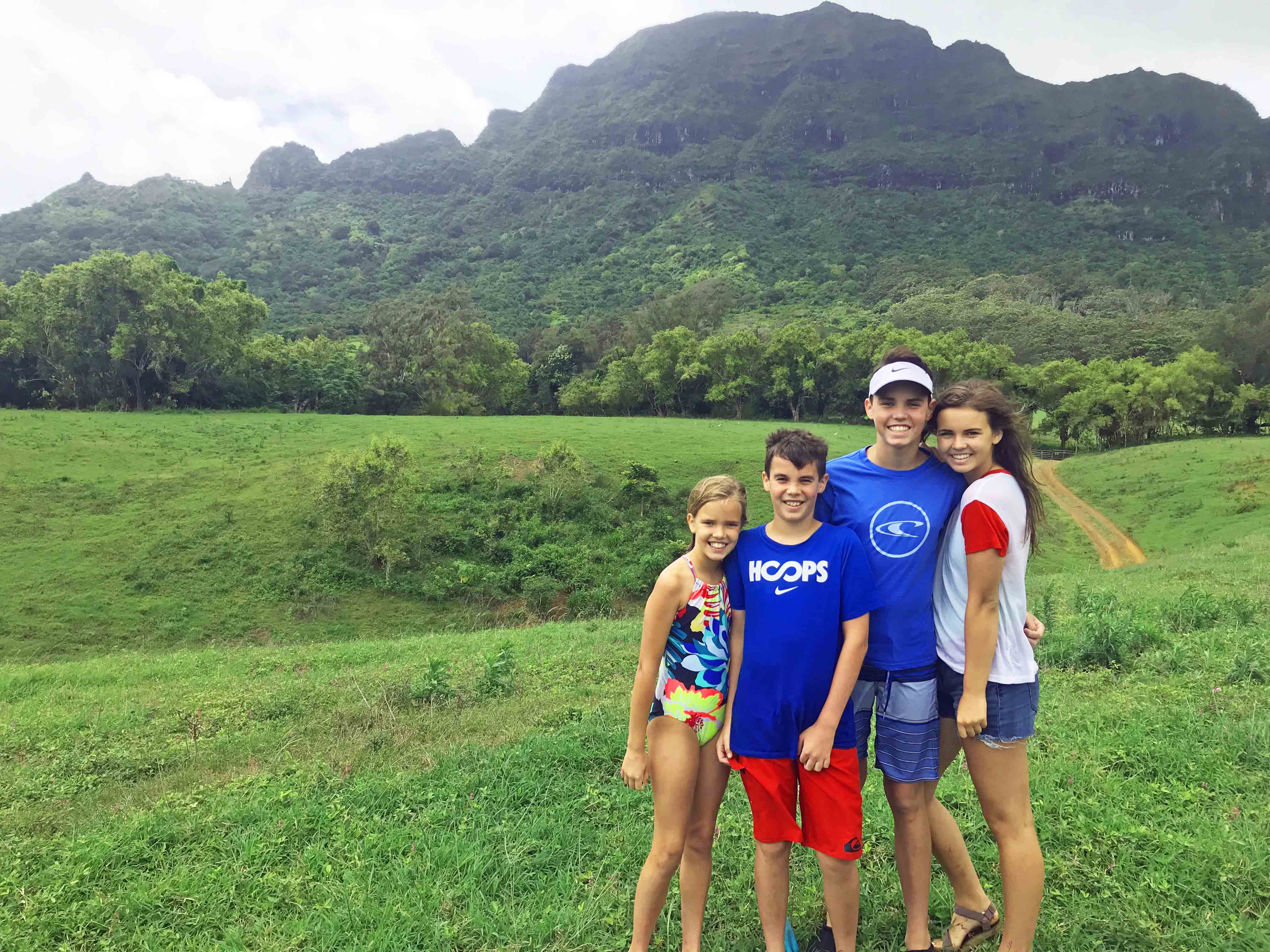 Hike the Wailua Falls. This is the famous falls seen in the opening of the show, Treasure Island. It is a powerful waterfall and there is viewing at the top. There are signs warning that it is dangerous to hike down so proceed at your own risk. It was a pretty sketchy hike which involved rappeling down ropes in muddy conditions. We made it though! The kids loved getting in and swimming near the waterfall (not too close). It was an amazing sight!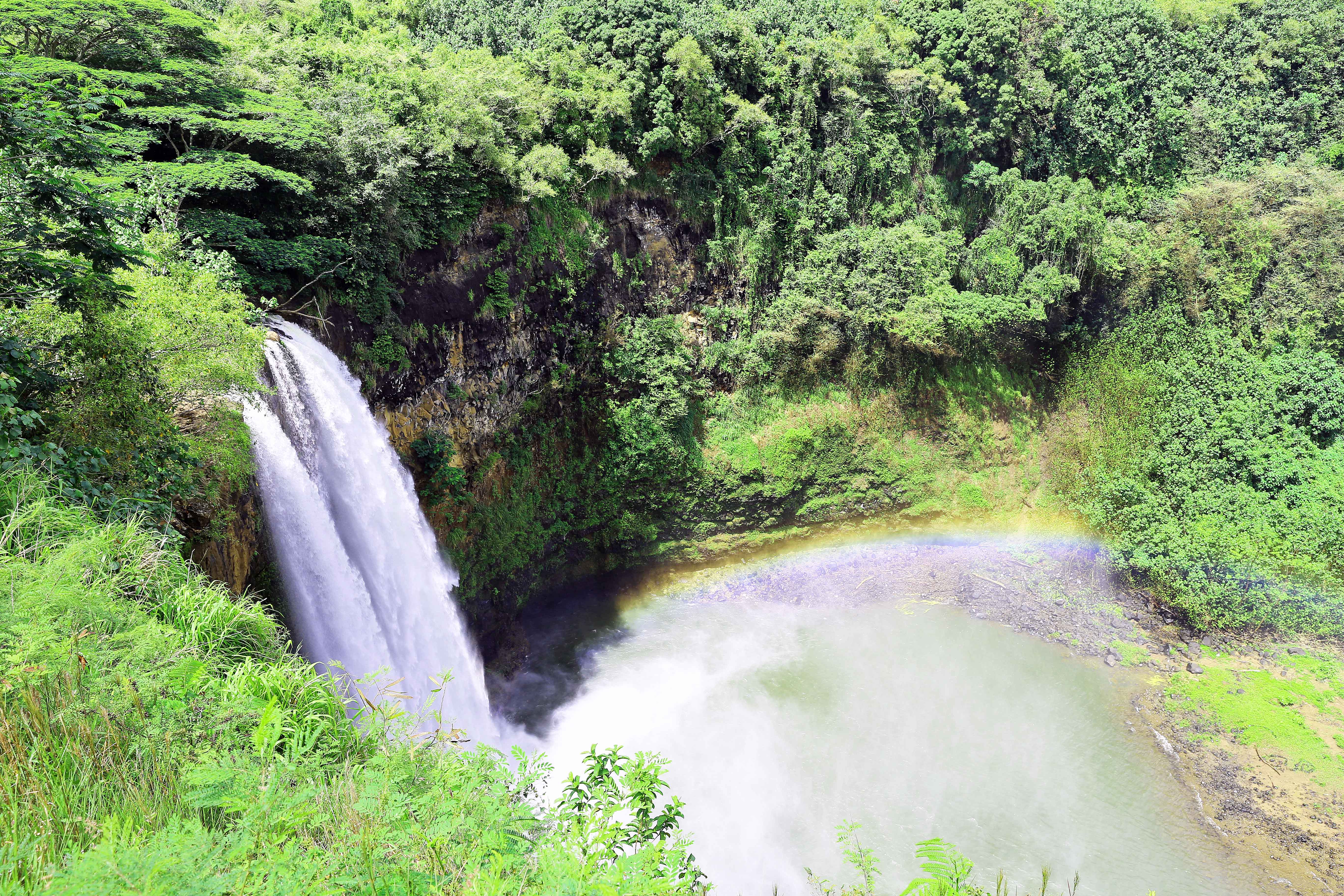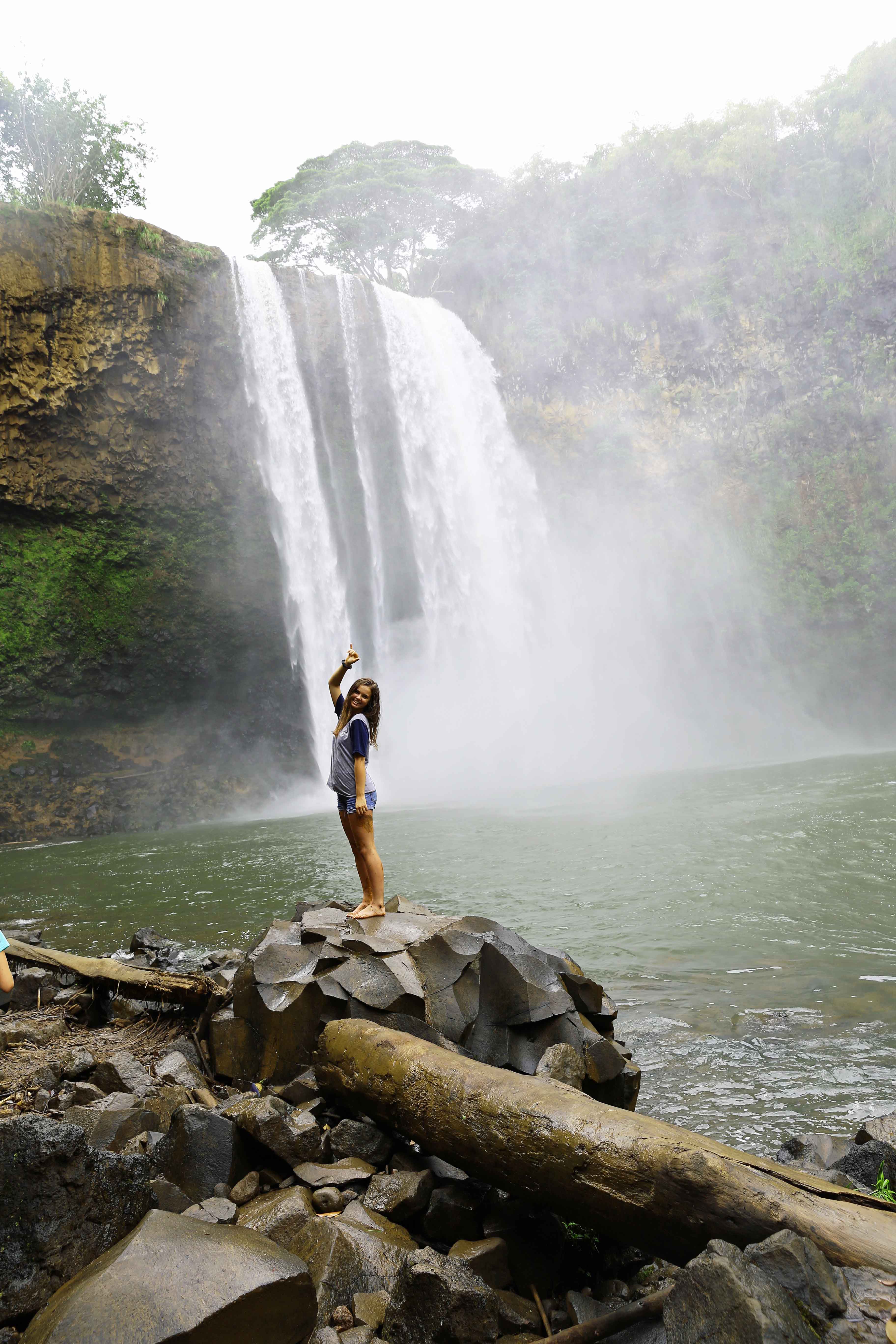 Hike to Ho'opi'i Falls. This was one our most enjoyable hikes since it involved jumping off waterfalls. My kids and husband have NO FEAR! There are two waterfalls. The first one is about 2 miles in and will be on the left-hand side. We were able to cliff jump but please check before jumping to make sure it is deep enough. Also, there was a large rope swing that my family played on for hours. The second waterfall is famous because it was shown in one of the Jurassic Park movies.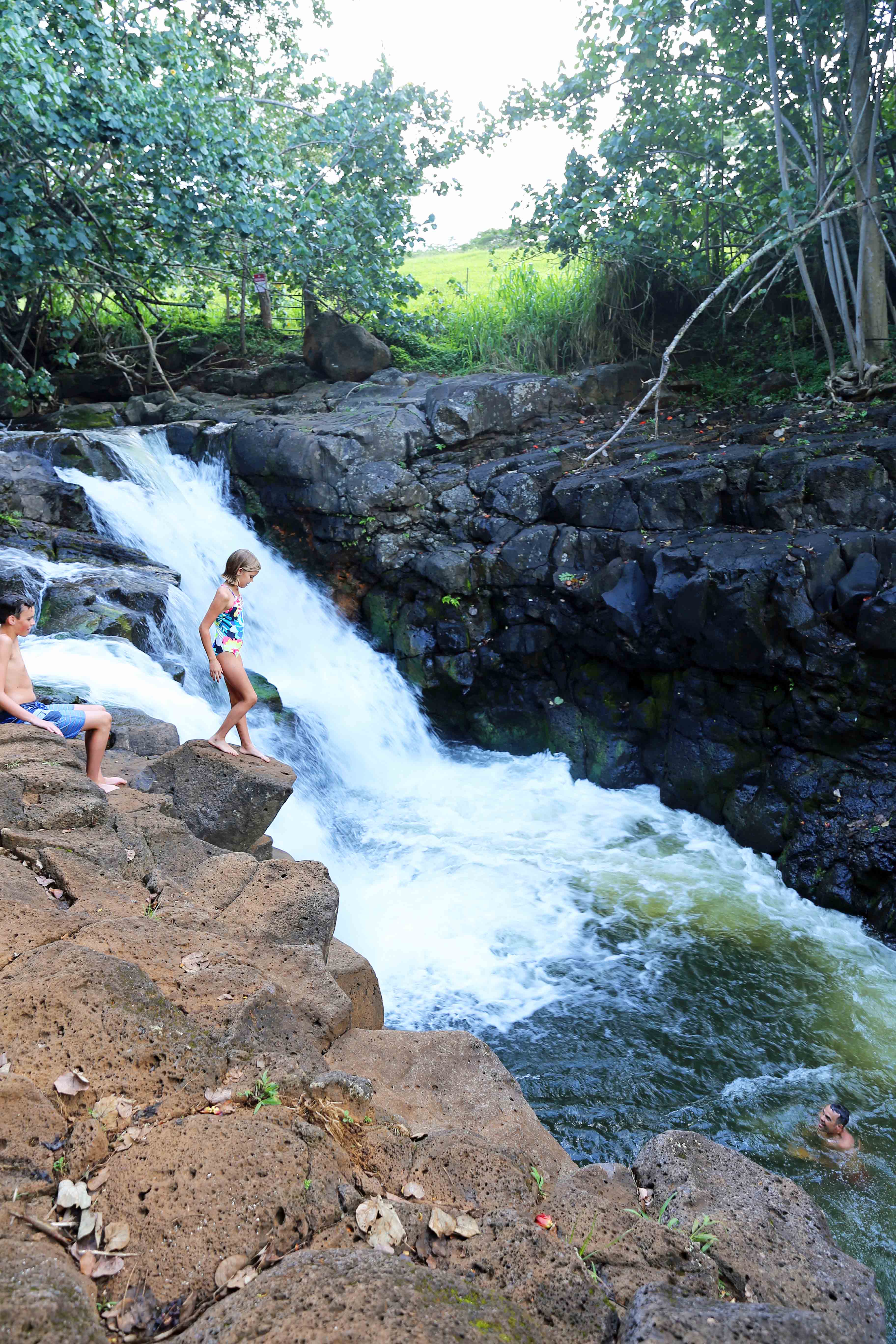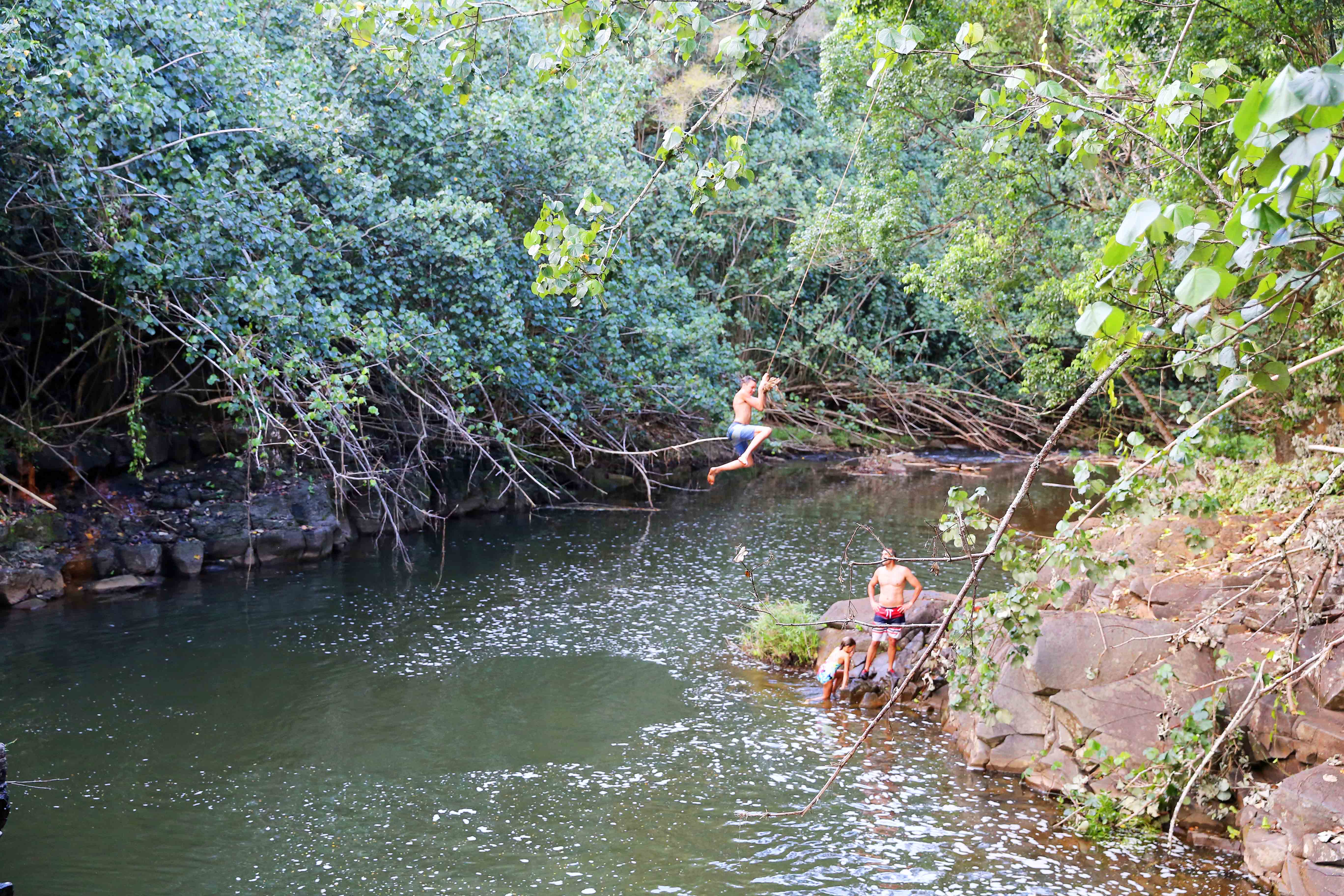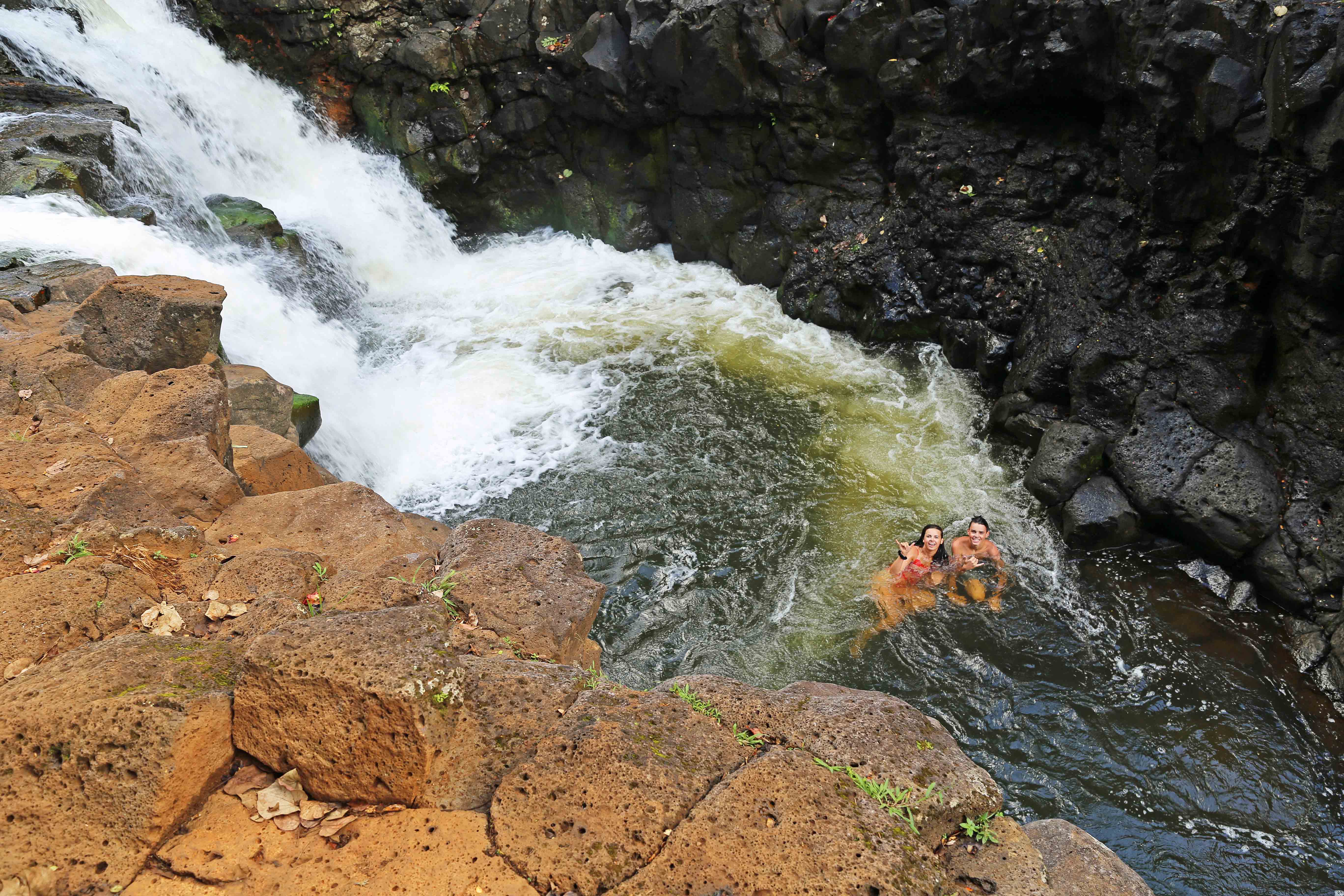 Hike the Kuilau Trail. My great friend, Jamie Young, at Just Simply Wander, wrote up an amazing Kauai post and told me all about this trail. It is such a beautiful hike surrounded by large green trees. It is a serene and easy hike.
Hike the Uluwehi Falls (or Secret Falls). This is one of the most popular falls but it is also the most difficult to get to. You will need to access it via the river so a kayak is a must. There are several tours operating to guide you the Secret Falls.
Opaekaa Falls. This is just a park and see in the distance type of waterfall. If you are looking for a way to see a waterfall without hiking to it, this may be interesting.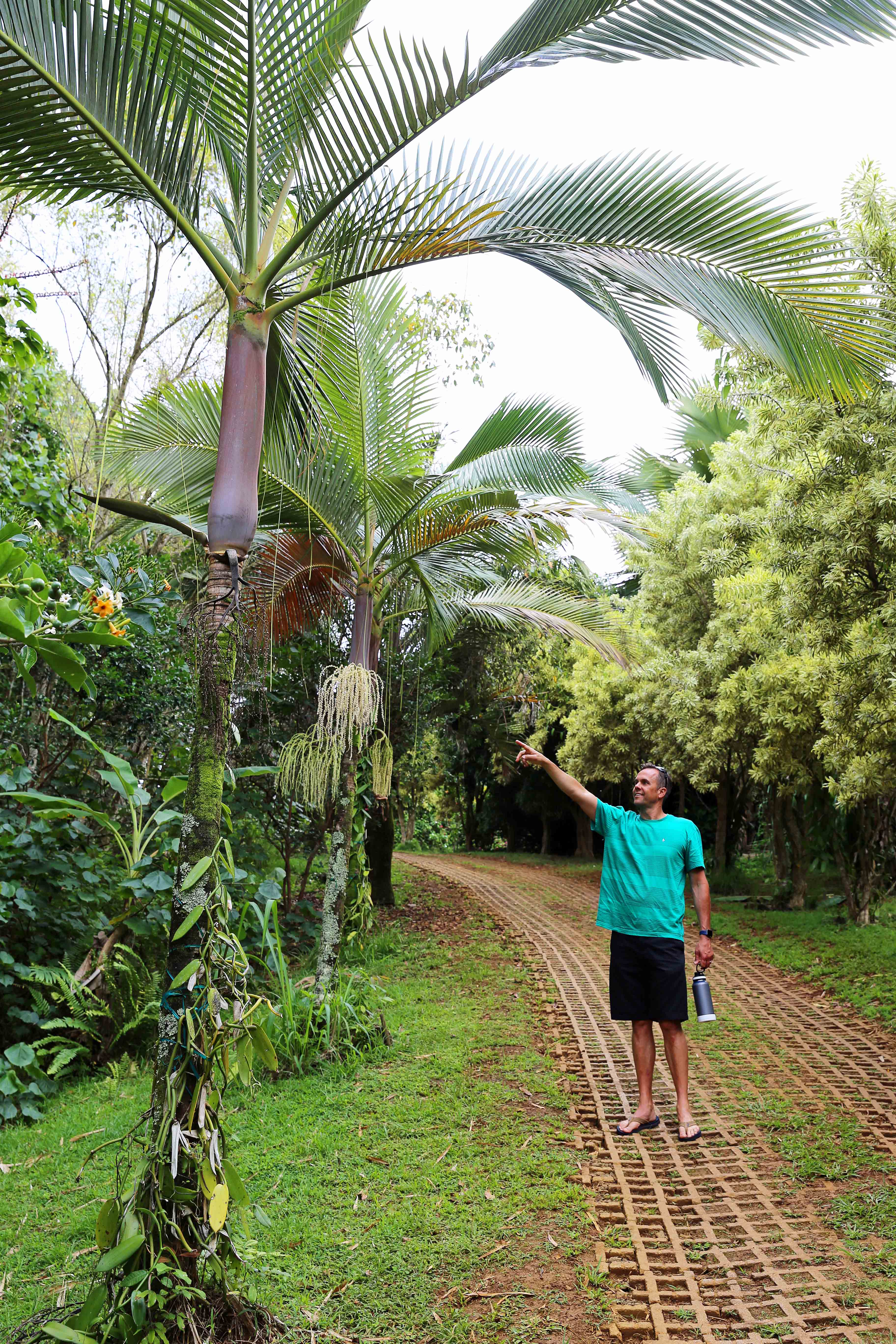 Chocolate Farm Tour. There is a legit chocolate farm on the island of Kauai and it is amazing! We visited Lydgate Farms for a special chocolate tasting tour and to find out how they grow cacao pods right on their farm. It was so fascinating and of course, delicious.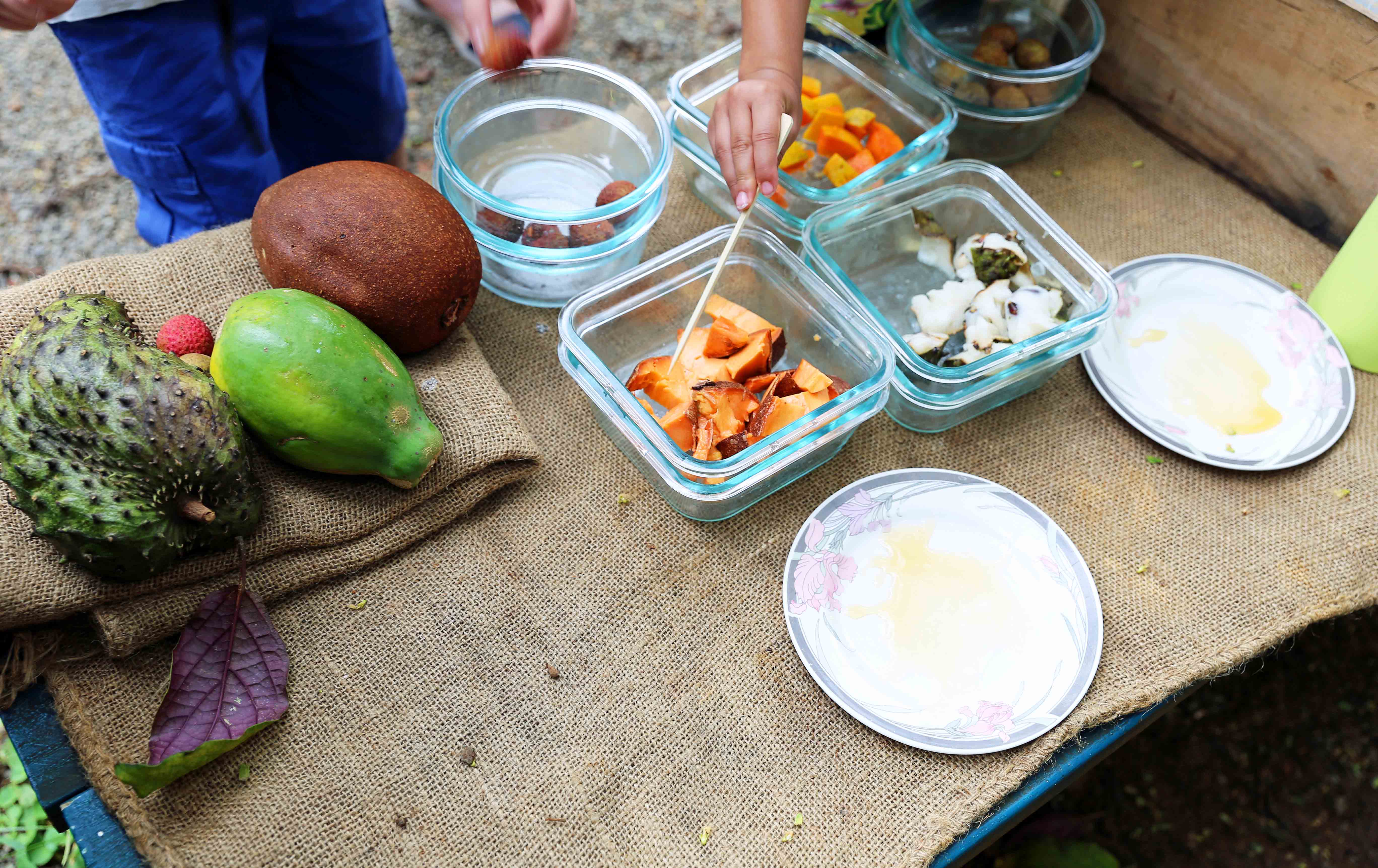 We were able to tour the gorgeous farm and then taste exotic tropical fruits. Most of the fruits I had never heard of in my life but I loved every single one of them.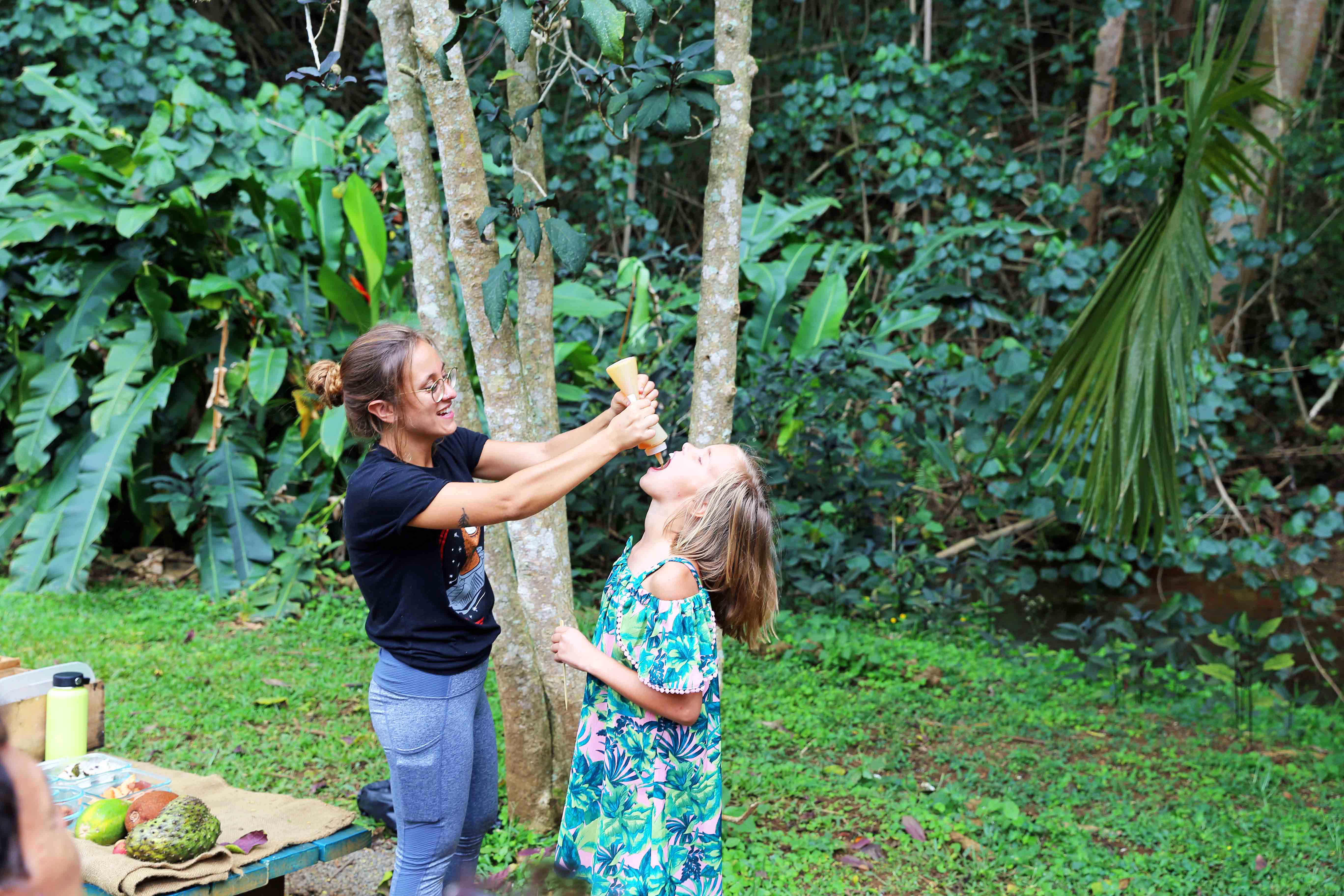 There was also a honey tasting contest which Dean and Sadie happily signed up for. Sadie has never met a form of sugar she didn't like.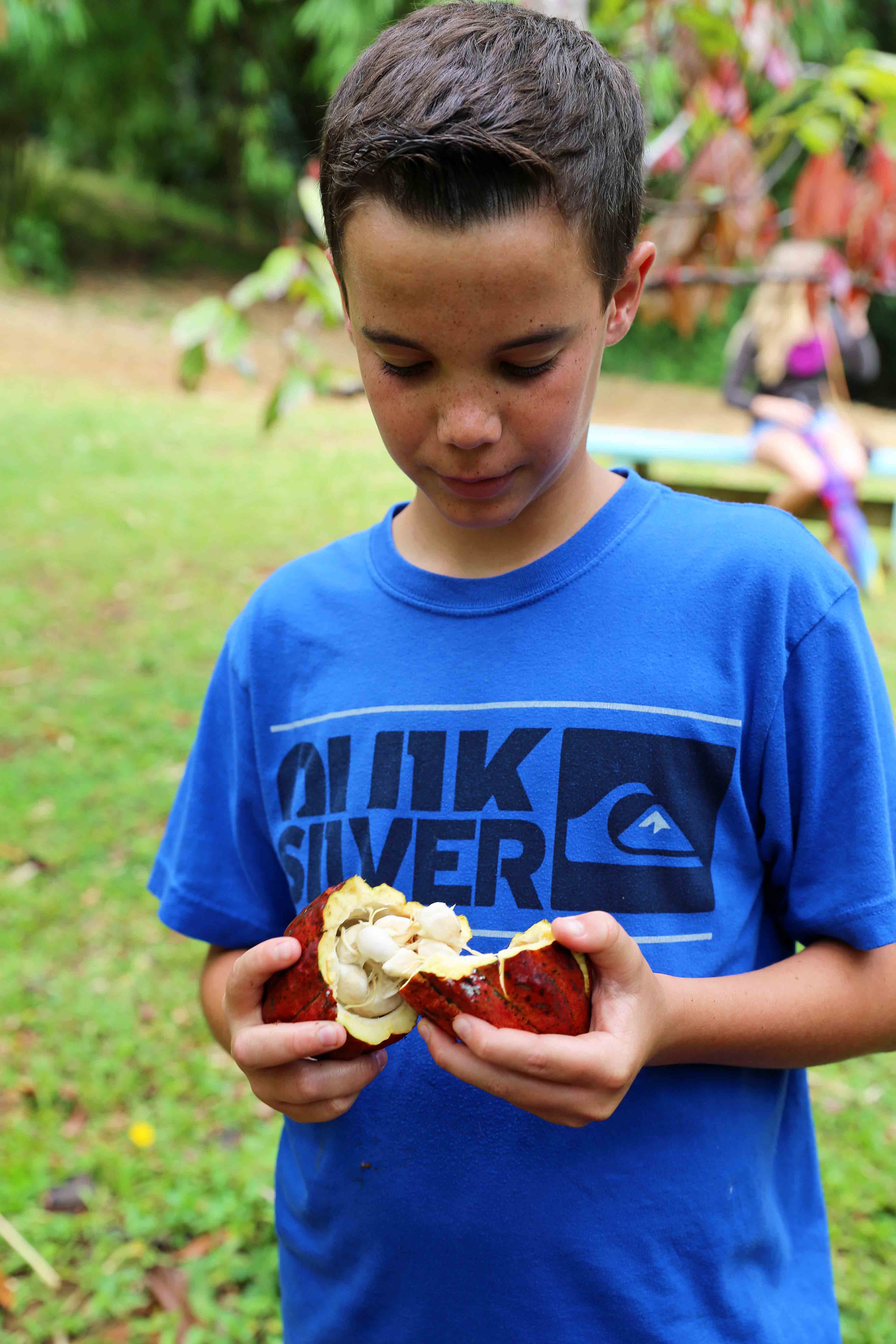 We also got to pick a cacao pod straight from the tree and try 100% raw cacao. It tasted amazing to me! Then we did the best part – a chocolate testing. We had blind testing and then were tested to figure out their country of origin. This is a contest I wanted to win since free chocolate was on the line, and thankfully, I did win. My years of eating chocolate paid off!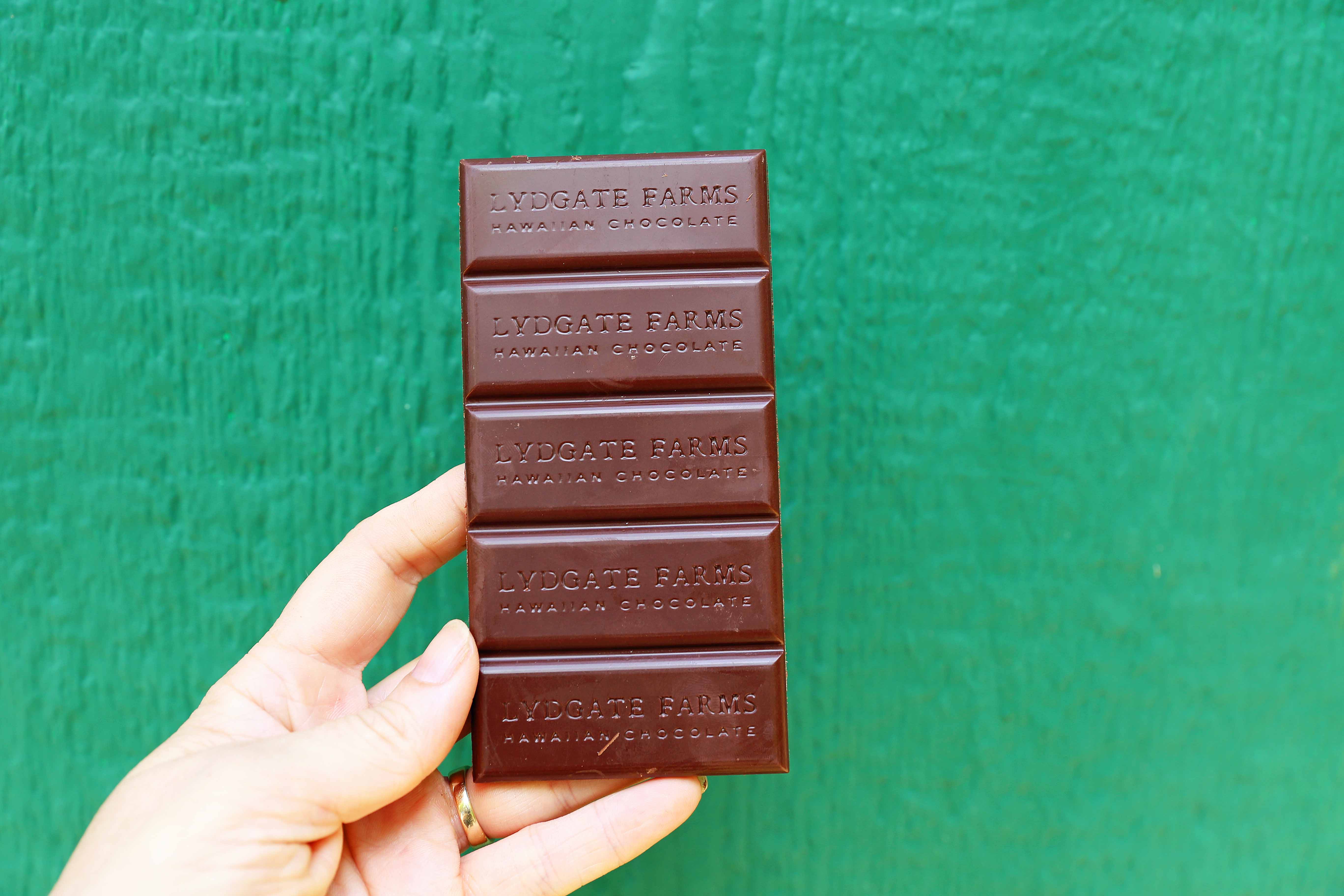 Places to Stay in Kauai:
One of the most important decisions you will make when planning your trip is deciding where to stay. There are many parts of the island so choosing the right area is of high importance.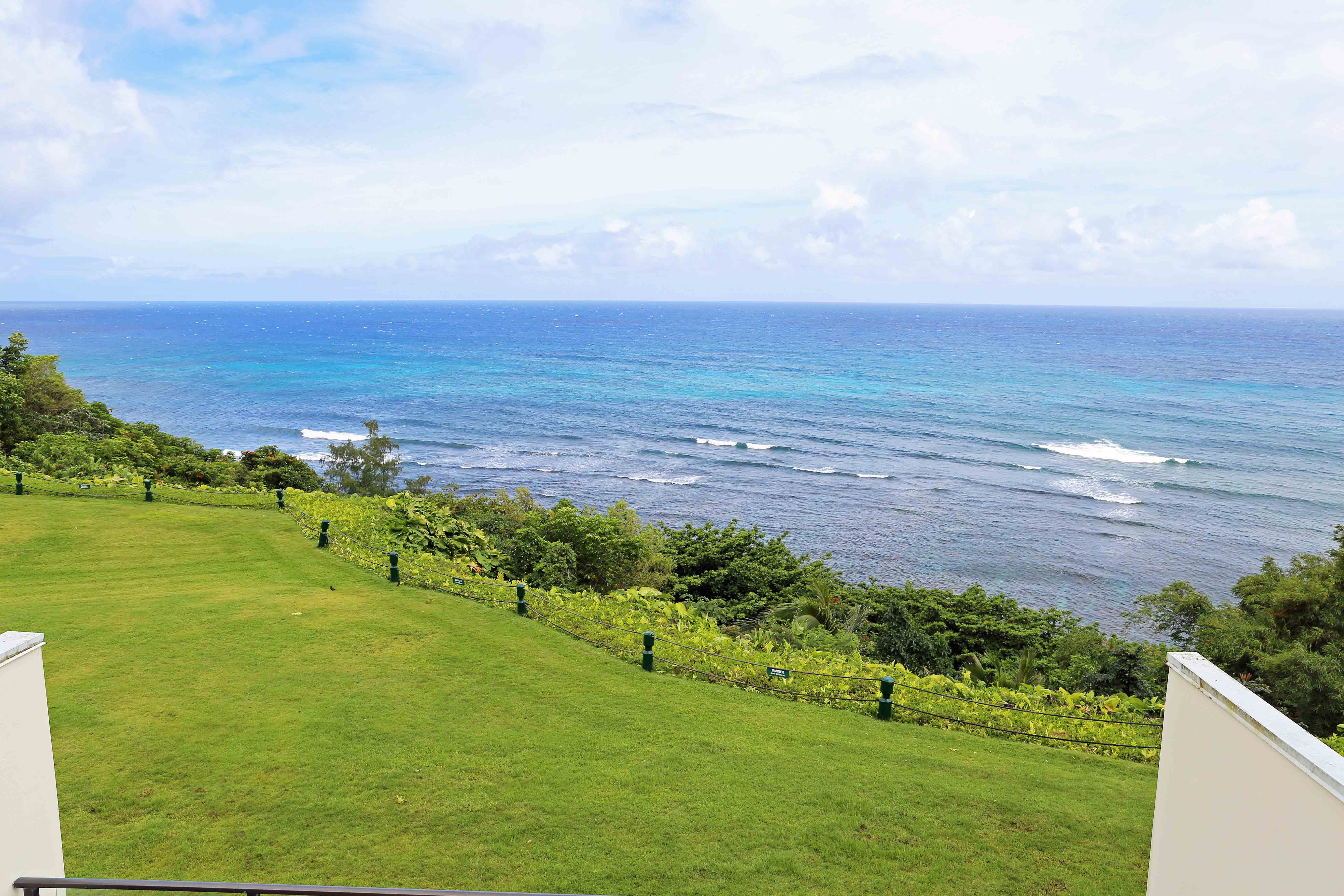 After much research, we chose to stay in the North Shore Princeville area because of its sheer beauty and proximity to the Na Pali Coast and Hanalei. I believe it is hands down the most beautiful part of the island! It is also the greenest part of the island and is known for its light afternoon rain showers.
We researched staying in hotels vs. condos. We ultimately chose to stay in the Puu Poa Condos in Princeville, right next to the St. Regis Resort. We rented a 2-bedroom, 2-bath condo with a large family room and kitchen, washer, and dryer, and had ocean views from every window. It had two large patios with BBQ, seating areas, tables, and ocean views. It also had beach towels, equipment, boogie boards, and even bug spray!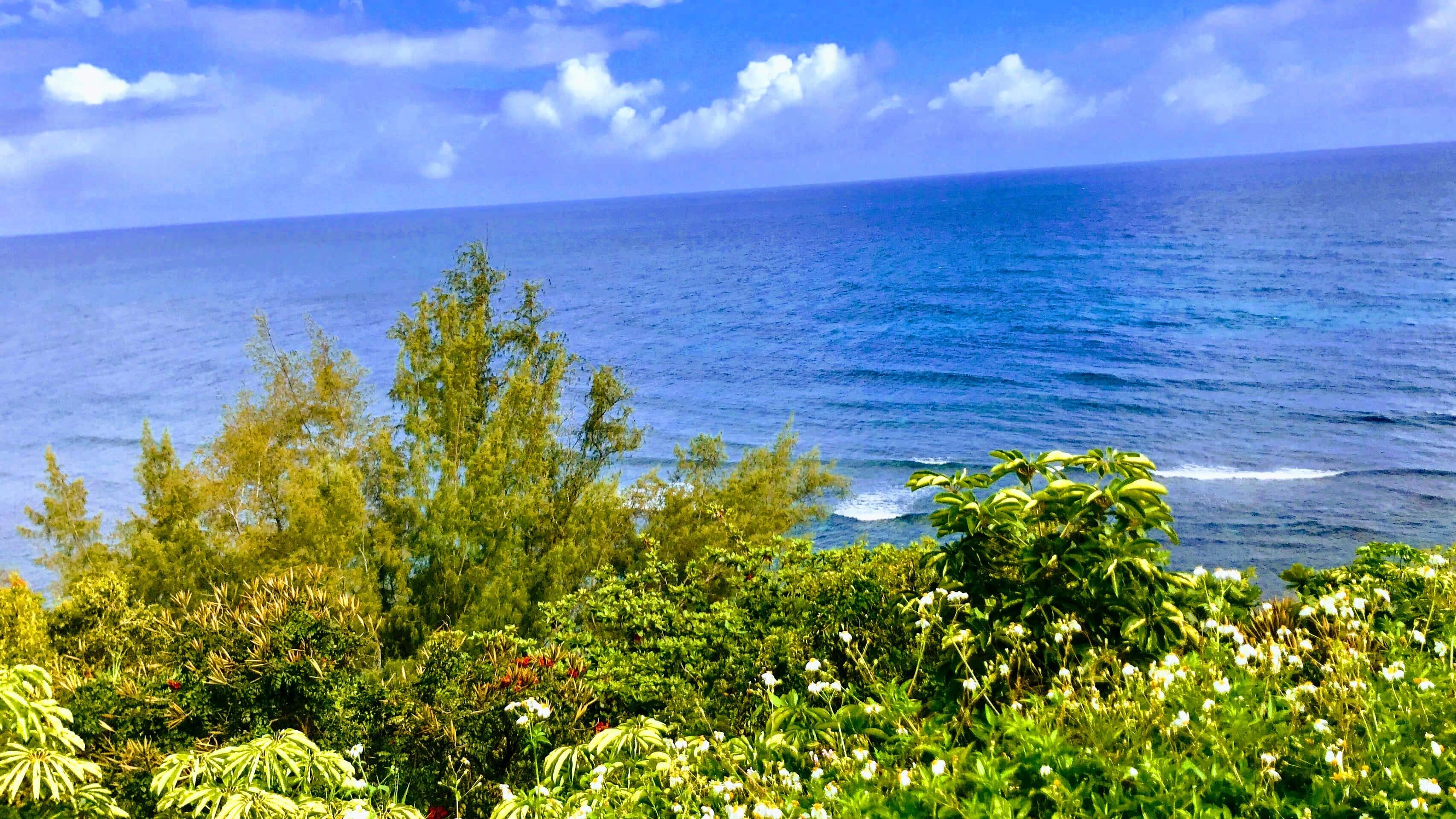 We paid LESS than the hotels in the area which was amazing to me. The hotels around the area were at least $300 per night and you had nothing but a bed and bath. Since we are a large family of 6, we needed more space and this was a much more economical solution than booking two hotel rooms.
If you are interested in checking out condos in Kauai, go to VRBO. com or airbnb.com to find rentals. You can also just google Kauai vacation rentals and you will find several websites.
After driving around the island and spending time there, we realized that even though Kaapa has many restaurants that we loved, it was much busier and congested feeling. It didn't have the sheer beauty and Island charm that Princeville and Hanalei have in the North Shore. There's a reason Mark Zuckerburg chose the North Shore for his massive compound. You just can't beat the beauty!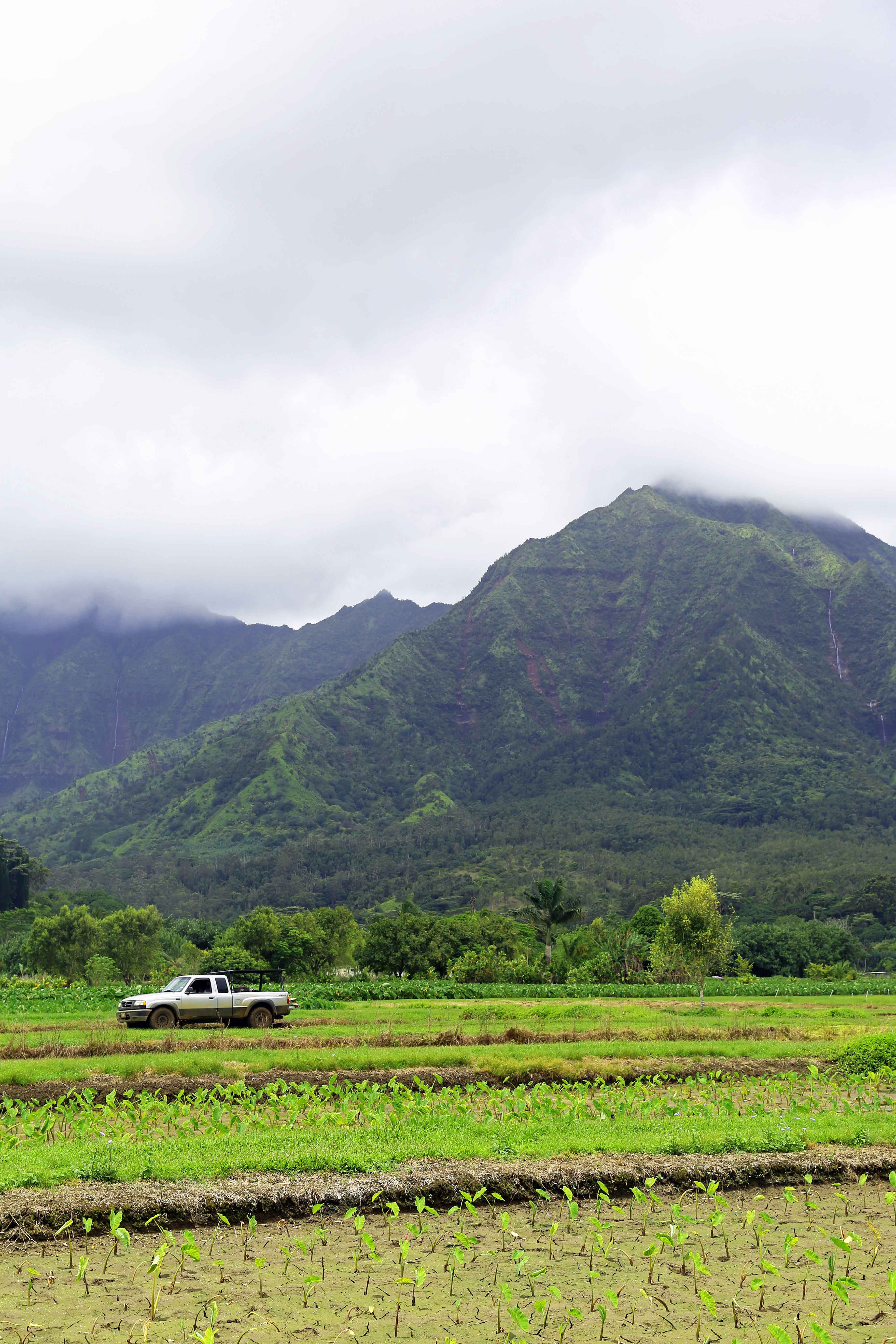 Places to Eat in Kauai Hawaii:
There are so many incredible restaurants and places to eat in Kauai. I will share some of our favorite spots to grab a bite to eat.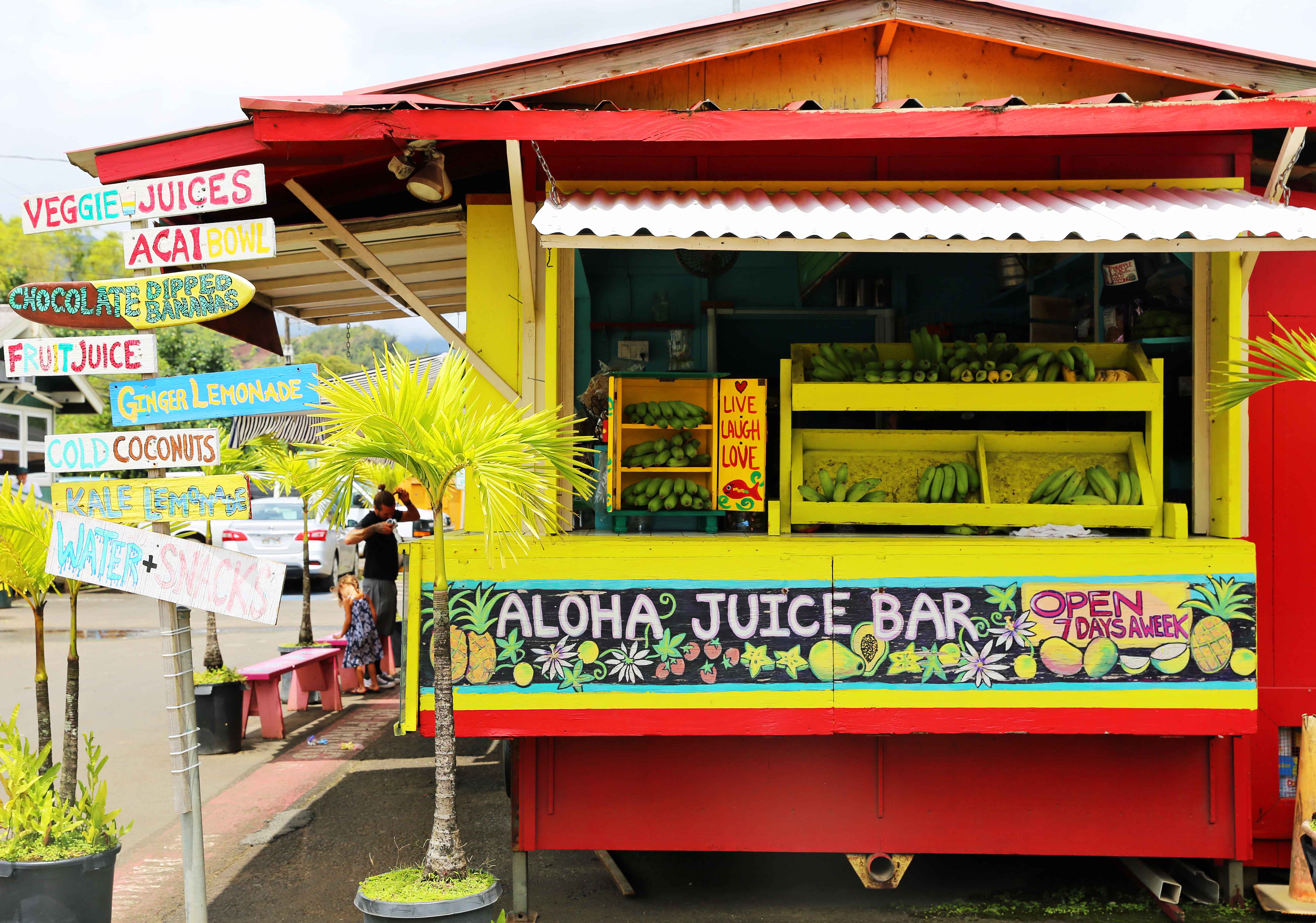 AMA (Hanalei)– this may be the most picturesque restaurant experience. I would go there just for the views but thankfully the food was excellent. Asian and Hawaiian inspired dishes such as ramen and noodle dishes. I am still craving our noodle dish! This is a must try.
Lappert's Ice Cream (several locations)– a famous spot for authentic Mexican ice cream. Think chocolate macadamia nut and coconut ice creams. It is a must stop!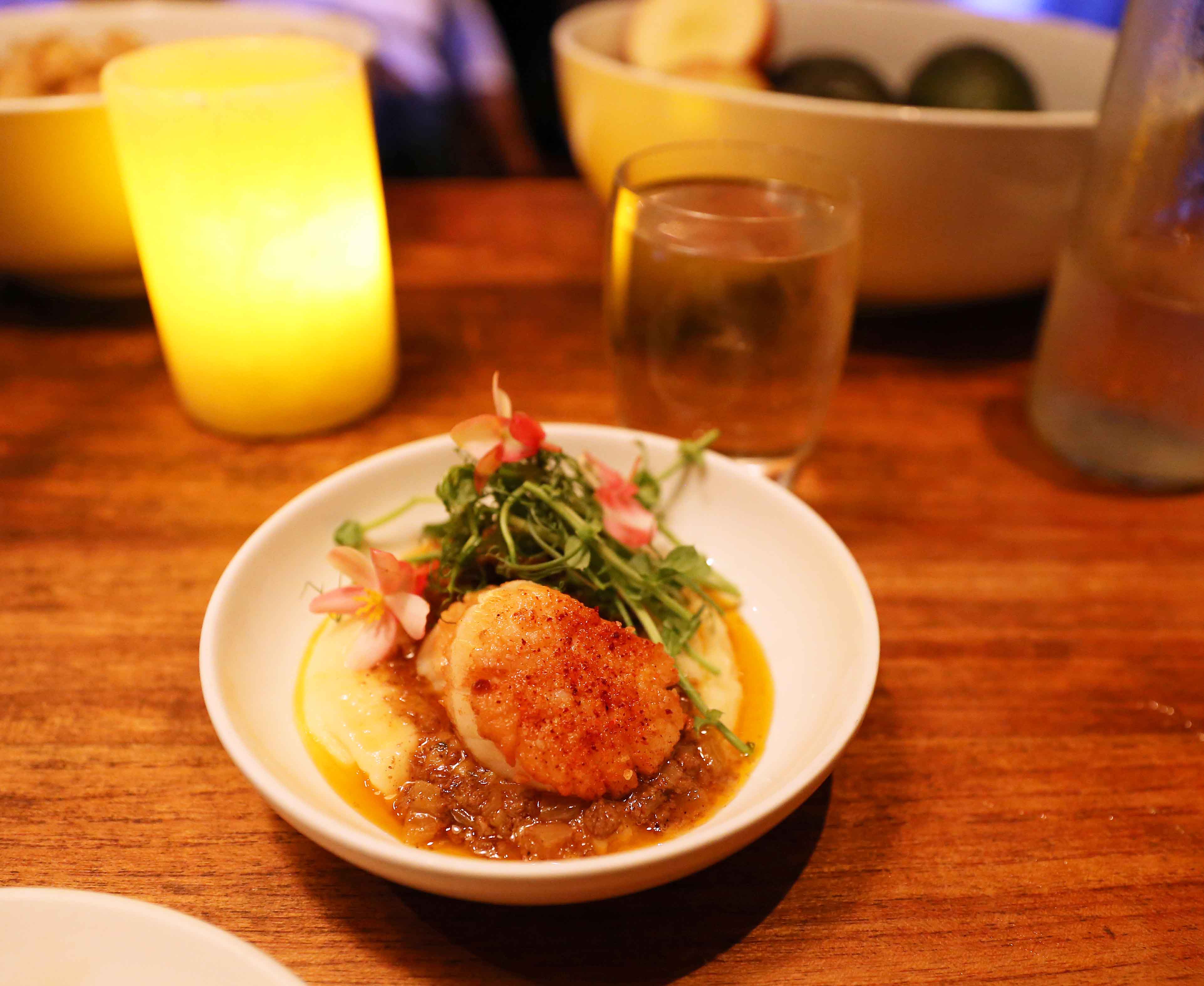 Bar Acuda (Hanalei)– this is next door to AMA and is also known for its ambiance. The scallops and lamb chops were the best I have ever eaten. We sat at the chef's table and watched everything be prepared and it was a treat. The quality of food is excellent.
Haole Girl Sweets (Kapaa) — this was one of our favorite finds during our time in Kauai. It is run by a pastry chef with a long list of accomplishments. She can walk the walk because we were all so impressed with her level of perfection in crafting pastries. She has savory and sweet pastries and this needs to be on the top of the list of places to try.
Passion Bakery (Kapaa) — this is directly across from Haole Girl Sweets and is also delivering fine pastries. I would try both and see which one you prefer. You can't go wrong!
Pat's Taqueria (Hanalei)– authentic Mexican food truck with limited hours but they are cranking out legit Mexican food. We are from Arizona so we are Mexican food connoisseurs and this hit the spot with us. Check the hours as sometimes they are open only from 12-3.
Street Burger (Kapaa)– this is where you get a REAL burger made with made from scratch, all-natural ingredients. Every burger on the menu looks incredible and they have amazing sides to boot. It is a must try restaurant.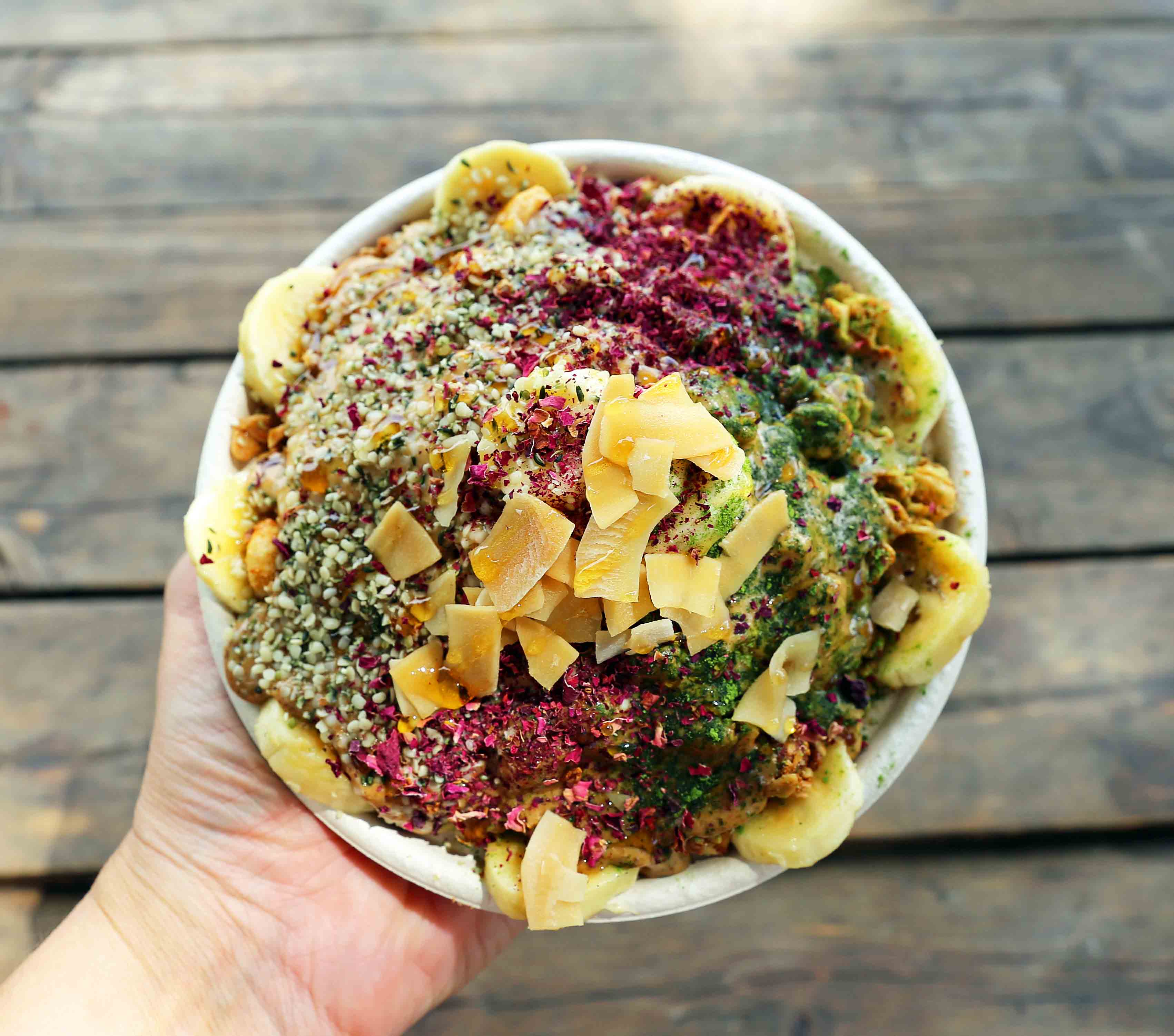 Acai Bowl at Kalalea Juice (North Shore) — this is the most unique acai bowl I have ever tried. It is made with so many different ingredients found on the island and is sure to give you the energy to last all day long!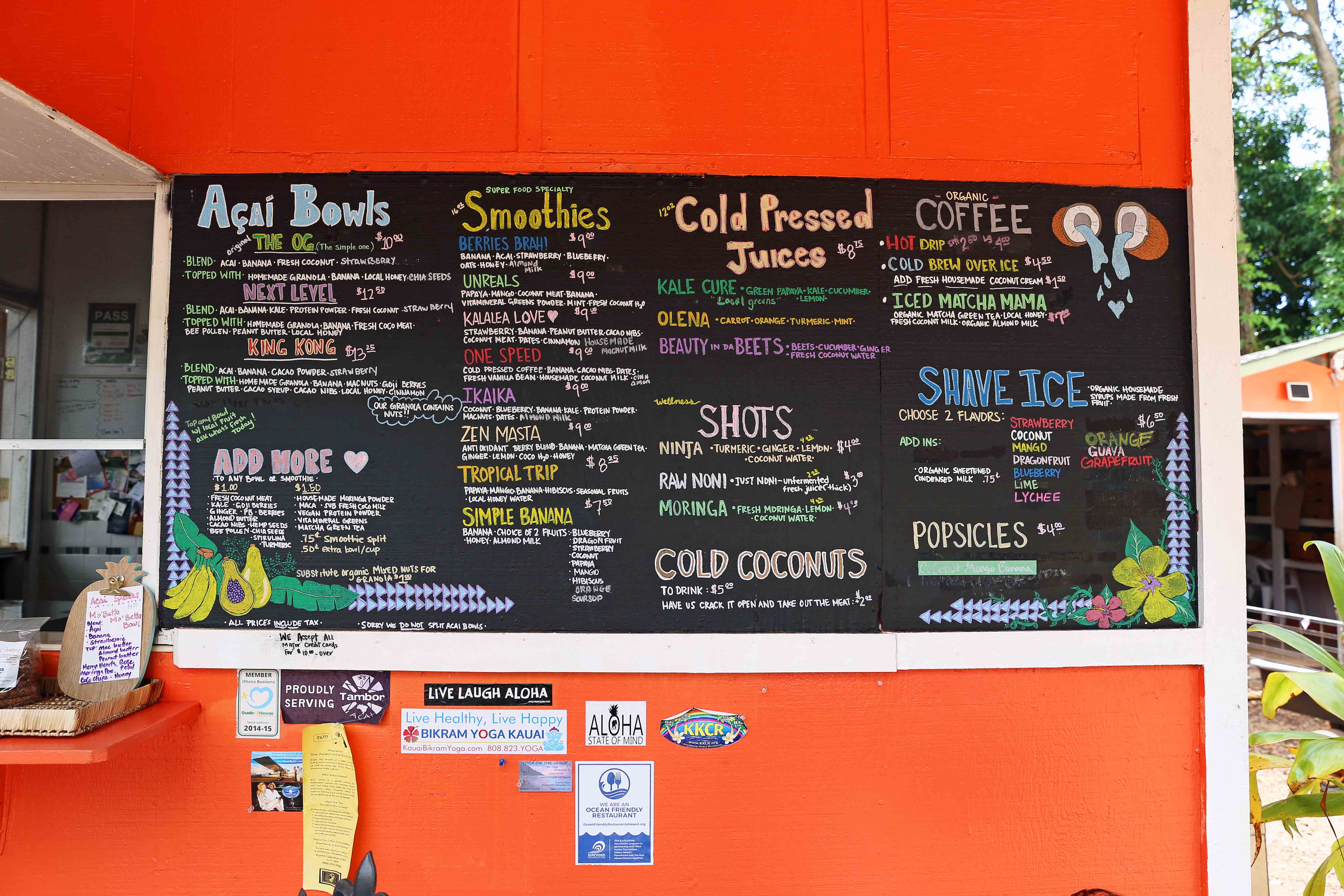 Bubba's Burgers (Kapaa)– a well-known spot for no-frills burgers and sides.
Jojo's Shaved Ice (Hanalei) — large portions and fresh juices make this a fun spot to stop when you are craving shave ice.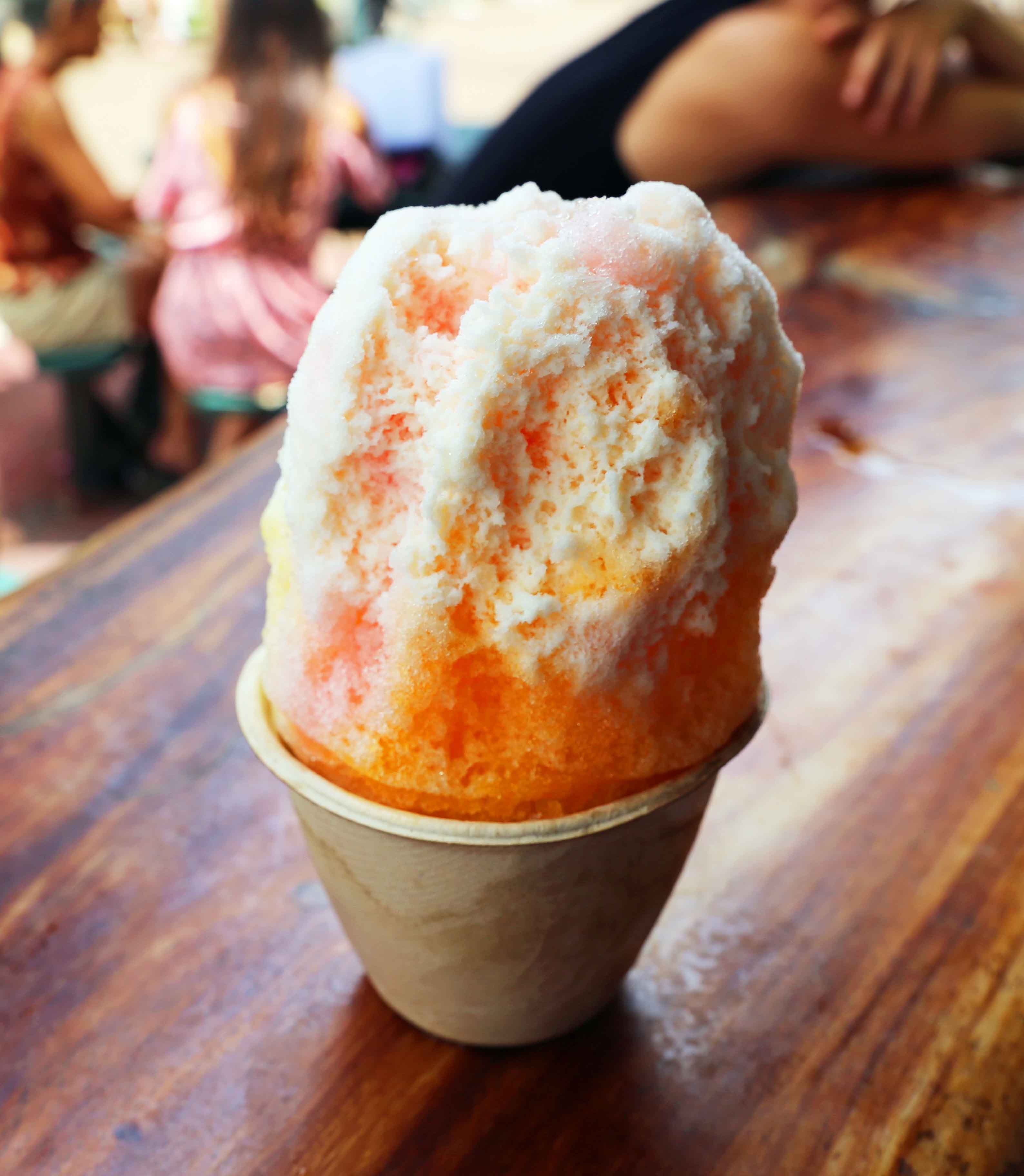 Wishing Well Shave Ice (Hanalei) — this is a pricey shave ice truck but they use all-natural, handmade ingredients. They are known to top their shave ice with fresh fruits such as papaya and mango. It may not be worth the price for the extra frills but if you are looking for an all-natural option, this is the place for you.
Hee Fat General Store (Kapaa) — this is where you get bang for your buck. Large portions and reasonable prices make this a winner.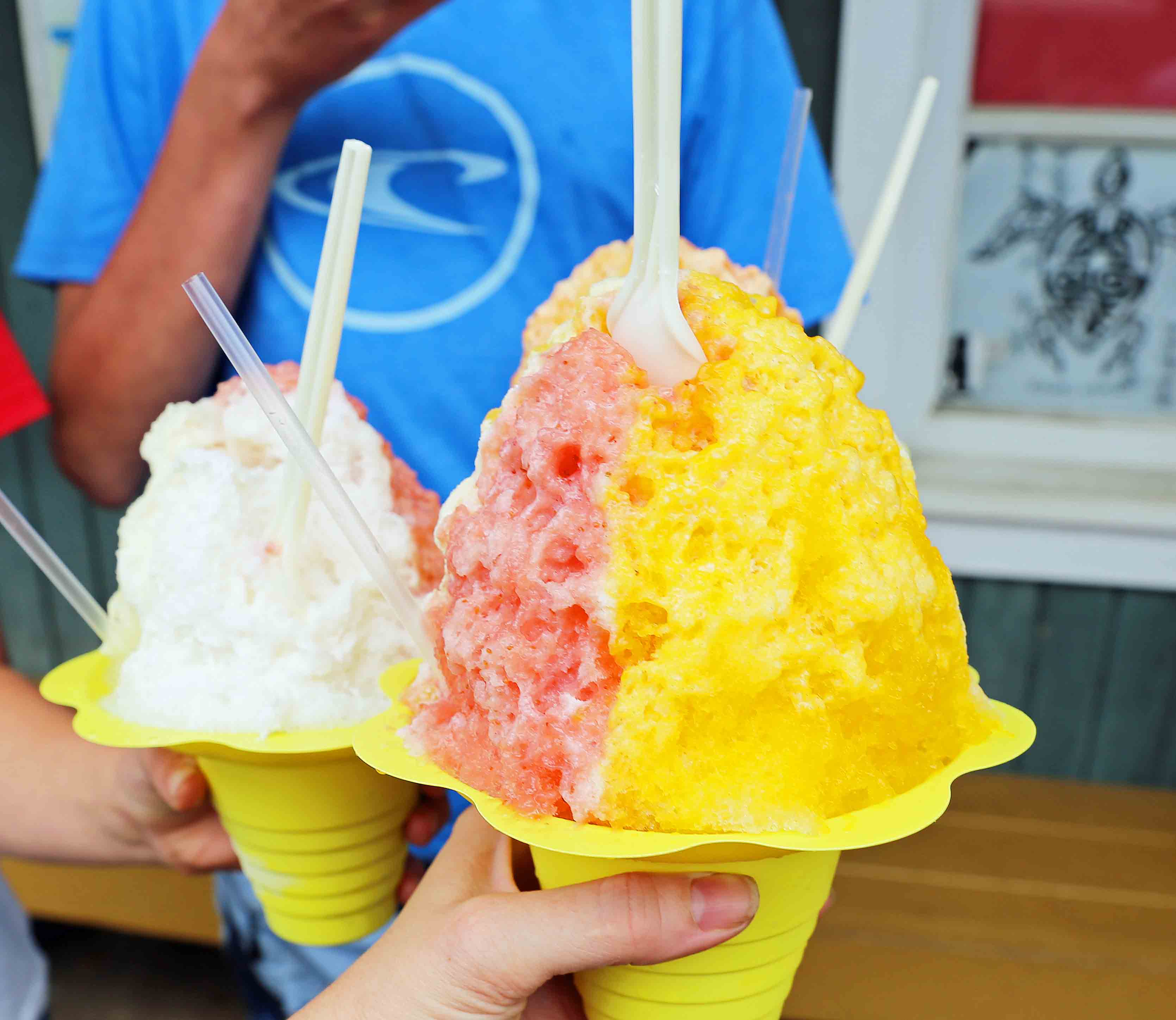 NOM Burgers (Kapaa) — another quality burger spot to satisfy your burger cravings.
Puka Dog (Koloa) — the most unique hot dogs you may ever eat. Sweet and spicy sauces and condiments set this place apart.
Tiki Tacos (Kapaa) — order-at-the-counter taco shop with a chill vibe. So many unique meats to choose from!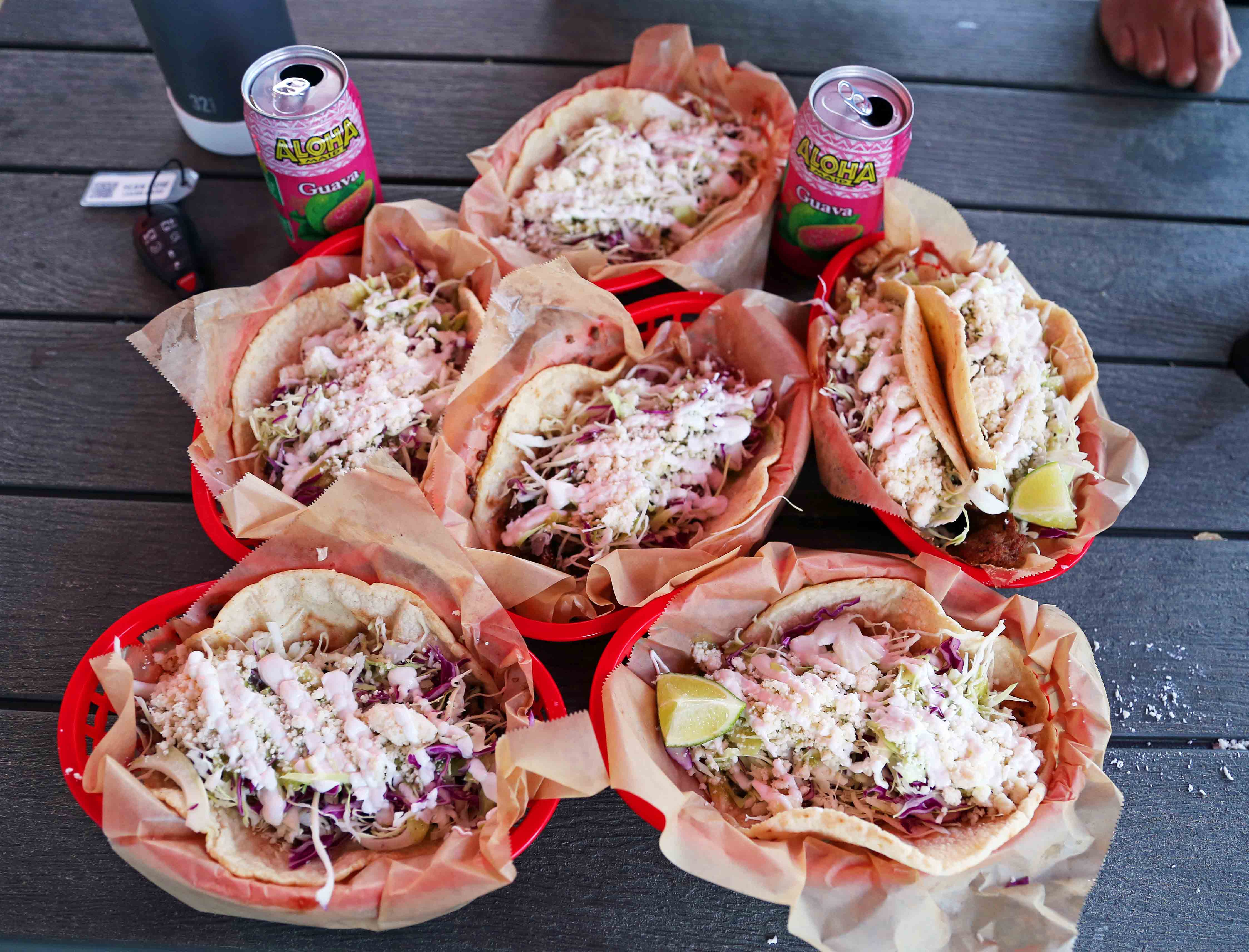 Kountry Kitchen (Kapaa) — a no-frills place for down-home breakfast such as macadamia pancakes.
Hanalei Gourmet — classic food at reasonable prices (check out their specials) in the heart of Hanalei.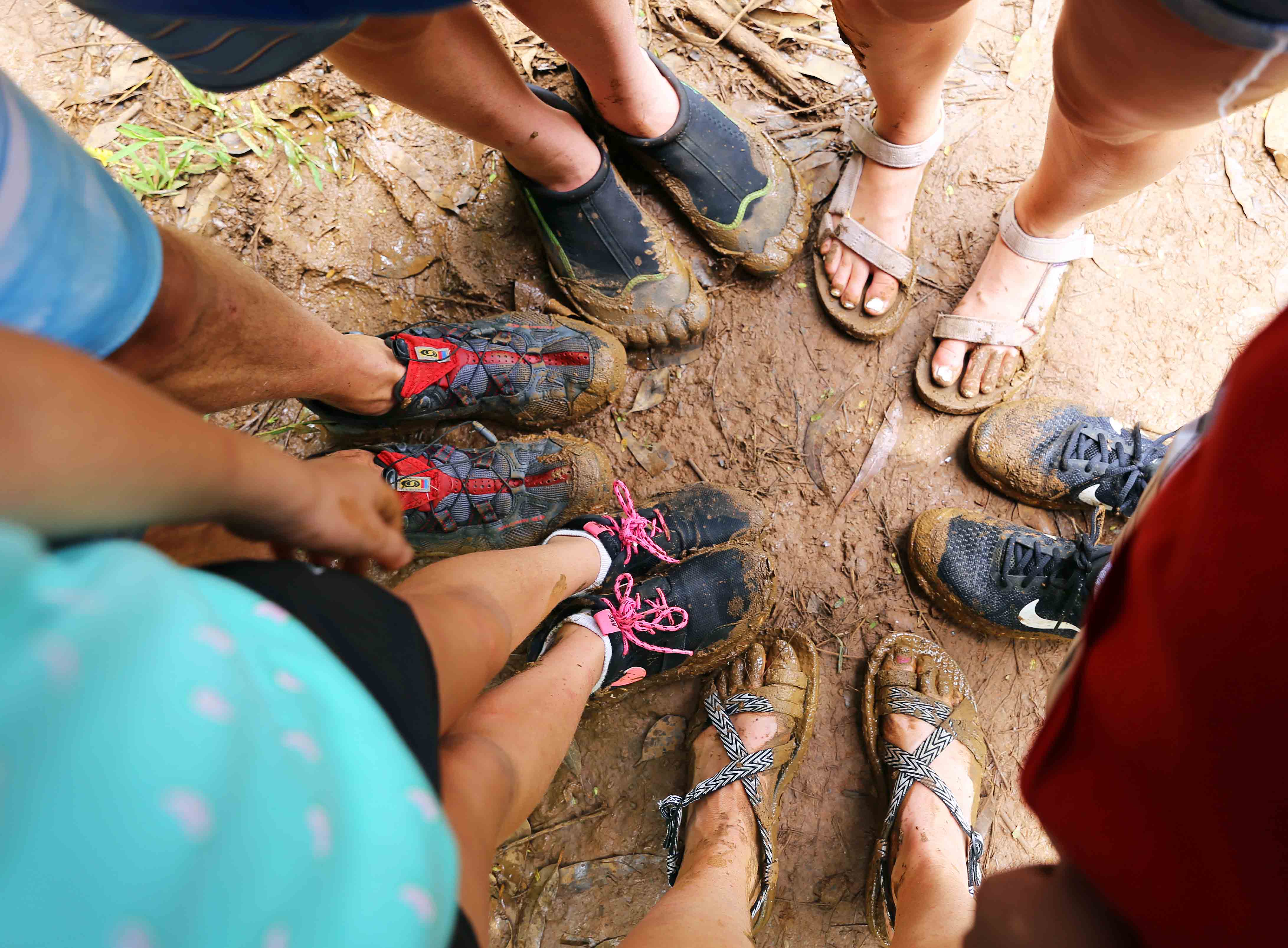 What to pack for Kauai Hawaii:
This is so important and preparation is key! The weather in Kauai is pretty temperate and it can become warm in the day and cool off at night with the ocean breezes. I would suggest packing the following:
shorts
t-shirts
light summer dresses
swimsuits
WATER SHOES
hiking shoes
sunscreen
BUG SPRAY
sunglasses
hat
waterproof case
camera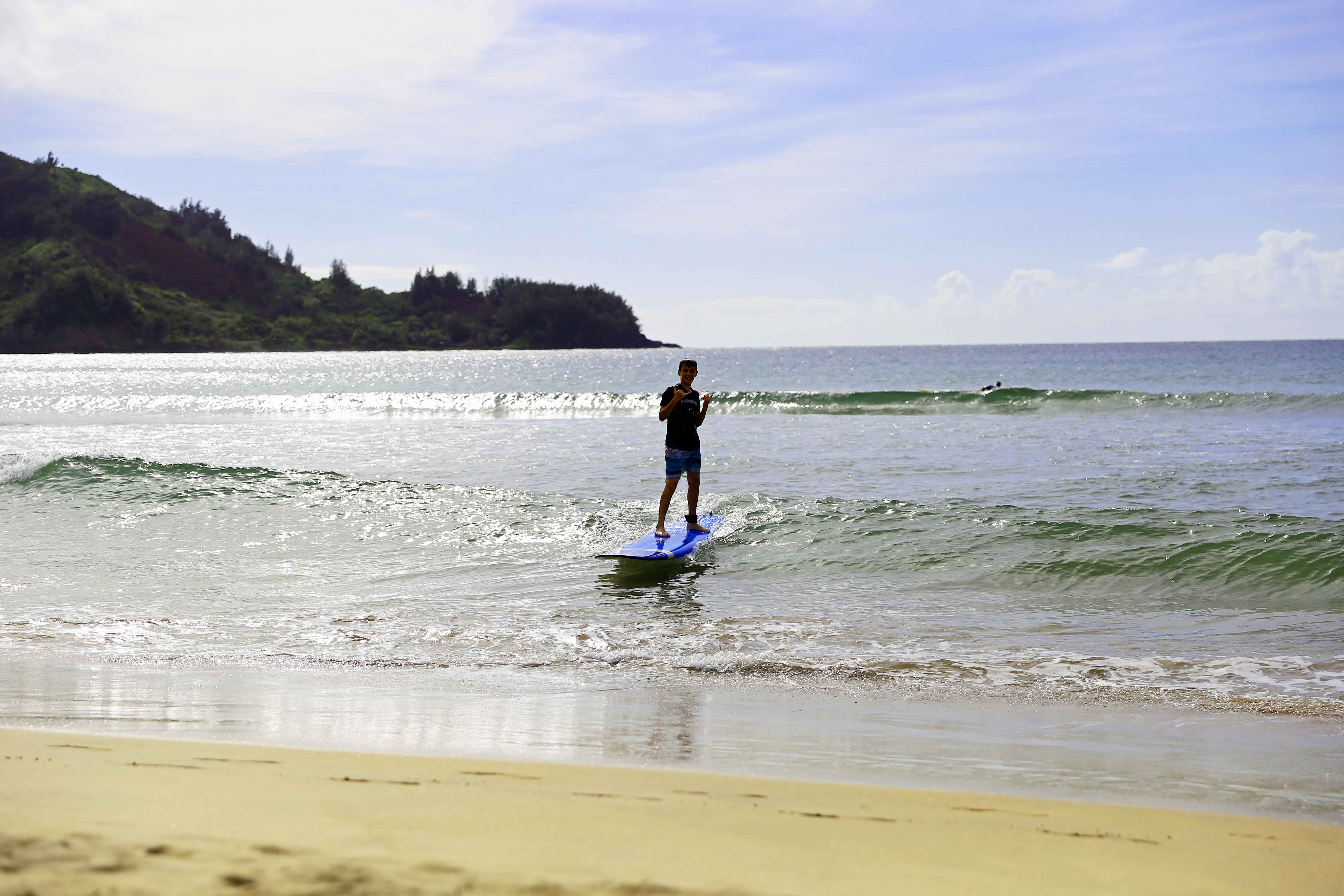 I hope this guide to all things Kauai Hawaii is helpful to you and you have the best vacation ever!