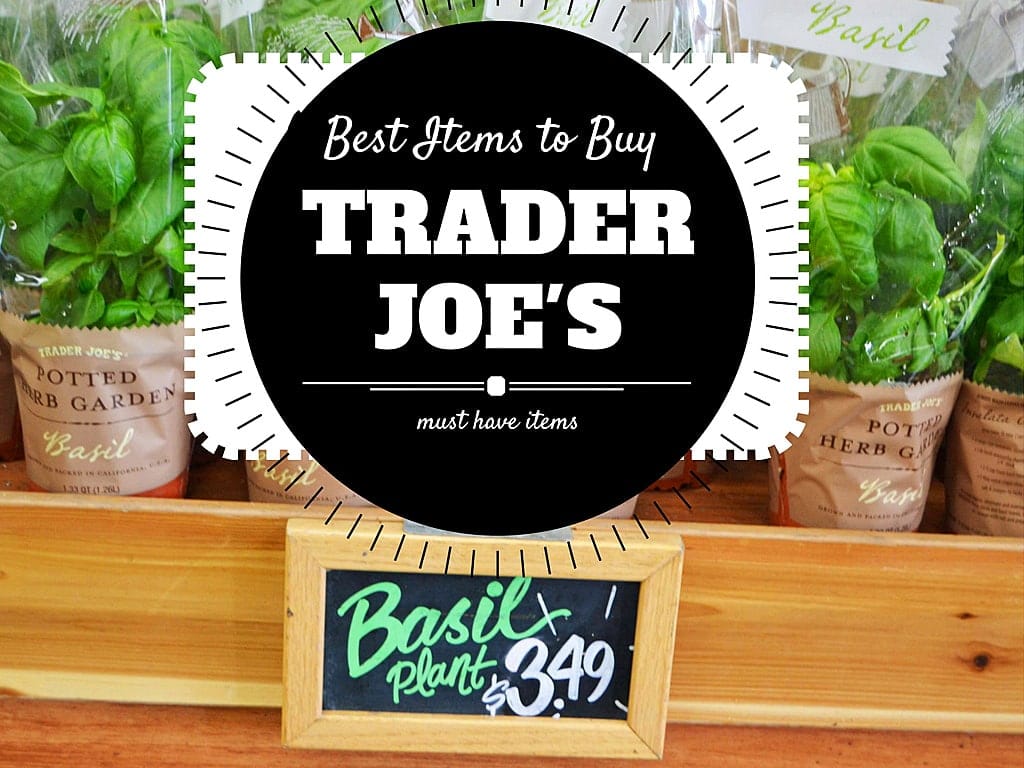 The Best Items to Buy at Trader Joe's
A list of the most popular and best-selling products from Trader Joe's
If you have a Trader Joe's in your neighborhood, consider yourself very lucky. This popular grocery store has a cult following for a reason. Trader Joe's scours the world to bring us the freshest and most unique foods.
When you visit Trader Joe's, make sure to check out their Fearless Flyer because it gives the background and explains where their products are made. I loved learning how they searched the Tuscany hillside to find the most perfect tomatoes for their special sauce or how they bring in their blueberries from Maine for many of their products. They partner with small growers to bring us products without all of the fillers.
I recently spent a ridiculous amount of time in Trader Joe's trying to compile the Ultimate Best Things to Buy at Trader Joe's list…..all in the name of research. It was an early Friday night and I had my little 8-year-old with me as my "helper." By looking at the size of the store, she probably assumed we would be in and out. Oh boy was she wrong. She didn't realize that I came in with a big clipboard, ready to do some serious research and investigative work.
I went straight to the employees. I know what I love at Trader Joe's but these people see what is popular and which items fly off the shelves. I stopped and asked one of the female employees what her favorite products were at the store….things she just can't live without. She rattled off at least 30 items and I was salivating in aisle 2. I wanted to try EVERYTHING!
Next up, I went to the manager because I knew he would know numbers. I went through every department asking him what the customer favorites were and asking him to point out some of the hidden gems….things that haven't quite hit their stride yet (I love to root for the underdog)!
We were about 45 minutes in when my daughter started to pull on my shirt because she wanted to whisper something to me. I went down to her level and she put her hand to my ear so that everyone around us couldn't hear what she was saying. "Mom, they are going to think you are crazy. You are asking way too many questions!" I busted out laughing and had to tell the manager what she said.
His reply was, "Well that's good because you are in good company. We are all a little crazy here." This is foodie's paradise and talking passionately about food is completely NORMAL.
We were at the register for a solid 20 minutes! All of the cashiers started giving me their feedback…. products they were sure I couldn't live without.
So after spending days taste-testing items from Trader Joe's and from years and years of shopping there, I have compiled the ultimate Best Items to Buy at Trader Joe's list. It includes the most popular, best-selling, employee favorites, and the great deals to be found at Trader Joe's. Of course, I could probably make this list 100 items deep because there are so many winning products at the beloved TJ's, but I will try to keep it short.
THE BEST 50 ITEMS TO BUY AT TRADER JOE'S:
1. Flowers. Where in the world can you get 9 gorgeous roses for $3.99? Plus let's talk about the bright pink peonies and ranunculus that are regulars in the Springtime. The prices are dirt cheap for such beauties. You could take flowers to everyone and their dog without breaking the bank.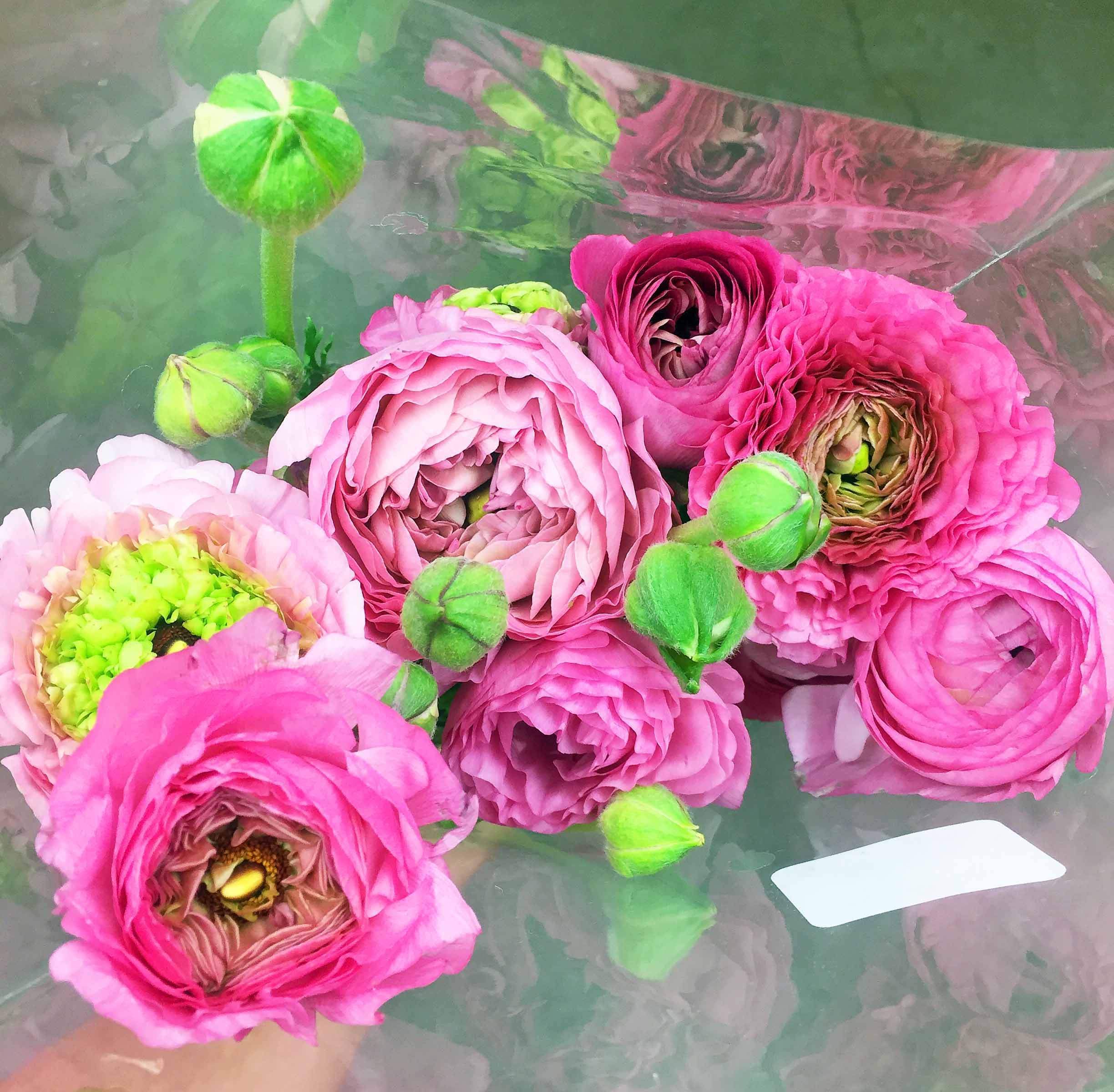 2. Chocolate. Just trust me on this one. The Pound Plus Bars are crafted by a Belgian chocolatier and are beyond luscious, rich, and creamy. They come in milk chocolate, dark chocolate, bittersweet, and milk chocolate with almonds. Pound Plus Bars are heavenly to add to baked goods such as brownies and cookies because they melt so beautifully. The price is out of this world for legit Belgian chocolate. Run, don't walk to TJ's. The chocolate chips are a pantry essential too.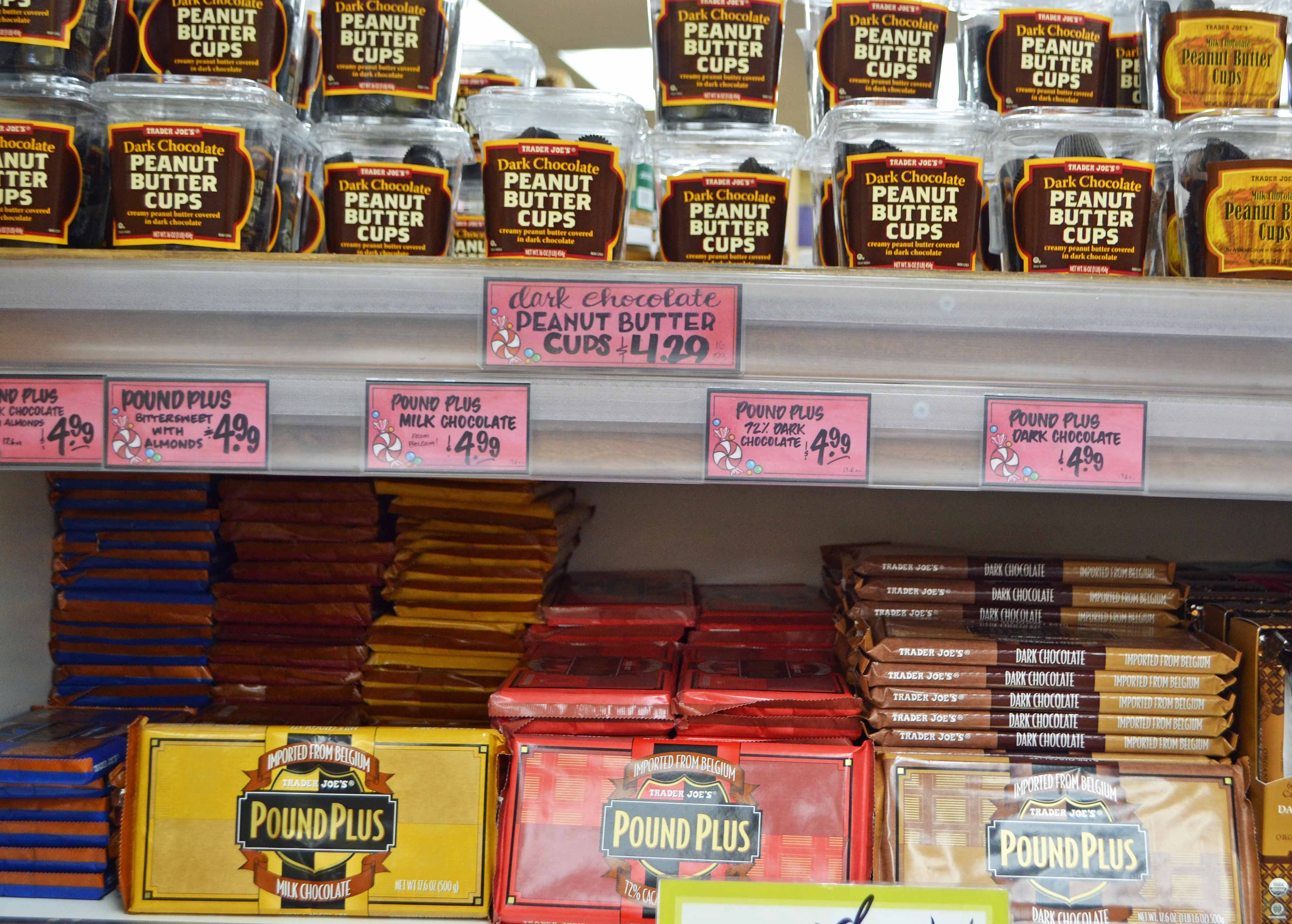 3. Chili Lime Chicken Burgers. It's no secret I want to eat a chocolate bar all by myself in one sitting so I have to balance it out with something healthy. These are just the ticket! Each 1/4 lb. patty has only 150 calories, 6 grams of fat, and 19 grams of protein. It's also juicy and full of spices so it doesn't taste as if you are eating something so healthy. It's a perfect beef burger alternative or can be paired with some veggies for a healthy meal.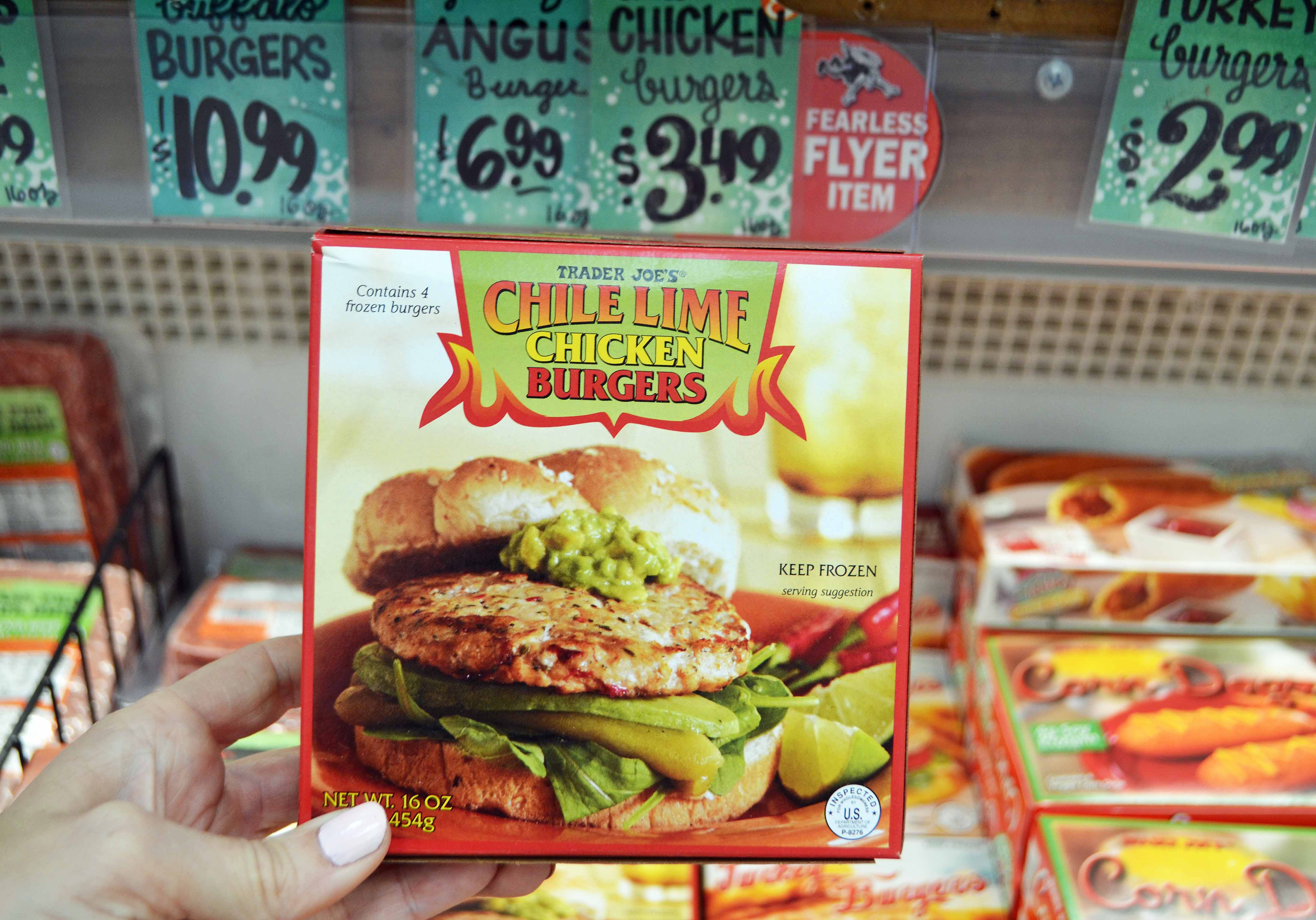 4. Pizza Dough. Let's be real…any type of yeast dough can be time-consuming and we all want something we can throw together quickly. Trader Joe's does most of the work for us! They offer 3 types of pizza dough and at only $1.29 each, it's a no-brainer.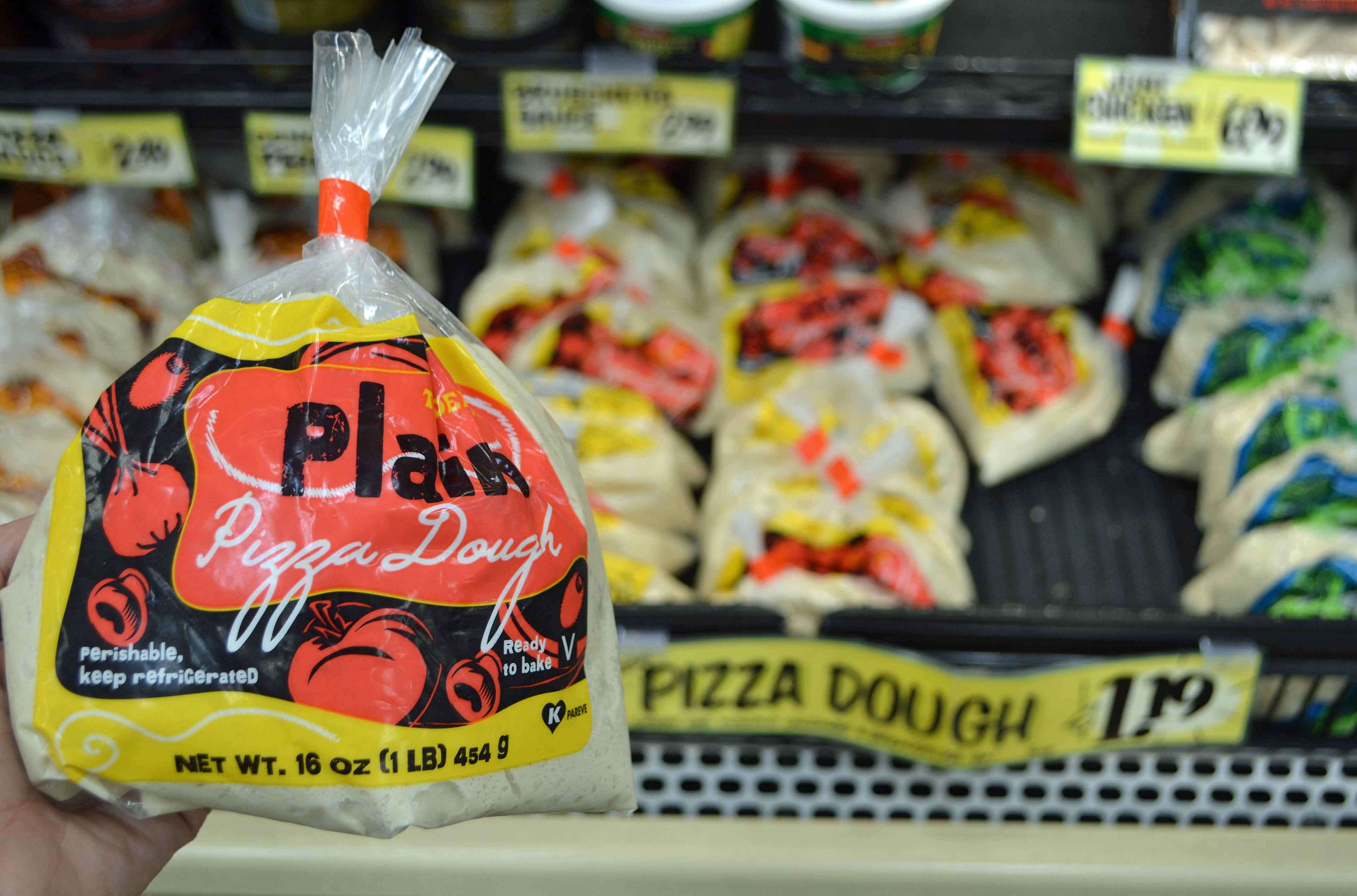 5. Mandarin Orange Chicken. It's TJ's #1 seller for a reason. It's in the frozen section and the closest to take-out that you will ever find. The price is right too for such quality chicken.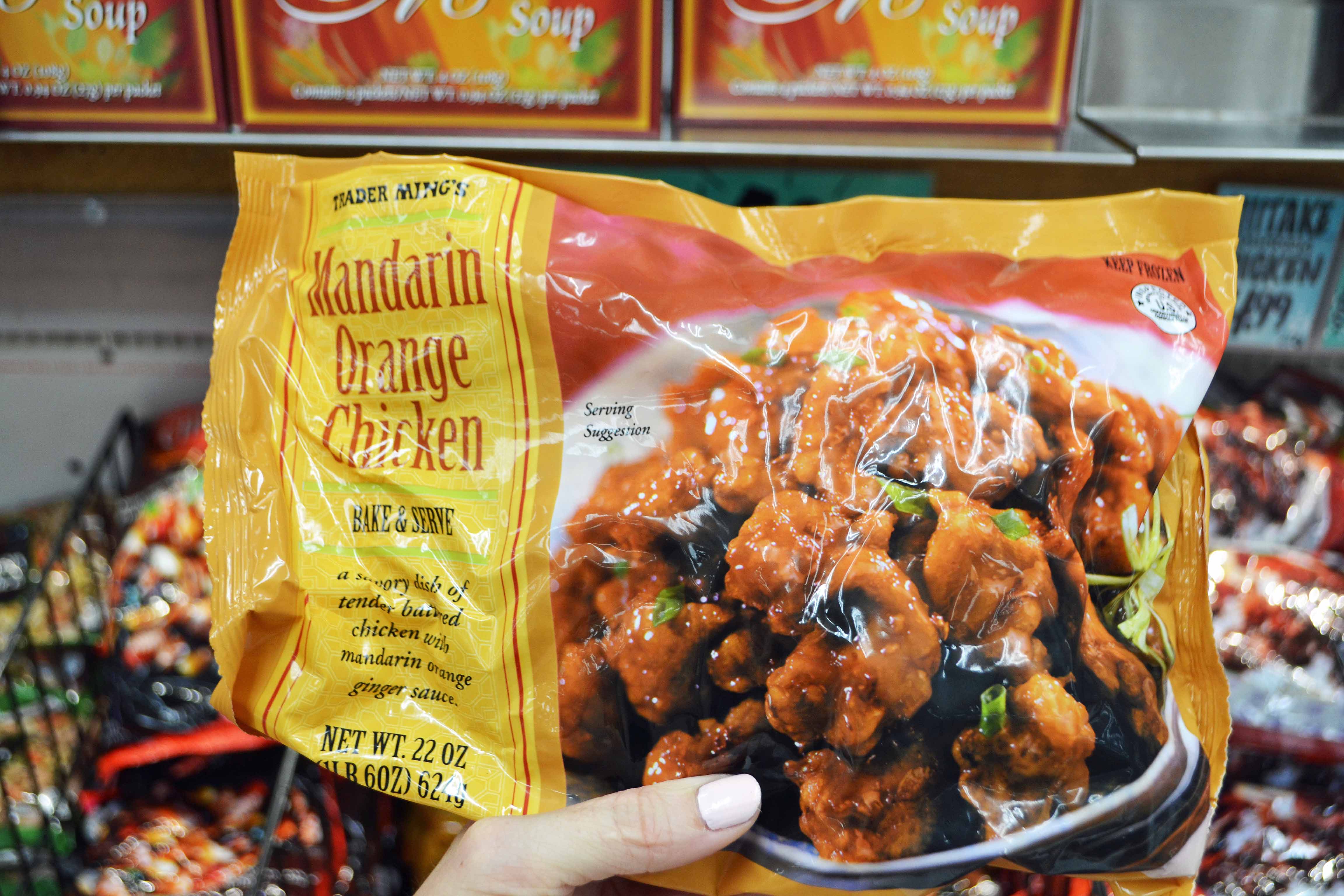 6. Chocolate Peanut Butter Cups (aka "the death of me"). Why did Trader Joe's make something so much more superior to the original PB Cup that I feel compelled to buy them every single time I go to the register? If you like Reese's, you are going to go nuts over these babies. You can buy a large package in the chocolate section or a smaller package at the register for 99 cents. You will thank me or hate me later because you will be a fan, no doubt.
7. Milk Chocolate Covered Mini Pretzels. These are sold-out often for good reason. These are a road-trip essential snack in our family. We will usually pick up several bags to make sure everyone is happy. They are the perfect balance of sweet and salty.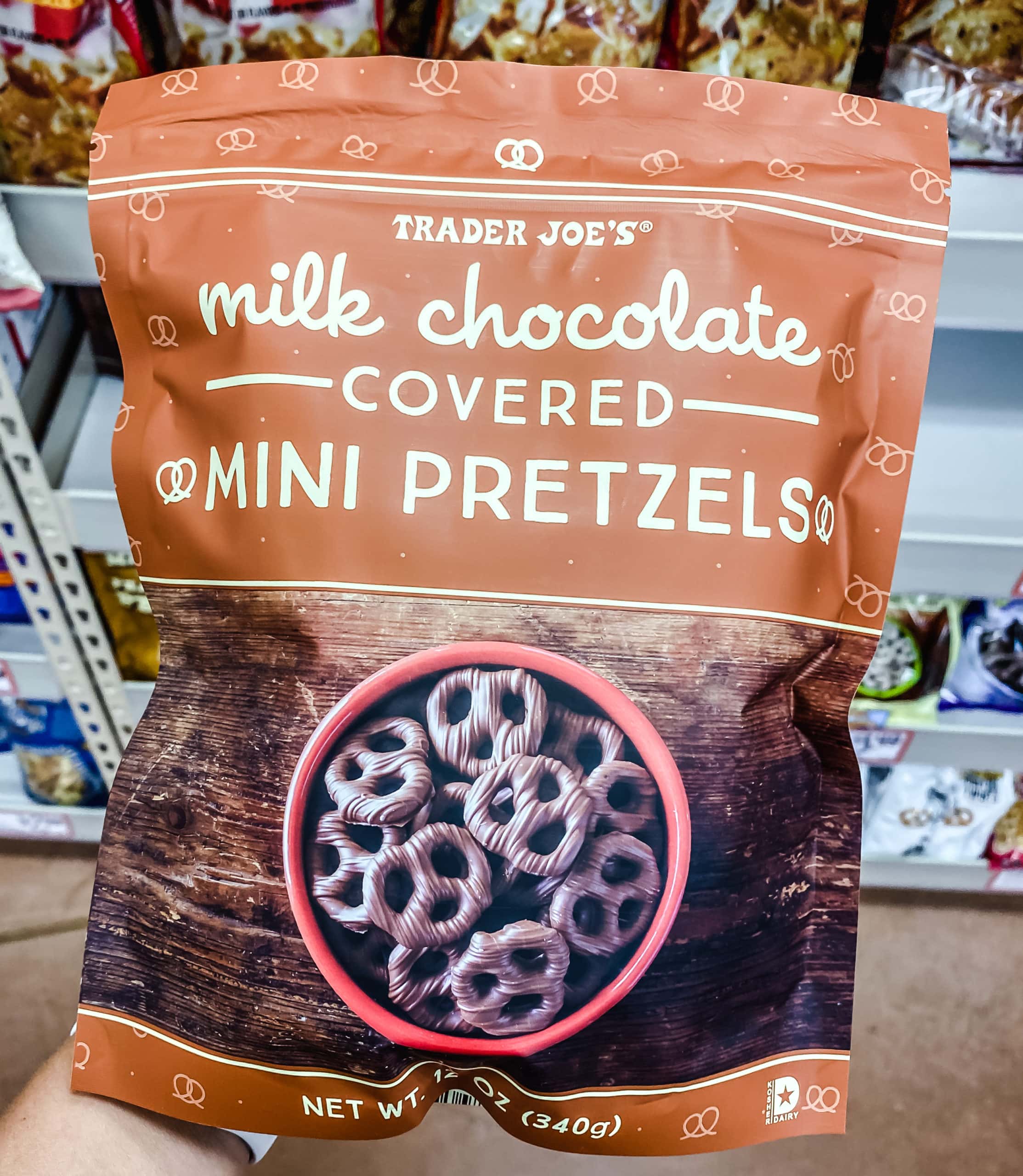 8. Cookie Butter. This jar of goodness flies off the shelves. It's made with famous European ginger cookies and all crushed up to make a creamy cookie butter that you may want to spread on everything. I love the crunchy variety.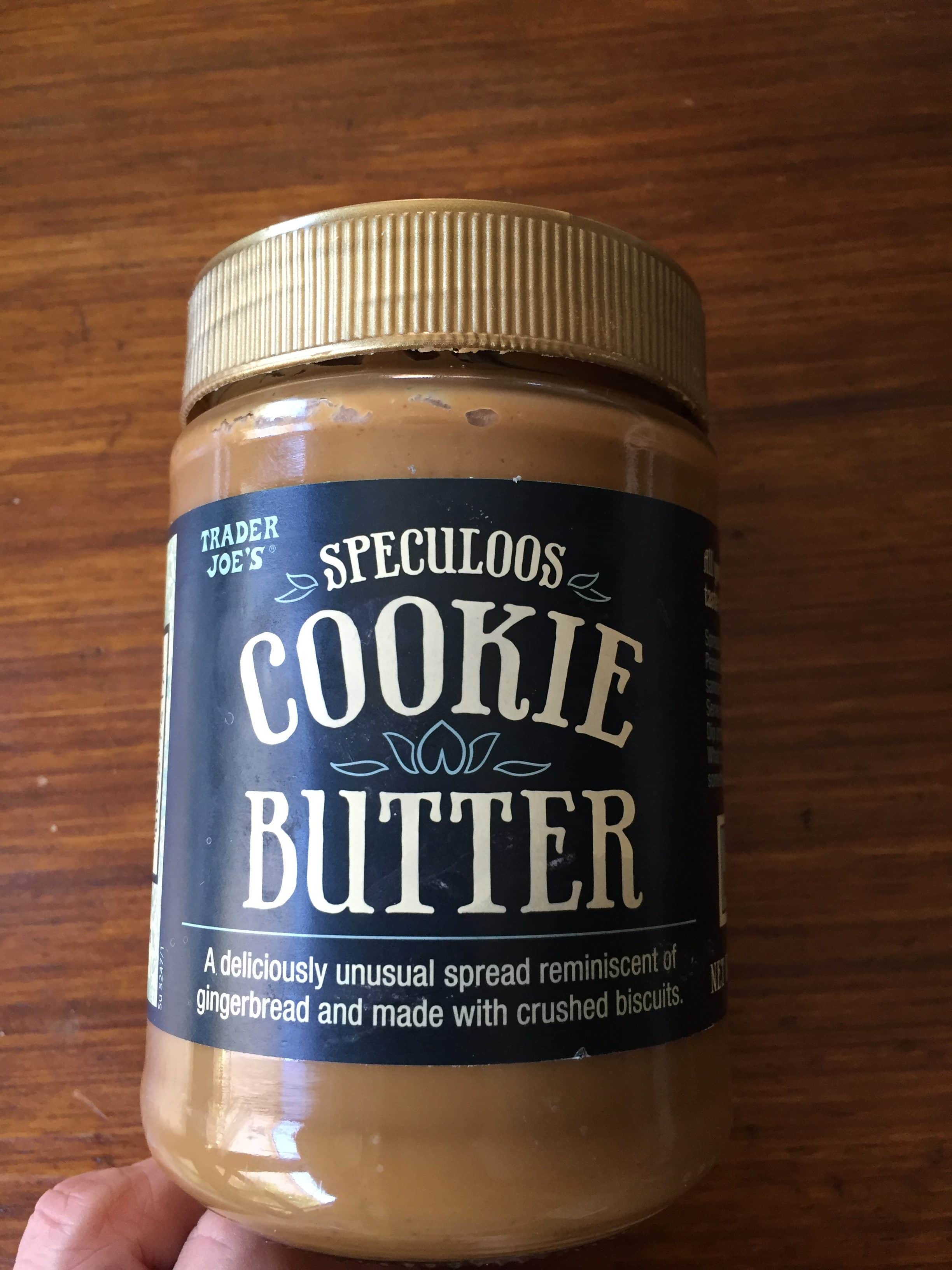 9. Homemade Tortillas. There are some flying disks that are sold in the stores which are supposed to resemble tortillas but are far from it. Their tortillas don't have all of the fillers and preservatives either and just melt in your mouth. The Chile Onion is an excellent option as well.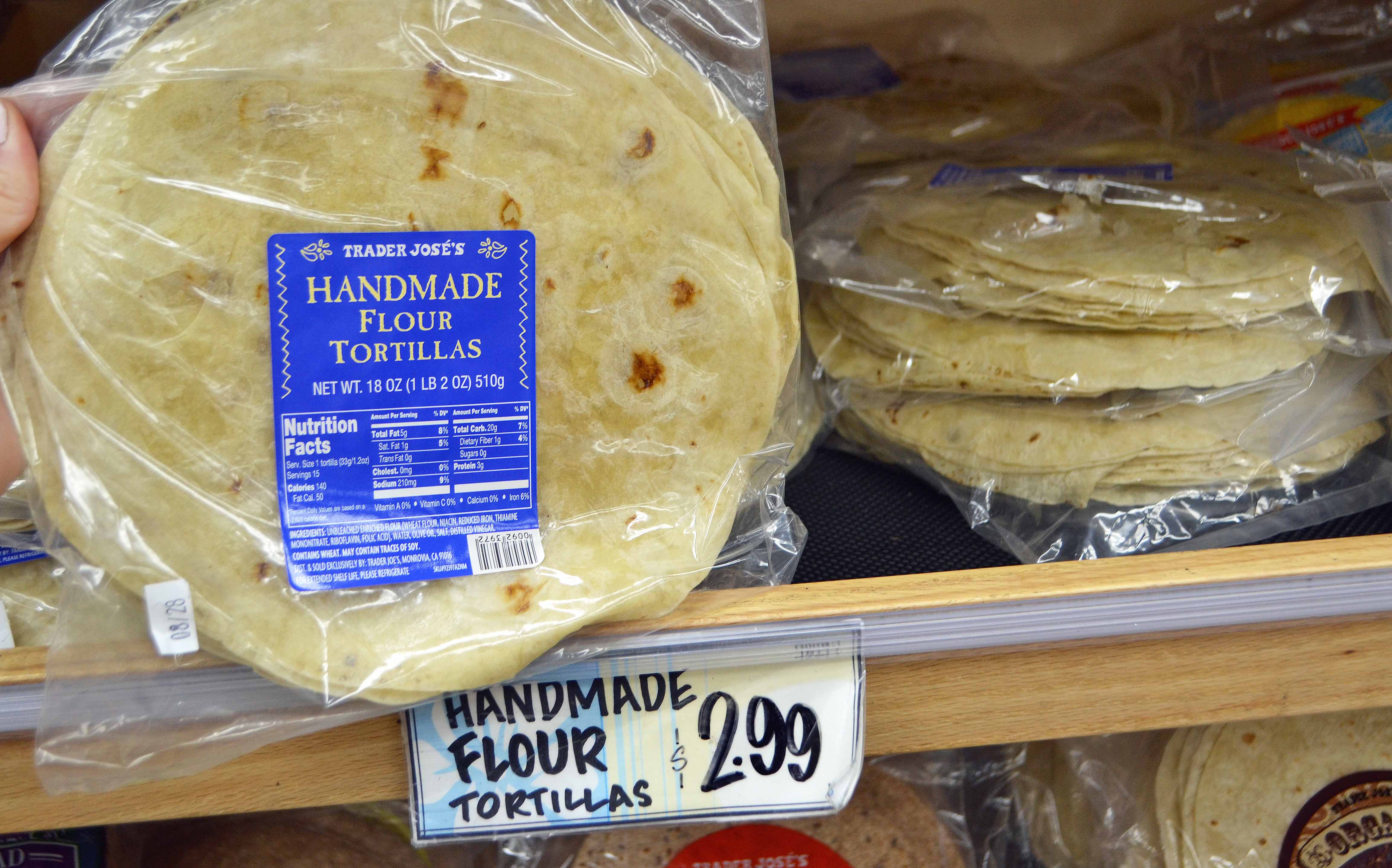 10. Hatch Chile Salsa. The ingredient list on this one is short and simple: Hatch chile peppers, tomatillos, lime juice, garlic salt. It's a hot salsa so its perfect in a crockpot with chicken and then used in a cheesy quesadilla. It's also a fantastic accompaniment to eggs and breakfast burritos. They offer a Chile Corn Salsa for all of my corn lovers out there too.
11. Roasted Garlic and Pesto Pizza with Deep Fried Crust. This one blew me away. This would be a perfect party food to serve as an appetizer or to serve with pasta. Cut it into small squares and you have the perfect garlic cheese bread. I went back and bought 4 more to have on hand in the freezer.
12. Unexpected Cheddar Cheese. It tastes like the most expensive cheese but at $3.99 for the block, it will be the star ingredient in your next cheese board. The hints of parmesan put it over the top.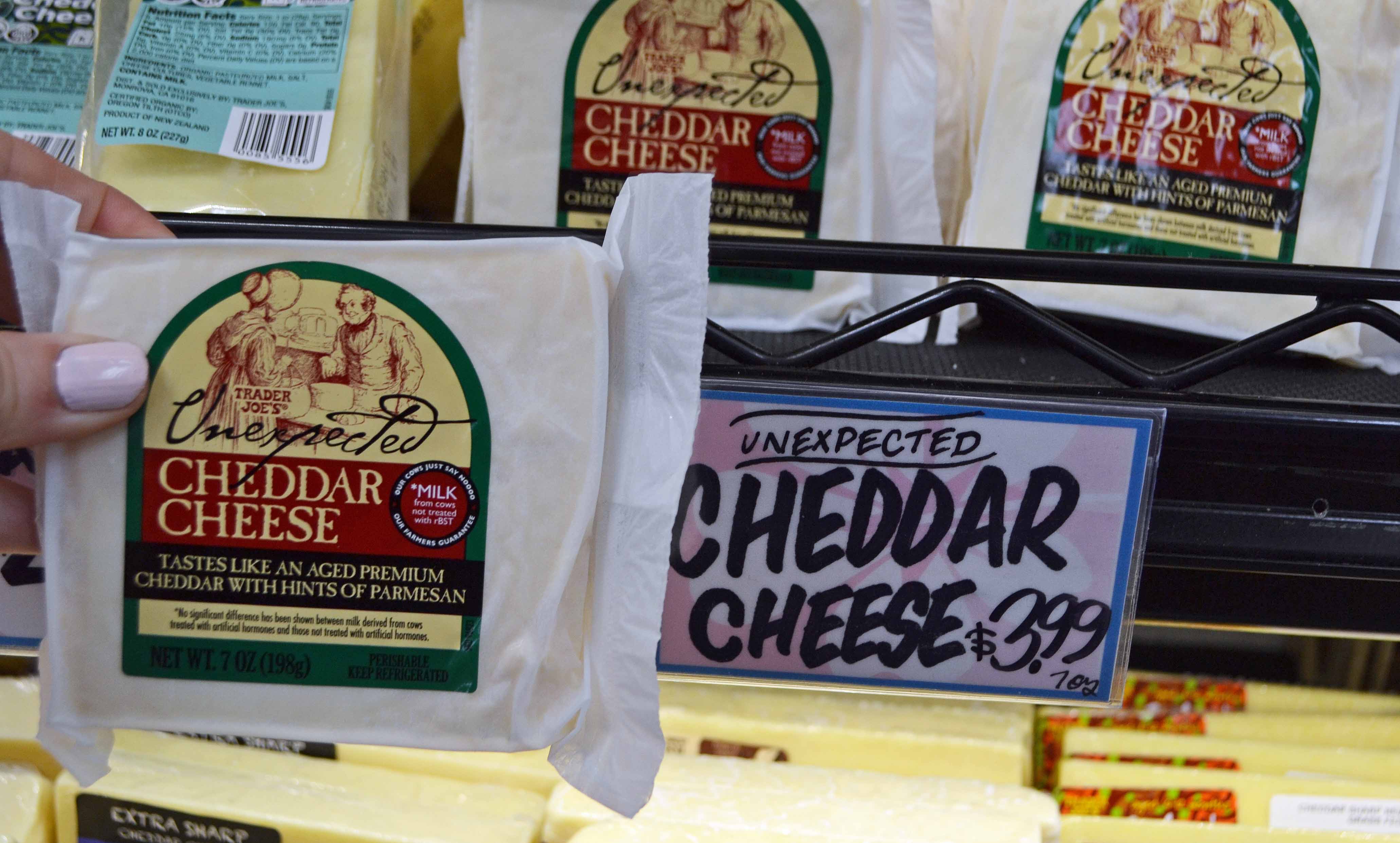 13. Balsamic Glaze. It is crafted in Modena, Italy, home to some of the world's best balsamic vinegar. It's insanely good on salads, drizzled on tomatoes and fresh mozzarella, and even over mozzarella cheese sticks as a snack.
14. Mac and Cheese Bites. If you are a fan of the popular appetizer from Cheesecake Factory, you are going to love these bites. They are perfect to dip in marinara sauce or even ranch.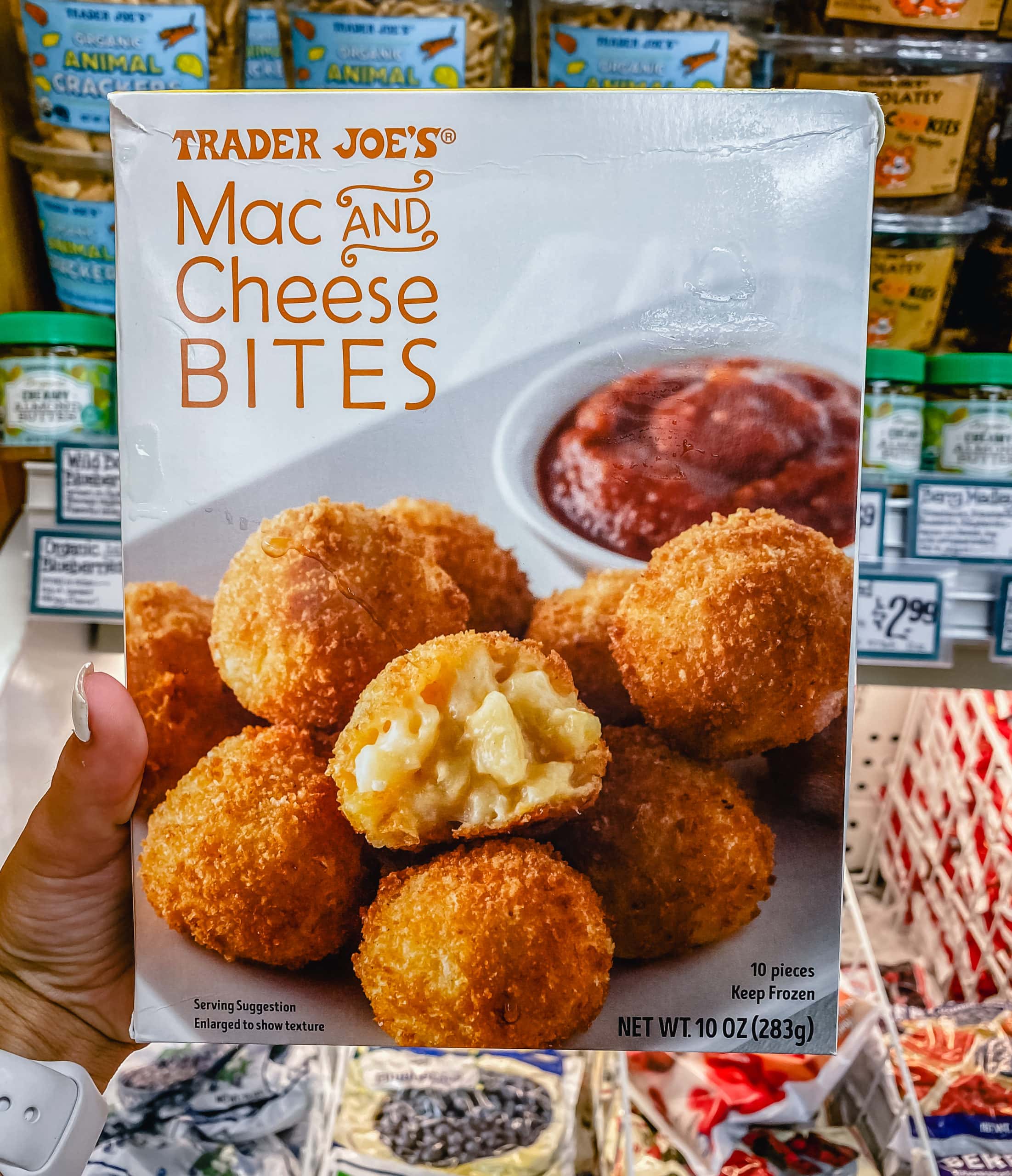 15. Braided and Sliced Brioche. This is the perfect bread to make french toast with. It is sweet yet firm and will hold up to the egg custard batter. I always have a loaf of brioche in the freezer.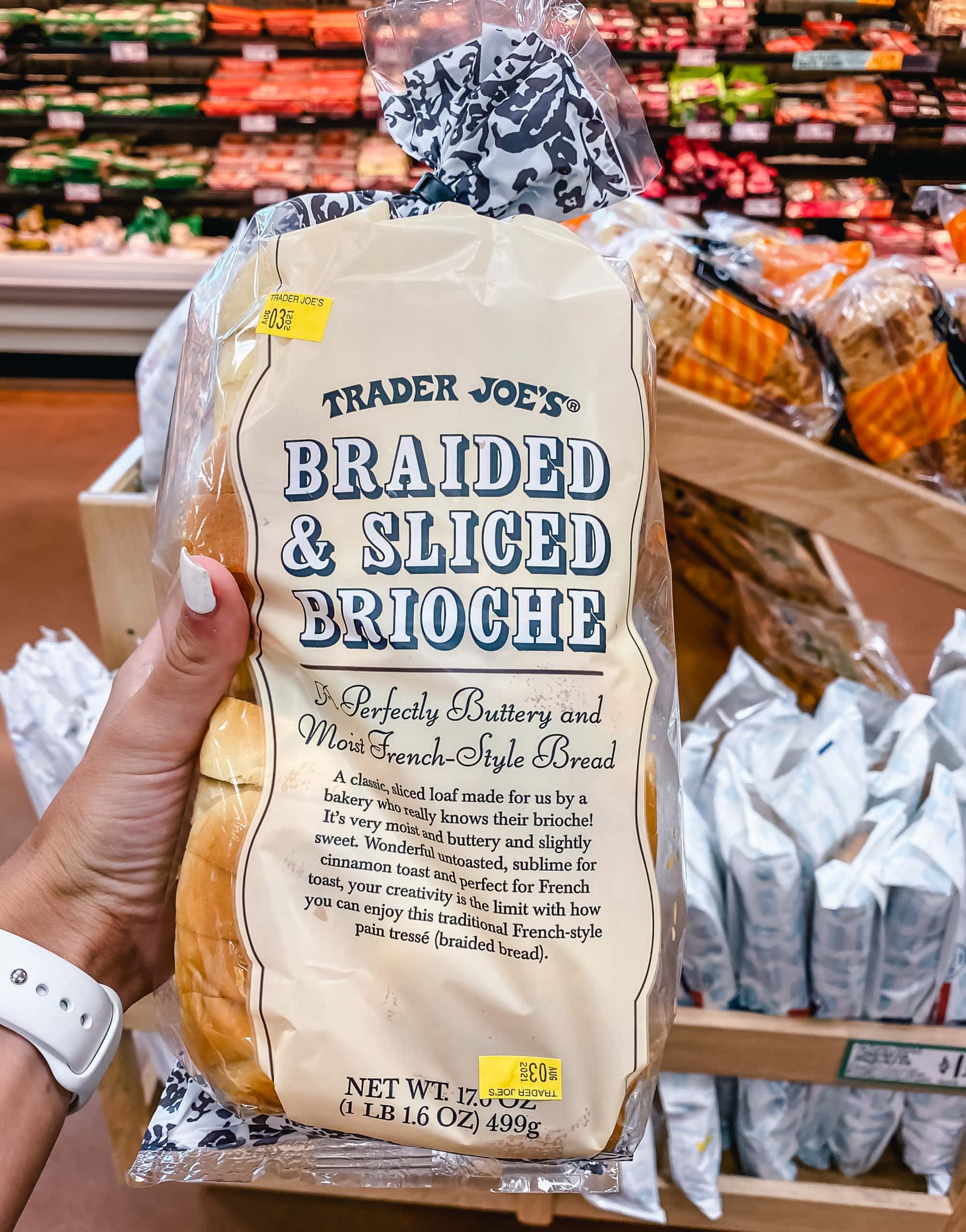 16. Ice Cream. Trader Joe's comes out with specialty flavors like this one or their Chocolate Peanut Butter Cup. Their classic French Vanilla ice cream is rich and creamy and priced right for the quality.
17. Bruschetta. Made with only olive oil, tomatoes, balsamic, basil, garlic, salt, and pepper. It's so fresh tasting and can be put on a french baguette or served with grilled chicken. The options are endless!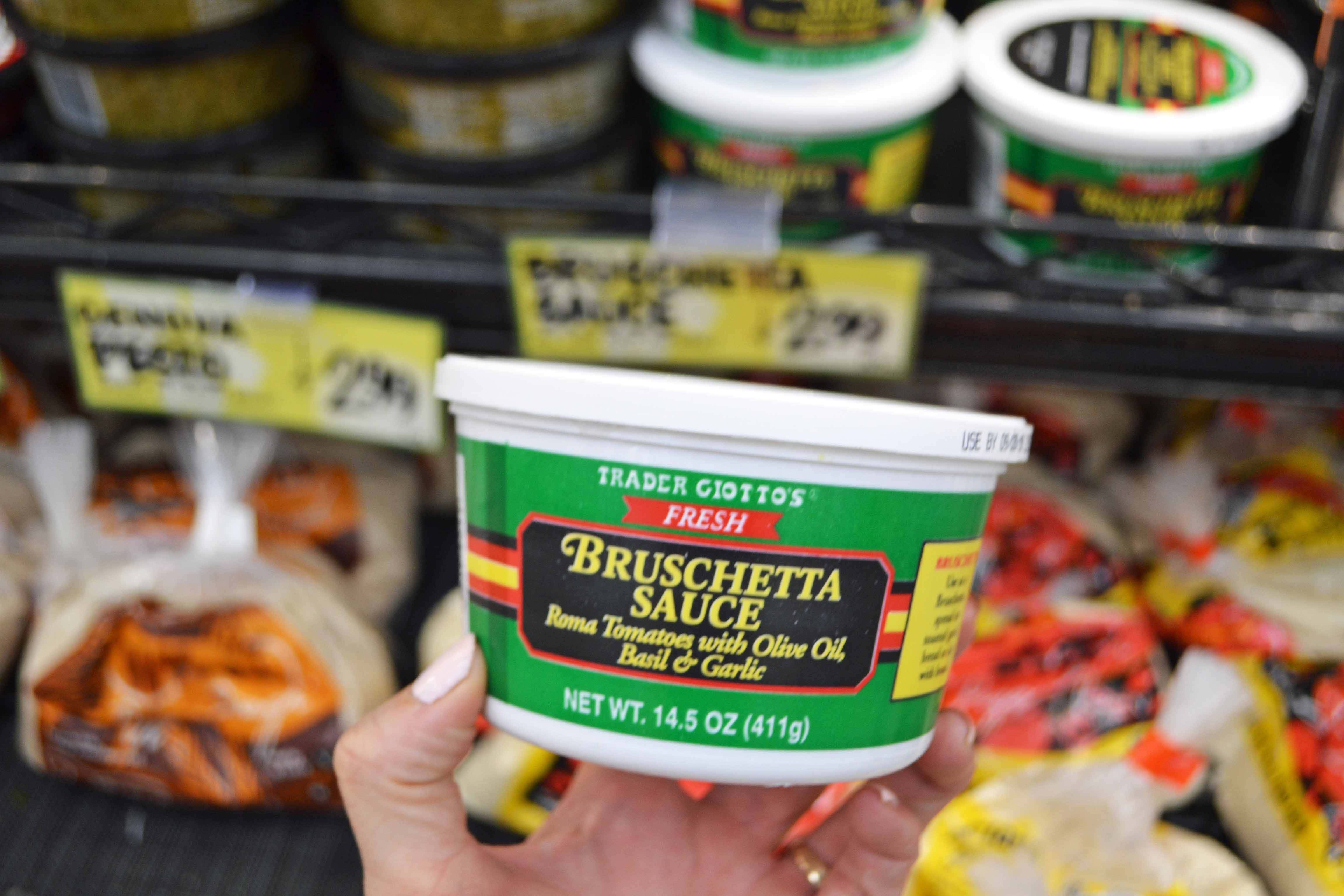 18. Fresh Basil. Have you seen what the grocery store charges for 6 small leaves of basil? It's insanity. Trader Joe's sells a large pot of vibrant basil leaves for $3.99. You won't find that price anywhere. You can plant it in your own pot at home and it will just keep on growing. It's the gift that keeps on giving.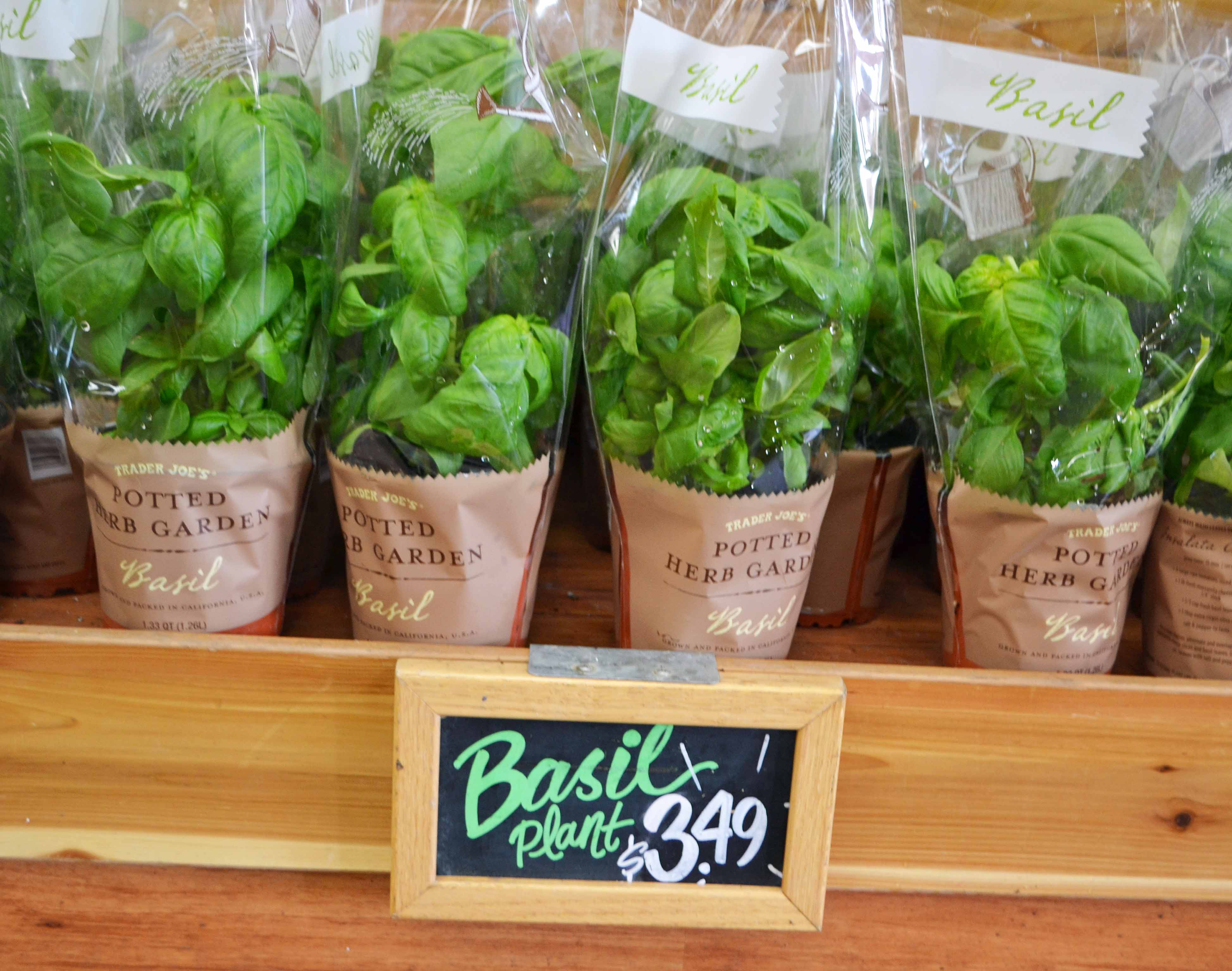 19. Chocolate Sea Salt Caramels. Buttery, smooth, creamy caramels, drenched in rich Belgian chocolate and sprinkled with sea salt. Hook, line, and sinker.
20. Truffle Brownie Mix. This is an ultra-rich, fudgy brownie mix that tastes similar to homemade brownies.
21. Peanut Butter Filled Pretzels. Basically peanut butter baked inside a pretzel for a crunchy creamy treat for those who can't decide if they want something salty or sweet.
22. Sweet Potato Ribbons. Perfect to add to curries, stir fries, or use as a side dish. I even add them to Chicken Poblano Tacos. Trader Joe's does the work for you!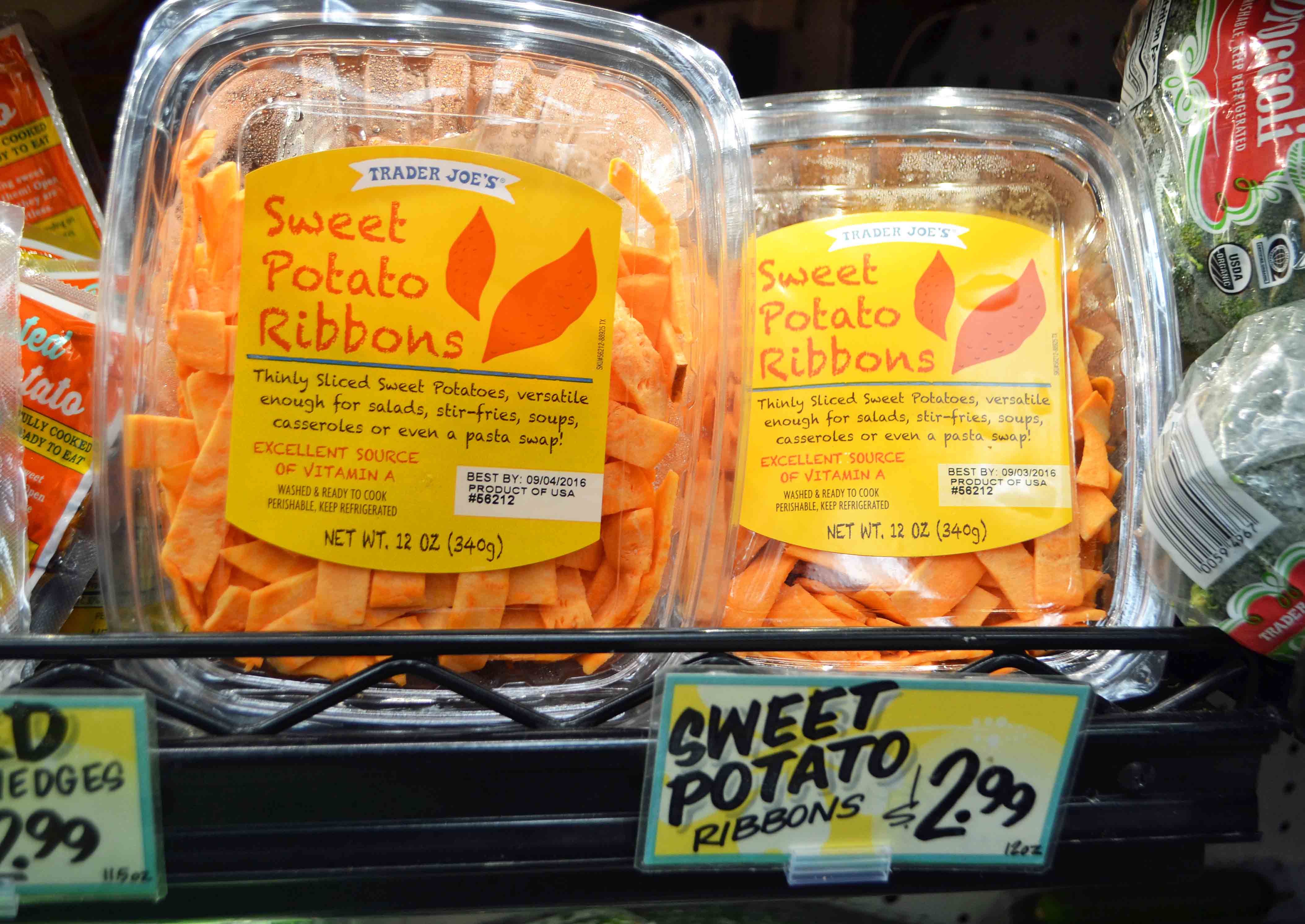 23. Bacon Jam. Where are my diehard bacon lovers? If you love bacon, then you must embrace this jam. Spread this on your next burger and you will wonder why it took you so long to discover this stuff.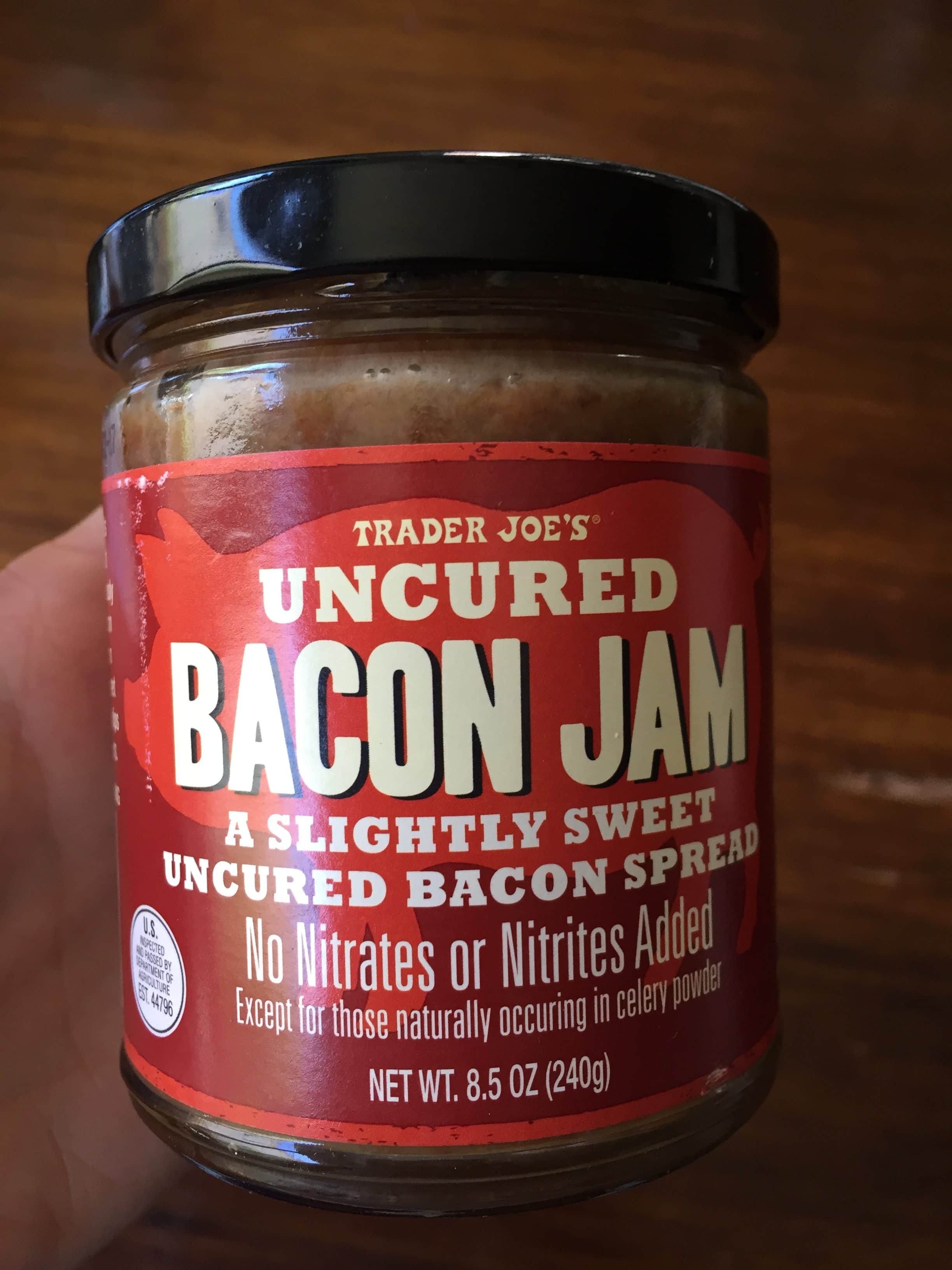 24. Mac n Cheese. This is not the fake orange stuff you ate as kids. This is legit mac n cheese, made with 100% real cheese, made in small batches. It's sold in the frozen section so it's perfect to take to work and plop in the microwave for a quick lunch. They even offer one with Hatch Chilies for my spice lovers. One of the top-selling items at Trader Joe's by far.
25. Trail Mix + Nuts. You can't beat Trader Joe's prices on nuts and their temptation trail mix is full of the perfect combo of salty and sweet. Try the Thai Lime
+ Chili Cashews too.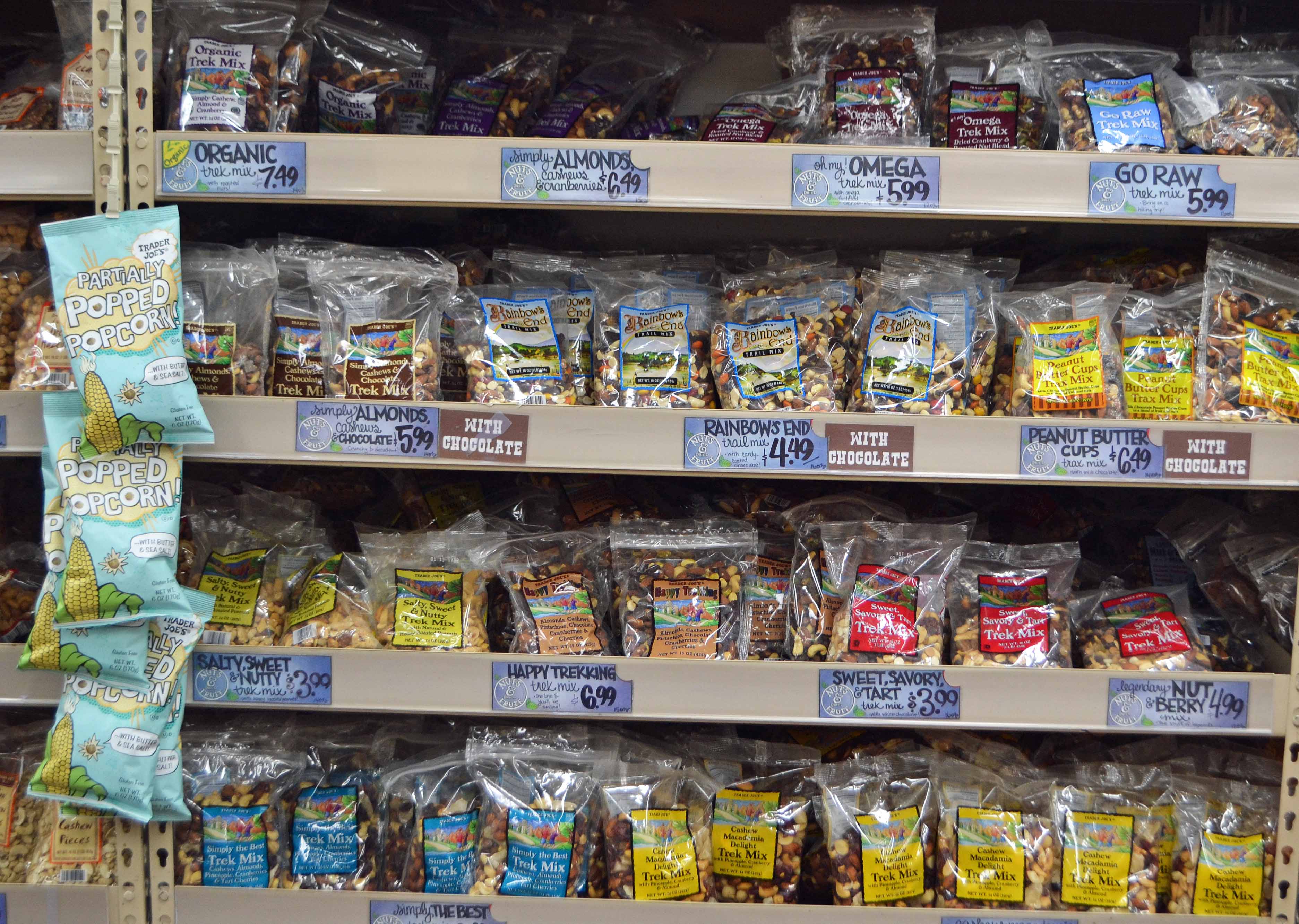 26. French Macarons. They might possibly be the most difficult cookie to master and they tend to have a hefty price tag. Trader Joe's changes that as they offer frozen macarons in an assortment of flavors that look so pretty you aren't even sure you should eat them.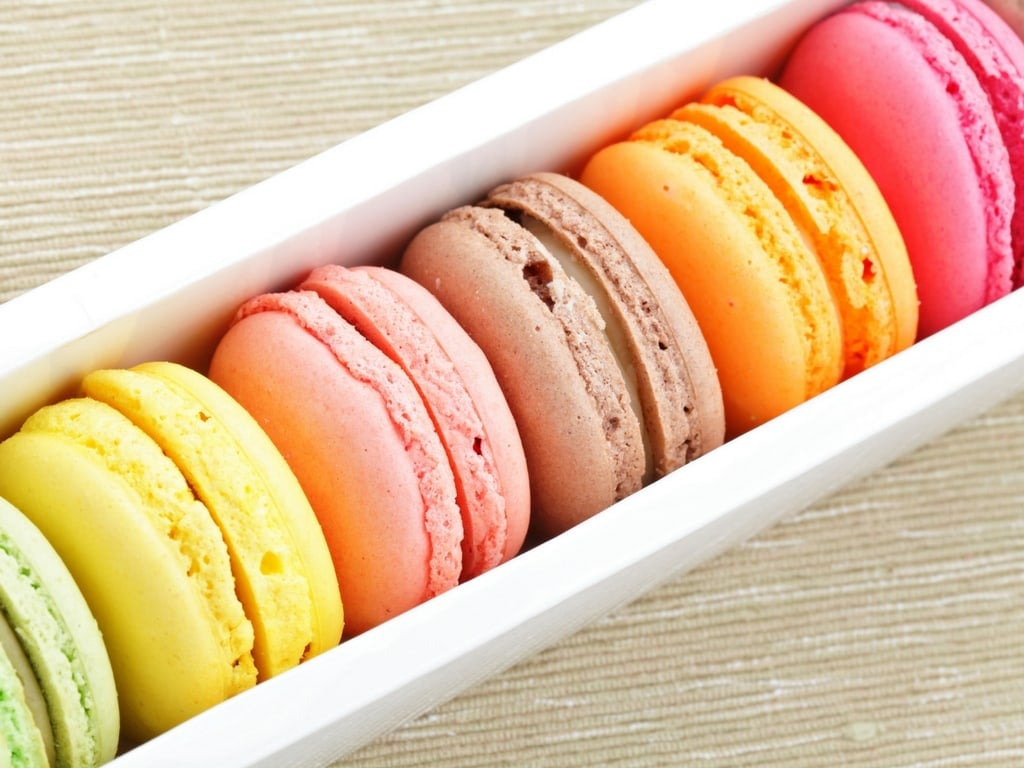 27. Chocolate Lava Cakes. These come in a package of two and you just put them in the microwave and they are hot and ready to serve in less than 1 minute. Serve with their french vanilla ice cream, fresh raspberries, and a little mint and you have a gourmet dessert.
28. Oatmeal. There are so many options but the Gluten-Free Oats, unsweetened Instant Oatmeal packets, and the steel cut oats are not only healthy but they taste good too and are all-natural.
29. Mini French Baguettes. These come frozen and you just heat them up in the oven. Crunchy on the outside and warm and soft on the inside. They are the perfect size for feeding several people or for charcuterie boards. I love these mini baguettes!
30. Mini Chocolate Chip Ice Cream Cones covered in chocolate. This is such a fun dessert to serve at parties and is the perfect handheld bite-size dessert.
31. Mediterranean Hummus. It's super smooth and creamy and is topped with crunchy pine nuts, olive oil, and spices. It has a following at TJ's!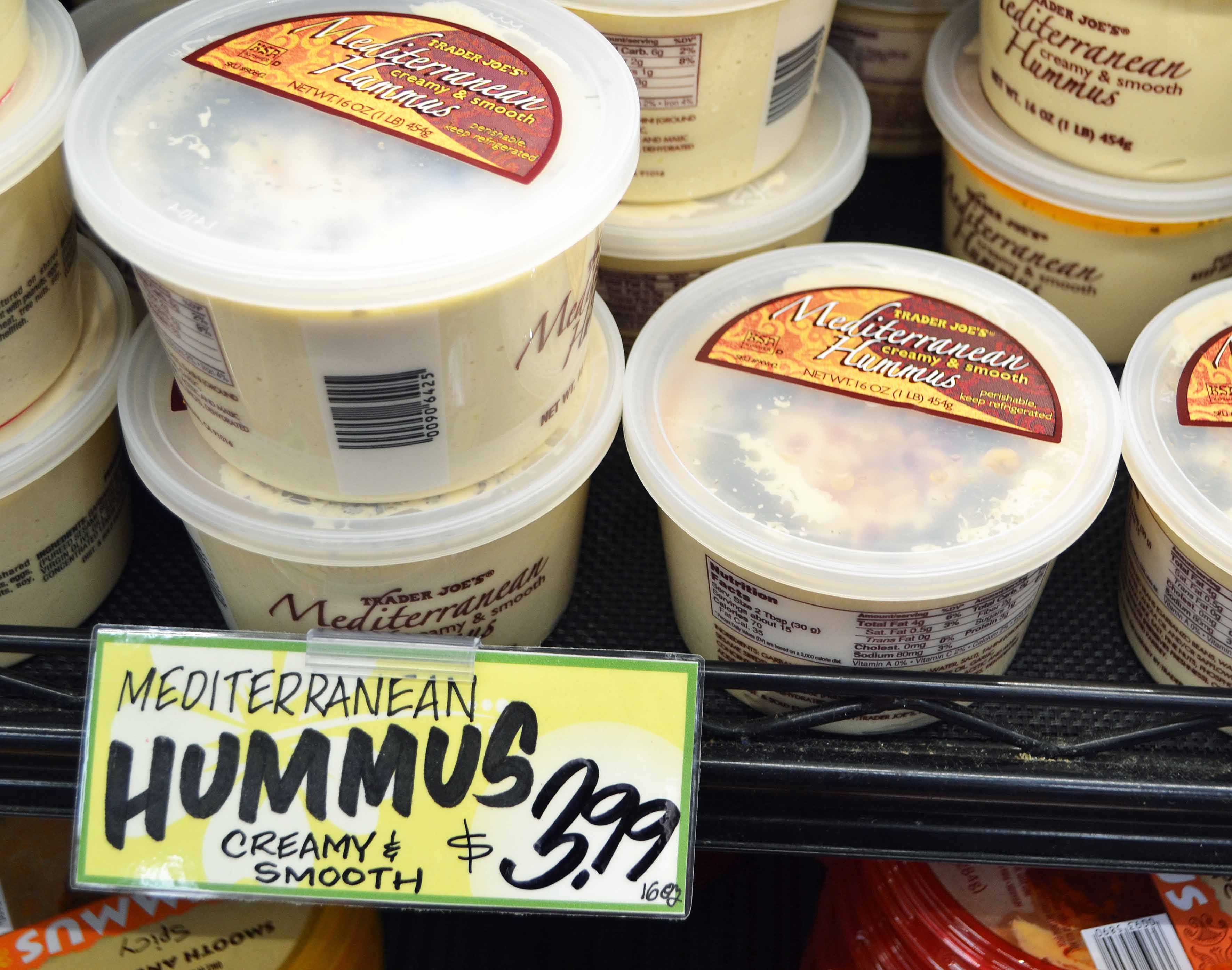 32. Coconut Cream. Thick and rich dairy alternative to make homemade whipped cream or add to curry sauces. It's excellent in Thai and Indian dishes and fabulous in homemade desserts.
33. Peeled Garlic. This is such a time-saver. Forget peeling the garlic and making your hands smell for days. This garlic is kept in the refrigerator to help it stay fresh even longer.
34. Woodfired Sicilian Pizza. This is a steal! Fresh Mozzarella Pearls, Red Pepper Olive Oil, Roasted Red Peppers, and Spices all on a crusty rustic crust. They are known for their frozen pizzas so I don't think you can go wrong in this department.
35. Jicama Wraps. These are healthy, low-carb, low-calorie alternatives to corn tortillas. My daughter loves to make healthy chicken tacos with these jicama wraps.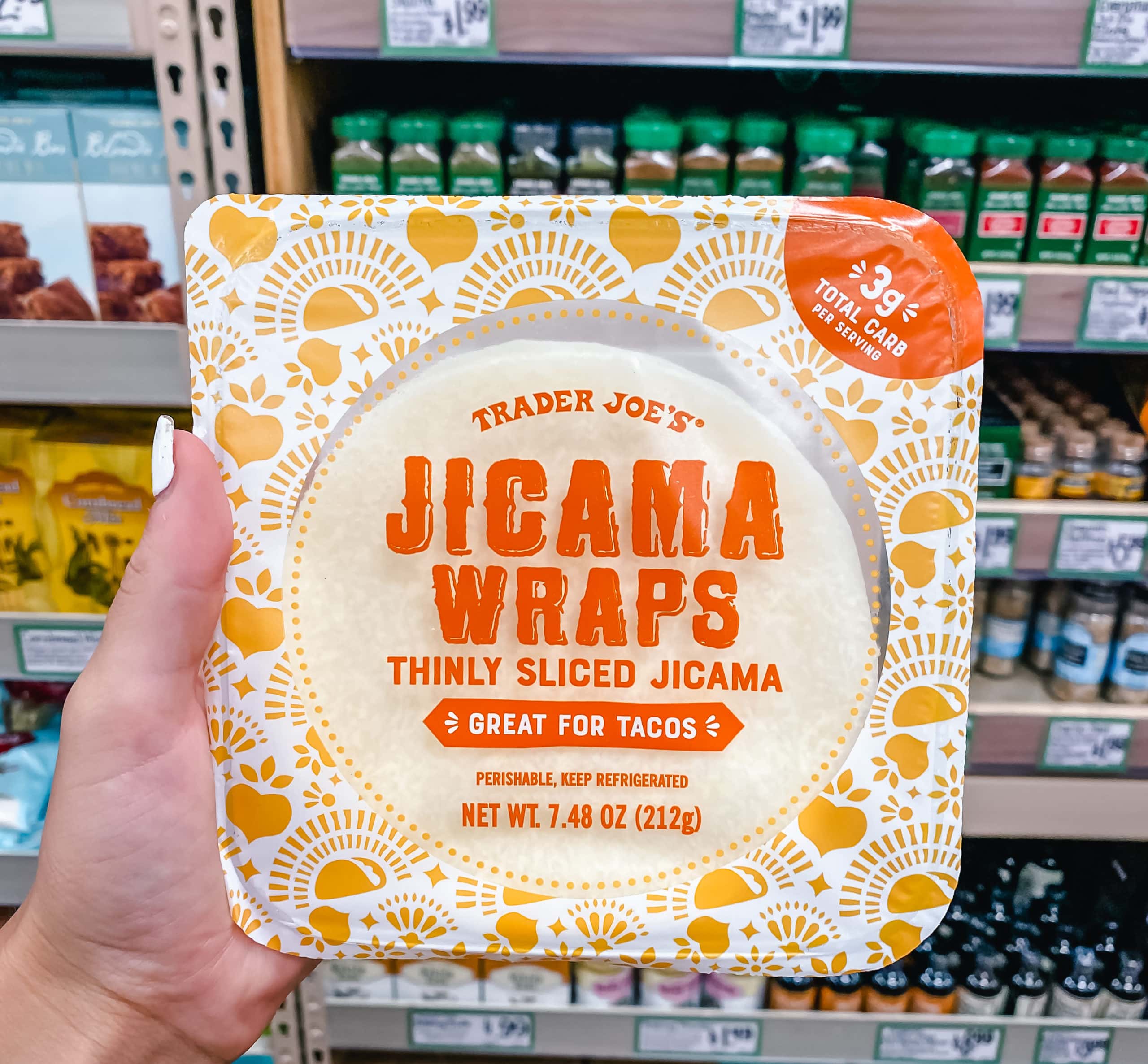 36. Wild Blueberry and Vanilla Goat Cheese. They start with creamy goat cheese, vanilla, and then roll it in blueberries from Maine. It pairs so perfectly on a bagel, a baguette, or crumbled in salad (my personal favorite).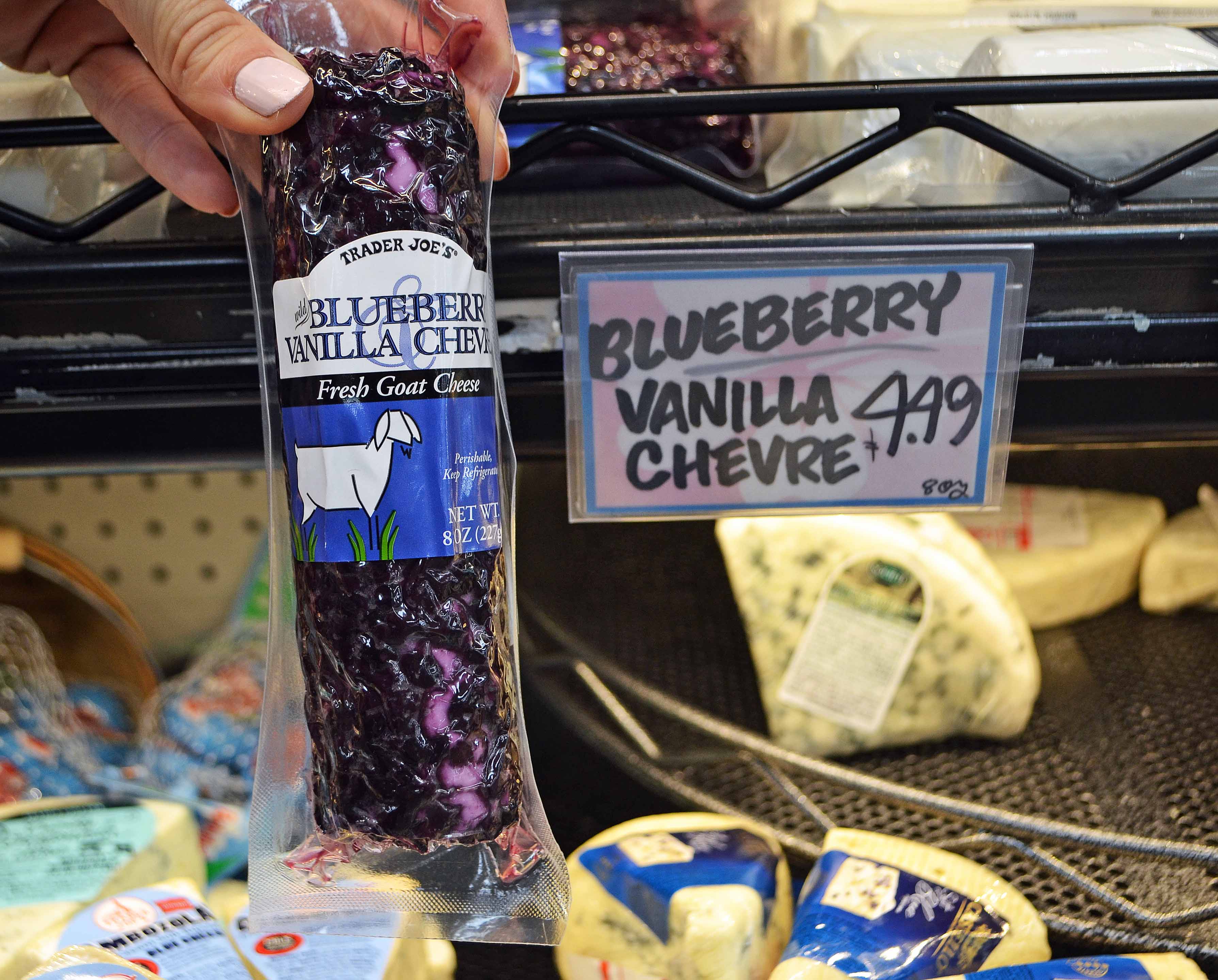 37. Dulce de Leche or Fleur de Sel Caramel Sauce. Silky smooth rich caramel sauce perfect to be drizzled on ice cream or hot fudge brownies. Oh and don't forget about the Fleur de Sel soft caramels.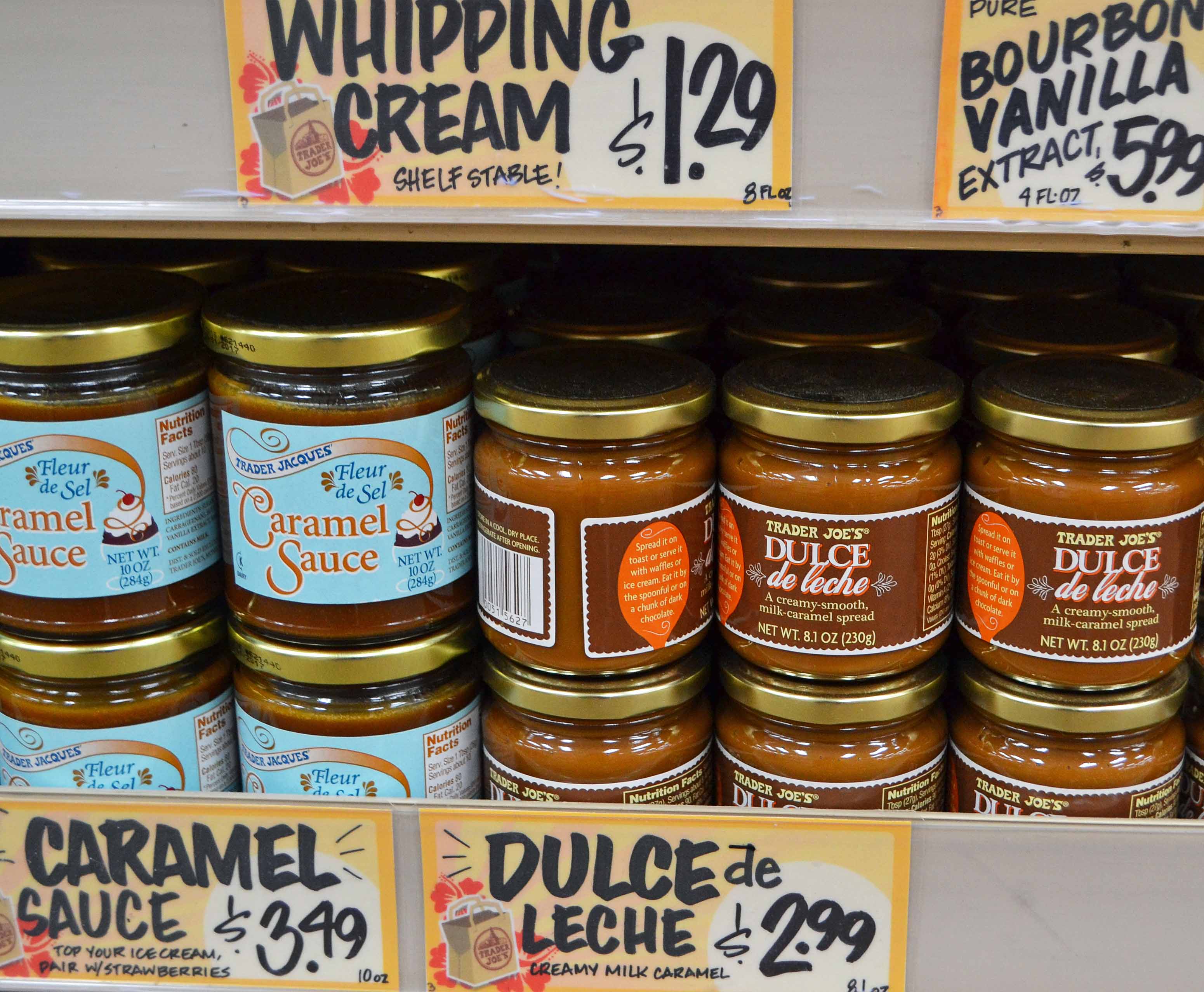 38. Fig Butter. It starts with a medley of fresh, ripe figs that are ground and then crushed before being slow-cooked, in small batches, with sugar, lemon and pectin. "It's a simple recipe using only the finest, freshest ingredients, and no preservatives or artificial colors. The result is full fig flavor concentrated in a smooth, spreadable butter." I spread this on my sourdough bread and top it with turkey and havarti cheese.
39. Riced Cauliflower. Fresh cauliflower grated so fine that you forget you are eating something healthy. Can be used to make cauliflower pizza crust, healthy veggie bowls, or to make garlic mashed "potatoes. I love to saute with fresh garlic, sea salt, and top with a generous amount of sharp cheddar cheese.
40. Vitamins. The price is right and the quality is high for their supplements. No middle man here so they can offer supplements at rock bottom prices.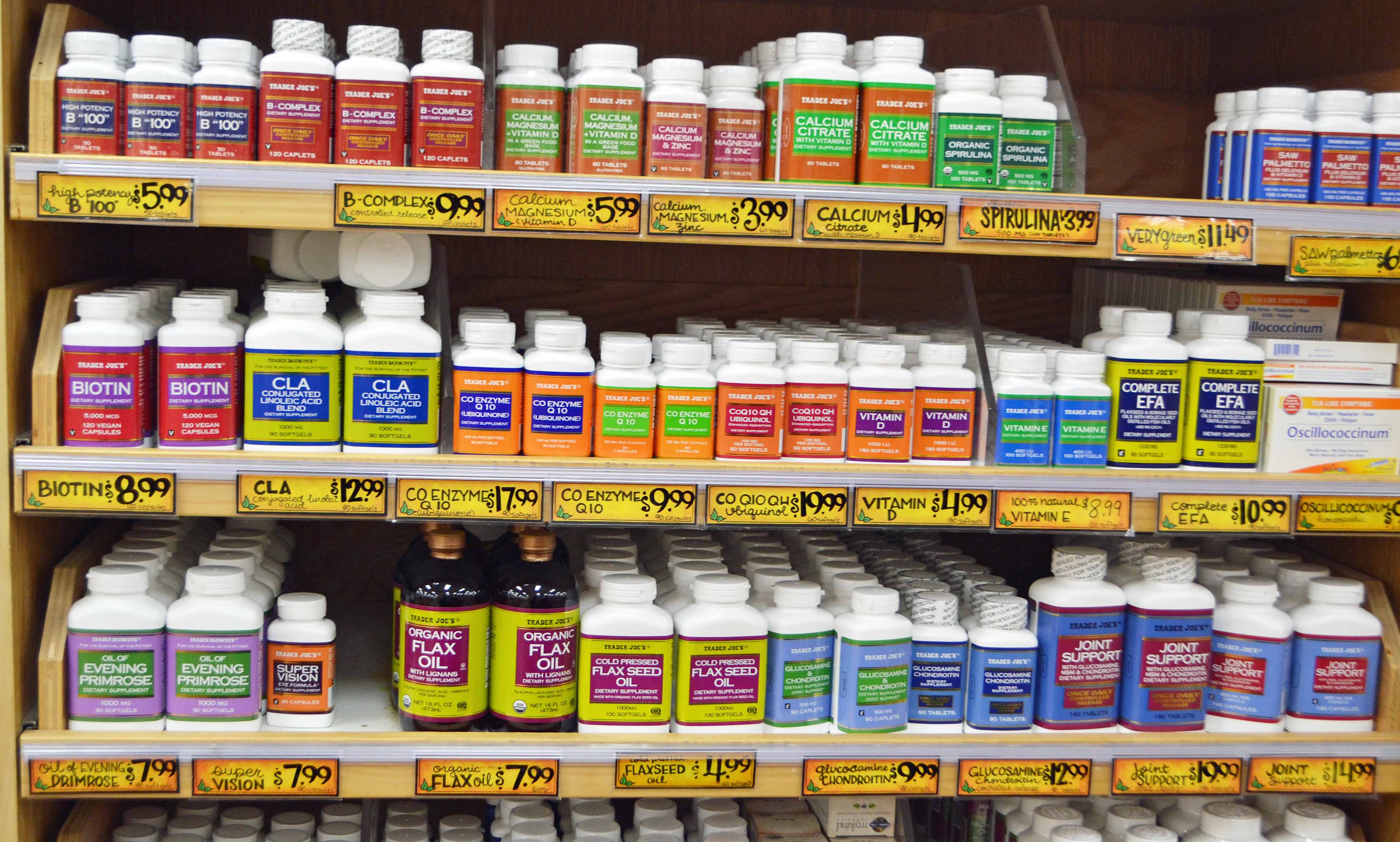 41. 5 Cheese Greek Spiral. It's made with flaky phyllo dough and 5 types of cheeses. It will definitely knock the socks off of your guests! Serve it at your next party with a side of homemade raspberry jam.
42. Sea Salt and Turbinado Sugar Dark Chocolate Almonds. California roasted almonds drenched in dark chocolate and rolled in raw sugar and sea salt. Almonds are healthy, right? #justification101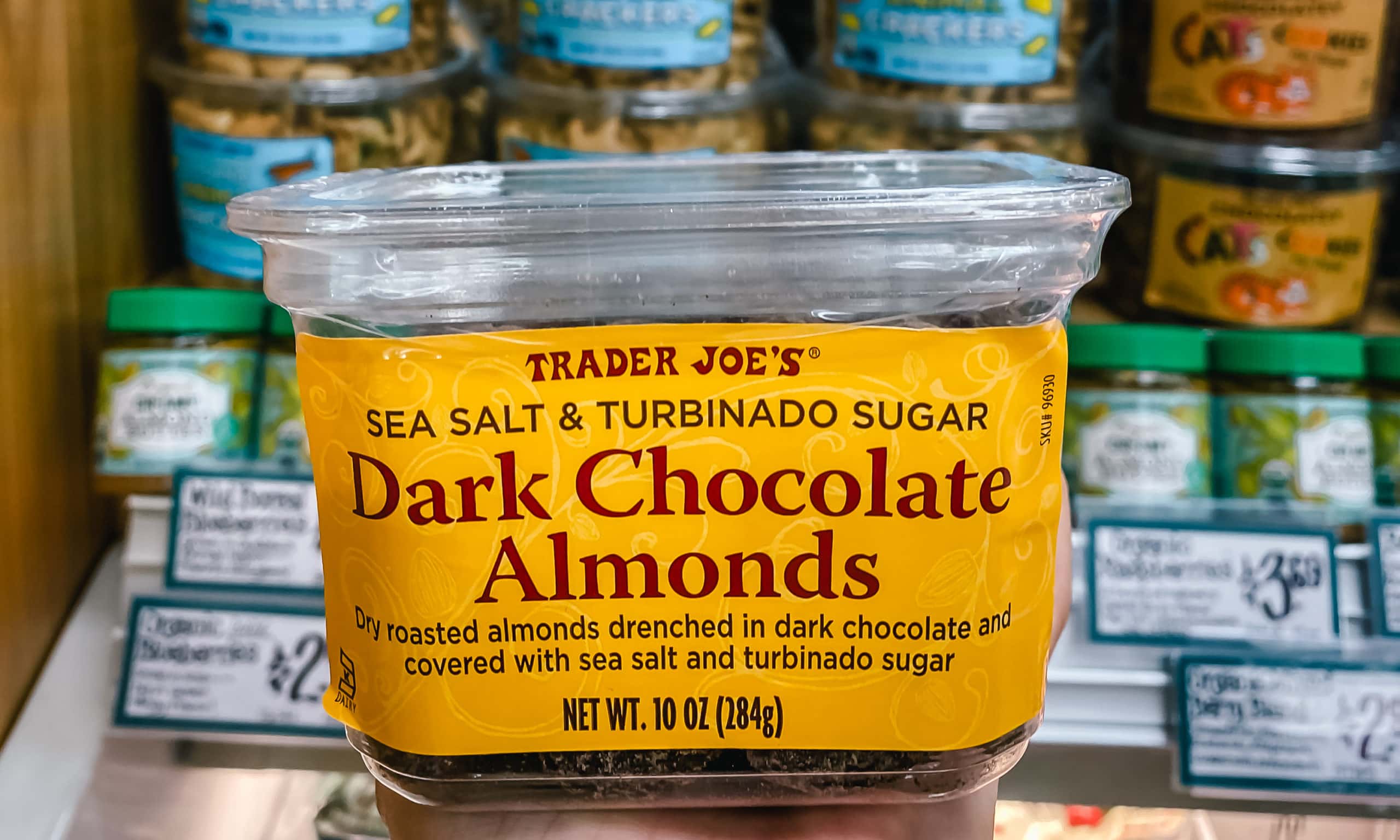 43. Toasted Coconut Pancake Mix. This coconut pancake mix tastes just like homemade and you only need to add water. So easy and delicious!
44. Milk Chocolate Macadamia Nut Chocolate Lace Cookies. These are one of my absolute favorite treats from Trader Joe's. They are super simple but the caramel, chocolate, and subtle crunch from the macadamia nuts are the perfect combination.
45. Green Dragon Sauce. This is the perfect accompaniment for scrambled eggs, burritos, or tacos. Such good flavor.
46. Sweet Potato Fries. Perfect for the air-fryer if you are looking for classic sweet potato fries. I love to pick these up for quick dinners for the kids.
47. Fresh Ravioli. This is hands-down one of my favorite things to buy at Trader Joe's because you can find all of your seasonal ingredients rolled into a handmade ravioli. Plus it is so aesthetically pleasing! This is the Sweet Corn Ravioli for summer but don't miss out on the pumpkin ravioli in the Fall.
48. Everything Ciabatta Rolls with Bagel Seasoning. If you want to take your breakfast sandwich game up a notch, put some bacon, egg, and cheese on these ciabatta rolls. You could even make open-faced avocado toast with them.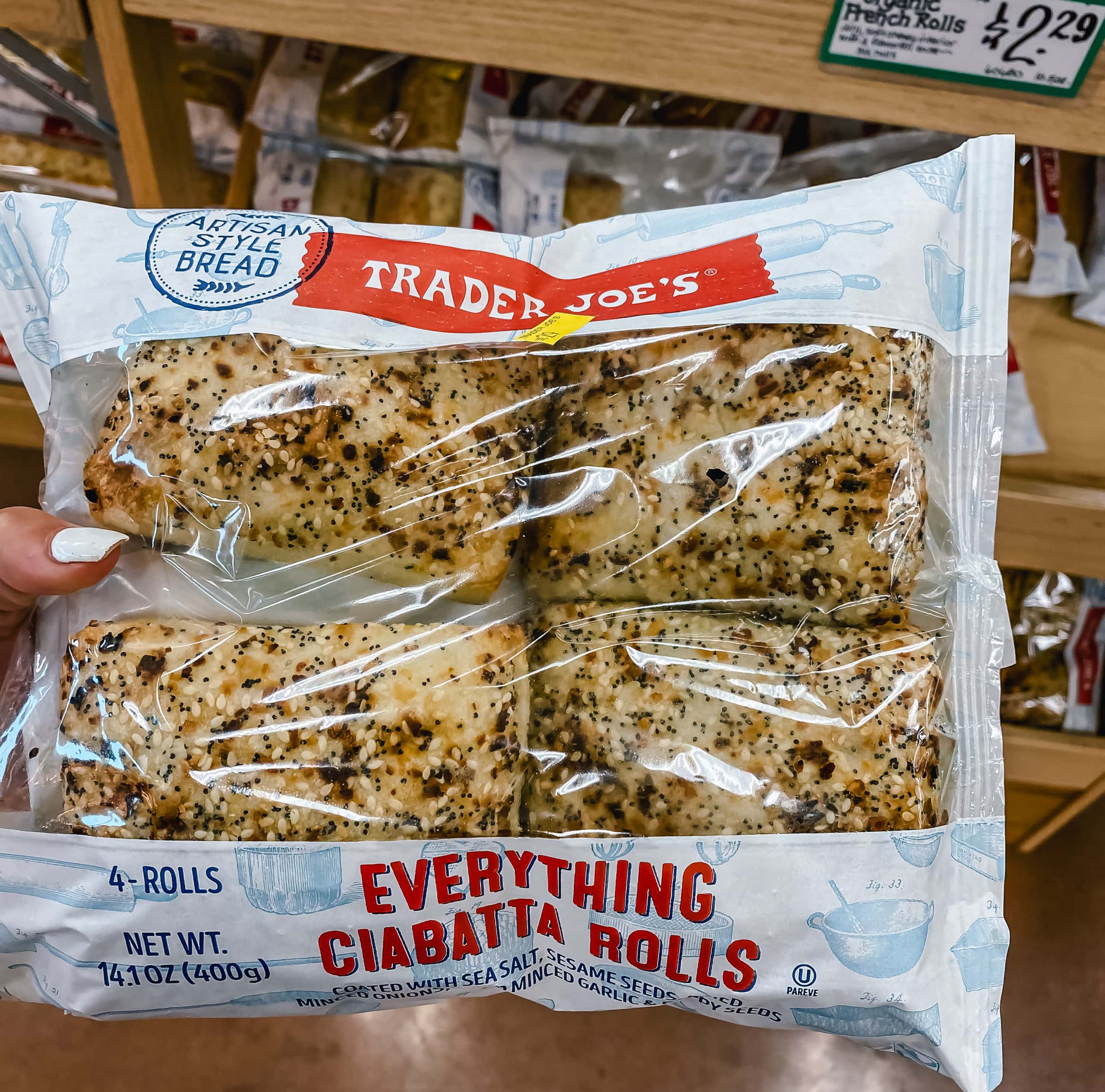 49. Barebells Protein Bars. All with no added sugar and 20 grams of protein. These are my daughter's favorite protein bars so we stock up when we see them at Trader Joe's!
50. Guava Passionfruit Greek Yogurt. This is creamy, slightly sweet, slightly tangy with tropical flavors. This is a nice hybrid between unsweetened Greek yogurt and the sweetened yogurts you find in the store. I love the flavor on this one!
51. Green Goddess Dressing. Low calorie, full of flavor, and perfect to drizzle on bowls or salads. We keep this in the refrigerator at all times. Find it near the produce at Trader Joe's.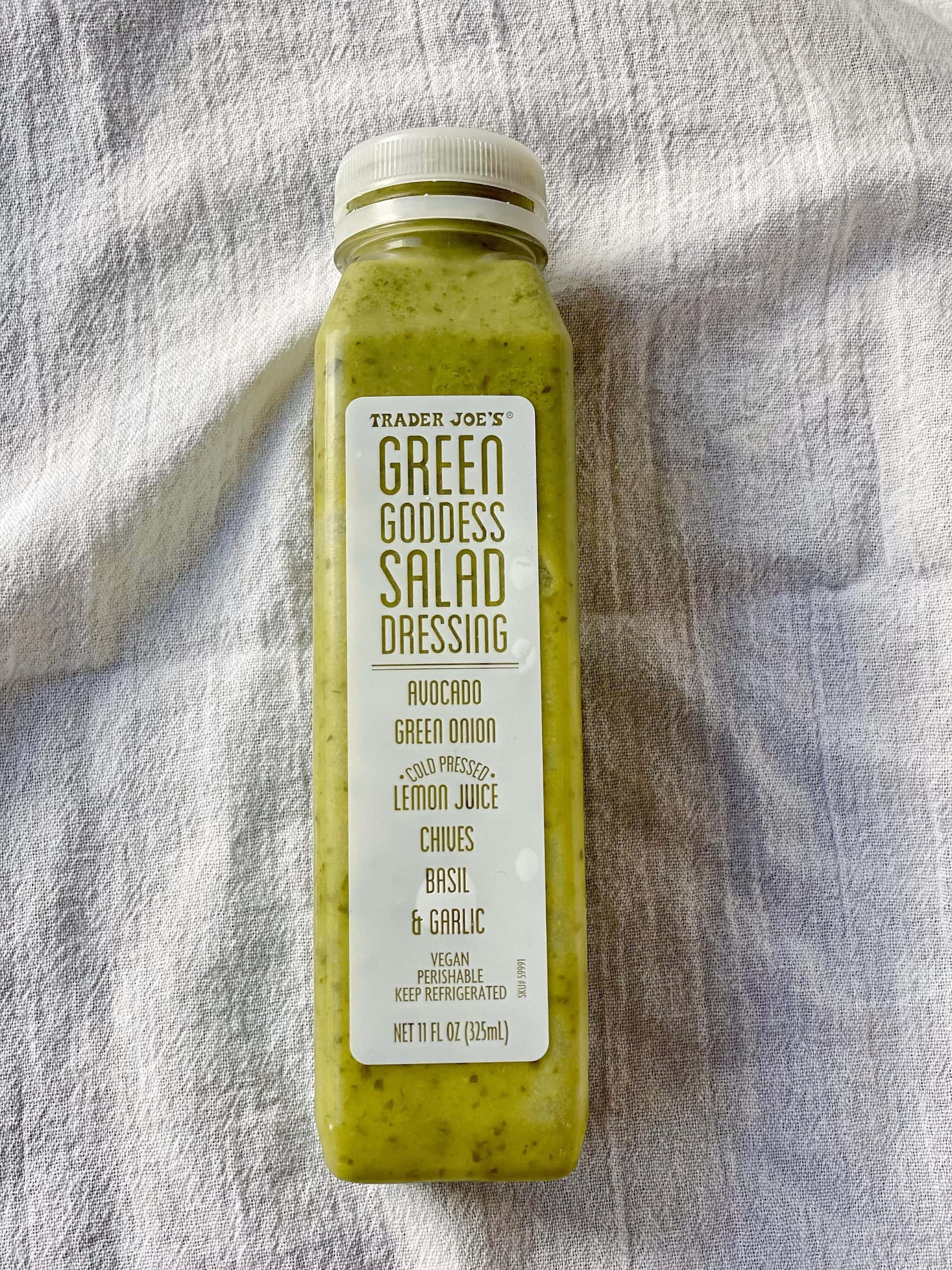 Add these to your grocery list for good measure:
Honorable Mentions: Sundried Tomatoes in Olive Oil, Key Lime Pie, Almond Butter, Salted Crunchy Peanut Butter, Roasted Red Peppers, Sourdough Bread, Corn Chippers, Greek Feta in Brine, Organic Marinara, Triple Ginger Cookies, Gone Bananas Chocolate Covered Bananas, Jo Jo's Cookies, Burrata, Cocoa Almond Spread, Spiced Cider, Coconut Milk Chocolate Ice Cream, Spinach Artichoke Dip, 21 Seasoning Salute.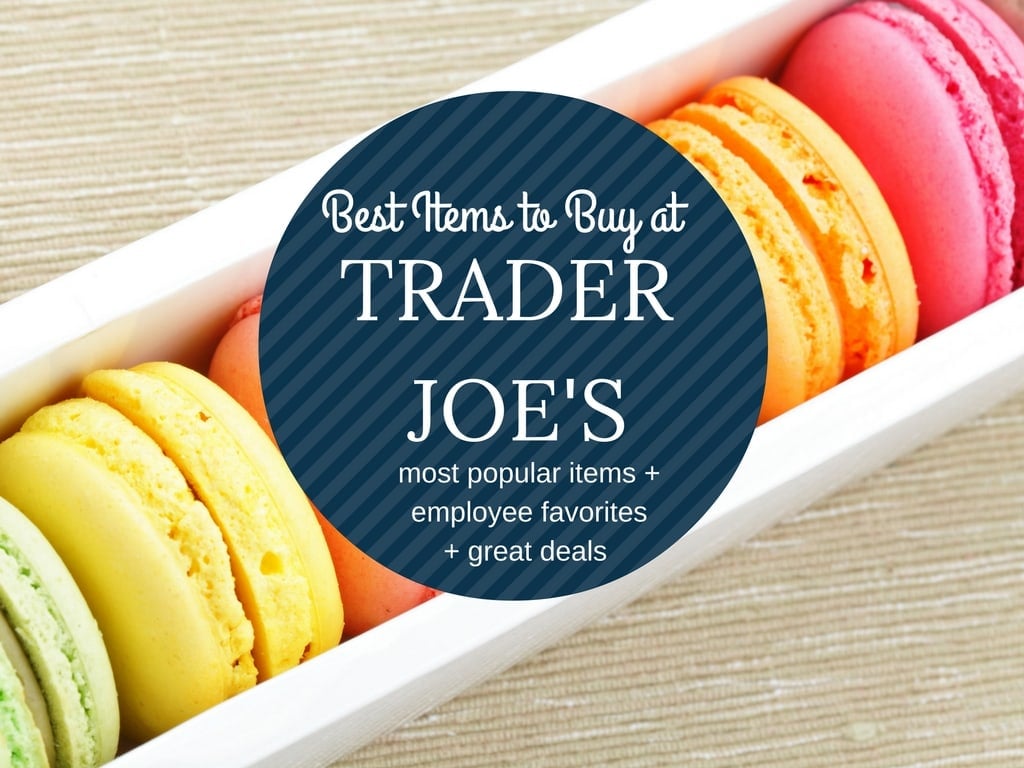 What did I miss? What are your favorite, go-to foods that you must have at Trader Joe's? Leave me a comment so I can have an excuse to go back and try more food. Pin this Best Items to Buy at Trader Joe's for later on Pinterest and share with your fellow Trader Joe's loving friends.