Light, Fluffy Buttermilk Pancakes with Sprinkles and topped with a Cream Cheese Glaze. The perfect Birthday Pancakes Recipe! A knock-off of the famous IHOP's Cupcake Pancakes.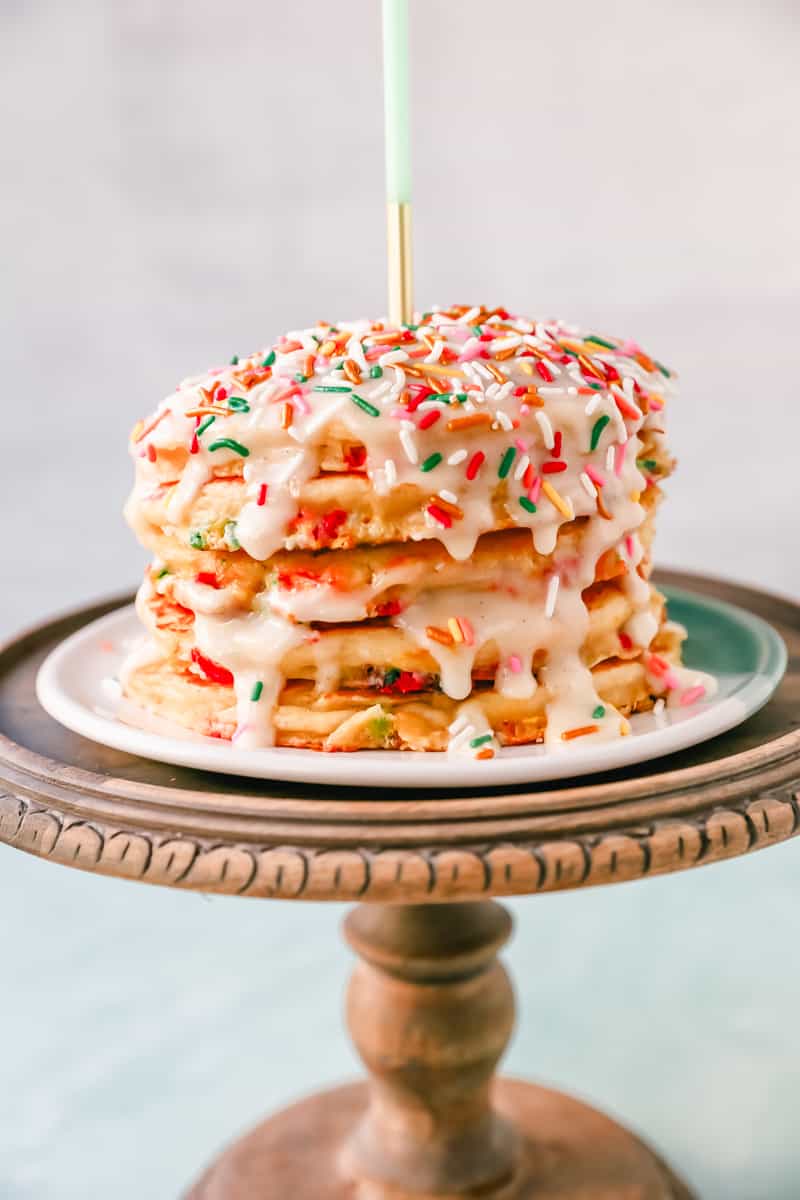 Today is my daughter's birthday and she is my sugar-loving little girl (not so little at 14-years old!) so what better way to kick off her birthday than with special birthday sprinkles pancakes? These are the most festive and colorful pancakes that are light and fluffy and taste amazing! You can even put a candle in them to start off the special day by blowing out a candle and singing "Happy Birthday."
I have seen IHOP's famous Cupcake Pancakes and wanted to make them at home from scratch so here's a copycat version of their recipe. I also saw a birthday pancake kit at Williams-Sonoma but it was $45! I knew that I could create a similar version at home for a fraction of the price.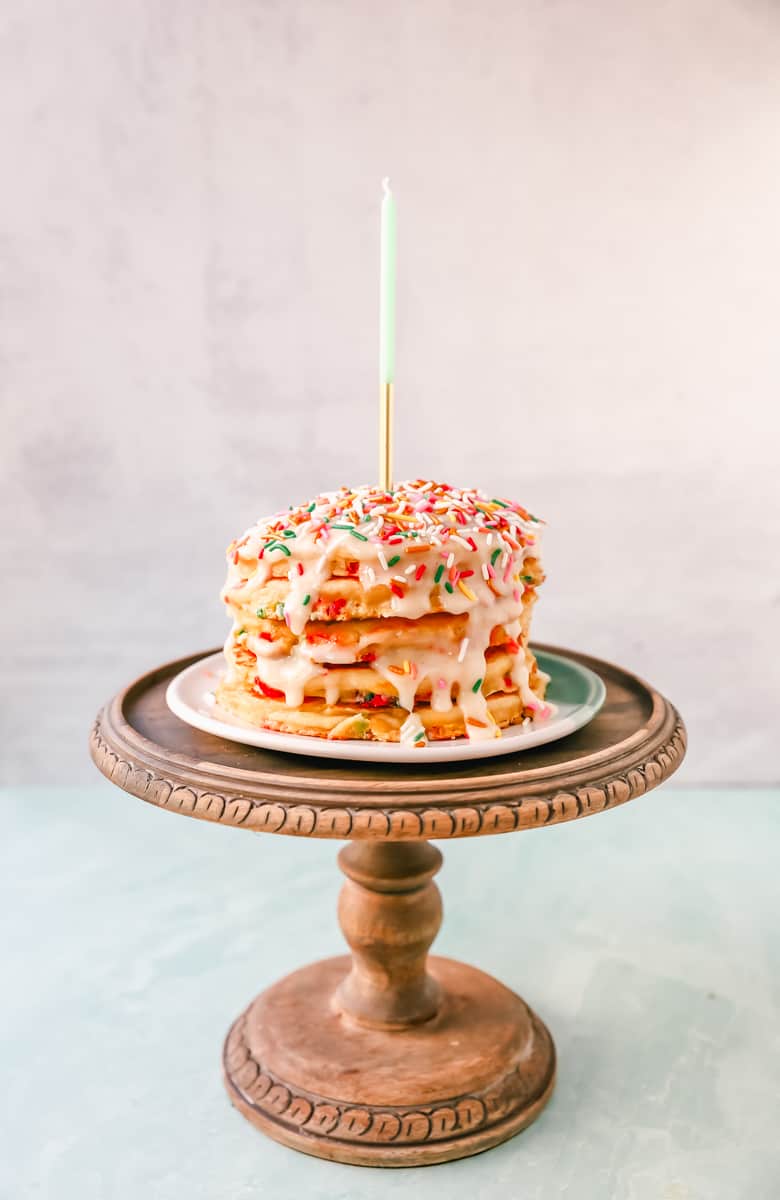 What are Happy Birthday Pancakes?
These Birthday Pancakes are homemade buttermilk pancakes filled with rainbow sprinkles and topped with a creamy and sweet cream cheese glaze. The perfect funfetti sprinkle pancakes for a birthday breakfast celebration.
Rainbow Sprinkles Pancakes Ingredients:
Buttermilk
Eggs
Melted Butter
Sugar
Flour
Baking Powder + Baking Soda + Salt
Rainbow Sprinkles
Cream Cheese Glaze: cream cheese + powdered sugar + butter + vanilla + milk (optional)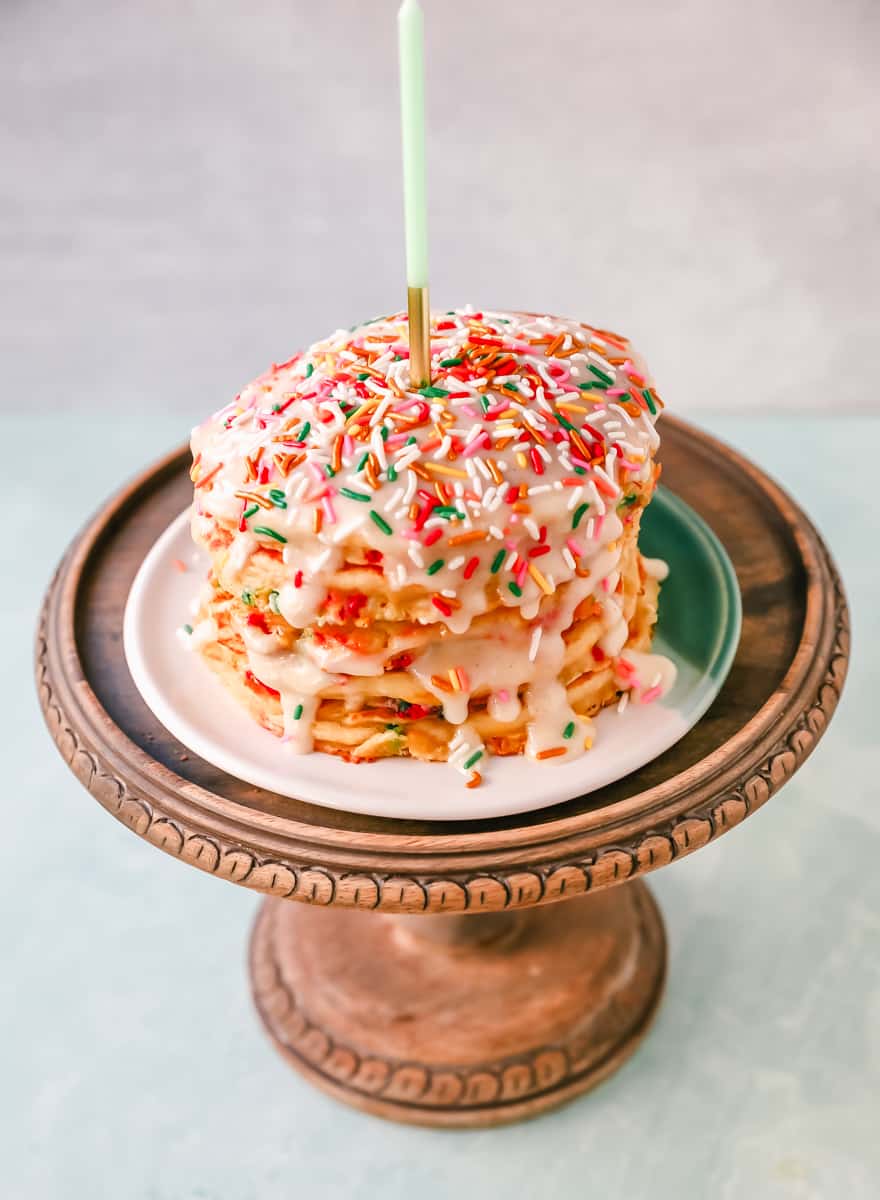 How to make Funfetti Cupcake Pancakes?
Start off by combining the dry ingredients in a large bowl. Add in buttermilk, melted butter, and eggs and whisk to combine. I suggest using buttermilk in this recipe, rather than milk because it creates the most tender, melt-in-your-mouth pancakes.
Heat a large skillet or griddle over medium-low heat. Don't get the skillet too hot or the exterior of the pancakes will cook too fast and burn before the center is fully cooked. A medium-low heat works well but I suggest doing a test pancake to ensure the heat is the optimal cooking temperature.
Add a pat of butter or spray the pan with non-stick cooking spray. If you use butter, it adds a golden crust to the outside of the pancakes and some extra flavor.
Pour ¼ to ½ cup of pancake batter into the pan. Have your rainbow sprinkles ready! Generously sprinkle the rainbow sprinkles all over one side of the pancake before flipping it. Watch for the bubbles to appear on the top of the pancake and flip to cook the other side.
Make the cream cheese glaze by stirring together softened cream cheese, melted butter, powdered sugar, and vanilla. Check for consistency. Add a touch of milk if you desire a thinner consistency.
Stack the pancakes with sprinkles and drizzle on the sweet cream cheese glaze all over the top. Sprinkle with more rainbow sprinkles.
The fun thing about this sprinkles pancakes recipe is you can change it up for holidays. If you want to make festive 4th of July pancakes, you can use red, white, and blue sprinkles. If you want to make Easter pancakes, you can use pink, yellow, and light green sprinkles. If you want to make Christmas pancakes, you can use red, green, and white sprinkles.
MORE PANCAKE RECIPES: