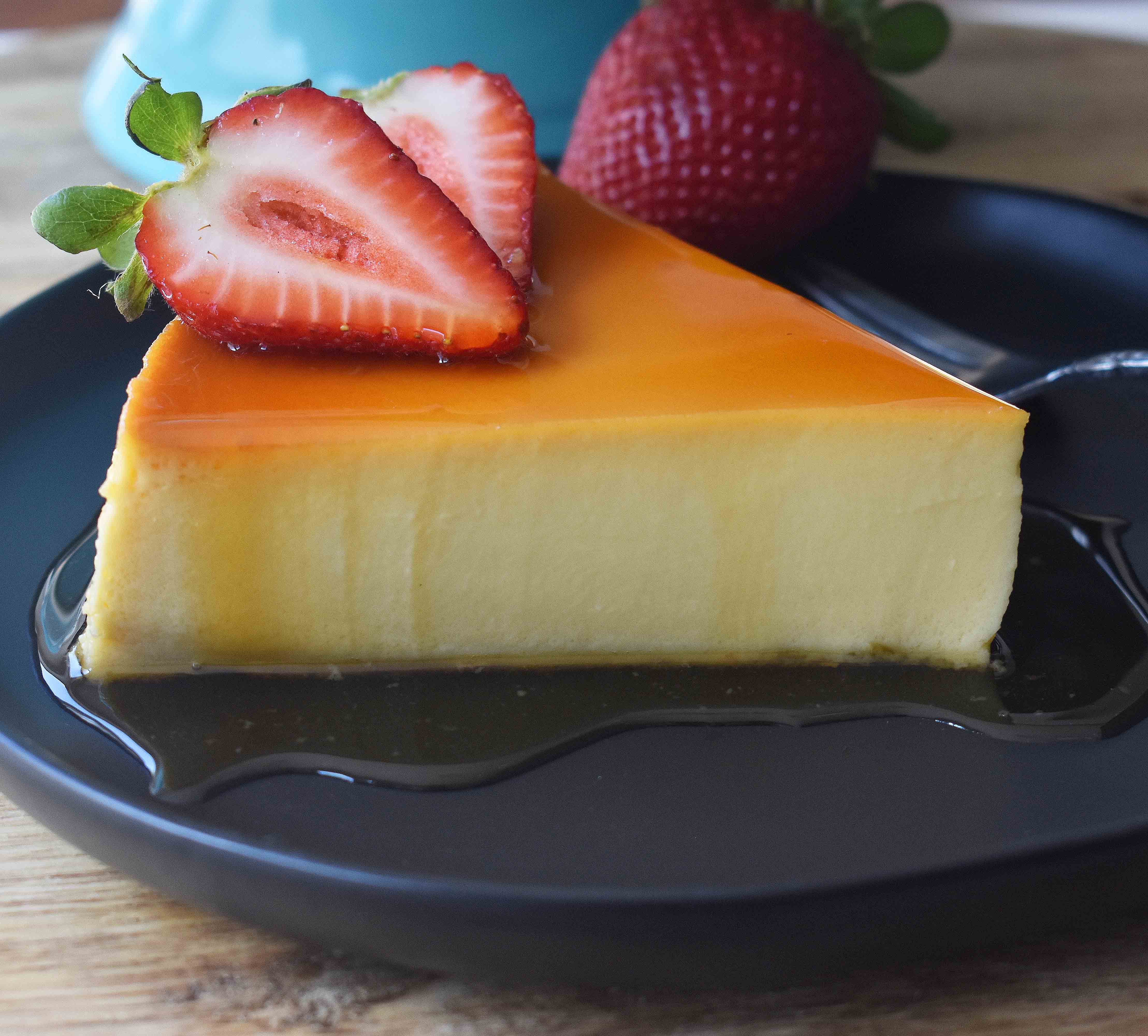 Caramel Flan Recipe
Creamy Caramel Flan is a traditional Mexican, Spanish, and Puerto Rican dessert. It is a rich sweet custard baked with caramelized sugar. 
When I was a little kid, I would sneak over to my neighbor's house when she was making her famous flan. She was from Puerto Rico and made a traditional Puerto Rican flan. Even though I was most likely only 8 or 9 years old, I can remember it like it was yesterday. I would pile a big dish full of her Puerto Rican flan and load it with whipped cream.
I am pretty sure that I loved food straight out of the womb.
I recently ran into her at the DMV, of all places. It was so wonderful to catch up and you better believe it, I asked for her perfect flan recipe. After studying the recipe, I realized there was one ingredient that set it apart -- cream cheese.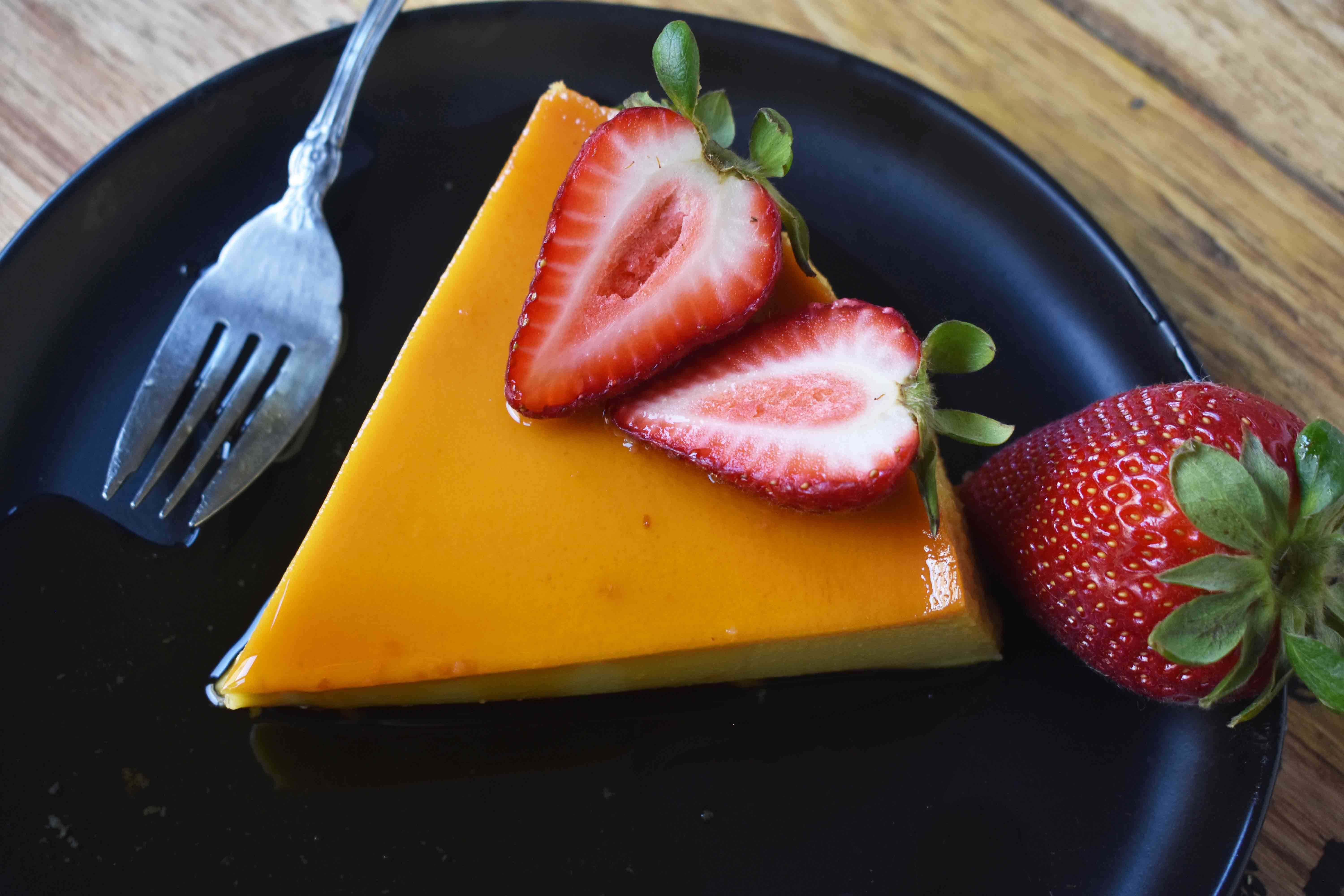 This began a process of playing around in the kitchen to create the perfect flan recipe. I made five caramel flan recipes to ensure it was absolute perfection. We have been eating a ridiculous amount of flan these days!
I started off making a flan with 16 ounces of cream cheese which made it have a cheesecake texture. It was absolutely delicious but not a traditional flan texture. I tried to go back to the basics and tried a straight egg custard with two types of milk and even though it had silky smooth texture, I missed the creaminess. I even tried canned coconut milk, sweetened condensed milk, and eggs to create a rich custard. It was heavenly but the coconut milk flavor came through a little too much.
I am telling you...I am picky in the kitchen! So, I decided to try a combination of ingredients and techniques. The ultimate Creamy Caramel Flan is made with caramelized sugar, evaporated milk, sweetened condensed milk, a touch of cream cheese, eggs, and vanilla. The four ounces of cream cheese gives it a touch of creaminess without tasting like cheesecake. This flan has the silkiest smooth texture and melts in your mouth. This is the best caramel flan recipe!
How to make the Perfect Flan:
 Start by caramelizing the sugar. This is the key step as it is the base for the perfect flan. Add sugar to a heavy-bottomed pan and cook on medium-low heat until the sugar is melted and a golden brown. Lift up the pan and swirl it around to ensure even melting. Get the pan ready so as soon as the sugar is melted, it can be quickly poured into the pan.
Make the filling by mixing softened cream cheese, evaporated milk, sweetened condensed milk, sugar, eggs, and vanilla. This filling can be whipped up in a blender to make sure it is creamy.
Pour the filling on top of caramelized sugar.  Place the pan on a larger baking sheet or roasting pan. Place in oven and carefully add hot water to reach at least 1-2 inches on the sides.
Bake at 350 degrees for 1 hour. Carefully remove flan from oven, leaving behind larger pan filled water. Once flan is removed, carefully remove the pan of hot water. Place flan back inside roasting pan, filled with water, to slowly cool for 30 minutes.
Place flan in the refrigerator to chill for at least two hours, overnight is ideal. 
When ready to serve, take a knife and run along sides of the pan.  Take a cake plate or serving platter and place it on top of the pan. Flip it over and the flan with release so the caramel is now on the top. The caramel will slowly drip off of the pan so make sure you get all of the caramel.
Serve with fresh whipped cream and strawberries.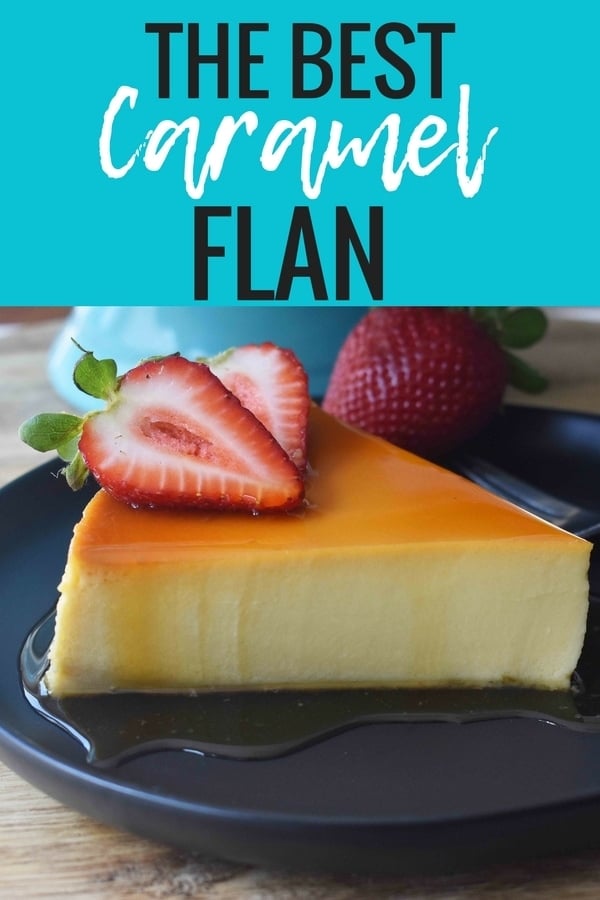 I can't wait to hear what you think about this Caramel Flan Recipe!