This Fresas con Crema is an authentic Mexican dessert made with fresh sliced Strawberries, Mexican Crema, Heavy Cream, and Sweetened Condensed Milk. This is the best Strawberries and Cream recipe!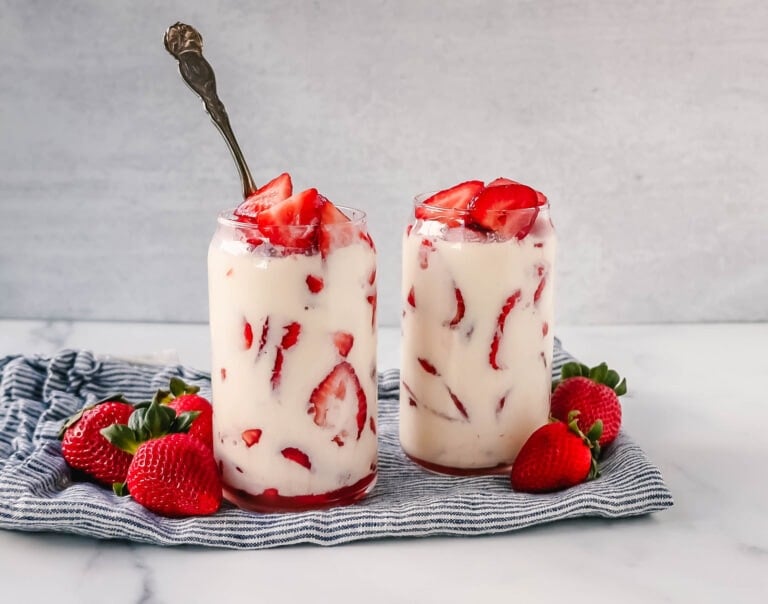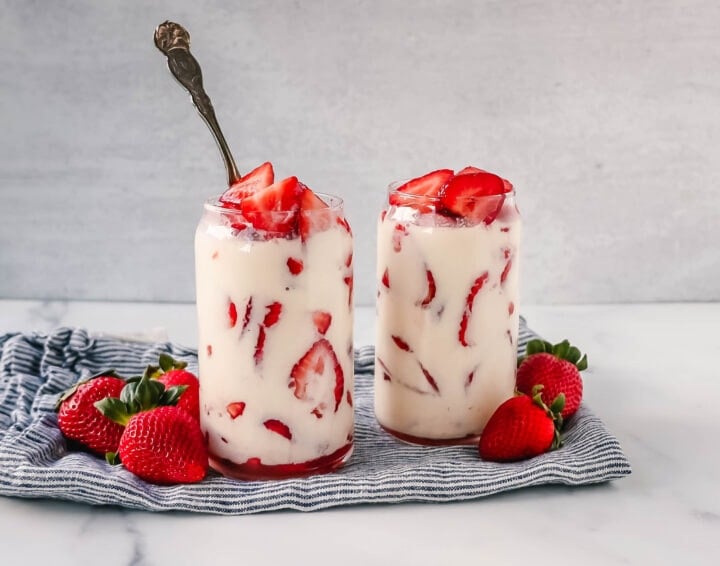 I grew up eating this Mexican dessert at our local Mexican ice cream shop. Strawberries and Cream have always been our favorite item to order and it is one of our favorite fresh desserts. Anytime we are visiting my parents, we make a visit to pick up a big cup of Fresas con Crema.
I wanted to learn how to make it at home so I recipe-tested it over and over and over again to get it just right. It needed just the perfect amount of sweetness, creaminess, and a touch of tanginess. This Fresas con Crema recipe is absolute perfection!
I love to serve this Strawberries and Cream dessert in the summer when the strawberries are perfectly ripe. We love this Mexican dessert recipe!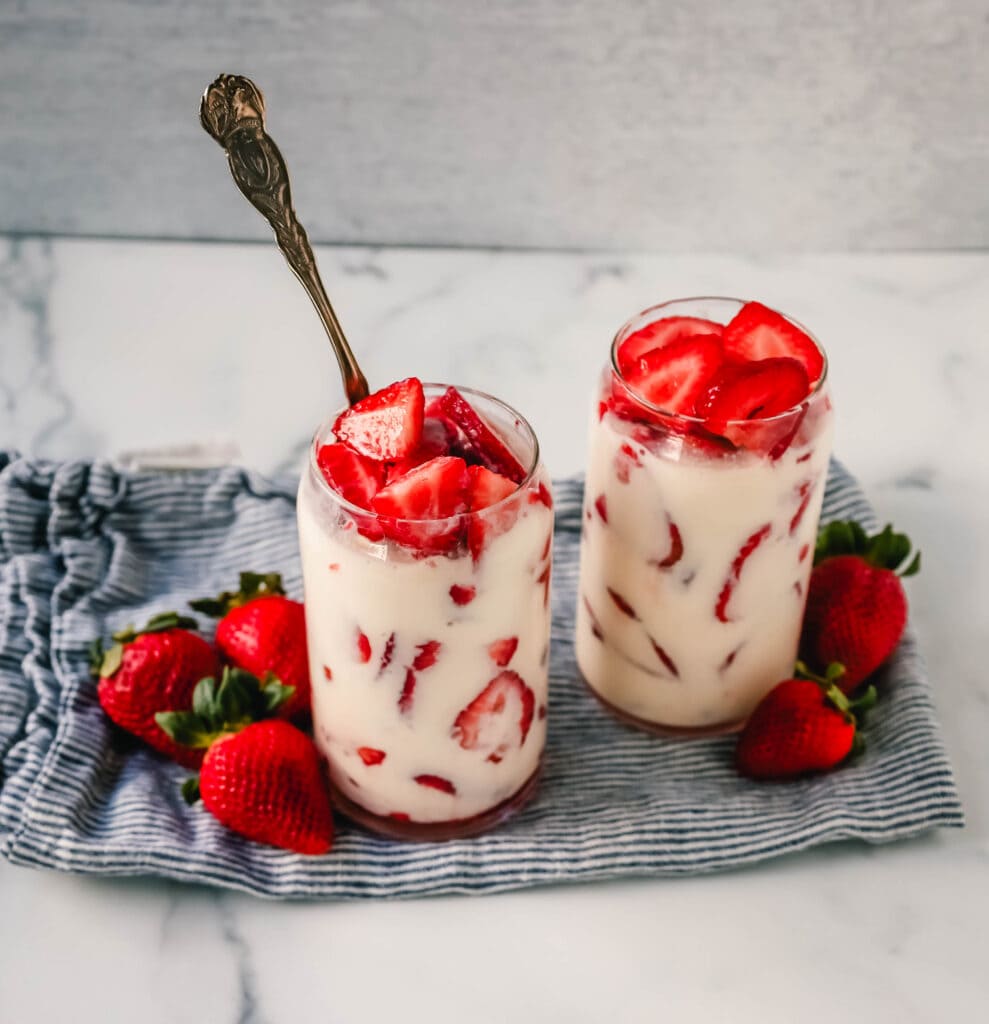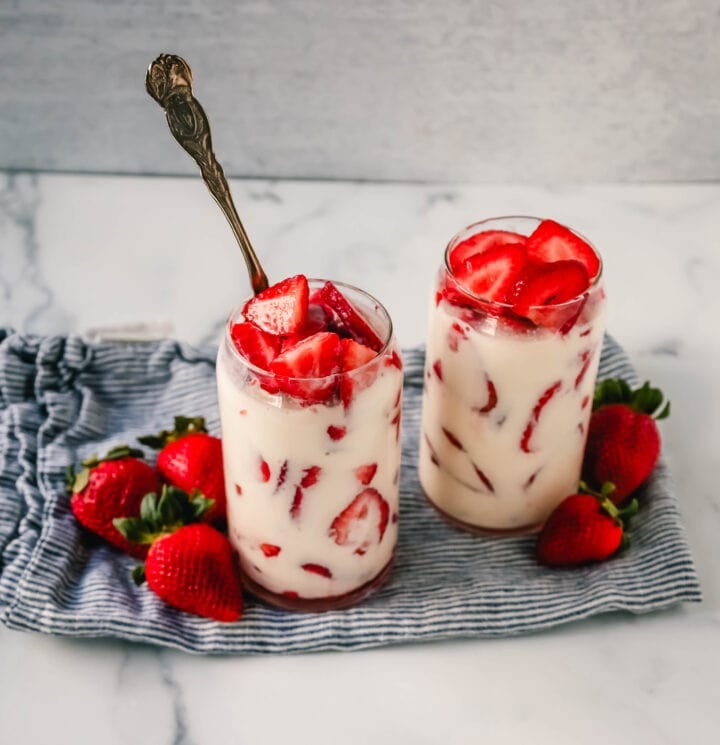 What ingredients are in Fresas con Crema (Strawberries and Cream):
Fresh Sliced Strawberries
Mexican Crema
Sweetened Condensed Milk
Heavy Cream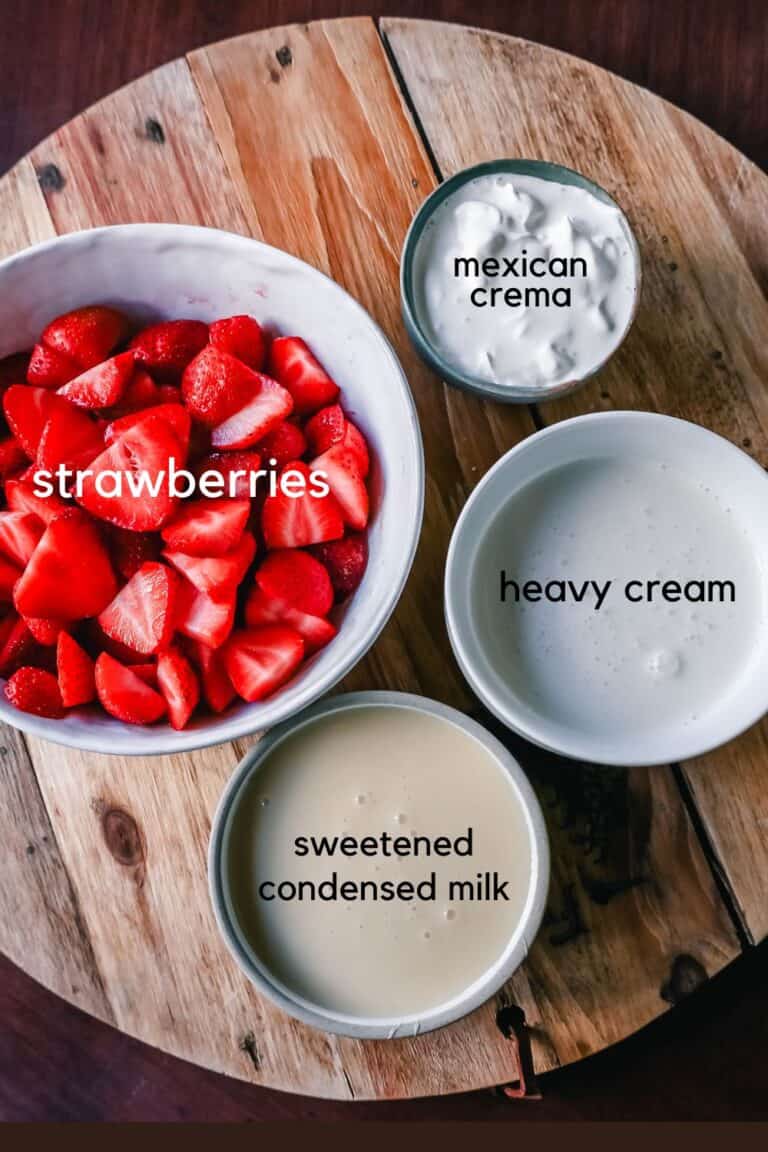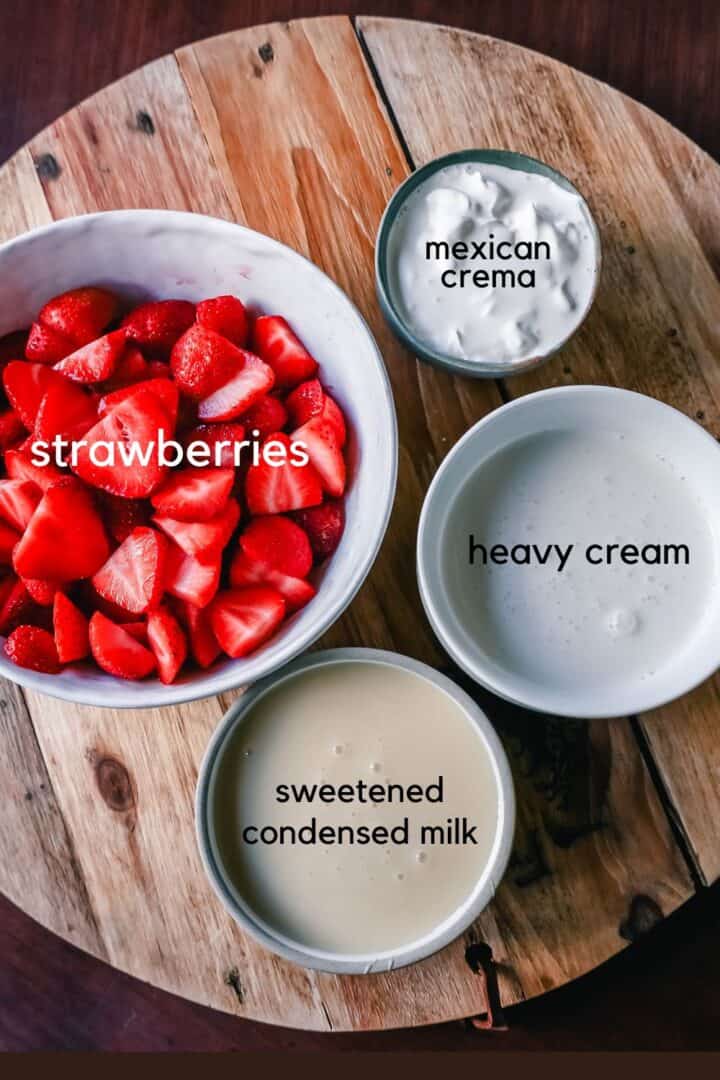 What is Mexican Crema?
Mexican Crema is a creamy and slightly tangy cream much similar to sour cream. It is richer than sour cream and is used in many Mexican dishes to drizzle on top of tacos, enchiladas, soups, and more.
How to make Strawberries and Cream:
Start by picking out fresh, ripe, red strawberries. Cut the stems off of the strawberries and slice lengthwise. Place in a large bowl and I like to toss the strawberries in a touch of sugar. This helps to bring out their natural juices and sweetness.
In a medium bowl, add mexican crema, heavy cream, and sweetened condensed milk. Whisk together until it is creamy and smooth. I will add optional ingredient substitutions below.
Place the strawberries in a clear cup, a clear glass, or a bowl. Pour the cream mixture over the strawberries until you reach near the top of the glass.
Serve chilled.
If you aren't serving the cream mixture right away, I suggest filling a larger bowl with ice and setting the medium bowl, with the cream mixture inside, in the larger bowl of ice to keep it chilled. The bowl protects from ice getting inside of the cream mixture but helps to keep it chilled. You may also place it in the refrigerator to keep chilled.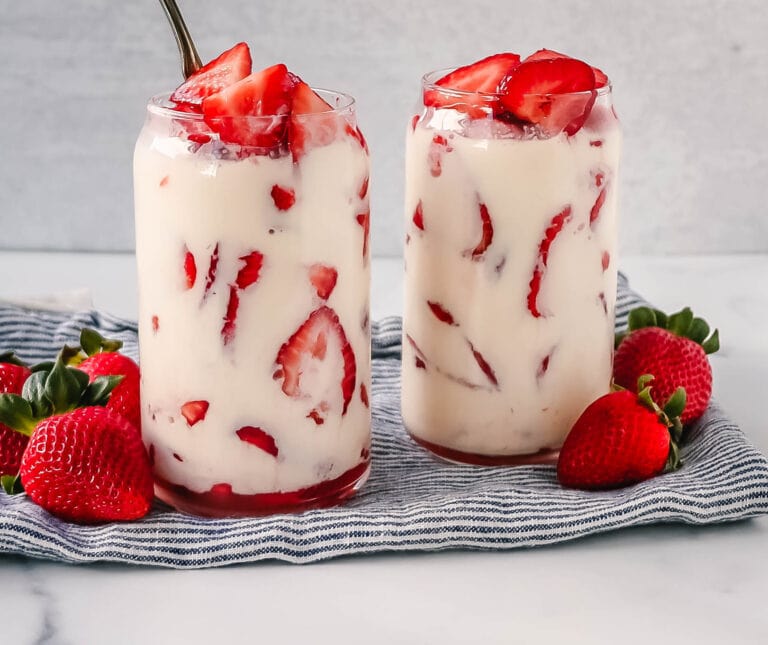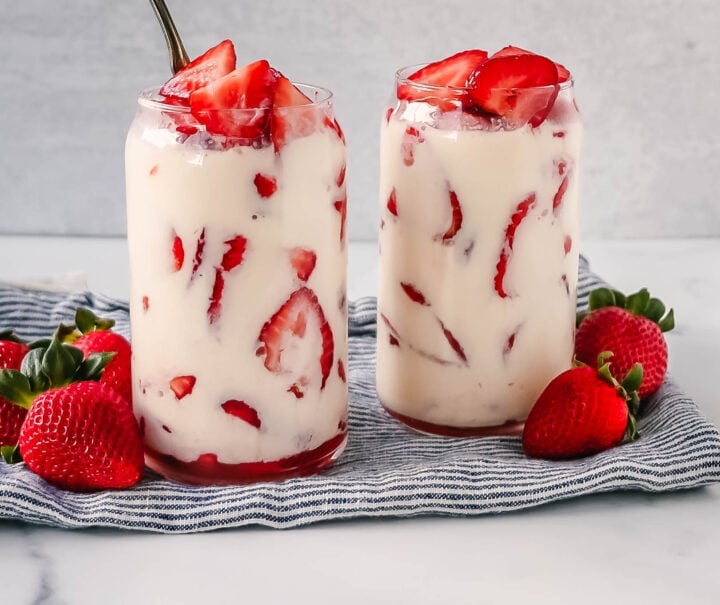 Fresas con Crema Substitutions:
Strawberries -- you can use substitute your favorite type of fruit for the strawberries from raspberries, peaches, blackberries, blueberries, bananas, mango, cherries, and more.
Mexican Crema -- you can substitute sour cream or Greek yogurt in place of the mexican crema. I suggest adding 1-2 Tablespoons of heavy cream to make the sour cream a thinner consistency.
Heavy Cream -- you can substitute half-n-half for the heavy cream called for in this strawberries and cream.
Sweetened Condensed Milk -- I would suggest using only sweetened condensed milk and not making a substitution.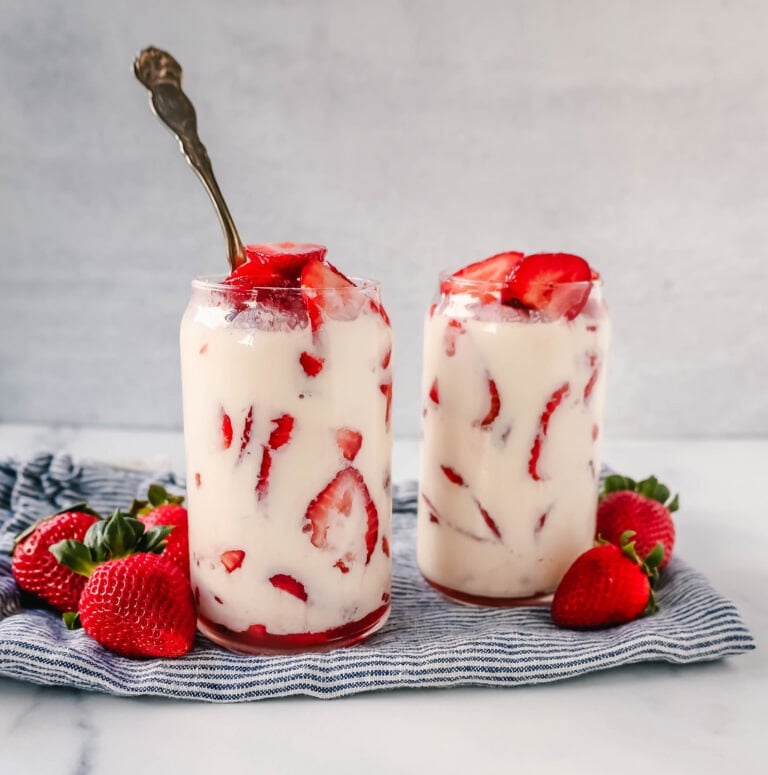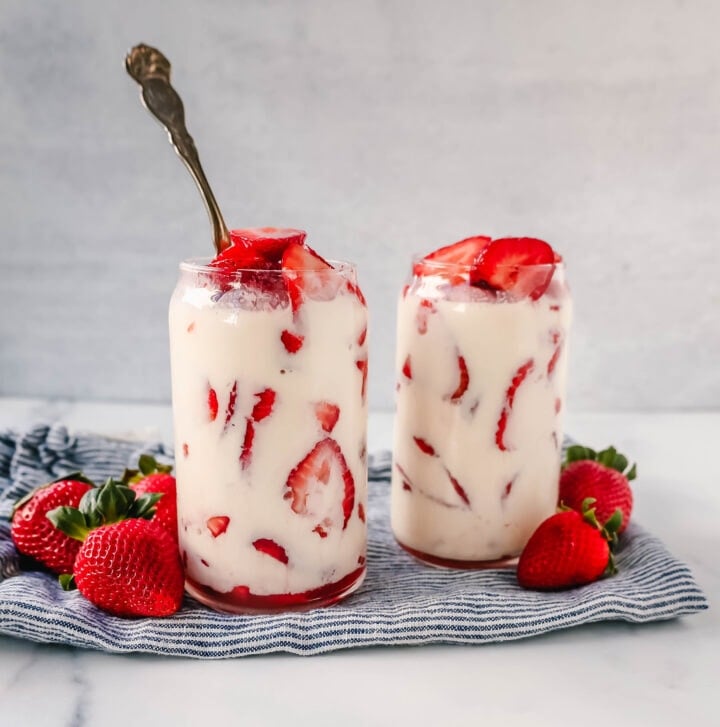 I love to serve this Fresas con Crema with a Mexican meal. Some of our favorite Mexican recipes are Barbacoa Beef, Mexican Street Corn Chicken Tacos, Restaurant-Style Salsa, and Creamy Jalapeno Cilantro Dip.
Equipment for making Fresas con Crema (Strawberries and Cream):