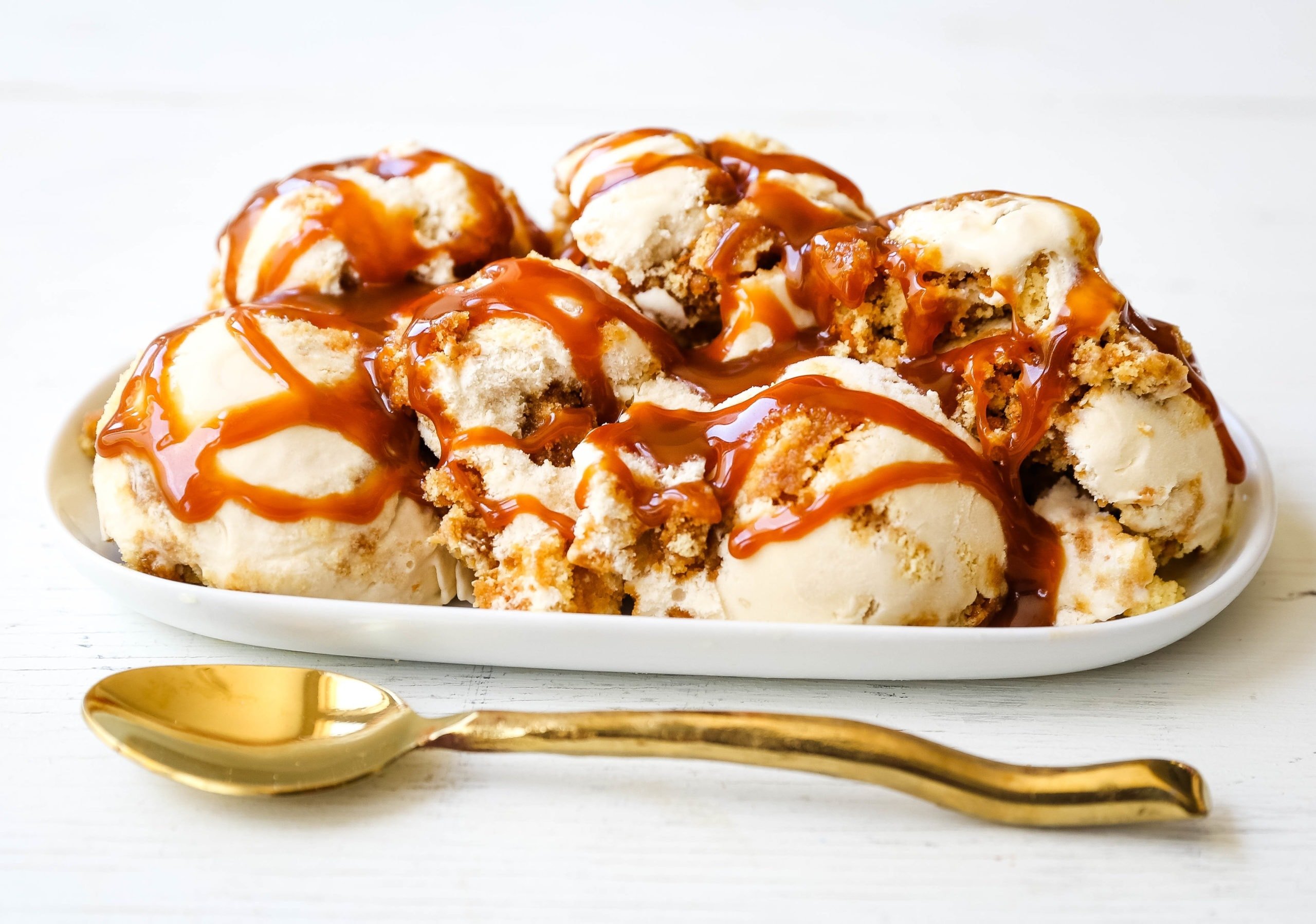 Caramel Gooey Butter Cake Ice Cream
Creamy homemade vanilla ice cream with chunks of homemade butter cake and swirls of decadent sweet caramel.
Happy Memorial Day weekend! This is the official start of summer and I am all about it. I love fresh cold watermelon, BBQ-ing on the grill, days spent on the lake, and making our own homemade ice cream.
A few years ago, we traveled as a family to the South for our Spring Break. We stayed in Hilton Island, South Carolina, and would take day trips to Savannah, Georgia, and Charleston. The South just oozes charm and I soaked up every minute of it. One of our favorite stops was in Charleston. We stumbled upon an ice cream store with rave reviews. There was a long line which is always a good sign.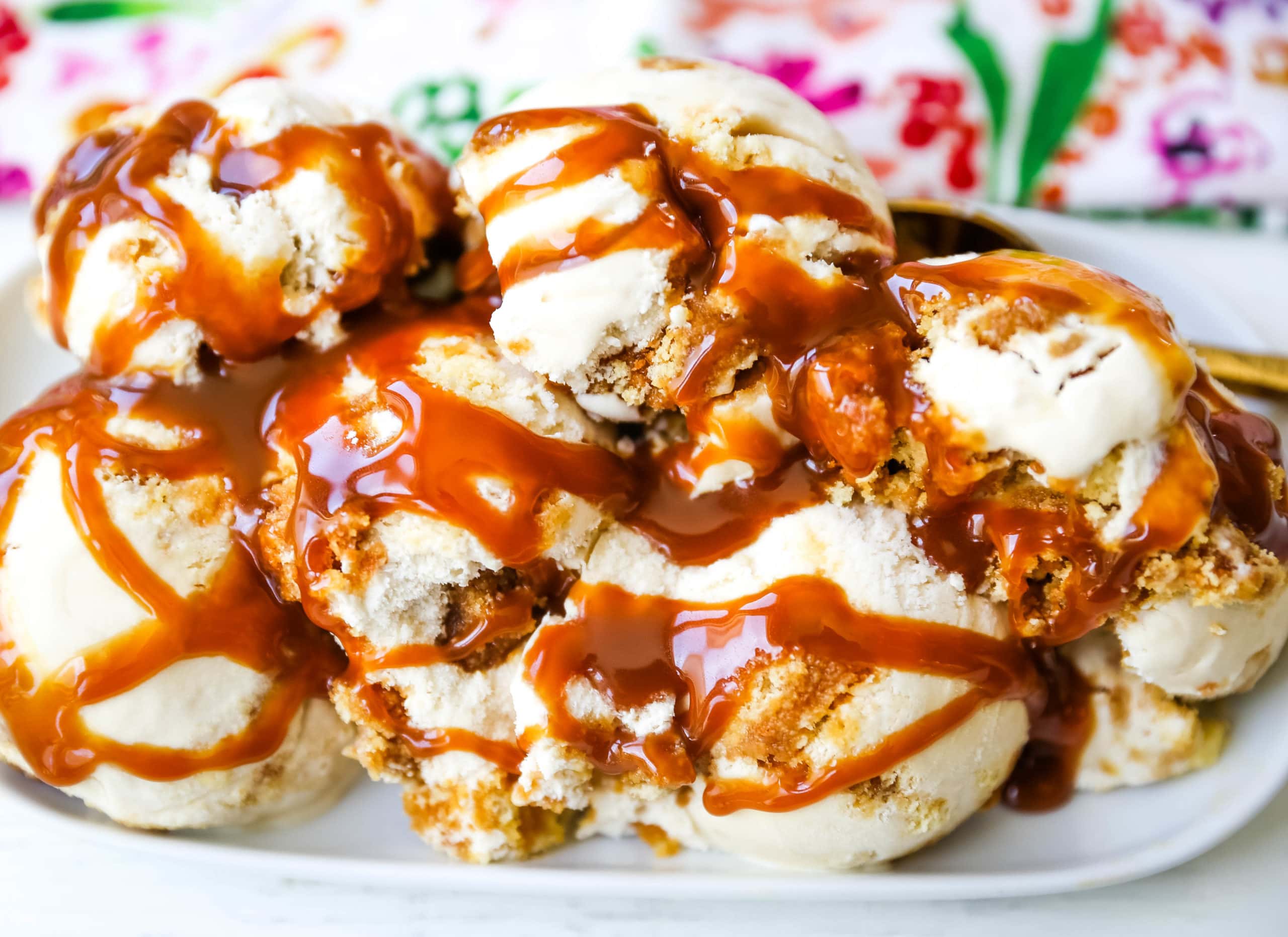 This ice cream store, called Jeni's, makes all of their ice creams from scratch and we decided to try just about all of them! I couldn't believe that they were all slam dunks but the standout was her Gooey Butter Cake Ice Cream. I had to get my hands on the recipe and recreate it at home!
Thankfully, Jeni has put out her own ice cream cookbook and it is AMAZING. This was the first ice cream recipe I tried from her book and have made it several times and kept tweaking it to get it just right for us at home. Now it is time to share the recipe with you!
This Caramel Gooey Butter Cake Ice Cream is a creamy vanilla base with caramel soaked butter cake all in it with swirls of rich caramel sauce. It is sweet, buttery, with a touch of salty-sweet that will make you want to go back over and over again. This isn't your typical vanilla ice cream with a few add-ins. She uses some unique ingredients and methods to make a stellar product.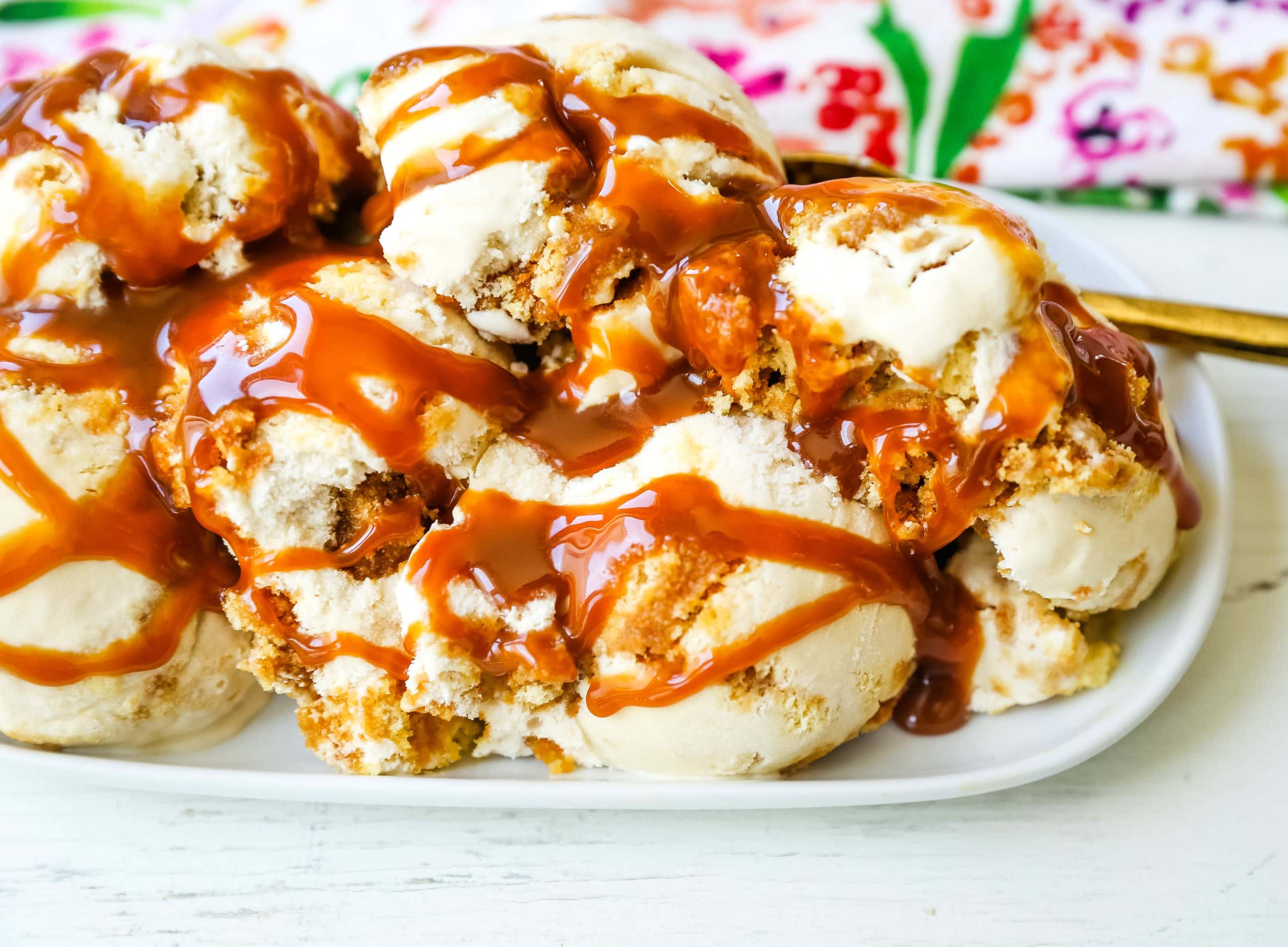 The base of the ice cream starts with heavy cream, whole milk, brown sugar, cream cheese, light corn syrup, and a pinch of salt. The cream cheese gives it a slightly tangy flavor and balances out the sweetness.
The gooey butter cake is a light and airy cake (the eggs and sugar are whipped for 10 minutes!) and perfect for the creamy ice cream. Once the cake is baked it is soaked in a caramel sauce. Then I love to add extra caramel and swirl it through the vanilla ice cream. It is ridiculously good!
You can use any type of ice cream maker for this Caramel Gooey Butter Cake Ice Cream recipe. I use the Cuisinart ice cream maker and love it.
I made some changes to Jeni's Ice Creams recipe and after making it several times. First of all, I reduced the cream cheese because I thought it was a little too tangy and added more heavy cream instead. Also, I added more caramel to the ice cream. Since the caramel is used to soak the gooey butter cake, I also wanted more to swirl around in the ice cream. There were a few more small variations to the recipe but those were the big ones!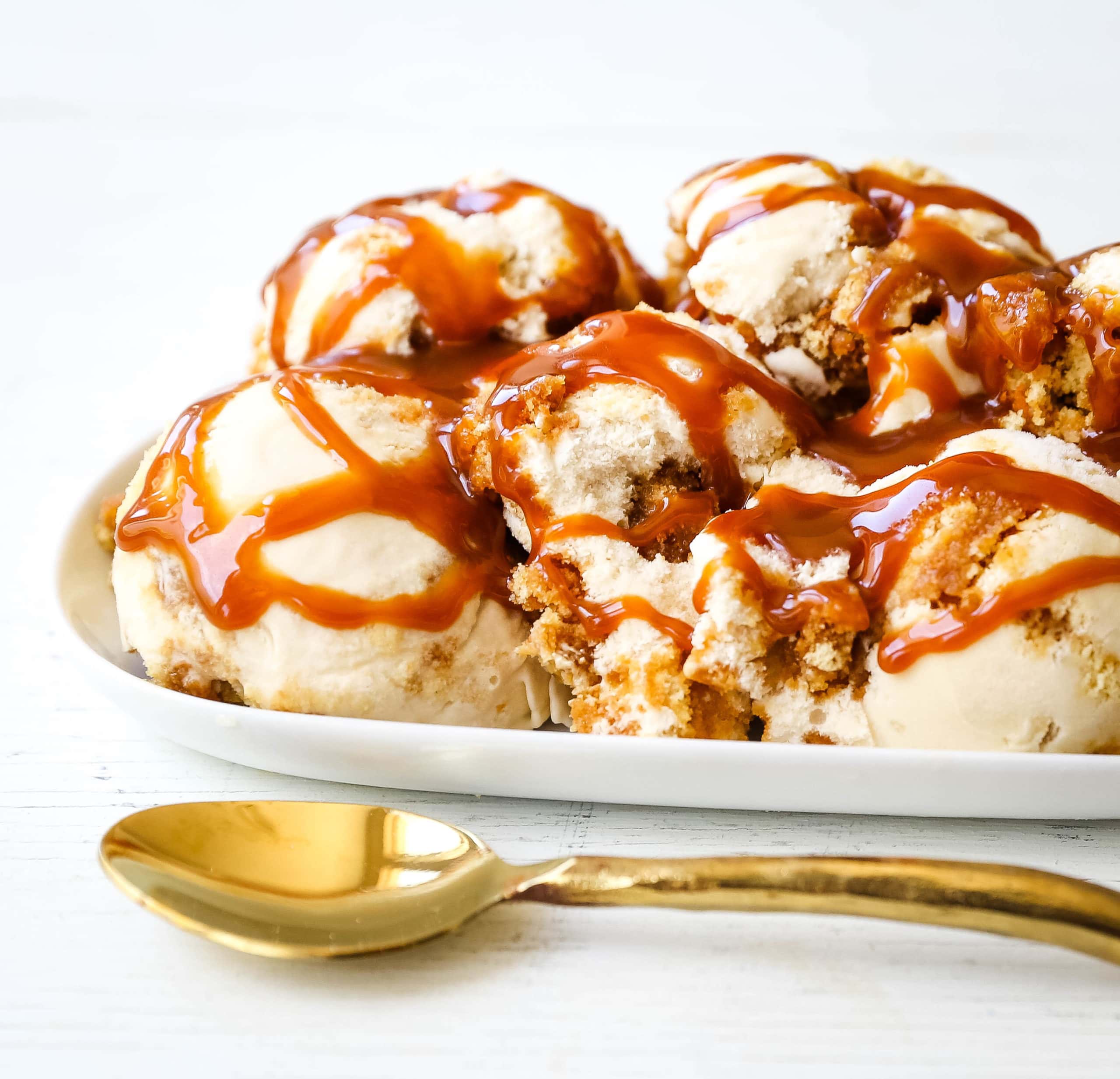 How to make Caramel Gooey Butter Cake Ice Cream:
Start by making the Gooey Butter Cake. This is done by whipping the eggs, egg yolks, sugar, brown sugar, and salt for 10 minutes, until light and fluffy. This gives it the light and airy texture. This cake isn't high in fat (it only calls for 1 ½ Tablespoons of butter) so it is important to coat it with rich caramel. Once it is baked, set it aside.
Cook the whole milk, heavy cream, brown sugar, and corn syrup until boiling. Before adding the cream cheese, you want to make sure it is very soft so it can be incorporated more easily.
Make an ice bath. This is an important step to cool the ice cream mixture BEFORE putting it in the ice cream maker. Pour the mixture into a freezer-safe gallon-sized bag and place it in ice bath for at least 30 minutes.
Let churn until it becomes thickened. If you want some extra buttery flavor, you can add a few drops of butter flavoring to the ice cream as it is churning. While it is churning, cut the gooey butter cake into very small squares. Place in a bowl and toss with ¾ of caramel.
Pack the ice cream into a storage container to place in the freezer, layering it with the cake and with caramel. Freeze until firm -- at least 4 hours.