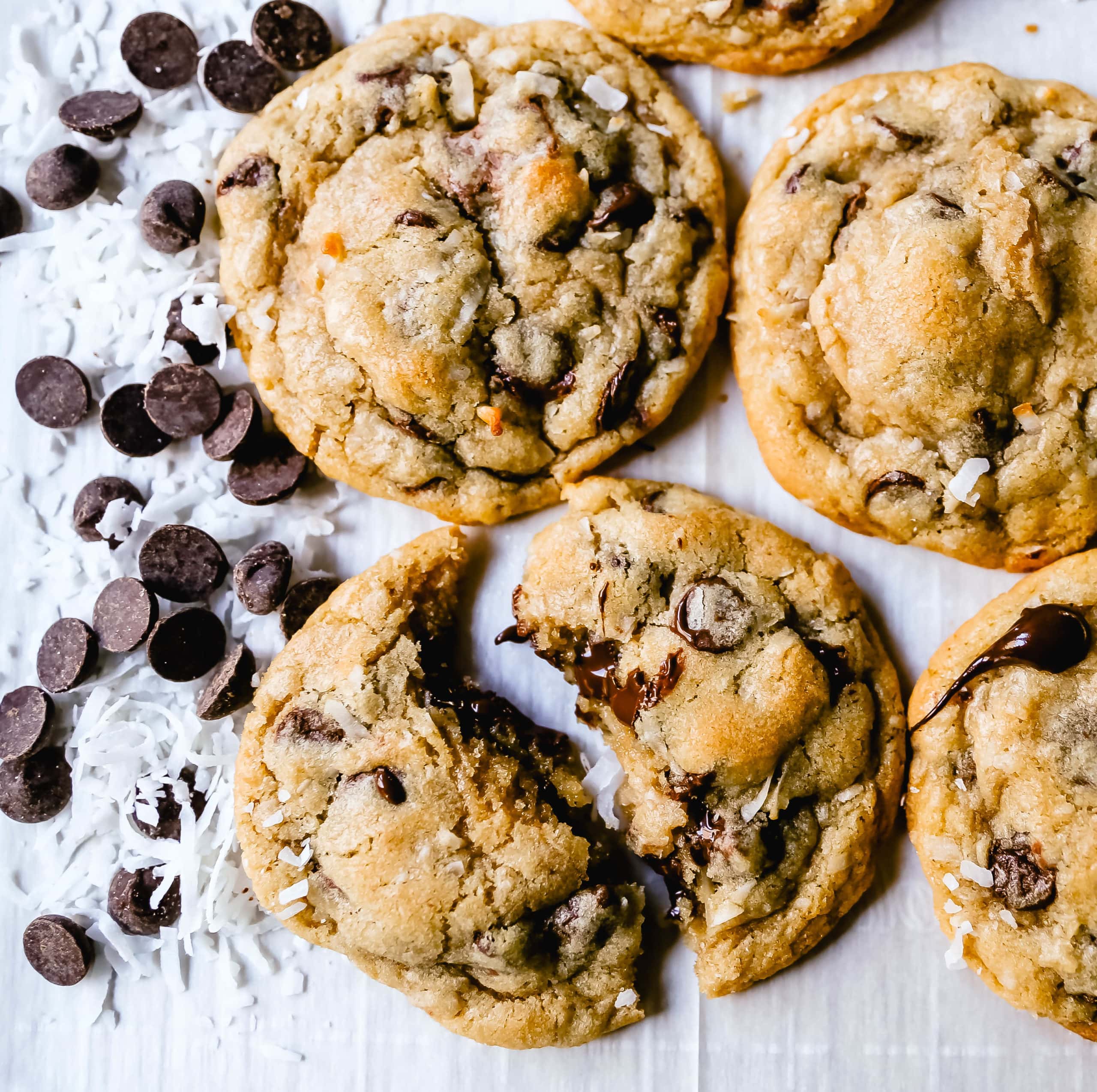 Chocolate Chip Coconut Cookies
Soft, chewy chocolate chip coconut cookies with semi-sweet chocolate and sweetened flaked coconut. The perfect chocolate coconut cookies!
Where are my chocolate coconut lovers out there? You know how much I love chocolate. And you may even know how much I love coconut. I have shared in the past that I would literally do so many chores just so I could earn enough money to ride my bike down to Smitty's and pick out the largest coconut I could find. I would eat the entire fresh coconut all by myself!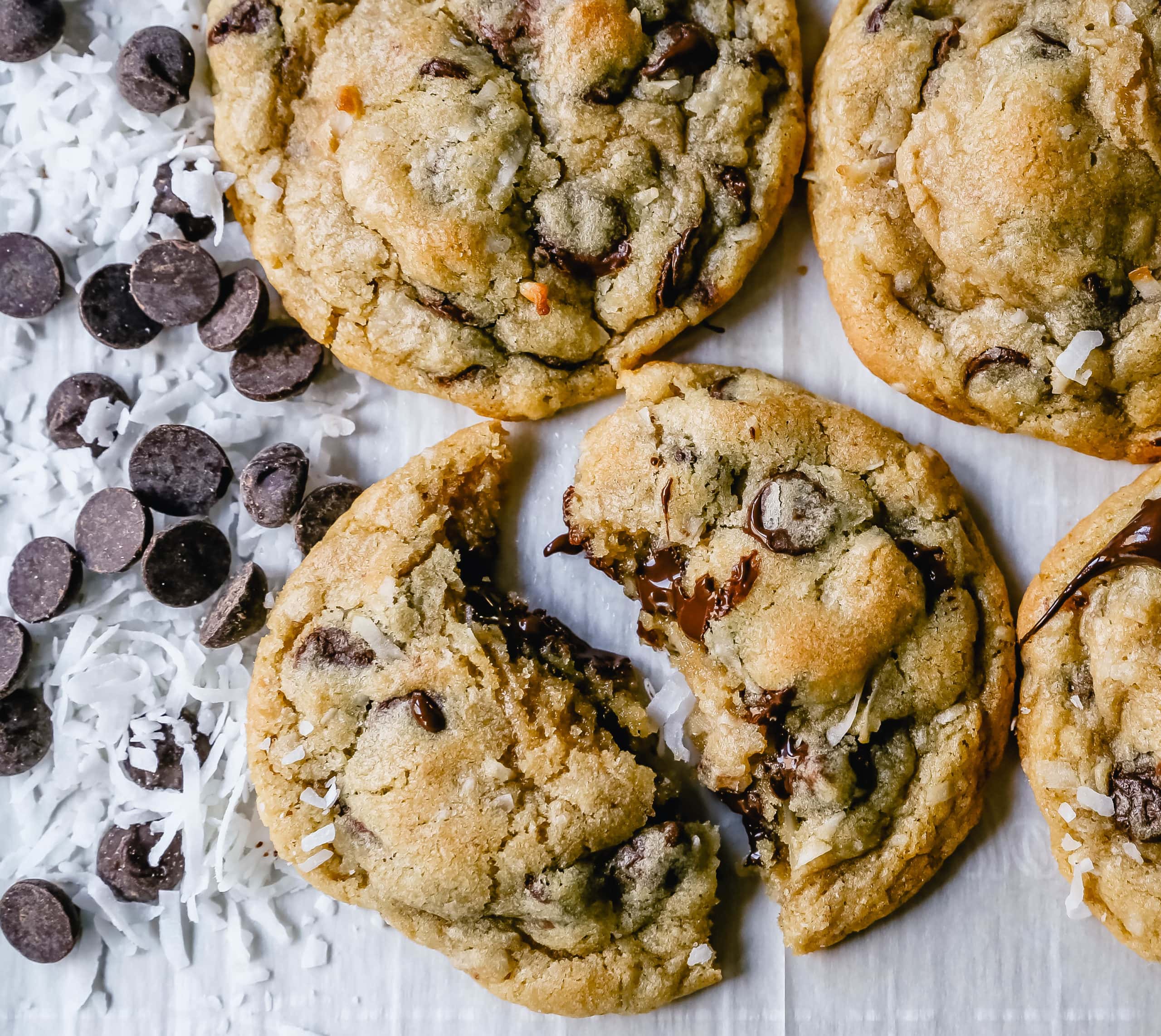 So we are combining two flavors, chocolate and coconut, together that are absolutely made for each other. These Chocolate Chip Coconut Cookies are made with butter, brown sugar for chewiness, sugar for those crispy outside edges, semisweet chocolate chips to balance out the sweetness of the coconut, and sweetened coconut flakes to bring in the tropical flavors.
We love to travel as a family! Since my kids are fearless and very adventurous (and so is my husband), we love to do anything in the outdoors. Our favorite trip of all-time was when we visited Kauai, Hawaii. We fell in love with the lush green island with more adventurous things to do than we can count. It was absolutely heavenly! We would hit a local farmer's stand and pick up a coconut every day and drink the juice and then eat the flesh. Of course, we had Costco-sized chocolate coconut candies to last us the week too.
When I arrived home from the trip I couldn't wait to create a homemade coconut chocolate chip cookie recipe. You are going to love this coconut chocolate cookie!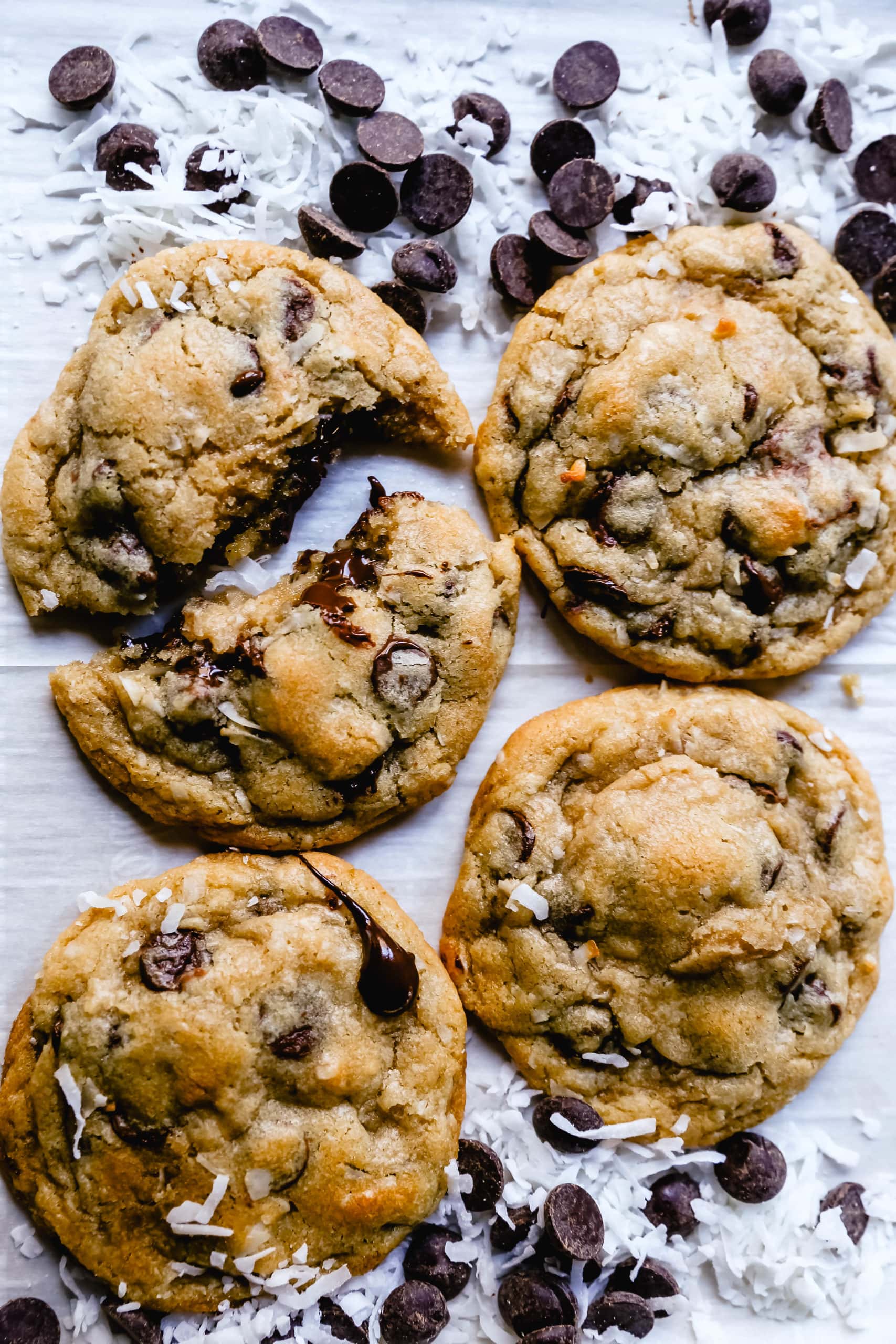 How to make the Best Chocolate Chip Coconut Cookies:
Start by creaming together the softened butter, brown sugar, and sugar together for 3-4 minutes, or until light and fluffy. Make sure to scrape the sides of the bowl to ensure even mixing. Add eggs and vanilla and beat for 1 minute longer.
Add the dry ingredients and mix just until combined. Avoid over-mixing as it creates more gluten in the dough and can result in tougher cookies.
Fold in sweetened flaked coconut and chocolate chips. You can use semi-sweet, dark, or milk chocolate chips, depending on preference. If you love coconut, feel free to add more coconut flakes.
Bake on a light-colored baking sheet. I love to use parchment paper sheets because I can just throw them away after. Bake just until the edges start to turn a light golden color. Cookies will continue to bake after removed from the oven so undertake rather than overbake.
If you love cookies, check out these popular cookie recipes:
Island Chocolate Coconut Macadamia Nut Cookies
Levain Bakery Chocolate Chip Cookies
Chocolate-Dipped Coconut Macarons