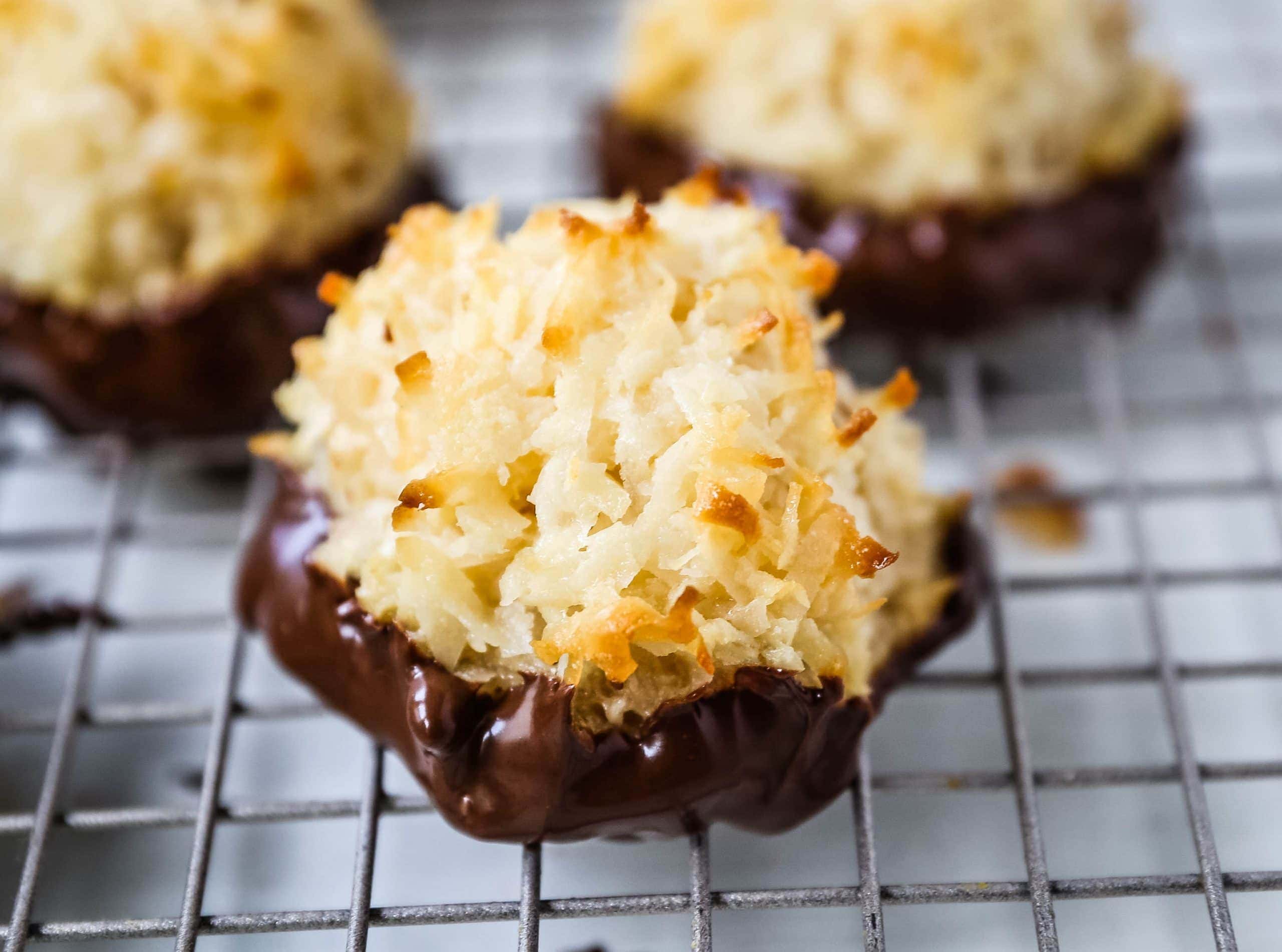 The Best Coconut Macaroons
Soft chewy sweet coconut macaroons are the perfect gluten-free cookie. How to make the perfect coconut macaroons dipped in dark chocolate.
Oh how I love COOKIE WEEK here on Modern Honey. I have thoroughly enjoyed recipe testing to ultimately declare these the BEST Coconut Macaroon cookie. The beauty of this cookie is that it is a naturally gluten-free cookie and contains no flour and it tastes amazing!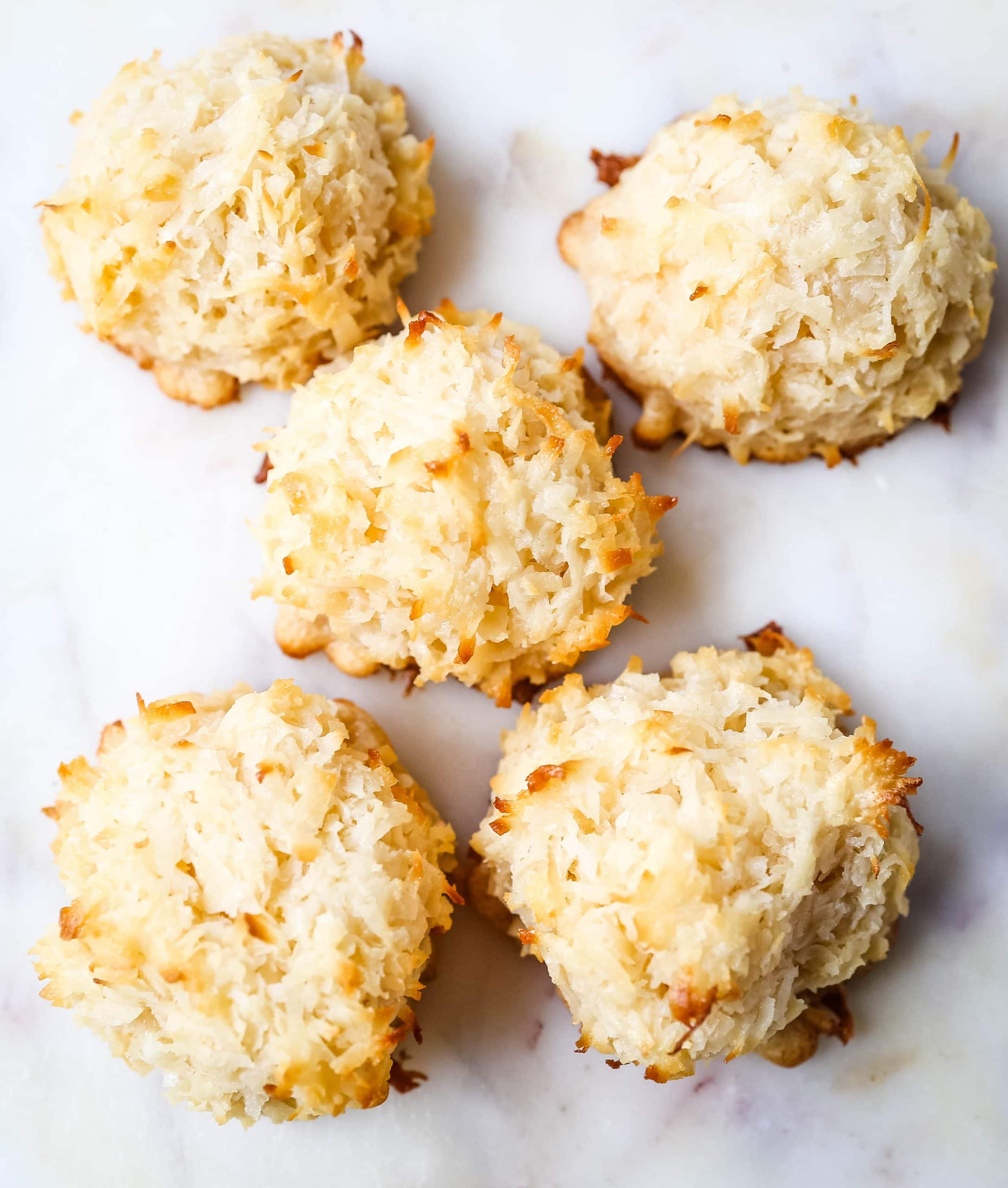 I tried all sorts of methods on the path to making the perfect coconut macaroon cookie. I made a pasty cream from scratch, I used sweetened condensed milk, I used butter, I whipped my egg whites, I didn't whip my egg whites, etc. Basically, I tweaked and tweaked until I got them just right.
If you love COCONUT, you are going to go crazy for these coconut cookies. I loved adding a little bit of butter to add creaminess and add a touch of saltiness to balance out the sweetness.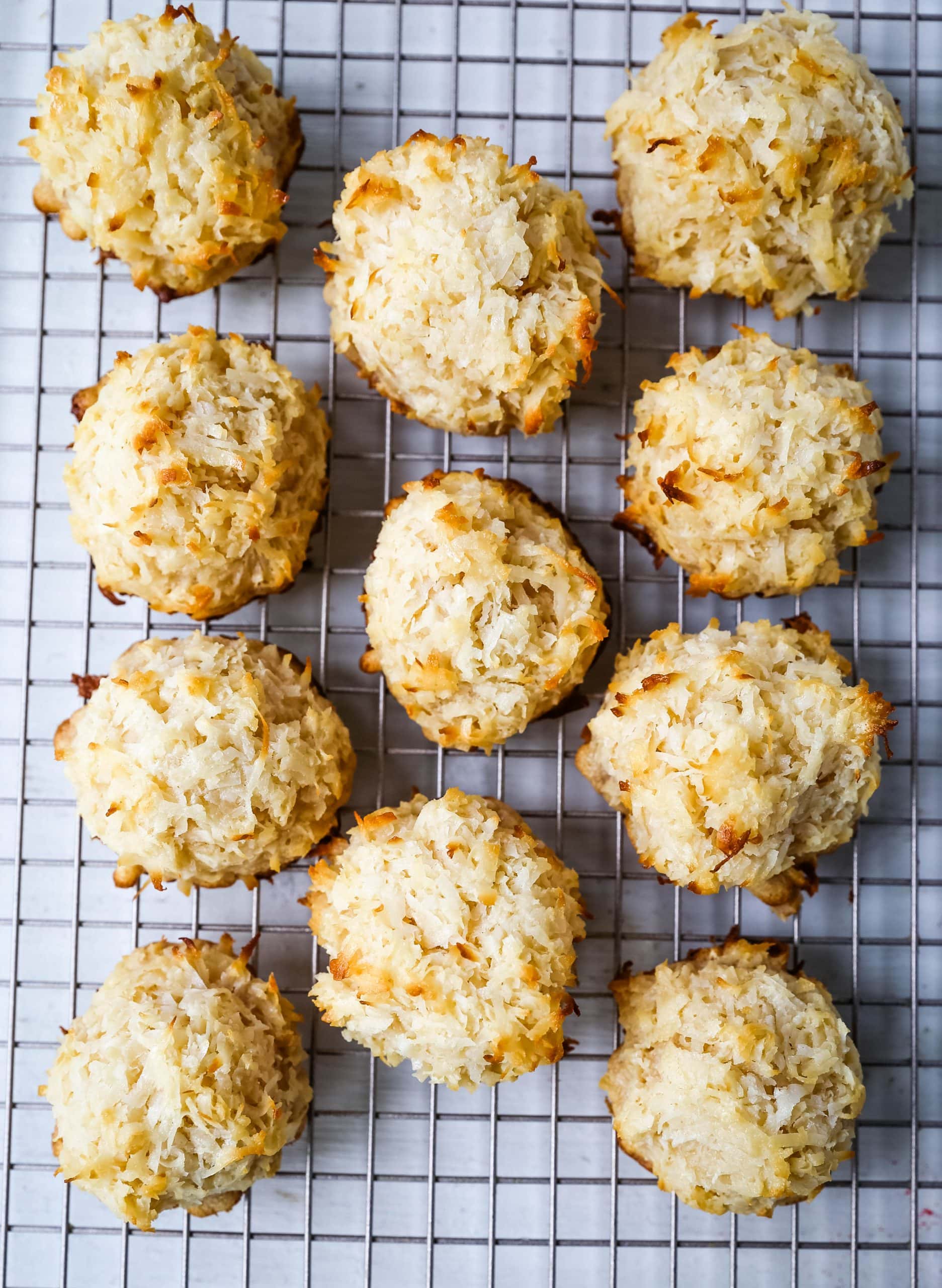 What ingredients are in the Best Coconut Macaroons?
These chewy Coconut Macaroons only call for 6 ingredients -- sweetened coconut flakes, sweetened condensed milk, vanilla extract, two egg whites whipped, salt, and butter.
If you really want to elevate your coconut macaron, you can dip them in melted chocolate. These Chocolate Dipped Coconut Macaroons are one of my favorite cookies! Since these coconut macaroons are sweet, I love to dip them in dark chocolate to give a perfect contrast to the sweetness.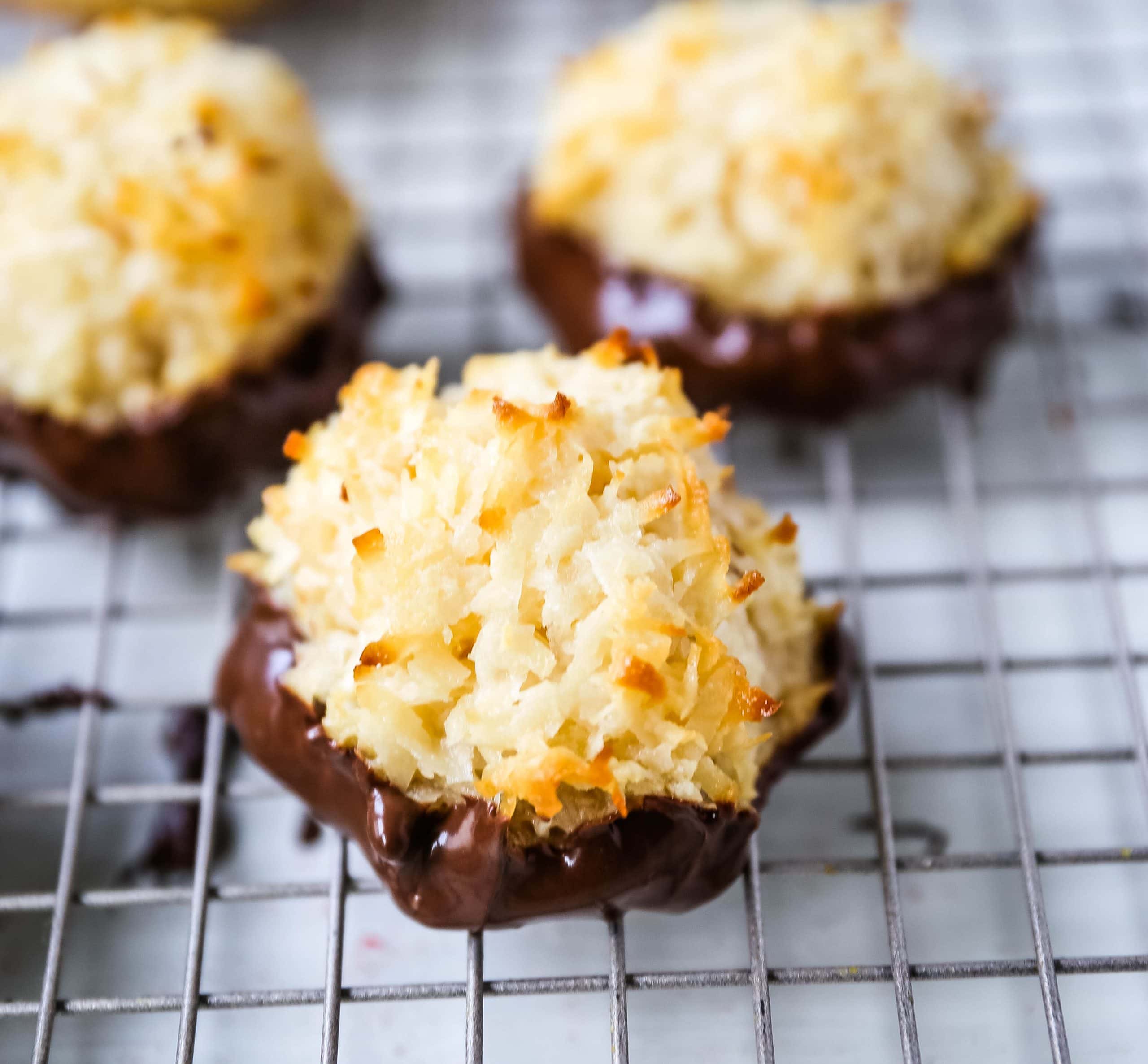 How to dip Coconut Macaroons in chocolate:
Once you bake the coconut macaroons, let them chill and set-up. Once they have cooled, melt the chocolate in 30-second increments in the microwave or in a double boiler. I love to use Ghirardelli Dark Chocolate Melting Wafers because they melt so beautifully and the chocolate is silky smooth. You may also use any type of chocolate bar or chocolate chips.
Once the chocolate is melted, carefully pick up the coconut macaroon and dipped the bottom in chocolate. Place on a cooling rack or parchment paper lined baking sheet. Let set up and harden. You may even place in the refrigerator is you like to eat them cold. You end up with decadent Chocolate Coconut Macaroons!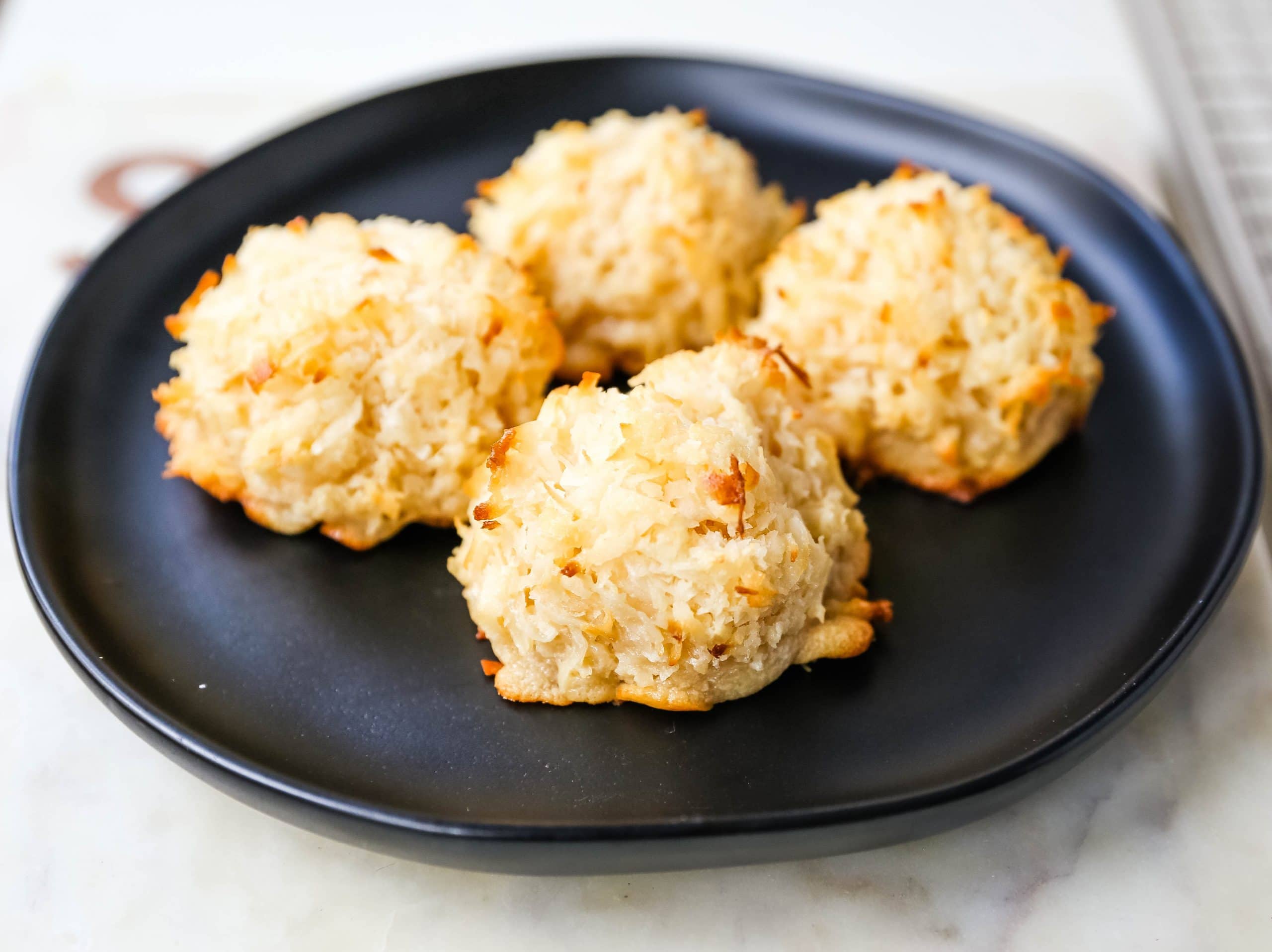 How to make the BEST CHEWY COCONUT MACAROONS:
Start by stirring together the sweetened flaked coconut, sweetened condensed milk, melted butter, and vanilla. If you want extra vanilla flavor, feel free to add more vanilla extract. You can also use scraped vanilla beans or vanilla bean paste for authentic vanilla flavor.
In a large mixing bowl, beat egg whites and salt until stiff peaks form. Fold into the coconut mixture. Make sure to get it all evenly incorporated.
Place on parchment paper lined baking sheets. If you don't have parchment paper, spray with non-stick cooking spray or use a Silpat liner. Bake until the some of the coconut flakes started to turn a golden color. Watch carefully so the bottoms don't become too browned.
Let cool on pans for only about 2 minutes or they will stick to the pan as they cool.
If dipping in chocolate, melt chocolate in double boiler or in a microwave in 30-second increments. My chocolate of choice is Ghirardelli melting wafers. Carefully pick up coconut macaroon and dip the bottom in the chocolate. Place on a cooling rack or parchment paper to allow time to set up.
CHRISTMAS COOKIES and GOODIES RECIPES: