Rich and creamy Oreo cake pops with a smooth chocolate coating. An easy homemade Oreo chocolate truffle with only 4 ingredients! The BEST Oreo balls recipe.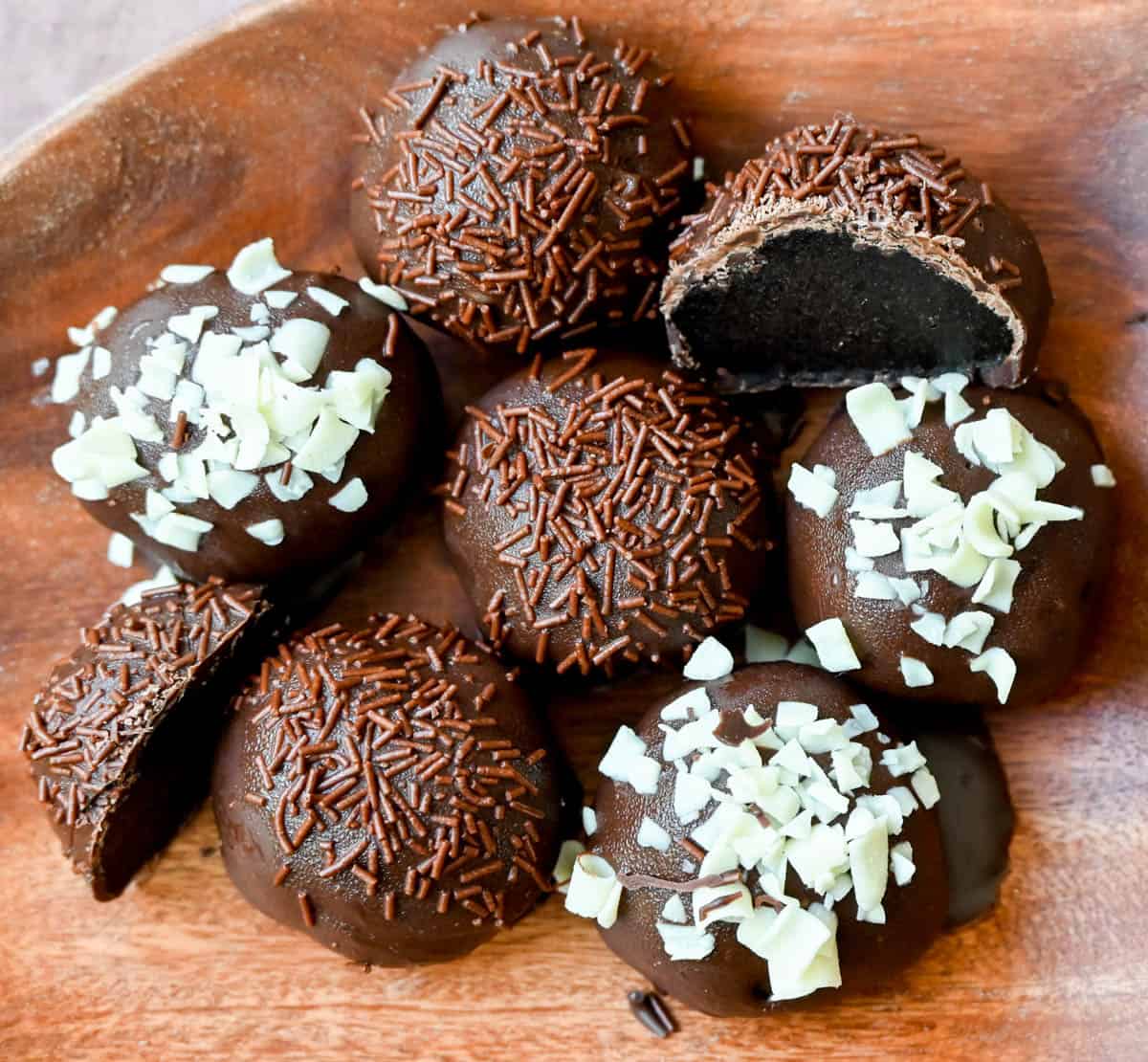 Oreo Truffles Recipe
I will always be a fan of quick, easy, and delicious treats. As it warms up in Arizona, we start looking for simple sweets where we don't need to turn on the oven or stand over a hot stove top. These Oreo cake pops are perfect and so fun to make as a family!
I truly don't think that I've ever made an easier treat. These require no baking, no cooking, no boiling, nothing but a microwave and a cookie sheet! The best part? It's 4 common ingredients that you likely have on hand!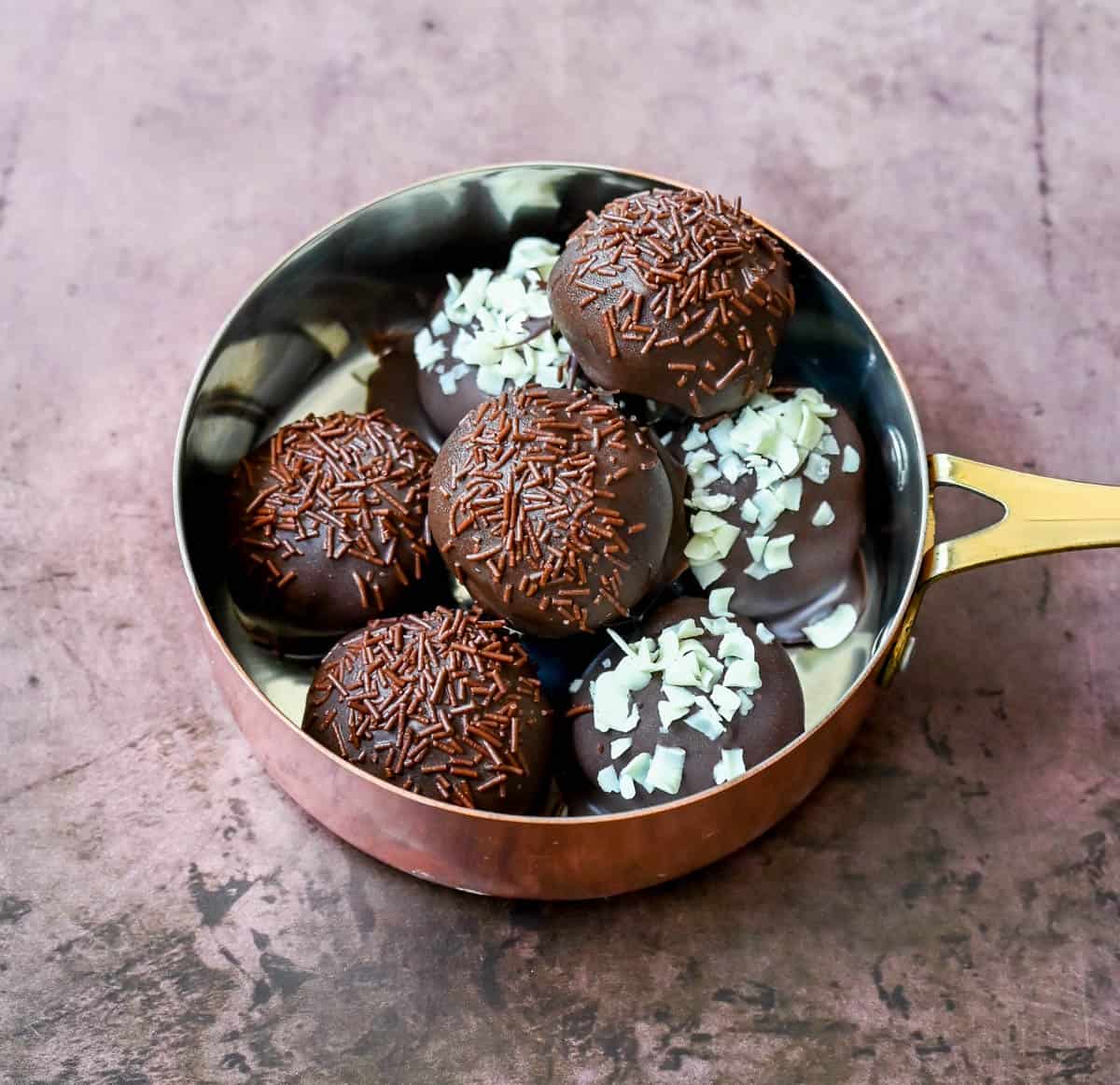 My husband has an obsession with OREO cookies. When we were first married, I had the pantry stocked at all times! After I would go to bed, he would sit and watch ESPN and polish off an entire sleeve of OREOS. So these Oreo Truffle Balls are a huge hit in our home!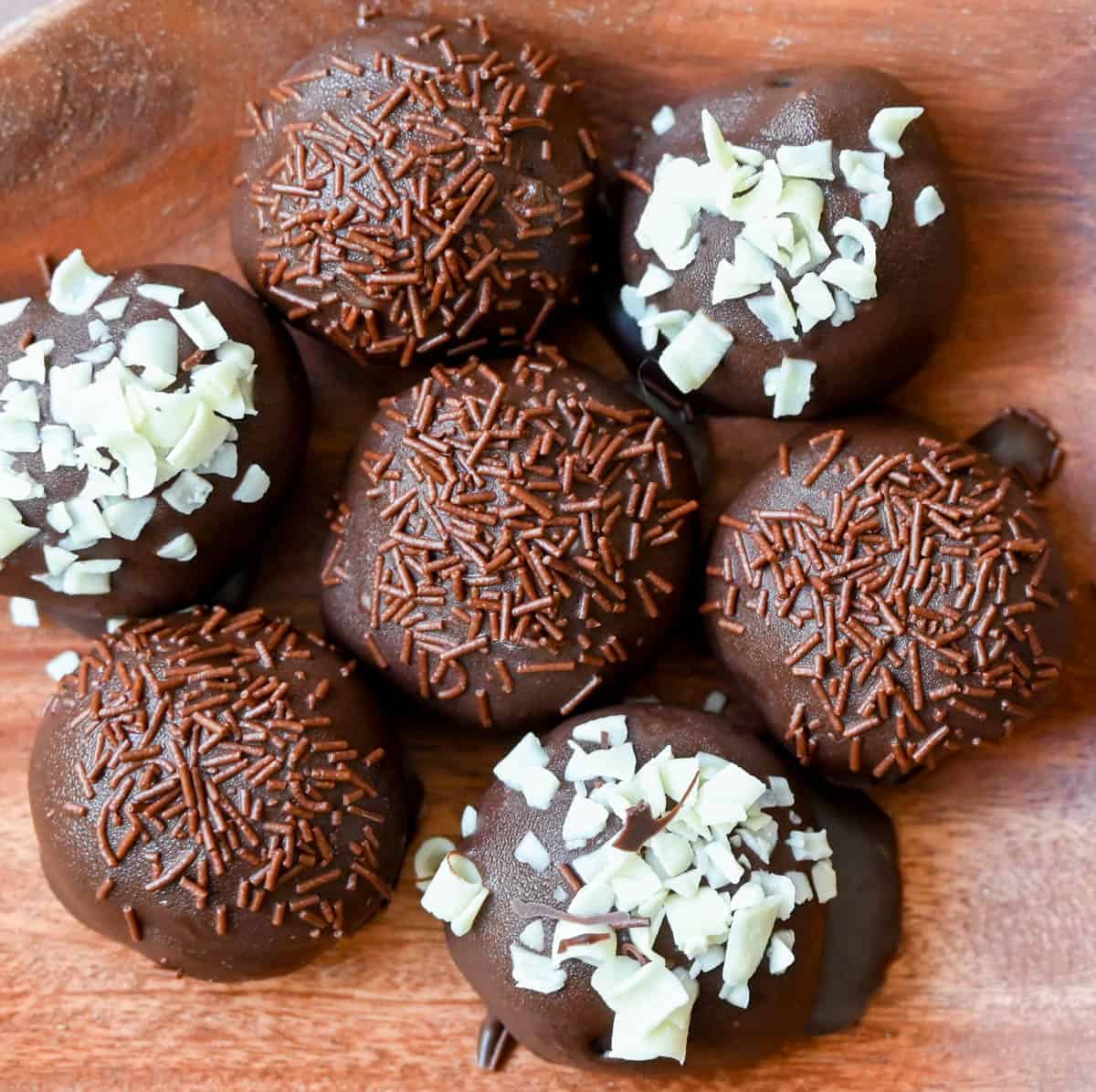 Oreo balls ingredients
Oreos: Use regular old Oreos for this recipe! Double stuffed has too much cream, and Thins don't have enough. The original Oreo cookie has the perfect ratio of cookie to cream so that the truffles have a smooth and creamy texture.
Cream cheese: This is what makes the Oreo filling smooth and creamy. The cream cheese adds a delicious and tangy flavor that is perfect with the oreos (think Oreo cheesecake!). Try not to use a low fat cream cheese so that you get all the flavor and creaminess possible.
Semi-sweet chocolate chips: You'll be melting down the chocolate and dipping the Oreo/cream cheese mixture into it. The smooth chocolate coating holds everything together and adds an extra crunch of delicious rich chocolate. You can use your favorite brand of chocolate chips, melting chocolates, or chocolate bar for melting.
Butter or coconut oil: This will help the chocolate melt to a more consistent and smooth texture. It will also make dipping the truffles easier!
Toppings: Use whatever toppings you have on hand! Some ideas are more crushed Oreos, chocolate sprinkles, chopped M & M's, shaved chocolate, or whatever else you think would be good!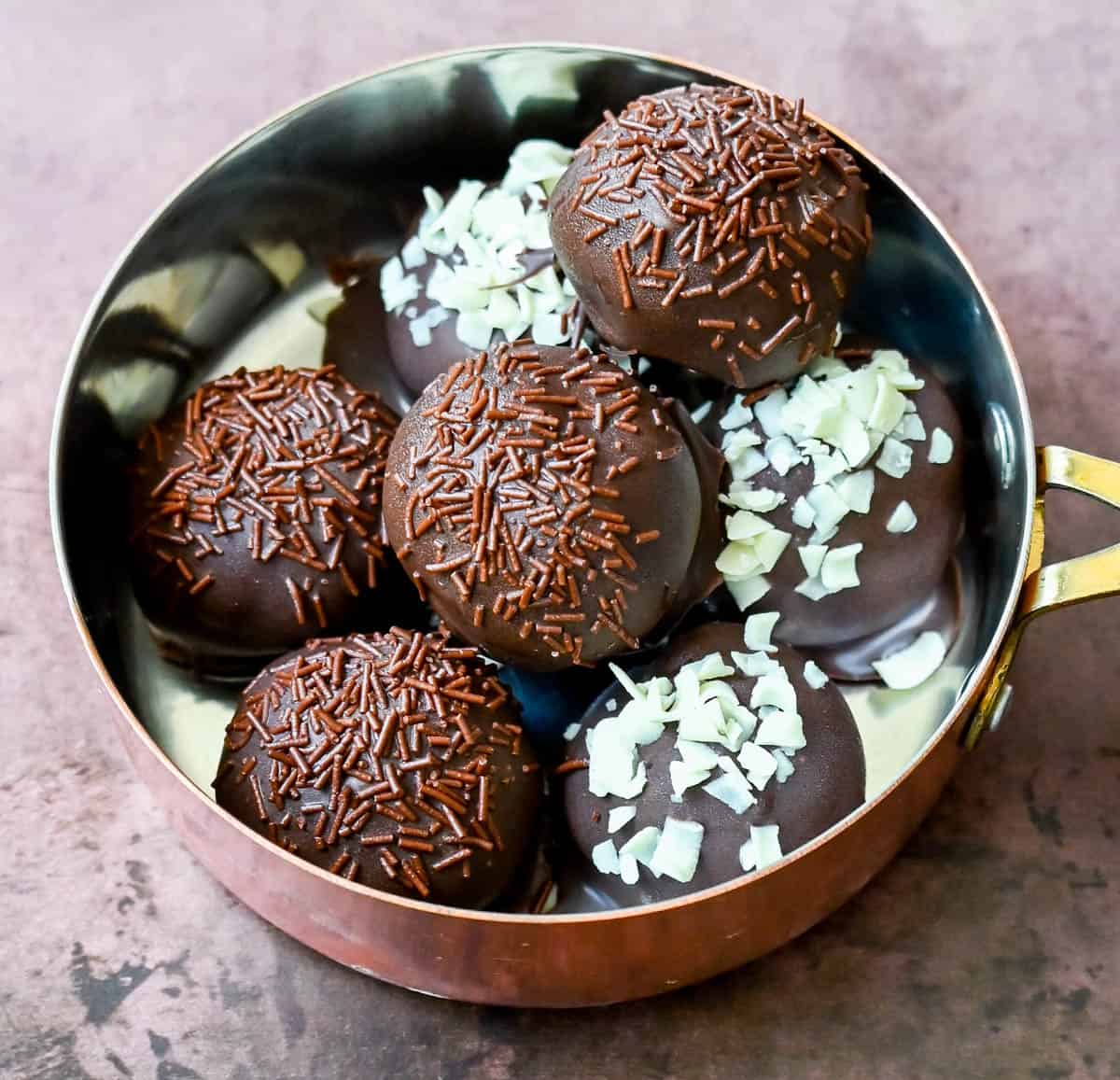 How to make Oreo balls
Crush the Oreos: I generally do this in my food processor, but it can also be done by placing the Oreos in a gallon-sized Ziplock and crushing them with a rolling pin. Make sure to crush the whole Oreo, cream filling included!
Add the cream cheese: If using a food processor, add in the softened cream cheese and pulse until it's all combined. A hand mixer or even a large spoon would work as well!
Chill: Let the Oreo and cream cheese mixture set up in the fridge for at least 30 minutes. This is important! If the mixture doesn't have time to set up, it may be more crumbly and fall apart in the melted chocolate.
Scoop and dip: After chilling, roll the Oreo mixture into small balls. Melt the chocolate and butter/coconut oil in the microwave. Using a fork or a spatula, dip the Oreo balls in the chocolate (make sure to cover them completely!) and place on a parchment paper-lined cookie sheet.
Top: Before the chocolate hardens, sprinkle your favorite toppings on the Oreo balls! Place the cookie sheet with the Oreo balls in the refrigerator for 30 minutes to an hour before eating.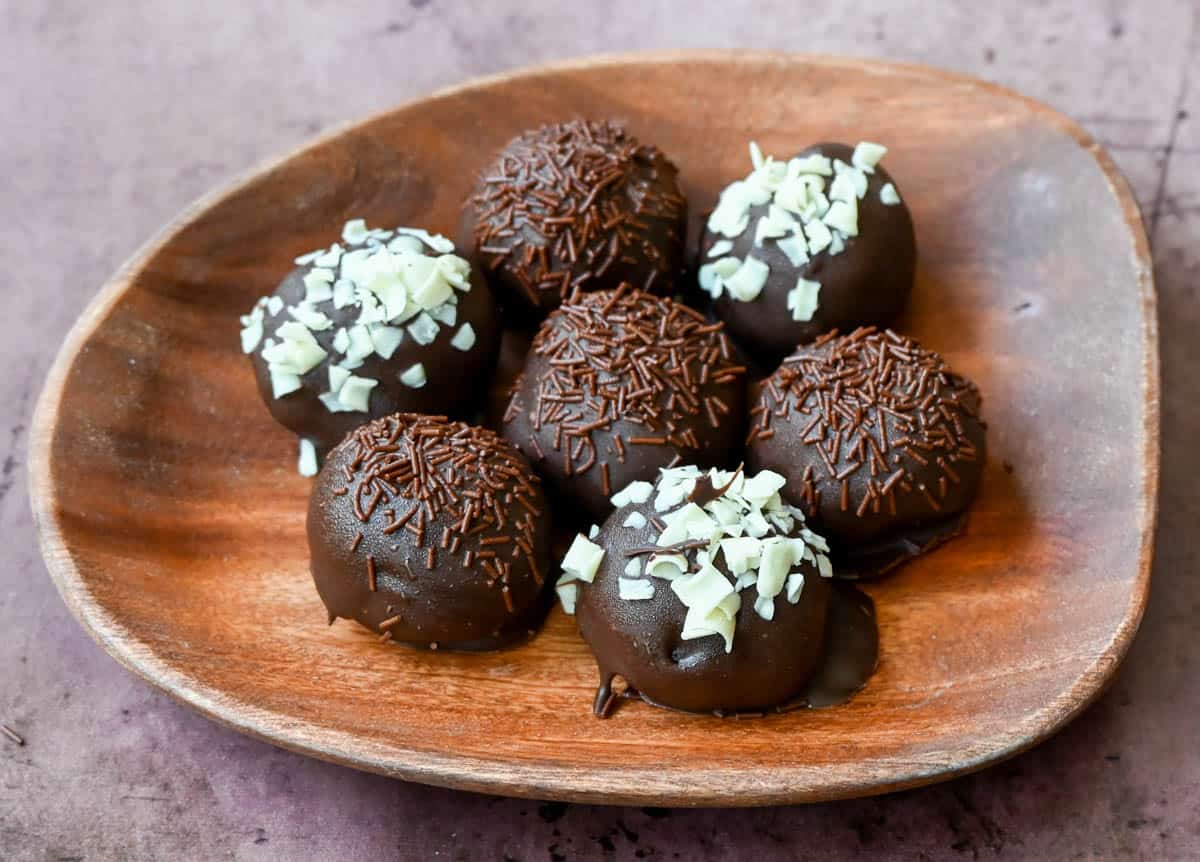 Oreo truffle variations
Holiday Oreo balls: Add a drop or two of peppermint extract to the melted chocolate and top with crushed up candy canes.
Golden Oreo cake pops: Instead of using the standard chocolate Oreos, use the golden Oreos! Mix in the cream cheese as instructed, then dip the balls in white chocolate instead of semi-sweet.
Peanut butter balls: Add a touch of peanut butter to the cream cheese and Oreo mix. Dip in the melted chocolate, then drizzle some peanut butter on top!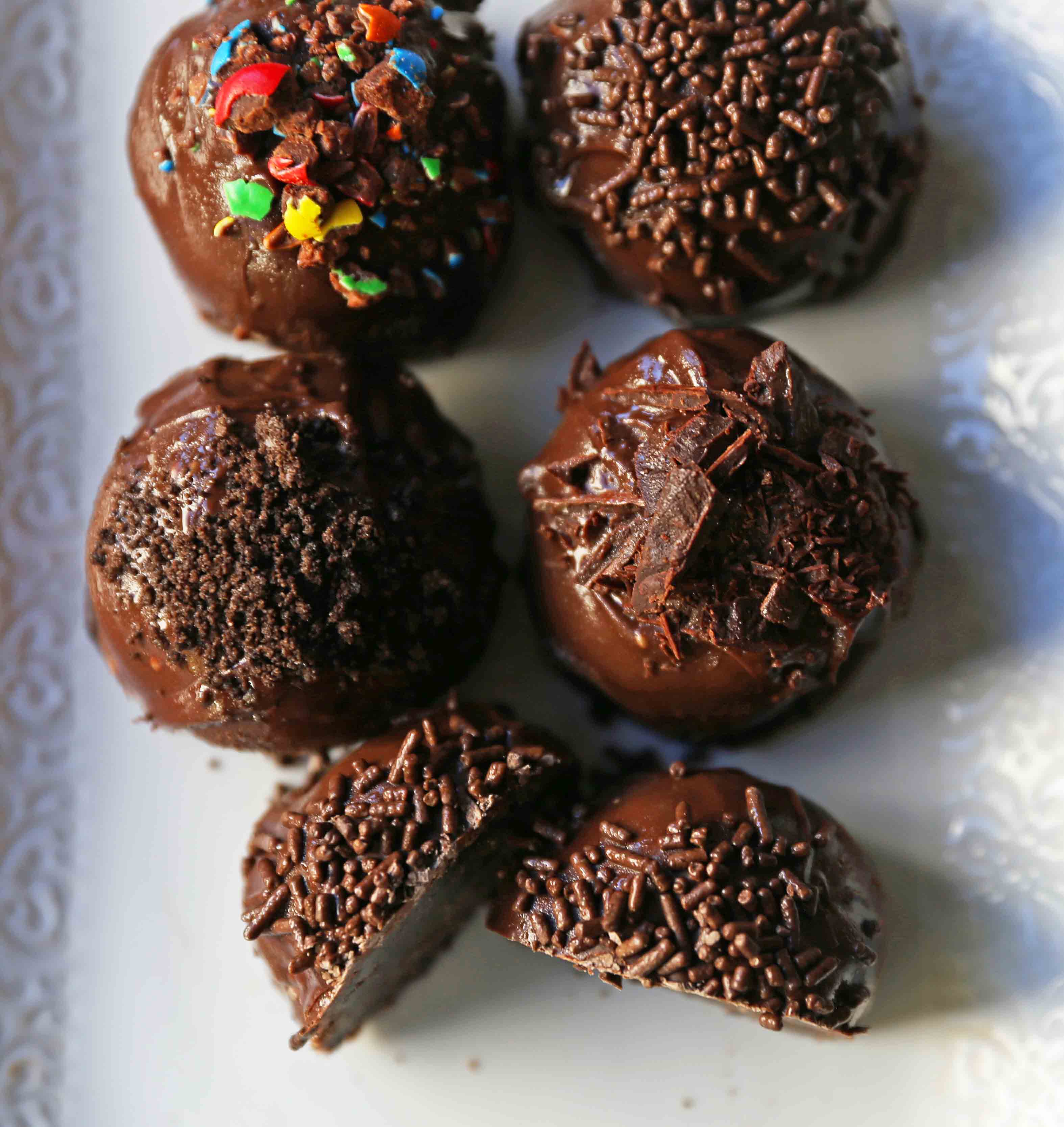 Related recipes
If you love making candies, here are some other recipes that you can try! I tried making homemade OREO cookies like the recipe HERE. I also experimented with candy bar cream filled OREOS, like this recipe HERE.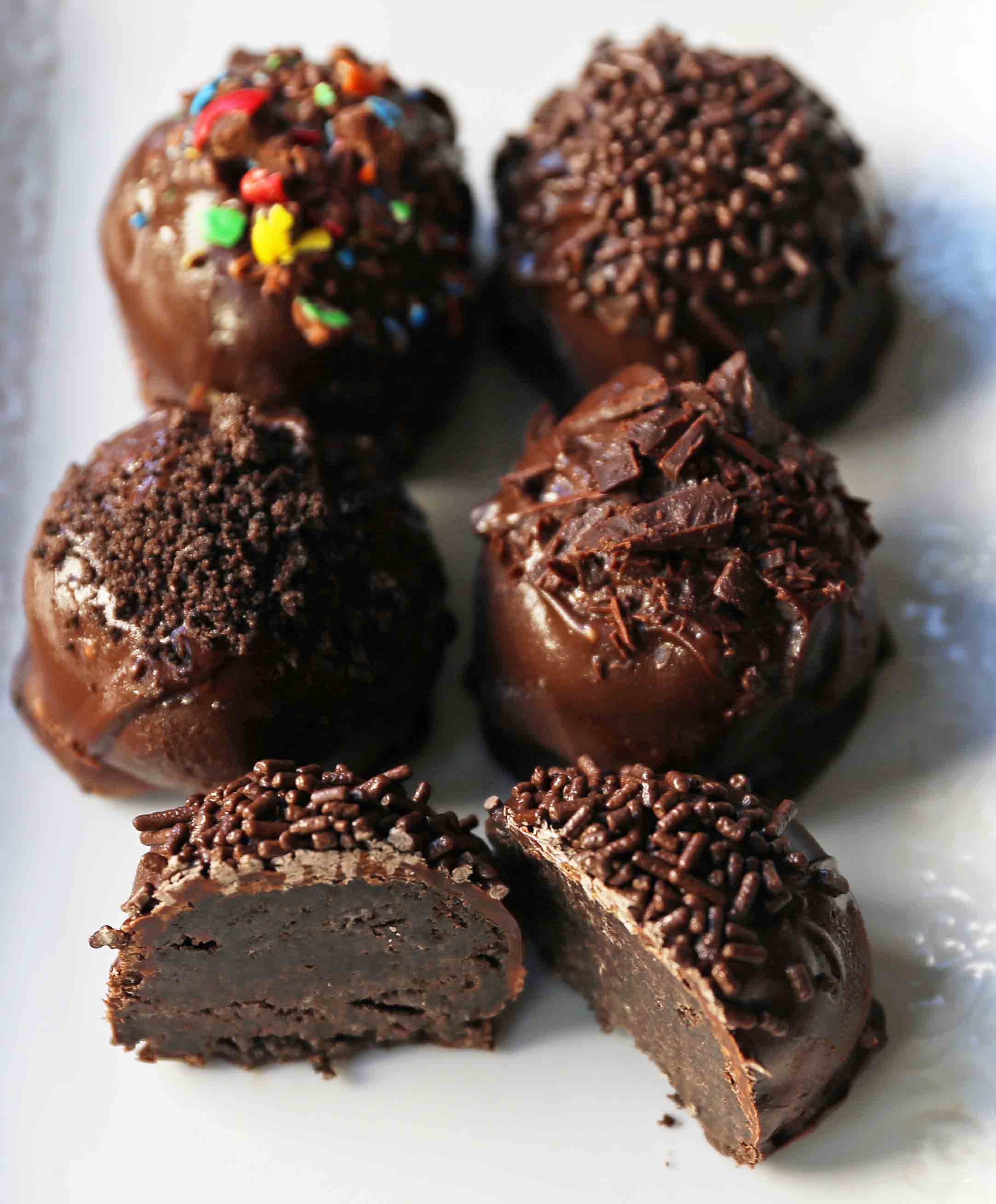 I love to hear from you! If you make this recipe, please be sure to leave a comment and give this recipe a rating. If you make any of my recipes, tag me on Instagram @modern_honey so I can see your creations. It's one of my favorite things seeing you make these recipes in your own kitchen. Sign up for my newsletter below so you never miss a recipe. Thank you for following along! I truly do have the greatest readers. FOLLOW ME ON:   INSTAGRAM — FACEBOOK — PINTEREST
Pin this now to find it later
Pin It
Oreo Balls
Rich and creamy Oreo cake pops with a smooth chocolate coating. An easy homemade Oreo chocolate truffle with only 4 ingredients! The BEST Oreo balls recipe.
Ingredients
36

Oreo Cookies

(crushed)

8

ounces

Cream Cheese

(softened)

12

ounces

Semi-Sweet Chocolate

1

Tablespoon

Coconut Oil or Melted Butter

Toppings of Choice

(crushed M & M's, OREOS, chocolate sprinkles, candy canes, and more)
Instructions
Start by crushing the OREO cookies. This recipe is so easy in a food processor if you have one. If not, the OREOS can be put into a large Ziploc bag and crushed with a rolling pin or something heavy. Add to a bowl and mix in softened cream cheese. If using a food processor, add in softened cream cheese and pulse until the mixture is completely combined.

Let chill in the refrigerator for at least 30 minutes to allow the mixture to set up. Scoop the Oreo mixture and roll into balls. Place on parchment or wax paper lined baking sheet.

In a microwave-safe bowl, melt chocolate chips and coconut oil or butter in the microwave in 20-second increments, stirring after every 20 seconds until chocolate is melted.

Using a candy dipping tool, a fork, or a spatula, dip each truffle into the melted chocolate. Place each oreo truffle back onto the parchment paper to set up.

Sprinkle with your favorite toppings — chocolate sprinkles, crushed M & M's, crushed candy canes, crushed OREOS, shaved chocolate, etc.

Let chill in the refrigerator for 30 minutes – 1 hour. May keep in the refrigerator or at room temperature. I prefer freezing them to expedite the process.
Nutrition information is automatically calculated, so should only be used as an approximation.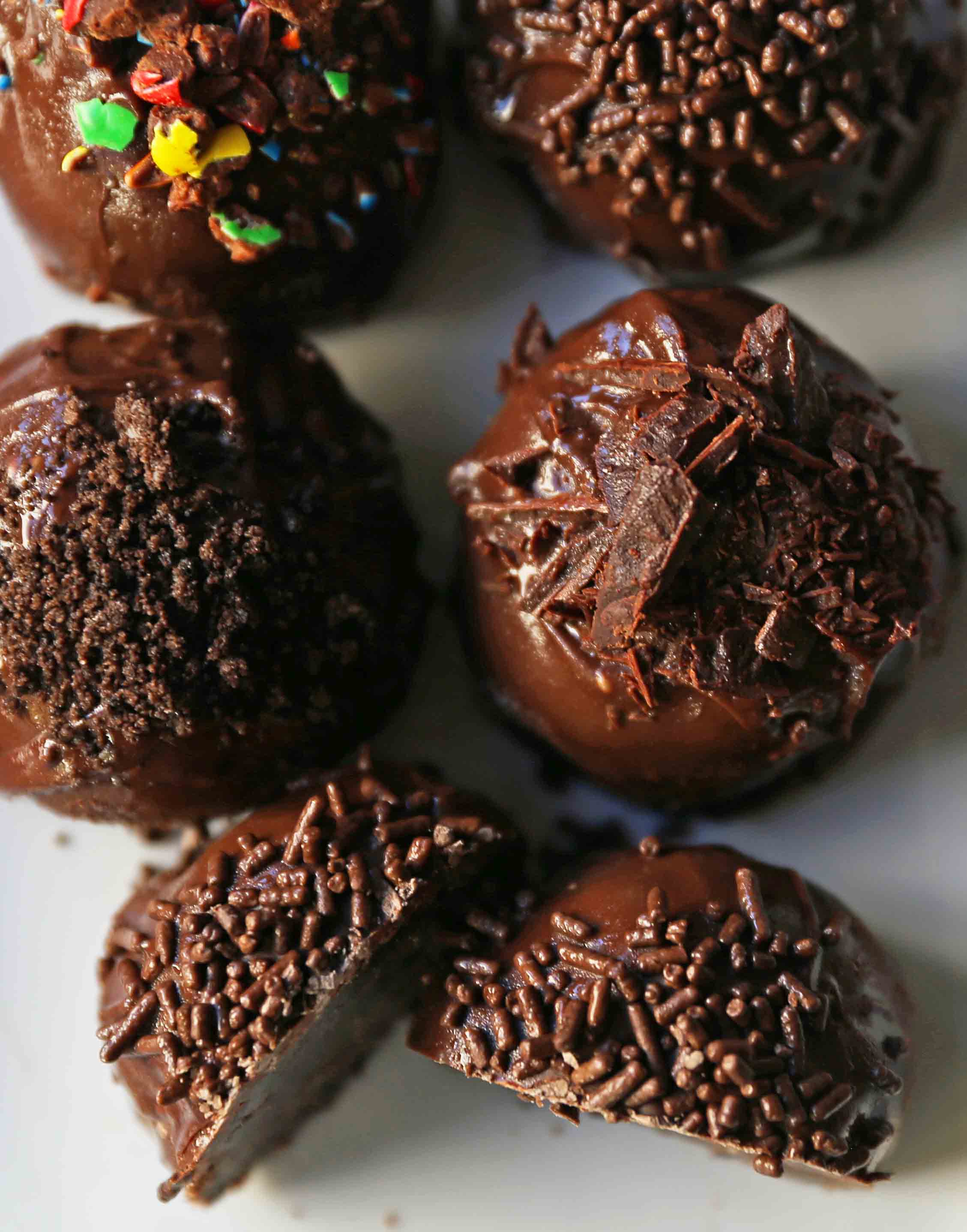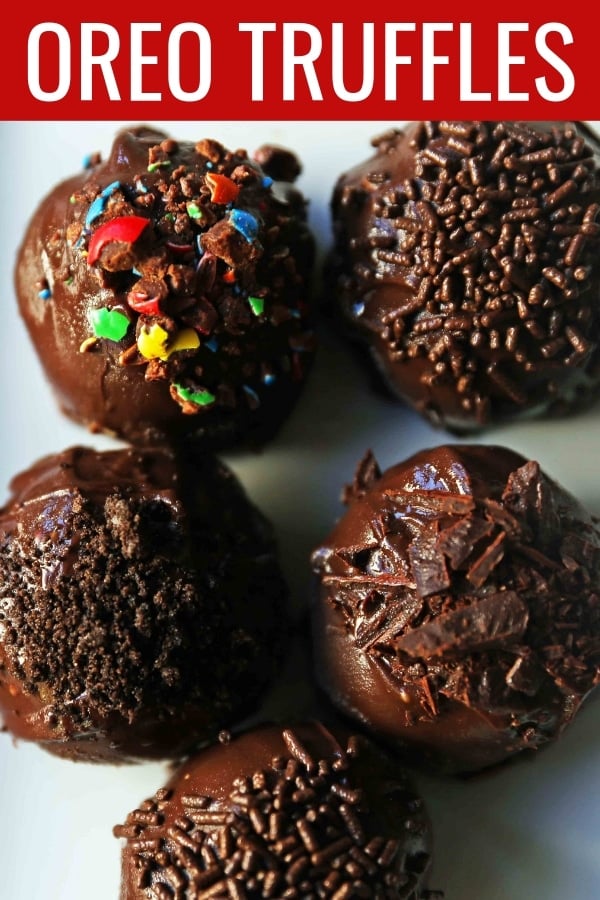 I hope you love this oreo truffle recipe! Have a great day, my friends!