This Halloween Sweet and Salty Snack Mix is made with salty pretzels, butterscotch-tossed Chex cereal, candy corn, Reese's Pieces, and chocolate-covered pretzels. You can even add in some salty peanuts or caramel corn for a more salty and sweet combination. This is the perfect Fall sweet snack mix.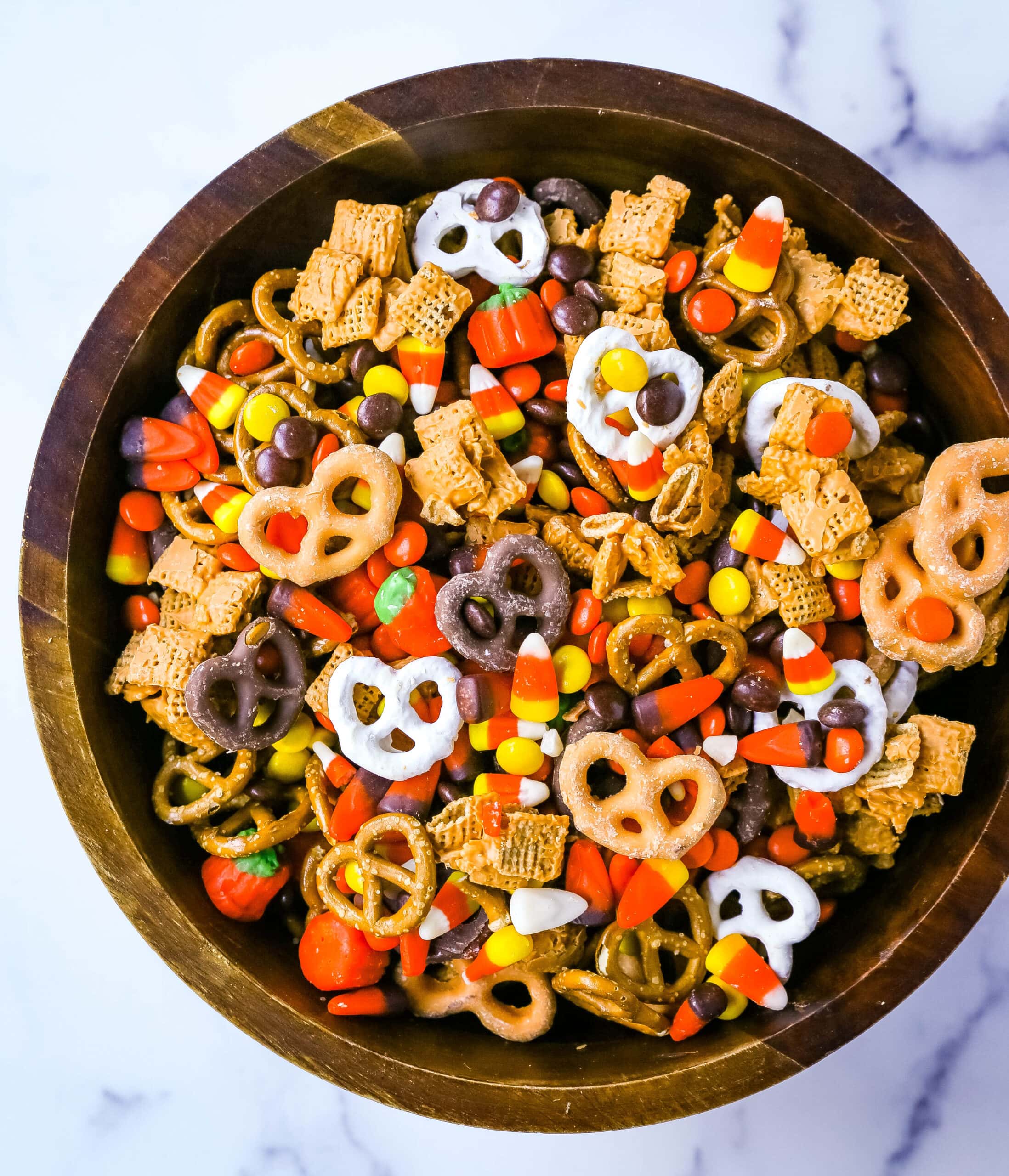 I grew up with a Mom who always had a huge jar of candy corn and salted peanuts during this time of year. Whenever I would come to visit, it was the first thing that I would snack on. I loved the salty and sweet combination and it was the perfect Fall snack mix.
My kids invited a bunch of friends over for a marathon movie night so I whipped up this sweet Halloween Chex mix and they went crazy for it!
I just keep a big jar of it on my kitchen counter when a sweet craving hits. I love the combination of salty pretzels with butterscotch coated Chex cereal and sweet candy corn. You can't forget the peanut butter Reese's Pieces!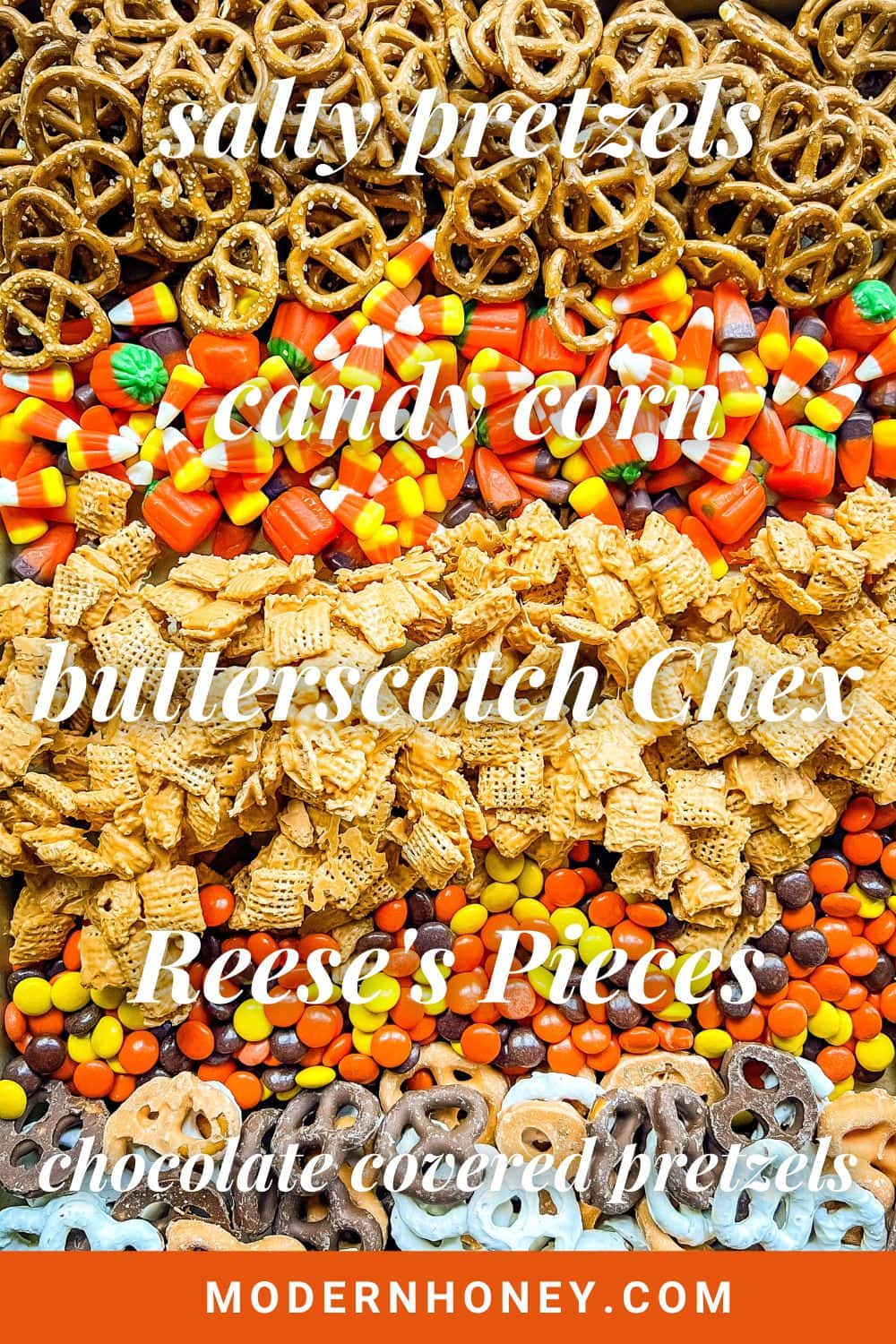 Ingredients:
Butterscotch Chex Cereal - melted butterscotch chips are tossed with Rice Chex cereal for the perfect sweet and crunchy combination.
Salted Mini Pretzels
Candy Corn or Autumn Mix -- the autumn mix has a combination of candy corn pumpkins and traditional candy corn.
Reese's Pieces -- these peanut butter candies pair perfectly but you can also substitute M & M's.
Chocolate Covered Pretzels and White Chocolate Covered Pretzels
Optional Ingredients:
Peanuts or Cashews
Caramel Corn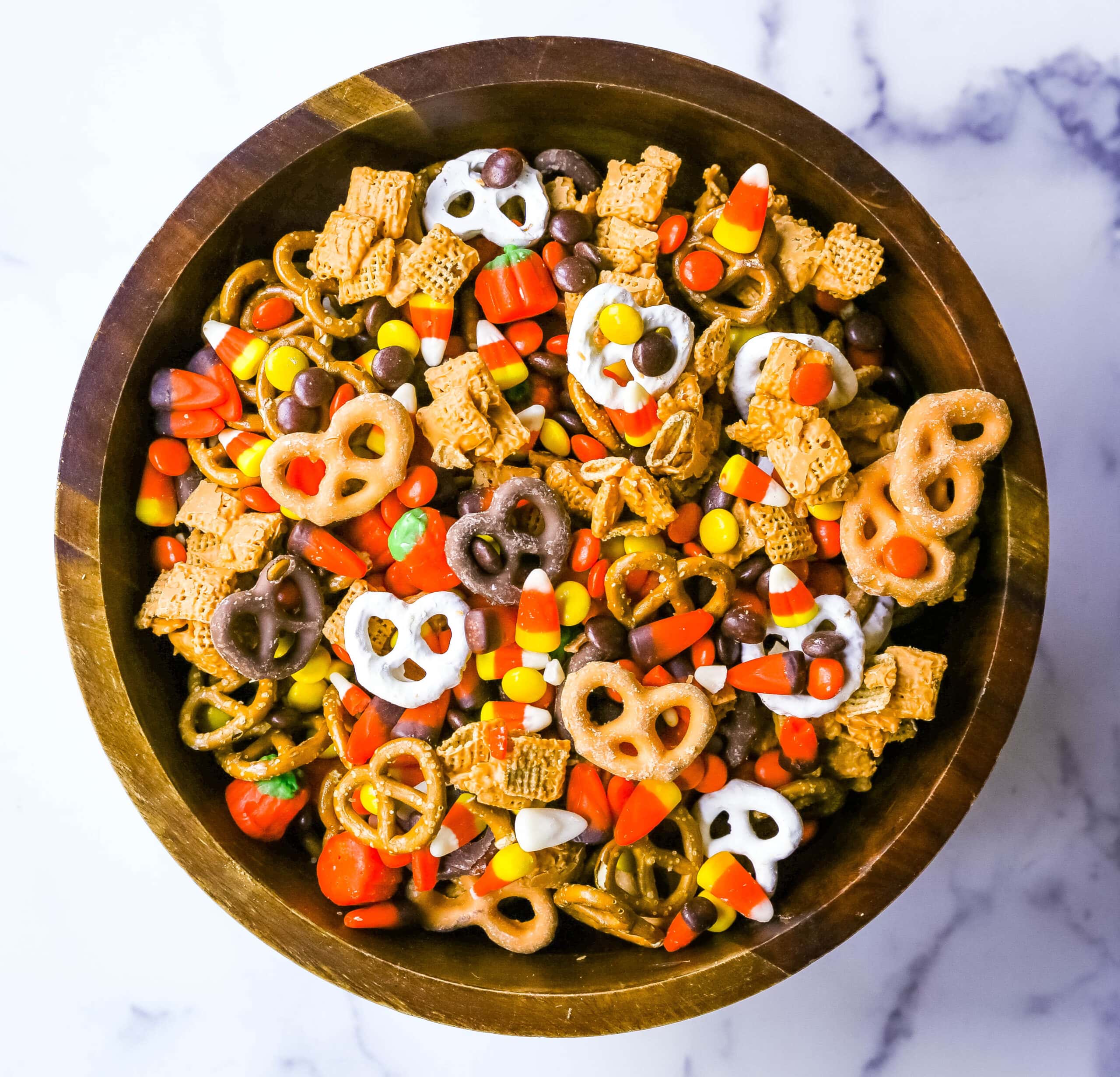 How to make Halloween Sweet Snack Mix:
Start by melting butterscotch chips in a microwave-safe bowl. Butterscotch chips can burn easily so I will share my tips to ensure smooth, melted butterscotch. Melt the butterscotch at 50% power and cook for 30-second increments. Stir after each cooking time. It will most likely take about 90 seconds total to melt the butterscotch chips. I suggest using Guittard or Nestle Butterscotch chips.
Place the Rice Chex Mix in a medium-sized bowl and carefully toss the melted butterscotch with the Chex cereal. Spread onto a parchment paper or foil-lined baking sheet and let it set up.
In another large bowl, toss the salty pretzels, candy corn, chocolate-covered pretzels, Reese's Pieces, and peanuts (optional). If you want different flavored pretzels, you can dip the salty pretzels into melted white chocolate, milk chocolate, or butterscotch.
Once the butterscotch Rice Chex has firmed up, lightly toss it with the other ingredients.
Store it in an air-tight container.
This is such an easy sweet and salty snack mix and is so customizable.
FAQ's:
Can I use something else besides butterscotch chips?
Absolutely! You can use milk chocolate, dark chocolate, semi-sweet chocolate, salted caramel chips, or white chocolate.
Can I use any type of Chex Cereal?
Yes! I suggest Rice Chex but you can use Corn Chex as well. If you want more salty elements, you can add in some Bugle snacks.
Popular Fall Recipes:
Chocolate Caramel Pretzel Bark
Homemade Chocolate Peanut Butter Cups