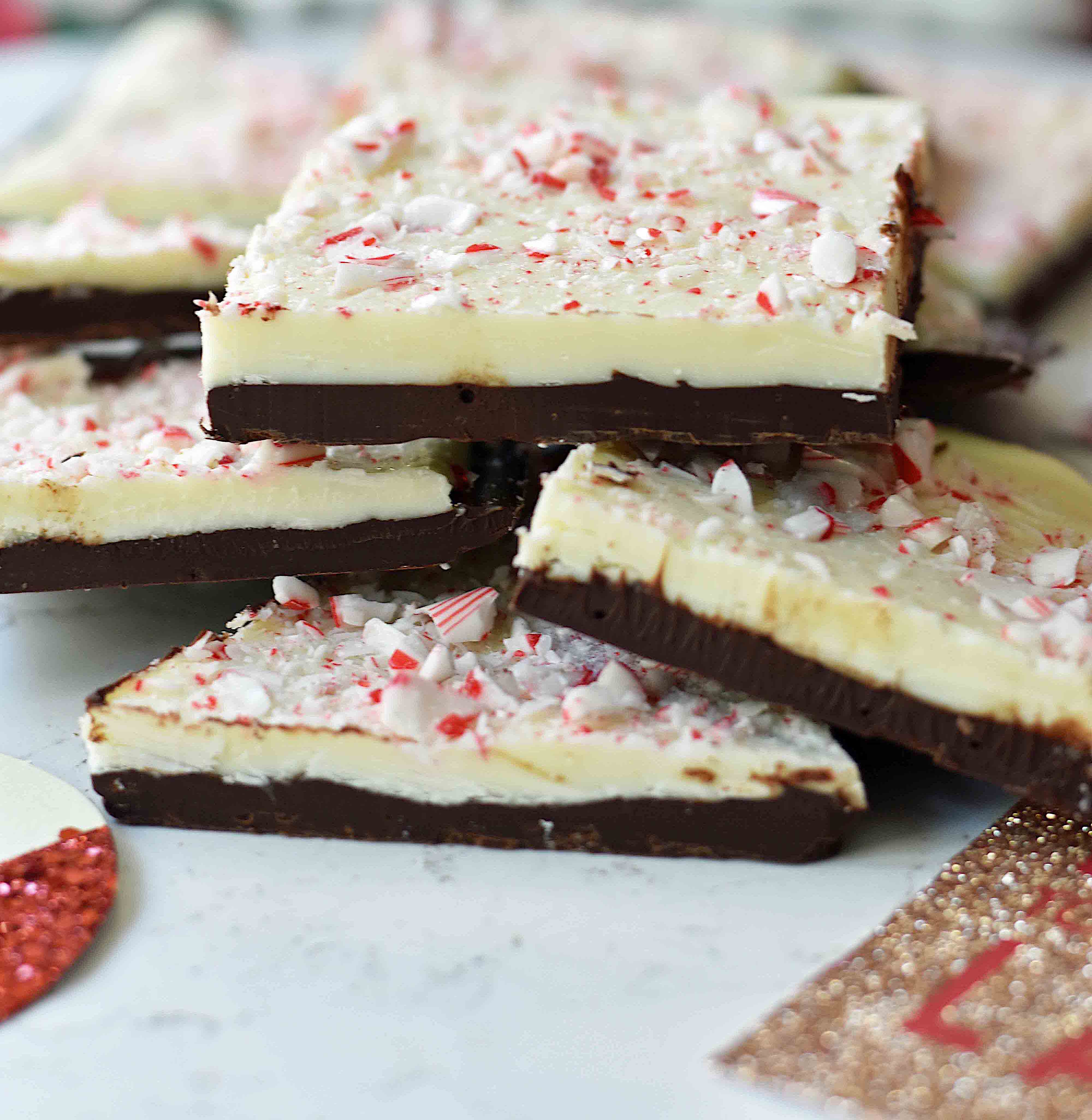 Chocolate Peppermint Bark made with layers of melted white chocolate with a touch of peppermint, melted chocolate, and topped with crushed peppermint candy canes. 
This is the BEST Chocolate Peppermint Bark Recipe!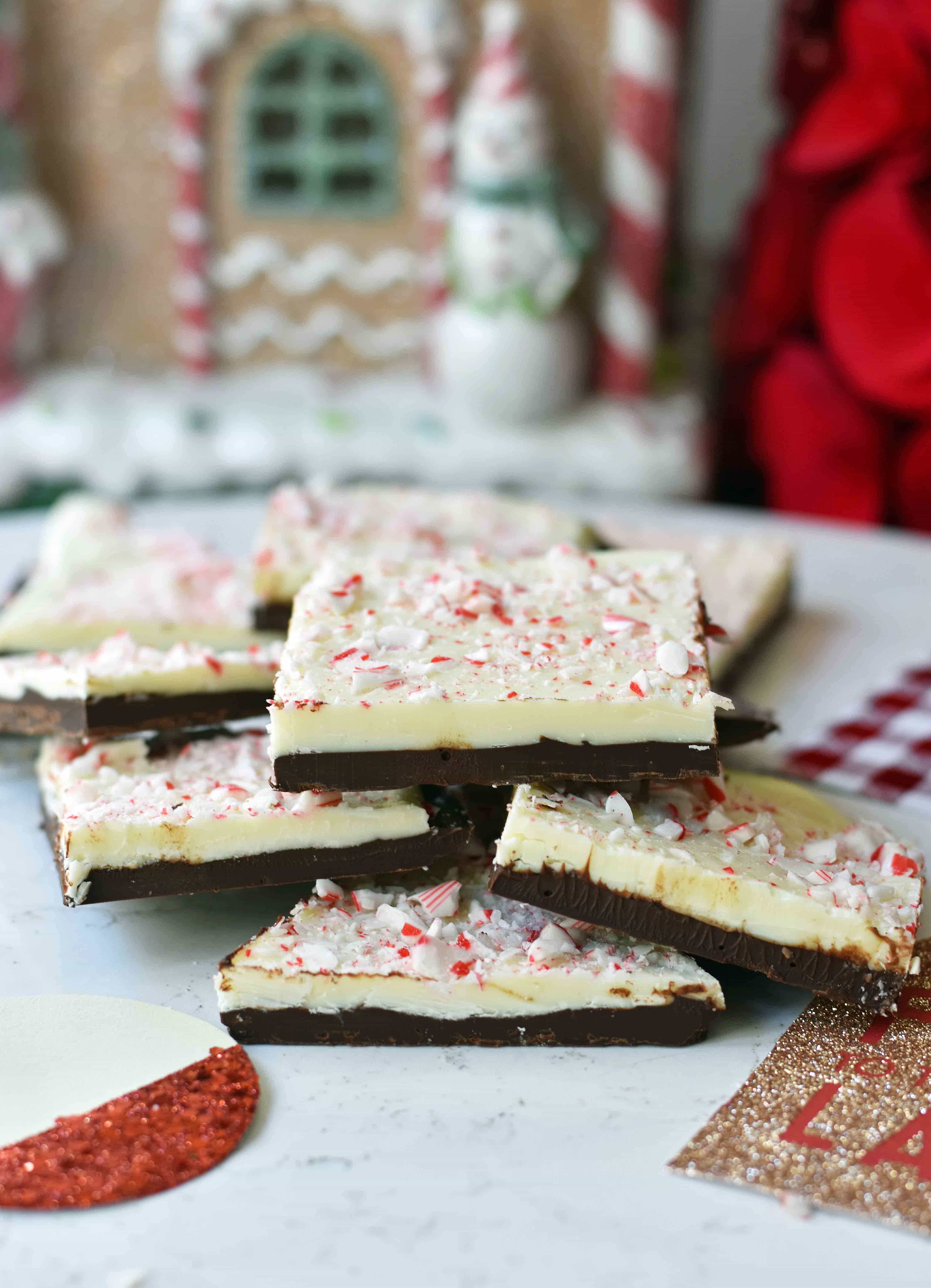 My husband and I had a marathon Christmas shopping day! We set out on a Saturday with a long list of things to buy for our kids and we ended up shopping for 9 hours! We had a great time and loved being amongst the crowds of people, hear the Christmas music, and focus on what our kids would love to receive on Christmas morning. However, my feet ached like no other!
My husband laughed at me as I would sneak the famous peppermint bark samples out of the bowls in Sur La Table, William-Sonoma, and even Pottery Barn. It kept me going and heaven knows how much I love peppermint bark. However, it can be expensive so I wanted to figure out how to create it at home so I can gift it to my friends and neighbors. Who else loves peppermint bark?
I found that making homemade chocolate peppermint is actually so easy! I am going to break down the simple steps so you can make this famous copycat peppermint bark at home.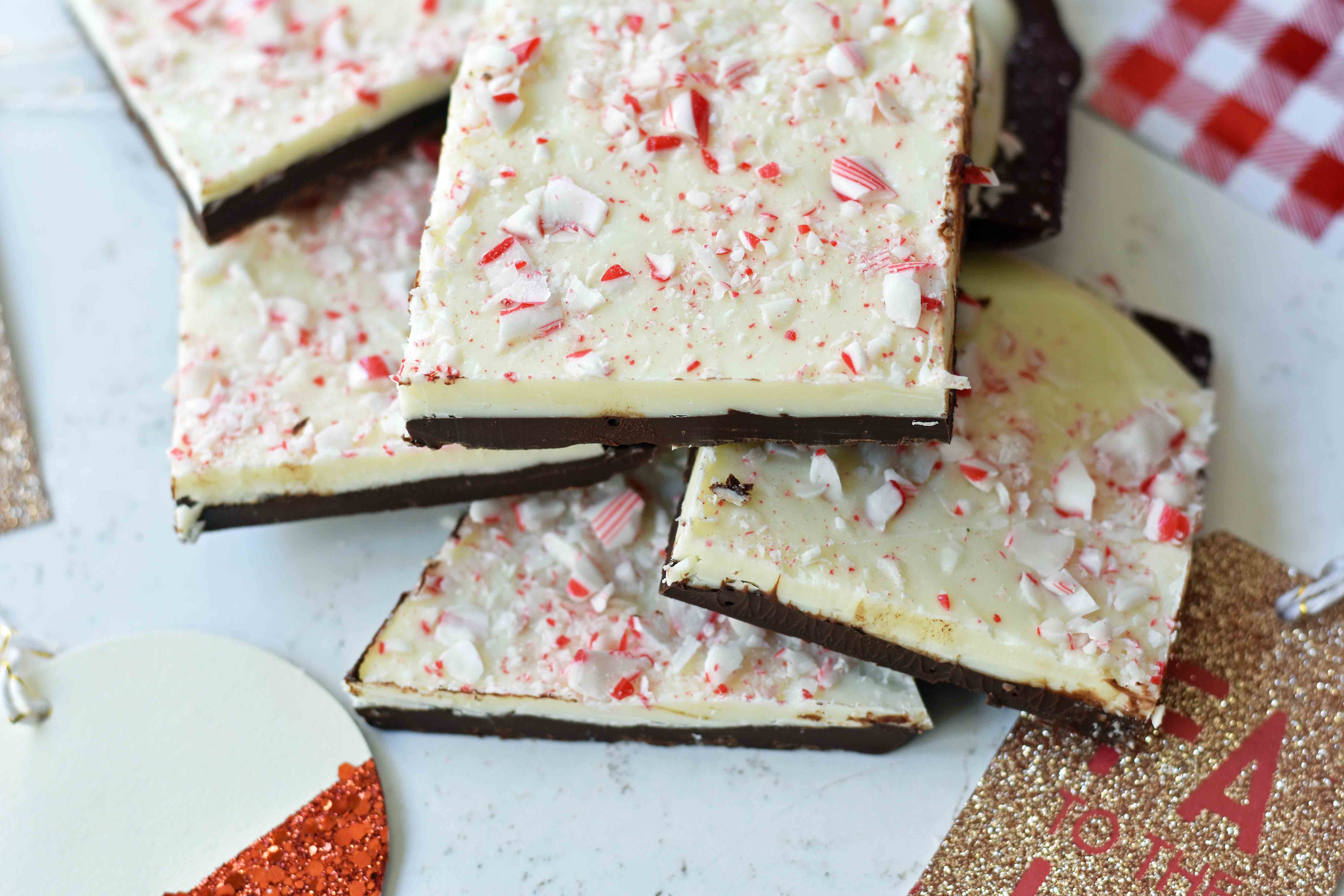 How to make the BEST Chocolate Peppermint Bark:
It all starts off with high-quality chocolate

. Since chocolate is the star of this bark, it may be worth spending $1 more on high-quality chocolate. You can use bars of white chocolate or chocolate or melting wafers.  I love to use the Ghirardelli white melting wafers because they melt so beautifully and leave such a glistening shine. I also used Callebaut semi-sweet chocolate but you can use Guittard, Ghirardelli, or Trader Joe's Pound Plus Bars.
Slowly melt the chocolate. This is a key tip for making smooth chocolate. I tend to use a microwave because it is convenient and easy. A double boiler works well too. First of all, use a heat-proof bowl. Some bowls will get so hot and will make it take forever for the chocolate to melt. Cook at only 50% power or use defrost setting. This ensures that it doesn't burn. Also, cook the chocolate in only 30-second increments, stirring well after each cooking interval. It is especially important with white chocolate as it can burn easily. Vigorously stir the chocolate until it is completely melted.
Pour on wax or parchment lined baking sheet or pan.  To ensure the chocolate doesn't stick to the pan, line with a non-stick paper. I use parchment paper and place it on top of a quarter-sized baking sheet.
Chill the chocolate before pouring on white chocolate. Place in freezer for 10 minutes or refrigerator for about 15-20 minutes or until mostly set.  Pour melted white chocolate over top of chocolate and evenly spread. Top with crushed candy canes while the white chocolate is still melted. Place in freezer or refrigerator to set.
Store completely covered in refrigerator or at room temperature. I prefer to keep mine in the refrigerator and take out just before serving or giving as a gift.
Cut into squares or triangles with sharp knife ensuring to cut completely through all layers.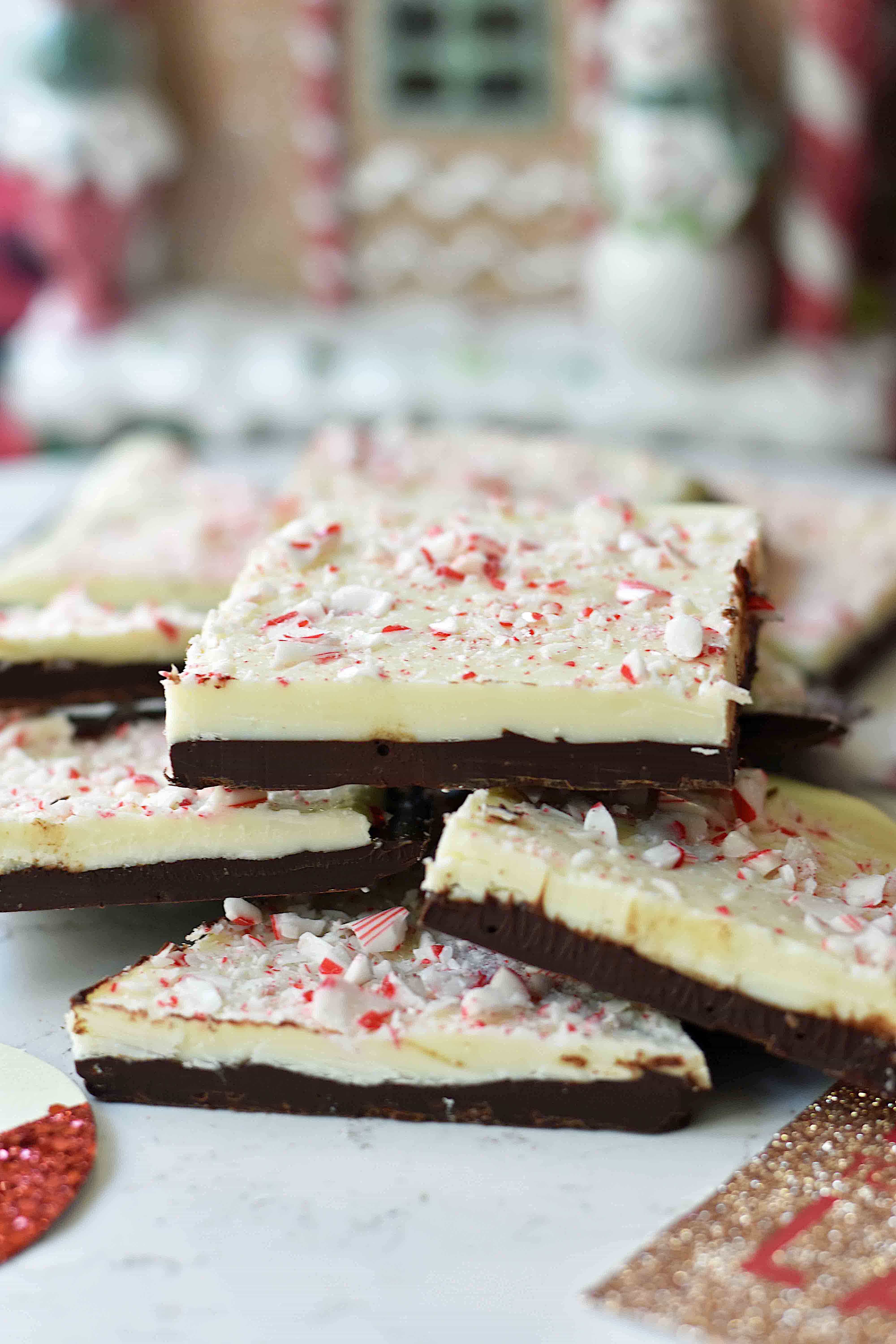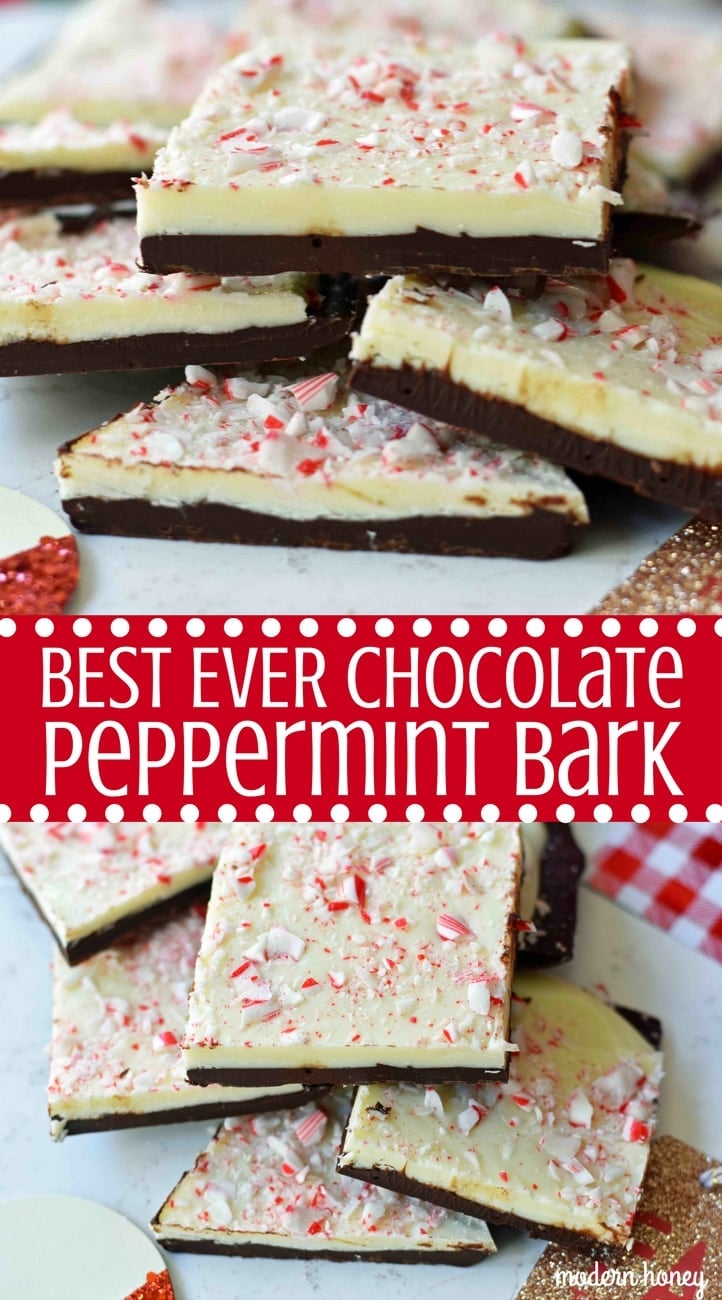 Happy Baking, my friends!