CHOCOLATE CHIP COOKIE PIE
Chocolate Chip Cookie Pie with homemade chocolate chip cookie dough baked in a buttery flaky pie crust and topped with vanilla ice cream and hot fudge.
This Cookie Pie is a chocolate chip cookie and a piece of pie in one. You get it all in this one cookie dessert!
I thought pie week was over. I was wrong! I thought I would be remiss if I didn't share the best Chocolate Chip Cookie Pie. I mean….come on. My obsession with chocolate chip cookies is real so why not make it into a pie?
I was at my dear friend's birthday lunch last week and I made her my Love at First Sight Chocolate Cake.  I was talking with another friend who doesn't like cake or pie or most desserts but she LOVES cookies. I usually make her a large decorate cookie instead of a cake because she has a great love affair with cookies.  She planted the seed in my mind. I need to make a chocolate chip cookie pie! Tiff, this is a pie you will LOVE to eat.
This Chocolate Chip Cookie Pie is what dreams are made of.  It's simple, easy homemade chocolate chip cookie dough poured into an unbaked pie crust and baked until golden. It's warm, gooey, and heavenly.
The sugar crystallizes on the top so it has a slight crunch and has a chocolate brown sugar cookie dough center and a buttery crust.  Pair this cookie pie with vanilla bean ice cream and hot fudge for a downright sinfully good dessert.
I usually wake up very, very early before the sun comes up and many times photograph in the morning hours. As I was photographing this pie, all I wanted to do was dig in and eat a piece….even though it was 6:30 am.
Who eats chocolate chip cookie pie for breakfast? Oh…me.  Guilty.  I snuck a bite because of course, I had to taste it for quality control. I do it for YOU.  My jeans may not fit right now but whatevs.  There's always January…. 🙂 It was WORTH it.
This may be my favorite pie of all time. I know that I may have said that about the White Chocolate Macadamia Pie but it may have some serious competition.  This Chocolate Chip Cookie Pie will be a hit!
How to make a Chocolate Chip Cookie Pie?
 It all starts with the CRUST.  You may use a frozen or refrigerate pre-made pie crust or make your own.  I love to use my

All-Butter Pie Crust Recipe

because using butter in the crust is a perfect accompaniment to the chocolate chip cookie dough.
Make your chocolate chip cookie dough from scratch. This is such an easy cookie dough.  It starts a little different with beating the eggs until foamy. Then the rest of the ingredients are added and poured into the pie shell.
Bake until light golden brown on the top.  This is a pretty thick pie so it needs to bake for about 55 minutes. Check the pie after about 45 minutes and see if the top needs to be covered in foil to prevent it getting to brown.  Continue to bake until it is finished baking.
Let sit for about 1-2 hours to firm up.  Serve it with vanilla ice cream and hot fudge.
If you LOVE Chocolate Chip Cookies, find some of my most popular chocolate chip cookie recipes here:
Levain Bakery Copycat Chocolate Chip Cookies (the most unique cookie!)
Charmina's Chocolate Chip Cookies
Thin and Crispy Chocolate Chip Cookies
Doubletree Hotel Copycat Chocolate Chip Cookies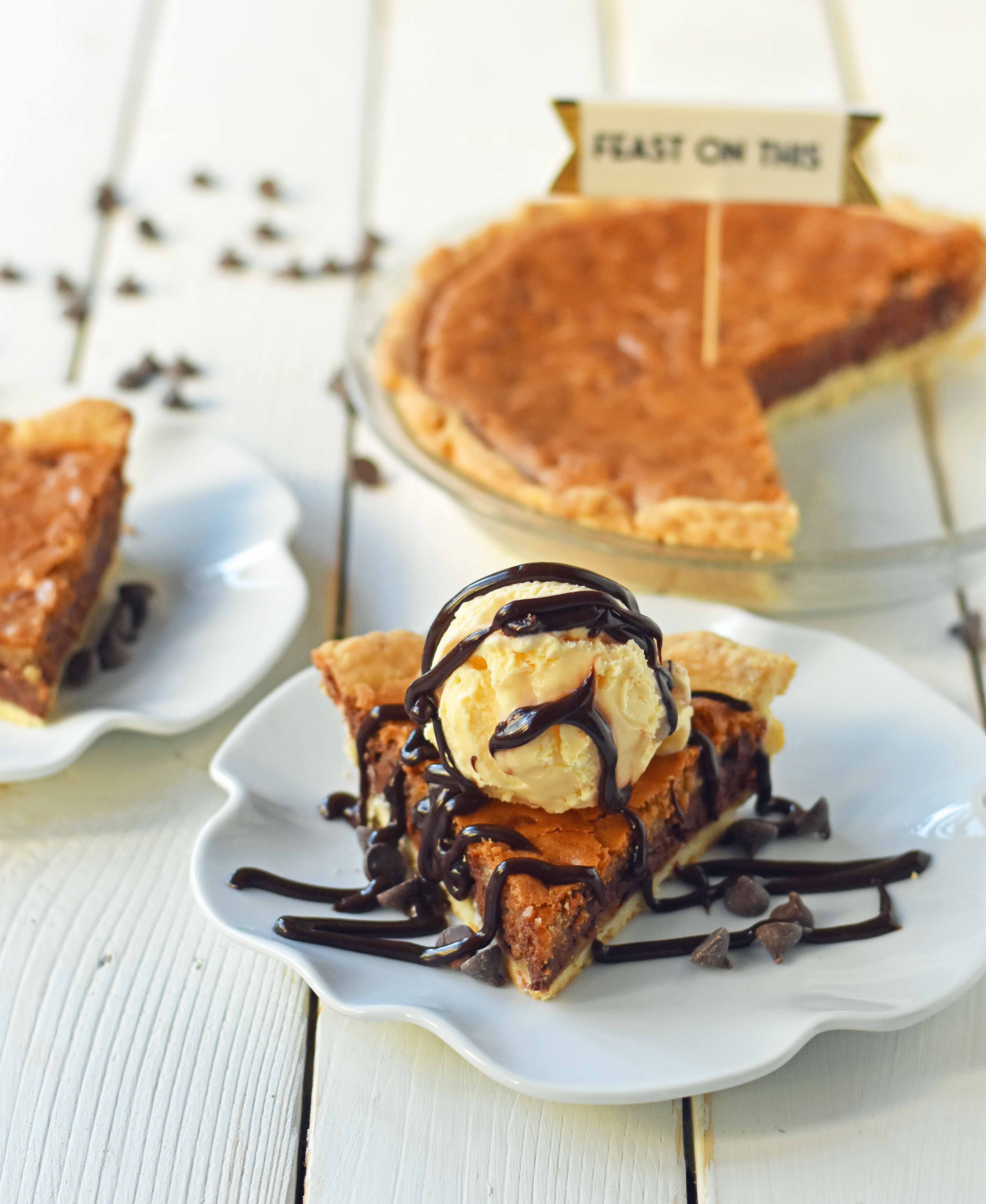 Pin on PINTEREST:
Pin this now to find it later
Pin It
Chocolate Chip Cookie Pie
Homemade Chocolate Chip Cookie Dough baked in a Buttery, Flaky Pie Crust and topped with Vanilla Bean Ice Cream and Hot Fudge.
Ingredients
Pie Crust -- All-Butter Pie Crust Recipe or Frozen/Refrigerated Pre-made Pie Crust

2

Eggs

1/2

cup

Sugar

1/2

cup

Brown Sugar

3/4

cup

Salted Butter

softened

1

teaspoon

Vanilla

1/2

cup

Flour

1 1/4

cup

Chocolate Chips

1

cup

Pecans or Walnuts

optional - I didn't add any to this pie
Garnish:
Vanilla Ice Cream

Hot Fudge

** Adapted from Nestle Tollhouse Chocolate Chip Cookie Pie Recipe
Instructions
Place in pie pan and crimp edges, if desired.

Preheat oven to 325 degrees.

In a large mixing bowl, beat eggs until foamy.

Add sugar and brown sugar and beat until creamy.

Beat in butter.

Stir in flour, chocolate chips, and nuts, if using.

Pour into pie shell and spread evenly.

Bake for 55-60 minutes. Check after 45 minutes and if it is browning too much, cover the top with foil.

Let sit and cool for about 1 hour before serving.

Serve with ice cream and hot fudge.
Nutrition information is automatically calculated, so should only be used as an approximation.
Happy Baking, my friends! My cute topper was made by darling Krista Coons of her Name is Mud. I want everything she makes. She has the CUTEST things in her Etsy store — Her Name is Mud. I hope ya'll have a wonderful Thanksgiving week!