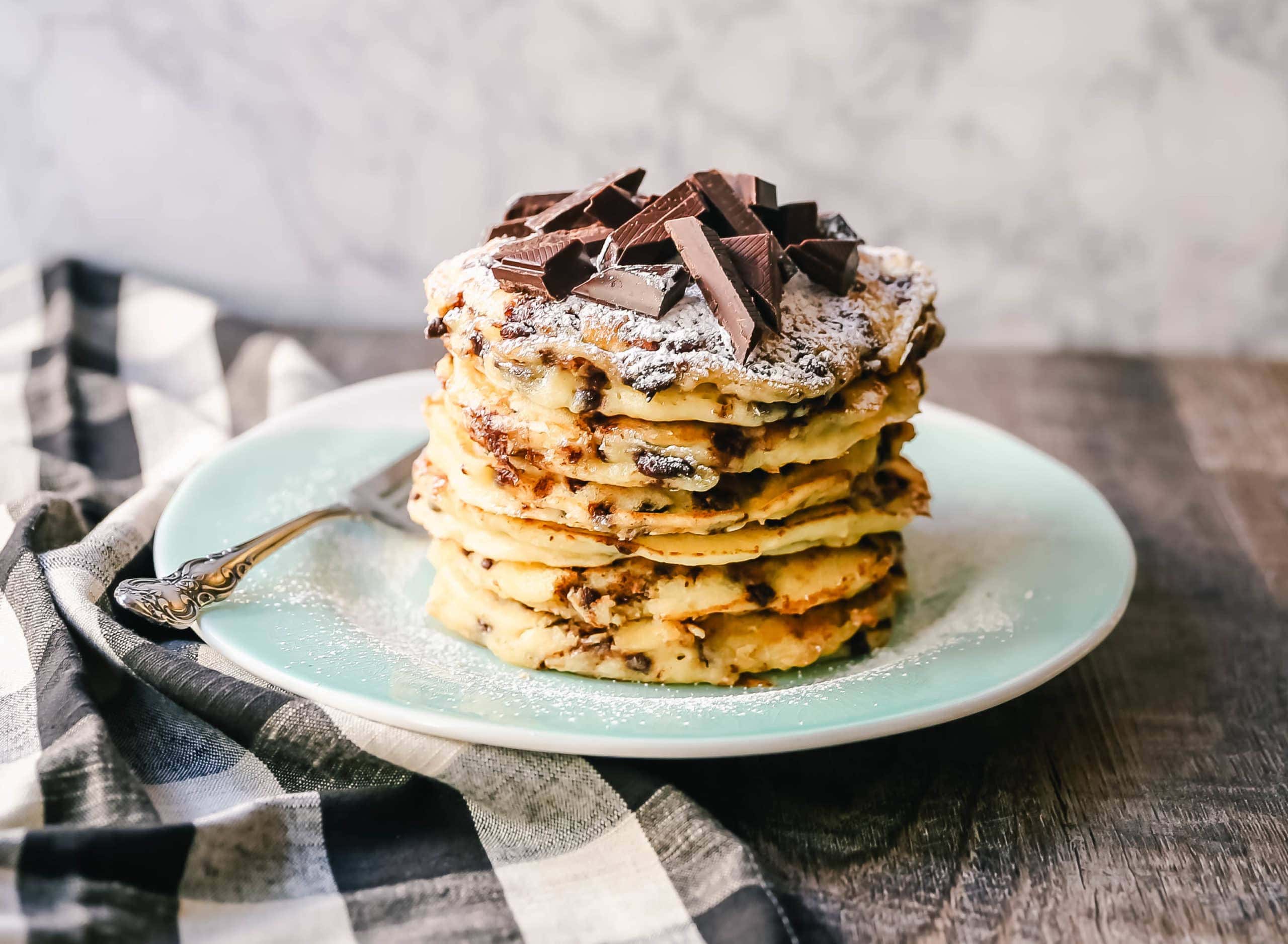 Chocolate Chip Ricotta Pancakes
Creamy homemade one-bowl ricotta pancakes with chocolate chips. How to make easy 5-minute chocolate chip ricotta pancakes from scratch!
It is officially Saturday morning in our home which means two things -- Mom actually makes a real breakfast and a lot of household chores. Growing up we would get up at the crack of dawn on Saturday to finish our chore list as fast as humanely possible so we could hang out with our friends. My Mom always made homemade buttermilk pancakes on Saturday so it was a nice reward for getting out of bed.
Since we are currently jam-packed with teenagers in our home right now, my kids are all about the food. If you feed them, they may just get off of their phones, their video games, and come out of their rooms for food. So I just keep on cooking it and hopefully, I can peel out of them what is happening in their lives, while they are devouring food. It is a win-win.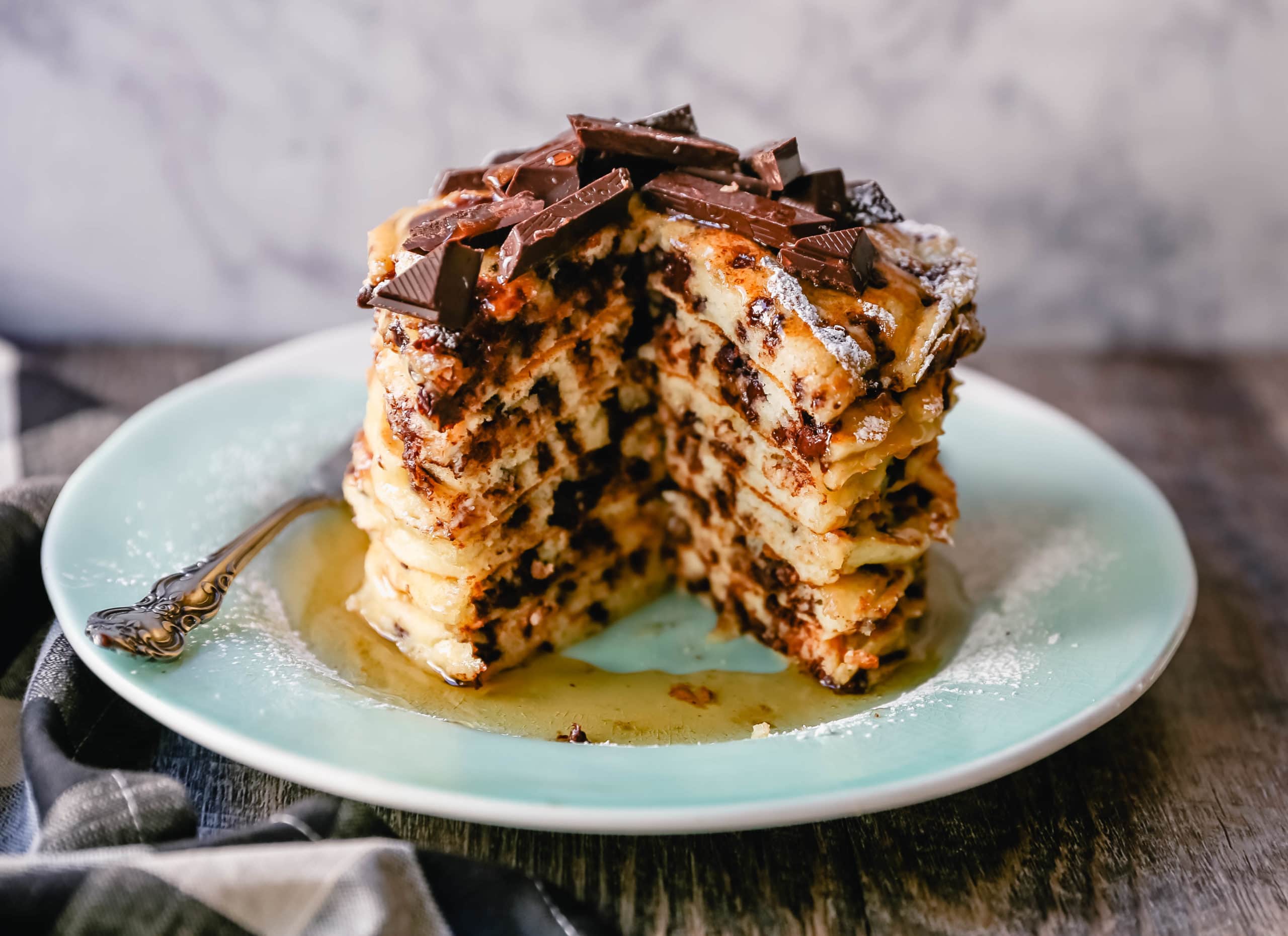 Since Saturdays are a busy day, I want to make a quick and easy breakfast that is still made from scratch. I love my one-bowl ricotta pancakes and sometimes I take it up a notch and add some chocolate to the ricotta pancakes. It is almost like eating a chocolate chip cookie for breakfast and I am all over it.
These Chocolate Chip Ricotta Pancakes are so heavenly you will think you are eating at some gourmet breakfast spot. They have the creamiest texture yet still fluffy with rich chocolate in every single bite.
The bonus is that they take one bowl and 5 minutes to whip up! My kids have been making these by themselves for years and I love it! They are the easiest pancakes.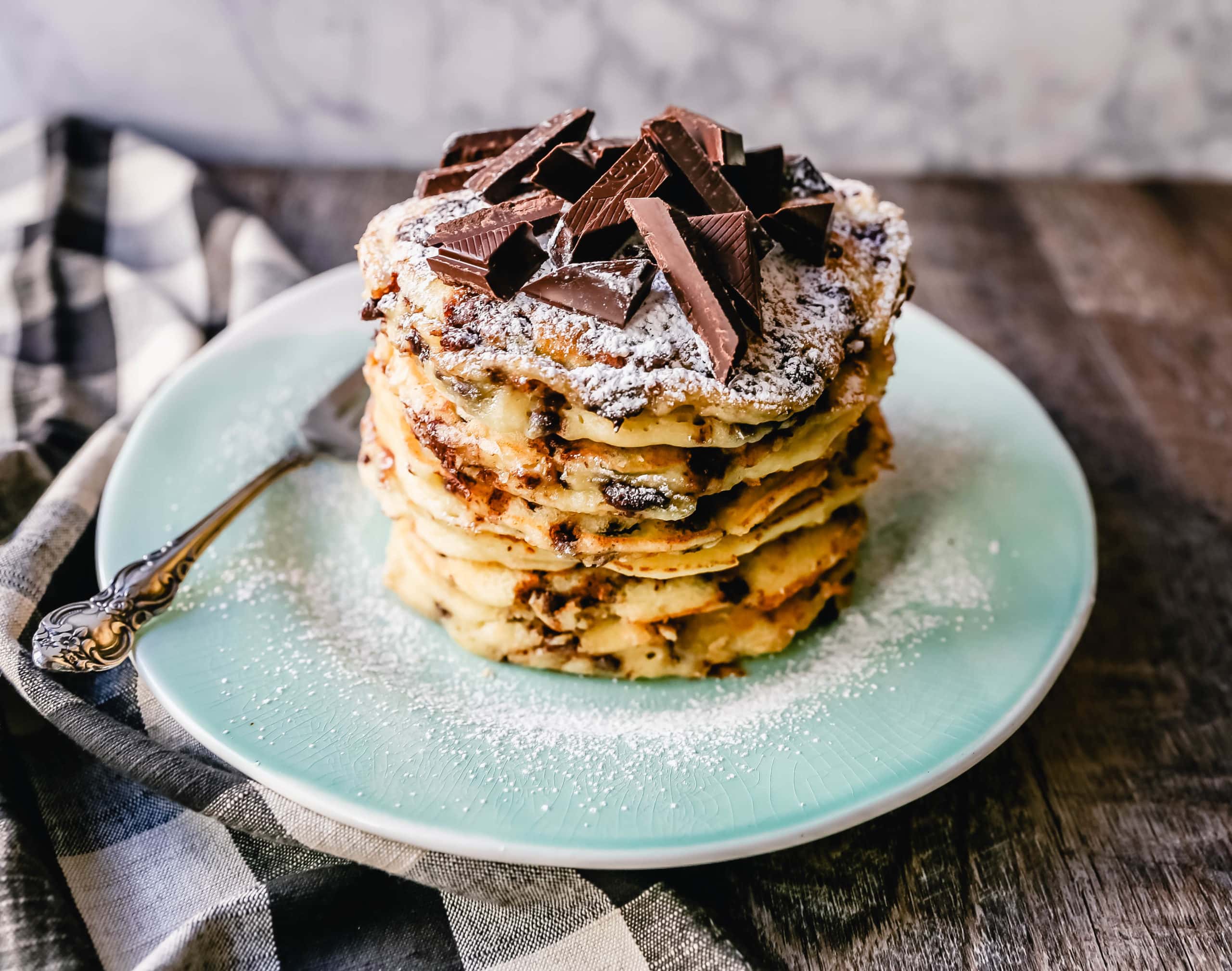 How to make the Best Chocolate Chip Ricotta Pancakes:
Start by using whole-milk ricotta cheese. It is creamier and less watery so I prefer it. If you prefer, you can swap it out with part-skim ricotta cheese. Mix the ricotta cheese, buttermilk, eggs, vanilla, sugar, and chocolate chips in a bowl. You can use mini chocolate chips or regular-sized chocolate chips. If you want a cannoli ricotta pancake, add 1 teaspoon of orange zest.
Fold in the flour, baking powder, and salt. Heat a large skillet over medium heat. These need time to cook through so watch the heat carefully and lower if the outsides are browning too fast.
Butter the pan! Butter makes everything better and definitely brings flavor and richness to the pancakes and also creates a golden color.
Sprinkle with powdered sugar. Serve with real maple syrup, chocolate chunks, and whipped cream.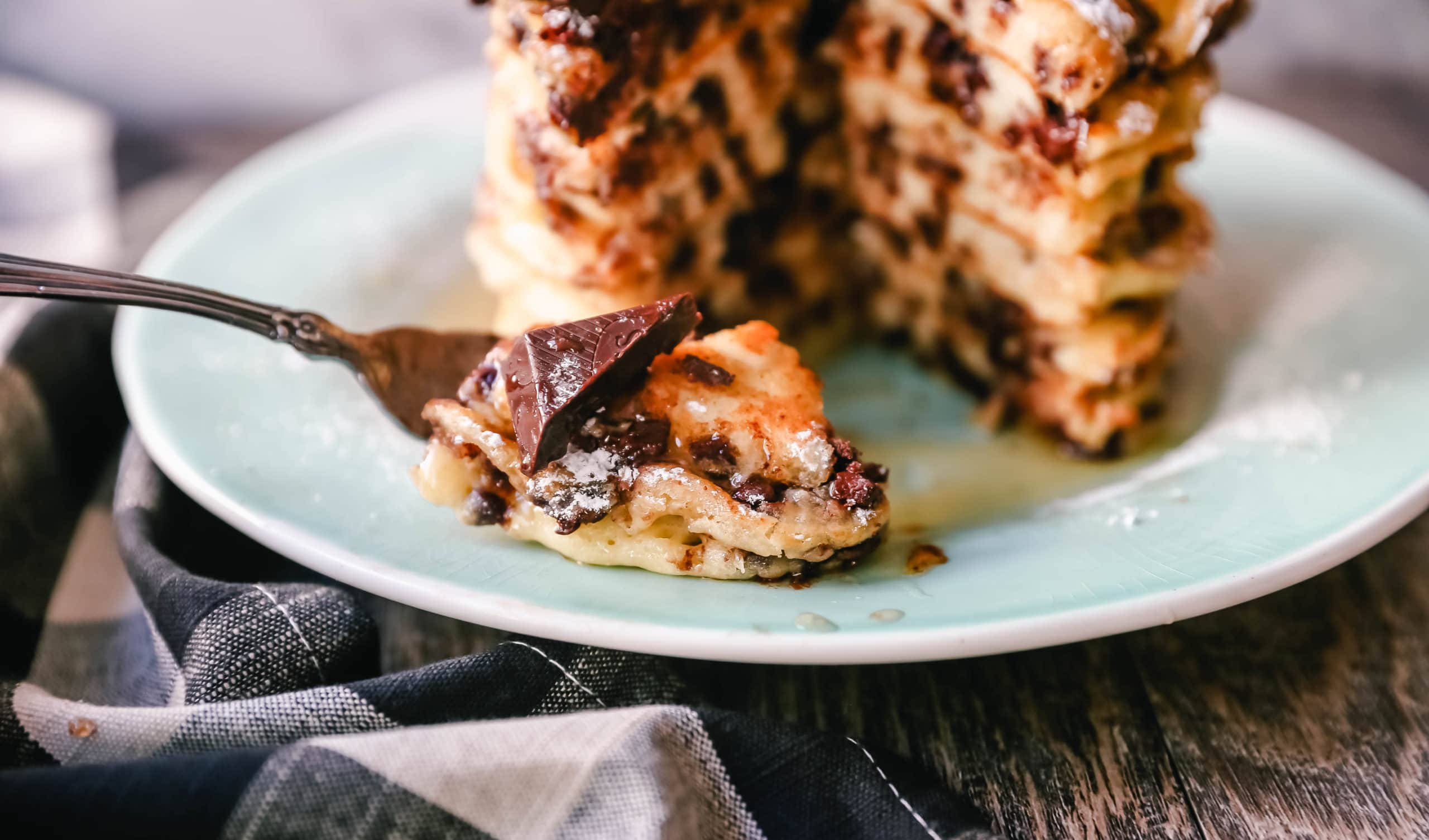 If you love pancakes, check out these other popular pancake recipes:
Sweet Cream Ricotta Pancakes
Lemon Ricotta Pancakes
Goldie's Buttermilk Pancakes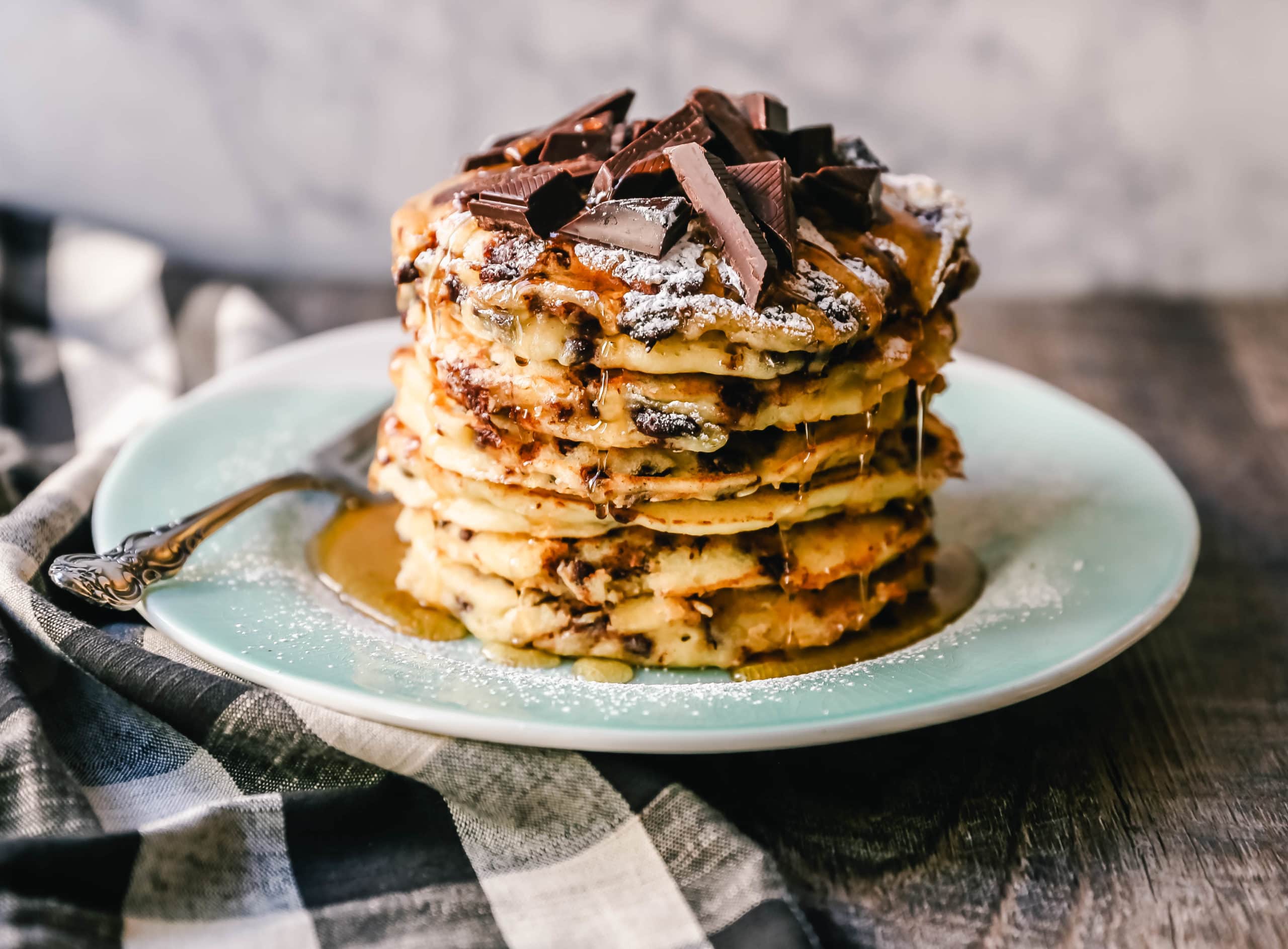 Follow Modern Honey on Facebook
Follow @modern_honey on Instagram
Follow me @ModernHoney on Pinterest