Soft, chewy homemade peanut butter cookies dipped in melted chocolate. This peanut butter and chocolate cookie is rich and decadent and perfect for chocolate peanut butter lovers!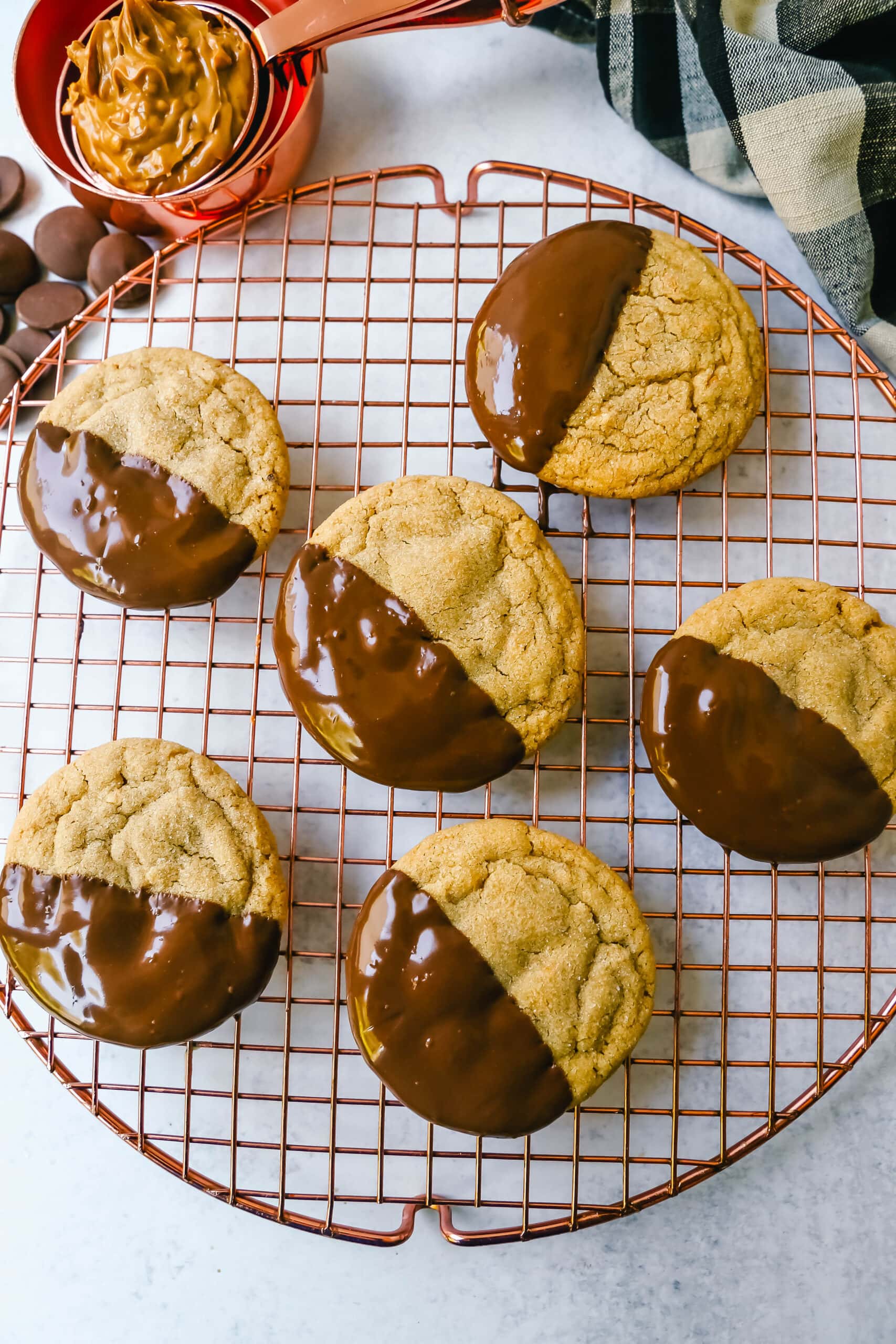 My husband is obsessed with peanut butter cookies.
He can pound 5 of them in one sitting. Just give him a big glass of milk and he can devour peanut butter cookies like the best of them.
So after making peanut butter cookies for years, I wanted to elevate them and make them more gourmet by dipping them in melted chocolate.
Oh my heavens, they are so heavenly! If you love chocolate and peanut butter together, these cookies are for you!
I love that these are super easy to make yet they look straight from a bakery (but even better!)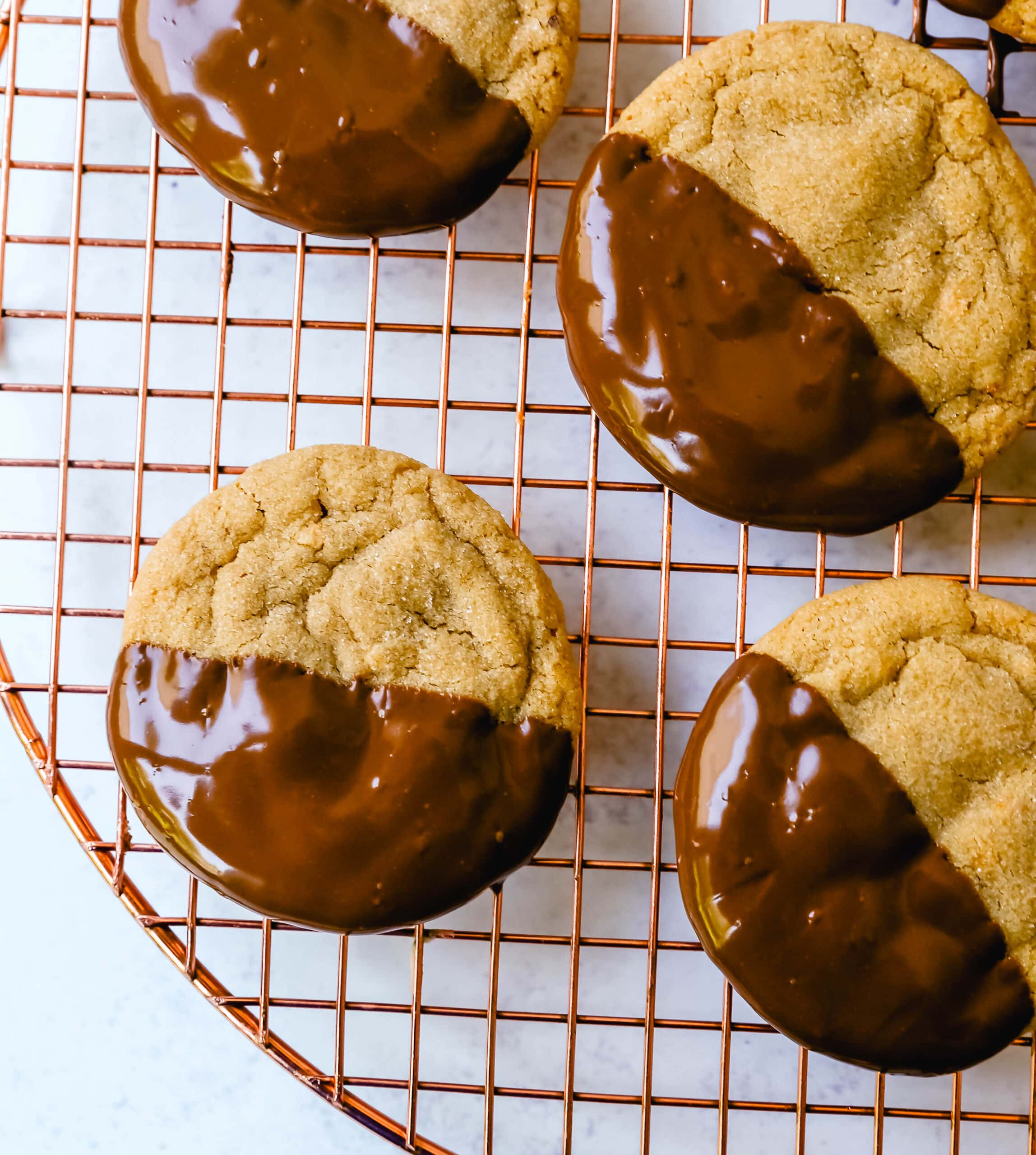 Ingredients:
Butter
Brown Sugar
Sugar
Eggs
Vanilla
Chunky Peanut Butter
Flour
Baking Soda and Baking Powder
Salt
Chocolate Melting Wafers (Ghirardelli)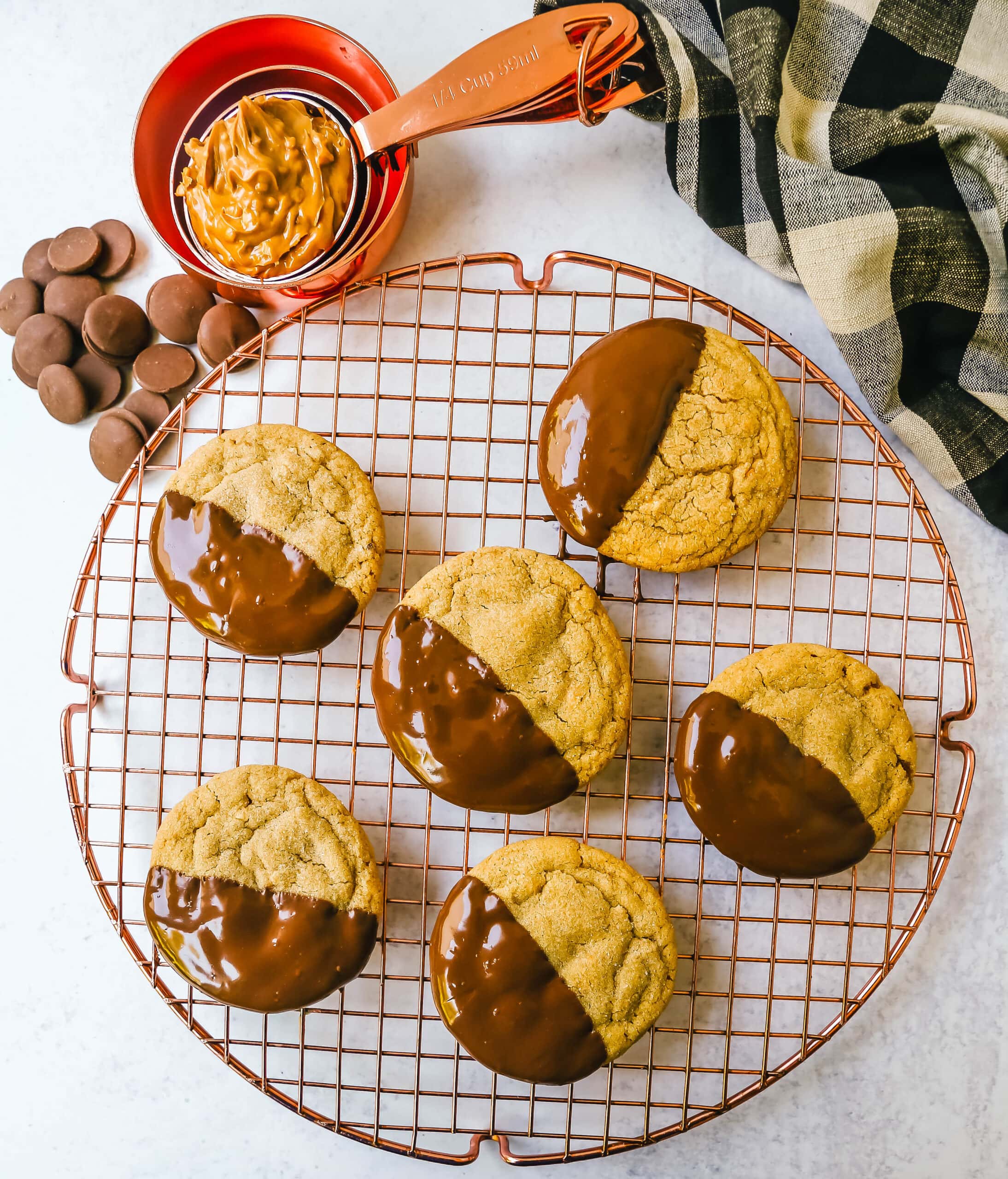 Tips and Q & A's:
Can I use creamy peanut butter instead of chunky peanut butter?
Absolutely! If you want a smooth, creamy peanut butter cookie, use creamy peanut butter. If you want a slightly crunchy yet soft peanut butter cookie, use crunchy peanut butter.
I don't suggest using all-natural peanut butter in this recipe as there isn't enough moisture for this peanut butter cookie recipe.
What type of chocolate should I use for the melting chocolate?
I suggest using melting wafers like the Ghirardelli melting wafers. They are made to easily melt and are so quick and easy.
You can also use chocolate bars chopped up and melted in the microwave at 50% power.
If you use chocolate chips, I suggest adding 1-2 teaspoons of oil to the chocolate chips to make sure the chocolate doesn't seize up.
How to make Chocolate Ganache Dipped Peanut Butter Cookies:
Start by creaming together butter, brown sugar, and sugar together for at least 4 minutes. This helps to create a smooth texture.
Add in eggs, vanilla, and creamy or chunky peanut butter.
Fold in flour, baking soda, baking powder, and salt. Make sure not to overmix!
Roll into balls and then dip into sugar and roll until the dough is evenly coated.
Place the dough balls on a light-colored baking sheet, lined with parchment paper.
Bake until the cookies just begin to set up. If you want the peanut butter cookies to be soft and chewy, you want to underbake them slightly. Let cool completely.
Melt the chocolate wafers according to package instructions. Once the cookies have completely cooled, dip half of the cookie into the melted chocolate.
Place on an elevated cooling rack and allow the chocolate to set-up.
PEANUT BUTTER COOKIE RECIPES: