This Coconut Rice recipe is made with only five ingredients -- rice, coconut milk, water, sugar, and salt. It is the perfect savory side dish with a touch of coconut flavor.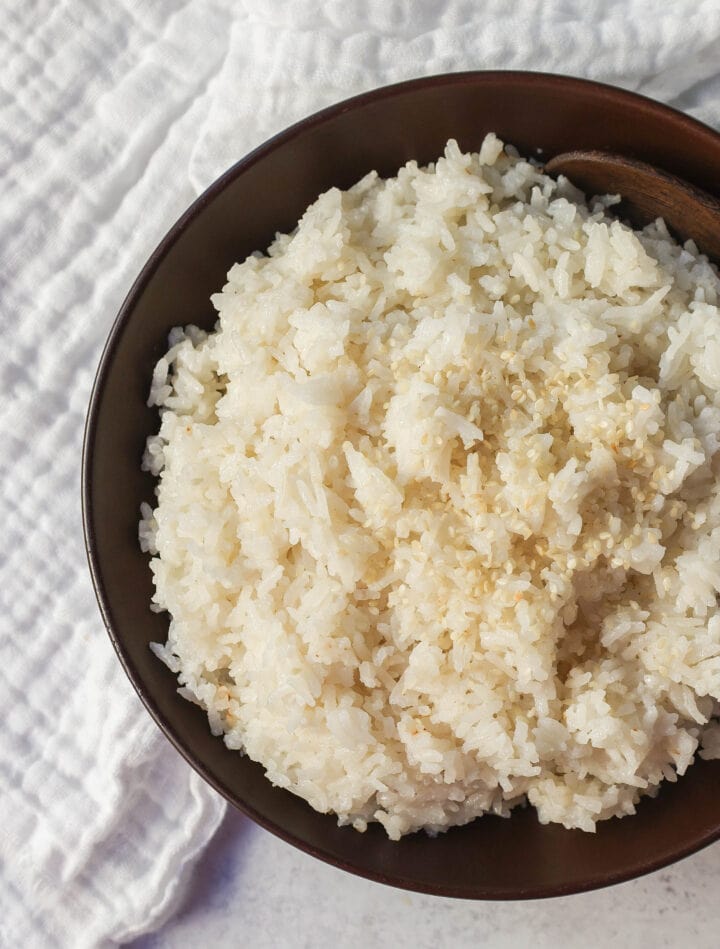 Have you tried coconut rice? It just transforms ordinary rice by infusing coconut milk into the rice while it cooks. It has a light coconut flavor and creamy texture.
This easy Thai coconut rice recipe is made with only 5-ingredients and gives the best coconut flavor and perfect texture. I love to serve it with so many dishes!
Ingredients:
This 5-ingredient easy, fluffy coconut rice is so easy to make and has the perfect amount of coconut flavor.
Rice -- I suggest using jasmine rice to make this coconut rice recipe. My favorite is the Golden Star Jasmine Rice. I suggest rinsing the rice several times to remove excess starch. This is essential in this coconut rice recipe because of the addition and fat content of canned coconut milk.
Canned Coconut Milk -- use only canned coconut milk (NOT coconut milk found in a carton in the refrigerated section). It is imperative to use canned coconut milk because it makes the fluffiest and most flavorful rice.
Water -- it is important to use a combination of water and canned coconut milk. The rice needs water to help absorb the coconut milk.
Sugar -- a pinch of sugar adds a touch of sweetness to the coconut rice. You can reduce or increase the sugar amount according to preference.
Salt -- add the salt with the water and coconut milk so it infuses into the rice as it cooks.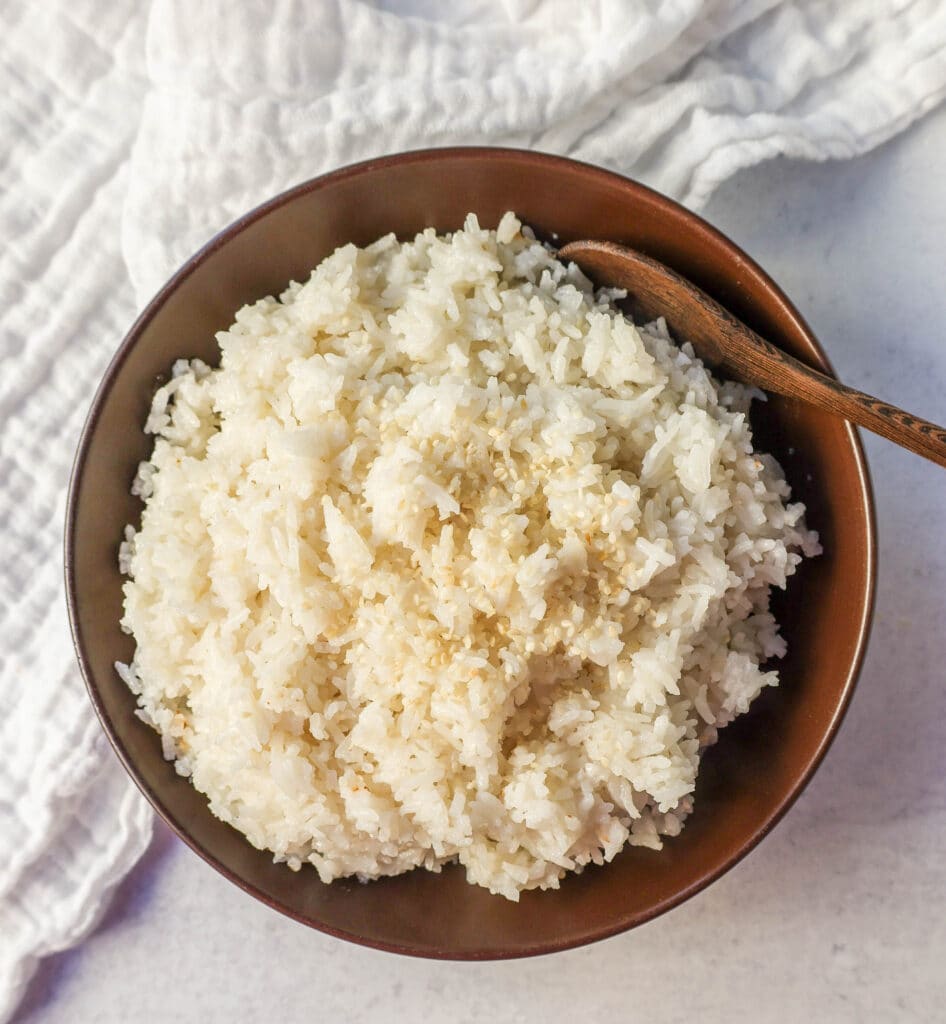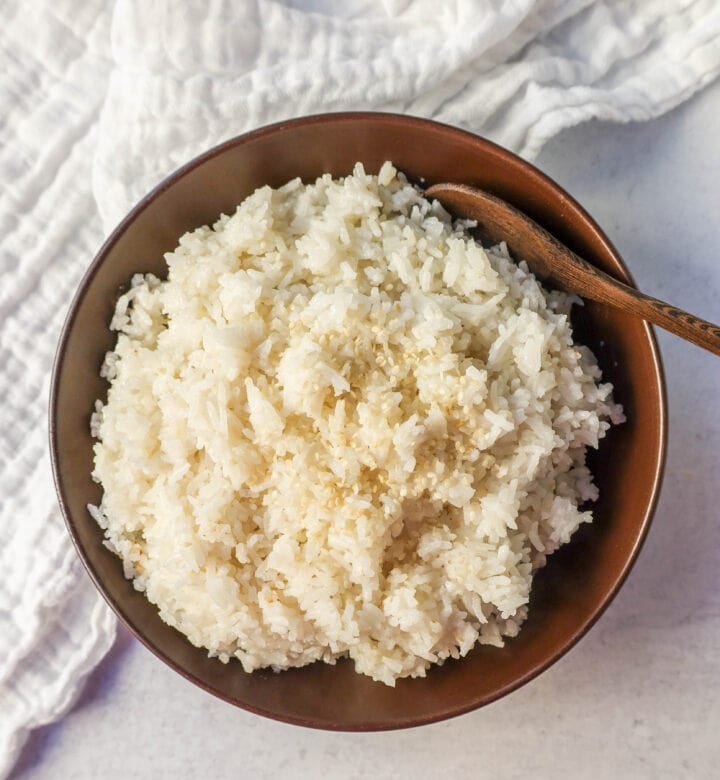 How to rinse rice:
Rinsing the rice helps to remove some of the starch, which helps to create fluffier rice. Pour the rice into a bowl and fill it with water, then swish the rice around. Drain the water, and then fill the bowl with water again and repeat 3-4 times until the water is less murky. Now it is ready to cook!
How to make Coconut Milk Rice:
Start by rinsing the rice (instructions above). Add the rinsed rice to a rice cooker or pot.
Stir in canned coconut milk, water, sugar, and salt.
If cooking in a pot, bring the mixture to a boil. Once it boils, reduce heat to low and cover. Cook covered for 20 minutes or according to package instructions.
If using a rice cooker, cook according to package instructions or until most of the coconut milk and water is absorbed. Fluff with a fork.
Top with fresh cilantro, toasted coconut, or sesame seeds.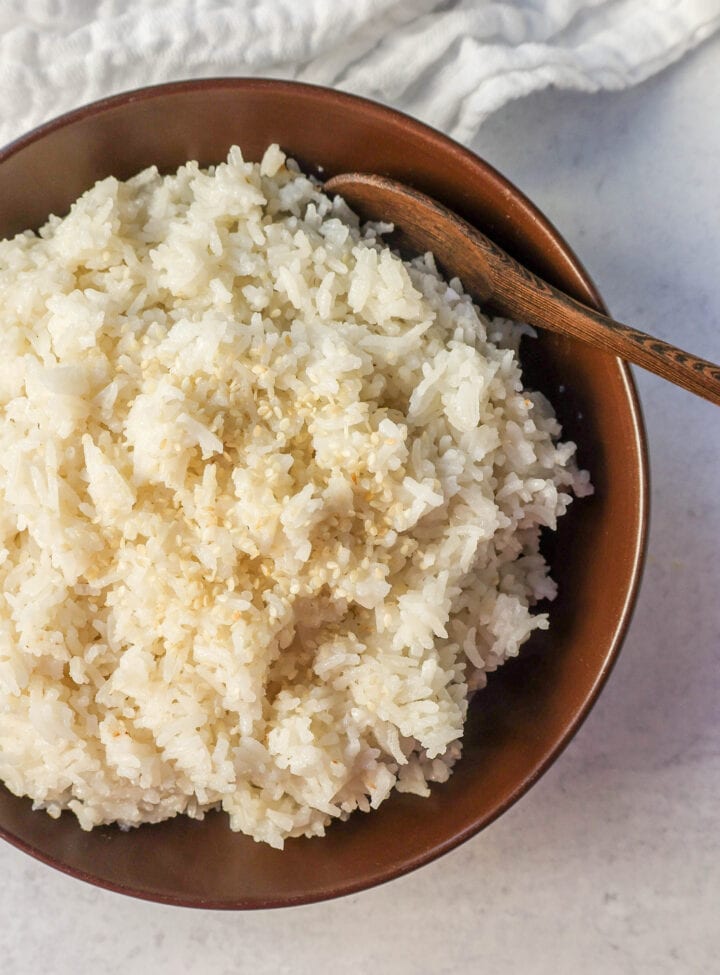 FAQ AND TIPS
Rinse the Rice! By rinsing the rice, it helps to remove most of the starch so the rice doesn't stick together and has a gummy texture. It also cleans the rice.
Add both coconut milk and water. Think of coconut milk as a flavor enhancer and the water helps to perfectly cook the rice. The rice absorbs the coconut milk and creates a creamy texture.
Storage: Allow the coconut rice to cool to room temperature and then transfer to an airtight container and refrigerate.
What to serve with Coconut Rice:
You can serve so many dishes with coconut rice! You can use it just like you would traditionally cooked rice. I like to serve it with the following dishes:
I love to make my coconut rice in a rice cooker. This is my favorite rice cooker.