Soft, chewy sugar cookies filled with sprinkles and white chocolate. This festive funfetti cookie recipe has the perfect chewy center with buttery crisp edges filled with rainbow sprinkles.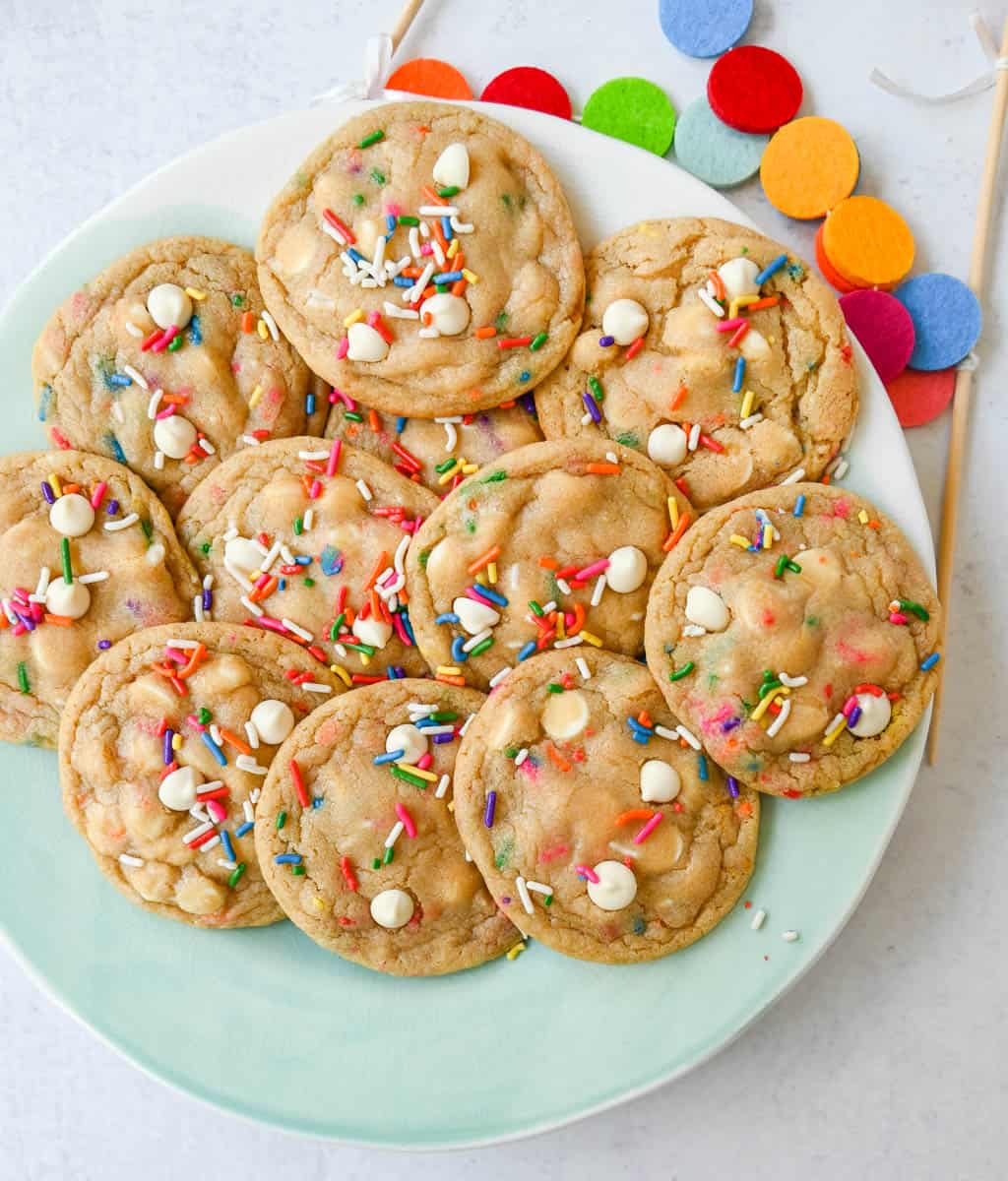 I have been hearing all about the confetti cookies just released from the Costco bakery. No matter how old you are, you can still love sprinkles! They just make everything so much more fun, colorful, and of course sweet.
I walked the streets of New York City today and tried to see as much of Central Park and the Upper East and West Side. I logged over 10 miles of walking! As I walked Central Park, I passed hundreds of graduates, wearing their blue caps and gowns, many holding flowers and balloons. It was so celebratory with families gathering around take pictures and celebrate that milestone.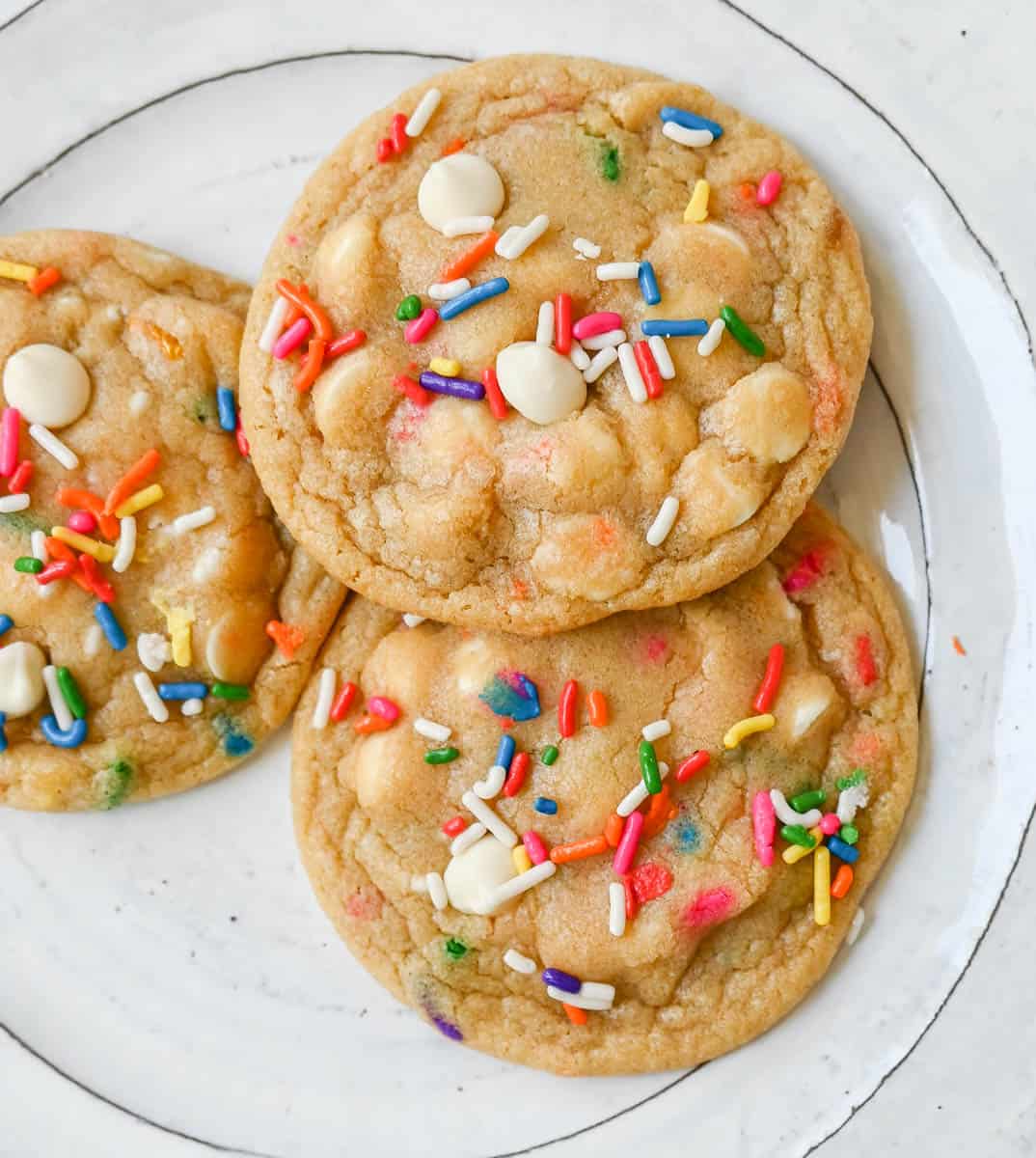 To celebrate the final day of school tomorrow for my kids, I am making up a huge batch of these funfetti sprinkle cookies to welcome the official start of summer.
Also, these are the perfect birthday cookies because you can fill them with your favorite types and colors of sprinkles.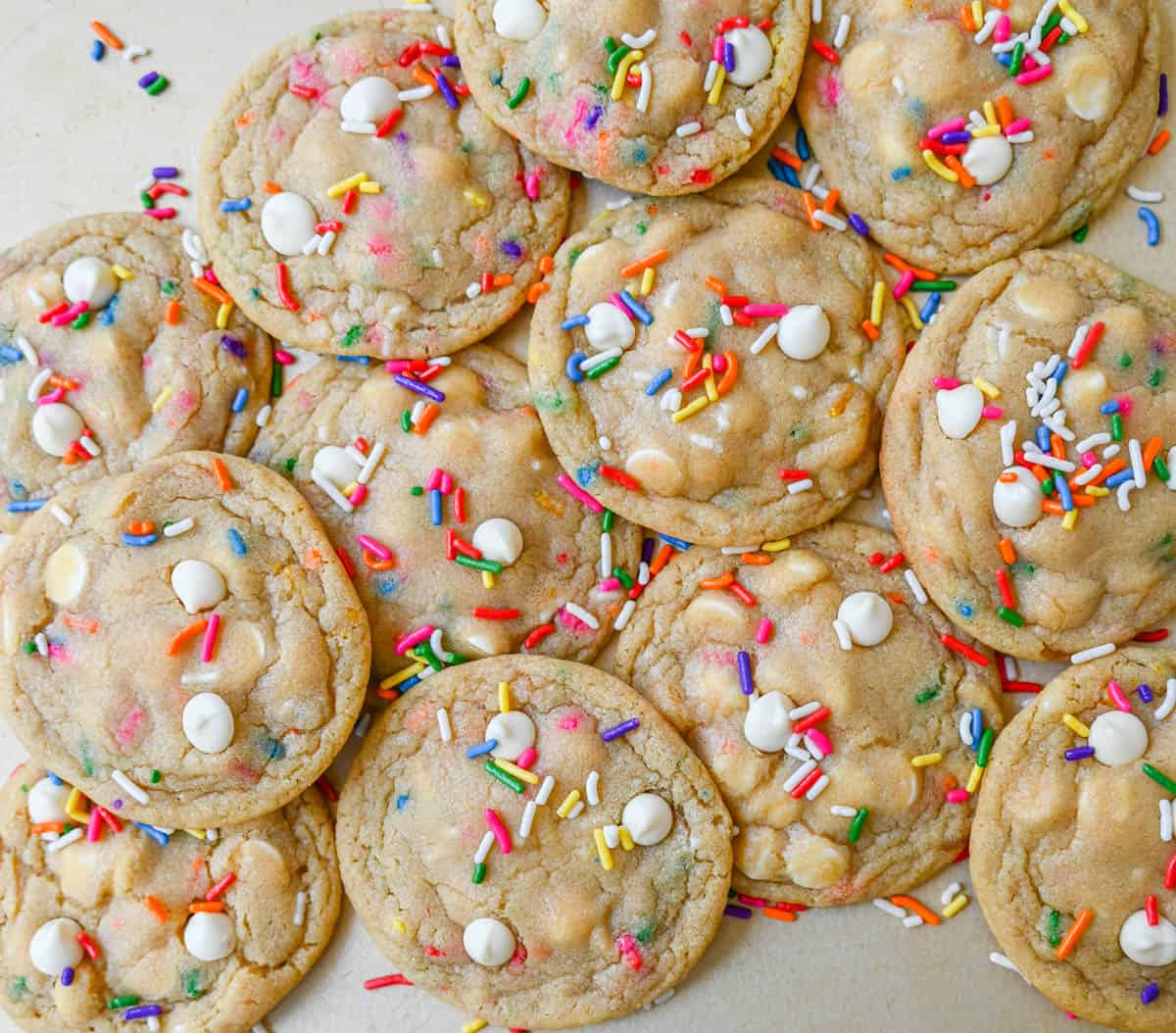 Confetti Cookie Ingredients:
These are the cutest and yummiest birthday cookies, perfect for any celebration. I love how festive they look with the brightly colored sprinkles.
Butter — use unsalted or salted butter in this recipe. If you use salted butter, reduce the salt by ¼ teaspoon.
Brown Sugar — always tightly press down the brown sugar in the measuring cup.
Sugar — use granulated sugar.
Eggs — all of my cookie recipes call for large eggs.
Vanilla — use a high-quality pure vanilla extract if possible. My favorites are Nielsen-Massey and Authentic Mexican Vanilla.
Flour — use all-purpose flour.
Baking Soda — this gives the cookies the perfect amount of rise while baking.
Salt — the flavor enhancer and integral in baking.
Rainbow Sprinkles — use your favorite color and type of sprinkles. The classic sprinkles are rainbow sprinkles.
White Chocolate Chips — I suggest using Guittard or Ghirardelli white chocolate chips.
Optional: Birthday Cake Flavoring — this adds that perfect birthday cake flavor.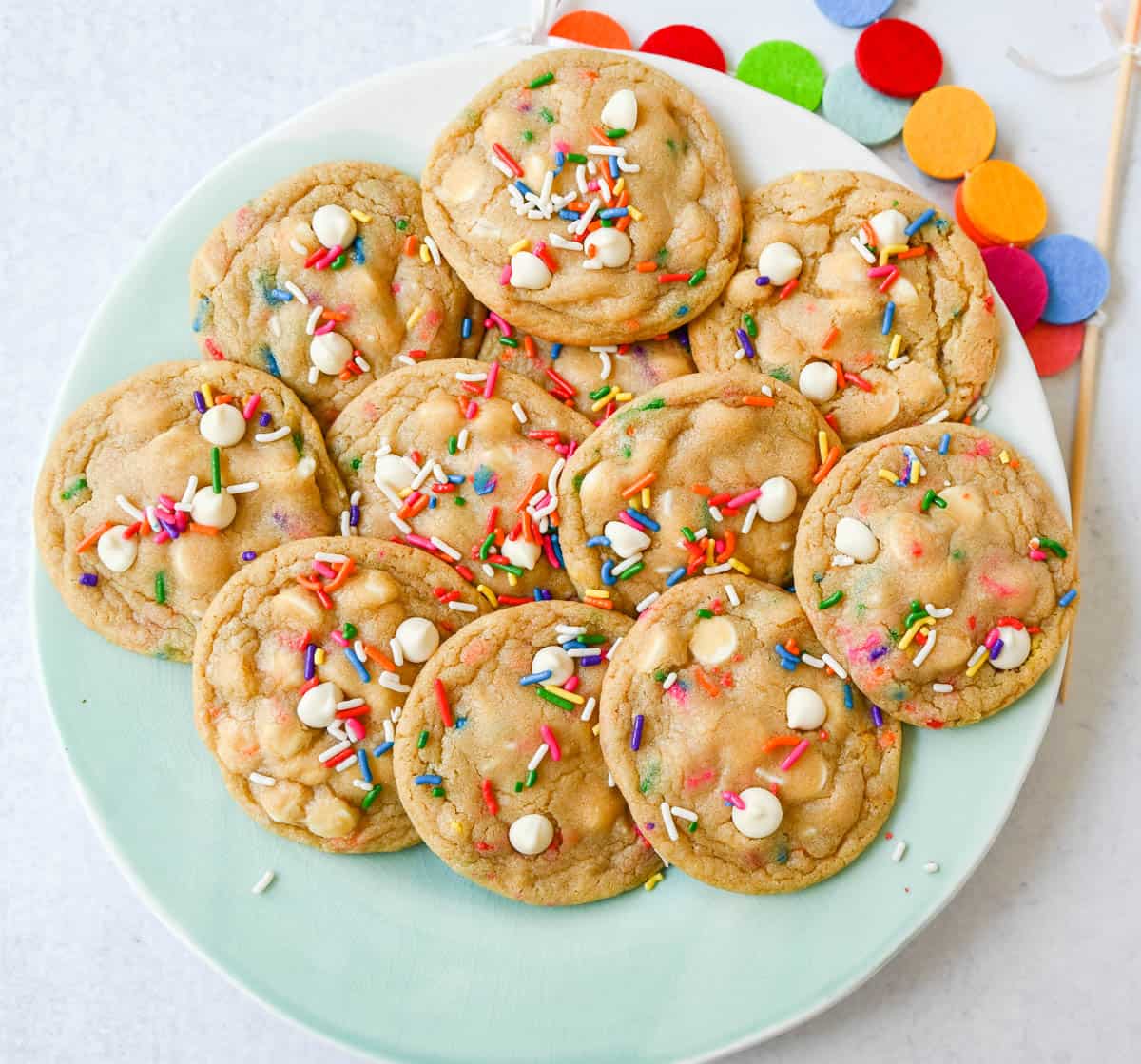 How to make Soft Funfetti Cookies:
Start by creaming the butter and sugars with a stand mixer, like a KitchenAid, or a hand mixer for 4 minutes, or until light and fluffy. Scrape the sides of the bowl to ensure even mixing. This creates a creamy texture and gives loft to the cookie dough. Add eggs and vanilla extract.
Fold in dry ingredients. Don't over-mix the flour or it will create too much gluten in the dough. Once the dry ingredients are incorporated, fold in the sprinkles.
Roll into balls. Place on a parchment paper lined baking sheet. I suggest using parchment paper sheets on light-colored baking sheets. Bake just until the edges start to become a light golden color. The cookies will continue to bake once they are removed from the oven, so be careful not to over bake them.
To make cookies look more gourmet, set aside some white chocolate chips to lightly press into the cookies as soon as they are removed from the oven. You can also sprinkle with extra sprinkles, even though they may not stick well.
Variations:
You can make these celebration cookies for any type of holiday or birthday or just for fun!
If you want to make them festive for holidays, you can use red, white, and blue sprinkles to celebrate the 4th of July or red and green sprinkles to celebrate Christmas or rainbow sprinkles to celebrate a birthday.
If you love sprinkles, check out my Funfetti Sprinkles Pancakes Recipe perfect for a birthday breakfast.
If you love cookies, check out my other popular cookie recipes:
Red Velvet Cookies with Cream Cheese Frosting
Lemon White Chocolate Chip Cookies
Orange White Chocolate Chip Cookies