This Cowboy Chicken is Marinated Grilled Chicken topped with BBQ Sauce, Crispy Bacon, and Cheddar Cheese. Top with Fresh Cilantro and Red Onion. This is the best Monterey Chicken recipe!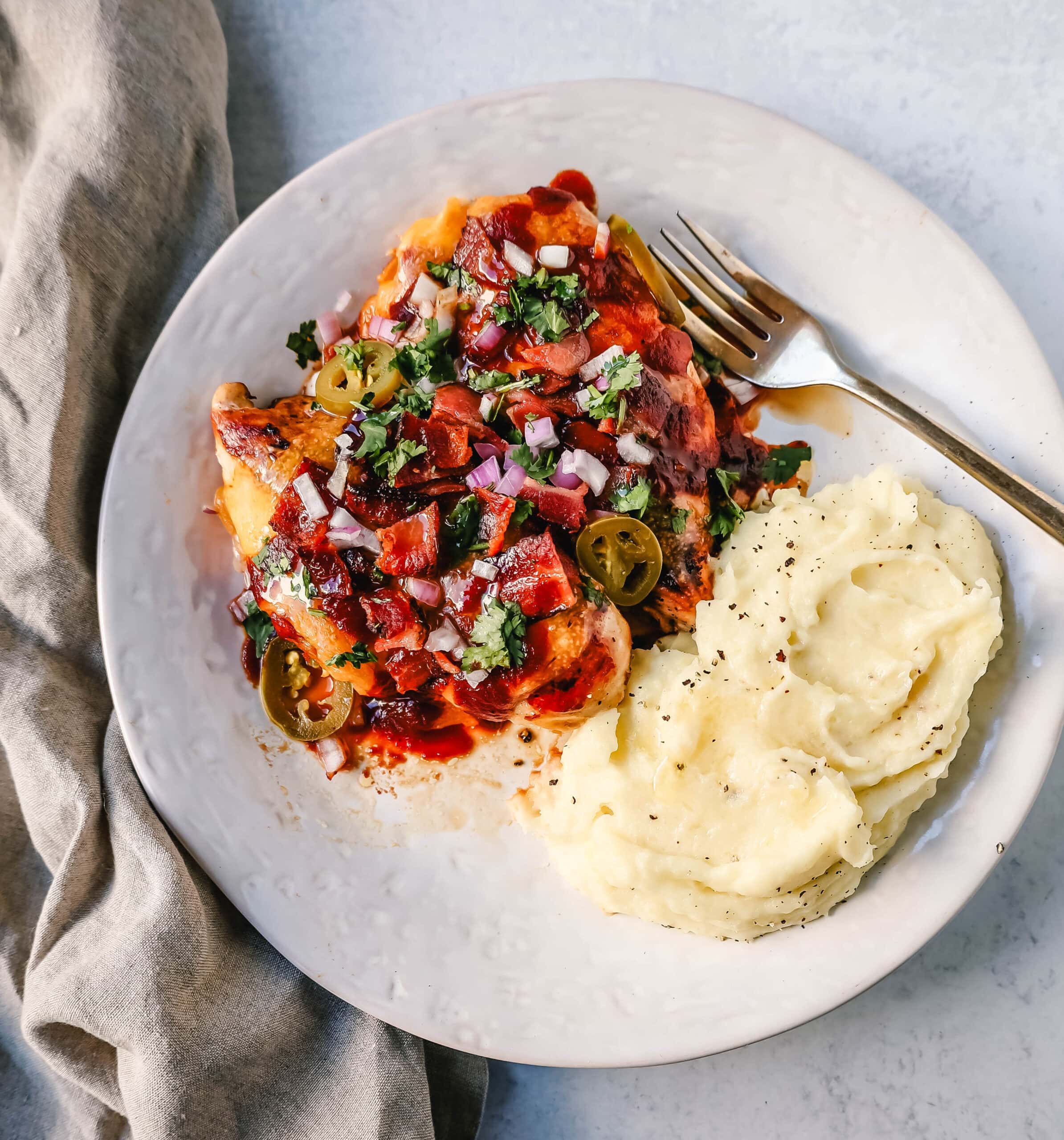 Father's Day is coming up this Sunday and I wanted to create a recipe that they will love! This is not your ordinary chicken recipe. I named this Cowboy Chicken! This has smoky BBQ sauce, crispy bacon, and cheddar cheese to give it so much flavor. My family asks for this Cheesy Bacon Chicken all of the time!
This is a variation of the famous Monterey Chicken. I saw the Monterey Chicken recipe in a cookbook and started experimenting with it and making changes until it was perfected.
The chicken is marinated in honey mustard and then grilled until it is cooked through and perfectly golden on the outside. I also recipe tested this in a skillet and it works brilliantly as well. I will list both cooking methods below.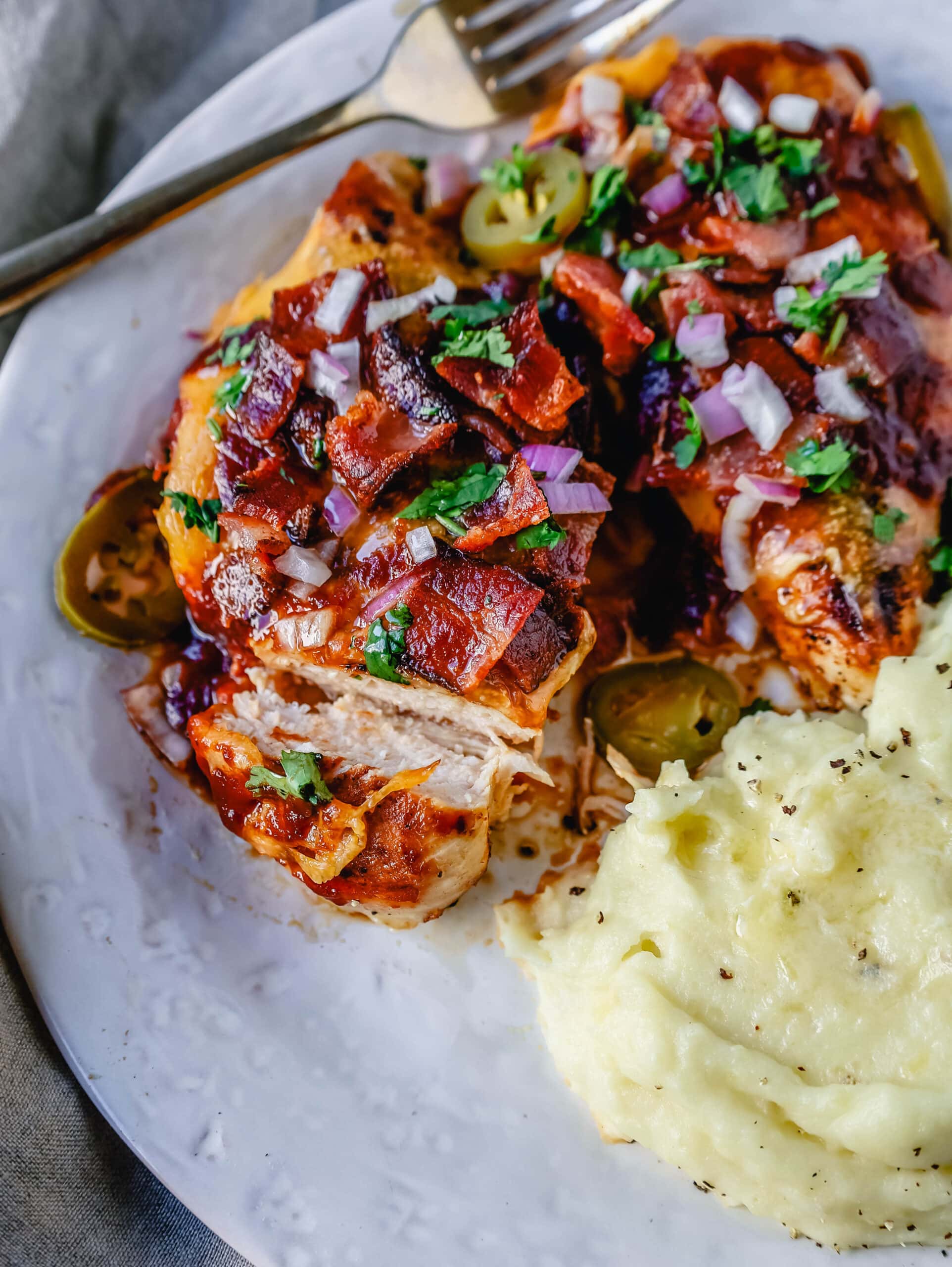 Cowboy Chicken Ingredients:
Thin Sliced Chicken Breasts
Crispy Bacon
Cheddar Cheese
BBQ Sauce
Salt and Pepper
Honey Mustard Chicken Marinade
Red Onion
Cilantro
Pickled Jalapeno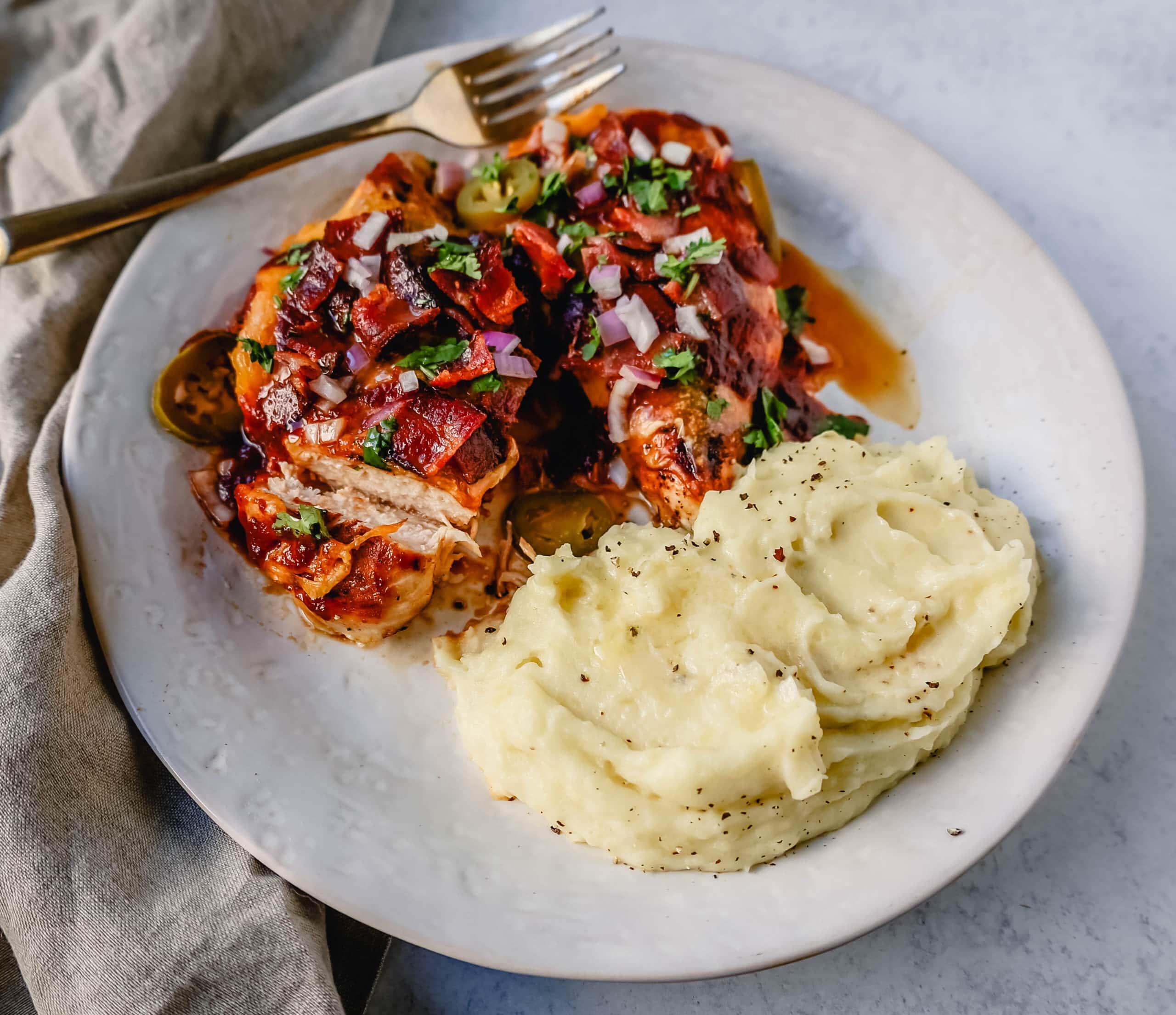 How to make Monterey Chicken Recipe:
Season and Marinate your Chicken! This is such an important step. We are adding a lot of toppings to the chicken but we want the chicken to be seasoned as well. Marinate the chicken breast in extra-virgin olive oil, honey, dijon mustard, salt, and pepper. Reserve some of the marinade (before adding it to the chicken) to baste on the chicken as you are finishing up cooking it. You can also marinate the chicken with my FAMOUS CHICKEN MARINADE RECIPE.
Use Thin-Sliced Chicken Breasts for the most evenly cooked chicken. It is so much easier to cook chicken when it is the same thickness. If you can't find thin sliced chicken breasts in the store, you can use a mallet or rolling pin to carefully pound the chicken. You can also butterfly the chicken by cutting it in half horizontally. Place the chicken in a bag with the marinade and place it in the refrigerator to marinate for 30 minutes.
While the chicken is marinating, cook the bacon until nice and crispy. You can cook the bacon in a skillet or in the oven at 400 degrees for about 20-25 minutes. Cut into bite-size pieces.
Fire up the grill! I prefer grilling the chicken breast but you can also cook this in a saucepan. Cook the chicken on medium heat until the center of the chicken breast registers 160 degrees. This is how you get perfectly juicy chicken!
Once you flip the chicken, baste the chicken with the remaining marinade you set aside. Sprinkle with cheese and let it melt.
Remove the chicken from the grill and drizzle with BBQ sauce, crispy bacon, fresh cilantro, and pickled jalapenos.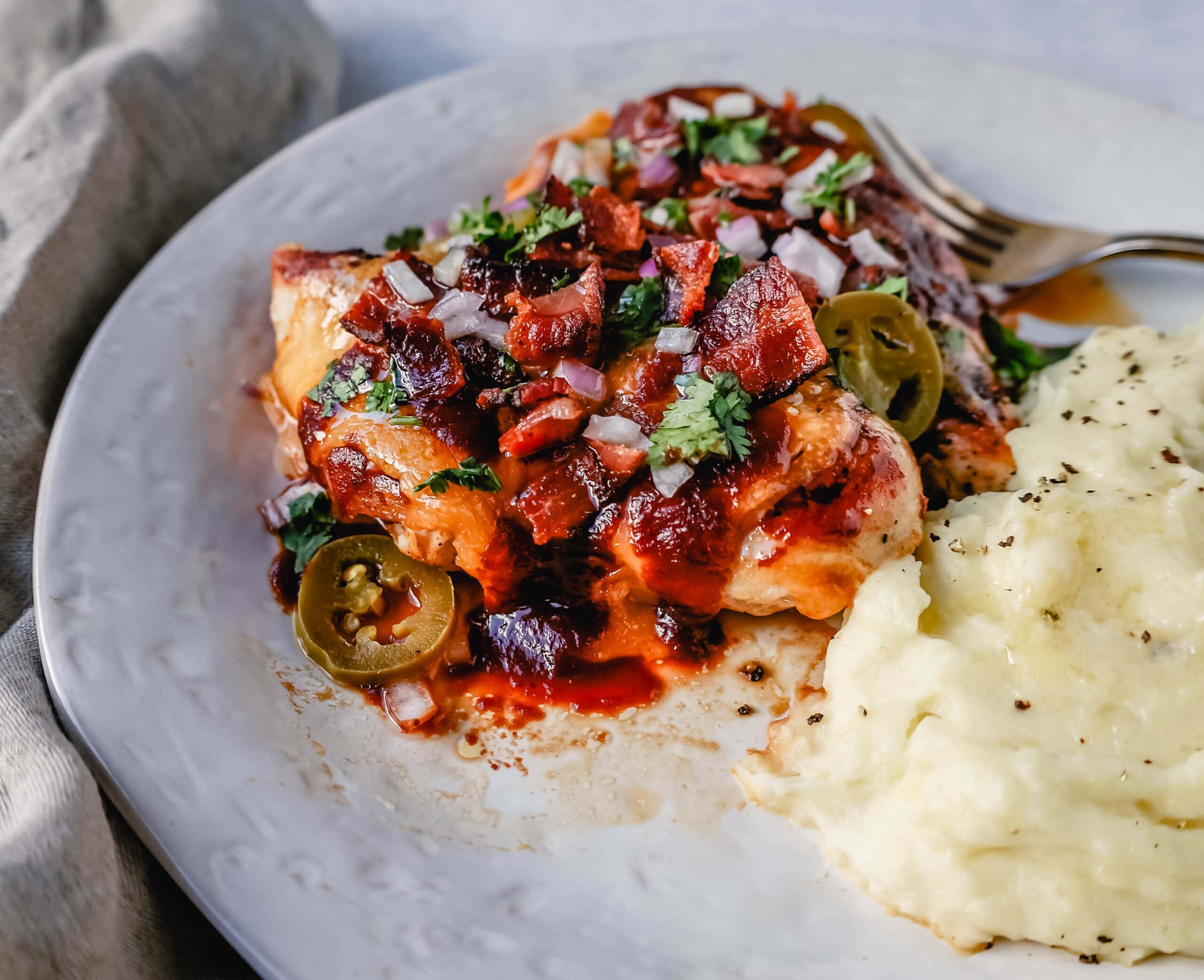 What to serve with Monterey BBQ Bacon Chicken: