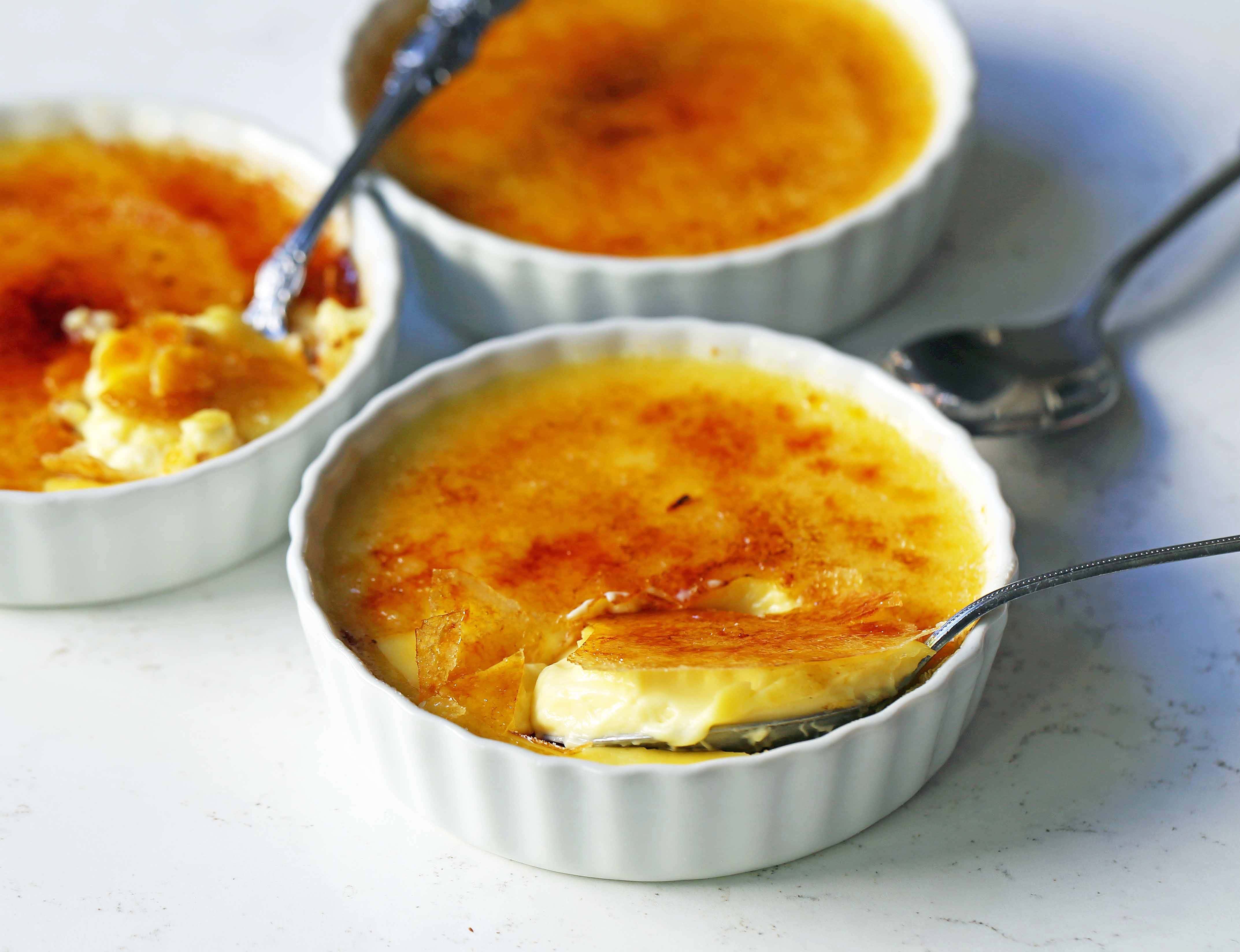 Creme Brulee
A creamy, silky vanilla custard topped with crisp sugar crust is one of the most popular desserts at restaurants for good reason. 
It's almost Valentine's Day so I am sharing how to make a restaurant-quality creme brulee at home. You are going to WOW your special someone with this dessert.  It is a silky smooth, vanilla custard topped with a sugar crust.  It is the richest, creamiest, luxurious dessert!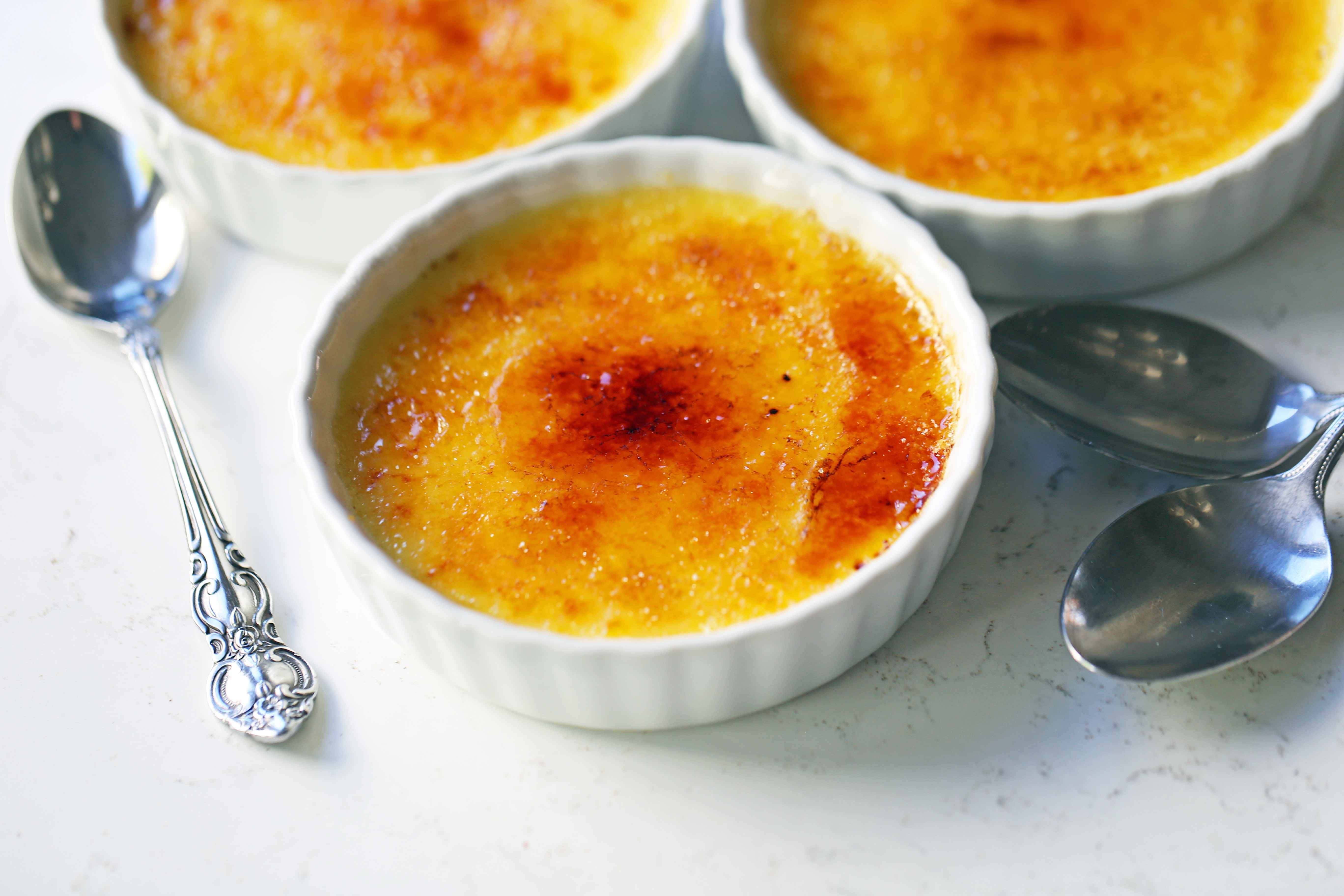 I hear many people tell me they are intimidated by making homemade creme brulee.  It is actually much easier than you would think! Just set aside the time to let the custard chill and that may be the hardest part.
I will break down all of the steps to help you be successful in the kitchen. You are going to fall in love with this creme brulee!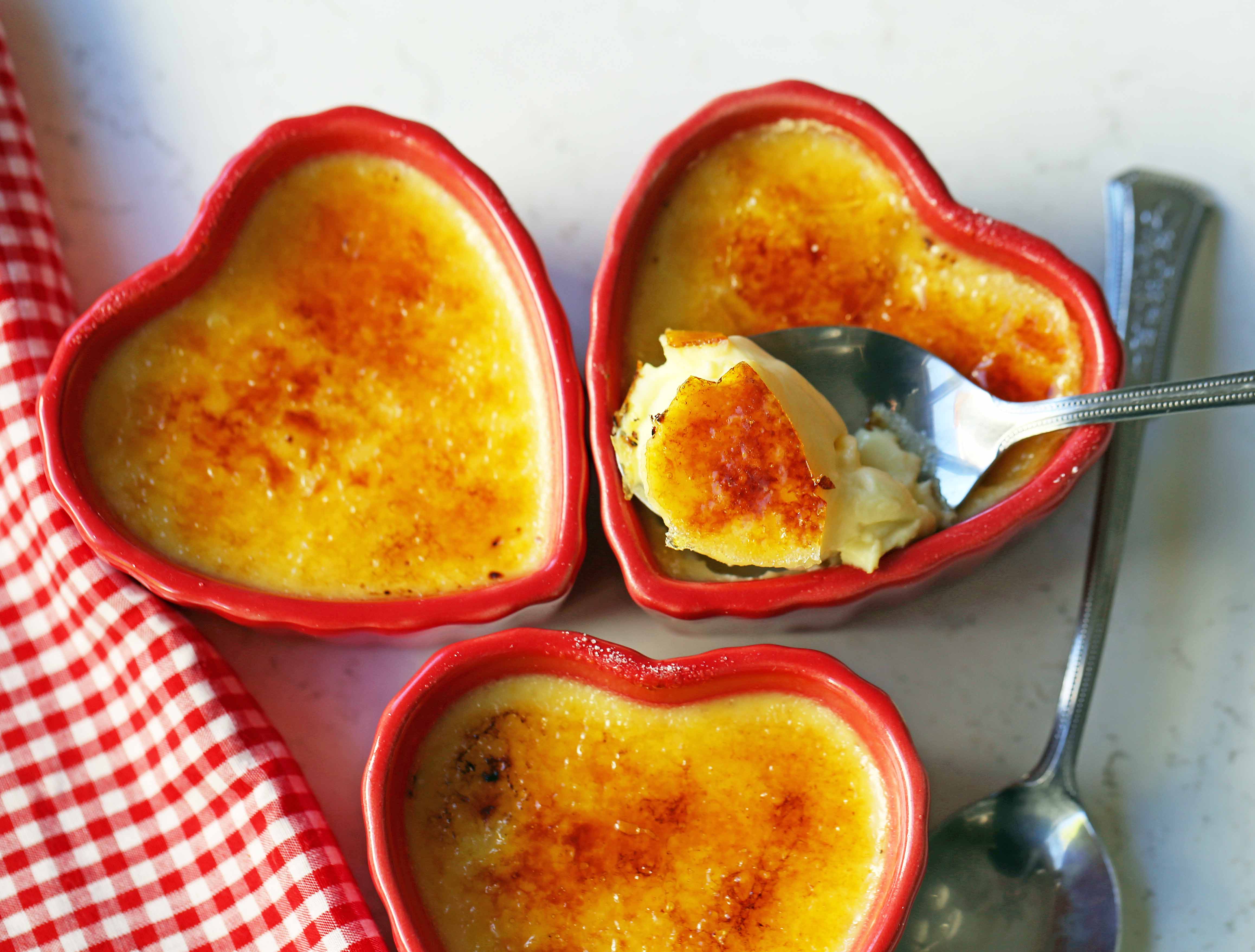 How to make the best Creme Brulee:
Bring to a boil heavy cream, sugar, vanilla bean, and a pinch of salt.  This is an important step as it helps to dissolve the sugar, which is imperative for a silky smooth custard.  Take off the heat, cover, and let steep for 15 minutes.
After the cream has steeped, stir in remaining heavy cream.  This recipe calls for only egg yolks, instead of just eggs. This creates a rich creme brulee.  Add small amounts of the heavy cream to the egg yolk mixture in order to temper it.  If all of the cream is added at once, it may cook the egg yolks.
Pour into 4 or 5-ounce ramekins and place in a large baking dish or roasting pan.  Heat water to a boil. Carefully pour the hot water into baking dish to reach two-thirds up sides of ramekins.
Bake until the centers of custards are barely set. It is important to set aside enough time for the creme brulees to chill at room temperature and then in the refrigerator.
When ready to serve, sprinkle with sugar. Use a

kitchen torch

to caramelize the sugar.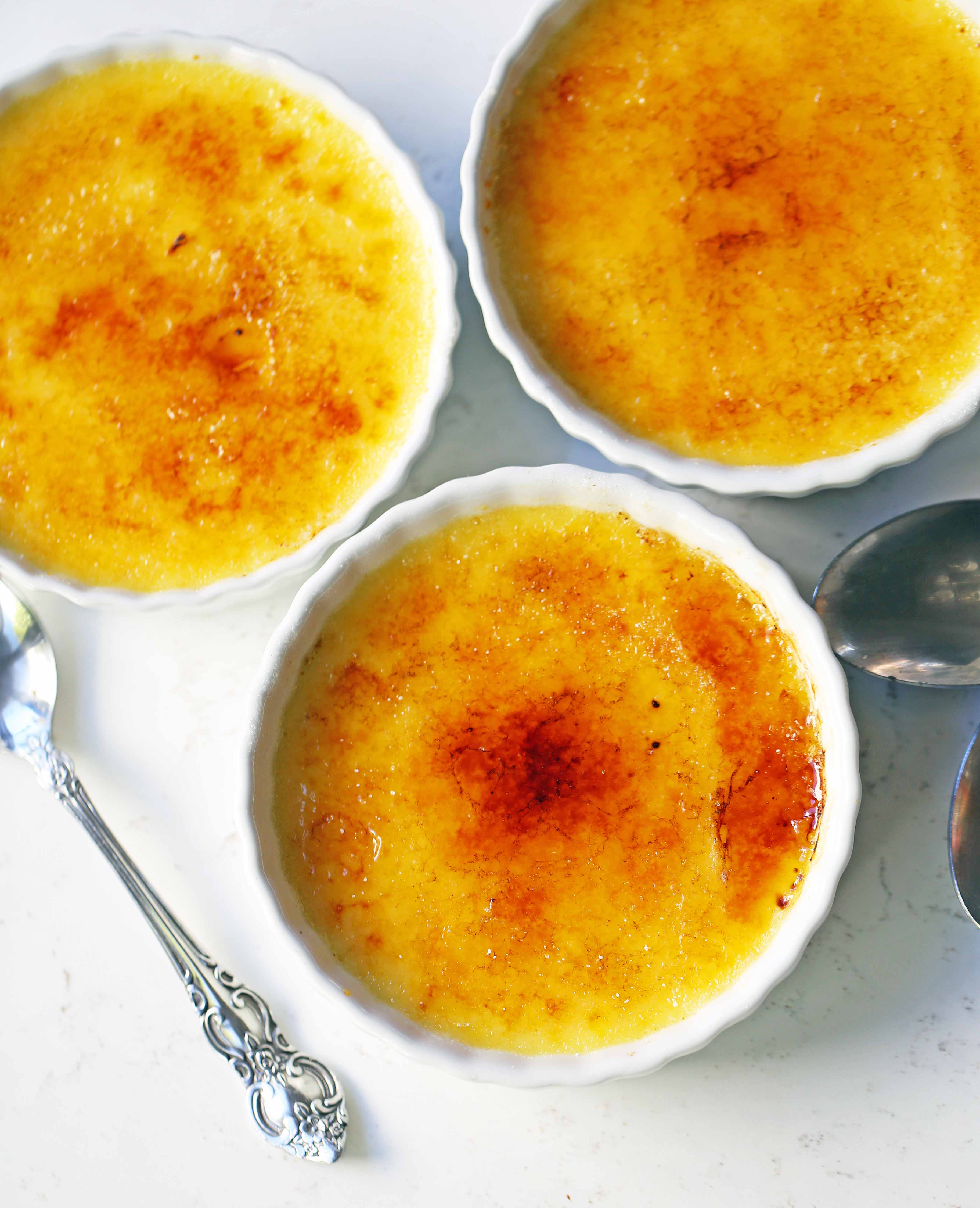 Baking essentials to make Creme Brulee:
Kitchen Torch

-- this is what caramelizes the sugar and give it the crisp exterior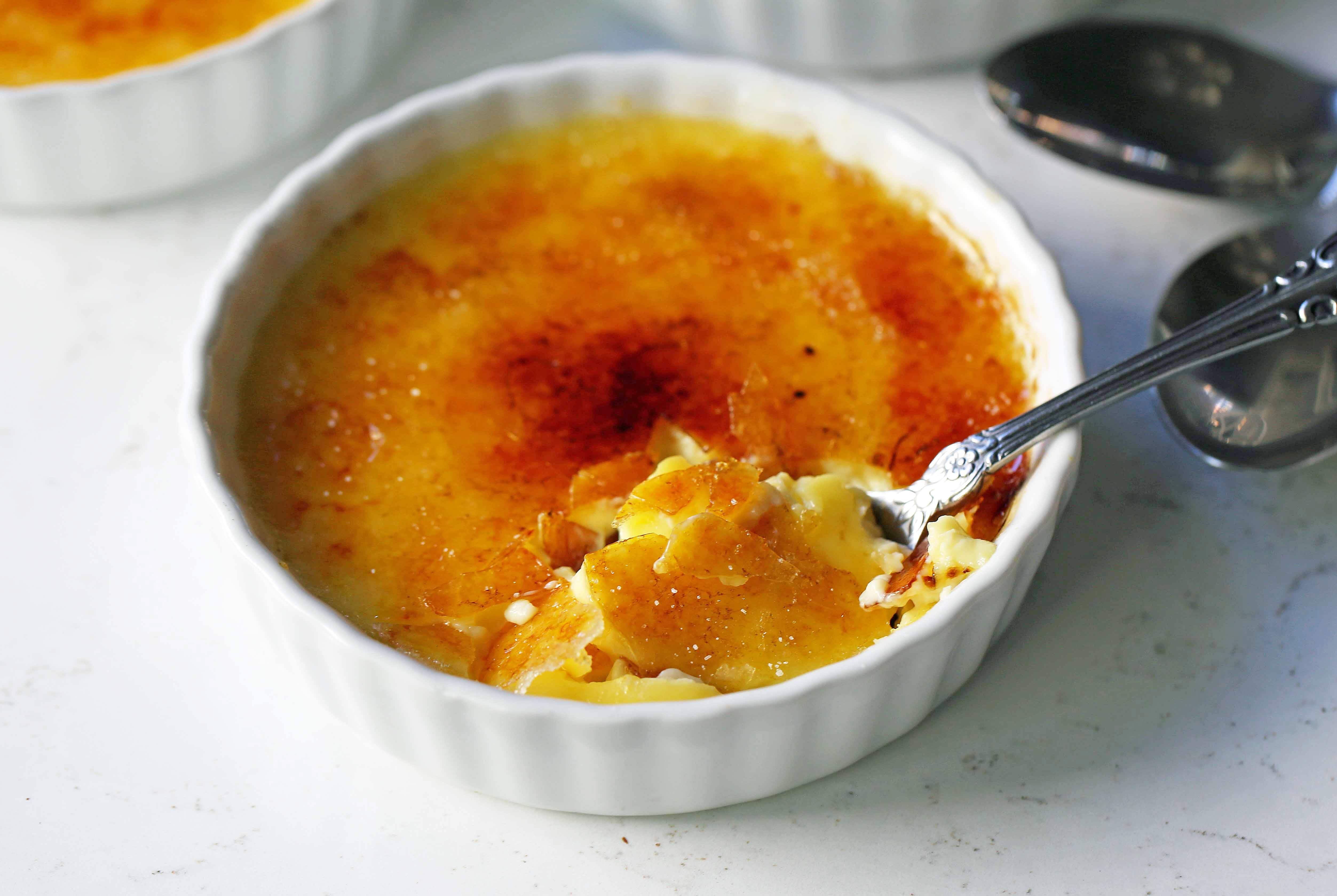 I love to hear from you! If you make this recipe, please be sure to leave a comment and give this recipe a rating. Sign up for my newsletter below so you never miss a recipe. Thank you for following along! I truly do have the greatest readers. FOLLOW ME ON:   INSTAGRAM --- FACEBOOK --- PINTEREST
If you want to find ideas on how to make Valentine's Day special for kids click HERE.