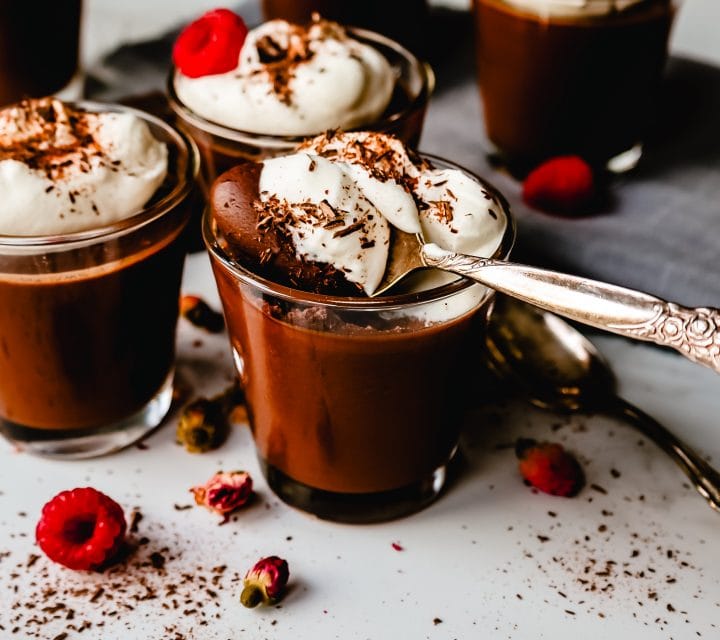 Chocolate Pot de Creme
Rich velvety smooth chocolate custard topped with fresh whipped cream. A pot of cream made with melted chocolate, heavy cream, sugar, and egg yolks. A decadent chocolate dessert!
This may look like a fancy dessert with a high level of difficulty but it is actually beyond easy. It is a no-bake chocolate dessert that is so rich and decadent, you will have all of the chocolate lovers in your life begging for the recipe!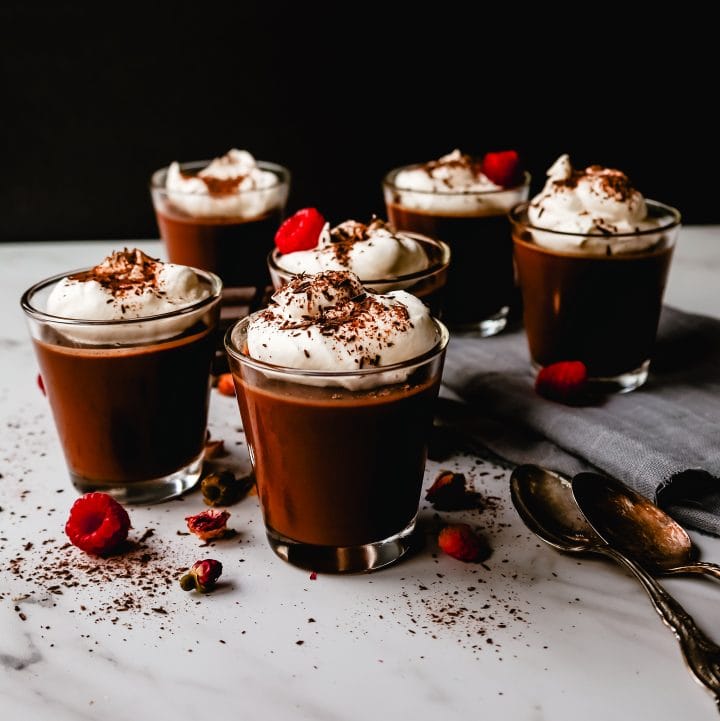 A chocolate pot de creme is basically a pot of chocolate cream or custard. This could even be considered a chocolate mousse. It is made first by whipping up a homemade custard with heavy cream, half-n-half, sugar, and egg yolks. The custard is cooked on the stove until it is thick enough to coat the back of a spoon.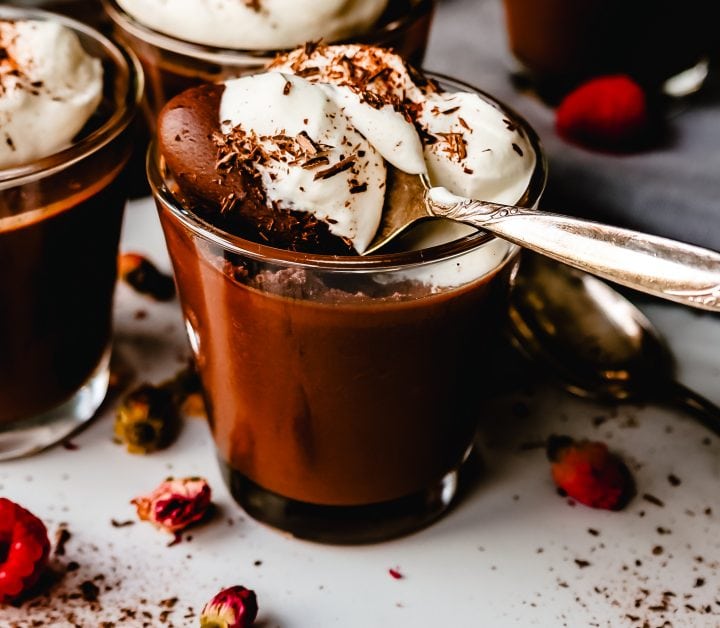 What type of chocolate should I use when making Chocolate Pot de Creme?
Since chocolate is the star of the show, I always suggest to use the highest-quality chocolate your budget will allow to buy. You can use either dark or semi-sweet chocolate depending on how sweet you want your chocolate custard. I use semi-sweet chocolate bars and chopped them into fine pieces so they easily melt.
High-quality chocolate (I like to use semi-sweet chocolate bars such as Trader Joe's Pound Plus Bar) is added to the warm custard and it naturally melts into the cream mixture. It is chilled in the refrigerator until set and then topped with fresh whipped cream to lighten it up a bit. I always love to serve it with fresh raspberries or strawberries since they pair beautifully with chocolate.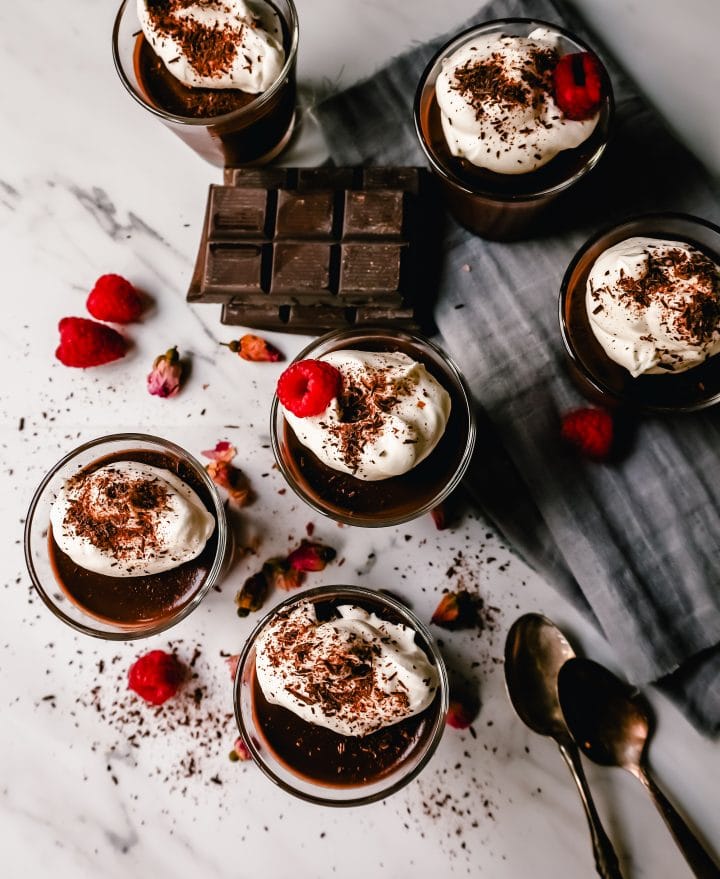 I have always been a Valentine's Day lover. Since the time I was a little kid, my Mom was always making a huge deal about this holiday. So I carry on the same traditions as my Mom (click here to see our traditions) and one of them is to make my husband some over-the-top decadent dessert.
I usually make him my Love at First Sight Chocolate Cake but we switch it up sometimes and make this Chocolate Pot de Creme or Creme Brulee. This is what we will be making this Valentine's Day because it is always a hit with my cute husband!
I am going to break down all of the tips and tricks for making the perfect Chocolate Pot de Creme at home. It is such an easy no-bake chocolate dessert!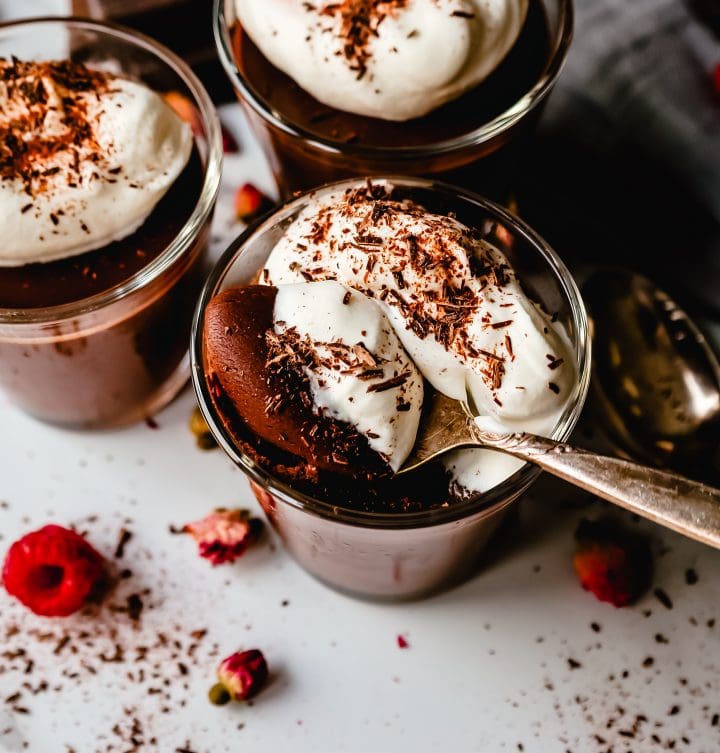 How to make Chocolate Pot de Creme:
Start with a heavy-bottomed saucepan. Add heavy cream, half-n-half, egg yolks, sugar, and salt. Cook until it begins to thicken and will coat the back of a spoon. It is important to continually stir the mixture so it doesn't burn or become clumpy. I like to use a whisk so I get an extra smooth custard.
Remove from heat and add the chopped chocolate. The reason the chocolate is chopped into small pieces is that it helps it to melt easier and incorporate into the custard. I also prefer to use a semi-sweet chocolate bar instead of chips. Add vanilla.
Divide chocolate custard into ramekins or glass jars. I find that a little goes a long way here! This is a very rich dessert so I make small portions. These 2-ounce ramekins are perfect.
Let chill for at least two hours to set. Top with fresh whipped cream, berries, and shaved chocolate.
I love to hear from you! If you make this recipe, please be sure to leave a comment and give this recipe a rating. Sign up for my newsletter below so you never miss a recipe. Thank you for following along! I truly do have the greatest readers. FOLLOW ME ON: INSTAGRAM --- FACEBOOK --- PINTEREST