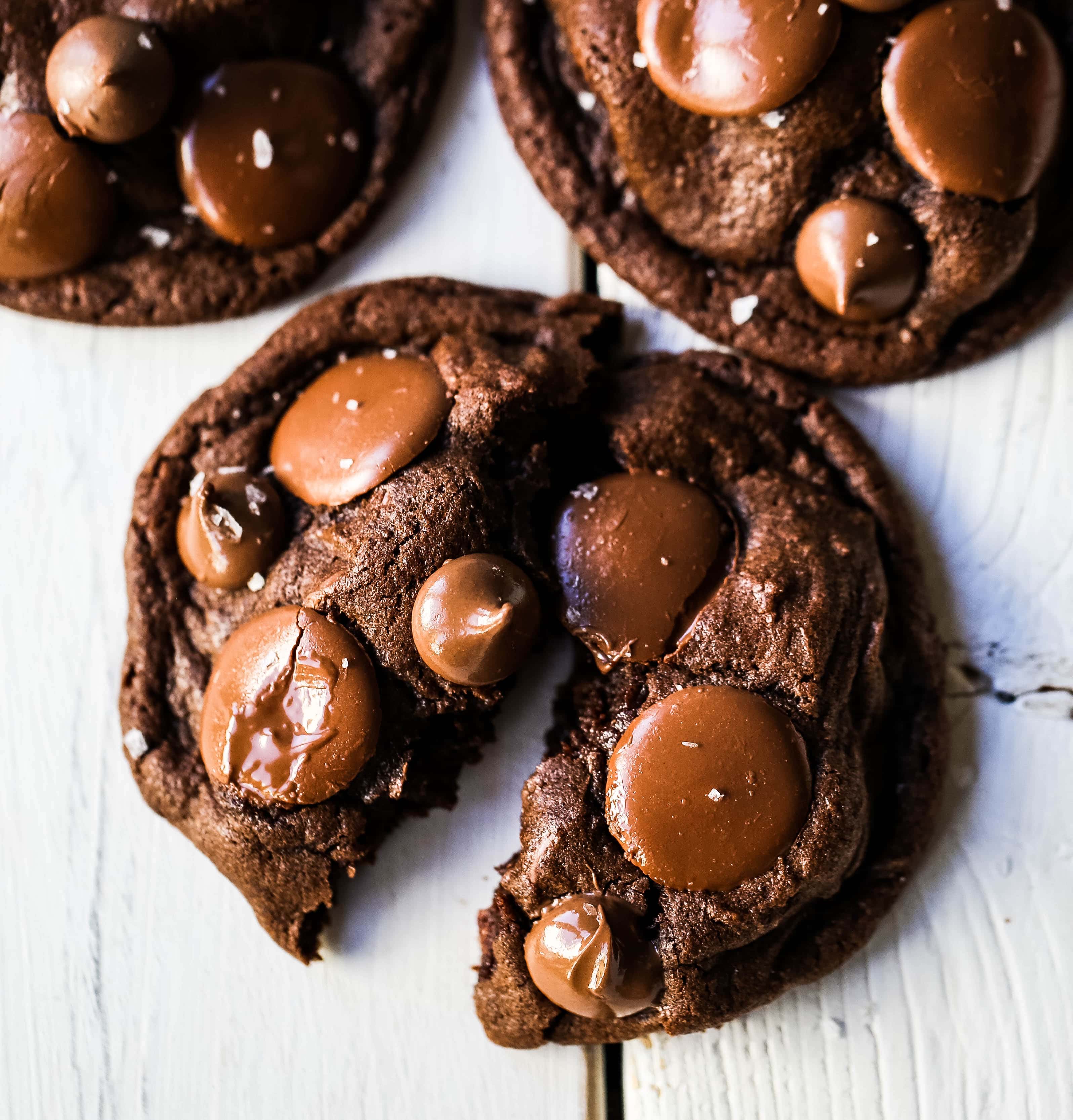 Double Chocolate Cookies
Rich, velvety, melt-in-your-mouth chocolate cookies with melted chocolate chunks. The perfect double chocolate chip cookie recipe! 
I was the one of those kids who would strategically plan out how to sneak cookies from the cookie jar. True story. I would spend the night at my neighbor's home and we would wait until her parents went to bed to go on a secret cookie stealing mission.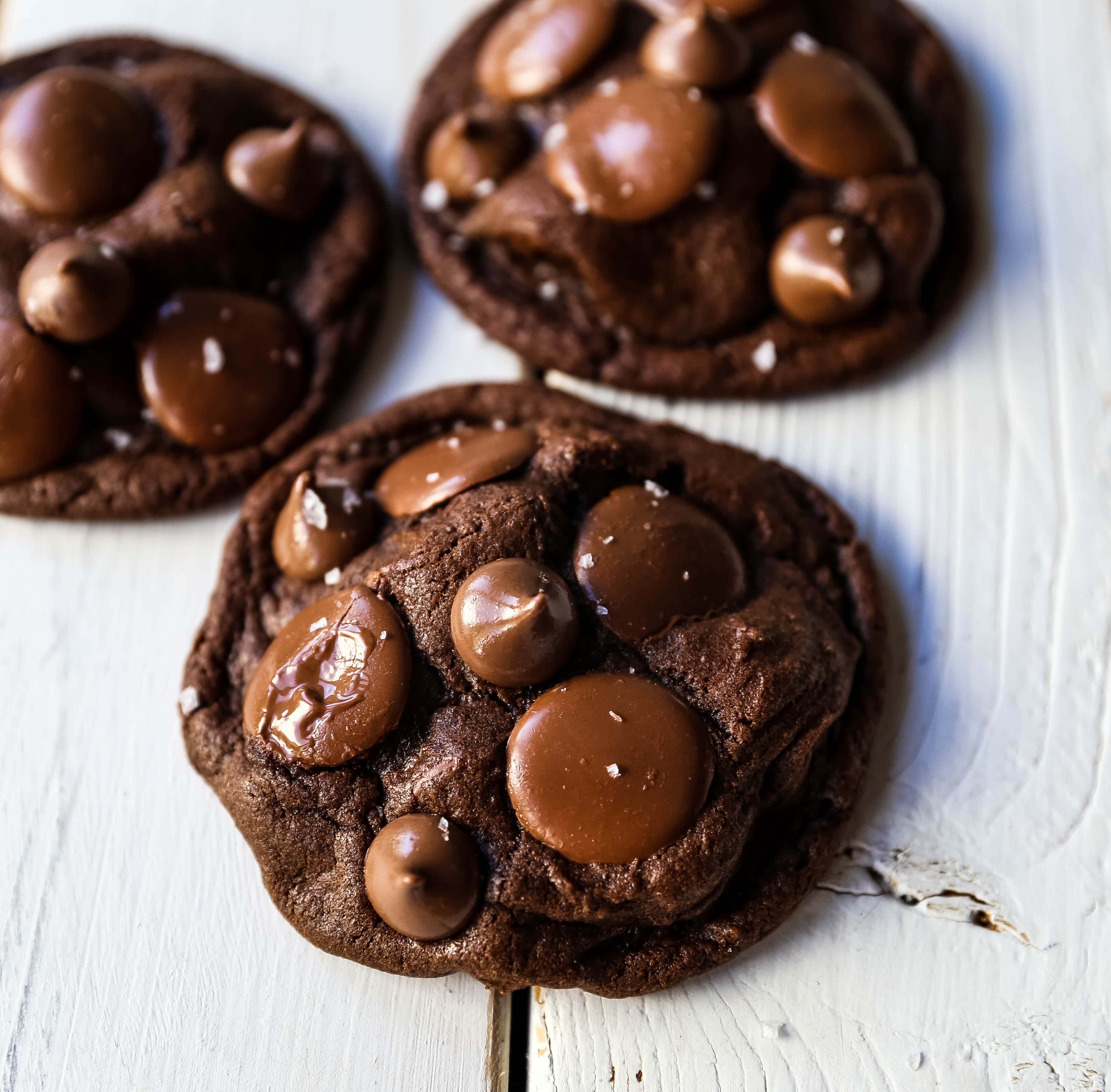 They had this trolley cookie jar filled with cookies but there was a strict policy about how many cookies we could eat. One was never enough and it didn't satisfy our cravings so we had to take some drastic measures. 
As the lights went out and we were sure they are sound asleep, we would quietly crawl through the kitchen. The funny part about it is that we tried so hard to be quiet which made us start to laugh and we could keep shushing each other.  It was all very counterproductive.
Now the difficult part was lifting off the heavy top of the trolley cookie jar. It was loud and cumbersome and remember it was pitch black. But it was worth the risk and we were up for the challenge! Cookies were the reward so we were all in.  We would grab as many cookies as possible, fill up our shirts, and then somehow crawl back into her room, to devour the cookies in peace.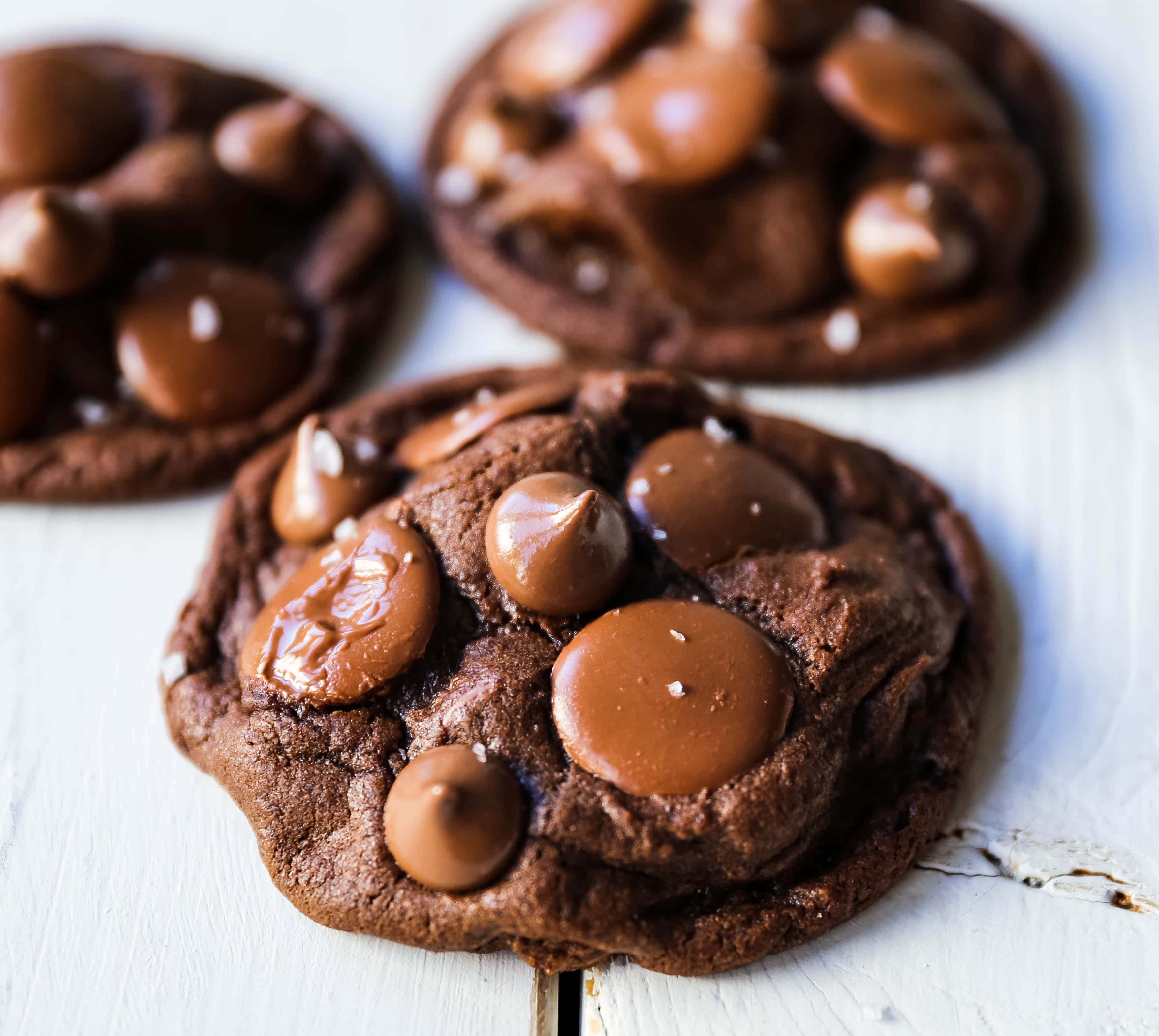 All was well and good until the morning. We may have meticulously thought out our plan to confiscate the cookies but we didn't think about what would happen when her Mom would check the cookie jar and see if was basically empty. Well that didn't go well and we had to fess up. I couldn't tell a lie. So our covers were blown and there was no more of the middle-of-the-night cookie sneaking.  
Basically cookies have been my favorite food since the time I was little. There is nothing better than homemade cookies straight out of then oven!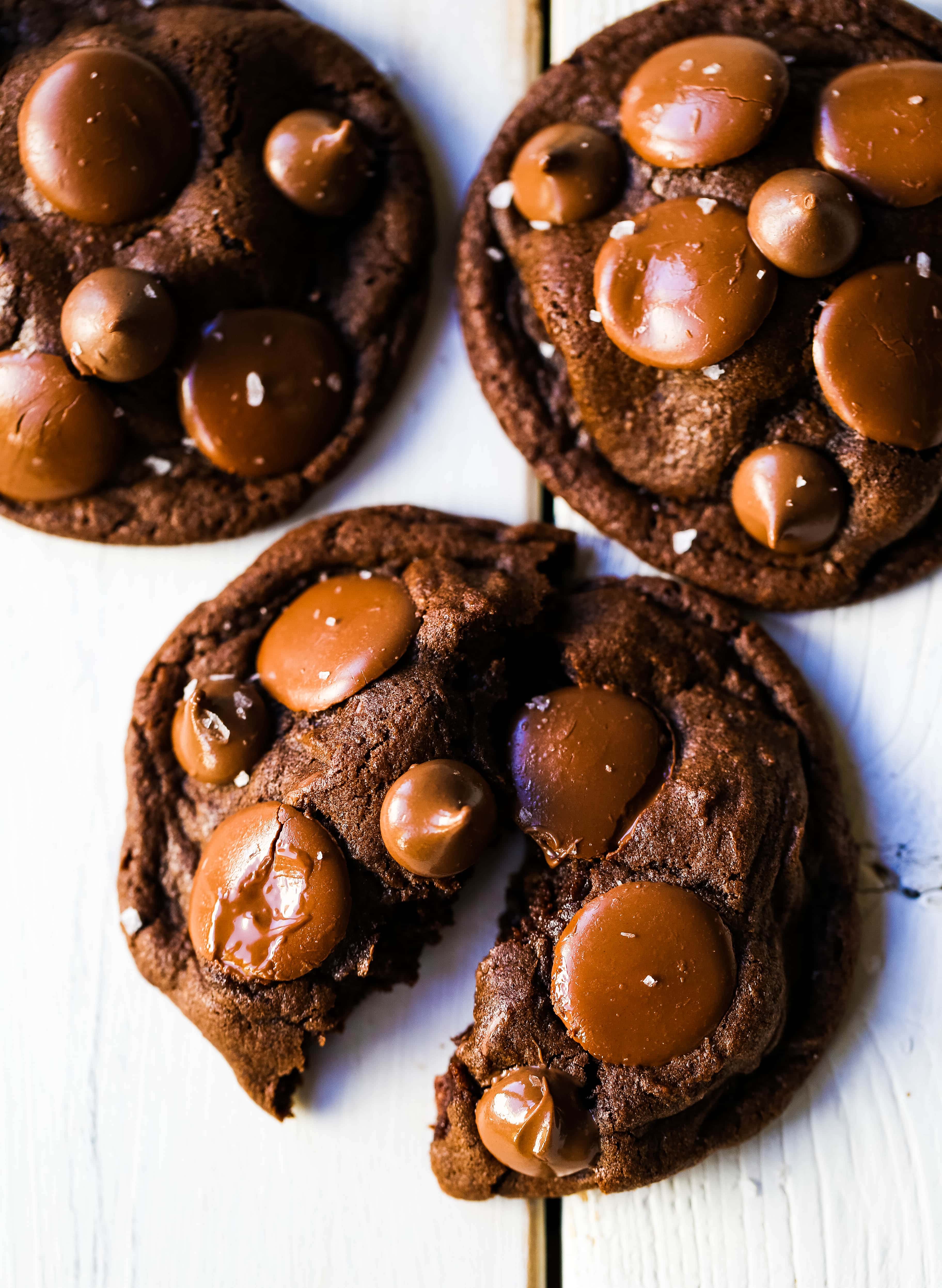 Where are my chocolate lovers? There are just some things that only a bite of chocolate can fix. If I am having a bad day, I go straight to the chocolate cabinet to cure my craving. So it was time to create the ultimate double chocolate chip cookie. 
This Chocolate Chocolate Chip Cookie Recipe is made with all of the good things — butter, sugar, flour, and chocolate. Oh and a few more ingredients mixed in there too! But you have all of the essentials for making the perfect double chocolate chip cookie. 
This is a rich, velvety smooth, melt-in-your-mouth kind of chocolate chunk cookie. You get so much chocolatey goodness in every single bite because you have the mix of cocoa powder and chocolate chips. 
You are going to fall in love with this double chocolate chunk cookie so you better be prepared to be smitten. You are welcome.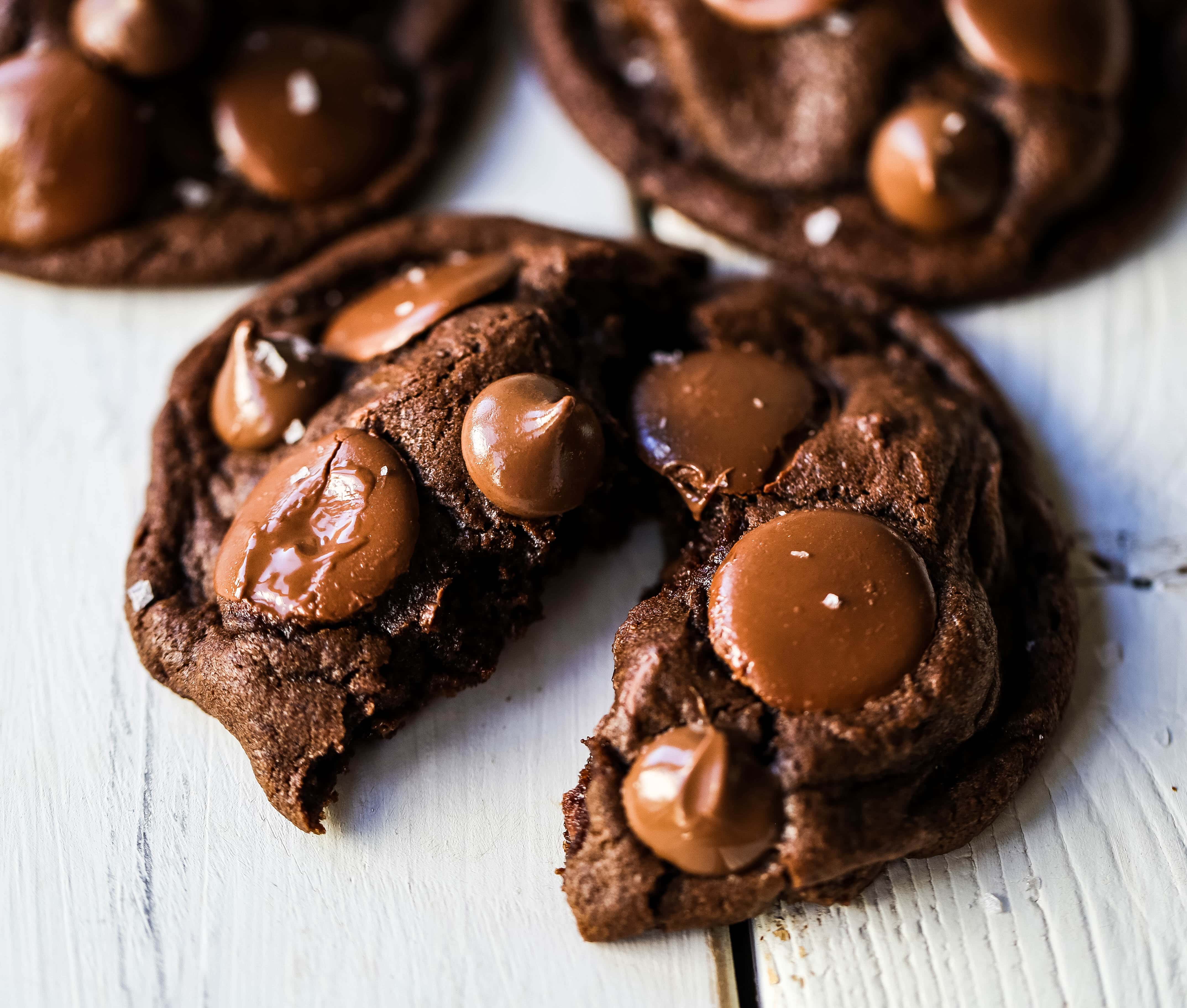 How to make the best double chocolate cookies:
Start with softened butter. This will allow the sugars and butter to really come together. Cream for at least 4 minutes with a hand mixer or KitchenAid mixer. This whips in some air which will give the cookies some loft and also make them extra smooth.
Use a high-quality cocoa powder, if you have it! There are so many choices and they aren't all created equal.

 

If you love dark chocolate, use semi-sweet chocolate chips and chunks. If you prefer your cookies a little bit sweeter, use milk chocolate chips or chunks. I love to use a good quality milk chocolate bar and cut it into chunks to give variety. Also, you can use Guittard baking wafers. After I roll the cookies into balls, I like to press the wafers or chocolate chunks on the outside of the cookie dough balls.

 

A touch of sea salt once they come out of the oven always makes them extra pretty and brings out the chocolate flavor.