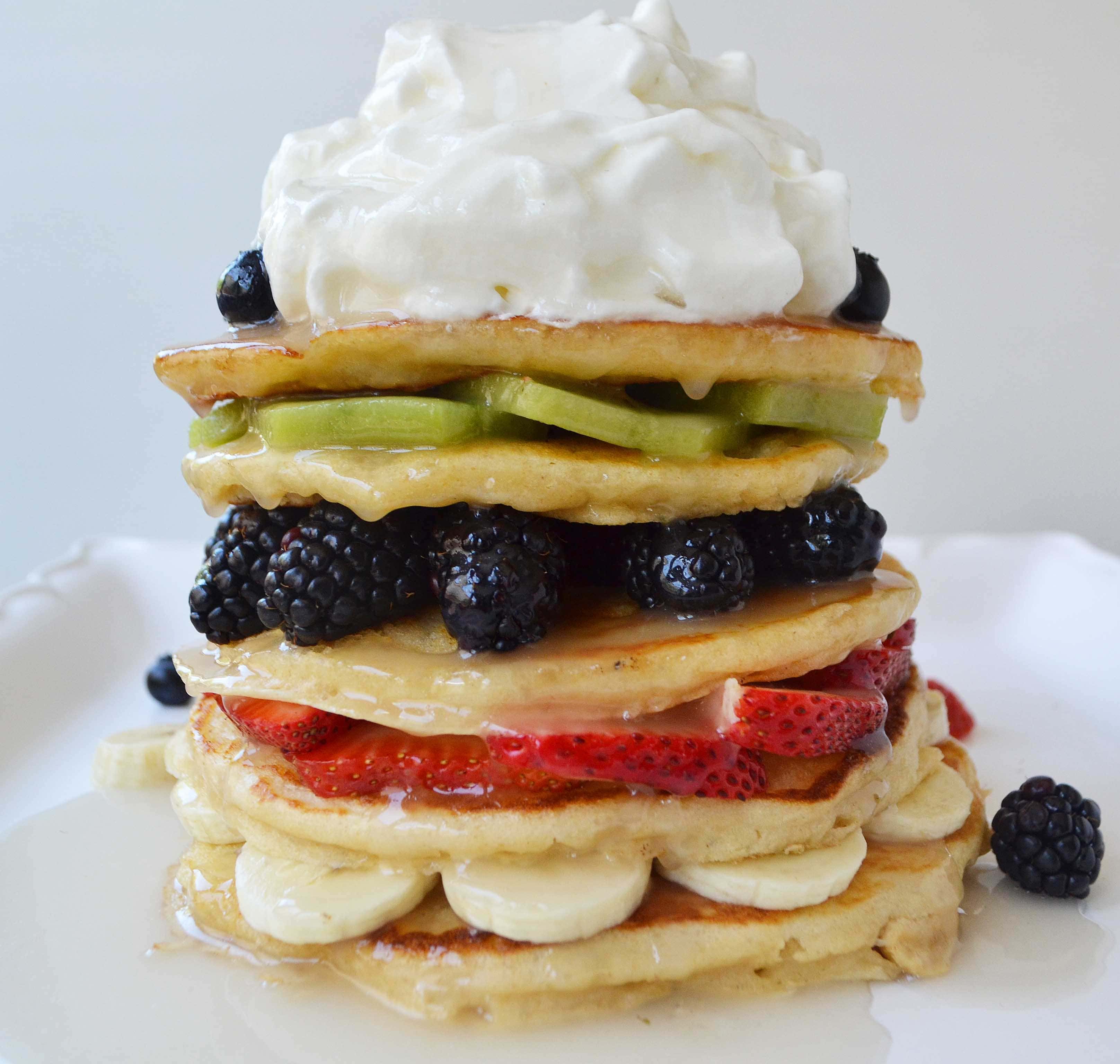 Lazy weekends always mean gourmet breakfasts. It's the time when life slows down just a tad and there's more time to enjoy the pure, simple joy of a hot, freshly made breakfast. Since it's Memorial Day weekend and the family is getting together, it's the perfect time to share one of our family favorites - the Fruit Pancake Stack with Coconut Syrup and Freshly Whipped Cream.
If you read my Dutch Baby Puff Pancake post https://www.modernhoney.com/dutch-baby-puff-pancake/ you know by now how much my kids LOVE breakfast.  They are obsessed. The problem is that on most school days, I am way too lazy to whip them up fancy breakfasts. This mama is tired! So I always promise them a big breakfast on the weekend.
One Saturday as I was flipping pancakes and asking the kiddos what they wanted on top of their buttery pancakes, they all gave me a different answer. My daughter wanted strawberries, bananas and cream and my boys wanted blackberries and blueberries. The lightbulb went on! I decided to put every single fruit I had in the refrigerator on the pancakes and stack them as high as I could because everything looks prettier stacked. This is how the Fruit Pancake Stack with Coconut Syrup was born.
This Fruit Pancake Stack is layered with fresh fruits and drizzled with a tropical homemade coconut syrup.  The coconut syrup is made with four ingredients and is easy to whip up. It is the perfect accompaniment to buttery golden pancakes and fresh fruit. This way you can grab a few buttermilk pancakes and choose your favorite fruit.
Let's not forget about the freshly whipped cream. Handcrafted whipped cream is so underrated. It doesn't take much time to whip heavy whipping cream and the effort makes all of the difference. This recipe calls for Goldie's Buttermilk Pancakes because they are so tender and perfect. Buttermilk is the star ingredient in these pancakes. https://www.modernhoney.com/goldies-banana-walnut-buttermilk-pancakes-with-fayes-syrup/
This is the perfect weekend to impress your guests or your family with this Fruit Pancake Stack with Coconut Syrup. Have a fabulous weekend everyone and as always, thanks for your support! It means so much. xoxo
Happy Cooking!