Chewy lime cookies with creamy coconut lime frosting. This frosted lime sugar cookie will be a favorite in the summer. The perfect tropical Caribbean cookie!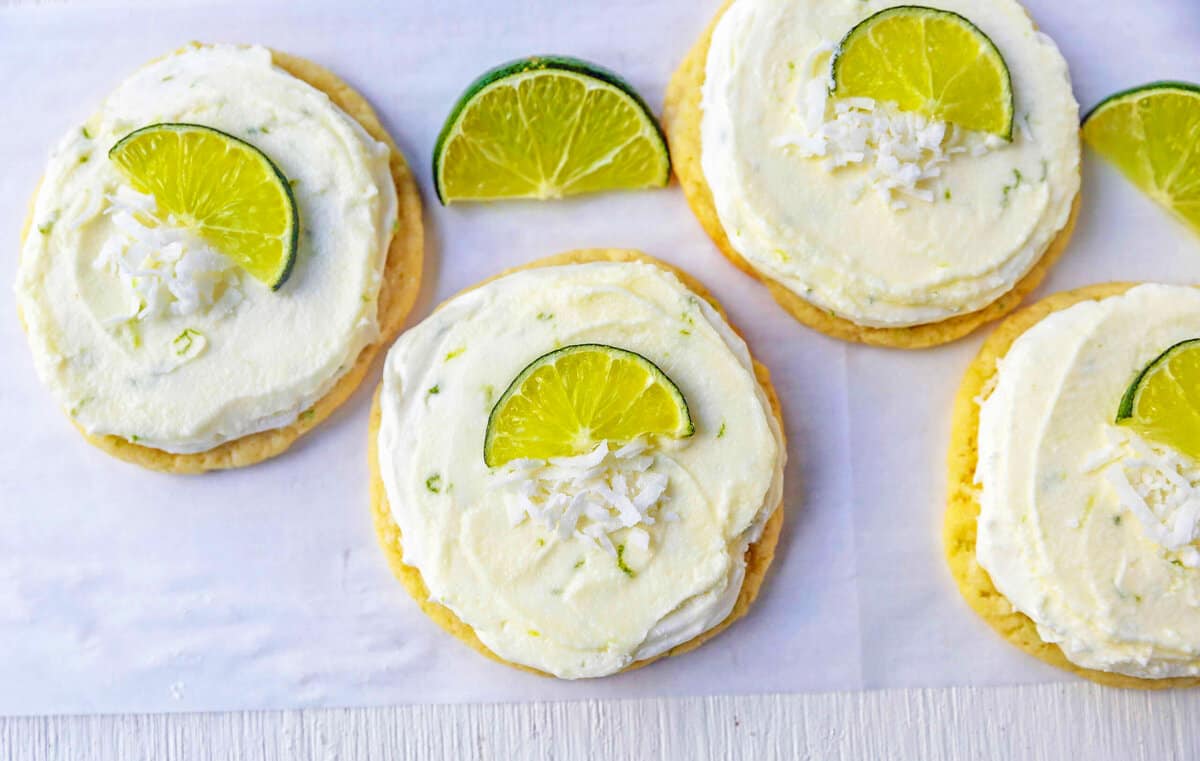 Key Lime Cookies with Coconut Lime Frosting
I am a cookie connoisseur and literally want to bake every single day of my life. By around 3:00, my cookie craving is at an all-time high. Since my LEMON SUGAR COOKIES are one of the most popular cookie recipes on Modern Honey, I wanted to experiment and create key lime cookies. This lime sugar cookie knocked my socks off!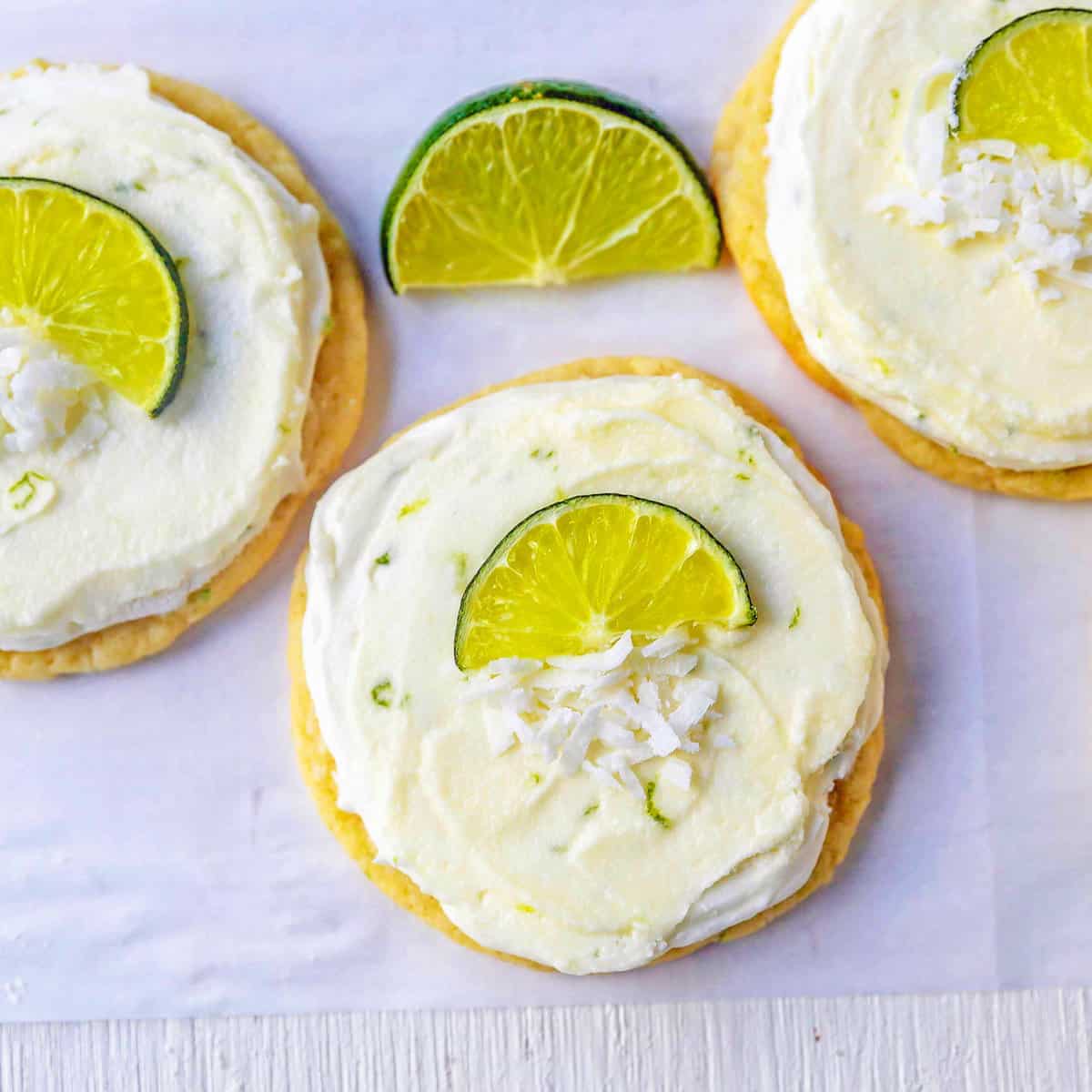 If you have ever been to Crumbl, you may have seen this chilled Crumbl Lime Coconut Sugar Cookie in their store. It is so popular because you get that chilled frosting with that tangy lime cookie paired with a creamy coconut frosting.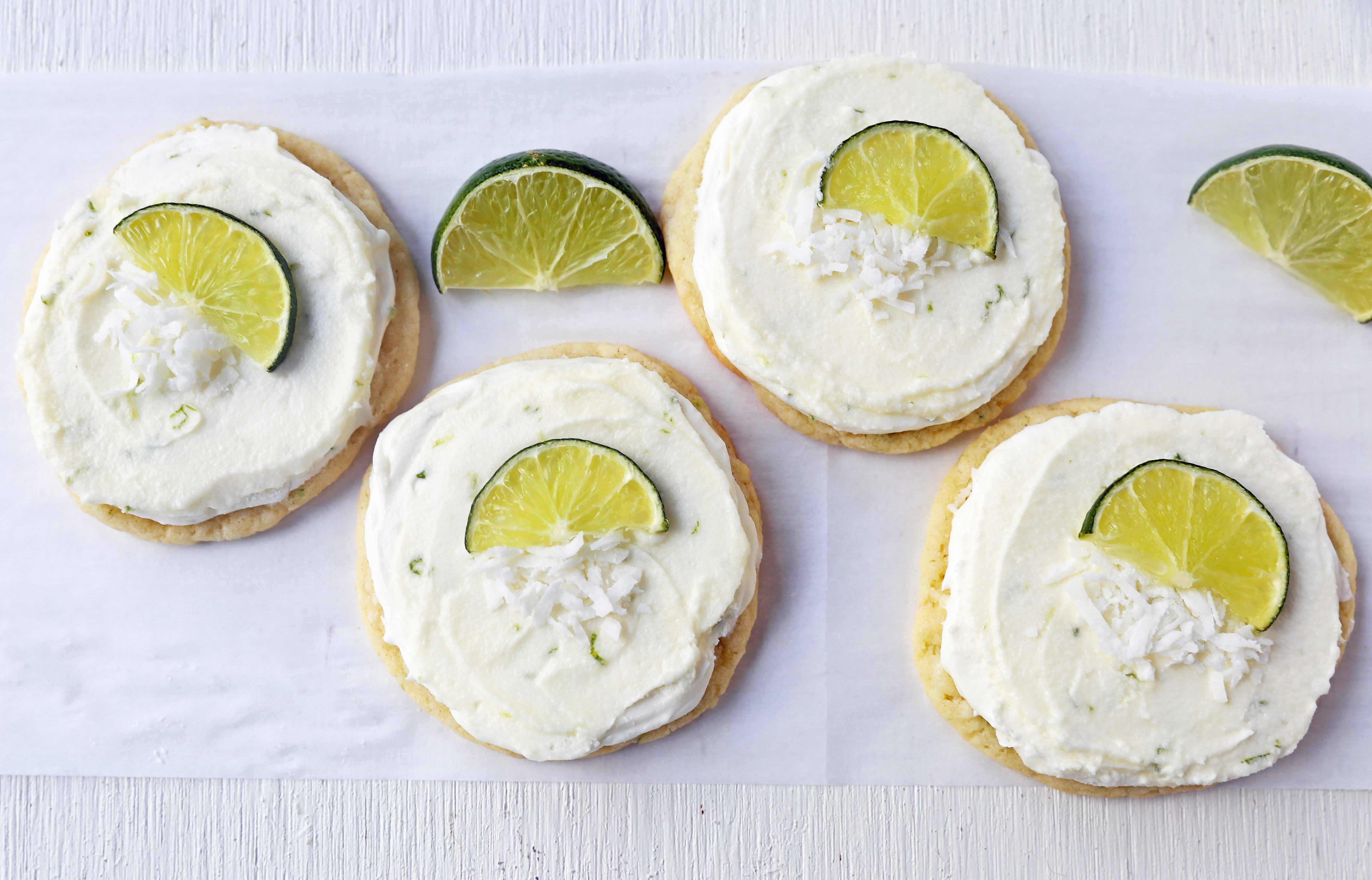 This Coconut Lime Cookie reminds me of my childhood. I have always been a huge coconut lover. When I was a kid, I would do extra chores in the house or would even pull weeds to be able to go down to the local Smitty's and pick out the largest coconut. I would spend hours outside trying to open it with a hammer and once I pried it open, I would eat the entire raw coconut all by myself.
I am pretty sure every birthday cake was either a coconut cake or a chocolate chip cookie cake.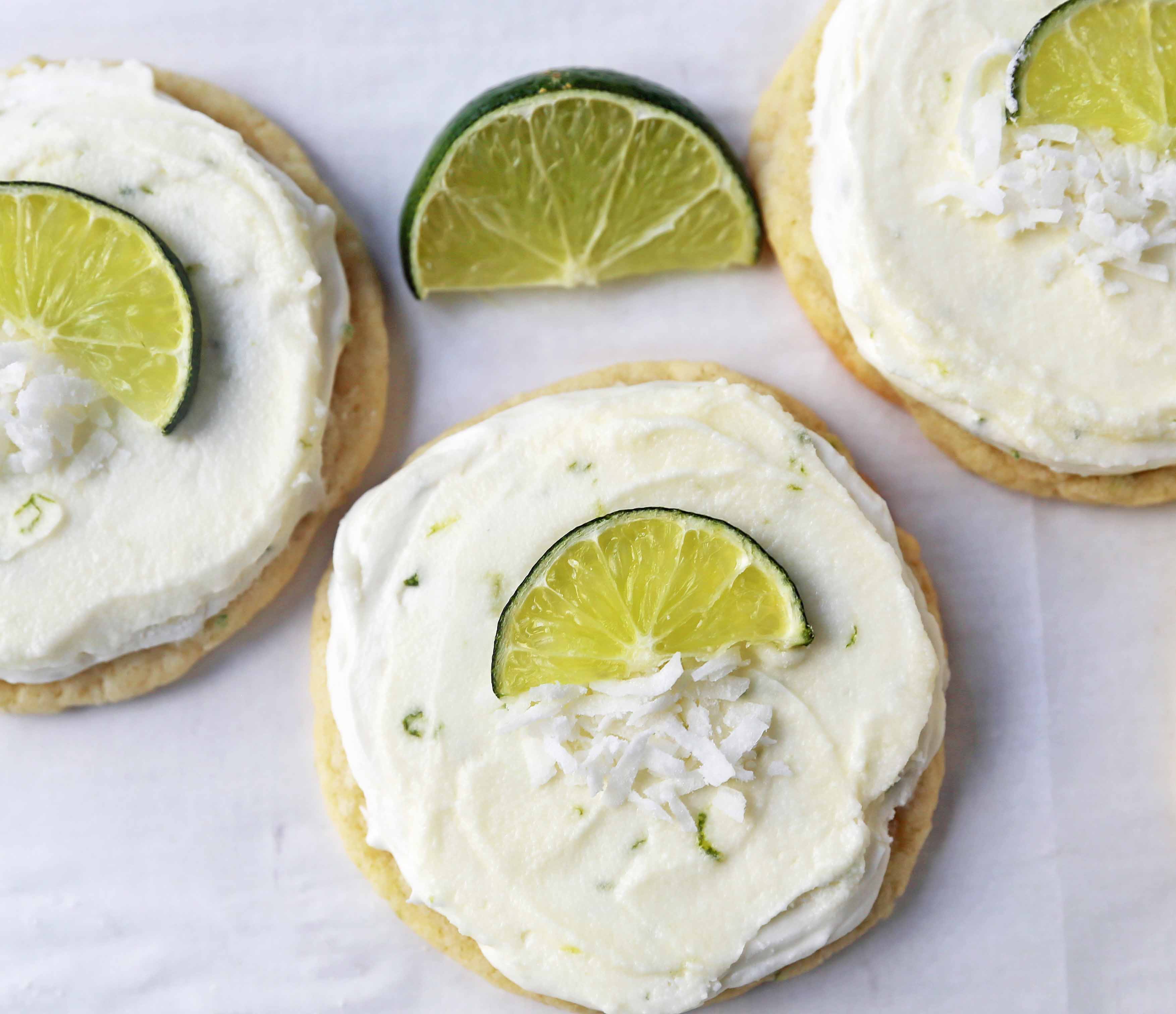 So it was very fitting to make a coconut lime cookie. Fresh lime is the big star of this cookie though. I love the fresh flavor of lime zest and it really stands out in this cookie. This is a perfectly chewy lime coconut cookie that has crispy edges and a chewy center.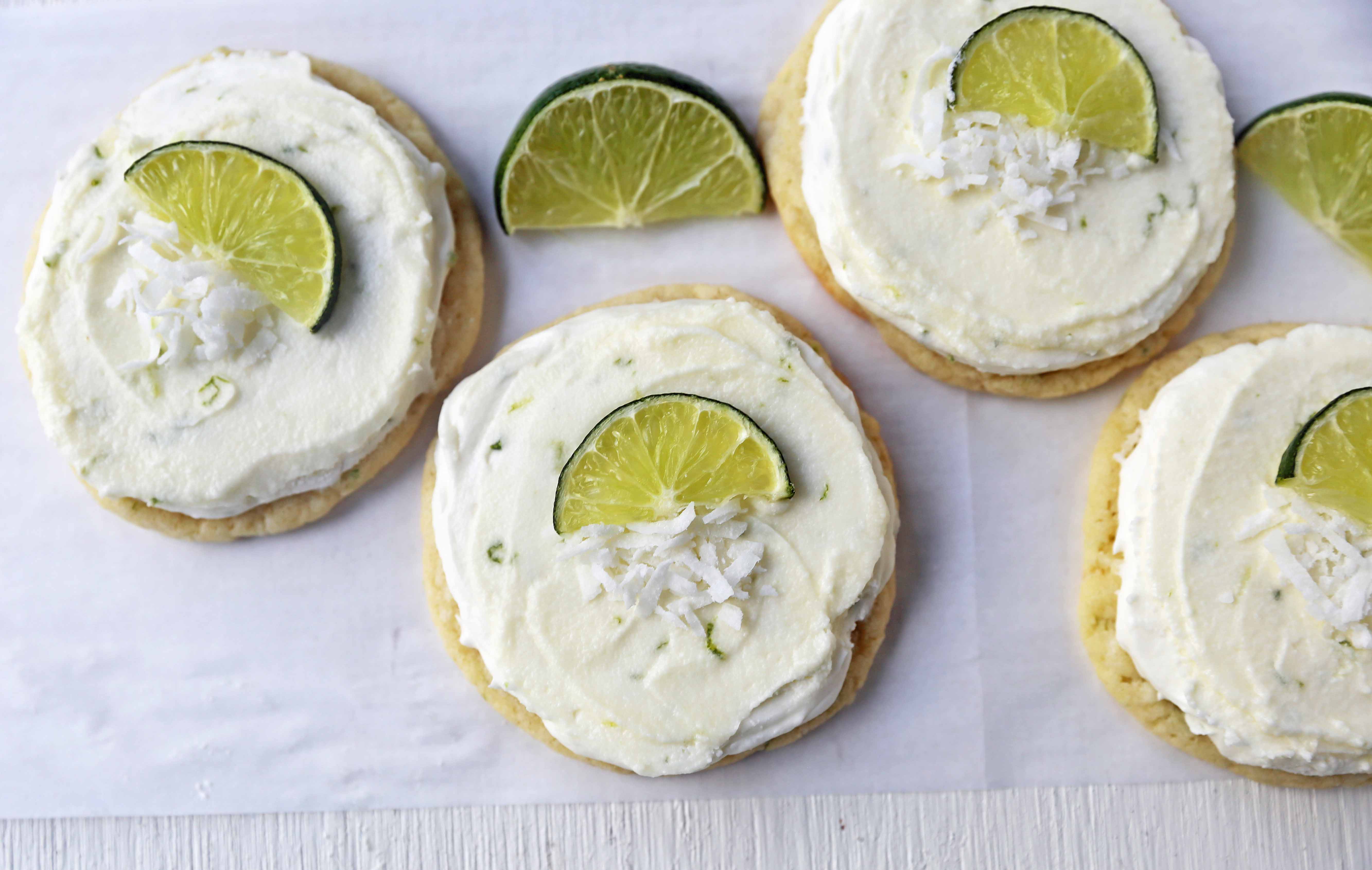 The coconut lime frosting puts it over the top and brings it all together. The frosting is made with butter, cream cheese, fresh lime juice, lime zest, and coconut extract. The coconut lime frosting has the perfect balance of creaminess, sweetness, and fresh tanginess from limes. I even eat these without the frosting because they are THAT good.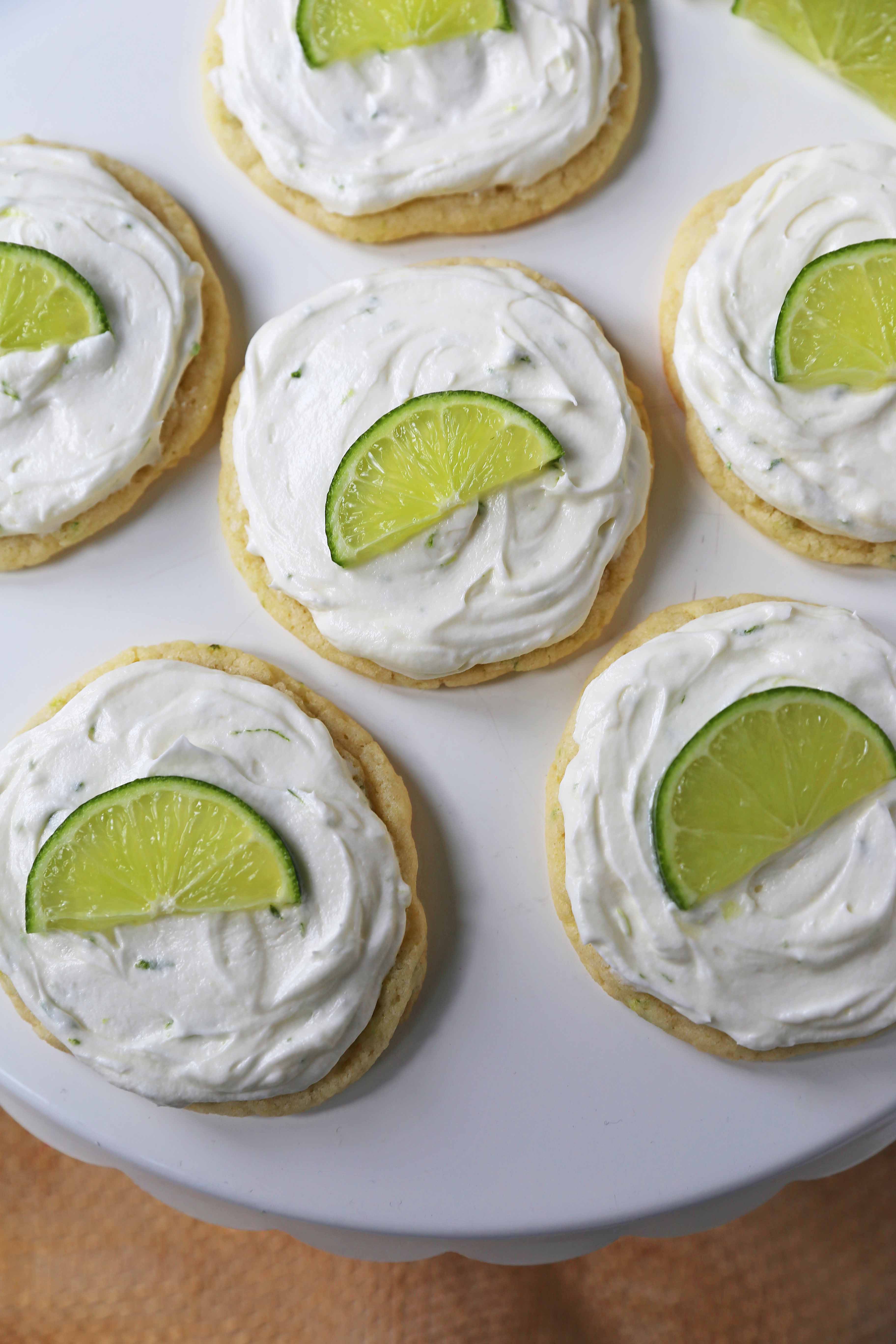 How to make Coconut Lime Cookies:
Start with butter, cut into cubes. The butter needs to be slightly cold. I usually place my butter in the microwave for about 5 seconds and then cut into cubes. Add sugar and cream (mix) for 4 minutes or until light and fluffy. This helps to create a smooth texture and allow the sugar to wrap around the butter.
Add fresh lime juice and lime zest. Since lime is the star ingredient, I like to use fresh limes. You can use key limes or regular limes, depending on what is readily available in the grocery store. I am a huge fan of using a

zester

.

This one is only $12

and I use it all of the time.
Bake just until the edges become a slight golden color and the center is slightly underdone so it ends up chewy in the center. The cookies will set as they cool.
Make the coconut lime frosting. Whip the softened butter and cream cheese for 2-3 minutes. It is important that the cream cheese is softened so it mixes well. Add powdered sugar, lime juice, fresh lime zest, and coconut extract. Add more coconut extract if you want more coconut flavor.
Should I chill these Lime Coconut Sugar Cookies?
These Coconut Lime Sugar Cookies are best served chilled. I like to place them in an airtight container and keep them in the refrigerator until ready to serve. These lime cookies can also be frozen. They just need to sit out at room temperature for about 10-15 minutes before eating.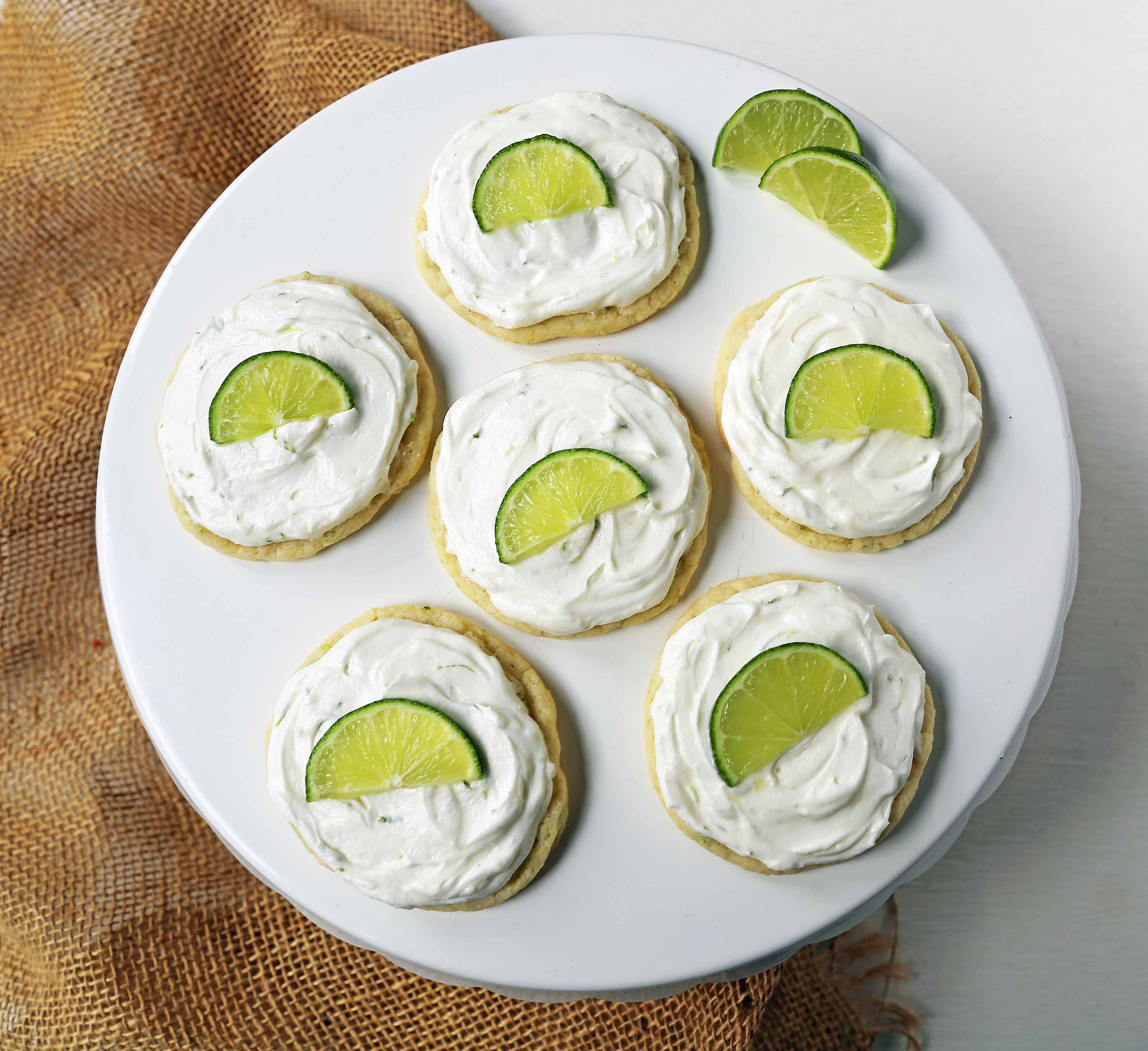 Here are some of my favorite baking tools when making these Key Lime Coconut Cookies with Coconut Lime Frosting.
I love to hear from you! If you make this recipe, please be sure to leave a comment and give this recipe a rating. Sign up for my newsletter below so you never miss a recipe. Thank you for following along! I truly do have the greatest readers. FOLLOW ME ON: INSTAGRAM — FACEBOOK— PINTEREST