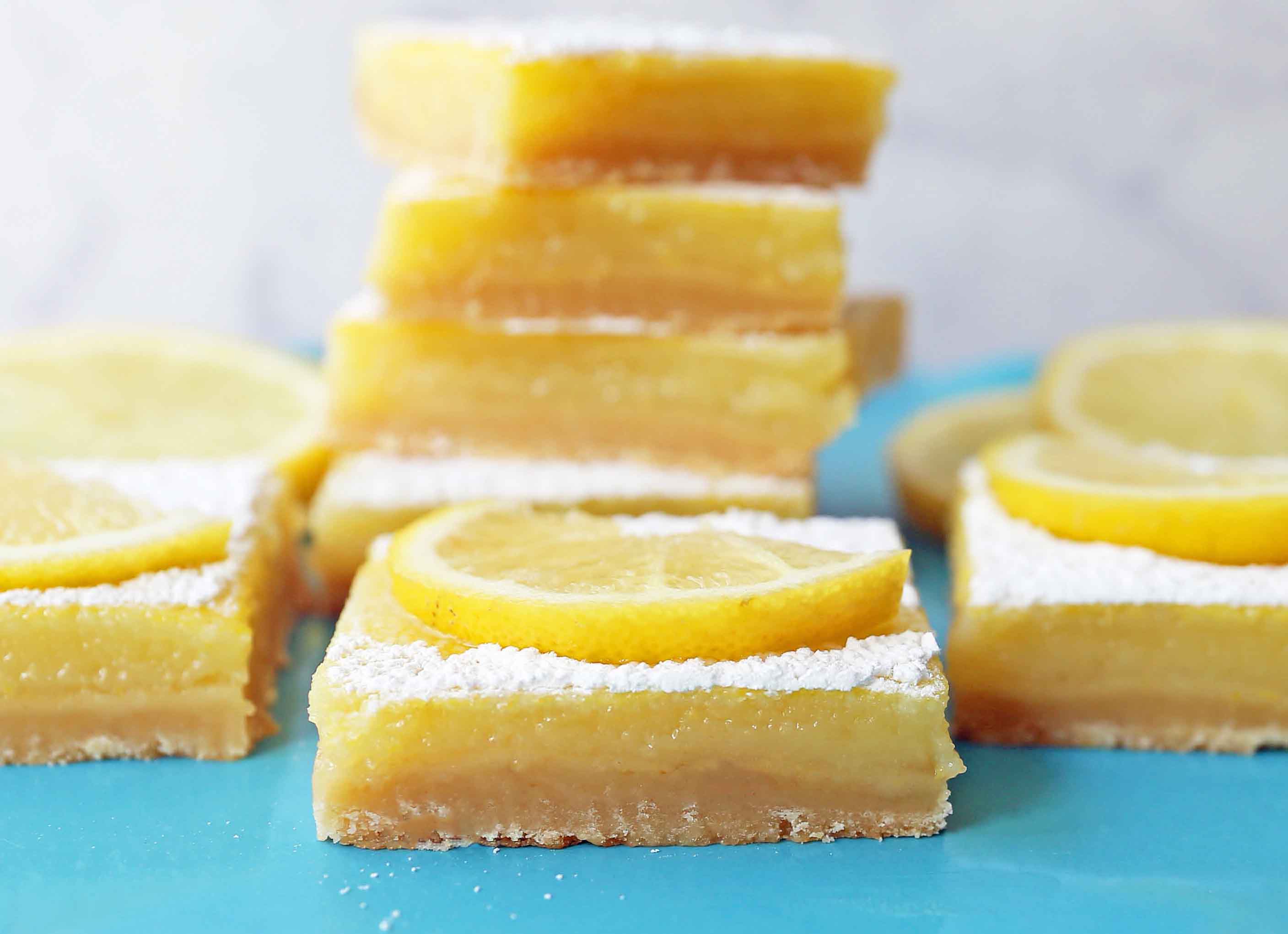 The Best Lemon Bars
These classic lemon bars are made with lemon curd and a shortbread crust. Sweet and tangy lemon filling on a homemade buttery shortbread crust. How to make the perfect lemon bar!
I've been making lemon squares for as long as I can remember. Since my Mom is a huge lemon dessert fan, we tried all kinds of lemon desserts in our home and lemon bars reigned supreme. The key to making the best lemon bard is a punch of tangy lemon flavor. The homemade lemon curd filling in these lemon bars are what make or break it. I have tried so many different lemon bar recipes and sometimes the lemon flavor barely comes through!
Another important element of making classic lemon bars is making the shortbread crust. The crust has to be rich and buttery and needs to have enough butter to hold together. The buttery shortbread crust pairs beautifully with the tart lemon filling.
What ingredients are in a shortbread crust:
A classic shortbread crust is made with 5 ingredients -- butter, sugar, flour, salt, and vanilla. It needs enough butter to hold together. If the ratio of flour to butter is too high, the shortbread crust will be too crumbly. You want enough butter to add richness and enough flour to make it perfectly flaky.
What ingredients are in Lemon Bar Filling:
There are only 4 ingredients in the lemon curd filling for lemon bars -- freshly squeezed lemon juice, eggs, sugar, and a touch of flour for thickness. This classic lemon bar recipe calls for a generous amount of lemon juice to provide the perfect tanginess. Since lemons are the star of the show, using fresh lemon juice is imperative.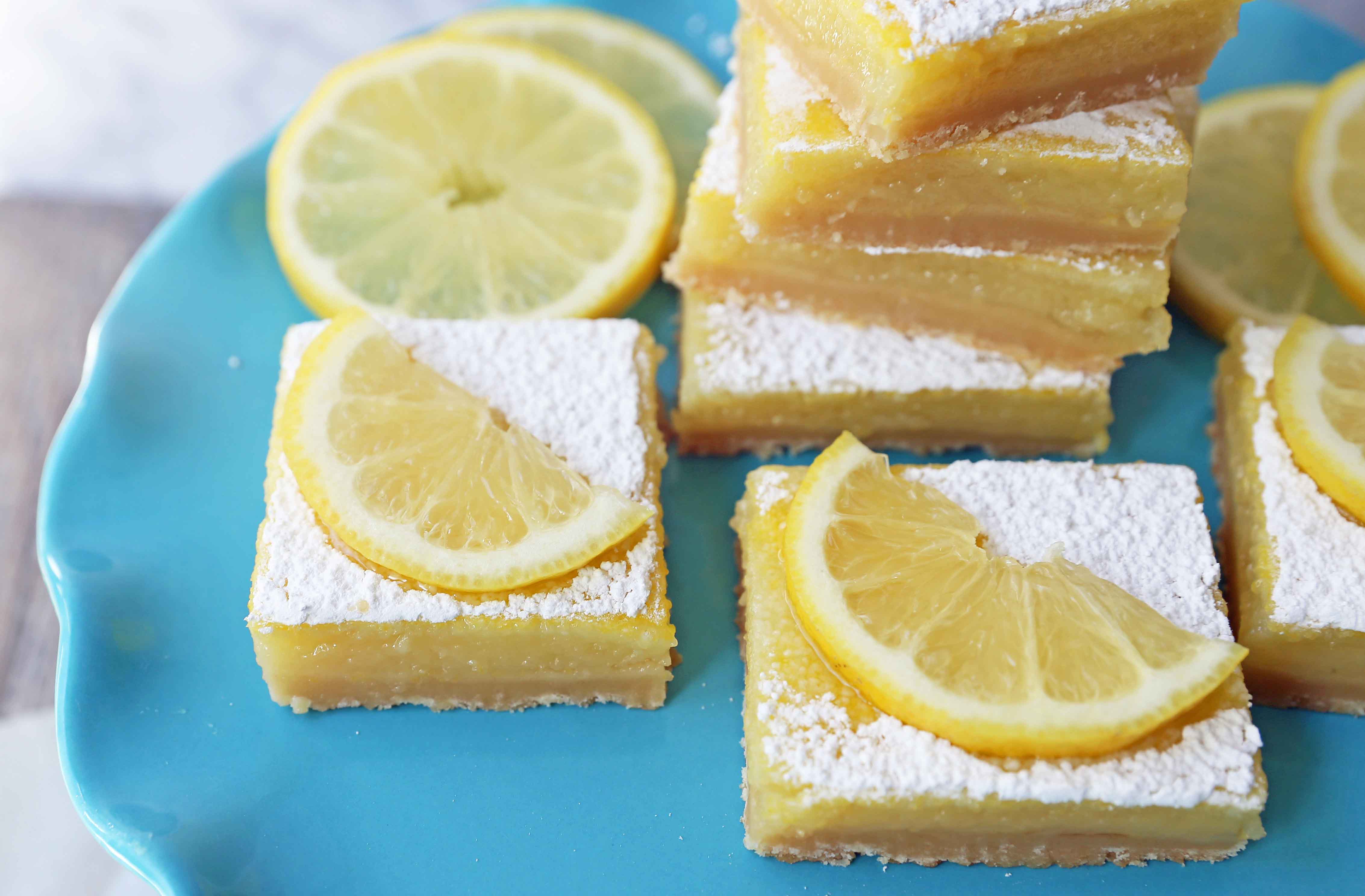 We planted a lemon tree in our backyard when we first moved in several years ago. I have been waiting with bated breath for it to actually produce lemons! This is the year when we finally got a bountiful crop and I have been loving picking the lemons straight from our tree. They are so incredibly juicy!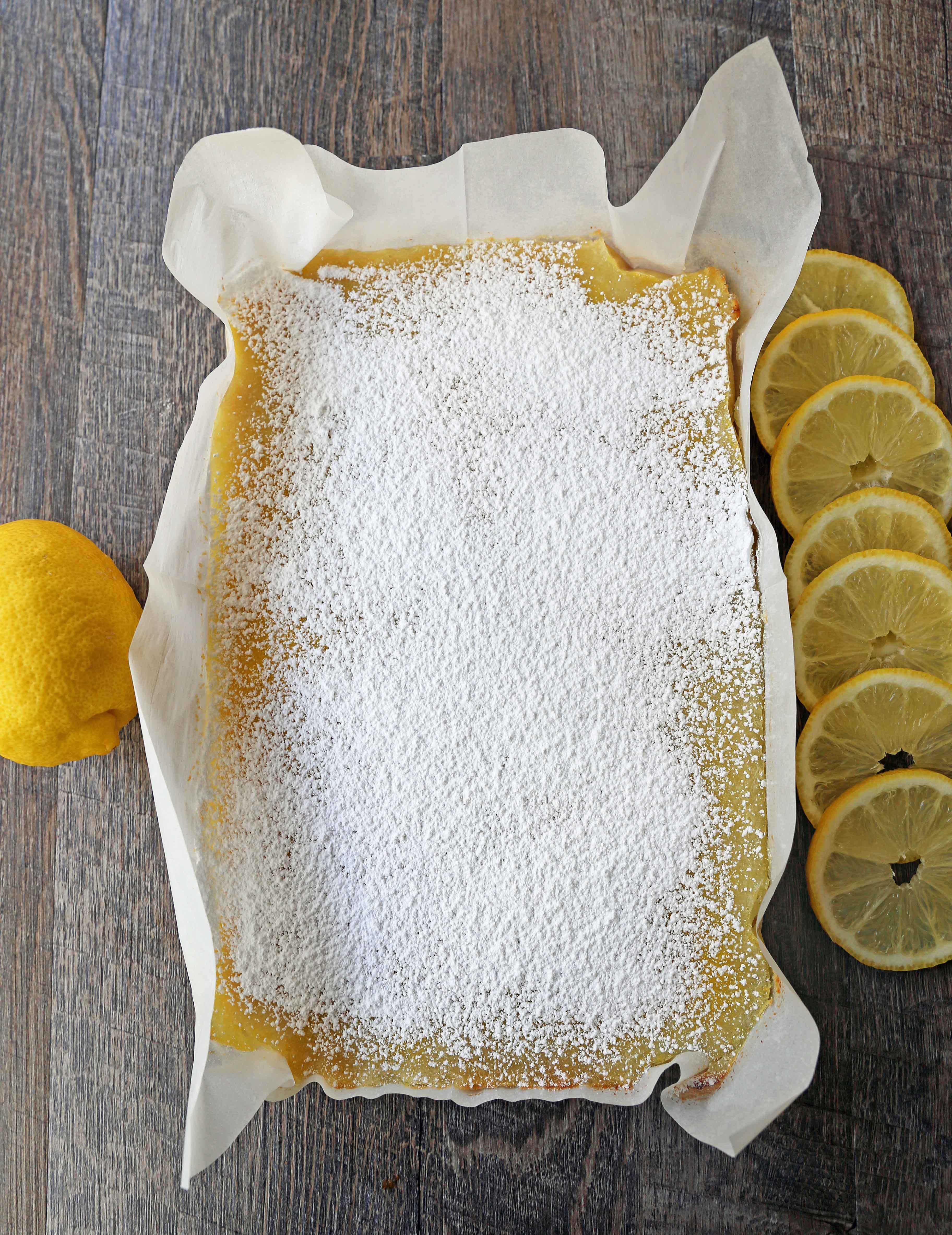 How to make Lemon Bars:
Start by making the shortbread crust. It is made with MELTED butter, sugar, flour, a pinch of salt and either vanilla, almond, or lemon extract. The crust is pressed into a 9 x 13 pan and baked. An important tip is to line the pan with parchment paper. I use these parchment paper sheets all of the time and they work like a charm. It makes cutting the lemon bars a breeze!
Whisk together the lemon curd filling. This lemon bar filling is made with FRESH lemon juice, eggs, sugar, and a touch of flour. Take the time to whisk the eggs together to fully incorporate them into the filling.
Pour the filling over the parbaked shortbread crust and continue to bake. Let the bars come to room temperature and then chill. They are best served chilled. When ready to serve, sprinkle with powdered sugar.
Are lemon bars best served chilled?
It is best to chill lemon bars for optimal lemon flavor. Since this recipe is made with a lemon curd, it is best chilled before serving.
How to add extra sweetness to lemon squares?
Sprinkle the lemon squares with powdered sugar before serving for a touch of sweetness and visual appeal. I suggest using a sifter, fine sieve, or strainer for sprinkling the powdered sugar onto these easy lemon bars.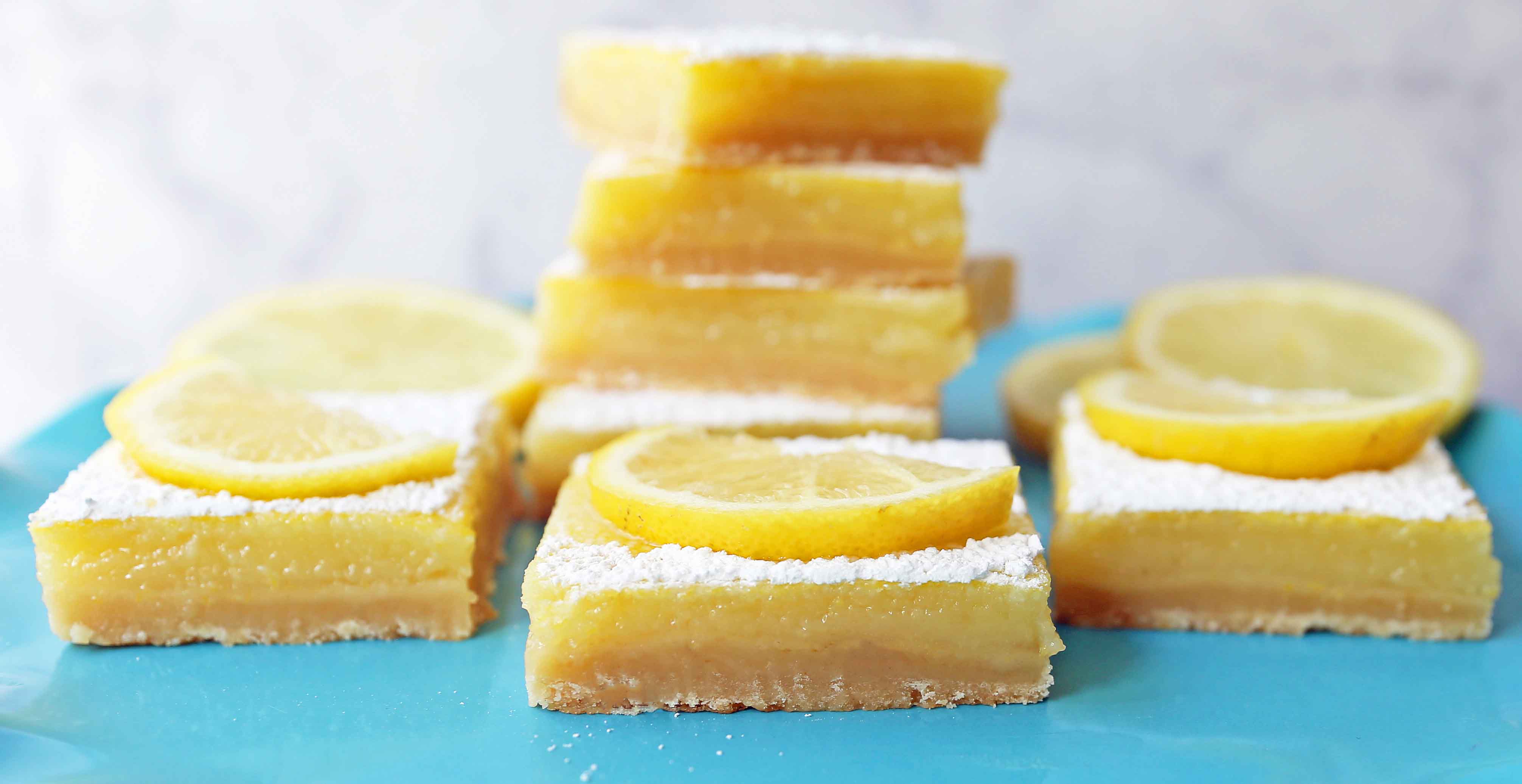 I love to hear from you! If you make this recipe, please be sure to leave a comment and give this recipe a rating. Sign up for my newsletter below so you never miss a recipe. Thank you for following along! I truly do have the greatest readers. FOLLOW ME ON: INSTAGRAM --- FACEBOOK --- PINTEREST