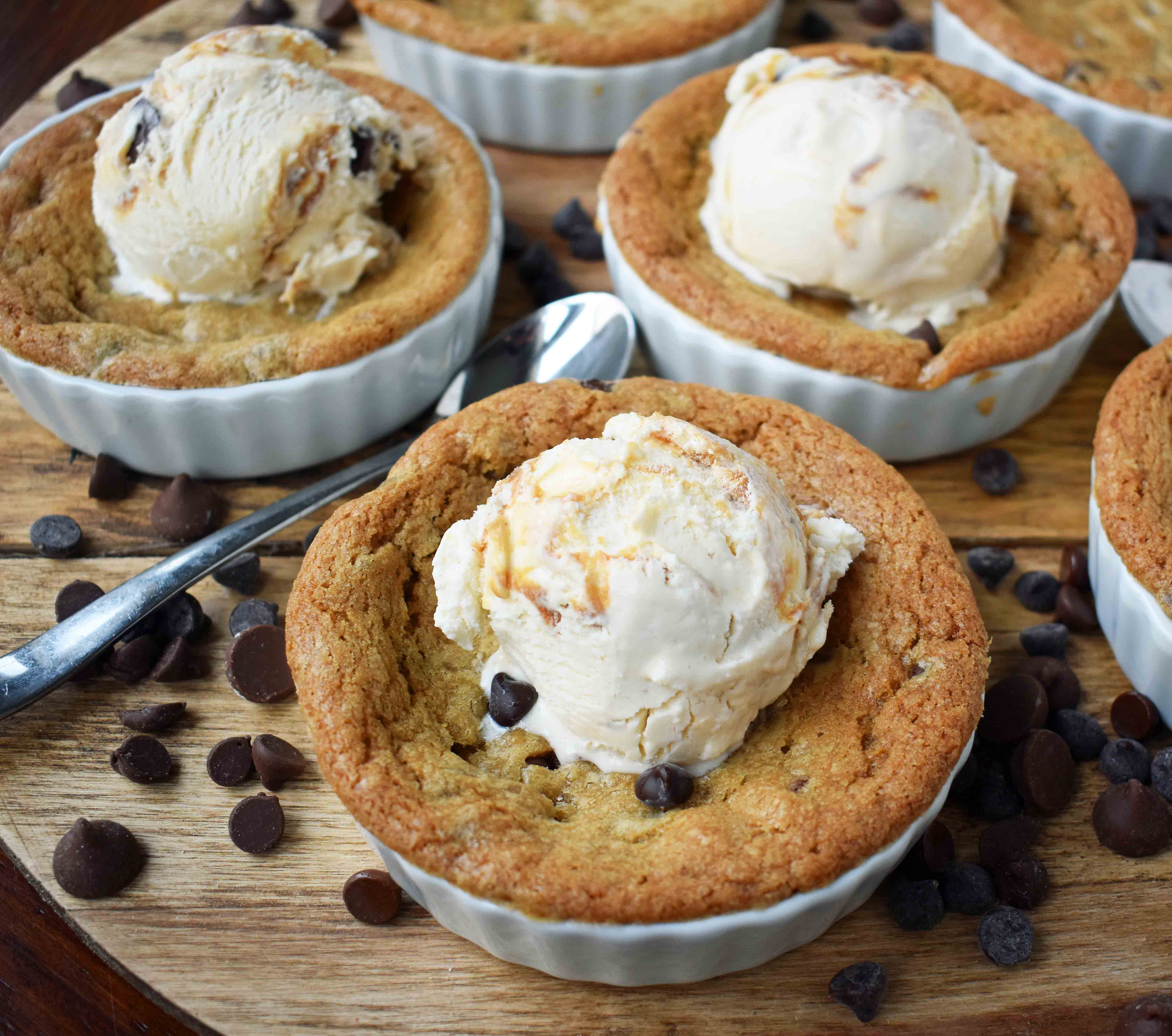 Mini Individual Chocolate Chip Cookie Sundae (Pizzokie)
A few weeks ago, a friend of mine asked me to make pizookies for a dear friend's 40th birthday luncheon. It's my favorite thing to make in this world so the answer was easy….yes! I truly think I could make chocolate chip cookie dough in my sleep.
When I awoke that morning, I decided to experiment. Even though I have dozens of cookie recipes, there's always room for a new method or technique. I love researching and my kitchen is the ultimate playground.
As my friends were eating the pizookies, they wanted to know which Modern Honey chocolate chip cookie recipe it was. They were surprised to hear that it was a brand new recipe. A girl can never have enough chocolate chip cookie recipes!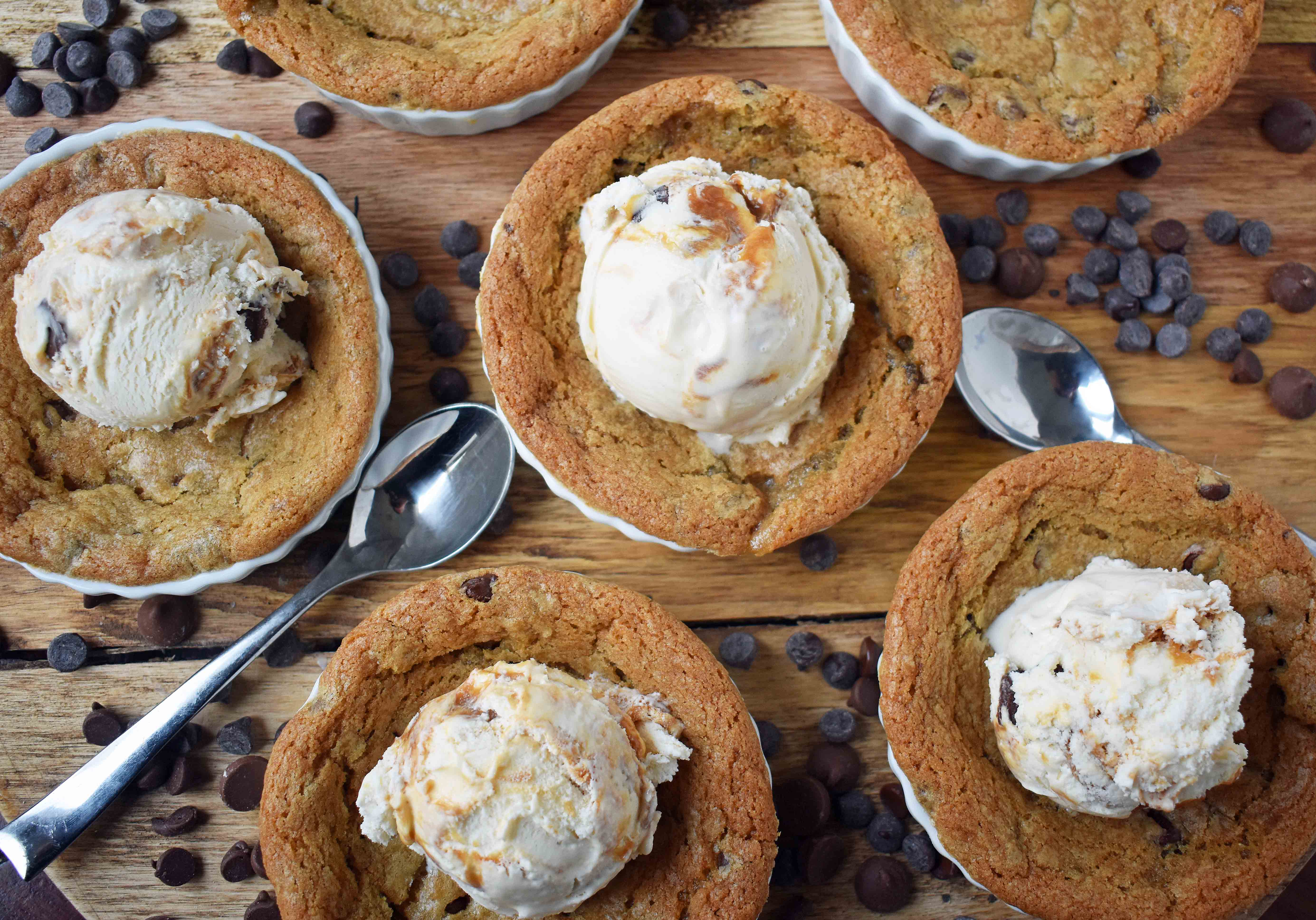 This Chocolate Chip Pizookie combines elements of three recipes — Lady's Chocolate Chip Skillet Cookie, I Want to Marry You Cookies, and the Ultimate Chocolate Chip Cookie. It is similar to Lady's Chocolate Chip Skillet Cookie but this recipe is baked in individual ramekins.  This pizookie is heaven in your mouth! Can you sense my passion? I take baking very seriously!
How to make Mini Individual Chocolate Chip Cookie Sundaes (Pizookie)–
 Take 4 Tablespoons of butter and melt it in a skillet until golden brown. This creates a rich toffee, caramel flavor in the cookie dough.
Cream the remaining 12 Tablespoons of butter with the sugars until light and fluffy.  Then add the melted butter and cream for 1 minute longer.
Instead of melting all of the butter and having to chill the dough before adding the eggs to bring down the temperature, we are adding a small amount of warm melted butter. It alleviates the extra step and still adds that buttery caramel flavor. We are saving time here, people!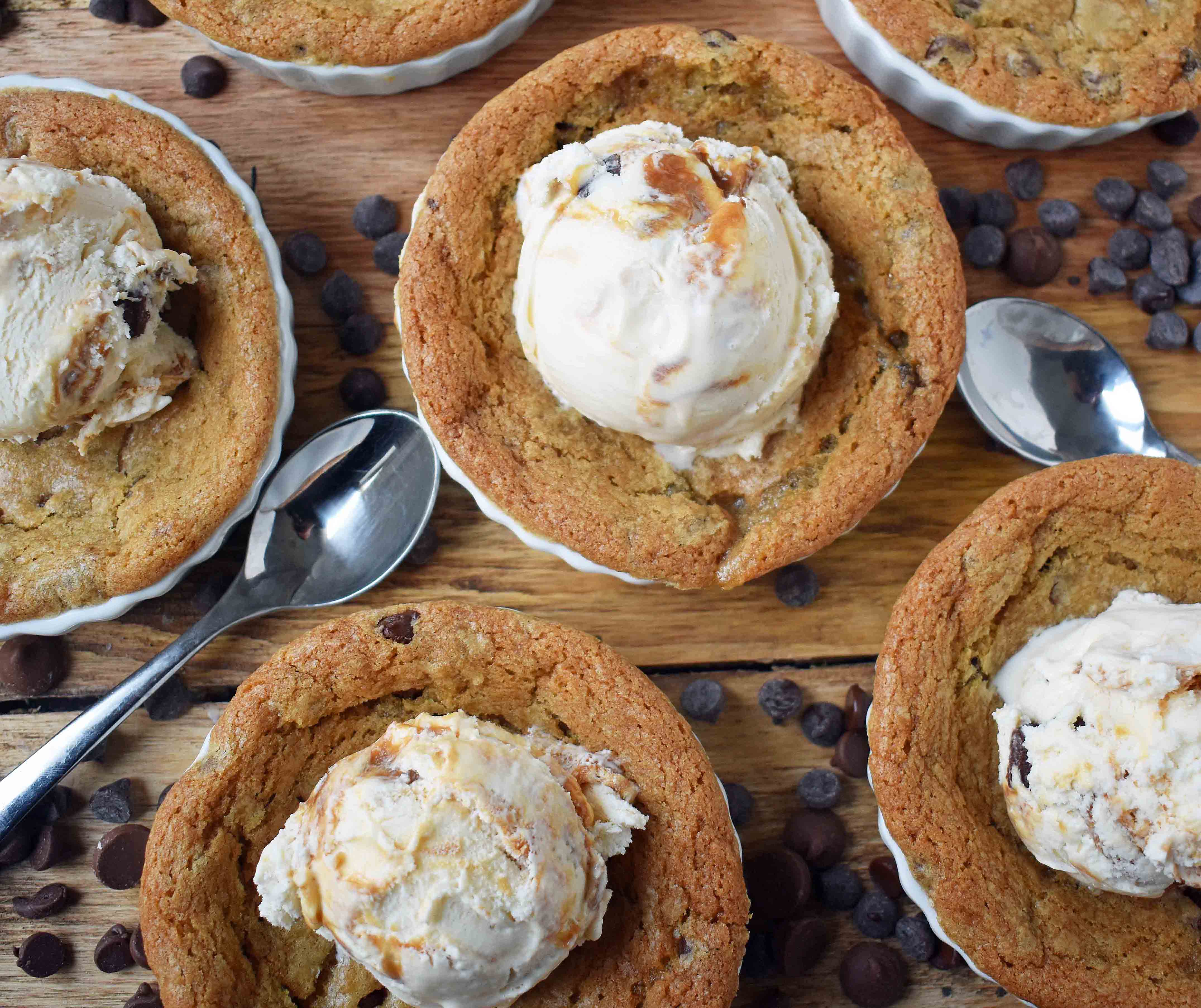 This recipe only calls for 2 cups plus 2 Tablespoons of flour to keep the ratios in the butter and sugar's favor.  This isn't a cakey chocolate chip cookie. A pizookie needs to have crispy edges with a warm, gooey center and this Chocolate Chip Cookie sundae recipe fits the bill.
The dough is placed in small ramekins (look down below to find out where to buy them).  This is genius because everyone gets their own mini individual chocolate chip cookie sundae.  Chill it for 30 minutes before baking.
Bake until the edges become nice and golden. You want to have a crisp edge and a slightly underbaked center.  The baking time will change depending on how deep your ramekins are.  The deeper the ramekin, the longer it takes to bake! After removing from oven, let set up for 5 minutes before adding the ice cream.
Top with your favorite ice cream from vanilla bean to salted caramel to mint chocolate chip. The options are endless!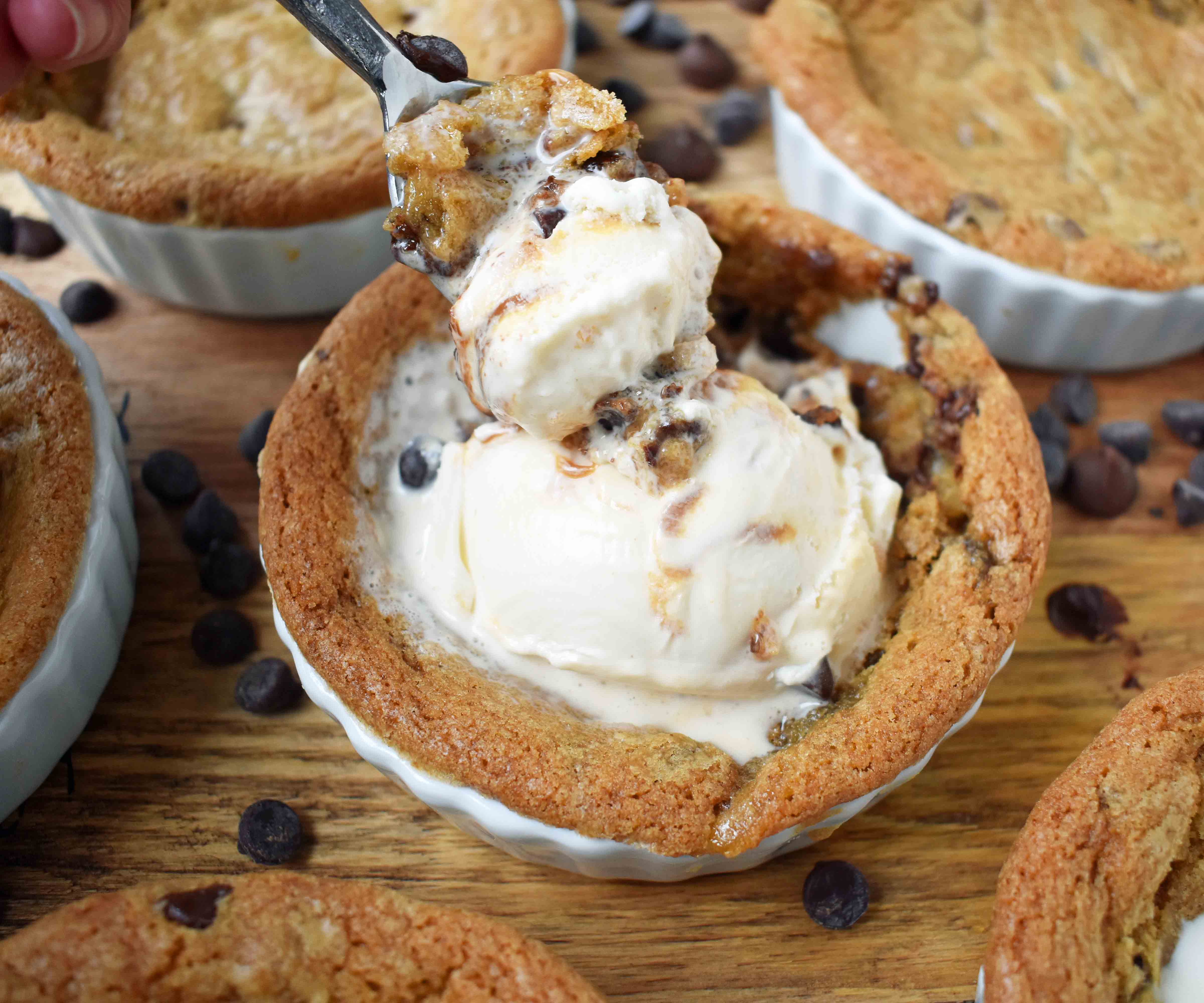 Where to buy ramekins?
You can find them at Target, TJ Maxx, Marshall's, Home Goods, WalMart, Amazon, Cost Plus World Market and so many more retailers. My favorite are from World Market because they aren't too deep and have a decorative edge. They have such beautiful ones! Here are some from Amazon — Round 5-ounce ramekins. You can also use square ramekins.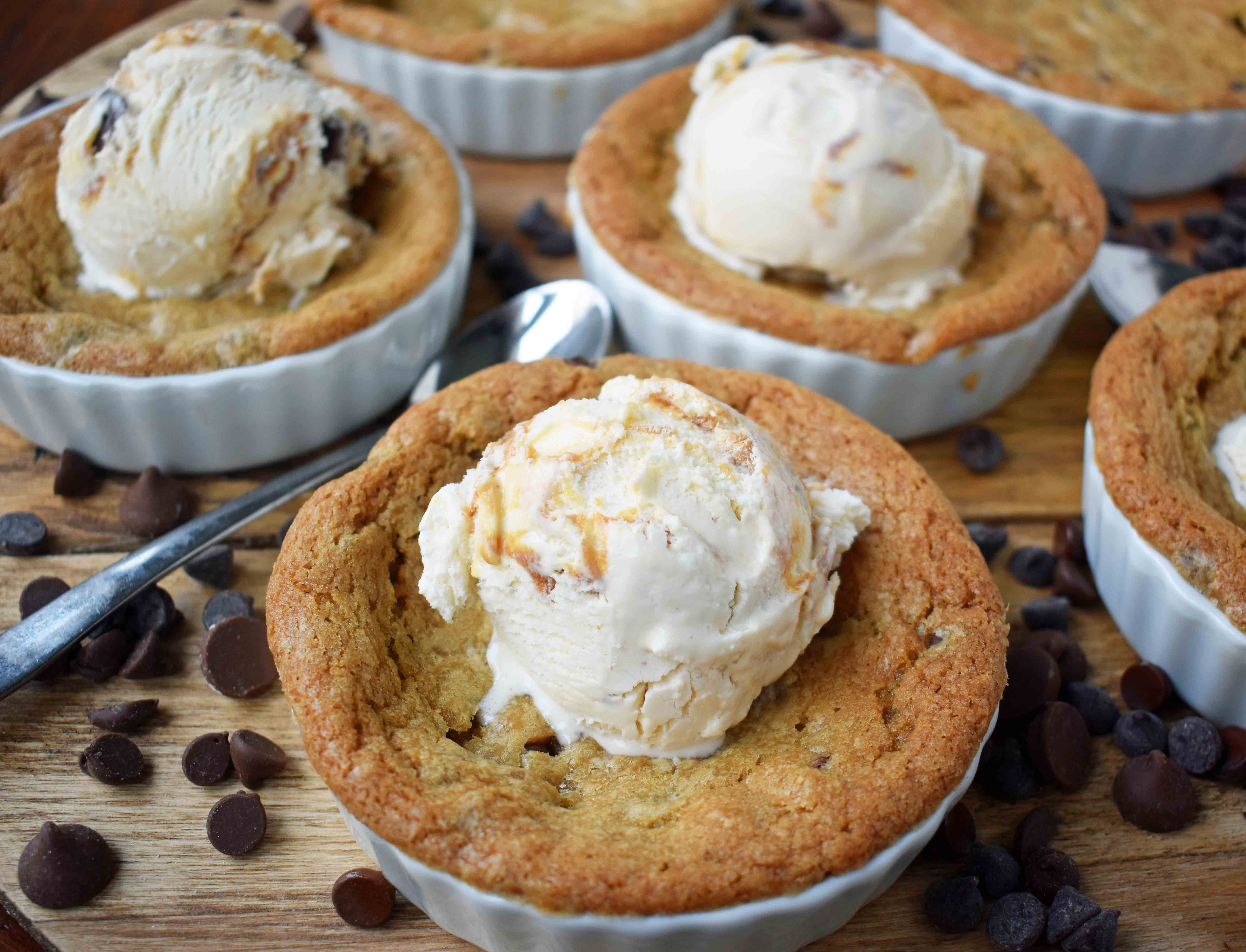 Pin this now to find it later
Pin It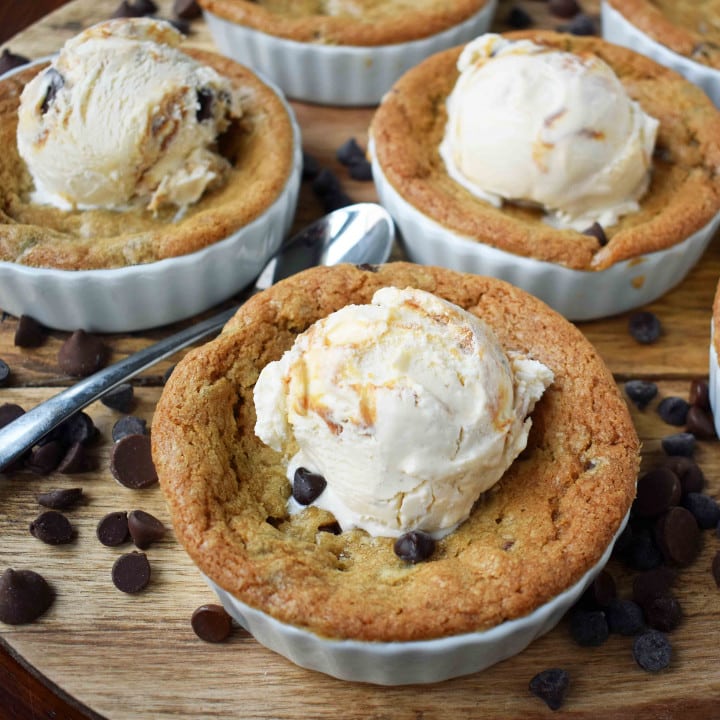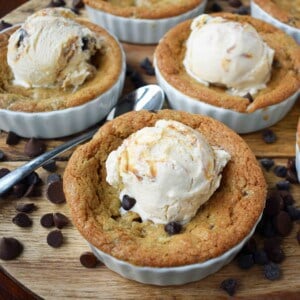 Mini Individual Chocolate Chip Cookie Sundae (Pizookie)
A warm chocolate chip cookie with crispy edges and a gooey center, all topped off with vanilla bean ice cream.
Ingredients
1

cup

Butter

divided

1

cup

Brown Sugar

1/2

cup

Sugar

2

Eggs

1

teaspoon

Vanilla

2

cups

+ 2 Tablespoons Flour

1

teaspoon

Baking Soda

1/2

teaspoon

Salt

1 1/2

cups

Semi-sweet Chocolate Chips

Vanilla Bean Ice Cream
Instructions
Preheat oven to 350 degrees.

In a skillet, melt 4 Tablespoons of butter over medium heat stirring often, until it starts to bubble and is completely melted.

In mixing bowl, cream together remaining 12 Tablespoons of butter, sugar, and brown sugar for 3 minutes until light and fluffy. Drizzle in warm, melted butter and cream for 1 minute longer.

Add eggs and vanilla and stir well.

Stir in flour, baking soda, and salt.

Mix in chocolate and stir to combine.

Place in ramekins and chill for 30 minutes.

Bake at 350 degrees for 18-24 or until the edges are lightly golden brown, depending on the depth of the ramekin. Let set up for 4-5 minutes.

Top with vanilla bean ice cream and eat warm.
Nutrition information is automatically calculated, so should only be used as an approximation.
These Mini Individual Chocolate Chip Cookie Sundaes are going to rock your world. Happy Baking, my friends! xo