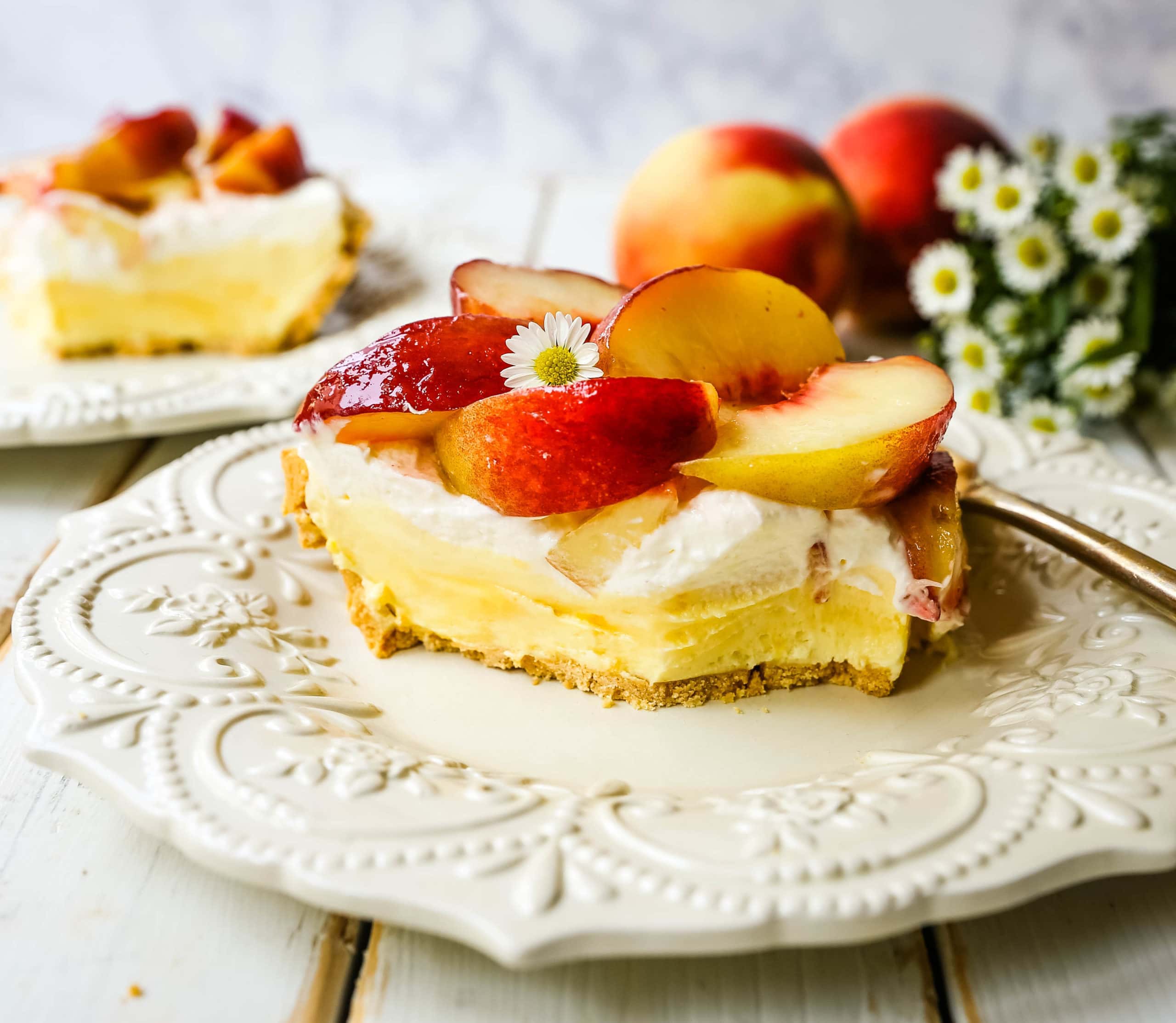 Peaches and Cream Pie
A quick and easy no-bake creamy peach pie with a buttery graham cracker crust, a sweet custard filling, fresh whipped cream, and sliced peaches.
I am a sucker for a no-bake, super simple pie. As much as I love baking...when it is hot outside...I am happy to keep my oven usage to the bare minimum. I am all about cool, no-bake dessert recipes during the summer.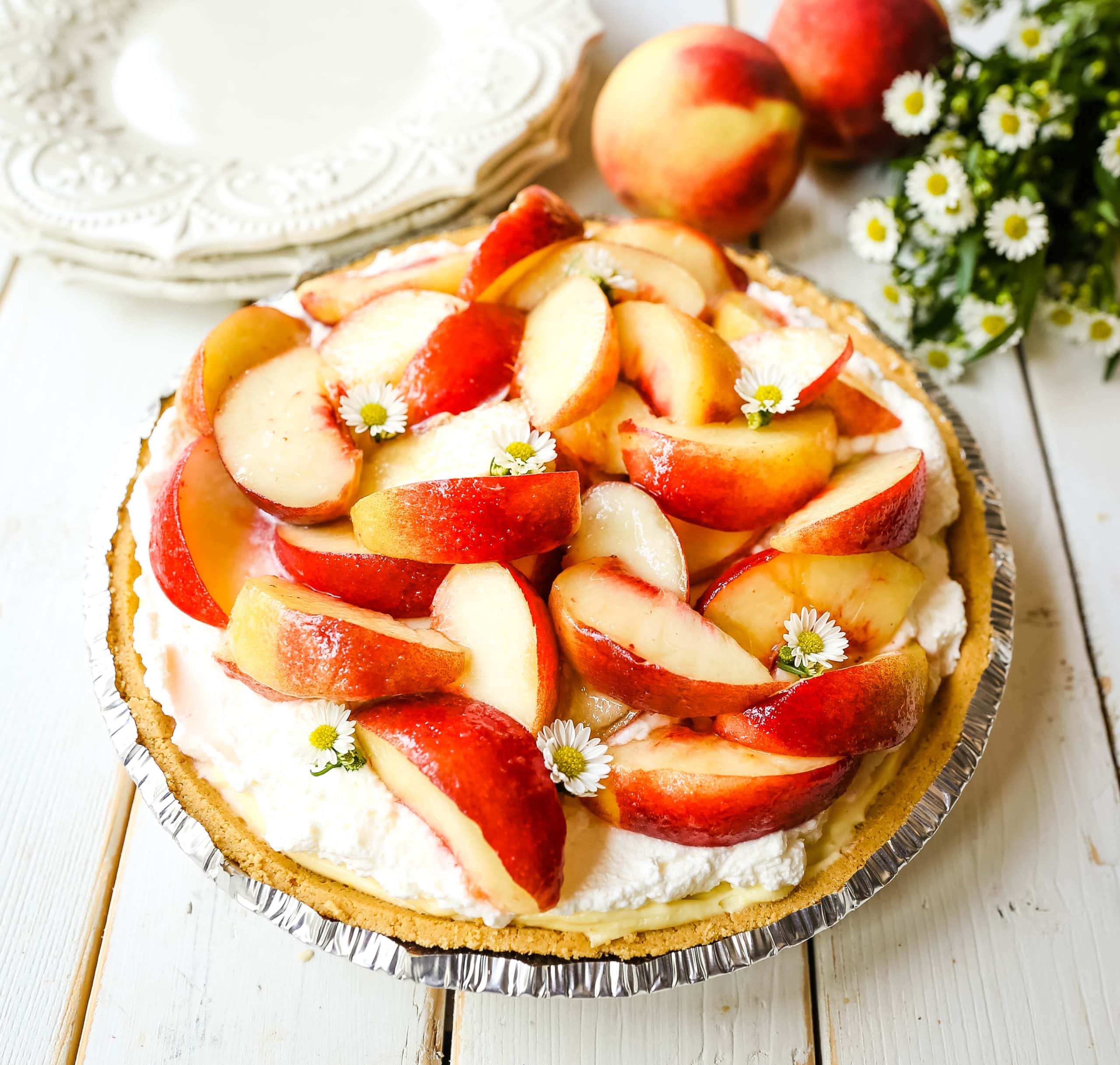 We are still in juicy peach season so I want to share our favorite no-bake peach pie recipe with fresh peaches as the star ingredient. When I make this pie in my home, it is literally gone within minutes. I think my kids are half vultures. 🙂
This Peaches and Cream Pie starts out with a buttery graham cracker crust. Sometimes I whip up my own homemade graham cracker pie crust and other times I just pick up a premade one at the store. Either one works just great with this creamy peach pie!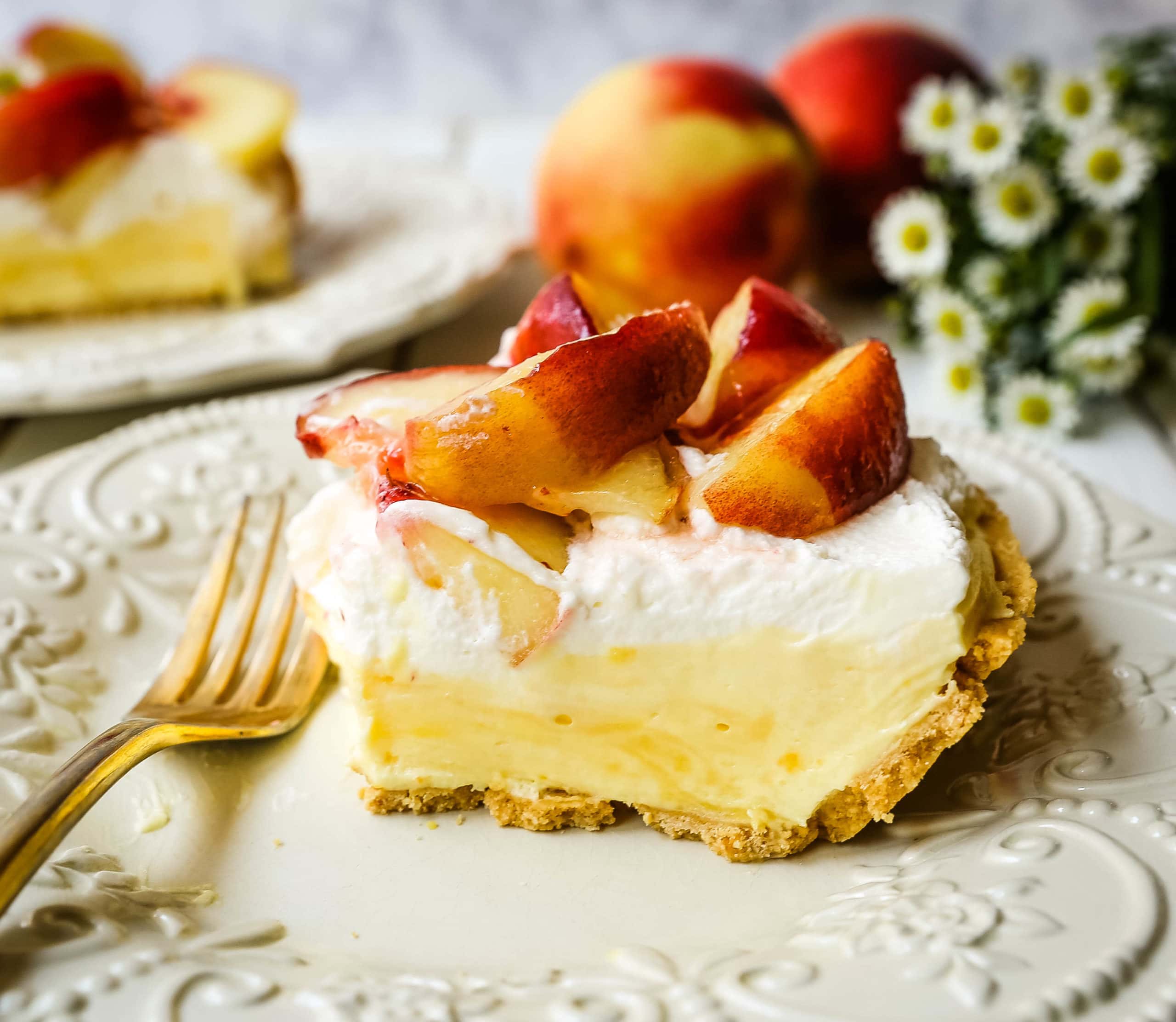 The creamy vanilla custard filling is so simple! It starts off with a box of vanilla instant pudding, water, and sweetened condensed milk. You may be tempted to eat the whole bowl of this because it is that good! This is how to make silky, smooth vanilla pudding filling. The sweetened condensed milk is the game-changer.
Then to make it extra light and creamy, fold in freshly whipped cream, using heavy whipping cream. It is what makes this vanilla filling extra decadent.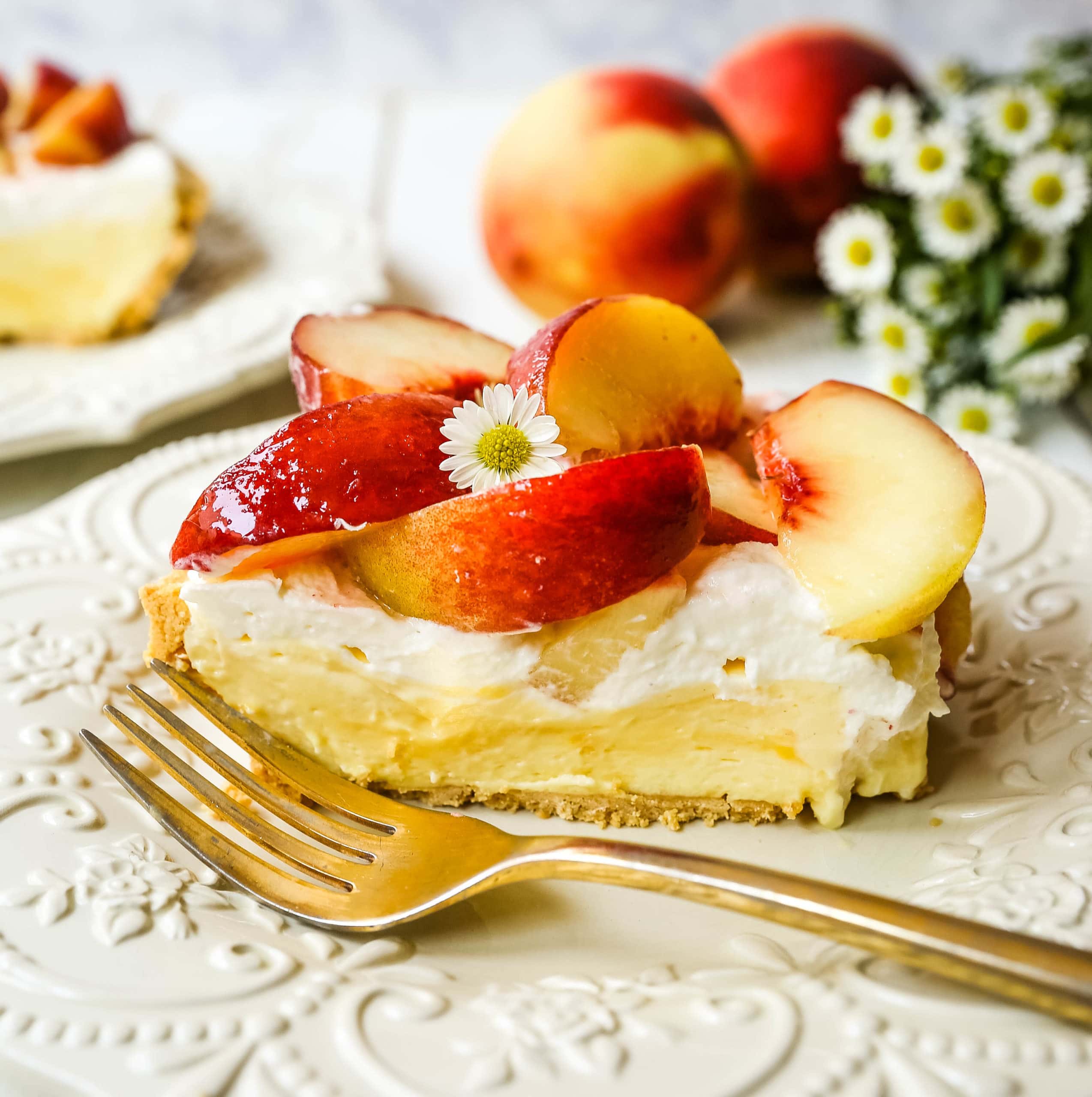 Since peaches are the star ingredient, make sure they are ripe and juicy. A tip is to place the sliced peaches in a bowl and sprinkle with sugar. This helps to bring out the juices and natural sweetness of the peaches. It also helps to slightly soften the peaches.
Let the pie chill in the refrigerator to set up or even place in the freezer to expedite the process. If you decide to go the freezer route, I will usually wait to put the peaches on the top of the pie to keep them from freezing.
Now you are going to have some serious self-control to keep from eating the whole pie!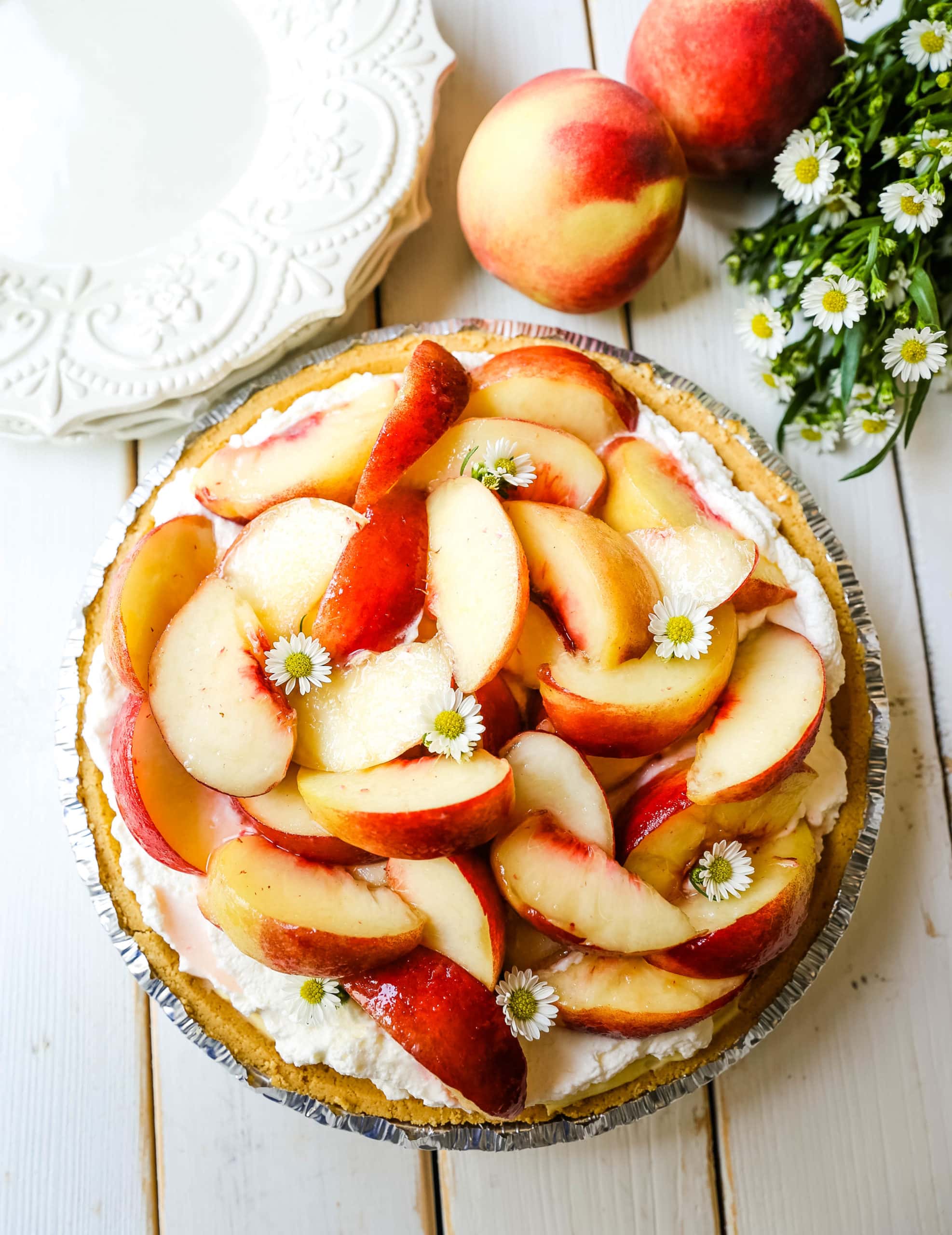 If you LOVE PEACH RECIPES, check out these recipes:
PEACH CRISP
PEACH DUMP CAKE
PEACH BERRY TRIFLE
BROWN SUGAR PEACH DUTCH BABY
HONEY PEACH WHITE CHEDDAR GRILLED CHEESE SANDWICH