Raspberry Sweet Rolls with Raspberry Filling and Cream Cheese Frosting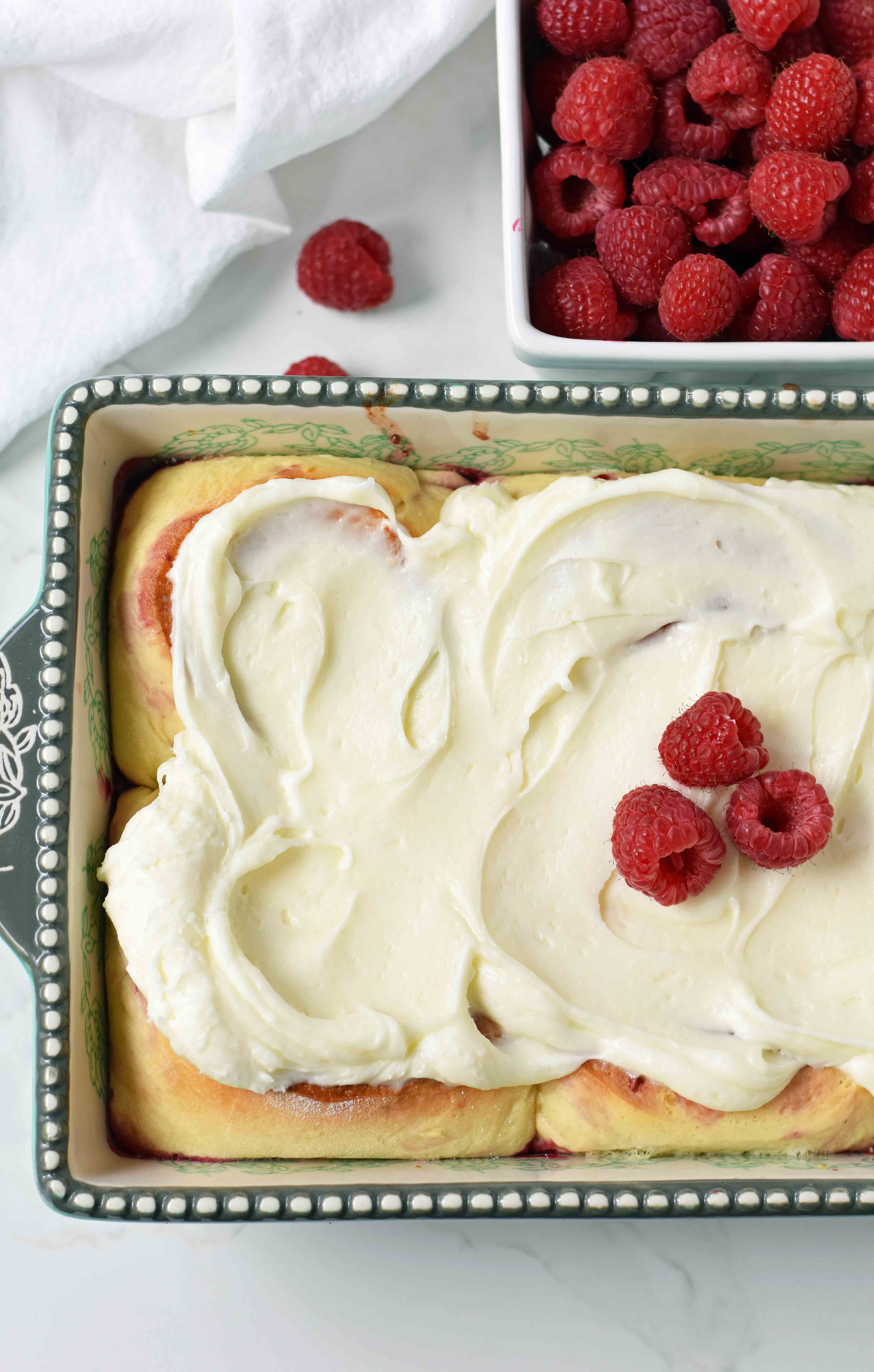 Raspberry Sweet Rolls
Comfort food. The food that reminds you of home, Grandma's kitchen, or just food that makes you feel better after a rough day. Bread will always be one of my comfort foods as my Mom has been making homemade bread and sweet rolls my entire life.
These Raspberry Sweet Rolls with Cream Cheese Frosting are made with a light dough and rolled with frozen raspberries and sugar, baked until golden, and topped with a homemade cream cheese icing. They will literally melt in your mouth.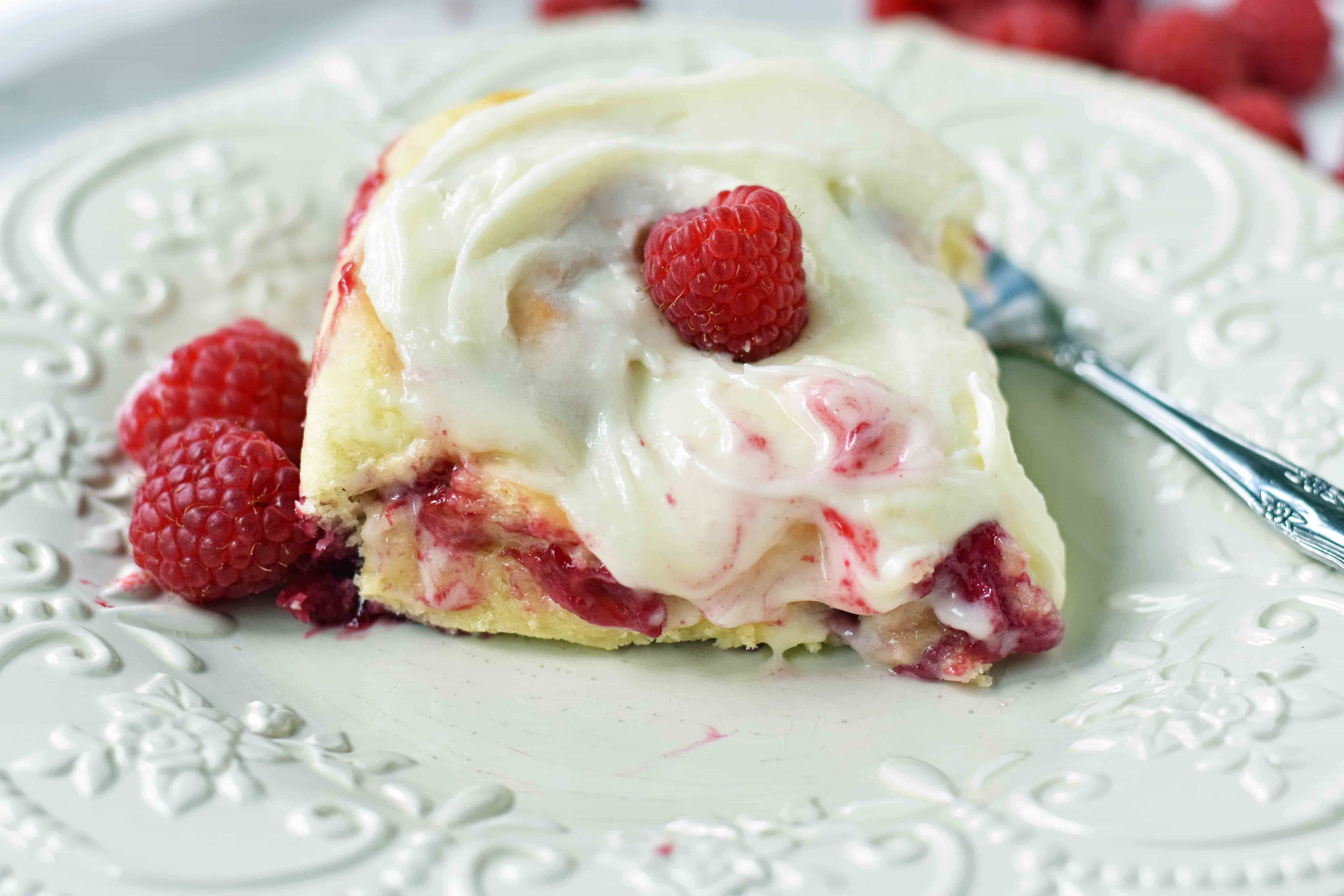 I experimented with this recipe and started off making the homemade dough. I decided to try raspberry jam because of the simplicity of it. Raspberry jam was in my pantry and would spread so nicely on the dough. I baked them up and they looked beautiful.
The rolls were completely cooked all the way through and it was the moment of truth — it was time to taste test the Raspberry Jam Rolls. They were excellent. The texture was just right BUT there wasn't enough raspberry flavor.
If you are in a pinch and want to make Sweet Rolls with Raspberry Jam, they will still taste amazing.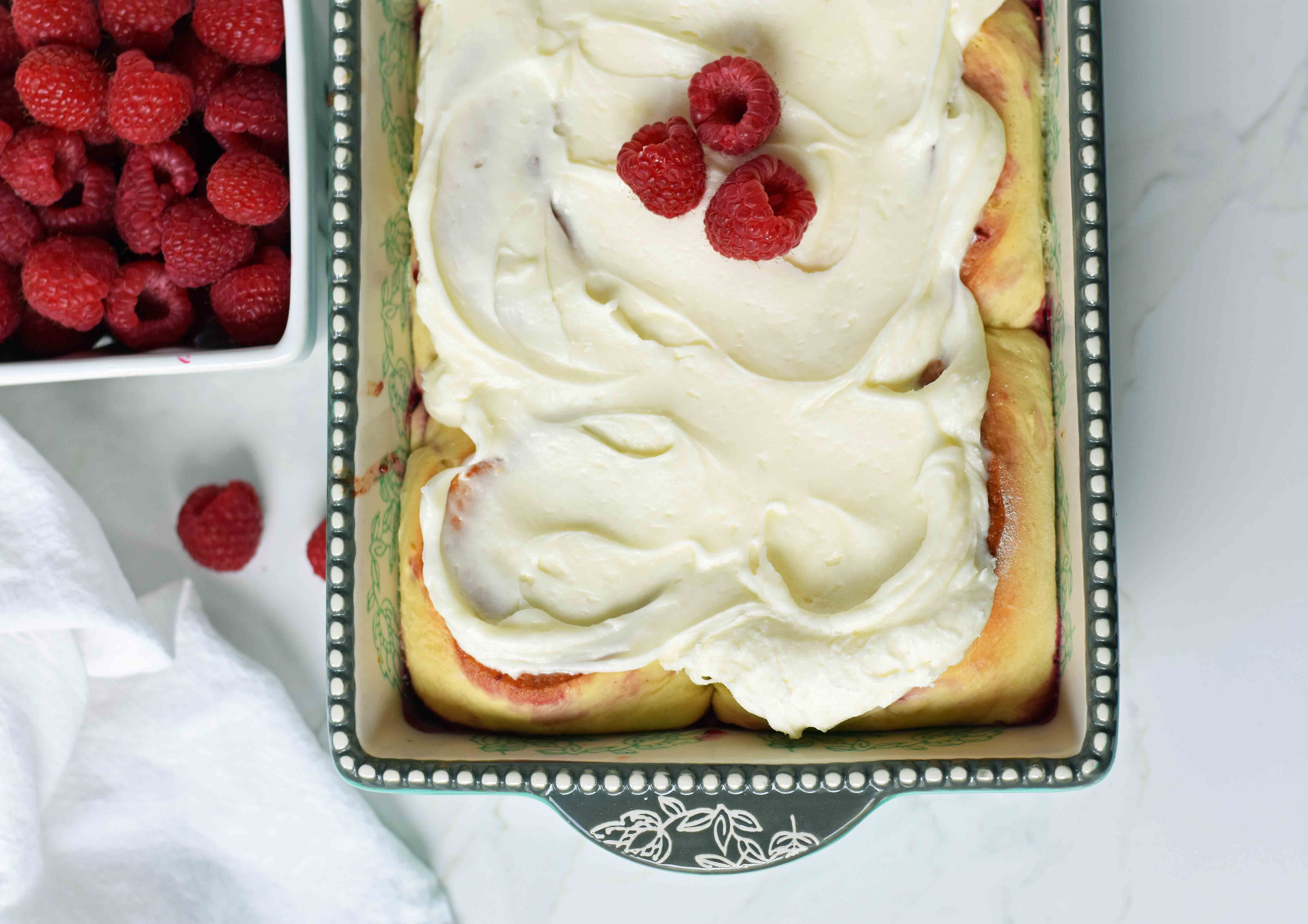 It was time to go straight to the source — use frozen raspberries instead of jam. This could be a home run as the true raspberry flavor would come through or a disaster and the raspberries could make the rolls a gooey mess. It was risky, but I wanted to try both methods. I used frozen raspberries instead of fresh to give the raspberries the best chance of holding up when they hit the hot oven.
Drumroll please….the rolls came out and they were soft, light, fluffy, and full of raspberry flavor. We had success!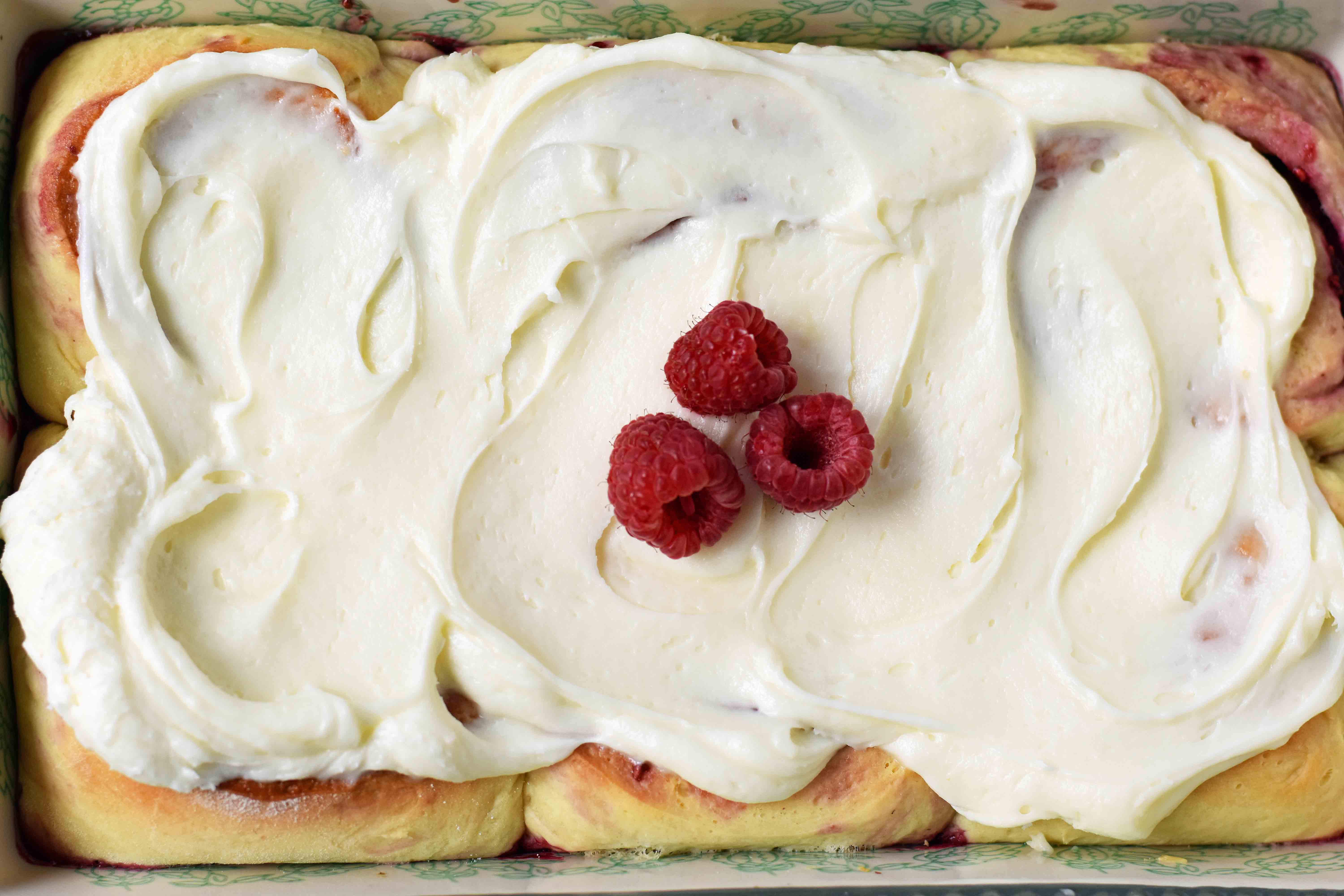 How to make Homemade Raspberry Sweet Rolls:
Start with Fresh Yeast. Nothing will tank your sweet rolls faster than yeast that doesn't work. To check whether or not your yeast is good, place it in a bowl with warm milk (about 110 degrees) and sugar. Yeast loves sugar and it helps to activate the yeast. How do you know if the yeast is working? It will begin to bubble and foam. That's a good sign! If it doesn't begin to foam, your milk may have been too hot or not hot enough. Yeast can be tricky so it is important to get this step right.
Let it RAISE. One of the most important parts of making sweet rolls is the rising process. Place the bowl in a warm place if at all possible, and let it rise to double the size. If you are in a hurry and want to make quick sweet rolls, heat the oven to 200 degrees. Once it reaches 200 degrees, turn off the oven. Place the dough in an oven-proof bowl covered with a slightly damp towel or paper towel. Let it rise until double in size. This process works like a charm!
Use FROZEN Raspberries. Mix the frozen raspberries with sugar and cornstarch. It is imperative to use cornstarch as it is a thickening agent.
Bake until GOLDEN BROWN. The key here is to get the sweet rolls all the way cooked through without the tops becoming too brown. Keep an eye on the sweet rolls and if the tops are becoming too brown, cover with aluminum foil. This allows the rolls to become cooked throughout.
Spread CREAM CHEESE Frosting over rolls. The cream cheese frosting is made with sweet cream butter, cream cheese, powdered sugar, and vanilla.
If you LOVE all things BREAD, check out these POPULAR Modern Honey Recipes:
Hayley's Famous Cinnamon Rolls
Homemade One-Hour Whole Wheat Bread
Pin this now to find it later
Pin It
Raspberry Sweet Rolls
Homemade Raspberry Sweet Rolls with Cream Cheese Frosting
Ingredients
1

cup

Warm Milk

heated in the microwave until warm to the touch, about 110 degrees

1

Tablespoon

Yeast

1/2

cup

Sugar

2

Eggs

6

Tablespoons

Butter

melted

1

teaspoon

Salt

4 1/4 - 4 1/2

cups

Flour



Raspberry Filling:

2

Tablespoons

Butter

softened (to spread over dough)

12

ounces

FROZEN Raspberries

1/3

cup

Sugar

1 1/2

teaspoons

Cornstarch



Cream Cheese Frosting:

1

cup

Butter

softened

1 - 8-

ounce

pkg. Cream Cheese softened

3 1/2

cups

Powdered Sugar

1

teaspoon

Vanilla or Vanilla Bean
Instructions
Place milk in a microwave-safe bowl. Microwave for about 90 seconds or until the milk is warmed to about 110 degrees.

Add yeast and sugar and stir. Let it begin to foam and bubble. This will show that the yeast is working. Let yeast proof for 5-10 minutes.

Meanwhile, add remaining eggs, melted butter, and salt in large mixing bowl. Once yeast is activated, add mixture to a bowl. Stir in flour. Watch for the dough to start coming off the sides of the bowl.

Place dough in a warm place to rise to double in size. (For an expedited option, preheat oven to 200 degrees. Once it is heated, turn off oven. Place dough in an oven-safe bowl. Cover bowl with a moist towel. Put in oven to rise until double in size).

Once the dough has doubled in size, roll out on a floured surface into a large rectangle.

Spread softened butter all over the dough.

In a medium bowl, stir together frozen raspberries (do NOT let thaw), sugar, and cornstarch.

Spread raspberries all over the dough.

Tightly roll up dough and slice into rolls.

Place on greased baking sheets and cover loosely with towel or saran wrap.

Let rise for at least 1 hour or until double in size.

Bake at 400 degrees for 12-15 minutes. ***Check to ensure the rolls don't become too brown without the center being fully cooked through. If they are getting too brown, cover with aluminum foil for the last few minutes of baking.

To make frosting: Cream together butter and cream cheese for 4 minutes. Stir in powdered sugar and vanilla.

Spread over slightly cooled raspberry sweet rolls.

Serve warm.
Nutrition information is automatically calculated, so should only be used as an approximation.
pin on pinterest:
Happy Baking, my friends!