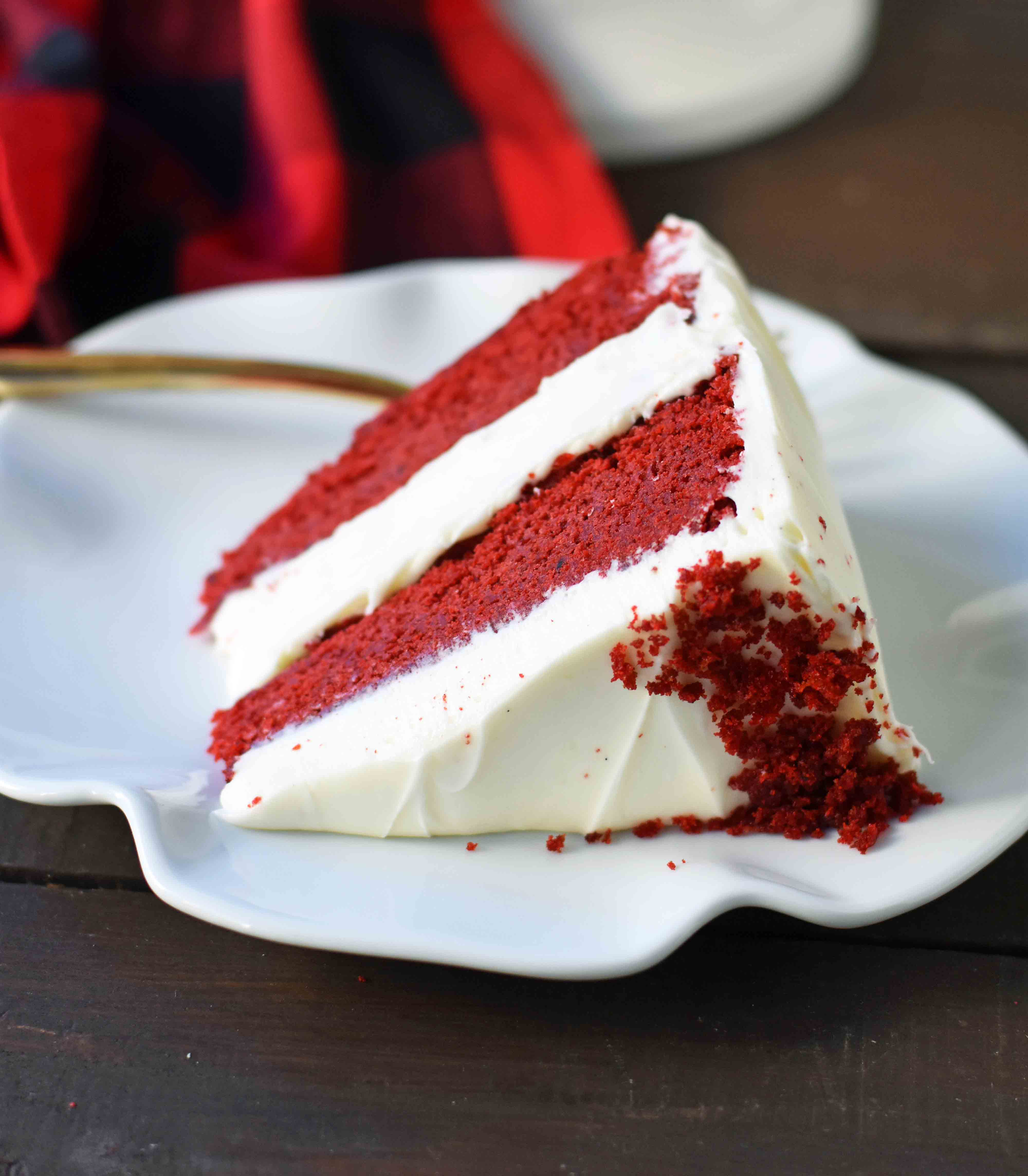 I have been a quest to figure out how to make the Perfect Red Velvet Cake. I have to admit that I have made A LOT of red velvet cakes in the process. All of the recipes were good but I was looking for an out-of-this-world recipe. I am picky about my cakes and am determined to create a recipe that will be the only red velvet cake I make in my future.
THIS is the reason I can't fit into my jeans.
There's always January 1st…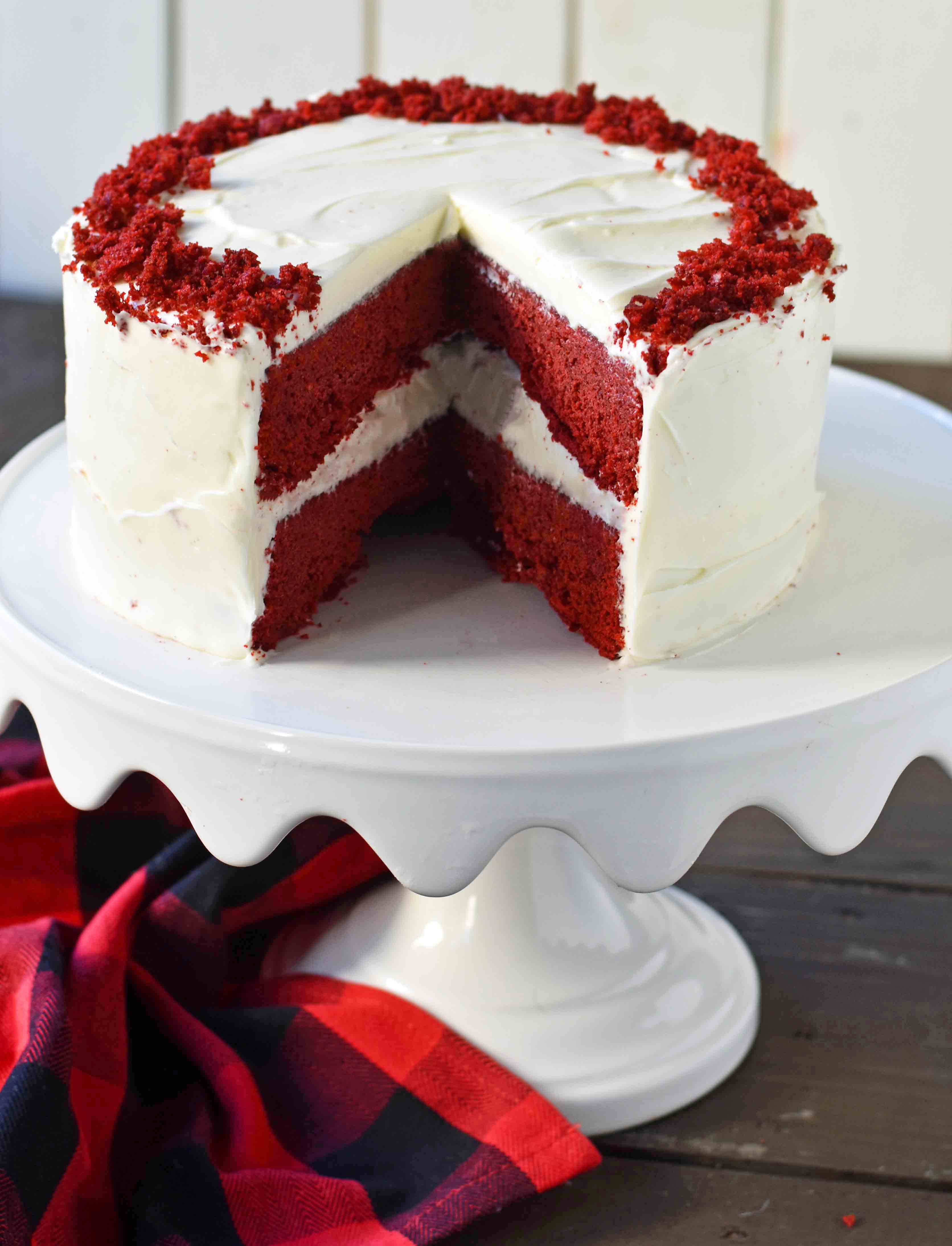 I have always been a red velvet cake fan but there are some that are just better than others. I was looking for a deep, rich flavor and a tender, moist crumb with a sweet creamy cream cheese frosting.  This Red Velvet Cake recipe is by far the BEST red velvet cake I have ever tried. Now it is time to share it with you!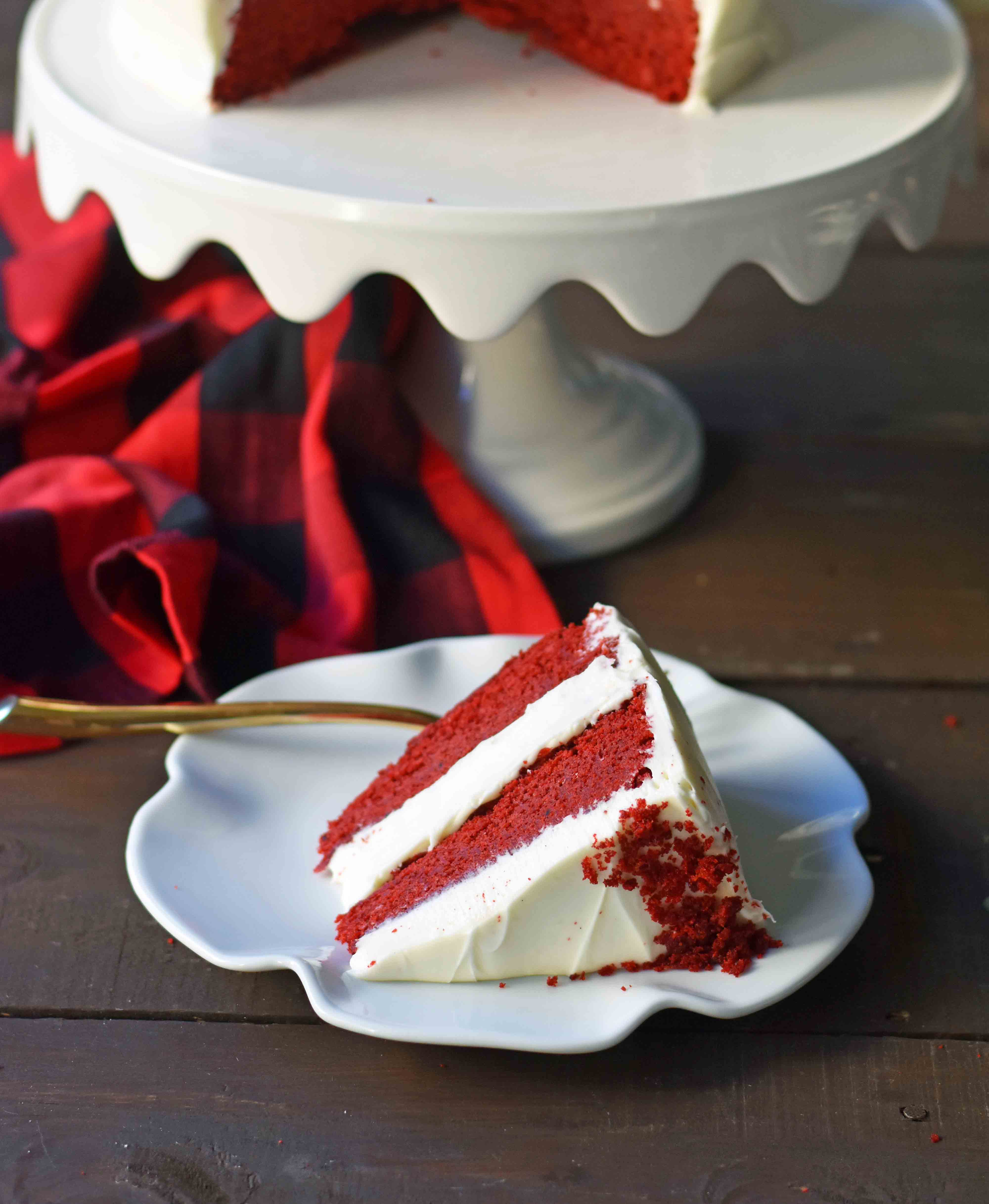 Since Christmas is one week away (I can't even believe it how quickly it snuck up on us), this is such a beautiful cake to serve on Christmas Eve or Christmas day. The red and white colors are so vibrant and perfectly represent the season.
I am sharing my tips, tricks, and baking advice with you below so you can make the best red velvet cake ever. When making cakes, there is a rhyme and reason to even the order of adding the ingredients. After much testing, this creates the best tasting red velvet cake.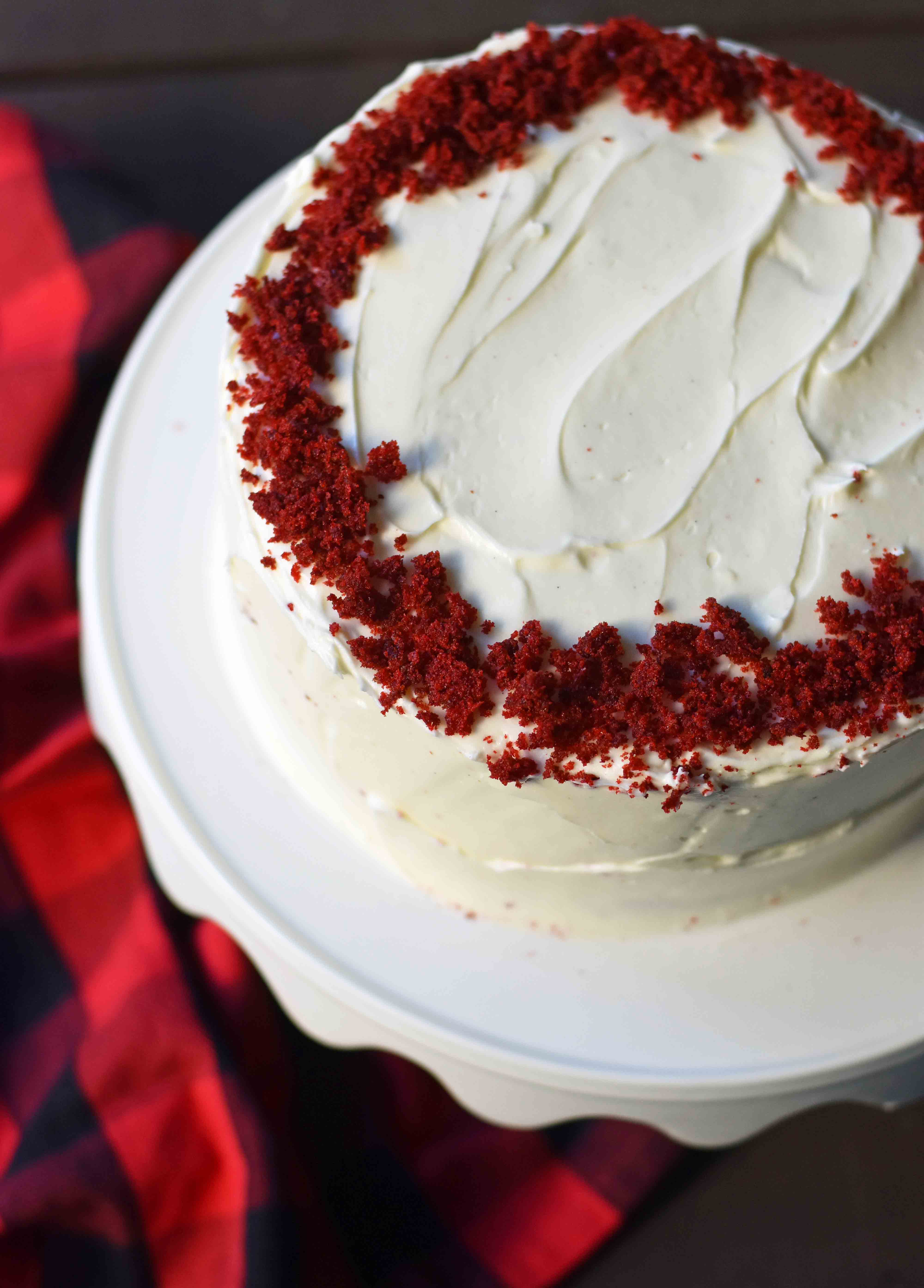 Tips and tricks for making perfect Red Velvet Cake:
 Use a combination of sweet cream Butter and Oil.  This is when you get the best of both worlds. Both butter and oil will provide a moist texture to the cake but butter brings the flavor where oil elevates the texture.  I have tried using just one of them and found that the best cake is when both butter and oil are used together.

Use Buttermilk.

  Buttermilk is one of my favorite ingredients to use in baked goods. It is such a game changer and makes such a difference in the texture of the cake. It is worth it to buy buttermilk (you can use the remaining in my buttermilk pancakes or ricotta pancakes).
Use Cake Flour. Cake flour has less gluten than all-purpose flour which creates a more tender crumb.  You can find cake flour in all grocery stores. I buy it in bulk in grocery stores that sell items in bins (Winco, Sprouts, etc).
Use a combination of Butter and Cream Cheese in Frosting.  A smooth, creamy, and sweet cream cheese frosting is unlike anything else. I love to use a mix of butter and cream cheese as butter brings some richness and the cream cheese adds a subtle tang. Adding powdered sugar is the finishing touch!
I love to use the

USA 8-inch cake pans

because the cake comes out beautifully from the pans. You can also find a link to 9-inch pans below. I also use an angled spatula to frost my cakes.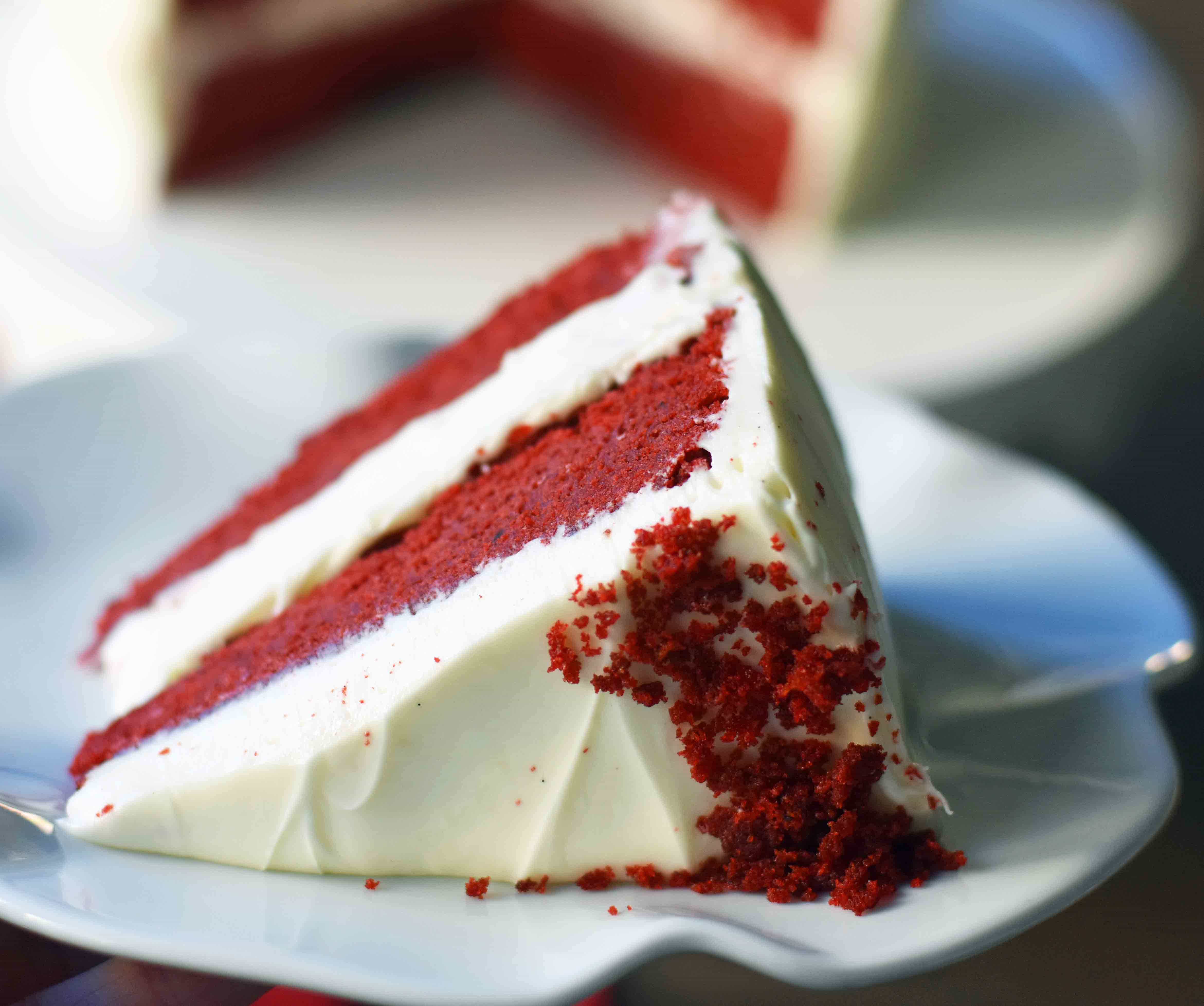 Pin this now to find it later
Pin It
Red Velvet Cake
The perfect red velvet cake recipe with sweet cream cheese frosting
Ingredients
3

cups

Cake Flour

1 3/4

cups

Sugar

3

Tablespoons

Unsweetened Cocoa Powder

1

teaspoon

Baking Soda

1/4

teaspoon

Salt

1/2

cup

Butter

cut into cubes

3

Eggs

1

cup

Buttermilk

3/4

cup

Canola Oil

1 - 2

Tablespoons

Red Food Coloring

may do less depending on preference

1

Tablespoon

Pure Vanilla Extract



Cream Cheese Frosting:

2 - 8-

ounce

pkgs. Cream Cheese

room temperature and softened

12

Tablespoons

Butter

3/4 cup, softened

4 1/2

cups

Powdered Sugar

1

Vanilla Bean or 2 teaspoons Pure Vanilla Extract
Instructions
Preheat oven to 350 degrees.

In a standing mixer, stir together flour, sugar, cocoa powder, baking soda, and salt.

Beat the butter into the flour mixture, one cube at a time. Continue to beat until it resembles coarse crumbs.

In a small bowl, whisk together eggs, buttermilk, oil, red food coloring, and vanilla.

Add the buttermilk mixture to dry ingredients and beat the batter until thoroughly mixed.

Take a spatula and scrape the sides of the bowl.

Spread into two greased 8 or 9-inch cake pans and smooth tops with a spatula.

Bake for 16-22 minutes, depending on the depth of pans. If the cake layers are thin, they will cook for less time than the thicker layers.

Let cakes cool. Run a knife around edge of cake pan and flip over. Frost with cream cheese frosting.

To make frosting:

In a large mixing bowl, cream together softened cream cheese and butter until light and fluffy, about 3-5 minutes. If using a Kitchenaid mixer, use the whisk attachment.

Add powdered sugar and mix until creamy.

If using a vanilla bean, split vanilla bean in half and use the tip of the knife to scrape the vanilla bean paste from each side of the vanilla bean pod.

If using vanilla extract, add to frosting and stir until combined.

Spread on cooled red velvet cake. Cover tightly.
Nutrition information is automatically calculated, so should only be used as an approximation.
Here are some of my favorite classic cakes on Modern Honey:
Love at First Sight Chocolate Cake — a moist, rich chocolate cake with chocolate fudge frosting. A 5-star rated cake!
Yellow Birthday Cake with Milk Chocolate Frosting — this cake recipe has a secret ingredient to make the cake light and fluffy with a killer chocolate frosting.
Here are my favorite cake pans to use for this red velvet cake recipe — USA 9-inch Cake Pans. I couldn't frost a cake without my angled spatula. It is such a huge help and smooths out the frosting.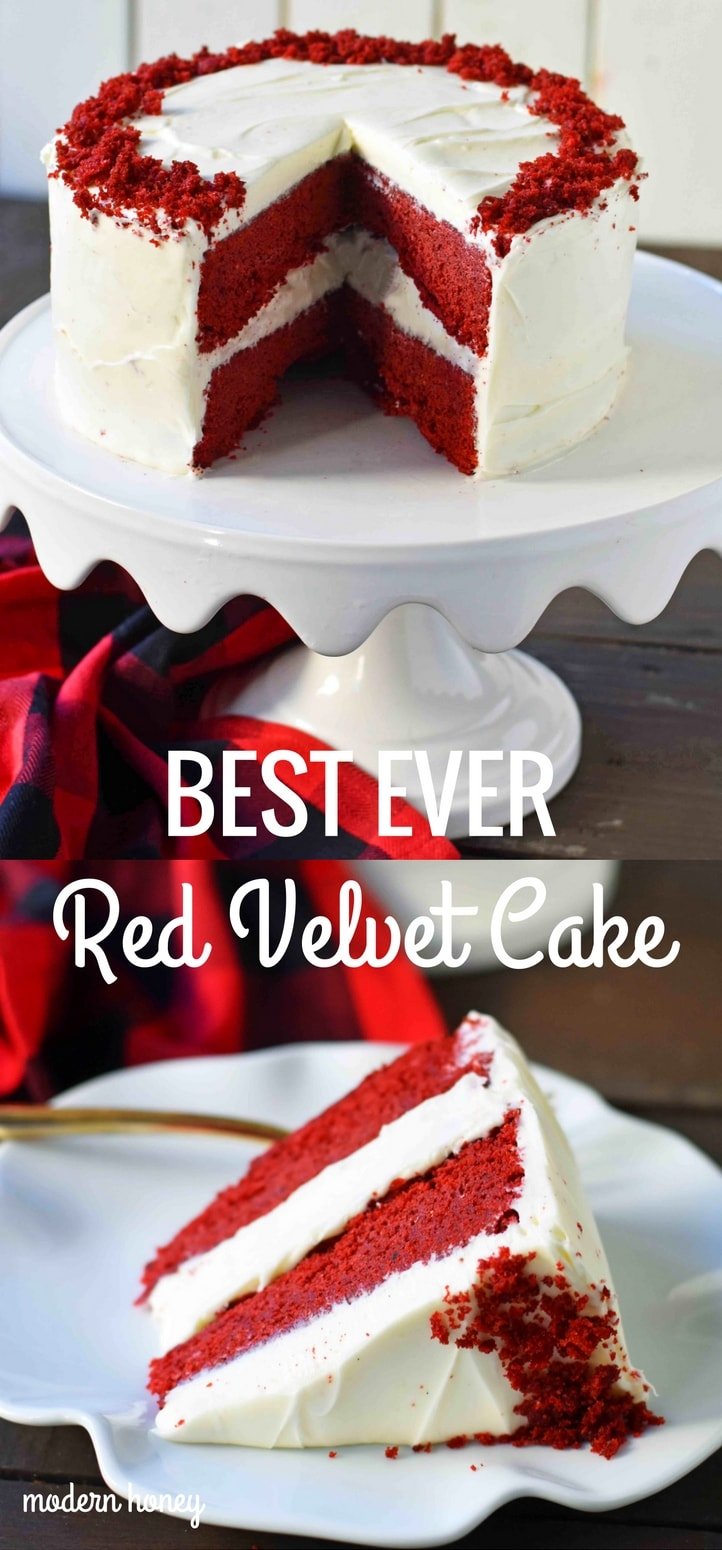 Happy Baking, my friends! xo