Ooey Gooey Salted Caramel Rice Krispies Treats are made with butter, marshmallows, Rice Krispies cereal, and salted caramel. This is the best caramel rice krispies treats recipe!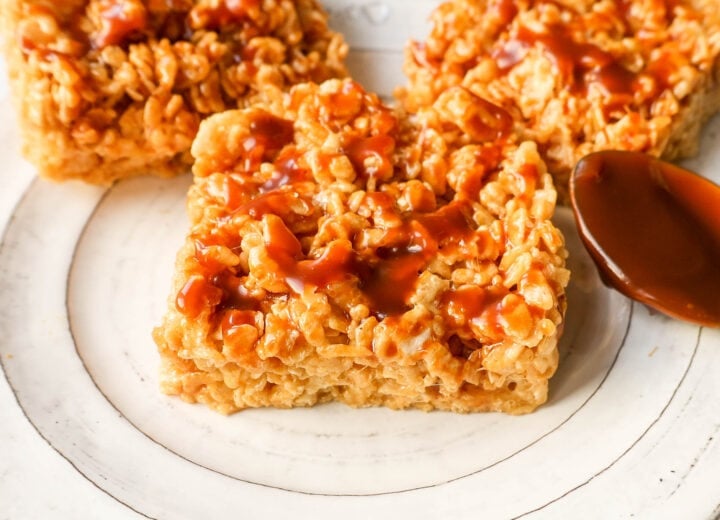 One of my go-to quick and easy dessert bar recipes has to be super easy Rice Krispies Treats. Every time we go to the lake as a family, I whip up a batch of rice krispies treats and it has become a staple.
I wanted to create a more decadent version of the classic rice krispie treat by adding salted caramel sauce and the results were mind blowing!
Why do I love these Caramel Rice Krispies Treats?
They are super easy, no-bake, and made with only 4-5 ingredients. You can't beat that!
The salted caramel sauce adds richness and depth of flavor to a classic dessert bar.
An ooey gooey bar just became even more gooey...in all the best ways.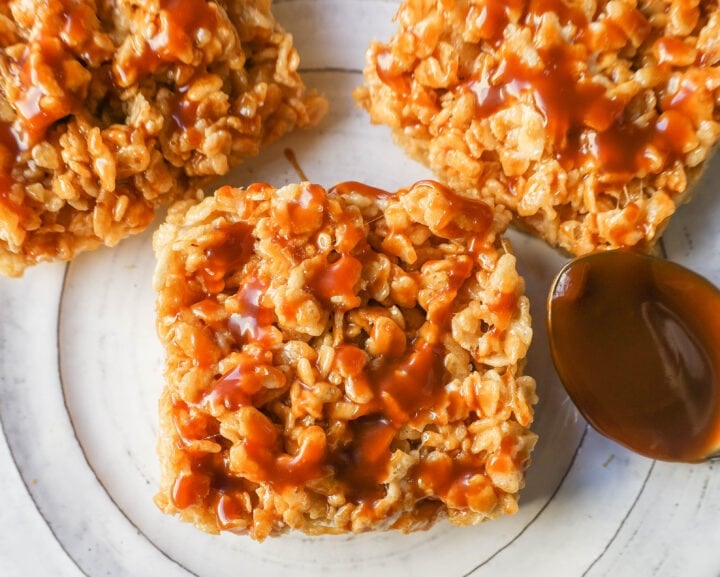 I love that I can make these caramel rice krispie treats at any time because I keep all of these baking ingredients in my pantry (minus the butter, of course!) We love that is a quick, easy, no-bake dessert.
Caramel Rice Krispies Treats Ingredients:
Butter -- for extra salty-sweet flavor, use salted butter.
Marshmallows -- use mini marshmallows in this recipe.
Rice Krispies -- use any type of crisp rice cereal like Rice Krispies.
Caramel Sauce -- I suggest using a thicker caramel sauce like you find at Trader Joe's. For a thicker caramel sauce, you can also use caramel dip.
Sea Salt Flakes -- I love to use Maldon sea salt flakes.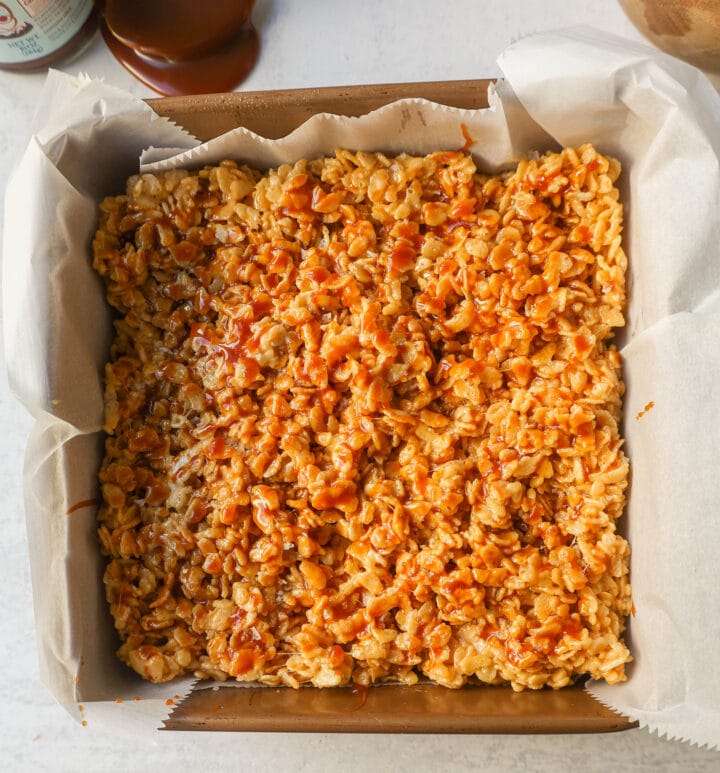 These Rice Krispies Treats with Caramel take less than 10 minutes to make and you just have to wait for them to cool and they are ready to eat!
How to make Caramel Rice Krispies Treats:
Start by melting butter in a large saucepan until melted. Stir in marshmallows and allow to melt over medium-low heat. Stir often. Add the caramel sauce.
Remove from heat and pour in Rice Krispies cereal. Stir to coat together.
Pour into a parchment paper lined baking pan or greased baking pan. If you want a thicker Rice Krispies treat, use a 9 x 9 pan.
Sprinkle with sea salt flakes, if so desired. Let set up until cool. May drizzle with extra caramel sauce. Cut into squares.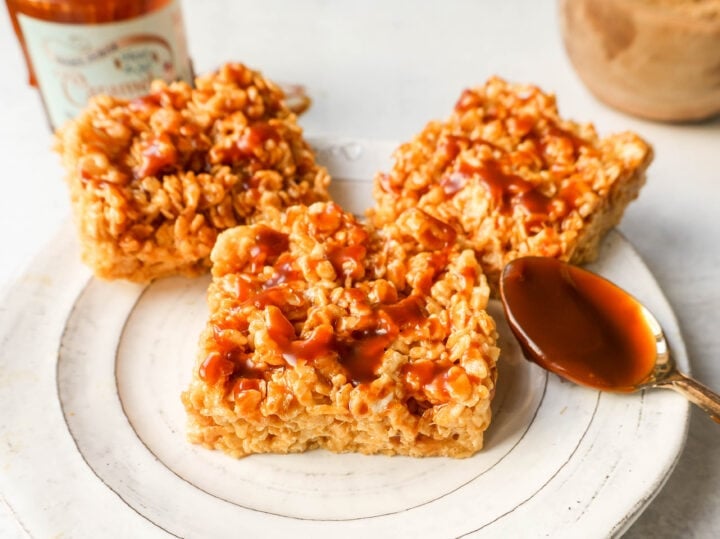 If you love caramel desserts, check out some of my favorite caramel desserts on Modern Honey.
Popular Caramel Dessert Recipes:
Baking Tools: