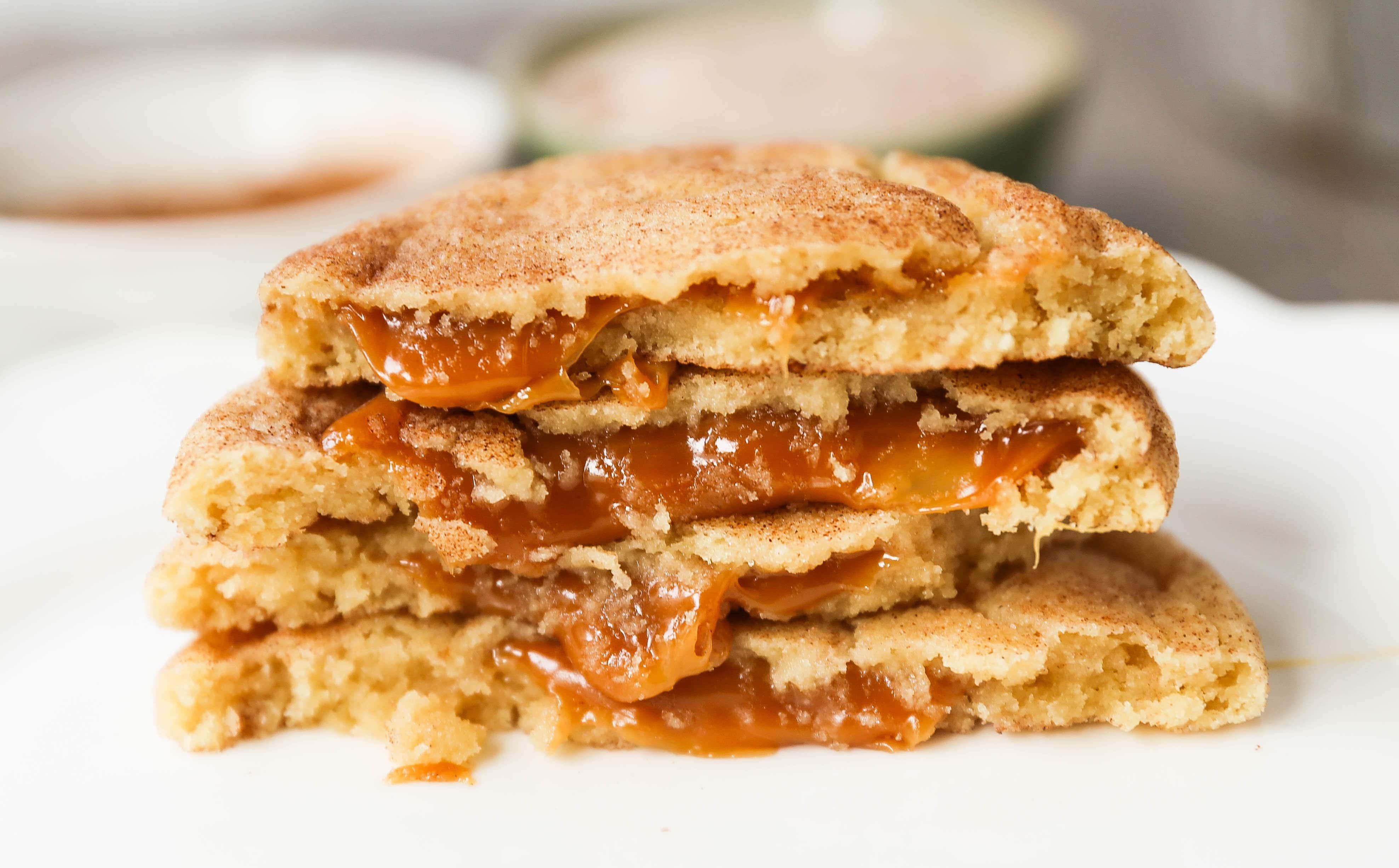 Caramel Filled Snickerdoodle Cookies
Soft chewy cinnamon sugar snickerdoodle cookies stuffed with buttery caramel. The perfect caramel stuffed snickerdoodle cookie recipe!
Welcome to CHRISTMAS COOKIE WEEK on Modern Honey! This is my favorite week of the year because I get to share all of my tried and true Christmas cookies with all of you. Since cookies are my most loved food on the planet, this makes me super excited!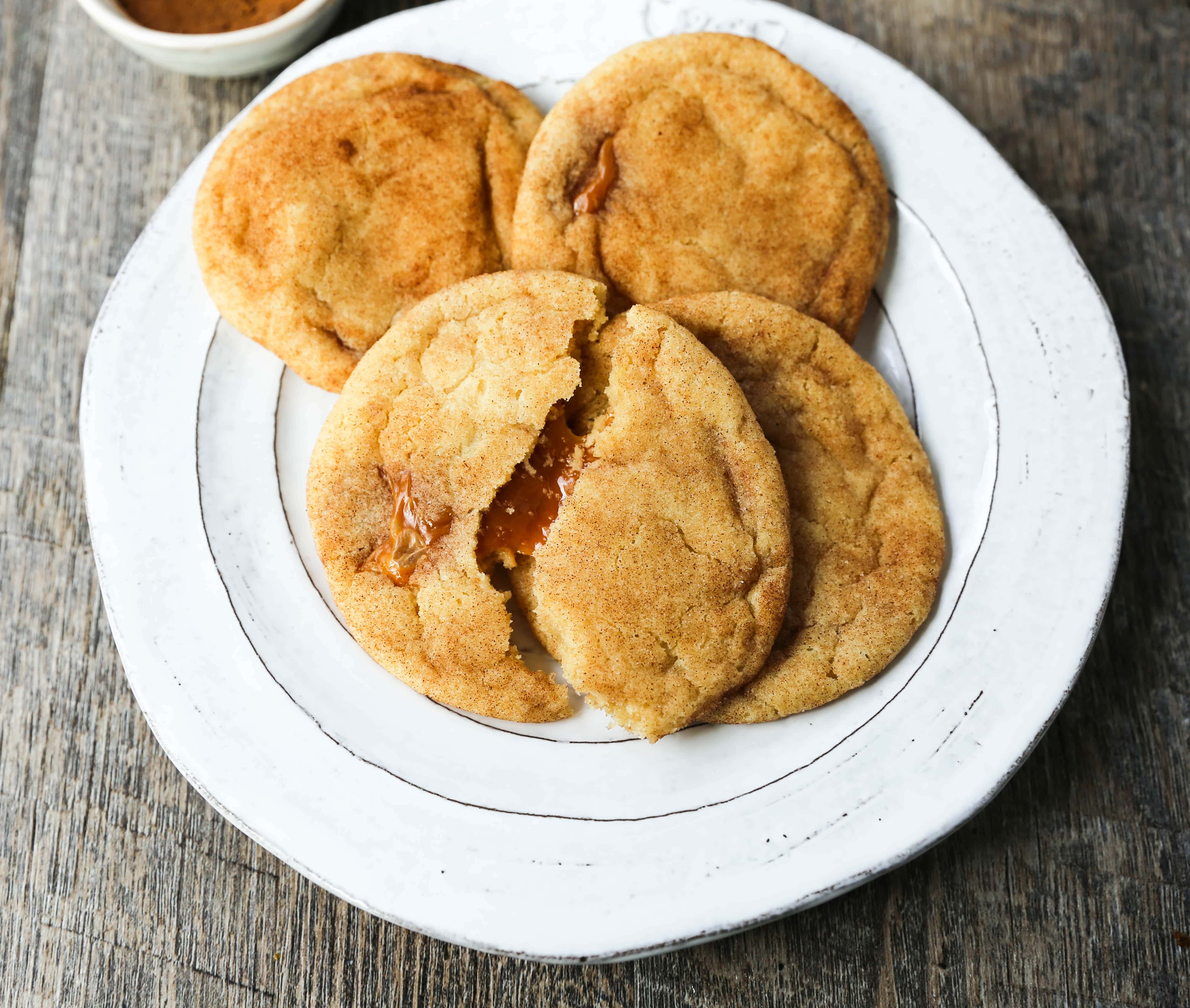 I have been making my cinnamon sugar SNICKERDOODLE COOKIE RECIPE since I was a little girl. It is one of the most popular recipes on Modern Honey for good reason. I decided to take it up a notch for Christmas and stuff my classic snickerdoodle cookies with soft caramels.
These Caramel Filled Cinnamon Sugar Snickerdoodle Cookies literally melt in your mouth. They are a cinnamon sugar cookie stuffed with a soft caramel that melts perfectly when baked. You get a big surprise when you bite into this caramel snickerdoodle cookie.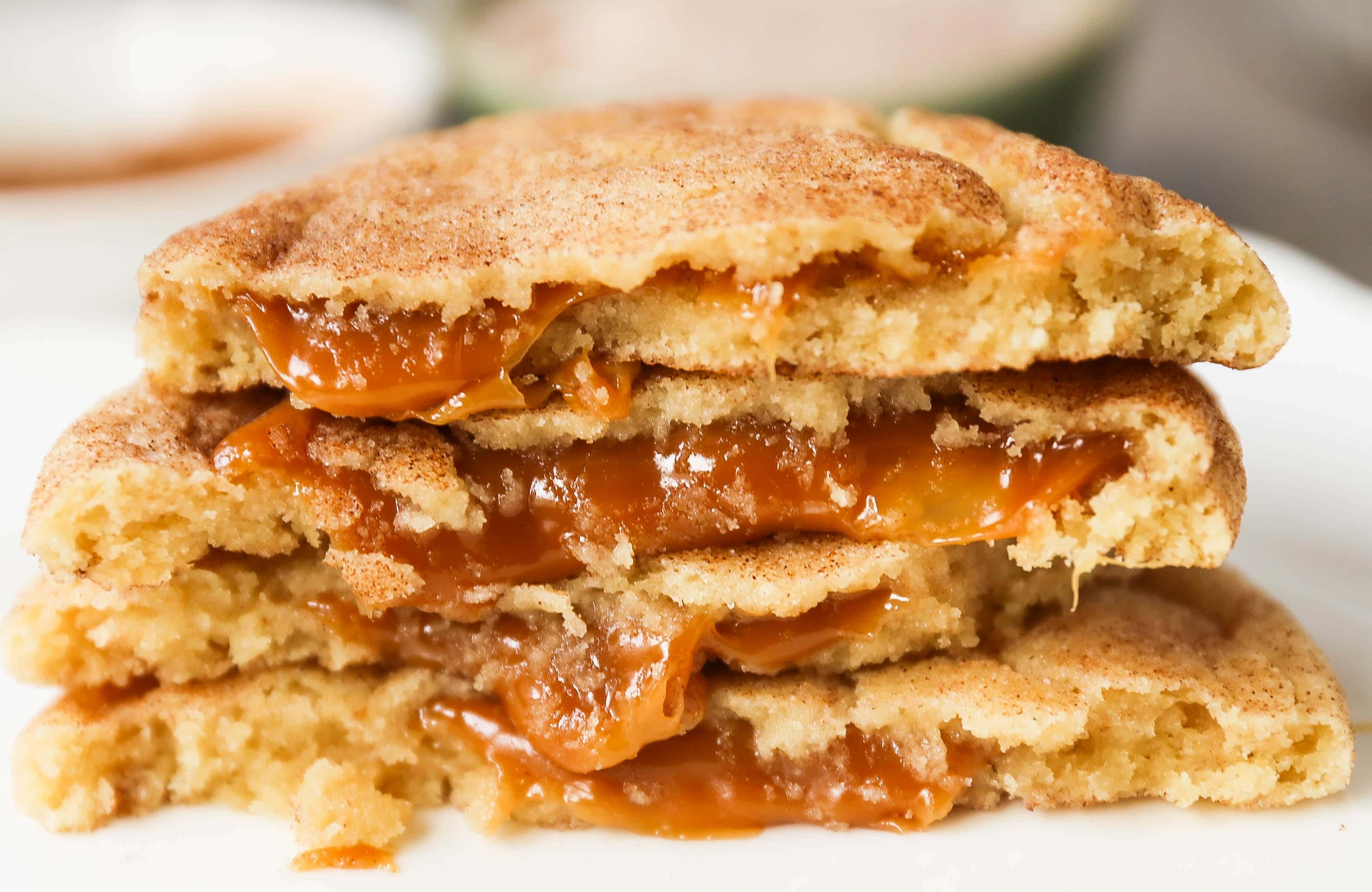 What type of caramels to use in the Caramel Stuffed Snickerdoodles?
I would suggest using a soft, chewy artisan caramel. I picked up the Fleur de Sel Caramels from Trader Joe's but you can use any type of soft caramel. I also love the Private Selection Vanilla Creme Soft Caramels you can find at your local Kroger store (Fry's in AZ). You can also use Werther's Soft Caramels and you can find those at most grocery stores. I also love Mrs. Call's Soft Chewy Caramels, if you have time to order online. There are so many choices!
These are the perfect Christmas cookie to add to your goodie plate this year. It's a classic Christmas cookie that everyone loves!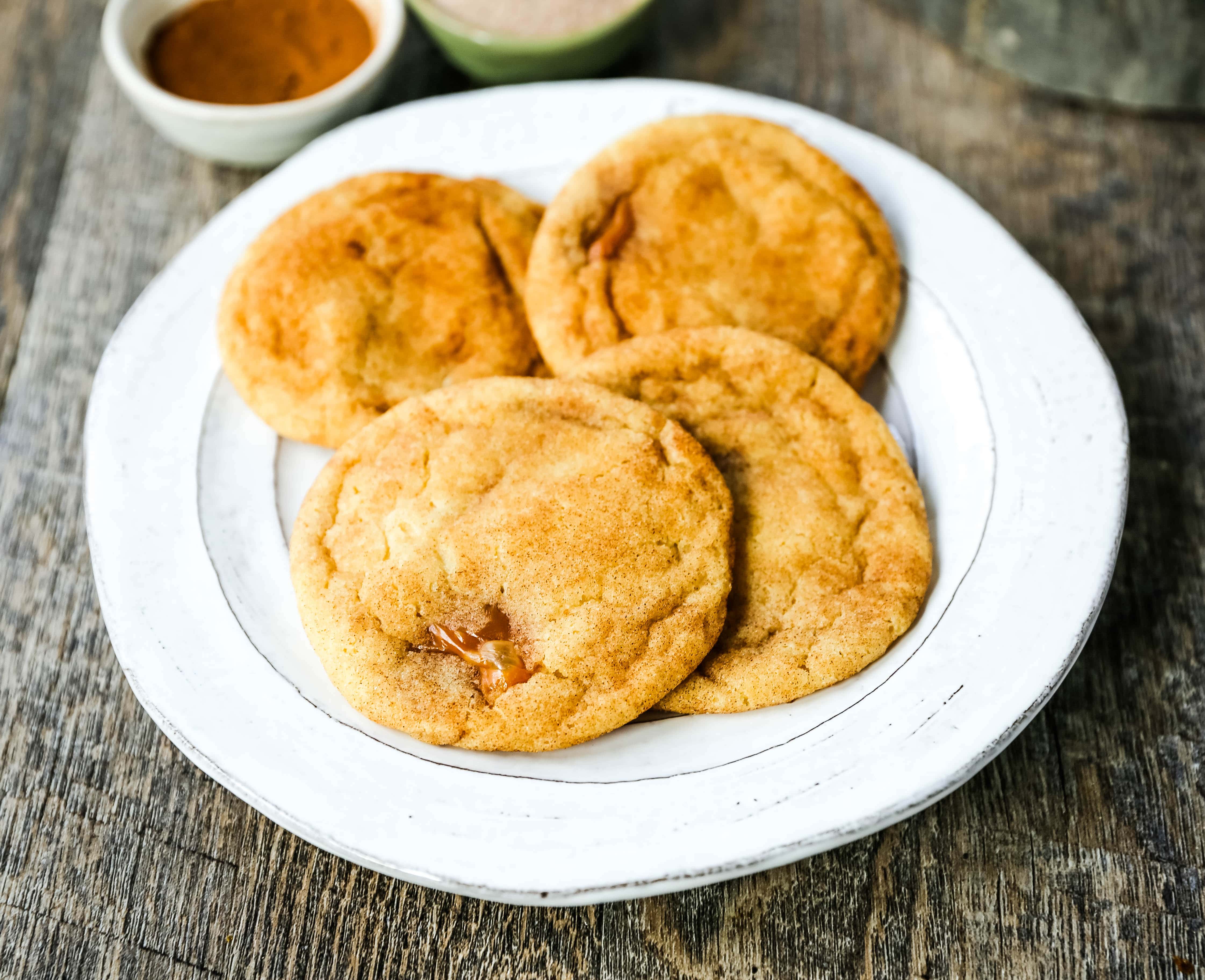 HOW TO MAKE CARAMEL FILLED SNICKERDOODLE COOKIES:
Start by creaming butter and sugar for 4-5 minutes. This is an important step as the butter coats the sugar crystals and creates a smooth texture. It also whips air into the cookie dough.
Use Cream of Tartar as a leavening agent. It gives it the signature tangy flavor and chewy texture. A touch of baking soda helps the cookies to rise as well.
Use soft, chewy caramels. Place the caramel in the center of the cookie dough and completely wrap the caramel with dough.
Double roll the cookie balls into a cinnamon-sugar mixture. This helps to make sure the cookies are completely coated in cinnamon-sugar before baking.
Bake just until the edges begin to become a light golden color. These snickerdoodle cookies need to be soft and chewy so watch carefully. If you want them to be flat, press the balls down in the center before placing in the oven.
My favorite baking tools for perfect Caramel Stuffed Snickerdoodle cookies — light-colored baking sheets, parchment paper sheets, KitchenAid mixer.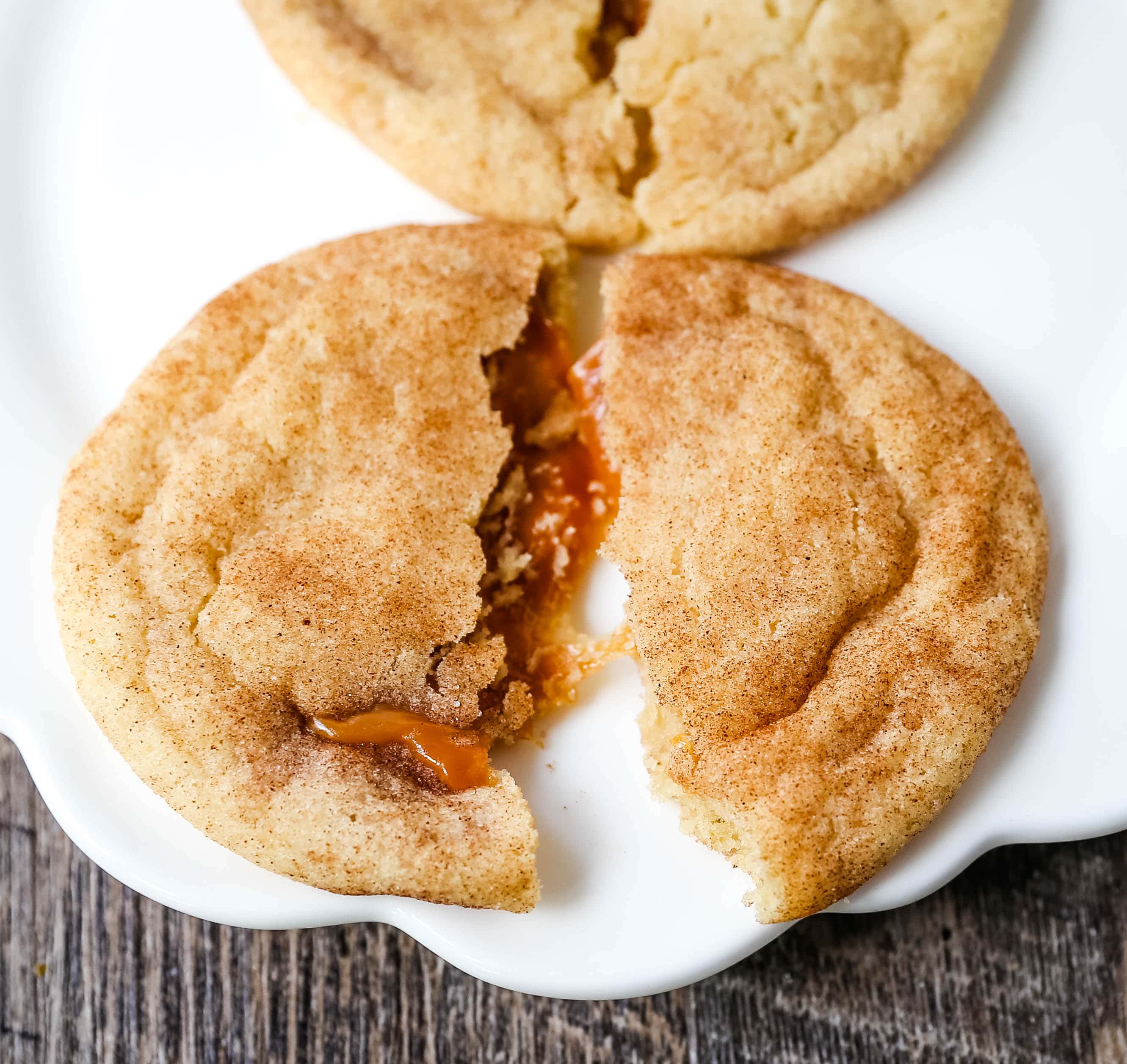 If you want more Christmas cookies and goodies ideas, click on the recipes below.
CHRISTMAS COOKIES and GOODIES RECIPES: