Quick, easy Skillet Lasagna made in 35 minutes is filled with bolognese meat sauce, ricotta parmesan cheese filling, mozzarella cheese, and fresh herbs. This is the best skillet lasagna recipe!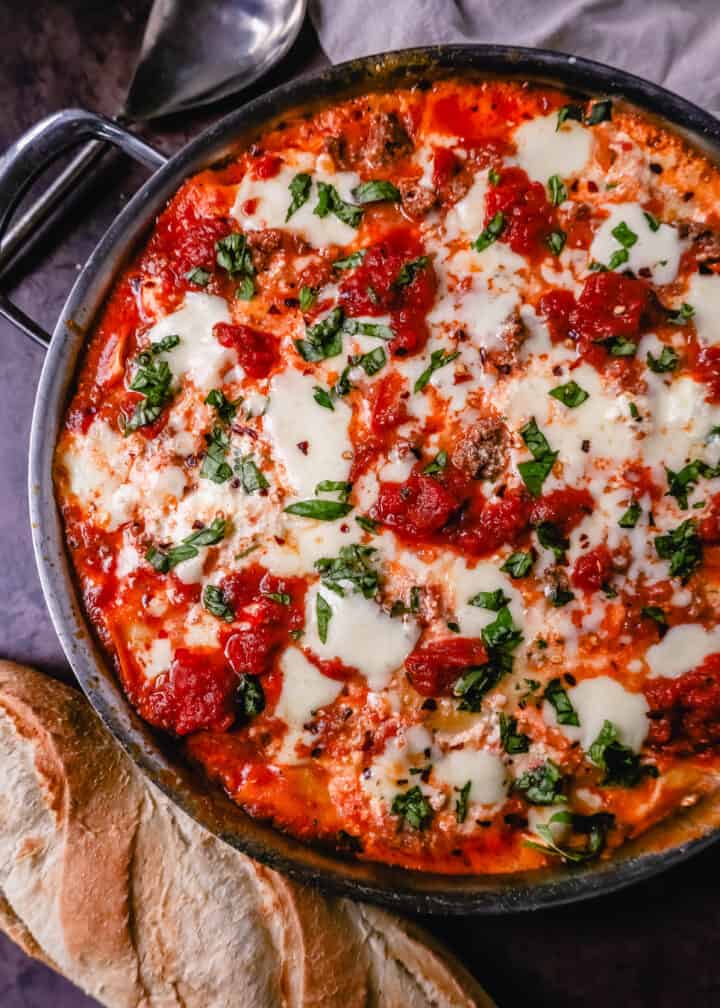 If you want the taste and flavor of homemade lasagna without all of the work, this is the recipe for you! This Skillet Lasagna is quicker and easier than traditional lasagna and dinner can be on the table in about 35 minutes. You don't even have to boil your lasagna noodles!
My daughter and her husband just came home from college (she is graduated and he is almost done) for Thanksgiving and this is what she requested for her first meal at home. There is just something so comforting about homemade lasagna!
I make homemade lasagna a few different ways -- I have a classic lasagna recipe with ricotta cheese filling cooked in the oven, a lasagna recipe made with creamy bechamel sauce cooked in the oven, and this quick and easy skillet lasagna recipe made with ricotta cheese filling.
For my ricotta cheese lovers, you will love my Classic Lasagna Recipe and this Skillet Lasagna with Beef Bolognese. If you love a creamy bechamel sauce, you will love my Bechamel Lasagna Recipe.
Skillet Lasagna Ingredients:
Extra Virgin Olive Oil
Onion
Garlic Cloves
Ground Beef or Italian Sausage
Marinara Sauce -- see below for homemade marinara sauce recipe or jarred marinara sauce recommendations.
Red Pepper Flakes -- for extra spice and flavor, add more red pepper flakes.
Salt and Pepper
Ricotta Cheese
Eggs
Fresh Italian Parsley
No-Boil or Fresh Lasagna Sheets -- I love to use Marina's fresh lasagna sheets found in the refrigerated section of Whole Foods. You can also use Barilla Oven Ready No-Boil Lasagna Sheets
Parmesan Cheese
Mozzarella Cheese -- a fresh mozzarella cheese ball, freshly grated, melts beautifully in this skillet lasagna recipe.
You can use jarred marinara sauce or make my homemade marinara sauce recipe. If you use jarred marinara sauce, I suggest using Rao's, Carbone, or Victoria (if using Victoria, I suggest adding some salt, fresh basil, and garlic).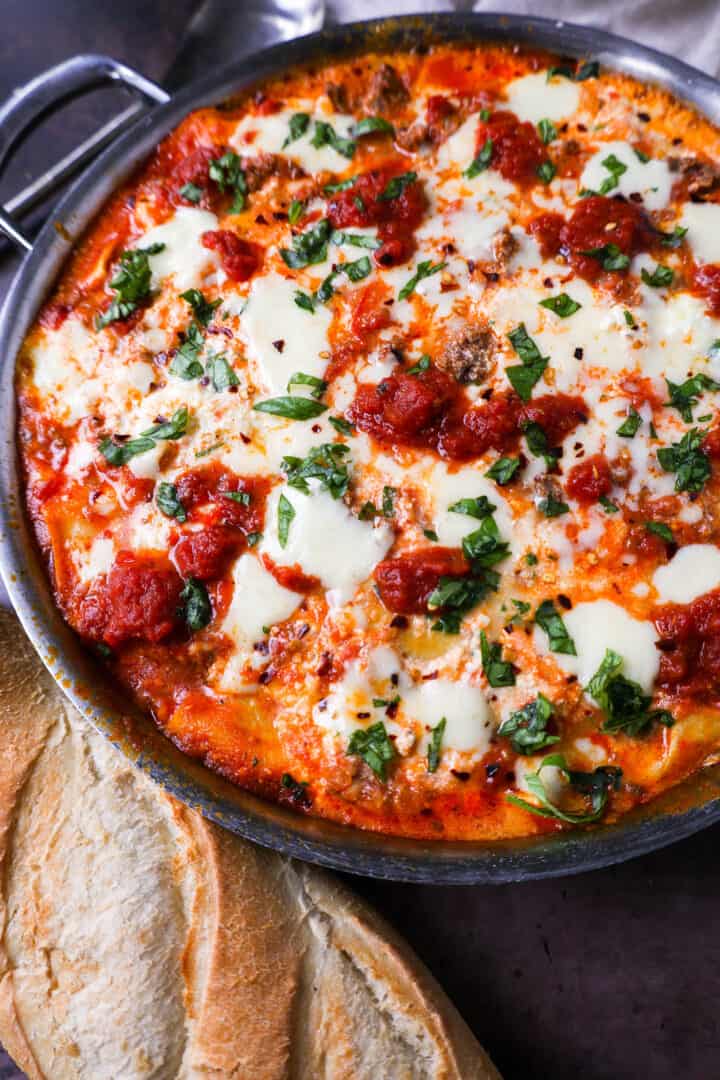 How to make Homemade Skillet Lasagna with Meat Sauce:
Start by using a large skillet and heat over medium heat. Drizzle with olive oil. Add diced onion and cook for 5-6 minutes.
Stir in ground beef or sausage and cook for 7-8 minutes or until cooked through. Add garlic and cook for 1 minute.
Add in marinara sauce and water and stir together. Remove ⅔ of the meat sauce and place in a bowl.
In a bowl, mix together ricotta cheese, eggs, parmesan cheese, and salt and pepper.
Layer about 3 lasagna sheets in a skillet. You may need to break up some of the lasagna sheets to fit them into the skillet.
Spread ⅓ of the ricotta mixture over the lasagna sheets. Top with meat sauce. Sprinkle with mozzarella cheese. Repeat.
Once you have finished layering all of the ingredients, top them with the remaining mozzarella cheese and extra marinara sauce.
Cover and allow the pasta to cook for about 20 minutes. If you are using fresh lasagna sheets, it will only take about 12 minutes. Check to ensure the pasta is soft.
If you want the skillet lasagna to be extra bubbly, place it under the broiler for 2-3 minutes until the cheese is melted and bubbly.
Sprinkle with fresh basil.
What type of pasta should I use in Skillet Lasagna Recipe?
You need to use no-boil, oven-ready lasagna sheets. This lasagna recipe requires no cooking of the lasagna noodles so you need to use oven-ready lasagna. I prefer to use fresh lasagna sheets when they are available.
What type of meat should I use in Skillet Lasagna?
You can use lean ground beef or Italian sausage in this lasagna recipe, depending on preference. You can even do half ground beef and half Italian sausage for extra flavor.
Popular Lasagna Recipes: