How to make the best spaghetti carbonara from scratch with only five ingredients. This homemade carbonara is made with nutty parmigiano reggiano or pecorino romano cheese, pancetta, spaghetti, creamy egg yolks, and black pepper. This Italian carbonara is famous for good reason!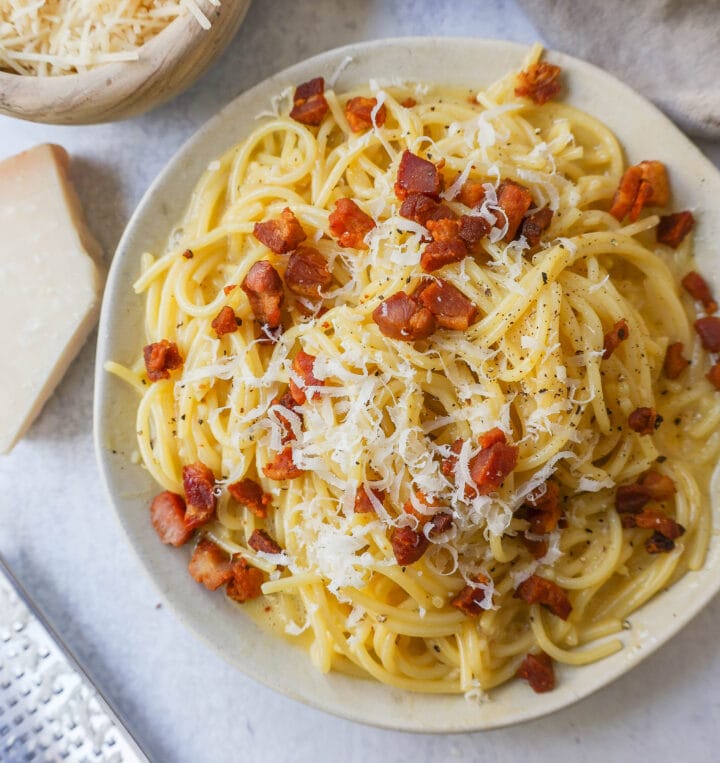 I love the simplicity of spaghetti carbonara.
Spaghetti noodles are tossed with nutty parmigiano reggiano or pecorino romano cheese and egg yolks which create the most luxurious cream sauce and topped with pancetta and cracked black pepper. The saltiness from the pancetta paired with the creamy sauce makes the most perfect pasta. This is the best spaghetti carbonara recipe!
This Pasta Carbonara dates back to Rome Italy and is made with the highest quality ingredients. The cheese is what makes the sauce! This is a simple pasta dish using only five ingredients, so it takes less than 30 minutes, from start to finish.
I have recipe tested this carbonara pasta over and over again to get it just right. This is the best pasta carbonara recipe!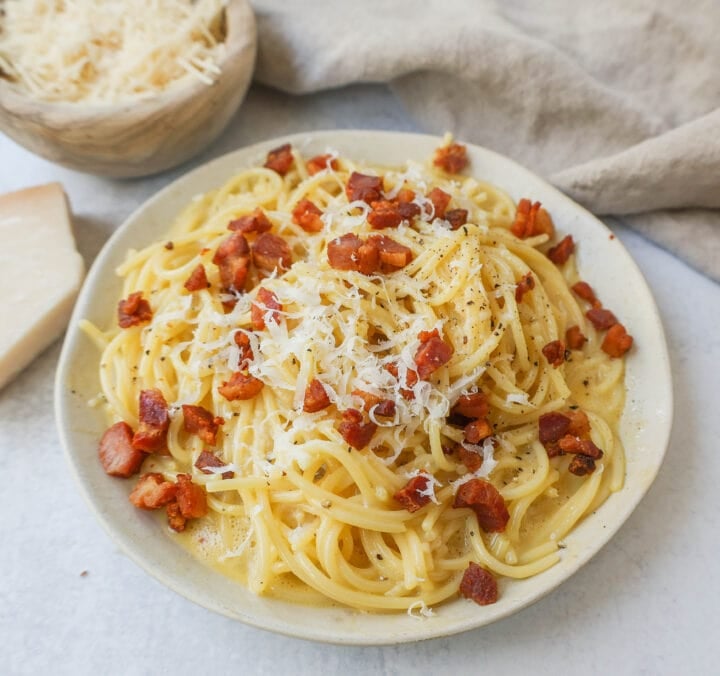 Ingredients:
Parmigiano Reggiano or Pecorino Romano Cheese -- this is the star ingredient so I suggest buying a wedge that you can freshly grate to make the most flavorful sauce.
Spaghetti Pasta -- spaghetti is the most universally used in pasta carbonara.
Eggs -- a combination of rich egg yolks and one egg that gives the sauce a creamy depth of flavor.
Pancetta or Guanciale -- in Italy, they typically use guanciale, which is pork cheek, but you can use pancetta and it still is a classic carbonara recipe.
Black Pepper -- freshly ground black pepper is an integral ingredient in traditional carbonara sauce. Be generous with the black pepper!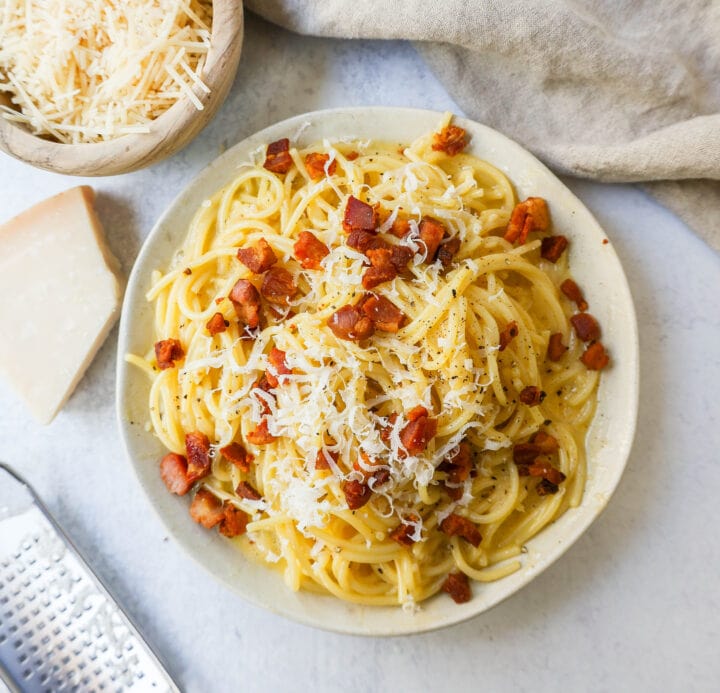 Substitutions:
This isn't traditional but if you can't find pancetta or guanciale, you can use bacon in this carbonara recipe.
Some pasta carbonara recipes call for garlic but it isn't in a traditional Italian carbonara recipe. If you do love garlic flavor, I suggest adding only 2 garlic cloves so it doesn't overpower the dish.
You may find heavy cream in some carbonara sauce recipes, but cream is not used in classic carbonara sauce. If you want to use a dash of cream for extra creaminess, you can but the eggs and cheese should be sufficient. If you want a thinner sauce, add more pasta water.
Spaghetti carbonara is garnished simply with freshly ground black pepper and grated pecorino romano or parmigiano reggiano cheese. No fresh herbs like parsley or basil are used in classic carbonara.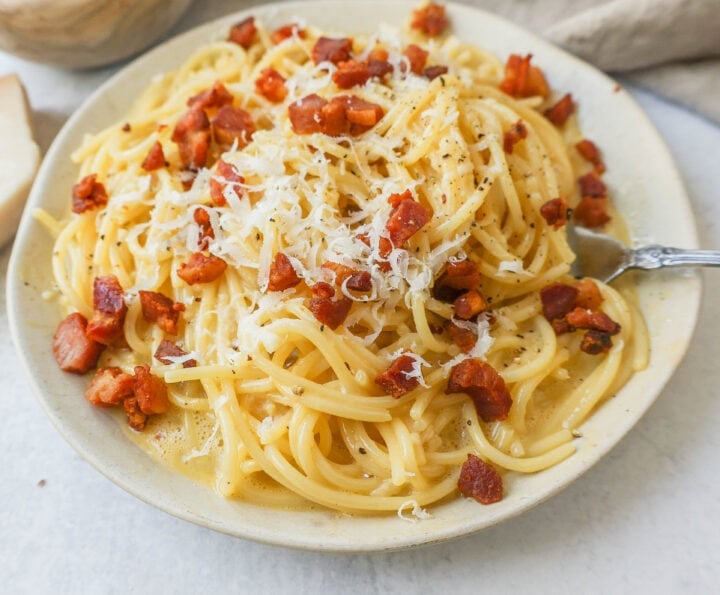 HOW TO MAKE SPAGHETTI CARBONARA:
Bring 6 quarts of water to a boil over high heat. Add a generous amount of salt to the pot. Stir the spaghetti into the boiling water. Cook the pasta according to package instructions. Reserve 1 cup of pasta water. This is starchy water that adds flavor to the carbonara sauce.
While pasta is cooking, cook the pancetta, guancile, or bacon until cooked through. Drain on a paper towel-lined plate.
In a bowl, stir together egg yolks, egg, and parmigiano reggiano cheese until combined. Stir in pepper.
Once pasta is cooked, drain, and then toss spaghetti with the pancetta (or guancile). Once it is tossed, ladle in the cheese/egg mixture, a little at a time.
If needed, stir in ½ cup of pasta water to coat until the mixture coats the pasta.
Serve with freshly cracked black pepper and freshly grated cheese.
Popular Pasta Recipes:
I love making pasta and some of my favorite pasta dishes are...
Creamy Lemon Pasta -- made with fresh lemon, garlic, cream, butter, parmesan cheese, and spices and all tossed with your favorite type of pasta. A light and creamy sauce that highlights fresh lemons!
Fettuccine Alfredo -- fettuccine pasta topped with a homemade rich decadent alfredo sauce.
Spaghetti Aglio e Olio -- spaghetti tossed in sauteed garlic, olive oil, red pepper flakes, and fresh parsley.
I love to hear from you! If you make this recipe, please be sure to leave a comment and give this recipe a rating. If you make any of my recipes, tag me on Instagram @modern_honey so I can see your creations. It's one of my favorite things to see you make these recipes in your own kitchen. Sign up for my newsletter below so you never miss a recipe. Thank you for following along! I truly do have the greatest readers. FOLLOW ME ON: INSTAGRAM --- FACEBOOK --- PINTEREST