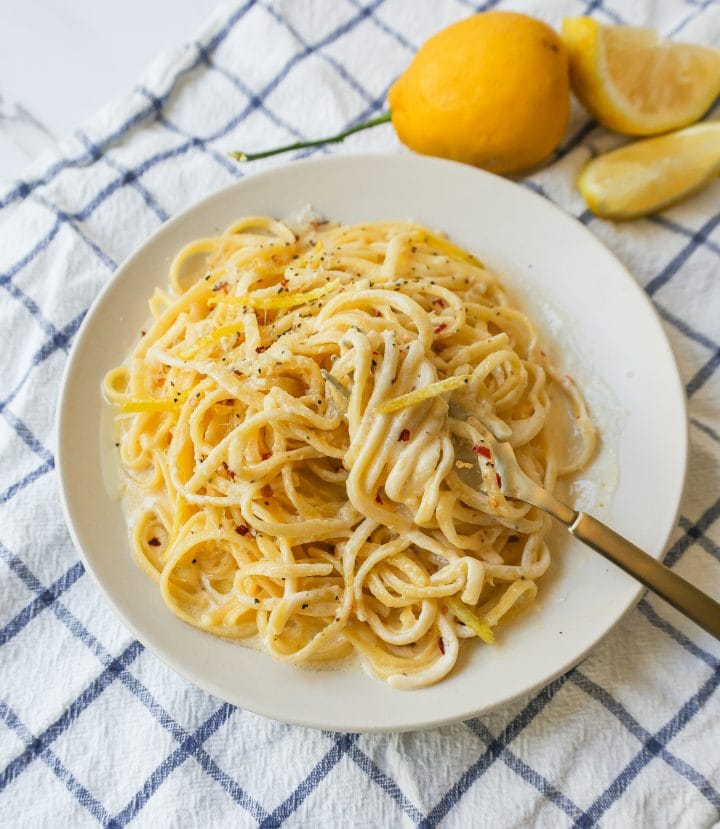 This Lemon Pasta is made with fresh lemon, garlic, cream, butter, parmesan cheese, and spices and all tossed with your favorite type of pasta. A light and creamy sauce that highlights fresh lemons!
It is wintertime in Arizona and we have an abundance of fresh orange and lemon trees ready to be picked from the trees. We have a large lemon tree but it is still pretty new so it only gives us about 50 lemons but I am so grateful for every single one of them. There is so much satisfaction from picking it fresh from the tree!
So we have been cooking and baking up a storm with all of our lemons! I asked you on my Modern Honey Instagram what types of lemon recipes you loved and you were so helpful. I loved all of your ideas and it made me wish I could make every single one of them.
One of the top 10 most requested lemon recipes was a creamy fresh lemon pasta. My husband and I drove down to the Queen Creek Olive Mill and picked up some of their fresh pasta and went home and created this luxurious, creamy, light lemon and garlic cream sauce to be tossed with their fresh linguine pasta. It was heavenly!
This lemon pasta recipe is made with fresh lemons. I suggest only using fresh lemons in this recipe instead of the lemon juice you buy in the squeezer bottle from the grocery store. Since this lemon linguine recipe calls for both lemon zest and lemon juice, it is imperative to use fresh lemons. It is what gives this pasta dish a light, zesty, fresh flavor.
What ingredients are in Creamy Lemon Pasta?
Fresh Lemon (both lemon juice + lemon zest)
Garlic
Heavy Cream
Butter
Parmesan Cheese
Red Pepper Flakes
Freshly Ground Pepper + Salt
Fresh Pasta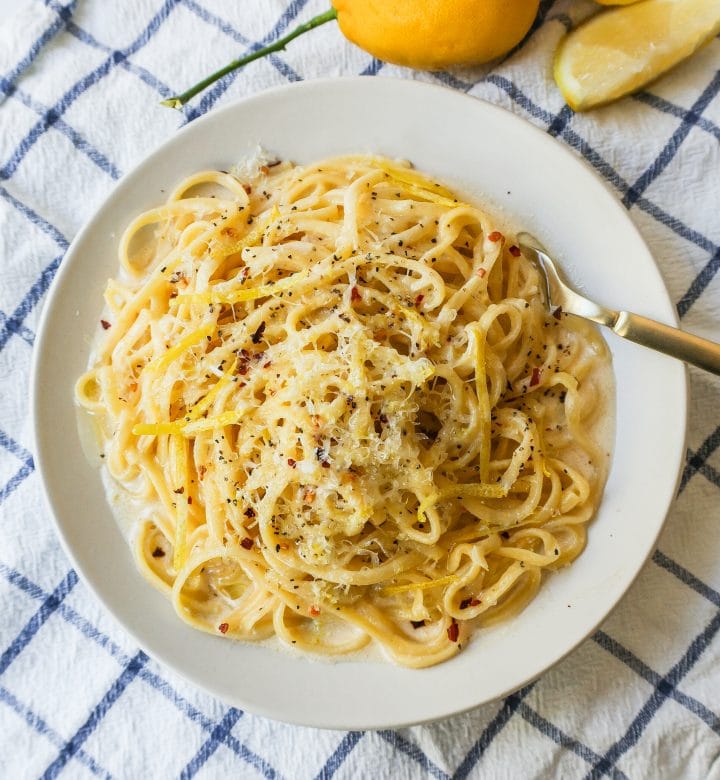 What type of pasta should I use in Lemon Cream Pasta?
You can use any type pasta with this creamy lemon sauce! I have used spaghetti, linguine, angel hair, tortellini, ravioli, farfalle, and pappardelle. Trader Joe's carries at ricotta and lemon zest ravioli and that would be excellent with this lemon cream sauce. I love to pick up fresh pasta from the grocery store.
How to make Creamy Lemon Pasta:
Start by getting your water ready to cook your pasta. I always suggest generously salting the water which allows the salt to infuse the pasta and give it flavor. While the pasta is cooking, carefully scoop out 1 ½ cups of pasta water to add to the sauce later.
Saute butter and garlic for 1 minute. You want to make sure and saute it only for 1 minute so it doesn't burn and become bitter. I suggest having the heavy cream measured out and ready to add to the skillet. Add in cream, lemon zest, lemon juice, red pepper flakes, and salt and pepper. Lemon juice may make the cream look a tad curdled so I suggest using a whisk for the creamiest sauce.
Add in parmesan cheese 1 Tablespoon at a time, whisking after each addition. This ensures that the parmesan cheese won't clump together.
Add in some of the pasta water to the sauce to thin it out and give it some salty flavor and starchiness.
Toss the sauce with the drained cooked pasta. Add in more lemon zest if you want more lemon flavor. Top with freshly ground black pepper, fresh lemon zest, and red pepper flakes.
If you love lemon, check out these popular lemon recipes: