This Strawberry Crisp is made with fresh sweetened strawberries topped with a homemade buttery oat crumble topping. A Homemade Strawberry Crumble is an easy summer dessert.
It is strawberry season and we love making homemade desserts using fruits that are ripe and in season. This Strawberry Crisp is made with juicy, sliced strawberries tossed in sugar and topped with a homemade oat crumble made with butter, sugar, flour, and oats. The oat topping is the perfect balance for the sweet and tart strawberries.
This is the Best Strawberry Crisp Recipe because it has the perfect ratio of crumble to fresh strawberries. Everyone is always clamoring for the buttery and sweet oat crumble topping so I made sure to add a generous amount of topping!
The oat crisp topping is made with rolled oats, flour, brown sugar, sugar, and cold butter cut into it. I reserve two tablespoons of butter to place on the top of the crumble to give it an extra buttery flavor. It is like the best oatmeal cookie paired with sweet strawberries!
The filling is made by simply tossing together fresh, sliced strawberries, sugar, cornstarch, or flour to thicken, and a touch of vanilla extract. If you want some warmth and depth of flavor, sprinkle in some cinnamon. The riper the strawberries, the better. If they are more tart strawberries, you can add a touch more sugar.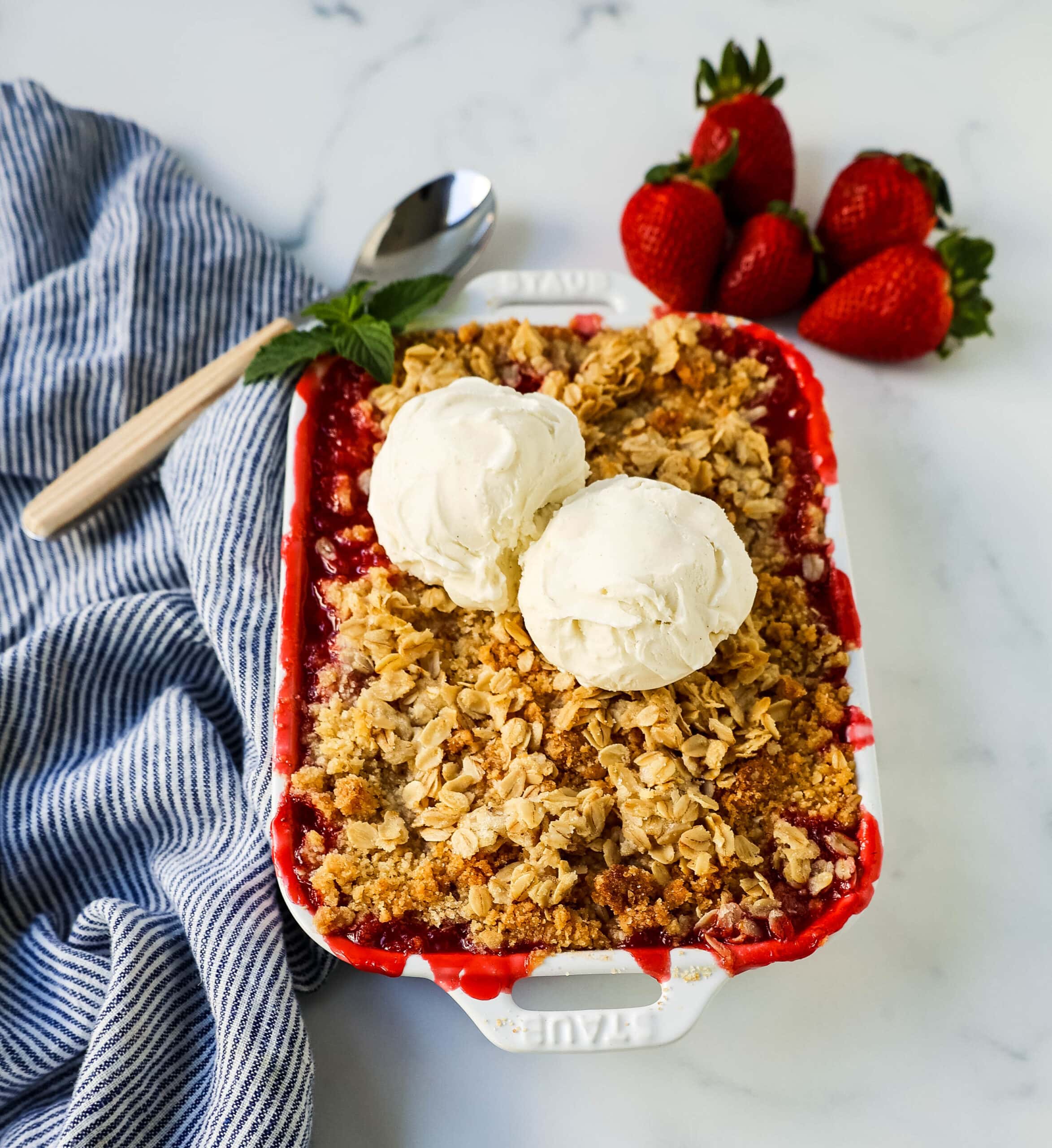 What ingredients are in Strawberry Crisp?
Fresh Strawberries
Sugar
Cornstarch
Vanilla
Rolled Oats
Butter
Brown Sugar
Sugar
Flour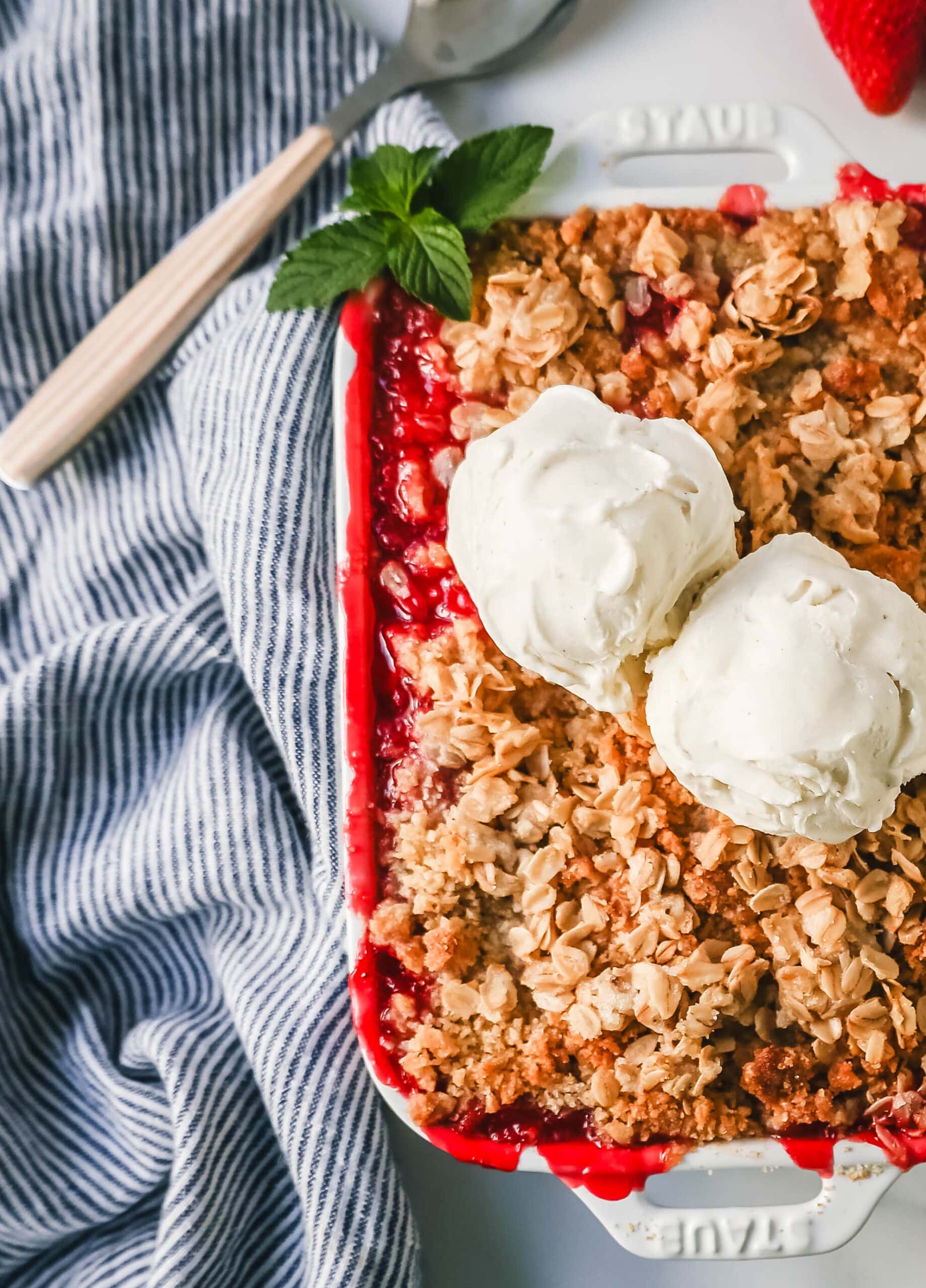 How to make the Best Strawberry Crisp Recipe:
Start with Fresh Strawberries. Slice the strawberries and toss them in a large bowl with sugar, cornstarch or flour, and vanilla. Since the sugar will bring out the natural juices from the strawberries, it is important to add a thickener -- cornstarch or flour. If you can find ripe, juicy strawberries, use them as they will make this strawberry crumble that much sweeter.
Make a Homemade Oatmeal Topping. Mix together rolled oats, flour, brown sugar, sugar, and cubed cold butter. The cold butter is essential as it creates a crumble that will melt the butter slowly in the oven. I like to use a combination of both brown sugar and sugar. The sugar makes this strawberry crisp extra crisp and the brown sugar gives the topping some chewiness.
Place the strawberries in a baking dish and generously top with the oat crumble. Dot the oat topping with the remaining butter that was set aside.
Bake until the strawberry juices are bubbly and the oatmeal crisp is a light golden color. Let set up to room temperature and serve with vanilla bean ice cream.
Popular Strawberry Recipes:
If you love peaches, check out my popular PEACH CRISP RECIPE.