This Famous TikTok Million Dollar Spaghetti is made with a marinara meat sauce mixed with homemade alfredo sauce, tossed with spaghetti noodles, and baked with mozzarella cheese until bubbly. It is the best baked spaghetti recipe!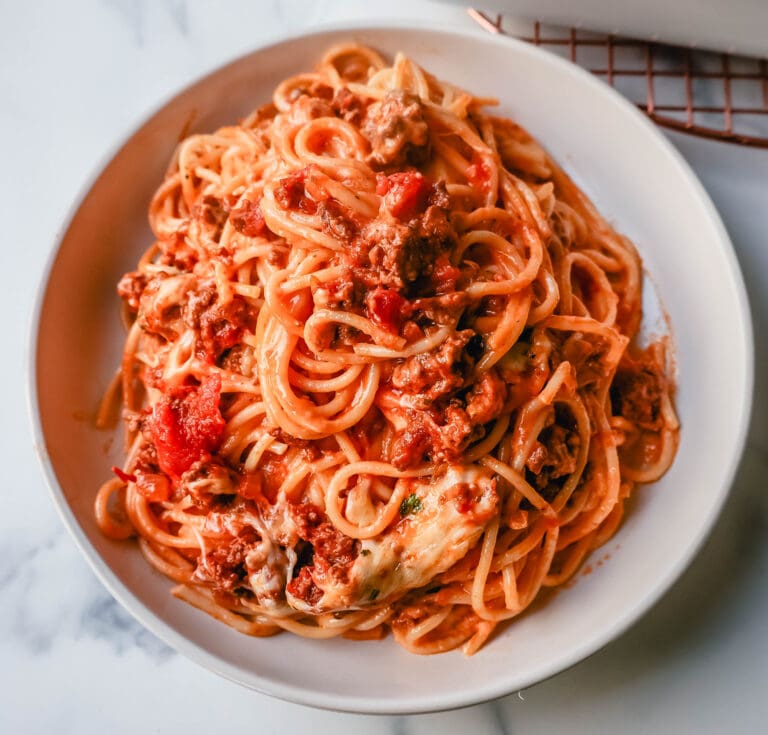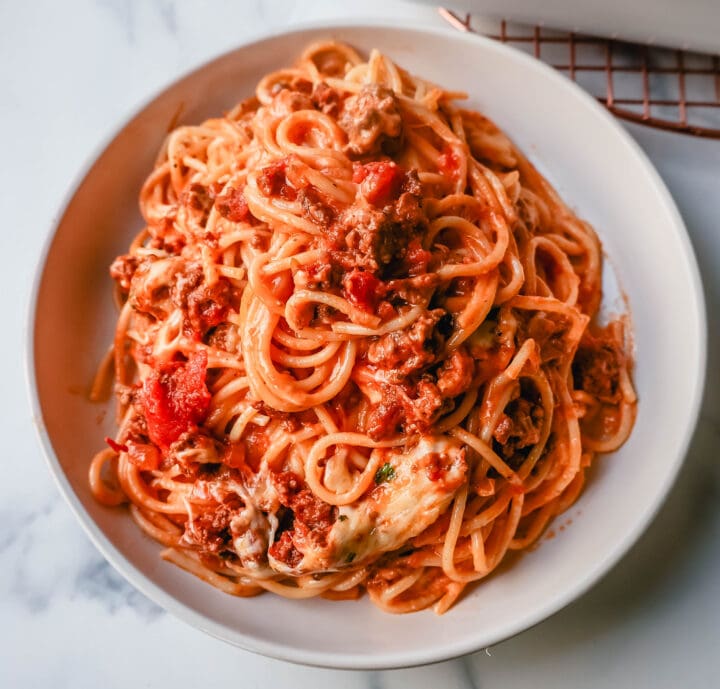 I love a good baked spaghetti with a generous amount of melted ooey gooey cheese and rich meat sauce. It is such comfort food!
I also love a good TikTok food trend and this Million Dollar Spaghetti has blown up my For You page. I knew I had to try it.
It was the perfect baked spaghetti recipe and the addition of homemade alfredo sauce just put it over the top for me.
I have also shared the famous Boursin Cheese TikTok Pasta, the TikTok Cinnamon Rolls, and the famous TikTok Butter Board.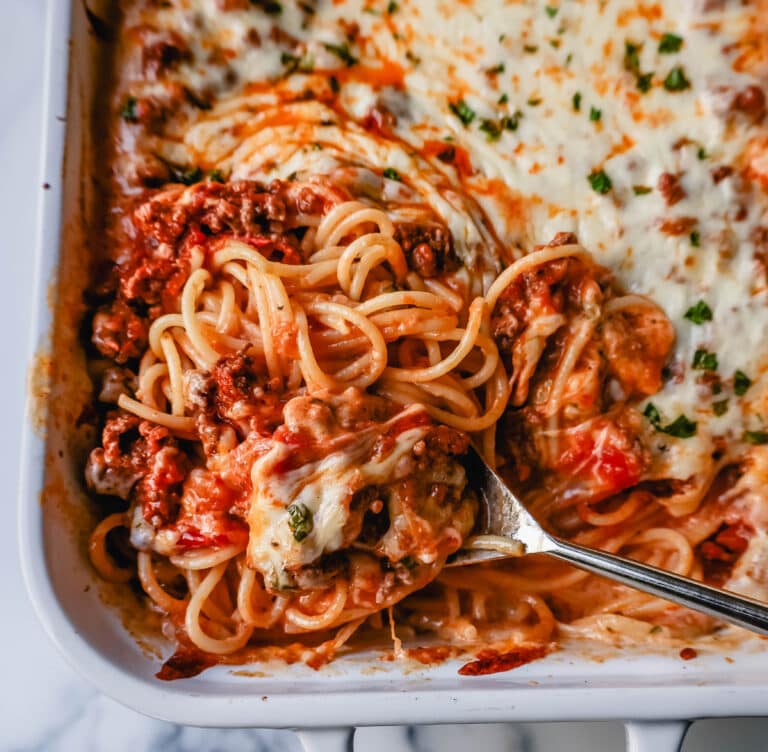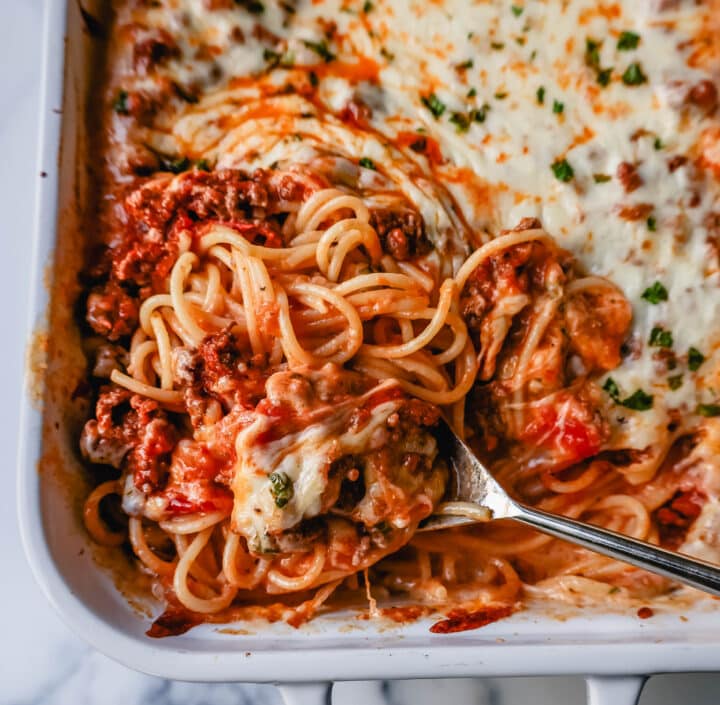 TikTok Spaghetti Ingredients:
This Baked Spaghetti is tossed with a meat sauce and homemade alfredo sauce and topped with a generous amount of mozzarella cheese and baked until warm and bubbly.
Marinara Meat Sauce:
Ground Beef
Onion
Garlic
Salt and Pepper
Marinara Sauce
Alfredo Sauce:
Butter
Heavy Cream
Garlic Powder, Salt, and Pepper
Parmesan Cheese
Spaghetti Noodles
Mozzarella Cheese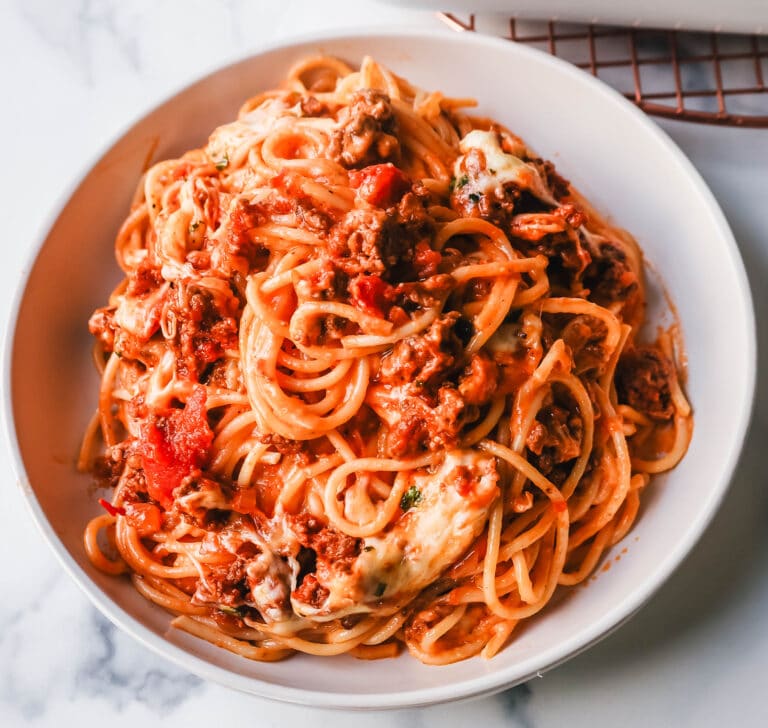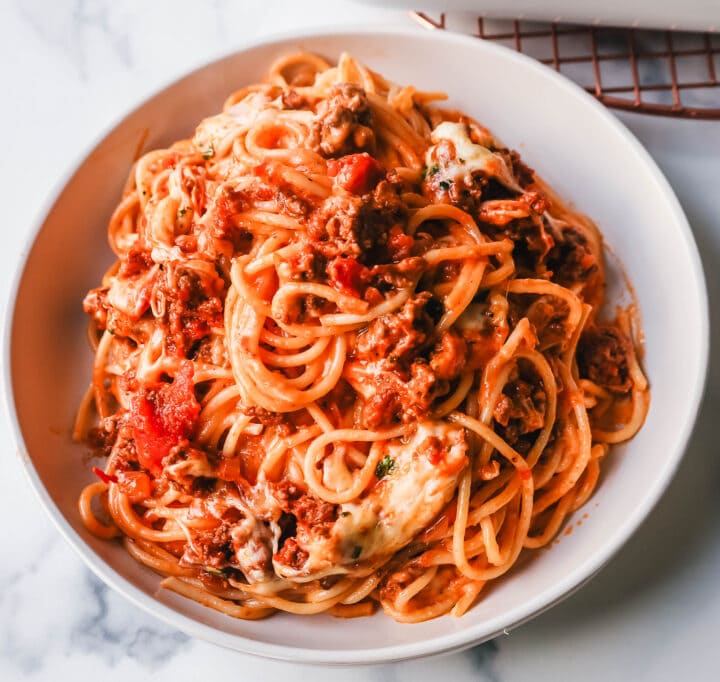 FAQ:
What type of ground beef should I use?
I suggest using lean ground beef, which is 80-85% lean. If there is any grease, drain it or soak it up with a paper towel before adding the marinara sauce.
What jarred marinara sauce should I use?
The most popular marinara sauce on the market is Rao's marinara sauce. You can find it for much cheaper in a 2-pack at Costco. It is the best tasting marinara sauce available at the grocery store. I also suggest Carbone's marinara sauce.
Do I have to make homemade alfredo sauce?
Since my homemade alfredo sauce recipe only calls for 4 ingredients, I suggest making it from scratch, because it makes all of the difference.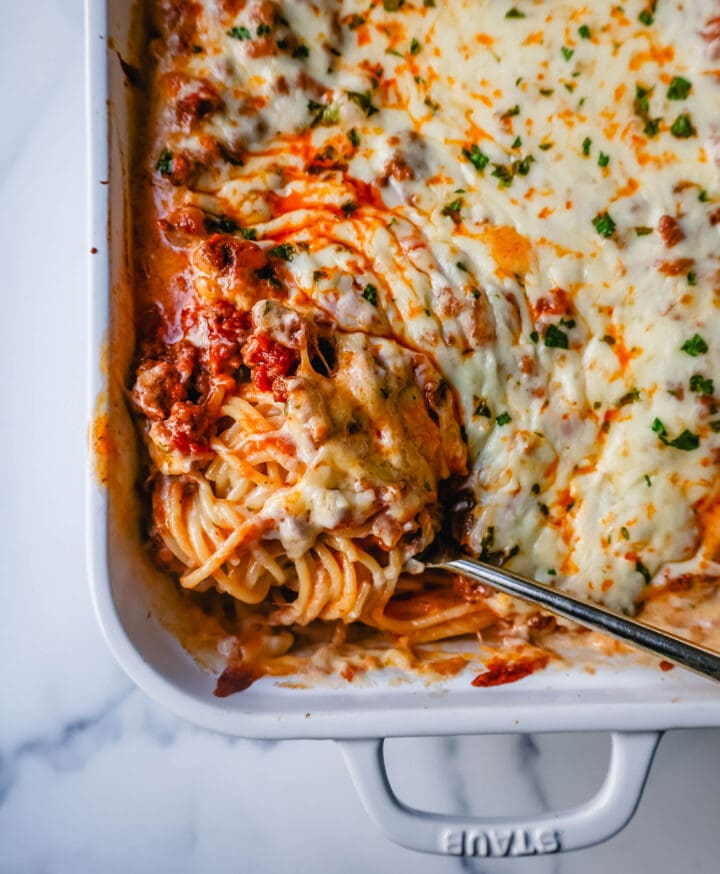 How to make TikTok Million Dollar Spaghetti:
Step #1: Start by sauteeing the onions until they start to become softened. Add in the ground beef and saute until browned. Then add in the garlic and cook for 1 minute longer. Drain any excess grease or blot with a paper towel before adding the marinara sauce.
Step #2: Heat a large pot of water over high heat until boiling. Generously salt the water. Add spaghetti and cook according to package instructions.
Step #3: Make the homemade alfredo sauce by melting the butter in a pot, add the heavy cream and seasonings and 2 cups of parmesan cheese, only ½ cup at a time. Cook until it starts to thicken and bubble, about 3-5 minutes.
Step #4: In a 9 x 13 baking dish, toss the cooked spaghetti noodles with the alfredo sauce, then layer on the meat sauce, and then top with freshly grated mozzarella cheese. Bake until bubbly, about 20 minutes.
See the recipe card below for the ingredients and detailed instructions.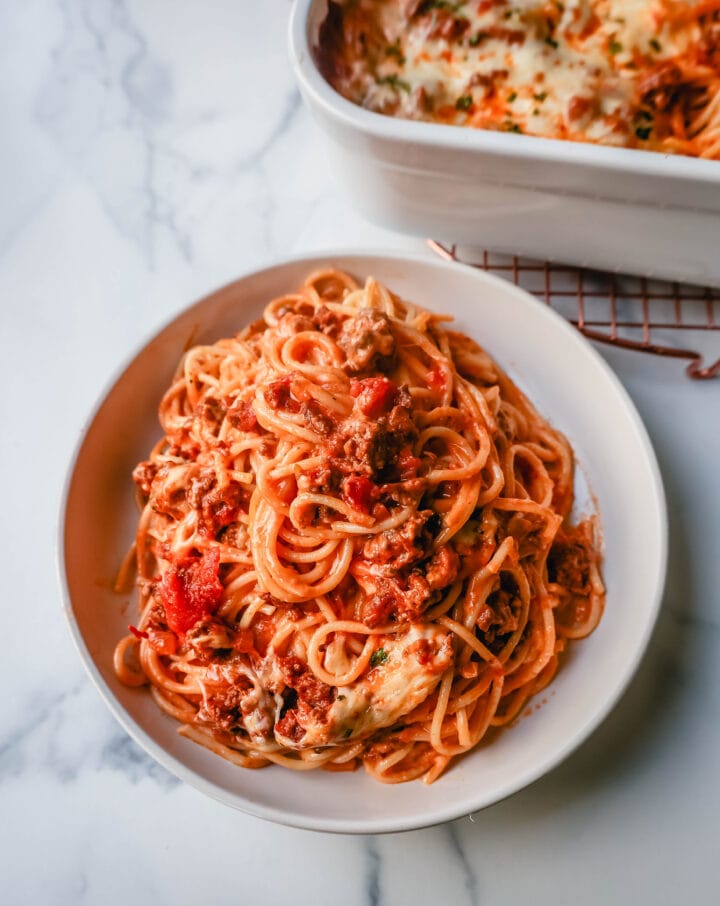 I love to hear from you! If you make this recipe, please be sure to leave a comment and give this recipe a rating. If you make any of my recipes, tag me on Instagram @modern_honey so I can see your creations. It's one of my favorite things seeing you make these recipes in your own kitchen. Sign up for my newsletter below so you never miss a recipe. Thank you for following along! I truly do have the greatest readers.
FOLLOW ME ON: INSTAGRAM --- FACEBOOK --- PINTEREST